Last time we introduced the idea of building your own PC, we looked at each component, and the overall build. We also considered what to expect and intended purpose for your PC. This time, we shall introduce the idea of PCs that are made with its minimum components. These are basically half-built PCs which are often set to have a wide room for future customisation and/or upgrades.
RELATED: How to Build Your Own Custom PC from Scratch: A Overview
How Do We Classify a Barebone PC?
A barebone PC is officially known as a PC on a partially assembled platform. We have discussed in our first article from this series what the primary components of a PC are. Well, a barebone PC will have some of those missing and/or not provided. Oftentimes, it will only be available with a motherboard and power supply, or sometimes with a CPU. You need to provide the rest of the components required to make it work.
Why exactly such incomplete product lines exist? The key phrase here is easy customization. Unlike a pre-built PC with determined specs, a barebone PC can provide wider options for potentials users without the daunting task of building PCs from the ground up. You already have a half-assembled system, and the product is simply giving you're the freedom to choose your SSD for example, or to add different configurations of RAM as you please.
Popular Barebone PCs You Should Check Out
While many barebone PC units come in smaller form factor, they can be introduced in any standard size. For the purposes of providing examples or quick references to what you might want, we'll present several very popular products of this type of product line that we believe you should be checking out.
Line-up Overview:
Top 5 Best High Peformance Barebone Mini PC
Let's take a closer look at each of these custom PCs build using high performance barebone systems.
Touted as the smallest Ryzen system ever, the ASRock DeskMini A300 Mini PC has been the avid barebone PC choice for many enthusiasts due to the sheer flexibility of Ryzen APUs. Just insert a Ryzen 3 2200G or Ryzen 5 2400G into its system, and it can be a beast of a machine when it comes to standard photo-editing and medium-settings 60fps triple-A gaming. Its design is also built in a minimalist way. Probably not as subtle as the Mac Mini, but it can certainly hide away from plain view pretty easily.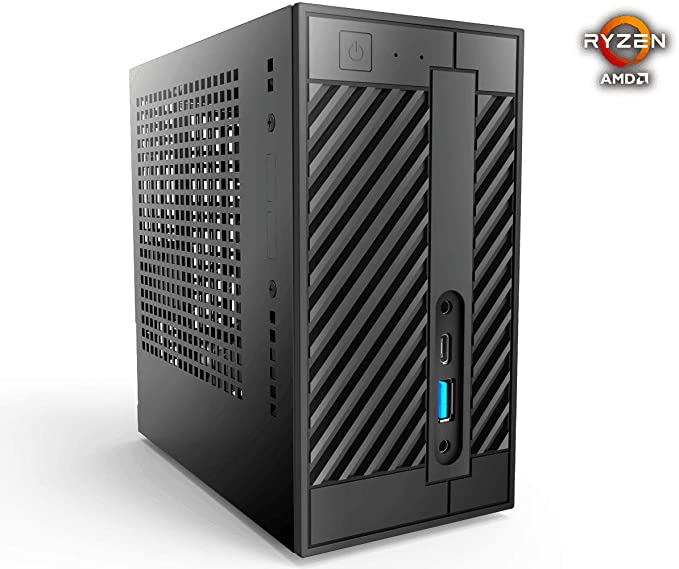 Expandability Options:
AM4 Socket CPUs (Picasso, Raven Bridge, Bristol Bridge, up to 65W)
SO-DIMM non-ECC DDR4 RAMs (x2, Max 64GB, Ryzen – 2933Mhz, A-series – 2400Mhz)
SATA 6Gbps 7mm/9.5mm HDDs (x2, RAID 0/1)
M.2 (1), M.2 (2): Type 2280 PCIe Gen3 x4
Ports/Connectivity:
1x HDMI, 1x DisplayPort  (both 4K@60Hz), 1x D-Sub
1x Head Phone with Mic Jack, 1x Mic-in, Realtek AL C233
1x Front USB 3.1 Gen1 Type-C, 1x Front USB 3.1 Gen1 Type-A
1x Rear USB 3.1 Gen1 Type-A, 1x Rear USB 2.0 Type-A
1x M.2 (key E 2230) slot for Wi-Fi + BT module
Dimensions: 155 x 155 x 80 mm
Introductory Price: $150
---
As the item code indicates, the one that we will introduce here is the version that is installed with the Core i7-10710U CPU. If the CPU isn't a dead giveaway to its performance potential, then just think about this: it has the technical capability to outperform a lot of the higher end non-gaming laptops that was introduced at the end of 2019. You know, those machines that are rocking similar-ish hexa-core CPUs. Ports are also very plentiful, though it does tend to look a lot messier than most barebone PCs when fully-rigged. One tiny downside though, the fans do get that grinding noise at full load, a bit distinct from the usual vacuum cleaner noise of other similar units. A gaming equivalent of the Intel NUC series based on earlier 9th generation Intel Core i9 Processor with 8 cores is also available in the form of Intel NUC 9 Extreme Ghost Canyon.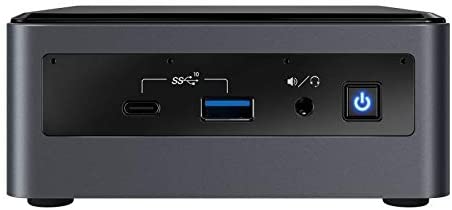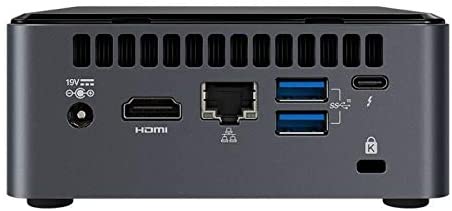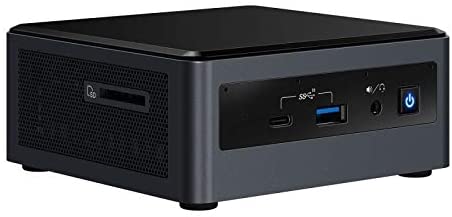 Expandability Options:
M.2 slot with PCIe x4 (22×42/80)
One SATA 6.0 Gbps for 2.5-inch storage
2.5-inch HDD/SSD + M.2 SATA SSSD (RAID-0 RAID-1) configurable
Supports Intel Optane Memory
SDXC with  UHS-II support (SD card)
SO-DIMM non-ECC DDR4 RAMs (x2 Max 64GB, 2666Mhz)
Ports/Connectivity:
HDMI 2.0a, USB-C (DP1.2), no of supported displays 3
7.1 digital audio (HDMI mDP); L+R mic (F)
2x Front USB Type-A and Type-C
3x Rear USB 3.1 Gen2 (Type-A and Type-C)
Intel Ethernet Connection I219-V LAN
Intel Wi-Fi 6 AX201 and Bluetooth
Dimensions: 117 x 112 x 51 mm
Introductory Price: $590
---
The much-hyped fourth generation mobile Ryzen CPUs promised even better combined CPU and GPU performance than its already impressive third generation predecessors. The ASUS PN50 carries this spirit of absolutely superb quality, bringing to the table integrated graphics capabilities that only Islay Canyon NUCs can surpass with their dedicated Radeon 540X GPU. We look at this in our earlier post and considered the choice of processors used.
The lack of Thunderbolt 3.0 can be a bummer for external discrete GPU enthusiasts. But apart from that Asus made sure to really bump up all other connectivity options this time. Powered by soldered on AMD Ryzen 4000 series Renoir mobile processor with Radeon Vega 7 Graphics you get the best of performance and efficiency in a space saving package. To start using the PC, simply add memory and storage of choice and your standard KVM (Keyboard-Video-Mouse) for interface.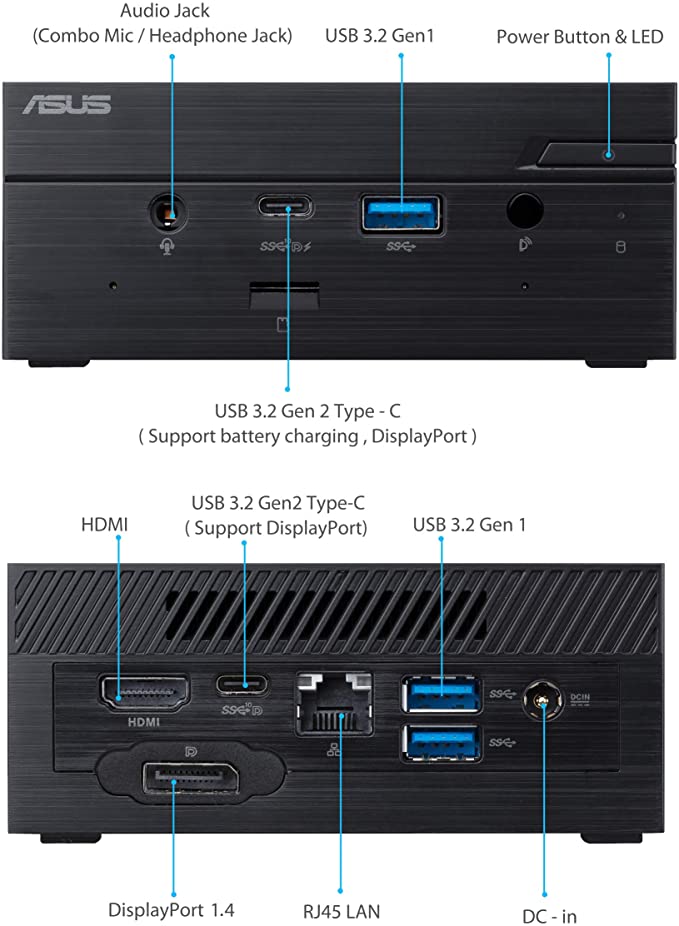 Expandability Options:
SATA 6Gbps 2.5" HDDs (up to 1TB)
M.2 slot with PCIe (up to 512GB)
SO-DIMM DDR4 RAMs (x2 Max 64GB, 3200Mhz)
3-in-1: SD/SDHC/MMC Cards
Ports/Connectivity:
HDMI port, VGA/LAN/DisplayPort configurable port
Audio Jack, Microphones
1x Front USB 3.2 Gen 2 Type-C, 1x Front USB 3.2 Gen 1 Type-A
1x Rear USB 3.2 Gen 2 Type-C, 2x Rear USB 3.2 Gen 1 Type-A
RJ45 LAN port
Intel Wi-Fi 6 AX200, BT 5.0
Dimensions: 115 x 115 x 49 mm
Introductory Price:  starts at $360 to $640
---
This particular barebone PC might seem a little too barebone in terms of expandability. But, it defines perfectly the purpose of its design; as a subtle, somewhat quiet system that can handle multimedia and multitasking. Besides, rocking a Core i7-10510U is hardly a crime for its seemingly limited customization room, as this still provides performance levels that are directly comparable to recent Intel NUCs. Though conversely speaking, this is also directly the reason for its rather steep price tag.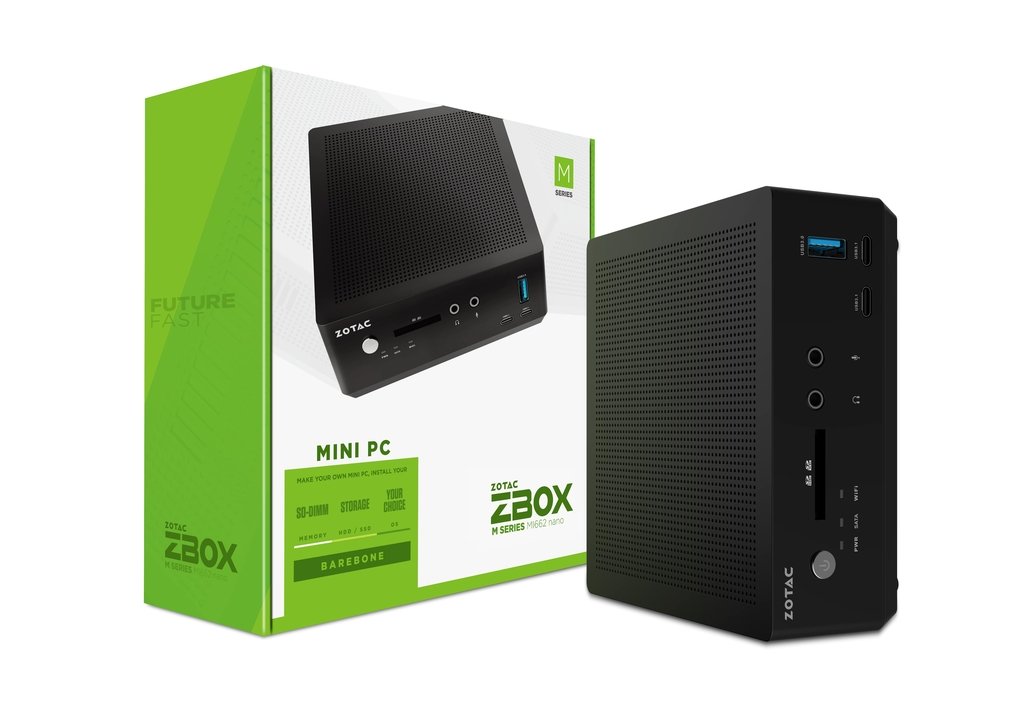 Expandability Options:
SATA 6Gbps HDDs (1 x 2.5″ SATA 6Gbps HDD/SSD Slot)
SO-DIMM DDR4 RAMs (x2 Max 32GB, 2400-2666Mhz)
Ports/Connectivity:
HDMI 2.0 (up to 3840×2160@60Hz) and DisplayPort 1.2 (up to 4096×2160@60Hz)
Standard stereo, microphone, 8ch HDMI audio
1x Front USB 3.0, 2x Front USB 3.1 Type-C
4x Rear USB 3.1, 3-in-1 (SD/SDHC/SDXC)
RJ45 LAN port (2 x 10/100/1000 Mbps)
802.11ac Wi-Fi, BT 5.0
Dimensions: 128 x 126 x 51 mm
Introductory Price: $520
---
Last but not the least, the MSI Cub 5 10M gives you both pre-set options and free expandability like the Asus PN50. For the CPUs, you are given the choice of flavors at least three different processors, all with varied level of office and media center performance that will allow you to balance your budget with it. It gets somewhat pricey at the far end with a Core i7-10510U, but we suppose that for its design purpose the lower choice the dual-core i3 CPU would be adequate enough.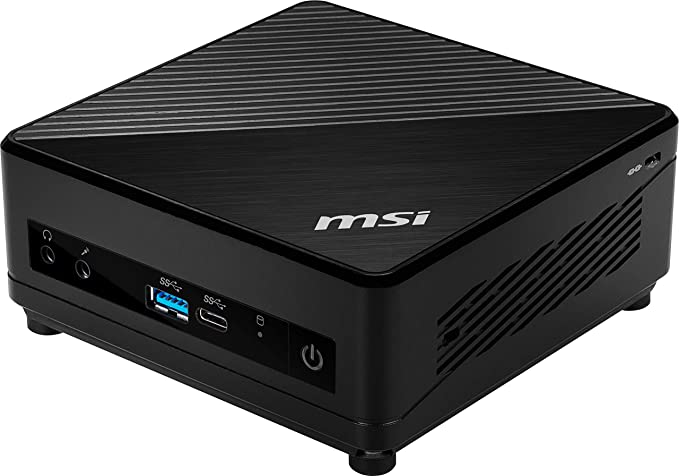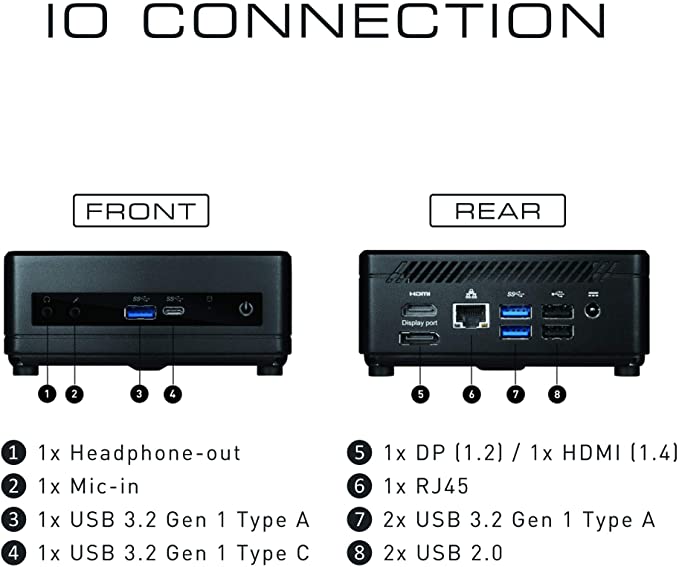 Expandability Options:
Intel Core i3-10110U, Core i5-10210U, Core i7-10510U (10th-gen Intel Core CPUs)
2.5" SATA HDDs
SO-DIMM DDR4 RAMs (x2 Max 64GB, 2666Mhz)
Ports/Connectivity:
HDMI, DisplayPort
Headphone-out, Mic-in
1x Front USB 3.2 Gen1 Type-C, 1x Front USB 3.2 Gen1 Type-A
2x Rear USB 3.2 Gen1 Type-A, 2x USB 2.0
RJ45 LAN port
Intel Wireless AC 9462, Intel Wireless AX201, BT 5.0
Dimensions: 124 x 124 x 54 mm
Introductory Price: starting $400 to $700
---
Final Thoughts
There is of course a multitude of other barebones PCs out there, but we introduce some of the most popularly chosen or anticipated with today. As a rule of thumb, having a dedicated graphics card on these PCs should be the least of your expectations. Even if they do offer the option, it usually bumps up the price of these PCs very significantly. Well, we suppose Vega and Iris graphics are an exception to this in a limited sense at least.
With barebone starter systems, the obvious advantages are not having to choose power supply, case, motherboard or even CPU that work well together. All you need to worry about is the type and amount of memory and storage to complete your system. We highly recommend building your own custom PC from scratch using high performance barebone systems, if you are looking to upgrade your day-to-day rig. You are also not afraid to get your hands on screw drivers and handling PC parts.