While you can find relatively cheap USB-C hub adapters, those that support Thunderbolt 3 are altogether a different breed. These USB-C Thunderbolt 3 docks have two or more video outputs for multiple monitor setup perfect for your workstation at home or in the office.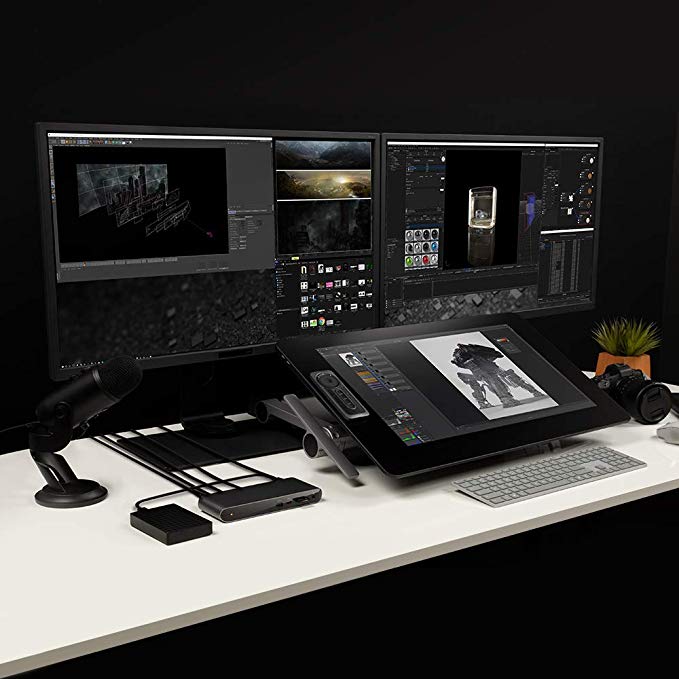 Top 10 Best USB-C Thunderbolt 3 Docks
Here are ten of the best USB-C Thunderbolt 3 Docks for multiple monitor setup [Number of Connectivity Ports].
---
60W PD | Dual DisplayPort 1.4 | 3 x USB 3.1 ports | 2 xUSB 3.0 ports | Gigabit Ethernet | Audio | Suitable for Mac & Windows | PD support up to 85W charging | 180W Power Adapter
Top on our list is the WAVLink 8K Thunderbolt Hub. It has Dual DisplayPort output that supports up to 8K (7680 x 4320) @30Hz or 5K (5120 x3200)@30Hz. When connecting to a 5K display, most laptops like the MacBook will only support a single 5K external monitor. Use both DP ports for dual 4K resolution at 60Hz output if you wish to get maximum working space on the screens.
Apart from the Dual DP video output for 4K+4K or 5K external monitor support, this WAVLINK unit supports USB-C PowerDelivery to pass through up to a maximum of 85W of upstream charging. Note that the hub comes with its own 180W power adapter, making this a perfect static docking station. Some of the power may be drawn to power the other connected peripherals.
Elsewhere, there are four USB 3.0 ports, two Thunderbolt 3 ports (one for data and charging, one with DP Alt), SD care reader, TF card reader, Gigabit Ethernet networking, audio input/output for headphone or speaker and microphone input. This makes for a total of 10 connectivity ports. All these ports are wrapped in a nice compact package with its chassis made from aluminium. For a closer look at the expansion options, click on the gallery thumbnail below.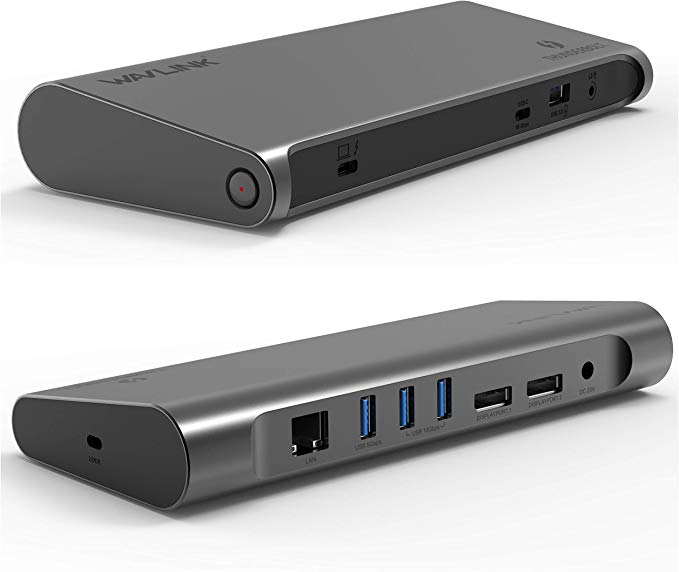 ---
A powerful docking station with plenty of cooling built-in, the TOTU supports not two but three external displays with its dual HDMI ports and a single DP port. For display, the industrial looking unit supports both mirror mode and extend mode. However, support for multiple display modes differ from OS to OS. Check with the manufacturer to see if your desired setup is possible.
You may also wish to check and make sure that your laptop, tablet or smartphone is in the list of compatible devices for PD mode. This is to ensure that the TOTU hub will deliver charge to your device as support for Power Delivery is system specific.
With the bandwidth and ability to support multiple expansion ports under one Thunderbolt 3 connection from your laptop, the TOTU makes the most of this by offering up to 16 connections. You already learnt about the three display outputs (2 x HDMI and 1 x DP port), here are all 15 connectivity ports on the TOTU:
2 x HDMI for up to 4K video output
1 x DP port for up to 4K video output
audio output
microphone input
3 x USB 3.0 ports Type-A
2 x USB 2.0 ports Type-A
1 x USB 3.0 port Type-C for data and charging
SD card reader
TF card reader
Again, click on the thumbnail below to take a closer look at the connectivity options.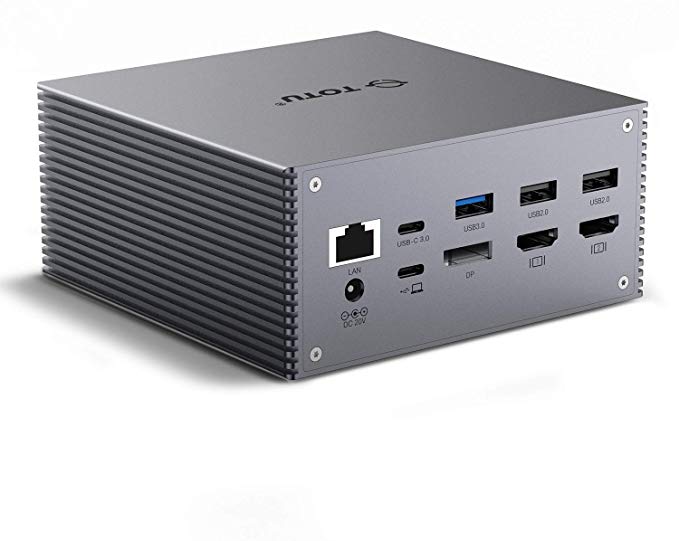 ---
This compact entry from Belkin is one of two Thunderbolt 3 docks from the company. The other is a Pro hub with more connectivity options. Still this Dock Mini is not short of ports. Capable of supporting 5 connectivity ports which includes dual display setup via its two HDMI ports. The dock also carries a single USB 3.0 port, a single USB2.0 port and a single Gigabit Ethernet port.
For the dual video output it can go up to 4K UHD resolution at 60Hz. For most people this is all they need from their Thunderbolt 3 dock be it for a MacBook or a laptop PC. Those looking for PD charging, flash media card reader and audio input output will need to look elsewhere. Otherwise, this is a super compact Thunderbolt 3 dock. The only closes entry to this is the CalDigit's Mini Dock also featured here.

---
With its own power supply for a maximum of 135W of power, this Cable Matters entry offers everything one needs from a Thunderbolt 3 dock. It makes for a great static docking station for the office or home office.
Let's start with the video output support. It has a single HDMI 2.0 port for up to 4K UHD resolution external monitor at 60Hz refresh rate. The second display output comes from one of the Thunderbolt 3 port. A suitable cable will be required and you will need toe USB-C port with ALT mode, not PD.
For Power Delivery, it will offer up to 60W of power to charge a laptop be it a MacBook or PC. But what about the other ports. We list all the 11 connectivity ports available this Cable Matters Thunderbolt 3 Dock below:
1 USB 3.0 port for data and charge
1 USB 3.0 port for data only
1 x 3.5mm combo audio socket for audio and microphone
1 x UHS-I Card Reader
1 x HDMI output for up to 4K @ 60Hz
1 Thunderbolt 3 port with 60W PD charging
1 Thunderbolt 3 port for monitor or device
1 Gigabit Ethernet RJ-45 port
3 x USB 3.0 ports for data (making a total of 5 USB ports)
For a closer look at the ports arrangement, click on the thumbnail in the gallery below.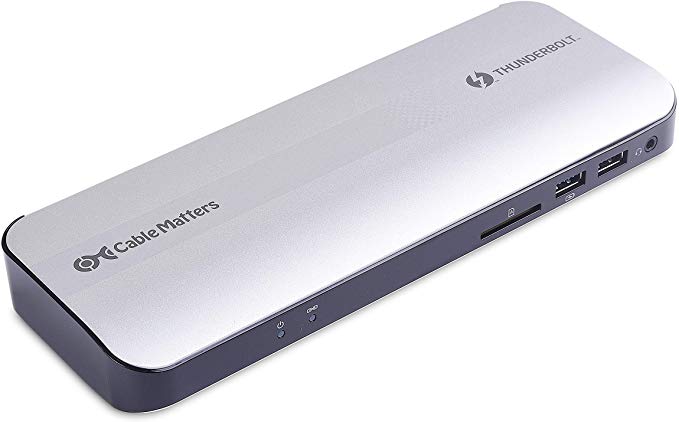 ---
Another Belkin's offering, this Thunderbolt 3 Dock Pro is capable of upstream charging with up to 85W of power. This makes the compact dock suitable as a static expansion dock. It has everything one needs in terms of ports and is compatible with both macOS and Windows laptops. For video output, it supports up to two 4K Ultra HD monitors at 60Hz. The only trick is to ensure that you have the right cables to connect your monitors. The ports for video signal from the Dock Pro are DisplayPort 1.4 and Thunderbolt 3.
Here is a list of 12 connectivity ports supported:
1 x Thunderbolt 3 port with PD charging (up to 85W) and data (up to 40Gbps transfer speed) to connect to laptop
1 x Thunderbolt 3 port for data or monitor output
1 x DisplayPort 1.4
1 USB 3.1 port Type-A
1 USB 3.1 port Type-C
4 x USB 3.0 Type-A
1 x Gigabit Ethernet
1 Audio In/Out
1 x SD Card Reader
1 x 170W PSU (Power Supply Unit) included
Even with all these connectivity options and support for upstream charging, the Dock Pro is still a compact expansion dock. Wrapped in durable aluminium, the casing protects the internal circuitry and ports. It is also suitably finished in space gray, a perfect match for laptops.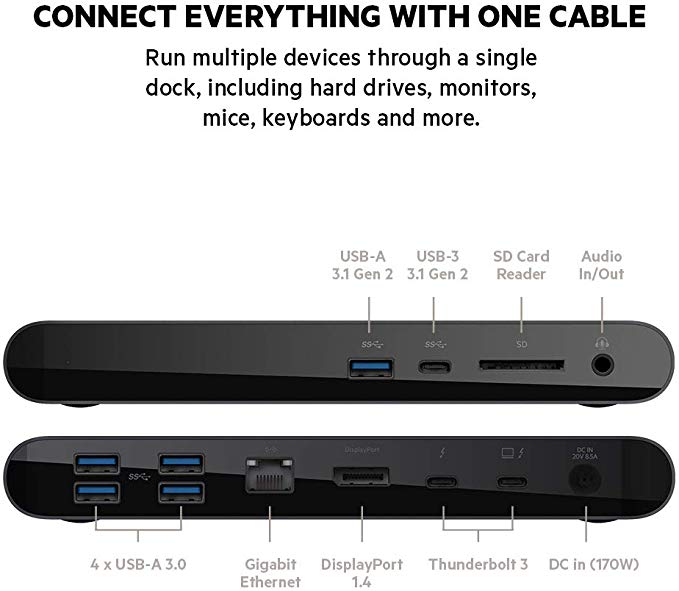 ---
CalDigit has a couple of strong entries on our list, this being one of them. The other is a compact portable version. Being the bigger for the two, this Pro Dock supports 85W of upstream charging. It goes further to offer up to 10 connectivity ports. The most important among these are the two DisplayPort 1.2 which offer support for up to two 4K extended displays at 60Hz. You will need to find suitable DisplayPort to HDMI/DVI/VGA cable adapter for your monitor.
All the expansion in ports are listed below:
1 x Thunderbolt 3 (Backwards Compatible with USB-C), PD support for up to 85W upstream laptop charging
2 x DisplayPort 1.2,
3 x USB 3.2 Type A (5Gb/s),
1 x USB-C 3.2 Gen 2 (10Gb/s Data Only),
Gigabit Ethernet,
UHS-II SD Card Slot (SD 4.0)
3.5mm Combo Audio Jack.
It is worth noting that the USB-C Pro Dock does not have a downstream Thunderbolt 3 port. For a closer look at the ports, click on the thumbnail in the gallery below.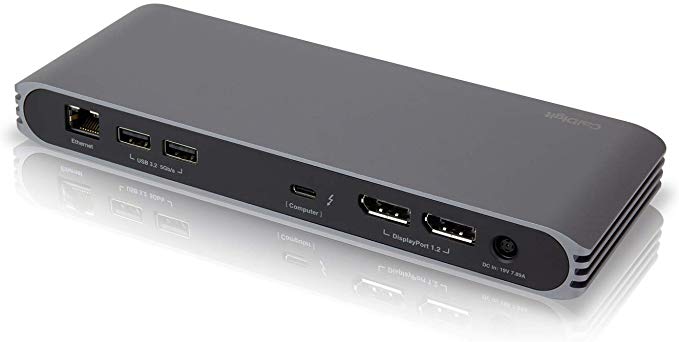 ---
Sometimes, you just need your Thunderbolt 3 dock to be small and portable, free or extra expansion ports that you do not need and only those that are essential to you. Here is the other portable Mini Dock from CalDigit. We first come across this on Apple's website. Having received Apple's seal of approval means, the hub is compatible with MacBook and iPad Pro.
It is bus powered so no need for a separate power adapter or power brick unlike the bigger variety presented here. But this also means, it does not support Power Delivery for upstream charging of your laptop. Still it has support for 5 connectivity ports; Dual 4K HDMI 2.0 Display Adapter, USB 3.0 & 2.0 and Gigabit Ethernet LAN for Thunderbolt 3 Mac and PC.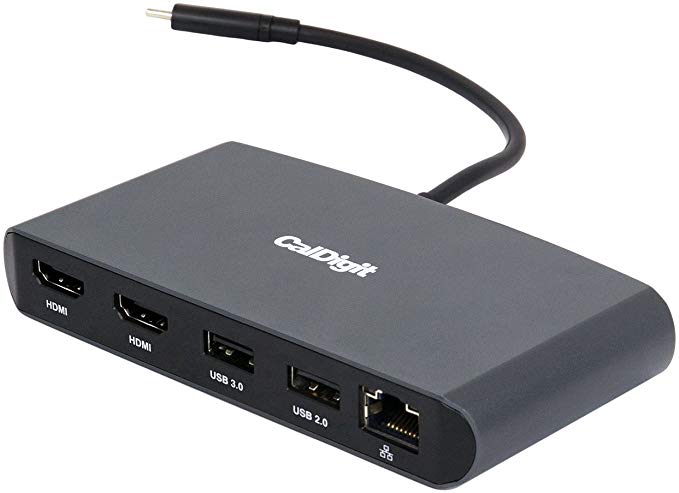 ---
Number eight on our list is the Kensington SD5300t Thunderbolt 3 Docking station. It is similar in many respect to the unit from Cable Matters also listed here. From the 11 connectivity ports to the 135W power brick, this full fledge docking station has everything one needs.
Starting with the dual 4K video output. It supports two 4K Ultra HD (4096 x 2160 30-bit color @ 60 Hz) monitors from the HDMI 2.0 port and the Thunderbolt 3 via included USB-C to HDMI adapter. You can trade the two outputs for a single 5K monitor from the Thunderbolt 3 output.
The expansion ports are no different to that on the Cable Matters above, so scroll back to find a comprehensive list above with one exception. This Kensington Docking Station comes with a Kensington Lock slot on the left side of the unit and include VESA mounting holes, see image below.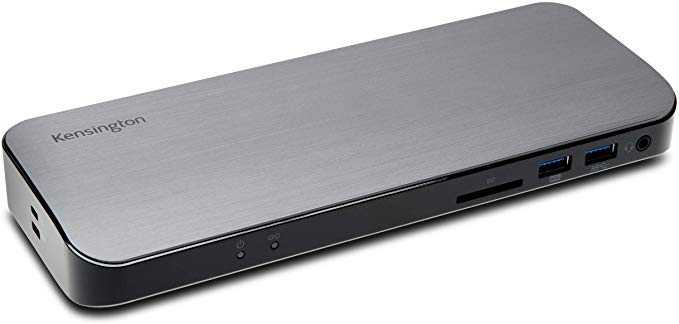 ---
This WAVLINK entry may not have the looks of the previous unit from the company also on our list but it does support up 85W Charging, sending upstream charge to the host PC via Thunderbolt 3 port. The other Thunderbolt 3 Port in Alt Mode together with DisplayPort to support dual monitor output. This expansion hub supports 11 connectivity ports, these are as follows:
1 x Thunderbolt 3 port from your laptop
1 x Thunderbolt 3 40Gb/s and monitor output with USB-C Alt Mode video adapter,
1 x DisplayPort 1.2,
Gigabit Ethernet,
4 x USB-A 3.0 (5Gb/s),
1 x SD Card Reader
1 x TF MicroSD Card Reader
3.5mm Stereo Audio In & Out,
Lastly, the chassis features a Kensington Lock slot, the hub is powered by a 180Watt Power Adapter and a 28 inch Intel Certified TB3 cable is included.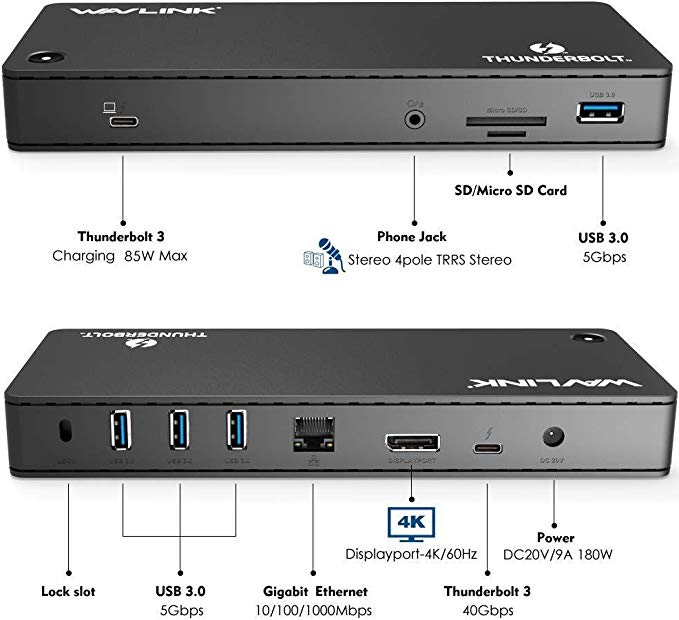 ---
Breaking away from the rectangular docking station profile is this square cube. Similar to the TOTU but made of plastic, this Kensington SD2400T Thunderbolt 3 Docking Station supports Power Delivery with 135W Adapter. It goes to supply up to 85W upstream charge for your laptop.
For dual display support, the docking station carries two DisplayPorts for two 4K (4096×2160@60Hz) displays. Alternatively, choose a single 5K display (5120×2880@60Hz) instead. The latter is subject to support on your laptop. All 9 connectivity ports are listed below:
2 x DisplayPort
2 x USB-A 3.1 ports data only
1 x USB-A 3.1 port (up to 5Gbps charging up to 5V/2 4a (1) and 5V/1 5a (2))
1 x Thunderbolt 3 port with PD to laptop
1 x USB-C 3 1 Gen-1 port (up to 5Gbps) with power delivery (PD) for an external device (5V/3a)
1 x Gigabit Ethernet port
Combo 3.5mm headphone & Microphone jack
Lastly, on the bottom of the chassis is a VESA compatible mount to fix this to the back of any 75mm or 100mm VESA compatible display allowing this to be fully mounted and taking zero space on the desk. Unfortunately, the mounting plate is sold separately. For a closer look at the expansion ports on the unit, click on the thumbnail below.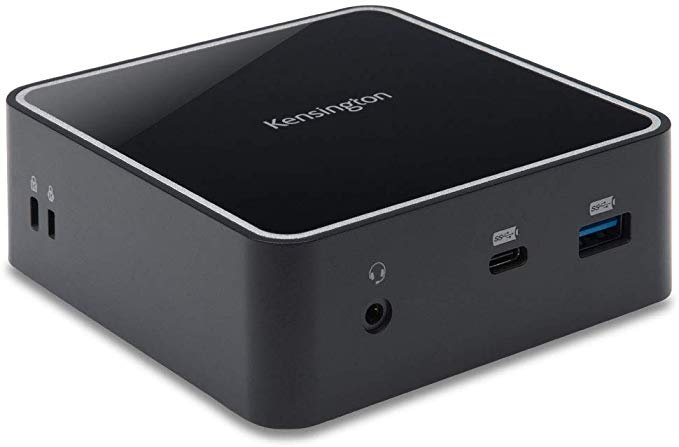 ---