Building your own PC from scratch and wondering which computer case to get. The last thing you want to do is to skimp on the case, yet here we are looking for a budget computer case that is both affordable and solid for your PC.
Case to Fit Your Budget and Your Motherboard
Before you reach for your credit card, be sure to choose a PC case that is right for your motherboard. There are altogether four different motherboard sizes. These are the Extended ATX (EATX), Standard ATX or more commonly known as ATX, micro-ATX and mini-ITX. Common among PC enthusiasts are the EATX, ATX and micro-ATX. See image below.

Overview
Here is a quick look at our list of great value motherboards with plenty of exciting features like extra cooling fans, changeable LED colour lighting, front I/O ports for easy access, separate compartment and more.
BONUS: AeroCool Cylon RGB Mid-Tower ATX and Corsair 275R Airflow Mid-Tower Gaming Case
Now for a closer look: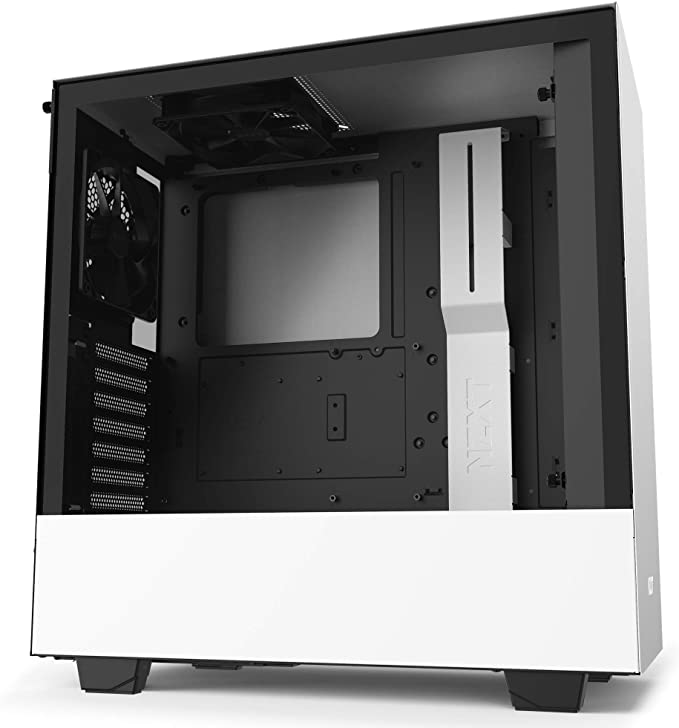 Motherboard Supported: Mini-ITX, MicroATX, and ATX
Features at a glance: Front I/O USB Type-C Port – Tempered Glass Side Panel – Cable Management System – Water-Cooling Ready – White/Black
The NZXT H510 is a compact mid tower gaming PC case with front IO access and support for Type-C port. It also has a see through side panel made from tempered glass to show off the motherboard, processor and graphics card. There is enough room in the case to support water cooling system (closed or custom loop) with removable bracket designed for radiators up to 2400mm. Together with patented cable routing kit, pre-installed channels and straps, it is easy to get a clean setup for optimum airflow and cooling. Another trick it has up its sleeve is removable filters strategically located in the front, side and PSU intake for ease of cleaning. The case is available in white or black.
---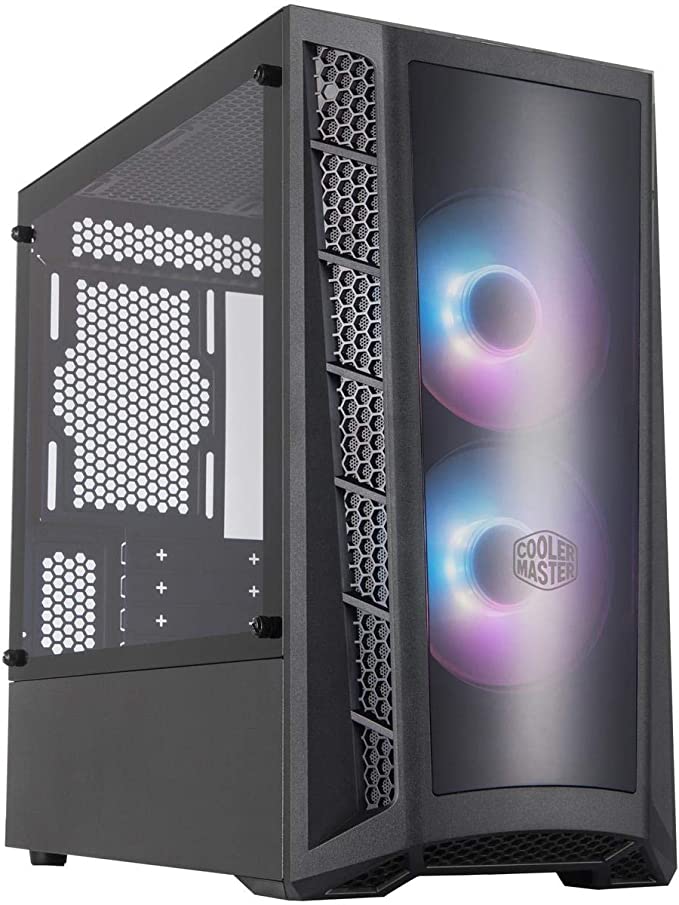 Motherboard Supported: MicroATX
Features at a glance:  Dual ARGB Fans, DarkMirror Front Panel, Mesh Front Intake Vents, Tempered Glass Side Panel & ARGB Lighting System, movable drive cage, custom-loop cooling supported.
This Cooler Master case comes preinstalled with two 120mm ARGB fans up front with honeycomb mesh ventilation on either side sandwiching the dark mirror front panel. These can be managed by the motherboard using included splitter. The side panel is made of tempered glass and the case supports custom-loop cooling. Inside, the drive cage is movable so it can be adapted accordingly to suit your chosen drive configuration. Lastly, while only two fans are included, the unit supports up to a total of six 120mm fans at the front, top and rear.
---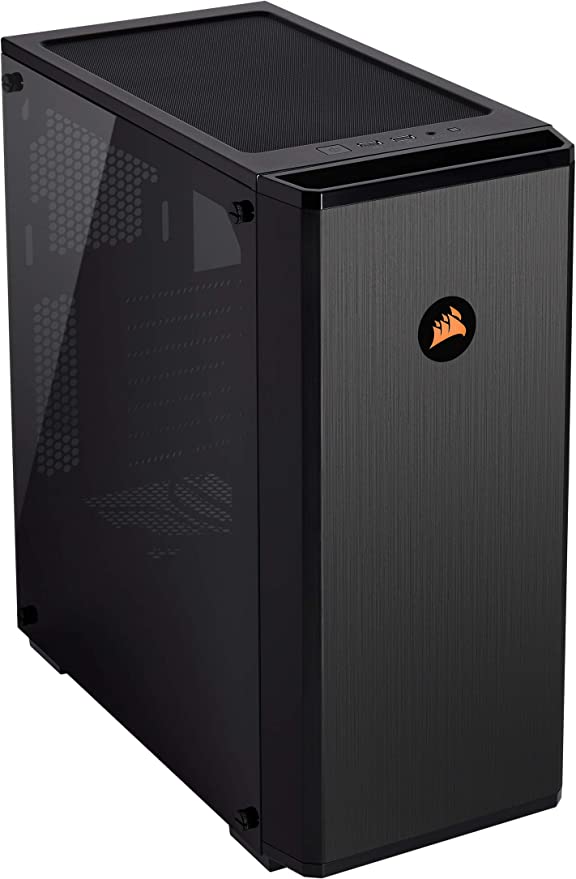 Motherboard Supported: Mini-ITX, Micro-ATX, ATX
Features at a glance: I/O Panel, 1 x RGB cooling fan, room for up to 6 or 4 fans, tempered glass side panel, clean and classic design, removable dust filters.
From computer memory to gaming PC components, the Corsair Carbide Series 175R is one of the company's ecosystem of gaming gears. You can get matching keyboards, mice, headsets, power supplies, gaming chairs, cooling systems (fan, CPU cooling custom cooling) and storage from them.
This is one of the more affordable cases from the company, a mid-tower designed with clean lines and accented with RGB cooling fan in front, lighting the CORSAIR logo and edge-to-edge tempered glass side panel. The RGB fan has six customisable RGB LEDs and is compatible with motherboards with 12V RGB headers on motherboards from ASUS, Gigabyte and MSI. Like most PC cases here, it comes with a full-length PSU cover to hide the cables. There is enough room in it to hold up to 6 x 120mm or 4 x 140mm cooling fans. Finally, there are removable dust filters in the floor, roof and front panels to stop dust being sucked in and a front I/O panel with two USB3.1 Type A ports, power button and combo jack.
---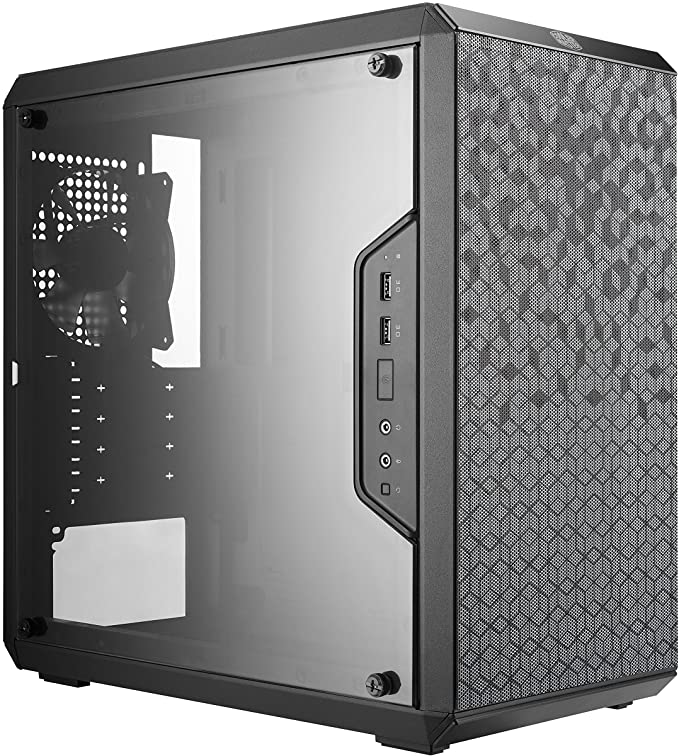 Motherboards supported: Mini-ITX, Micro-ATX
Features at a glance: Magnetic Design Dust Filter, Transparent Acrylic Side Panel, Adjustable I/O on the side (USB 3.0 x 2, Combo Jack), Fully Ventilated Airflow, Black
Next, we have a compact mini Tower case from Cooler Master. The case comes with patterned magnetic dust filters. These are not just small removable dust filters but full outer liners that goes over the top and front, attaching magnetically. The IO panel is mounted on the full edge-to-edge transparent acrylic side panel and can be repositioned to suit. Movable rubberised thumb screws allow the case to be used as a tower or laying on its sides. For cooling it supports up to two 140mm fans or a 240mm liquid cooler radiator in the front panel and up to two 120mm cooling fans on top. The case comes with a single 120mm fan on the rear.
---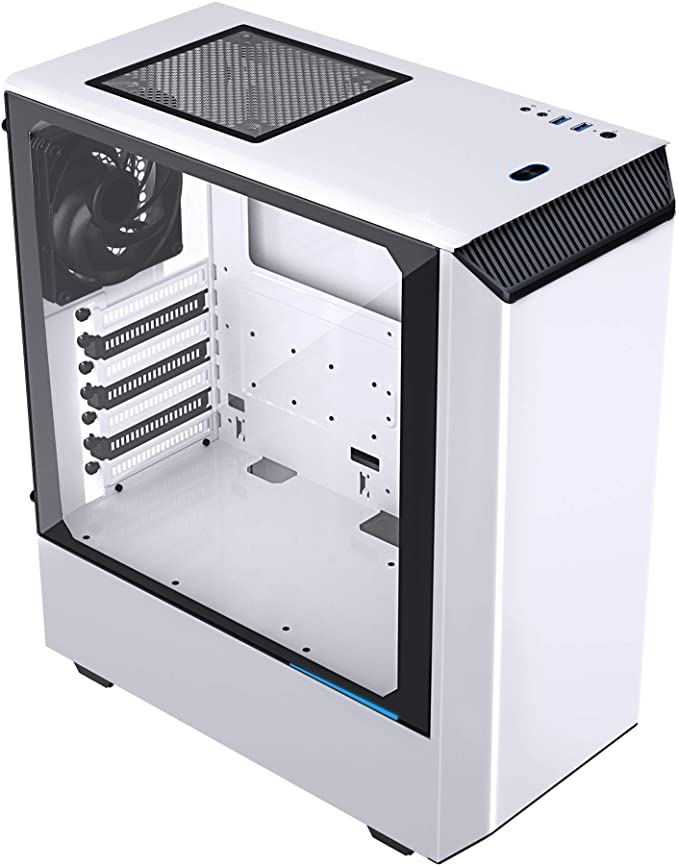 Phanteks PH-EC300PTG is another budget case hunters favourite with a more subdued conventional looking. It comes with a single fan on the rear so think about getting a couple for the front panel if overclocking. The base houses the PSU and 3.5-inch drives and can get a bit cramped. The hole that lets you feed the power came through to the main chamber is also a bit tight. Overall, a brillant case with tempered glass side panel top I/O panel for the price. The small vents on the front panel can limit air flow, so be prepared to add more fans (2 X 140mm) and consider using the top air vent and fan. Dust filters work great to keep dust out.
---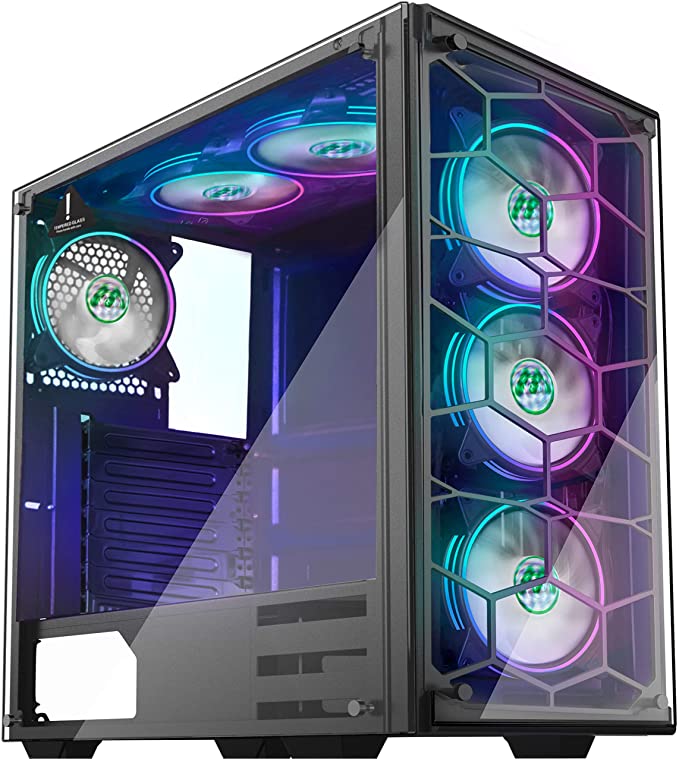 Motherboards supported: E-ATX, ATX, Micro-ATX, Mini-ITX
Features at a glance: Case with 6 x RGB Fans – USB 3.0 – Tempered Glass Panel – PC Gaming Case Decent Cable Management/Airflow. I/O panel: 2 x HD Audio combo jack, power button, RGB light button, reset button, USB 3.0 port, 2 x USB 2.0 ports.
For overclockers, the more fans the merrier. That is what MUSETEC offers with their Phantom Black case. It comes with a total of 6 dual light loop LED fans pre-installed with tempered glass front and side panels for esthetics. A dedicated RGB button lets you customise the LED colours. This makes it one of the more expensive cases to buy but if you run the figures after adding all 5 or 6 fans on standard cases, it will probably be more expensive to buy them separately. This Mid-Tower version comes with internal bays for 3 x 3.5 HDD's and 3 x 2.5 SSD's which is plenty. Finally, the case features internal cable management and dust filers on both top and bottom to prevent dust from clogging up the fans and heat sink.
---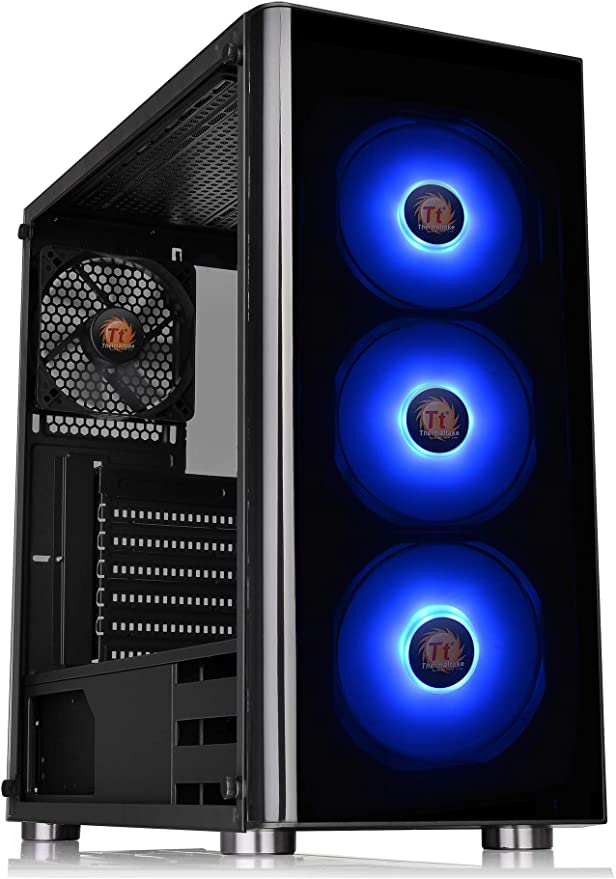 Motherboards supported: Mini ITX, Micro ATX, ATX
Not one but four fans, one at the back and three in front with the latter featuring colour changing LED lights, this ATX mid tower from Thermaltake has it all including dual chamber design. To control the lighthing, use the I/O port RGB button or sync with ASUS Aura Sync, Gigabyte RGB Fusion, MSI Mystic Light Sync, ASRock RGB LED or BIOSTAR Vivid LED DJ enabled motherboards. What's more, tool-free installation means quick and easy setup, top front I/O for easy access and full size tempered glass side panel offers full view of the system's internals.
Size: ATX Mid Tower, dual chamber design
Motherboards: ini ITX, Micro ATX, ATX Motherboard
Side Window: Tempered Glass
LED: YES integrated in fans
Cooling: 3 x 120mm 12V RGB Fan + 1 x Black 120mm Rear Fan
Ports: USB 3.0 x 2, HD Audio x 1
---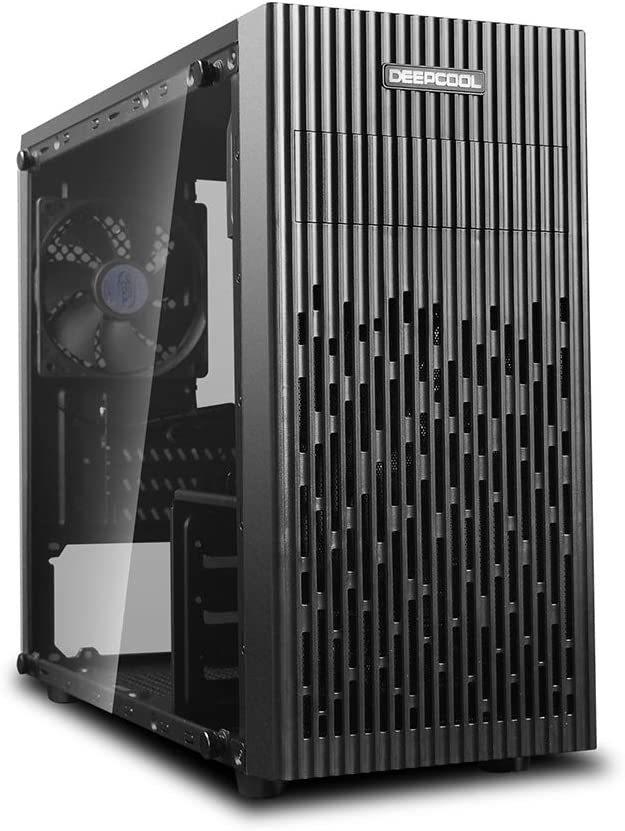 Motherboard supported: M-ATX/ Mini-ITX
Features at a glance: Tempered Glass Panel, Larger Area of Air-Intake
One of the best ultra budget micro ATX case, the DeepCool Matrexx 30 does not only look good for functions well too. It comes with a full view tempered glass side panel which at this price point is a steal. There is a single 120mm fan on the rear. A front 120mm fan can be install if required. It is compatible with liquid cooling up to 120mm on the rear and supports graphics cards up to 250mm length and CPU cooler up to 151mm high. Definitely a compact case to go for when you are absolutely strapped for cash.
Size: Micro-ATX Tower
Motherboards: for m-ATX | m-ITX motherboard
Side Window: Tempered Glass Panel
LED: NO
Cooling: 120mm fan pre-installed on the back of the case, compatible with graphics cards up to 250mm in length and cpu cooler up to 151mm in height
Ports: I/O Panel: 1USB2.0. 1USB3.0 1Audio. 1 x Mic
---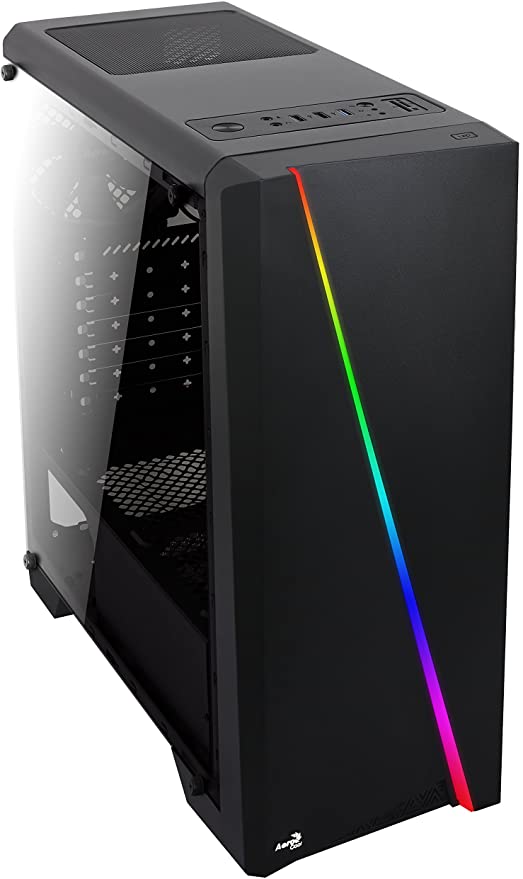 Motherboards supported: ATX/micro ATX/mini-ITX
The eye-catching backslash LED lighting on the front panel of the AeroCool Cylon makes this mid-tower case stands out from the rest. With six RGB flow lighting modes and seven solid colour modes to choose from, you can customise the lightshow to your taste. It supports SD or microSD memory card from the top panel. There is room for 120mm fans on the front top and rear as well as liquid cooling with 120mm radiator in the front panel. This budget computer case is available in black or white.
Size: ATX Mid Tower, dual chamber design
Motherboards: ATX/micro ATX/mini-ITX
Side Window: Acrylic
LED: YES with 13 lighting modes (backslash formation on front panel)
Cooling: 120mm fan on rear included, removable PSU dust filter for easy cleaning.

Supports liquid cooling 240mm radiator in the front panel.

Supports VGA fan bracket design for VGA cooling. Air Cooling: Front: 120mm x 3 or 140mm x 2 (Optional); Top: 120mm x 1 (Optional)

Ports:

I/O Ports: USB3.0 x 1; USB2.0 x 2 ; HD Audio & Mic.
---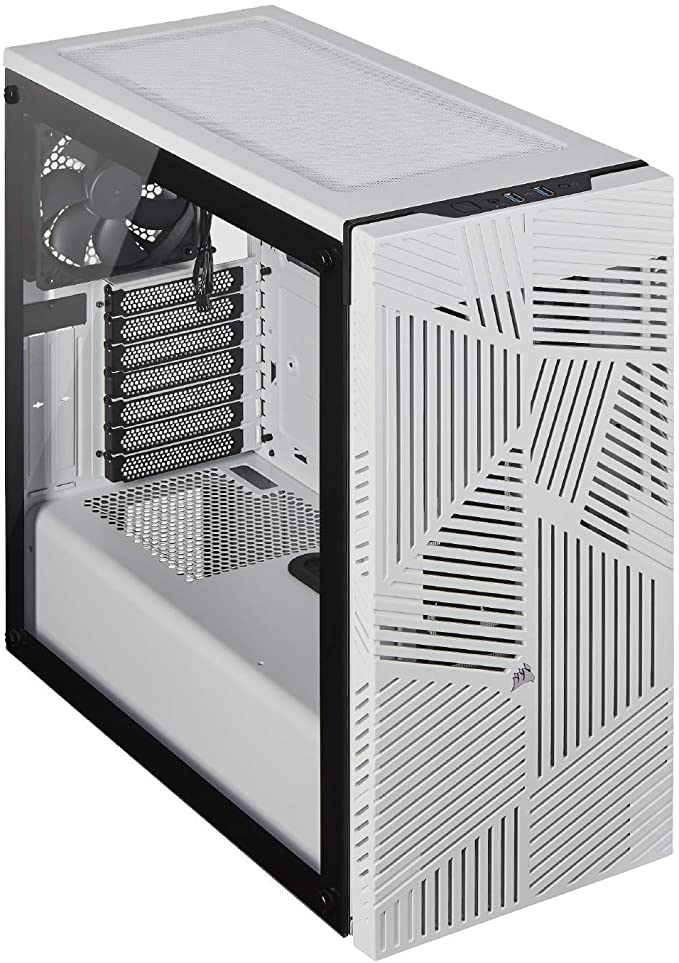 Motherboards Supported: Mini-ITX, Micro-ATX, ATX
Features at a glance: three fans included, slatted modern front panel, tempered glass side panel. Built in cable routing, Front IO: 2 USB 3.0 ports, 3.5mm combo pack, power button, reset button. Three removable dust filters in front, roof and floor.
Another gaming case from Corsair, the Corsair 275R Airflow may costs a bit more but it is more stylish with a modern front panel and comes with three 120mm cooling fans; two in front and one at the rear with room for up to 6 fans or multiple radiators in sizes up to 360mm. There are plenty of room for storage drives with up to 2 x 3.5-inch HDDs and four 2.5-inch SSDs. For front I/O, you get two USB3.0 ports, a 3.5mm combo jack and power and reset button. Plus, three removable filters on the floor, top and front panels keep dust at bay. Case is available in black or white.