The latest Thunderbolt 4 port has already become a super hit with many manufacturers coming up with laptops in 2021 with the coveted port. Thunderbolt 3 has already made a name for itself as a versatile port with its high-speed data transfer capacity that can carry 4K video signals and charge high wattage devices using Power Delivery protocol. Thunderbolt 4 takes this to the next level, making it even better to hook up an external GPU (eGPU).
A standout feature of Thunderbolt 3 that makes it a sought-after feature for both gamers and power users is its capacity to carry UHD video signals that allow it to be connected with external GPU enclosures. This feature has now been greatly improved in Thunderbolt 4 which has made mainstream gaming possible on laptops that come in a thin chassis.
[ss_click_to_tweet tweet="Gaming laptops need not be bulky and heavy. Use one of these laptops with the latest Thunderbolt port and an external GPU that lets you run any game." content="Gaming laptops need not be bulky and heavy. Use one of these laptops with the latest Thunderbolt port and an external GPU that lets you run any game." style="undefined" link="undefined" via="undefined"]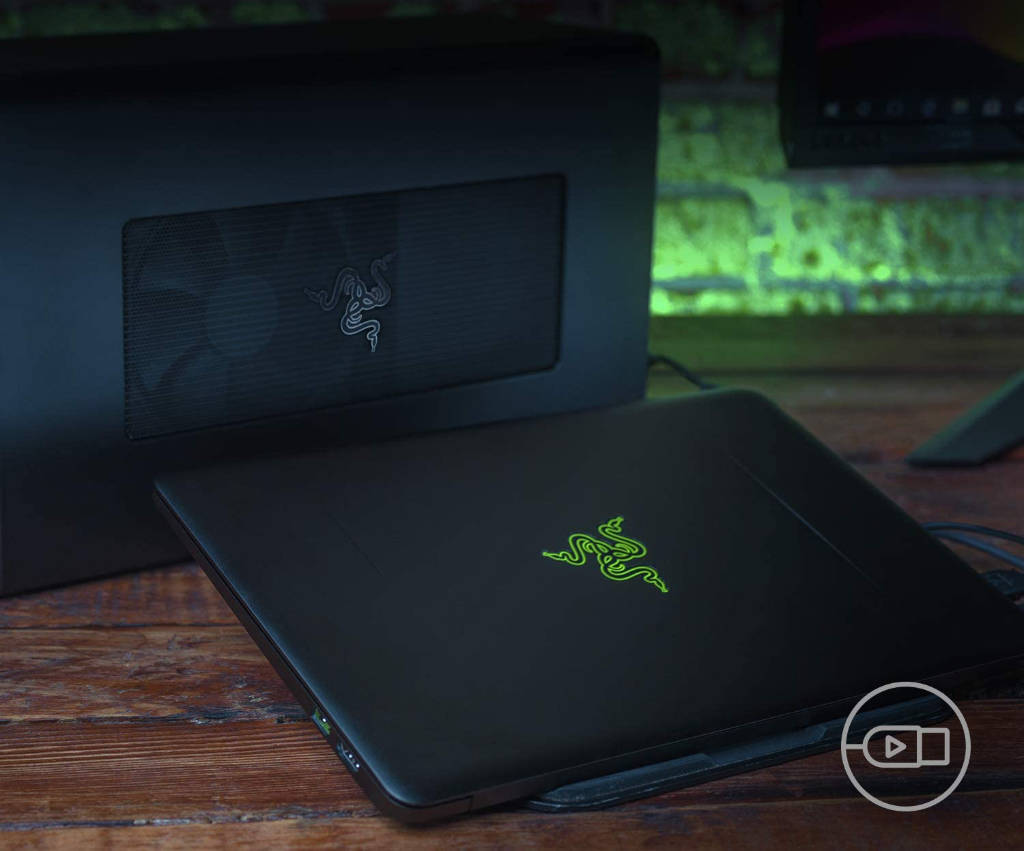 Top Ultra Portable Laptops with External GPU Support
Today we have some of the latest laptops with Thunderbolt 3 and 4 that you can buy if you are looking for a sleek and stylish laptop to game on. We will focus mainly on laptops with Thunderbolt 4 ports. In comparison to Thunderbolt 3, the latest generation port offers double the minimum data/video requirements. Thunderbolt 4 supports 8K Video signals and a double data transfer of 32GB over PCI Express. Power Delivery feature has been retained and it is also compatible with older generation Thunderbolt 3 offering more security with DMA protection features.
Here are the laptops you can get your hands on for eGPU gaming.
1. Razer Blade Stealth 13 – Best Ultrabook Class Laptop for eGPU Gaming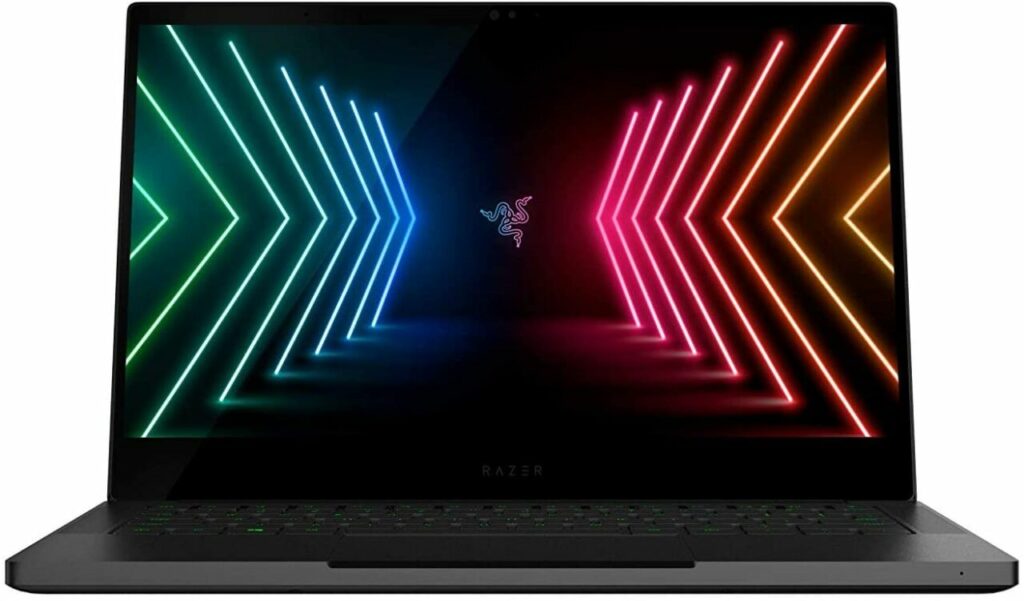 Search Razer Blade Stealth 13 on Amazon
Razer has a penchant for its high quality and performance focussed laptops that might cost more than laptops with similar specs, but offer superb value for money. Razer Blade Stealth 13 has a CNC aluminum frame making its unibody frame highly durable for rough use. The laptop already includes a Max-Q-powered GTX 1650 Ti with 4GB GDDR6 video memory.
Powering the laptop is an 11th Gen Intel Core i7-1165G7 processor that comes with a 2.8GHz base clock speed and 4.7GHz turbo speed. The quad-core processor is hyperthreading enabled and uses 16GB DDR4 Dual Channel RAM to handle heavy productivity applications. The Ultrabook offers good battery life and has a single-zone RGB lit keyboard with a good keypress response.
As for the display, the Stealth 13 offers two different options. A 13.3-inch Full HD non-touch enabled IPS screen that comes with good colour accuracy and 120Hz refresh rate and an OLED panel that is responsive to touch but has a low 60Hz refresh rate. The peak brightness of the Full HD display is a bit low at 350nits and comes with a 97 percent sRGB colour gamut. The OLED panel offers crisp and lively images that are sure to leave the gamers mesmerized but held back by low refresh rate.
Connectivity-wise Razer does a commendable job including dual USB 3.1 Type-A ports at each side of the laptop and two of the latest Thunderbolt 4 ports, one of which acts as a Power Delivery enabled charging port. A single 3.5 port finishes up wired connectivity options with no physical LAN or HDMI port. Wireless connectivity is managed by Intel Wireless-AX201 Wi-Fi 6 receiver and Bluetooth 5.1.
Pros
• THX Powered Spatial Audio
• Single Zone RGB Backlit Keyboard
Cons
• OLED Panel Refresh Rate is Too Low
• Full HD IPS Panel has Low brightness
2. HP Spectre x360 14 – Best 2-in-1 Convertible for eGPU Gaming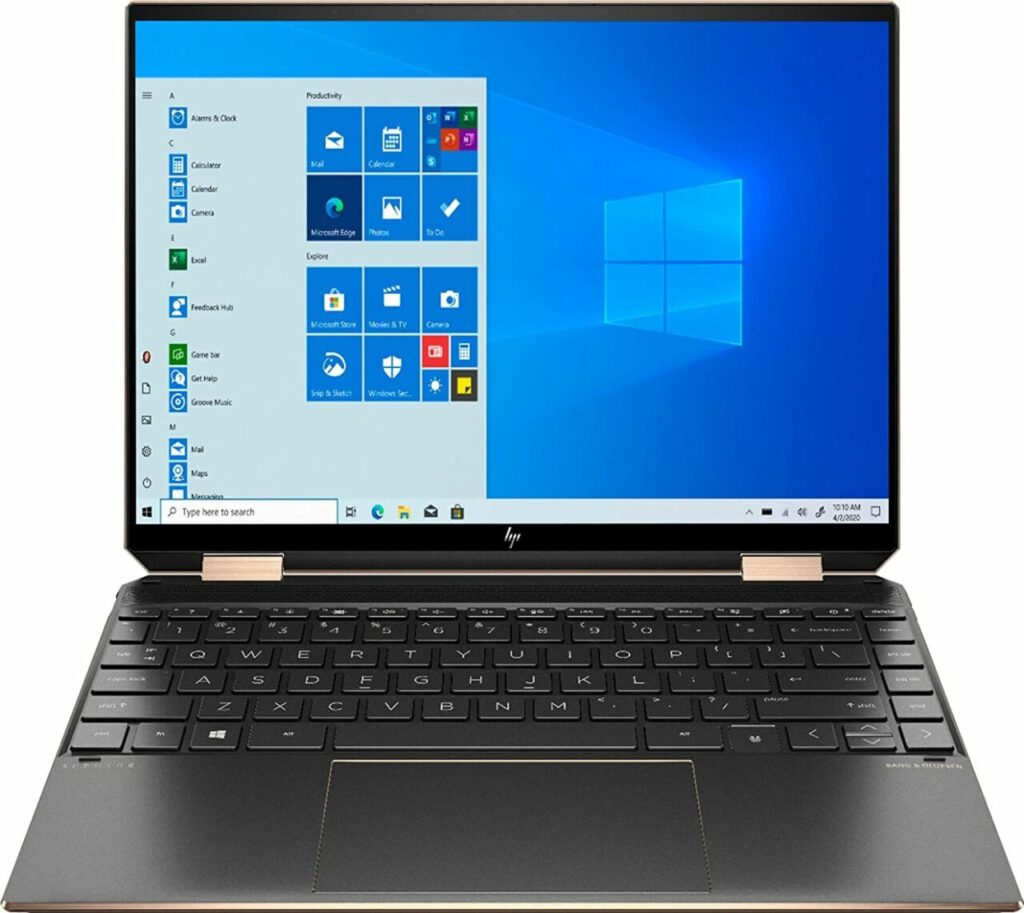 Search HP Spectre x360 on Amazon
For those who want a versatile device to game on that can double up as an entertainment, business productivity or learning focussed device, the new Spectre x360 14 is what you should go for. It is a very stylish device that comes with gem cut corners and copper luxe edges in a fairly light package and is built to last.
HP's new Spectre has a Core i7-1165G7 operating at a max 4.7GHz turbo frequency at its core and 16GB LPDDR4 memory. The device can handle light content creation and heavy business productivity with ease. However, gamers might not like the low travel distance of its pale white LED backlit keyboard or the oblong shaped trackpad. What they would like however, is the audio powered by the quad speakers tuned by Bang and Olufsen. The bass is excellent with adequate treble, highs and lows. The convertible comes with a host of sensors that make it a preferred device for learning and productivity. A great addition is a 2TB SSD for storage.
In terms of display, the Spectre x360 14 has a 13.5-inch touch-sensitive OLED screen with an odd 3K2K resolution. There is Gorilla Glass protection added on the display along with an anti-reflective coating. Colours on the display are highly accurate thanks to 100 percent DCI-P3 and sRGB colour coverage with a maximum brightness of 400 nits.
Though there is no HDR and a low 60Hz refresh rate, response time is staggeringly low at just 2ms.
The HP has equipped the new Spectre with two Thunderbolt 4 ports on the right that double up as USB4 and charging ports. Most eGPU enclosures can harness either of these ports for 8K gaming on the OLED display. For wired peripherals, we find a USB 3.2 Gen 2 Type-A port on the left and the right edge dons a microSD card slot along with a 3.5mm headphone jack. In terms of wireless connectivity, there is Wi-Fi 6 powered by Intel AX201 with MU-MIMO protocol and Miracast.
Pros
• High-resolution OLED display
• Very Light Weight with Convertible 2-in-1 Profile
• 2TB SSD Storage
Cons
• Below Par Battery Life
• Low Refresh Rate
[ss_click_to_tweet tweet="With eGPUs, you can get desktop-like graphics on any compatible laptop. Here is an article on some of the best portable laptops with the latest features that you can use with an eGPU." content="With eGPUs, you can get desktop-like graphics on any compatible laptop. Here is an article on some of the best portable laptops with the latest features that you can use with an eGPU." style="undefined" link="undefined" via="undefined"]
3. MacBook Air / Pro M1 – eGPU Enabled Gaming for Mac User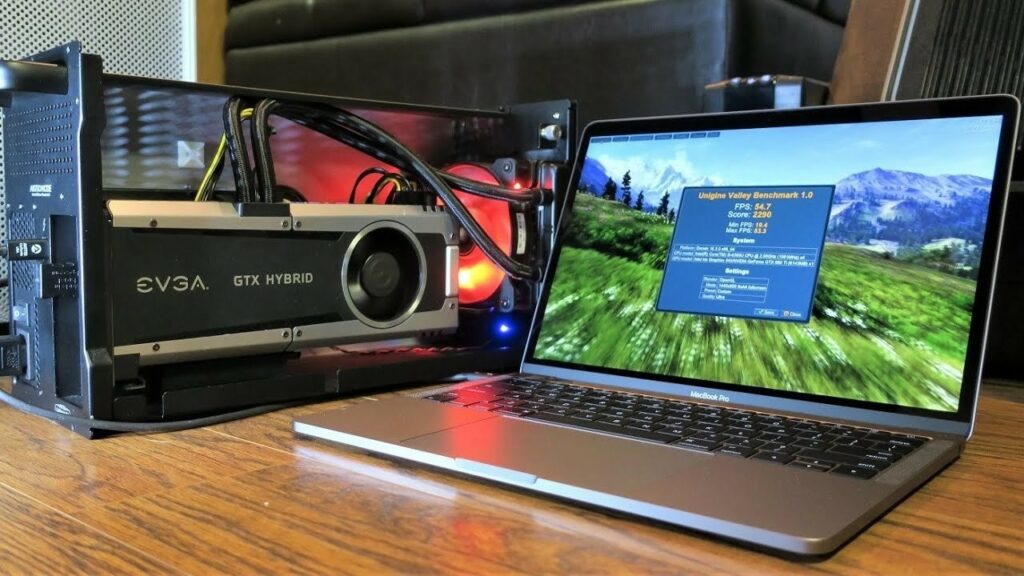 Search MacBook Air M1 on Amazon
For Mac users, the MacBook Air is a great device to game on with an external graphics card. The MacBook is supremely optimized for fast and smooth performance and offers an excellent value for money in daily computing.
The MacBook Air has Apple's own octa-core M1 processor that is an all-rounder and excels at virtually anything you task it to run. The processor uses AI and can operate at variable clock speeds to offer efficient performance when needed. The M1 processor works on Machine Learning algorithms and can run multiple applications all at once. The chip comes with an integrated GPU and Neural Engine that lets the MacBook Air do professional-quality multimedia editing.
The CPU has a combination of performance and efficiency cores that offers exceptional performance in gaming keeping battery utilization low. The laptop has 8GB LPDDR4X RAM that can be configured up to 16GB. The keyboard is backlit and offers decent feedback from keypress even though the travel distance of the keys is minimum. The keyboard is rugged with proper spacing between the keys and can handle rough use.
The MacBook Air has a 13.3-inch Retina display that is IPS grade and can support a max 2560 x 1600 resolution. The display brightness at 400nits offers impeccable visuals. DCI-P3, sRGB, and Adobe RGB color coverage are good enough for images to seem lively and pop out. High-resolution photo editing and medium content creation are a pleasure in the MacBook Air. The only downsides are the high amount of reflection from the display and a low refresh rate.
Physical connectivity ports are limited in the new Air with just two Thunderbolt 3 ports for charging and a 3.5 headphone connector. There is Wi-Fi 6 and Bluetooth 5.0 but no MU-MIMO feature as seen in few Windows counterparts. Older generation devices are unusable with the MacBook Air unless you connect a hub as there are no USB Type-A or MicroSD slots.
If you are considering the MacBook Air M1, and want something a little beefier with more thermal capacity and more performance headroom, check out the MacBook Pro M1.
Pros
• Retina Display is Excellent
• 16 Hour Battery Life
• Dolby Atmos Supported Audio
Cons
• Limited Physical Ports
• Low in-Built Storage
4. Dell XPS 13 9310 – Best Performance Overall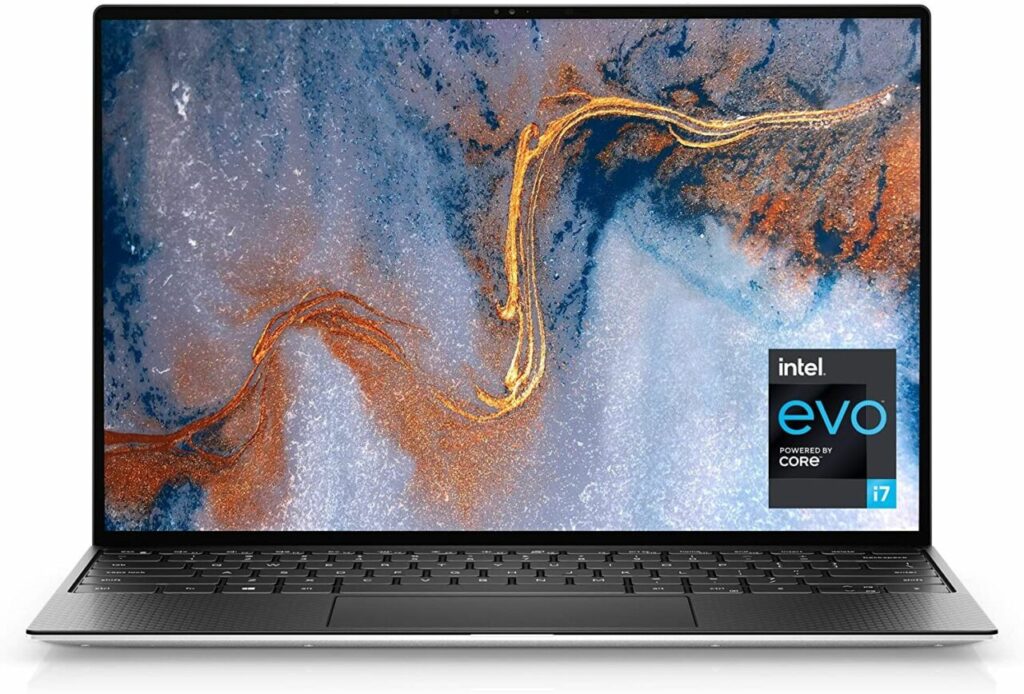 The highly portable XPS 13 from Dell looks elegant in an extremely thin chassis that's made from CNC aluminum. The laptop offers high performance when hooked on to an external graphics unit. There are a host of hardware combinations on the Dell website to choose from where you can handpick components to match your requirement.
The Dell XPS 13 comes with the latest-generation Core i7-1185G7 processor at its heart that drives the performance during heavy workloads. Its maximum turbo speed of 4.80GHz boosts single-core performance that is particularly helpful in current generation games that thrive with high single-core performance.
The Dell XPS 13 comes with Intel vPro and meets the requirements of Intel Evo. These features make the laptop highly responsive and offer snappy everyday performance with a minimum of 9 hours of battery life and instant wake-up.
The Dell XPS 13 comes with 16GB RAM and you can choose up to 1TB of SSD storage. The keyboard is backlit, but the travel distance is very low. The keyboard is not suitable for aggressive gaming and hence gamers would do well with external keyboards.
The latest XPS comes with a 13.4-inch Full HD touch screen display that has an Anti-Reflective coating to reduce day-time glare and reflections. The screen though not HD enabled has a peak brightness of 500-nits. The IPS display panel comes with good viewing angles and 94 percent sRGB colour gamut coverage. The colours appear vibrant with deep blacks and vivid reds and accuracy comparable to many OLED screens.
Dell's new laptop has two Thunderbolt 4 ports and a MicroSD slot with a headphone jack at the sides. There are cooling vents under the keyboard for thermal management. Thunderbolt 4 ports can charge the laptop and double up as Display Ports or be used for eGPU connections. Wireless connectivity is handled by Wi-Fi 6 and Bluetooth 5.1.
Pros
• Thin Bezel IPS Display
• All-Day Battery
Cons
• Lack of USB Type-A ports
• No Adaptive-Sync
5. Acer Swift 3 – eGPU Supported Laptop on the Cheap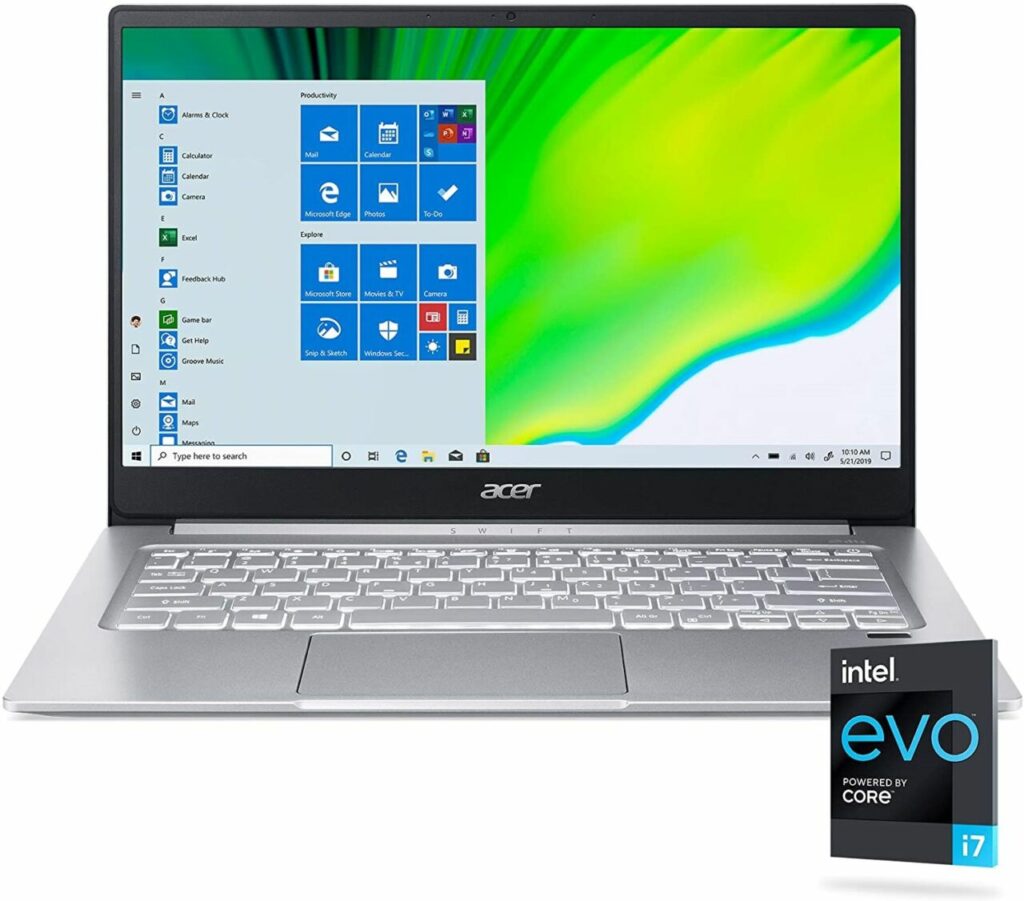 Let's clarify right at the start that our cheapest pick is by no means a slouch and comes with an Intel Evo tag and an 11th Gen processor. The Acer Swift 3 has an all-metal design, high screen to body ratio in a thin and light build that offers superb value for money to the user.
The Core i7-1165G7 is a hyperthreading enabled processor that offers excellent single and multi-threaded performance on a low TDP. The laptop comes with 8GB DDR4 RAM and 256GB SSD. The Swift 3 comes with Intel Iris Xe internal graphics giving it excellent light content creation and gaming capabilities. Intel Evo requires the laptop to be ultra-responsive with excellent battery life and responsive performance.
Acer has equipped the Swift 3 with a backlit keyboard with good travel distance and spacing between the keys but the feedback offered is inadequate for gaming. The touchpad however is highly accurate, responsive, and has a built-in fingerprint reader.
The laptop comes in a Full HD IPS screen that has narrow bezels and a high 82 percent screen-to-body ratio. The colour coverage is high and has a decent contrast ratio, but the brightness is underwhelming at 300 nits. 100 percent sRGB coverage ensures accurate colors distribution on the screen and produces crisp, lifelike images.
Of all the laptops on the list, the Swift 3 is the only one to feature a full-fledged HDMI 2.0 port and regular USB 2.0 Type-A port. There is a USB 3.2 Gen 1 port and Thunderbolt 4 port that makes it an attractive option on the cheap for connecting eGPU and high-speed storage devices. There is Wi-Fi 6 with MU-MIMO and Bluetooth 5.1.
Pros
• Superb Battery Life
• Colour Accurate Display
• DTS Powered Audio
Cons
• Screen Brightness is Low
• Contrast Ratio Lowest in Class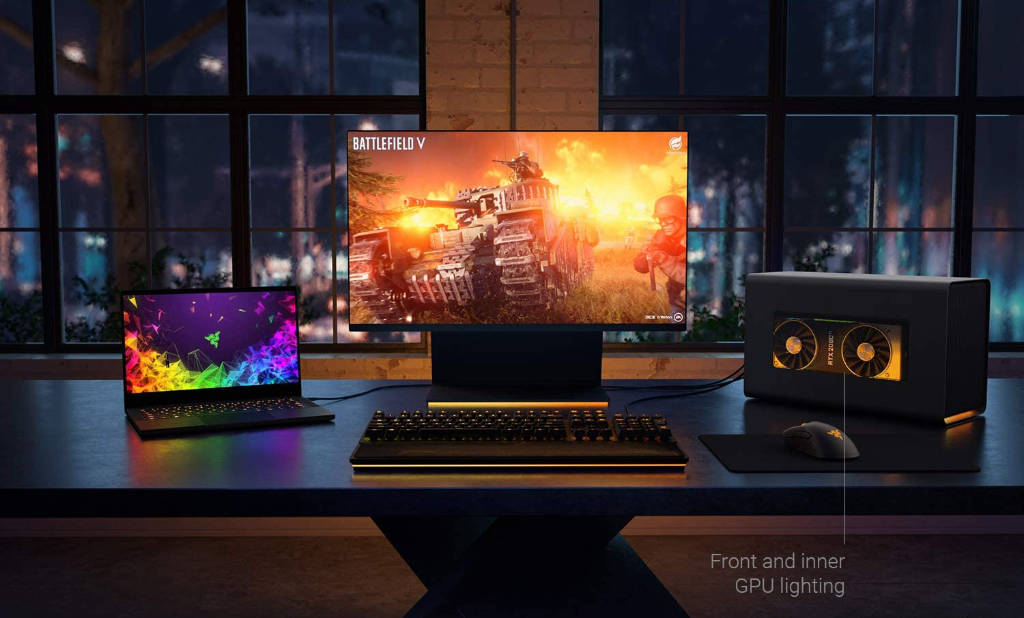 [ss_click_to_tweet tweet="Mainstream portable gaming is a reality on even ultrabooks. Here is all you need to enjoy mainstream gaming on thin chassis laptops." content="Mainstream portable gaming is a reality on even ultrabooks. Here is all you need to enjoy mainstream gaming on thin chassis laptops." style="default"]
Conclusion
eGPUs are a lifeline for laptops with low internal graphics or starter embedded graphics that do not allow for mainstream gaming or AAA titles on high settings. Many laptops now offer Max-Q-powered graphics, but for users who are transitioning from desktop to laptop gaming, the performance of Max-Q-powered laptops might be inadequate. Hence gamers looking to game on laptops are now looking towards eGPUs for gaming that enables laptops to use the power of a full-sized graphics card and unlocks mainstream gaming on virtually any thin and ultra-portable build laptop. Make every frame count by choosing one of the laptops above to go with your eGPU.