Think budget Mini PCs are slow, think again. These super efficient low power computers are not only fast enough for day-to-day computing tasks but come with super fast Solid State Drive (SSD) storage. They also take up very little space compared to your typical towers and desktops.
The Mini PCs solve the following problems:
A new PC costs a lot of money: Mini PCs costs a fraction of its standard counterparts.
Standard PC takes up a lot of room: Mini PC take up little to no footprint on the table (when mounted). Ideal for tight spaces.
Standard PC costs a lot to run: Depending on the power supply, processor and motherboard, standard PC can consume up to 500 watt of power. Mini PCs are cheap to run with low power DC adapter sipping as little as 10 to 15 watt and around 9 watt when idle. It's super cheap to run.
Standard PC needs WiFi and Bluetooth Adapters: Mini PC comes with Dual Band WiFi and Bluetooth built-in.
Standard PC needs separate graphics adapter for dual display support: Mini PCs come ready with two and sometimes three video output in the form of HDMI and/or VGA ports.
Standard PCs are upgradeable: Mini PCs are upgradeable too with mSATA port and 2.5-inch SATA bay with swappable SODIMM memory module for bigger memory. They also come with microSD slot as standard for extra storage.
Standard PC has many expansion ports: Mini PCs have tonnes of expansion ports too, up to 5 x USB 3.0 on some models.
Standard PC has Gigabit Ethernet port: Mini PCs have Gigabit Ethernet port too for fast wired connection.
Mini PC Performance Compared
Given that all the mini PCs in our list come with at least 4GB memory topping off at 8GB and super fast SSD storage from 128GB, the difference in performance comes from the choice of CPU in use. Here is a quick table of most common low power and super efficient CPUs used in mini PCs. Those highlighted in bold are the CPUs found in our list of best mini PCs.
| | Average CPU Mark | Single Thread | Cross Platform |
| --- | --- | --- | --- |
| Intel Celeron J4105 | 3048 | 1144 | 5164 |
| Intel Celeron N4100 | 2638 | 1025 | 4563 |
| Intel Celeron J3455 | 2266 | 799 | 3599 |
| Intel Celeron N3450 | 1861 | 776 | 3090 |
| Intel Celeron N4000 | 1562 | 1114 | 2830 |
| Intel Celeron N3350 | 1116 | 782 | 1862 |
| Intel Atom x5-Z8350 | 942 | 481 | 1813 |
Here is the data again in graph format, comparing the different processors from slowest (top) to the fastest (bottom).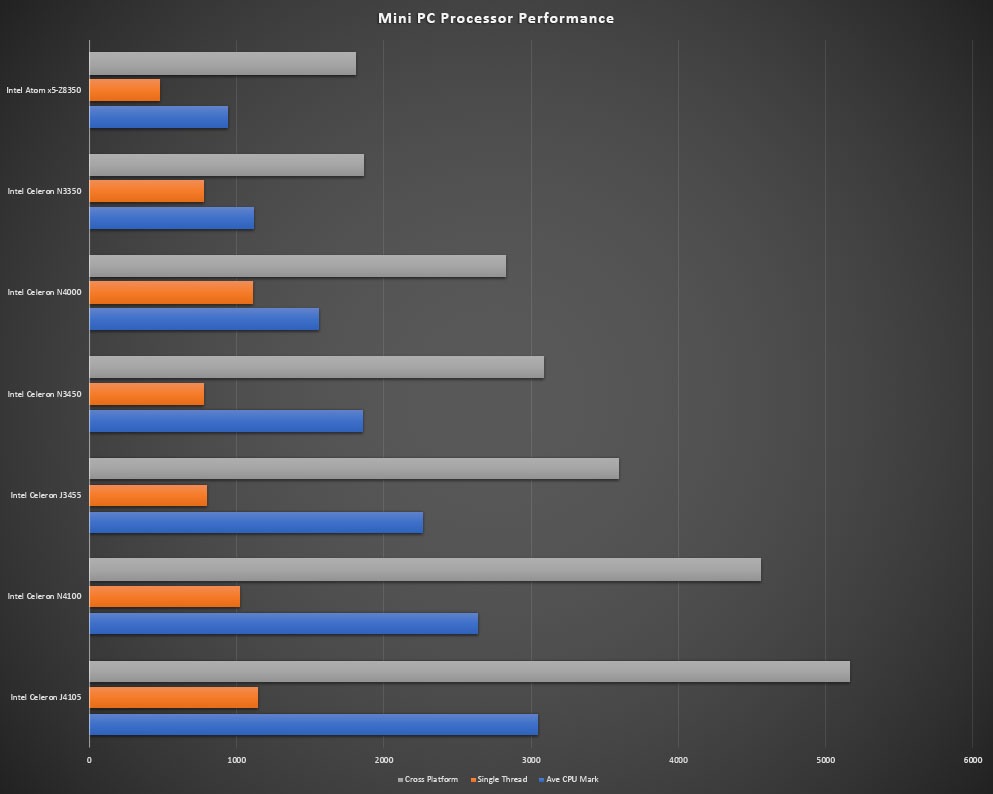 Top 5 Best Mini PCs with SSD Storage
Here are five of the best Mini PCs with SSD storage.
1. ACEPC AK2 Mini PC Intel Celeron J3455 – SSD
Another mini PC with Intel Celeron Apollo Lake chip, the J3455 processor with turbo speed up to 2.3GHz, the ACEPC AK2 is as good looking as the AK1 with chopped corner design. It measures 5.5 x 5.5 x 1.85-inch so it is slightly bigger but flatter compared to the AK1. The AK2 is available in two different configuration differing in memory and storage sizes. The base model comes with 4GB memory and 64GB storage while our preferred model comes with 6GB memory and 120GB mSATA SSD storage. Even with the latter model, you can still add an extra 2.5-inch drive in the expansion bay. Finally, this unit uses active cooling with vents and built-in fan at the bottom of the case.
Specifications
Processor: Intel Celeron J3455
Memory: 4GB or 6GB DDR3L
Storage: 64GB eMMC or 120GB SSD
Expansion Ports: USB: 2x USB 2.0,2x USB 3.0, 2x HDMI, Headphone/Mic Combo Interface, 1X Ethernet Port, 1x Micro SD Card Slot, 1x DC Power Port
Dimensions: 5.5 x 5.5 x 1.85-inch
---
2. GUZILA AK3 Mini PC Intel Celeron J3455 – SSD
The second mini PC in our list to feature the powerful Intel Celeron J3455 has the same design as the Dooter AK3 Mini PC but in space gray. The Dooter AK3 has a silver casing and uses the slower dual core Intel Celeron N3350 processor. Back to the GUZILA, the quad core processor based mini PC is again available in two models; 4GB RAM memory and 64GB eMMC storage or 6GB RAM and 120GB mSATA SSD. Naturally, we will pick the more expensive model with 6GB RAM memory and faster 120GB mSATA SSD storage. This still leaves the system with a 2.5-inch expansion bay that supports up to 2TB of SATA based storage be it HDD or SDD. Another advantage this mini PC has over others we have seen so far is the inclusion of two HDMI ports on top of a VGA port vs a single HDMI and VGA, allowing it to connect to three monitors simultaneously.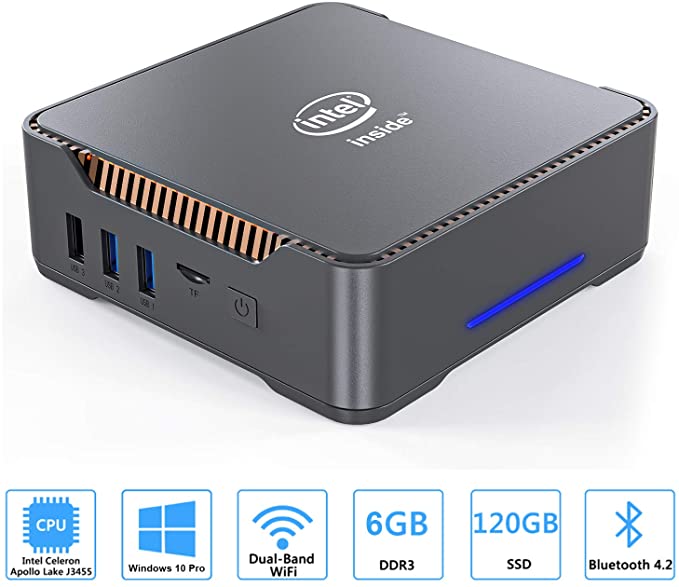 Intel Celeron J3455 Processor (up to 2.3GHz)
Memory and Storage: 6GB DDR3 and 120GB mSATA SSD,
Connectivity: Gigabit Ethernet,Dual Band Wi-Fi,Bluetooth 4.2
Ports: 2 x USB 2.0 ports, 2 x USB 3.0 ports, 1 x Gigabit Ethernet port, 1 x Micro SD Card reader, 2 x HDMI port and 1x VGA port support Three Displays
---
3. AWOW AK34 Mini PC Intel Celeron J3455 or N3450 – SSD
The AWOW AK34 comes in three different models. With a spacious 6GB RAM memory and a choice of super fast 128GB or 256GB Kingston SSD storage, what is not to like. The Intel Celeron J3455 is a quad core part that earned a number three spot on our CPU performance list above. We would pick this over the Intel Celeron N3450.
It also has something that none of the mini PCs here have, dual Gigabit Ethernet ports. Applications for this includes doubling the data bandwidth, connecting to two separate network and performing server functions (NAS, Soft Router, Firewall). Elsewhere, there are 5 x USB 3.0 ports, microSD card reader, combo jack and two HDMI output for dual display setup. The system is actively cooled with built-in fan to dissipate heat.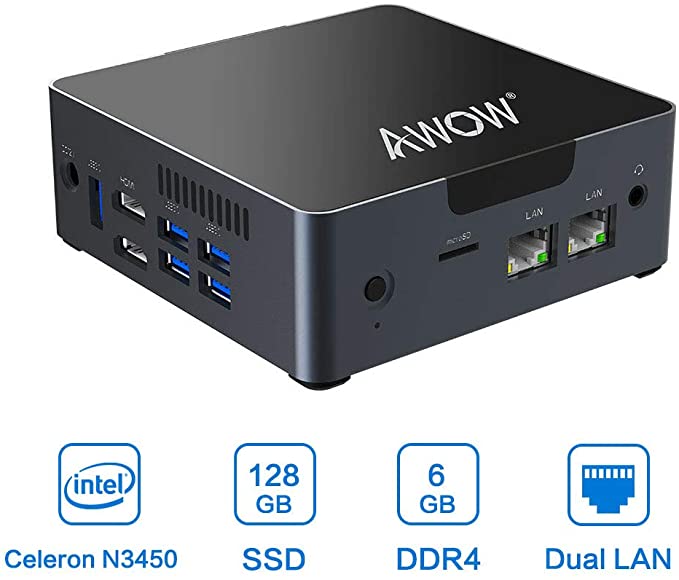 Intel Celeron N3450
Memory and Storage: 6GB DDR4 and 128GB SSD
Connectivity: Dual LAN, 2.4G+5G Dual Band WiFi, Bluetooth 4.0
Ports: 5 x USB 3.0, Dual HDMI, audio combo, micro SD card slot
Dimensions: 4.53 inch x 4.53 inch x 1.57 inch.
---
4. COOFUN Mini PC Intel Celeron J3455 – SSD
Here is another execution of the mini PC with the powerful Intel Apollo Lake Celeron J3455 made even better with 6GB DDR3 RAM memory and 128GB SSD drive. The unit supports up to two monitors, one via HDMI port and the other via VGA port for a dual monitor setup. For internal expansion, it supports M.2 2242 NGFF SSD for up to 2TB of storage. We'll take SSD storage over eMMC storage any day.
Processor: Intel Celeron J3455
Memory and Storage: 6GB DDR3 and 128GB SSD
Connectivity: 2.4G+5G Dual Band WiFi, Bluetooth 4.2,
Expansion: 3x USB 3.0, HDMI and VGA for dual monitor setup, 1x Audio Output, microSD card Slot
---
5. CHUWI HeroBox Mini PC Intel Celeron N4100 – SSD
This mini PC sets itself apart from other mini PCs on our list in that it comes in a rectangular case vs the typical square block. It also carries the second fastest processor in our list of comparison above, the Intel Celeron N4100. But it has another trick up its sleeve. It is supplied with a whooping 8GB of memory and a generous 180GB SSD storage. The box is silent with a fan less design but runs hot when pushed. There is room for expansion with additional SATA bay for SSD or HDD drive.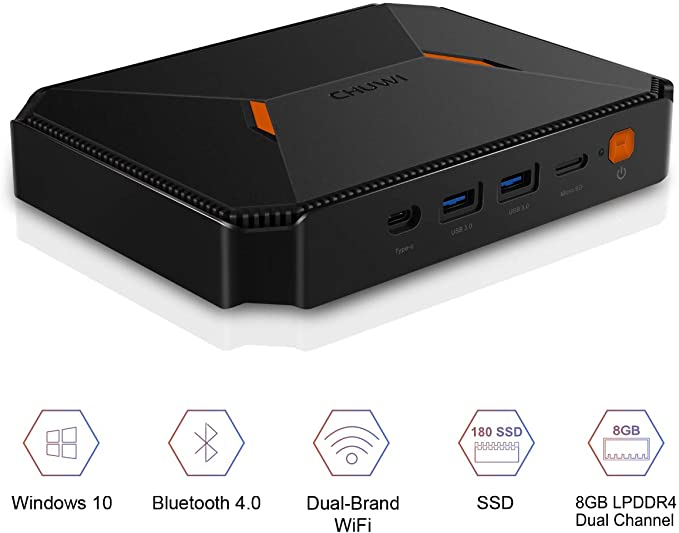 Specifications
Processor: Intel Gemini-Lake N4100 Quad-Core processor
Memory and Storage: 8GB DDR4 and 180GB SSD (Expandable 2TB 2.5-inch HDD,1TB SSD)
Wireless: 2.4GHz/5GHz Dual WiFi and BT4.2
Expansions: 2 monitors with HDMI1.4 & VGA, 1x USB Type-C, 2*USB 3.0, 2*USB 2.0, TF card reader, 2.5-inch SATA bay
Dimensions: 187.6 * 138.3 * 37.3 (H) mm
---
BONUS I: Beelink Mini PC X45 Intel Celeron J4105 SSD [FASTEST CPU]
No, the design does not make you want to reach for your pocket but it does come with the fastest processor among the mini PCs here, the Intel Celeron J4105. If anything, you want to keep it close because the the X45 is not really cheap. But there is a reason for the size and price. It uses the fastest Intel Celeron J4105 in our list with an Average CPU Mark score of 3048. But it does not stop there. The mini PC comes with three different configurations with very big and fast SSD storage and generous memory.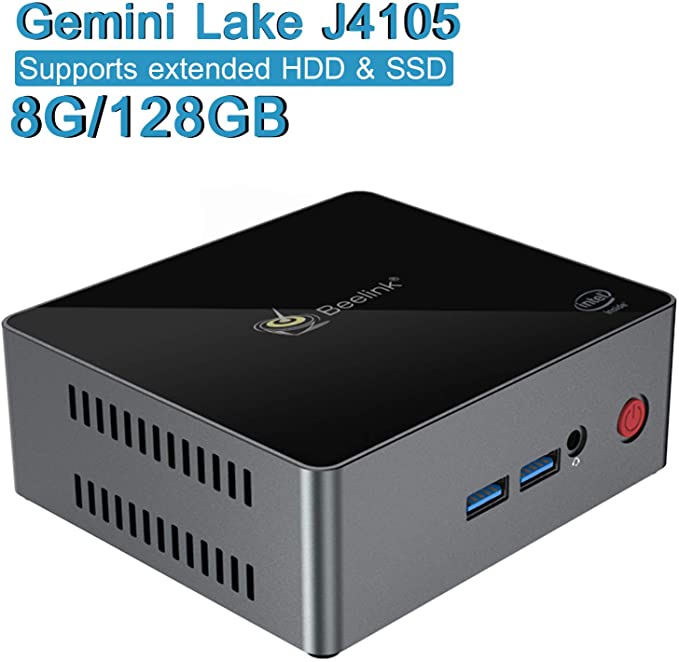 Beelink X45 with 8GB RAM and 128GB SSD
Beelink X45 with 8GB RAM and 256GB SSD
Beelink X45 with 8GB RAM and 512GB SSD
Dual display is supported via its two HDMI output ports. Depending on your chosen model, there is a mSATA SSD slot and a 2.5-inch SATA bay for extra storage.
---
BONUS II: Beelink T34 Mini PC Intel Celeron N3450 or J3455 SSD [ULTRA COMPACT]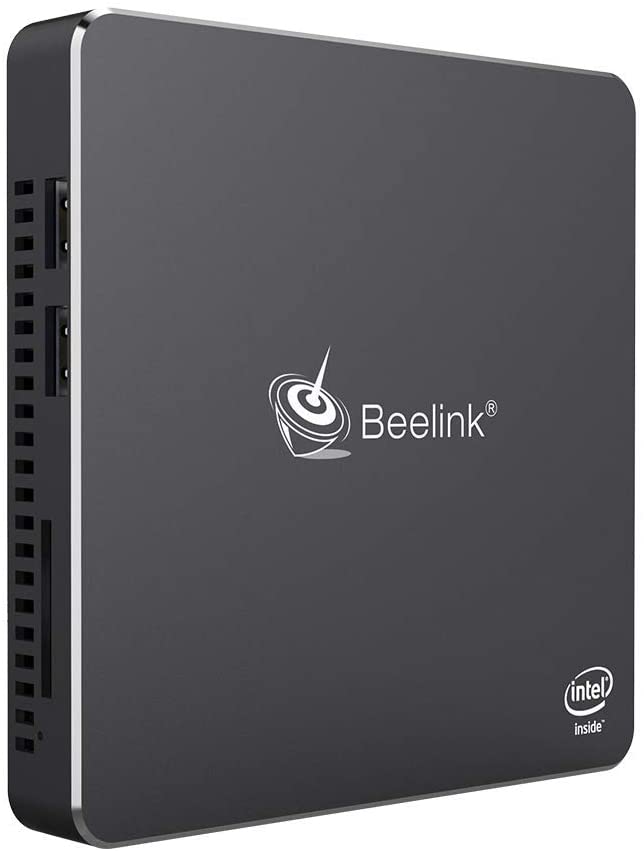 Looking for an ultra compact PC with reasonably powerful processor, big memory 8GB and ultra fast 128GB SSD storage, the Beelink T34 is your answer. Measuring only 17.9mm thick, the small case (119mm x 119mm) can be mounted on the back of a monitor with the supplied wall / PC mounting bracket. Powered by either an Intel Celeron N3450 or the more powerful Intel Celeron J3455, this compact mini PC will support dual monitor with up to 4K resolution via its dual HDMI output ports. Given its compact design, there are no internal storage expansions but you can use the USB port or microSD slot for additional storage with flash drive, external USB drive or memory card. It is worth pointing out that the faster version also comes with bigger 256GB storage.
Processor: Quad-Core Intel Apollo Lake N3450 Processor 1.1GHz Turbo Boost to 2.2GHz
Memory and Storage: 8GB DDR3 and 128GB SSD
Ports: 4 x USB 3.0 port ,1 x Gigabit Ethernet port, 1 x Micro SD Card port,2 x HDMI port
Dimensions: 119 x 119 x 17.9mm