We have been covering mini PCs for a while now. These compact, energy efficient and powerful machines are the way of the future. The Intel NUC 9 Extreme is yet another fine example of a powerful machine set in a tiny footprint.
Intel's NUC range has been the reference for tiny or mini PCs. These systems are purposefully designed to fit in tight spaces and take up little space on the desk. They serve to challenge the conventional full size desktop, offering consumers alternatives to big beige towers.
The term NUC, pronounced as Nuck, is an abbreviation for "Next Unit of Computing". It represents the next generation of desktops focusing on small form factor PC profile. Guess where Apple got their idea for Mac mini?
These systems are typically offered as barebone, which means you will need to either add your own memory, storage and sometimes processor. They typically come with motherboard, power supply and chassis as standard. Although, for user convenience, more and more manufacturers are offering them as fully built systems.
The idea is to offer small form factor desktop PCs that take very little and sometimes no space on the desk. The latter means the system is so small that it can be mounted on the back of a monitor using existing standard VESA mounts.
Typically, mini PCs compromises on performance preferring energy efficient laptop components and low power processors. But things have changed over the years with powerful mini PCs that will replace some of the fastest desktops powered by Intel Core i7 and beyond.
The Intel NUC 9 Extreme
The Intel NUC 9 Extreme as its name suggests is a full fledge gaming system with no compromise on performance. Here is a system for creators, gamers and enthusiast looking for maximum performance from their computer.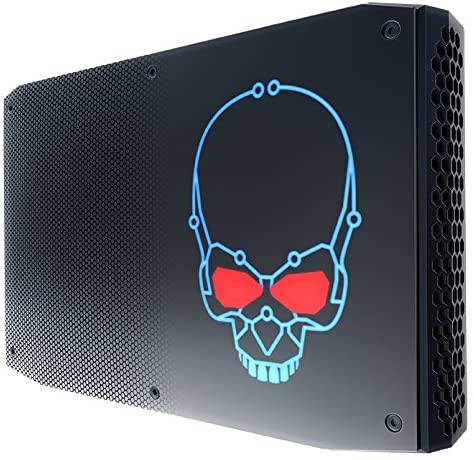 No bigger than a lunchbox, the NUC 9 Extreme is finished in black with the iconic NUC skull logo on top. Previous generation Intel NUC 8 (Hades Canyon and Skull Canyon) has a slimmer and wider profile akin to a big pencil case shown above.
Newer generation performance NUC are moving towards the half height cube form factor. Bigger but still space saving. The Intel NUC 9 is more like the Intel NUC 10 Performance (Frost Canyon) Mini PC show below.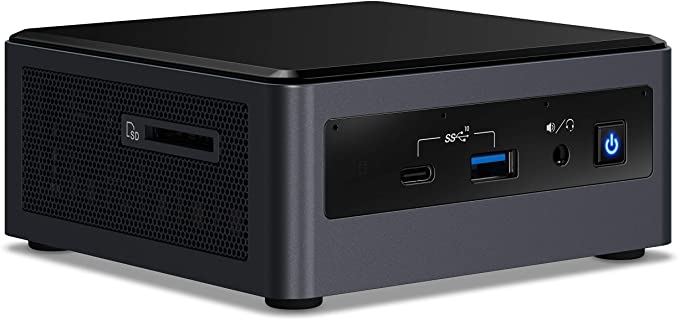 The Intel NUC 9 Extreme uses Intel® Core™ i9 NUC with 8 cores, providing uncompromised performance for gaming, VR, and content creation. With an Intel® Core™ i9 processor and support for up to 64GB of high-speed DDR4 RAM, you have more CPU power than ever in a NUC form factor. Combine this with desktop discrete graphics, Thunderbolt™ 3, DisplayPort, and HDMI capability for your optimal visual experience and up to six 4K displays. All that is wrapped in a small form factor PC shown below.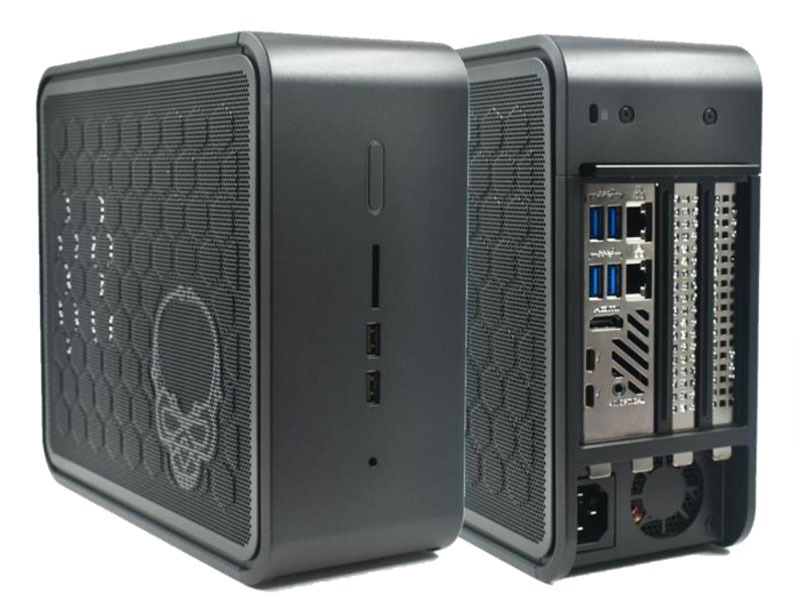 Processors
The NUC 9 Extreme, codenamed Ghost Canyon is cleverly designed to not only be small and not seen but not be heard and felt too. Thermally cool and extremely quiet, you won't even notice it is there. Available with three different CPU options, from Intel Core i5-9300H, Intel Core i7-9750H to the chart topping Intel Core i9-9980HK also listed below:
Intel® Core™ i5-9300H Processor: quad-core 2.40 GHz with turbo frequency at 4.10 GHz and 8GB Intel Smart Cache
Intel® Core™ i7-9750H Processor: hexa-core 2.60 GHz with turbo frequency at 4.50 GHz and 12MB Intel Smart Cache
Intel® Core™ i9-9980HK Processor: octa-core 2.40 GHz with turbo frequency at 5.00 GHz and 16MB Intel Smart Cache
Graphics
Each of these barebone kits can be configured with dedicated video graphics processing units on top of the embedded Intel UHD Graphics 630 using either the PCIe x16 or x4 slots. You get a wide choice of graphics to choose from at the point of purchase, just look for Mini-ITX Graphics Cards if you wish to upgrade this later. The GPU card choices are as below:
GeForce GTX 1660
GeForce RTX 2060
GeForce RTX 2070
I originally thought the single component modular design would make for an easy way to upgrade and swap out components. However it came with a half dozen cables with tiny connectors that had to be detached and reattached every time you wanted to remove it. The process is very unfriendly to people with big hands.
The only consolation is that you only need to install your dedicated graphics card or most major components like storage and memory once. You may decide to swap out the memory later but that is easy to get to.
Memory
The system has 8GB DDR4 memory pre-installed. This can be upgraded to a maximum of 64GB DDR4. You add these to the two 260pin SO-DIMM sockets based on two independent memory channels with interleaved mode support.
Storage
There is room for two M.2 Storage via two of three M.2 sockets for PCIe or SATA SSDs. These will support the following storage with different interfaces.
M.2 SATA Solid Stage Drives up to 2TB
NVMe PCIe M.2 Solid State Drives up to 2TB
Ports
You get HDMI 2.0 output that supports 4K resolution at 60Hz, dual Thunderbolt 3 that supports Alt-DP. Other ports include 6 USB 3.1 Gen 2 ports (10GBps), SDXC card slot (UHS-II), sound output, front 3.5mm headset jack, rear speaker and TOSLink combo jack.
The build quality could also be better with the heavy use of plastic parts. Other minor annoyances included the lack of a disk activity LED, audio output being limited to a mini Toslink connector and some UEFI issues
Networking Connectivity
The Intel NUC 9 Extreme supports two Intel Gigabit LAN, Intel WiFi 6 with dual band antennas built-in and Intel Bluetooth 5.
Power and Heat Management
For power, there is a 500Watt power supply built-in. However, to keep things running cool, the hardware management system will control the processor fan speed and system fan. Fan sensor inputs, voltage and temperature sensors are used to monitor the state of the system.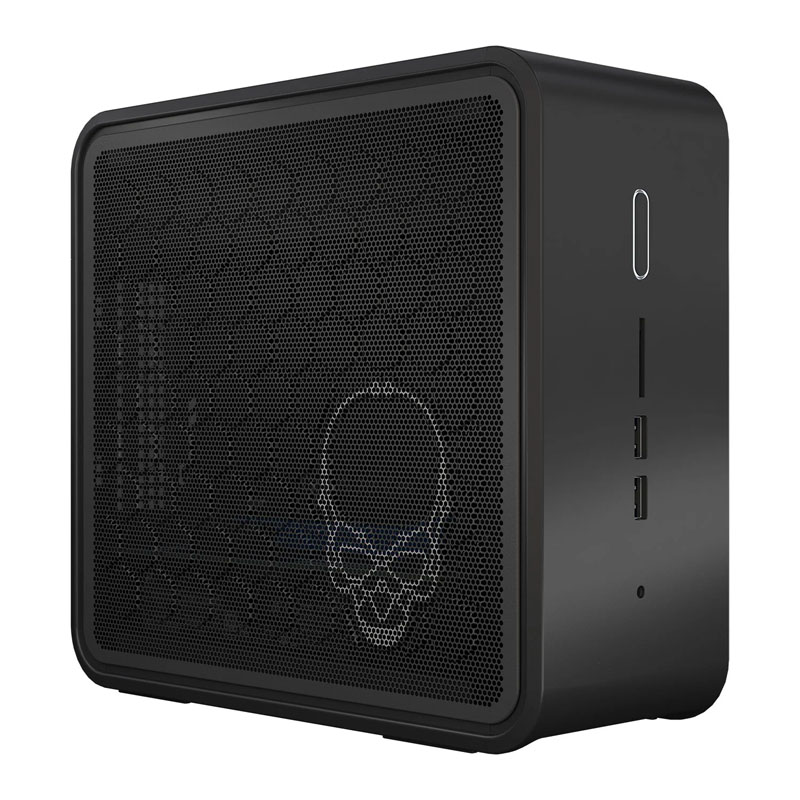 Final Thoughts
THe Intel NUC 9 Extreme particularly the Core i9 model (NUC9i9QNX) coupled with GeForce RTX 2070 graphics is the smallest and most powerful gaming machine we have seen in the market. It is also the most customisable off the shelf barebone kit, letting you decide how much memory and storage you want for your machine. The box is easy to assemble and take apart so you can scale up with upgrades or add-ons later if budget does not allow for the configuration you want at the time of purchase. Finally, the thoughtfully and tastefully designed chassis not only looks good but serves up enough cooling for all those high performance components inside.
Specifications
9th Generation Intel® Core i9-9980HK
Intel® UHD Graphics 630
Dual channel DDR4 SODIMMs max 64GB @ 2666 MHz
3x M.2 key M slots
internal front audio panel
2x internal USB 3.1 headers
2x internal USB 2.0 headers
Intel® Wi-Fi 6 AX200 2.4 Gbps (i219-LM and i210-AT), Bluetooth v5
2x front USB 3.1
SDXC slot with UHS-II support
Kensington lock with panel security
4x rear USB 3.1
2x Intel® 10/100/1000 Mbps (i219-LM and i210-AT) Ethernet ports
HDMI 2.0a
2 Thunderbolt 3
3.5mm rear speaker / TOSLINK combo jack
PCIe x16 slot with 6+2-pin & 6-pin PCIe power connectors, up to 225W, up to 8" card length, double-width capable
PCIe x4 slot
500W internal power supply