In the fight for mid-range mobile chipset supremacy, Intel's Tiger Lake lineup seems to have won the battle against AMD as a lot of laptop manufacturers have relied on the higher mid-range Intel 11th Generation Core i7-1165G7 processor in their latest offerings. The Acer Aspire 5 is a prime example from the segment offering both performance and portability in an affordable package.
At a glance
Full size laptop with large 15.6-inch Full HD IPS display
Powered 11th generation Intel Core i7 processor with Intel Xe Graphics
Plenty of connectivity options including USB-C 3.2 Gen 1 (5Gps) but lacks Thunderbolt 4
Great all-rounder PC with minimal bezel and ultra portable profile weighing only 1.65kg
Battery life up to 8 hours could be better
Sub par display performance
Lately, as supplies are resuming and laptops are coming back in stock in various eCommerce portals and stores around the world, we find a host of laptops from various manufacturers with the Core i7-1165G7 powering them. Today we have the Acer Aspire 5 A515-56G laptop which is powered by the same energy-efficient yet powerful mobile processor from Intel that has been making headlines lately.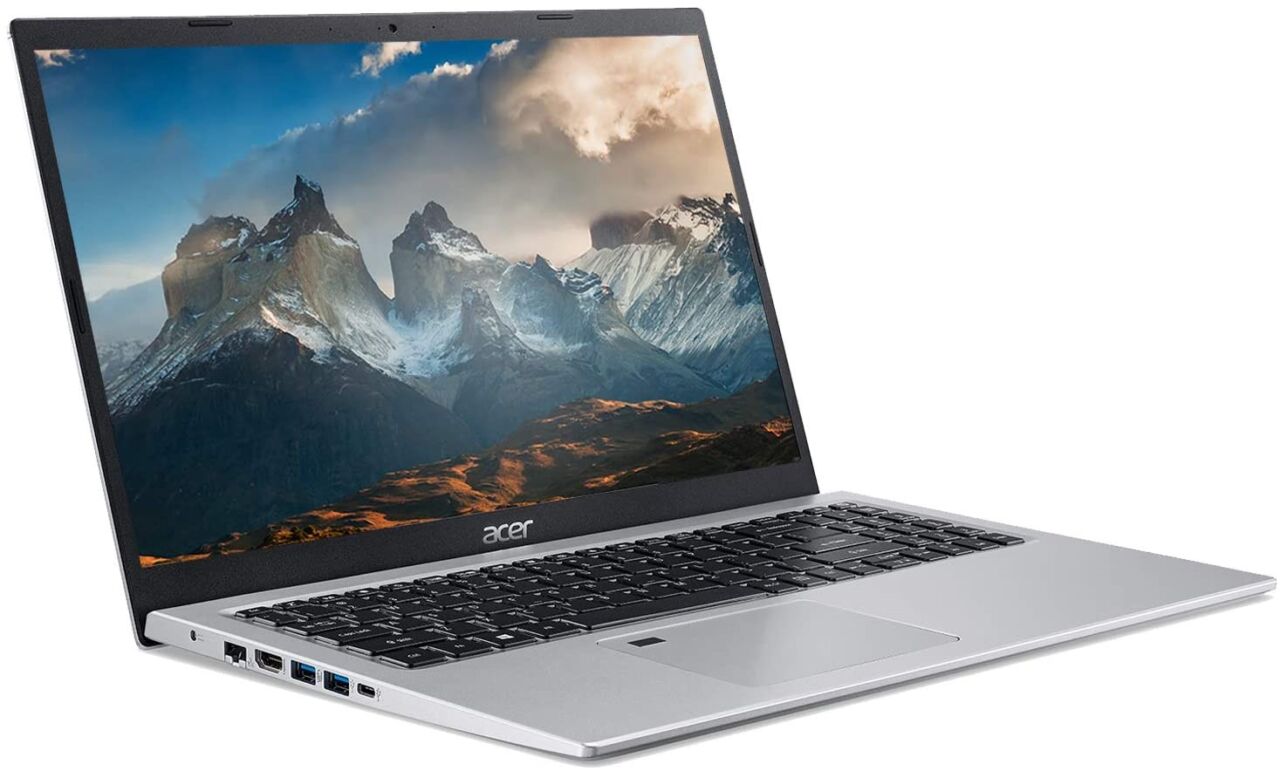 Search Acer Aspire 5 A515 on Amazon
Acer Aspire 5 A515 15.6-inch Laptop: a full-size productivity machine
Acer's new offering comes in three colours, Matt Silver, Red and Black with various CPU and storage configurations to choose from. Acer however offers variants with different graphics processors in the US and European markets. While Amazon UK lists it with Nvidia MX350 dedicated graphics and 8GB RAM, the US variant comes with Intel Iris Xe and 16GB of RAM. The Iris Xe is a much popular and well know graphics processor and hence our focus today is on the European variant with the Nvidia MX350
Display and Design
The laptop comes in a plastic base with an aluminium lid cover. However, the overall build of the laptop is not very firm as there is a noticeable flex in the lid indicating a very thin sheet of aluminium being used in its construction. This on the other hand improves the portability of the laptop as the overall weight is kept low to only 1.65 kg and a thickness of only 17.9mm.
Under the lid, there is a matte display with ultra slim plastic bezels around it. The Aspire 5 comes with a Full HD IPS display panel that is 15.6-inch wide. The screen has a 142 PPI and operates on a 16:9 aspect ratio. Viewing angles of the IPS panel are extremely good and have a maximum brightness of around 300 nits.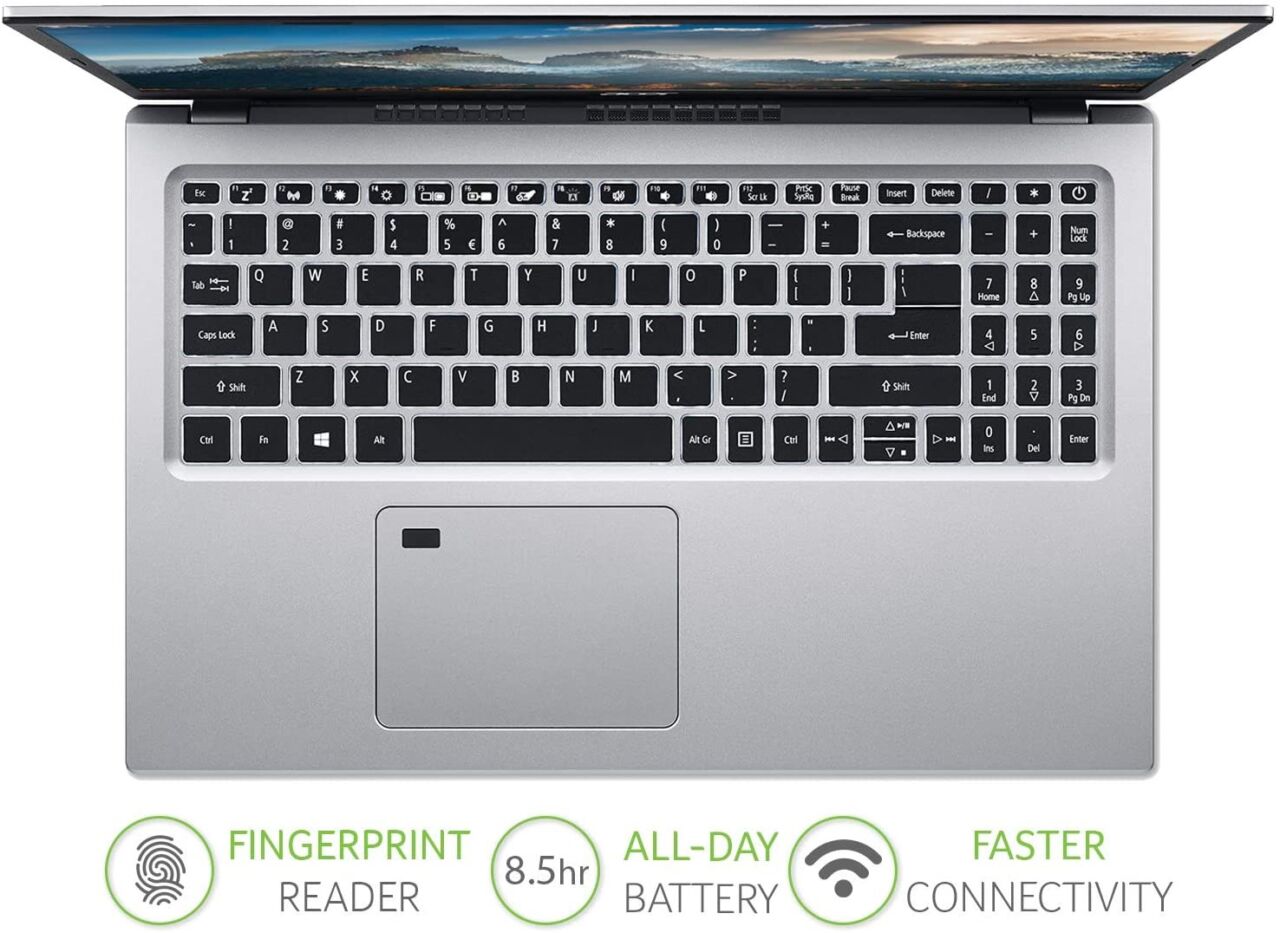 On the top bezel, there is a high-quality HD webcam for video calls. The keyboard on the Acer Aspire 5 is uninspiring and the feedback is not uniform from the keys. The travel distance is too low. A good addition is a full-sized number pad and a responsive touchpad which has splendid accuracy with sharp cursor movements, The touchpad also features a fingerprint reader on the top left corner. However, this is position off-center to accommodate the num pad.
The laptop comes with a lid-leverage system where the lid forces the underside of the laptop to rise up and allow air intake to keep the thermals in check. The heat is blown out from the rear edge of the laptop. This lid leverage design also allows for a slight prop-up angle for the keys and adds clarity to the speakers that are placed underneath. Speaker output is good with enough loudness but expect an average bass. The laptop is well suited for both business and education use with the occasional entertainment.
Performance and Storage
The Aspire 5 A515 56G comes with a variety of processors and storage combos to choose from but the variant with the Intel Core i7-1165G7 makes it the most powerful. The processor is less than a year old since launch and features 4 cores with 8 threads. Based on a 10nm Superfin design, the powerful Core i7 processor offers extremely good mid to high range performance even in the most resource-hogging and demanding tasks. It comes coupled with a minimum of 8GB DDR4 high-performance RAM. The US variant, however, has two of these 8GB modules and hence it offers an added advantage in multitasking over and above the already impressive multicore performance of the 8GB UK variant.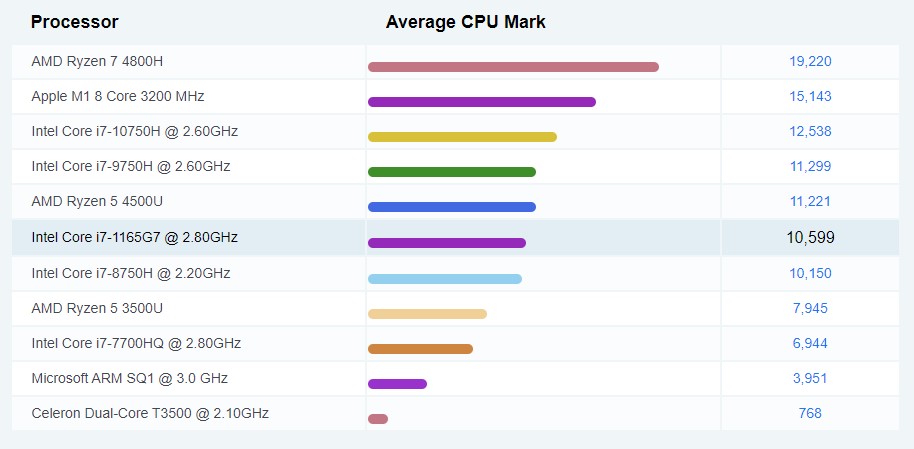 The new Aspire 5 can handle the operation of multiple databases in Excel along with 20 Chrome tabs with ease. The processor has a low maximum TDP of just 28 watts. At its peak performance, it can reach turbo speeds up to 4.7GHz. This means the laptop never stutters or freezes when there is a heavy workload.
Graphics Performance
The graphics duty in the Aspire 5 is handled by Nvidia's discreet MX350 laptop graphics which though nowhere close to a discreet GTX series graphics card, does offer excellent graphic performance. Image and video editing up to Full HD or 2K resolution can be easily carried out but the laptop does show signs of fatigue if tasked with 4K content creation.
Userbenchmark reports that the MX350 has an edge over Intel Iris Xe with a 7% performance gain with better lighting effects but when it comes to overclocked performance it falls short. The Iris Xe yields higher frame rate with faster peak multi rendering, peak NBody calculation and hugely better peak reflection handling. See user benchmark.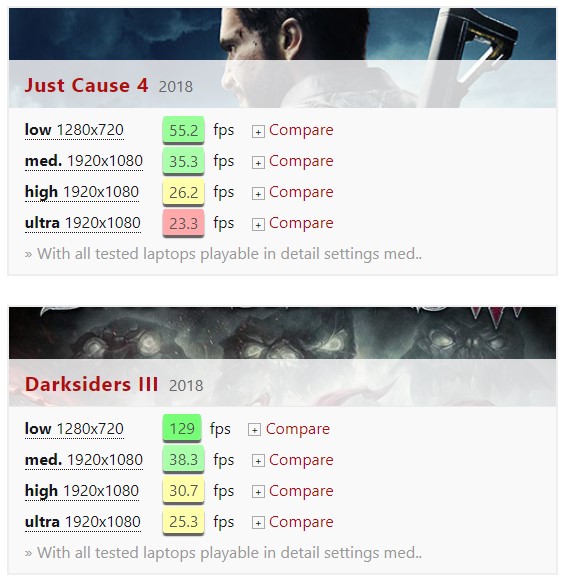 The MX350 graphic chipset operates with GDDR5 memory and PCI 3.0 support that lets users game quite a bit on the laptop. Although nowhere near to eGPUs or discreet graphics card performance, the Aspire 5 can handle quite a few yesteryear games with ease but performs underwhelmingly on modern titles. FPS counts barely go above 30fps in graphic intensive games like Call of Duty Ghost in high quality. Apex Legends or CS: GO however run smoothly but the quality settings need to be tuned down to medium. The MX350 comes with 2GB of shared GDDR5 video memory.
Storage
As far as storage is concerned every variant of the Aspire 5 comes loaded with a fast Micron 2280 SSD with the capacity varying between 1TB and 512GB. The read and write speeds are very good in comparison to some other laptops with SSDS. Windows loads within a few seconds and browsing through file manager is extremely smooth. Here are the read and write speeds of the WD SSD installed in the Aspire 5 A515 56G.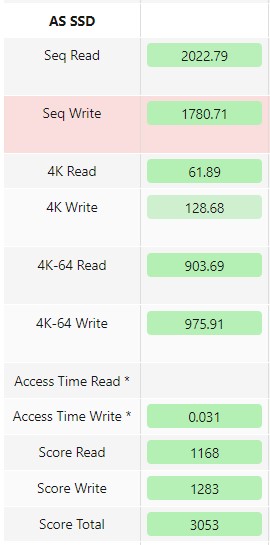 Acer Aspire 5 SSD Performance Source notebookchecks
Connectivity
As far as connectivity is concerned Acer has equipped the Aspire 5 with most of the latest connectivity ports but has strangely left out Thunderbolt Ports. We do find a USB-C port but that is not compatible with Thunderbolt 3 or 4 hence ruling out any chance to connect an external GPU or high-speed external storage. As for the rest, we have a USB Type-A 2.0, two USB Type-A 3.2 (Gen 1), and HDMI and LAN ports. There is also a 3.5mm combo audio jack for connecting headphones. Wireless connectivity is handled by the latest Wi-Fi 6 and Bluetooth 5.0.
Battery Life
As for battery life, the laptop comes with a 3 Cell Li-Ion battery that returns about 8 hours of battery life and comes with a 65-watt charger that can charge the battery up in less than 2 hours. Battery backup is inconsistent as the drainage is high when brightness is turned up but the backup can be improved if the processor's configurable TDP is used to make the processor run at its base clock of 1.2 GHz.
The Bad
The Acer Aspire 5 A515 56G is a good upgrade from last year's offering but Acer has messed up the display of the device badly this time. IPS displays are known for colour accuracy but the Acer Aspire 5's display fails miserably covering only 51 percent of the sRGB colour gamut. Even cheaper laptops with non-IPS panels have a better colour gamut. Almost half of the colours in this world won't be visible on the new Aspire 5's display. Adding to it are the build woes as the lid looks stylish but its plastic chassis and thin aluminium sheet make it flexible. The lid and the body itself are not firm enough for rough handling.
Even if you do handle it with care, the typing experience just isn't there as the keyboard is simply too inconsistent. Some keys register input on touch, some need a press. Many users have rued the lack of even a Thunderbolt 3 port on the laptop. Finally, the performance on the Acer is unoptimized and feels like the hardware and the OS though as capable as they might be, don't seem to work well together with random freezes while on load as well as sitting idle.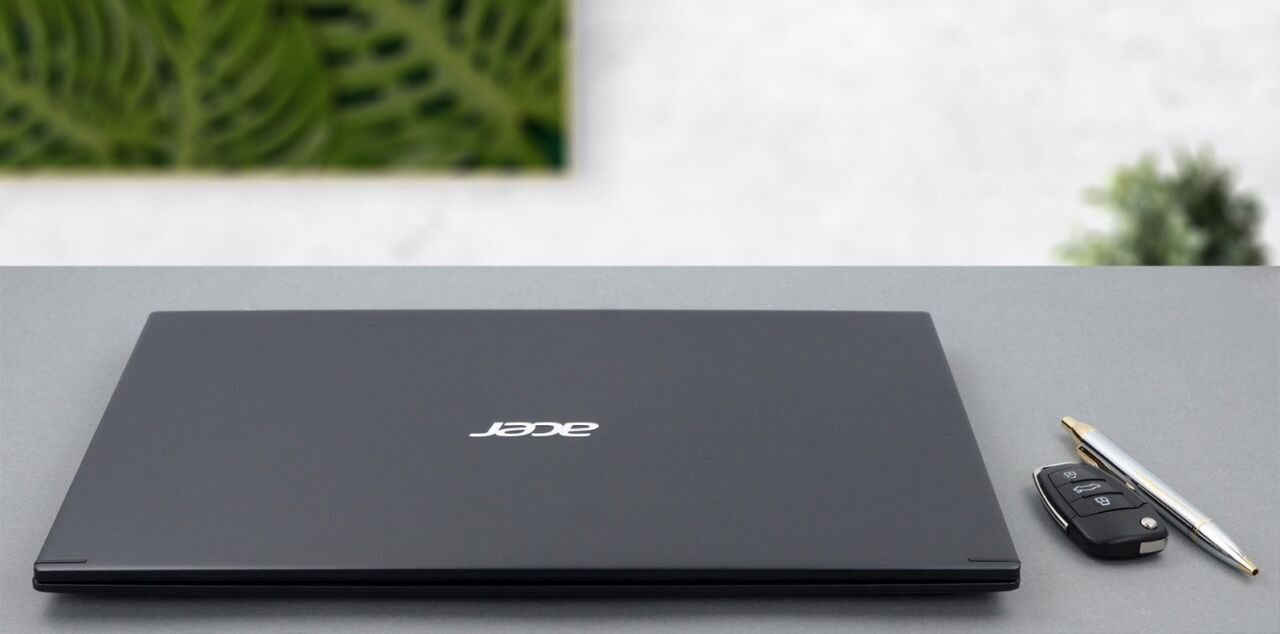 Search Acer Aspire 5 A515 on Amazon
The Good
However, not all is lost with the new Aspire 5 as you would enjoy its multitasking capabilities. The processor at the heart of the device is extremely fast and works well in tandem with the fast SSD. Even the heaviest of applications load in an instant and rarely would you see the loading circle beside the cursor.
The light build becomes a boon if you have to carry the laptop around as while the flimsy build does make it vulnerable, it also makes it extremely lightweight and portable. The laptop has a matt finish that makes it look elegant and that too on a less than 20mm chassis.
On top of the already impressive specifications, the Aspire 5 also has ample scopes of upgrade as a teardown would reveal an extra RAM slot, an M.2 slot and a 2.5-inch SATA drive bay. The battery backup offered by the laptop too is consistent with the claimed 8.5 hours.
What We Like
What we liked with the Acer Aspire 5 A515 56G is its gaming capabilities despite being a non-gaming laptop thanks to the Nvidia MX350 graphics processor. The quad-core processor is suited for extremely heavy loads and no matter how heavy we went on it, it simply refused to slow down. We were blown away by the clarity of the HD webcam and sound from its tiny speakers and finally, we loved its lid-leveraging design that smartly props up the keyboard as well as makes space for cold air to sweep in and keep the device cool. However, with the price users need to shell out we simply can't get over the fact that the display is thoroughly under par.