ASUS brings the latest AMD Ryzen 4000 series mobile processors to the desktop in their ultra compact mini PC cube, the ASUS PN50 Mini PC. Together with embedded Radeon graphics these and ability to support up to 4 displays, certainly not your typical mini PC.
Mini Does Not Mean Under Powered
Today's mini PC, those small enough to fit in the palm are no longer your cut-down, low power PC based on Intel Atom, Celeron or Pentium processors. Manufacturers have come up with mini PC with high performing components, see Intel NUC 9 Extreme (image below). Some even go as far as to build workstations using Intel Core processors and dedicated NVIDIA Quadro graphics.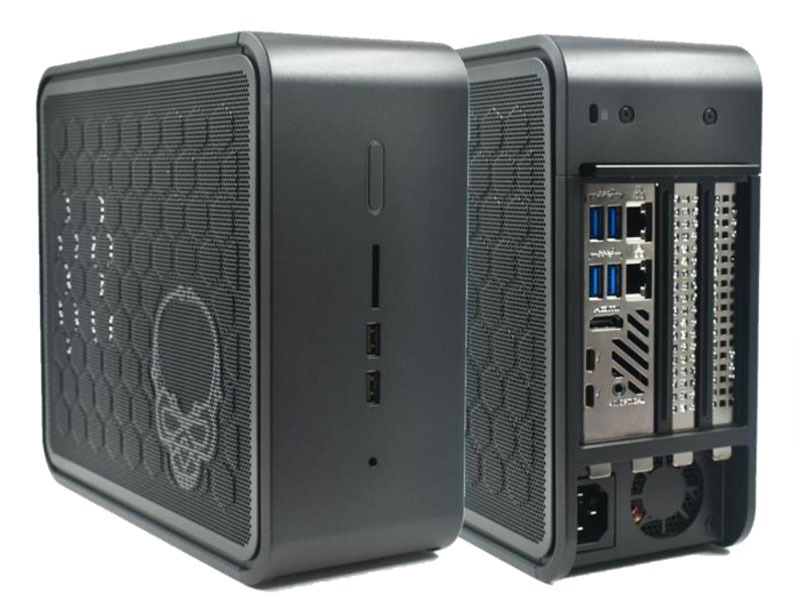 As these are mostly sold as barebone system, users can customise their own machine with dual storage, multiple displays and own memory configuration. They can also modify this, adding, upgrading or replacing those components as and when budget allows.
How you may ask are they able to do this while the typical desktops and workstations take up a lot of space with its tower profile. Thanks to high performance mobile components such as mobile processors, SO-DIMM memory modules, 2.5-inch SATA Hard Drive, M.2 PCIe storage and mobile chipsets, manufacturers are able to squeeze them into a tight ultra small form factor chassis.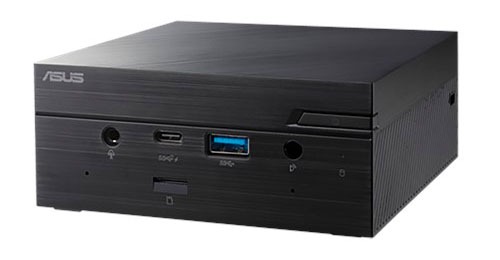 Search ASUS PN50 Mini PC on Amazon
The chassis used for ASUS PN50 is not new. The same chassis design is used to house 8th generation and then 10th generation Intel Core mobile processors in the form of PN61V and PN62 shown above, respectively. So, ASUS knows a thing or two about designing ultra compact mini PCs for today's powerful mobile processors. The PN50 is shown below with physical dimensions.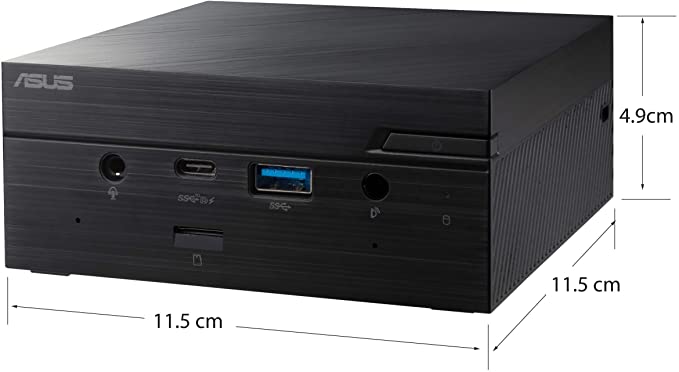 AMD Ryzen 4000 Mobile Processors for Desktop
But what really got us excited is the use of AMD Ryzen 4000 mobile processors. These are not only cheaper when compare to Intel's equivalent but are designed with performance in mind. They use AMD's integrated Radeon graphics which are known to be more powerful than Intel's embedded graphics. These mobile chipset leverages on AMD's Zen 2 architecture that uses 7nm fabrication process. Here is a list of the Ryzen 4000 series mobile processors currently on offer with processors used on ASUS PN50 marked in red.
| | | | | | |
| --- | --- | --- | --- | --- | --- |
| | Cores/Threads | Base | Boost | Graphics | TDP |
| AMD Ryzen 7 4800H | 8/16 | 2.9GHz | Up to 4.2GHz | 7 Radeon Cores | 45W |
| AMD Ryzen 7 4800U | 8/16 | 1.8GHz | Up to 4.2GHz | 8 Radeon Cores | 15W |
| AMD Ryzen 7 4700U | 8/8 | 2.0GHz | Up to 4.1GHz | 7 Radeon Cores | 15W |
| AMD Ryzen 5 4600U | 6/12 | 2.1GHz | Up to 4.0GHz | 7 Radeon Cores | 15W |
| AMD Ryzen 5 4600H | 6/12 | 3.0GHz | Up to 4.0GHz | 6 Radeon Cores | 45W |
| AMD Ryzen 5 4500U | 6/6 | 2.3GHz | Up to 4.0GHz | 6 Radeon Cores | 15W |
| AMD Ryzen 3 4300U | 4/4 | 2.7GHz | Up to 3.7GHz | 5 Radeon Cores | 15W |
| AMD Ryzen 3 3250U | 2/4 | 2.6GHz | Up to 3.5GHz | 3 Radeon Cores | 15W |
Even more powerful Ryzen 9 4900H and 4900HS mobile processors (shown below) that are designed to take on Intel's Core i9 processors have also been launched in 2020 with laptops like ASUS ROG Zephyrus G14 gaming laptop, Dell G5 15 SE (2020) and ASUS TUF A15 FA506.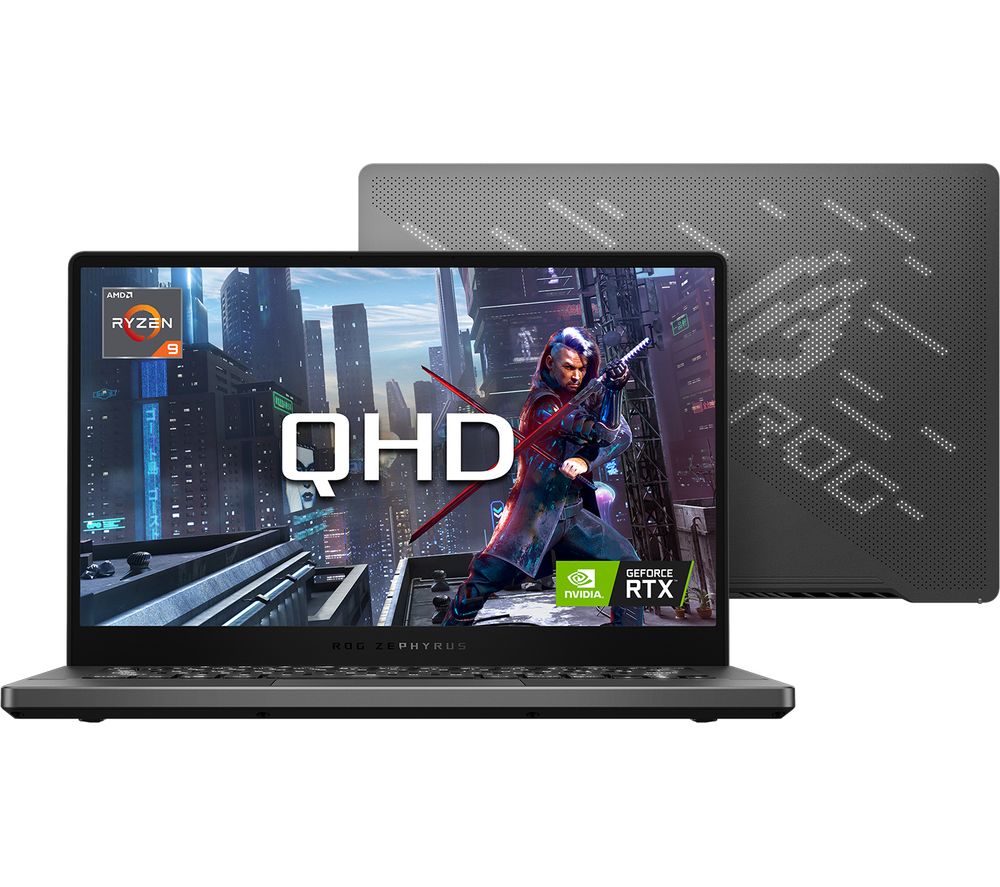 RELATED: ASUS ROG Zephyrus G14 QHD Review
Ryzen 9 4900H

Ryzen 9 4900HS
Ryzen 7 4800H
Ryzen 7 4800HS
Build process
7 nm
7 nm
7 nm
7 nm
Generation
Zen 2
Zen 2
Zen 2
Zen 2
TDP
45 W
35 W
45 W
35 W
Cores/Threads
8/16
8/16
8/16
8/16
CPU Base Frequency
3.3 GHz
3.0 GHz
2.9 GHz
2.9 GHz
CPU Max Turbo
4.4 GHz
4.3 GHz
4.2 GHz
4.2 GHz
L3 Cache
8 MB
8 MB
8 MB
8 MB
Memory Type

DDR4 3200 MHz,
LPDDR4X 4266 MHz
DDR4 3200 MHz,
LPDDR4X 4266 MHz
DDR4 3200 MHz,
LPDDR4X 4266 MHz
DDR4 3200 MHz,
LPDDR4X 4266 MHz
Graphics
Radeon Vega, 8 CUs
Radeon Vega, 8 CUs
Radeon Vega, 7 CUs
Radeon Vega, 7 CUs
Graphics Speed
up to 1750 MHz
up to 1750 MHz
up to 1600 MHz
up to 1600 MHz
Processing Power
1.79 TFLOPs
1.79 TFLOPs
1.43 TFLOPs
1.43 TFLOPs
Now, imagine these powerful processors used to power your desktop PC.

ASUS PN50 Mini PC Key Features: What you need to know about the ASUS Mini PC PN50
Powered by the latest AMD Ryzen 4000 Series Renoir Processors with Radeon Vega 7 Graphics

Choice of 4 processors, AMD Ryzen™ 3 4300U Processor, AMD Ryzen™ 5 4500U Processor, AMD Ryzen™ 7 4700U Processor, AMD Ryzen™ 7 4800U Processor
Capable of supporting up to 64GB of memory via its dual channel DDR4 3200MHz SO-DIMM
Complete with two storage bays, a 2.5-inch SATA III bay and a M.2 PCIe bay capable of supporting up to 1TB SATA III hard drive and up to 512GB M.2 PCIe SSD respectively
Comes with super fast Intel WiFi 6 adapter based on AX200 Gigabit plus chip and Bluetooth 5
Myraid connectivity options for further expansions with plenty of IO ports up front
More IO ports around the back: 1 x USB 3.1 Gen 2 Type-C, 2 x USB 3.1 Gen 1 Type-A, 1 x HDMI, 1 x RJ45 LAN, 1 x DC-in, 1 x Configurable port (options:COM, VGA, DisplayPort, LAN)
Ultra Small Form Factor measuring 115 x 115 x 49mm (4.5 x 4.5 x 1.9-inch) and weighs 700g

Capable of supporting 8K@60Hz through DisplayPort Dual-Mode (DP++) or up to four 4K@60Hz Displays

Dual USB 3.2 Gen 2 Type-C port for data transfer, power delivery and DisplayPort functionality

Microsoft Cortana support with dual-array front microphones

Infrared (IR) Receiver and HDMI CEC Support for convenient control

24/7 reliability — Extensively tested to ensure long-term dependability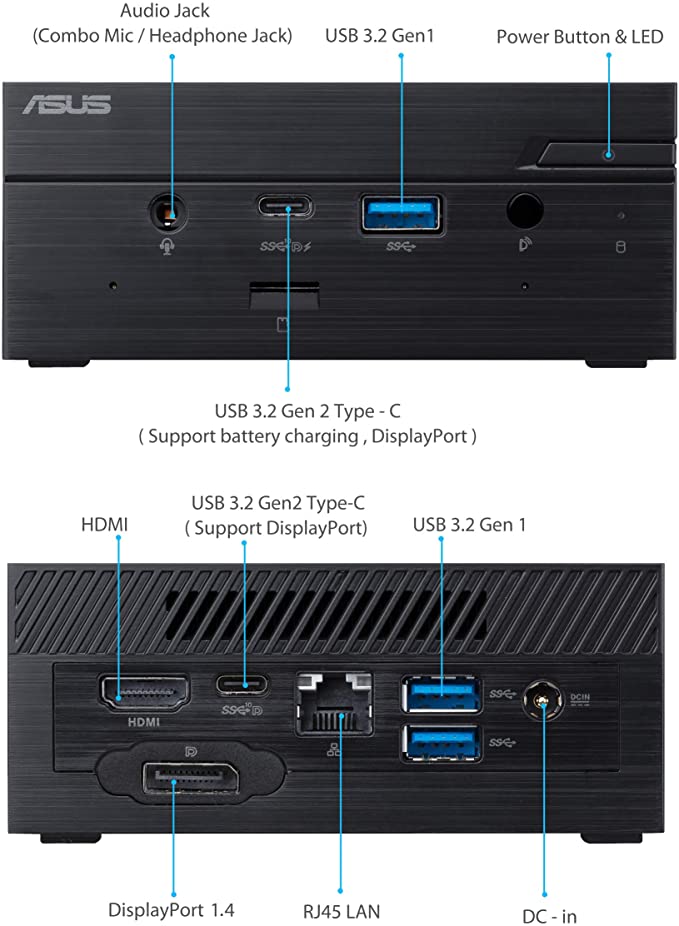 Search ASUS PN50 Mini PC on Amazon
Final Thoughts: Suitable for Any Scenario, Silent and Green
With that much power in a small package and at a reasonable price, the ASUS Mini PC PN50 ultra compact computer is going to fly off the shelf and will be popular with both home and business users and even PC enthusiasts. Powered by AMD Ryzen 4000 mobile processor with Radeon Vega 7 graphics, and support for high-speed 3200 MHz DDR4 memory, it will take on even the most demanding workload. It's small or zero footprint if you use the included VESA mounting means it will take very little or no room at all on the desk. See Graphics performance chart below.

Given its size and power, it opens up to many applications including dedicated home theatre or media center, digital signage, smart home hub with Cortana and/or Alexa, multi-display workstation, video surveillance monitor system, conference station, menu boards, information and booking kiosks, payment terminals and more. Thanks to its onboard microphone, infrared IR sensor to control application and HDMI CEC header to wake up the computer and display from stand by and modular configurable port.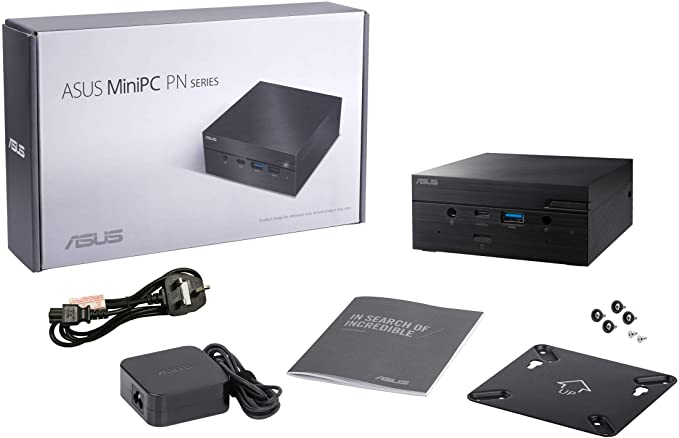 Finally, the unit is also energy efficient, consuming only as little as 10W on idle. Good for both the environment and operating costs. It also works quietly, near silent in fact, with idle noise at a whizper quiet 21.9 dB. For illustration, a quiet library has a noise level of 30dB. At a push, with full load, the noise level does increase up to 34.7dB. This means a quiet and low noise working environment allowing you to concentrate on your work.