As the entire PC enthusiast community reels in the disaster that is the current GPU crisis, people are driven to look for any alternative solutions to building a gaming machine. In the past, full size gaming desktops have been the go-to for gamers but not anymore. Gaming laptops and even Mini PCs are considered given the current shortage and price hikes. Here, we look at powerful mini PCs and barebones that can be used as gaming machines.
Breakthrough technologies are also found in mini PCs. Quite simply, these are components and technology that are already in use in laptops and even smartphones or tablets, think Apple's M1 chip. Powerful mobile processors are finding their way into mini PCs. Computers that barely take any desk space while providing more than just office-level type of general usability. While they were more or less just a novelty ten years ago, today we have really compelling options, some even capable of partially quenching that primal thirst for modern graphical performance.
Best Mini PC Overview
In no particular order, the mini PCs below come with some of the best high performing CPUs and ultra fast components in the market, albeit in its mobile variety. They would cost less than its full size desktop counterpart and can be limited in terms of the integrated or discrete GPU choices. Still, these are powerful mini PCs and barebones that are more than sufficient for gaming.
1. Condensed PC Build Experience: ASRock DeskMini X300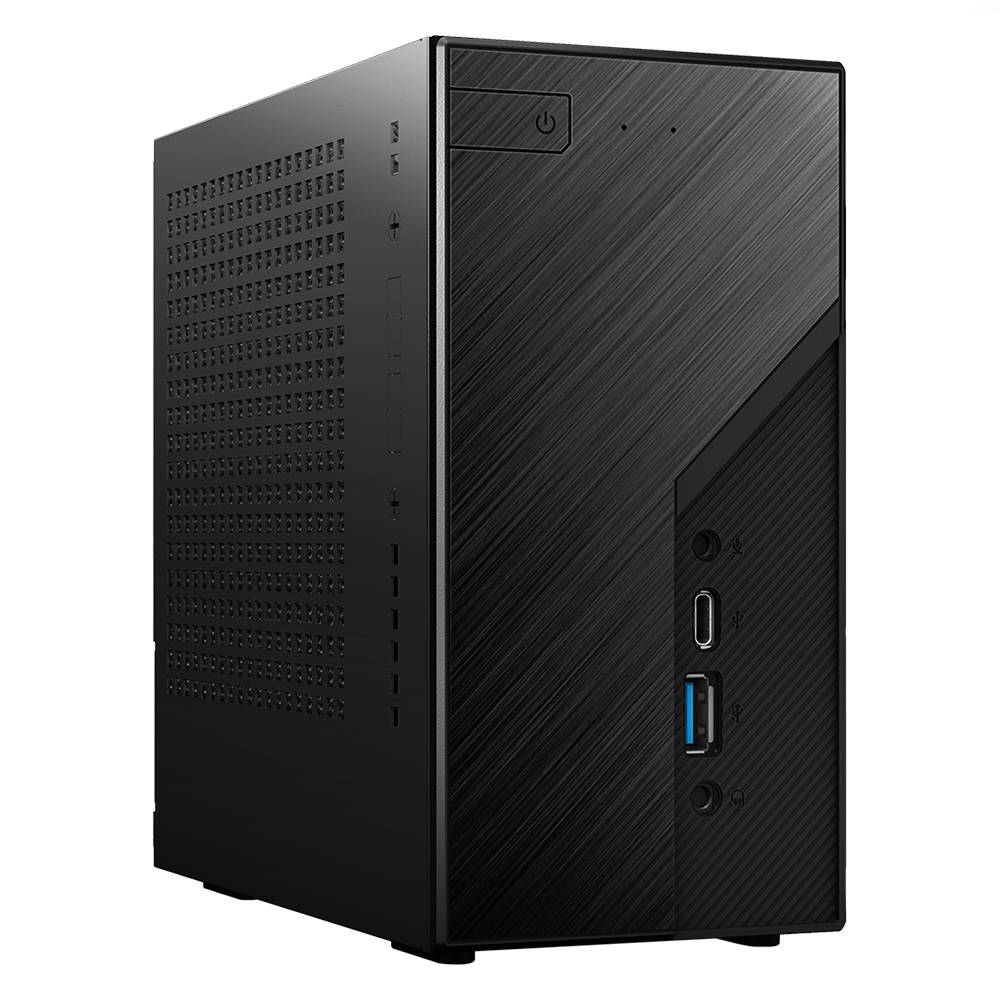 Search ASRock DeskMini X300 Series L2 on Amazon
CPU
AMD Ryzen 4000/5000 series APU
GPU
Radeon VEGA Graphics
RAM
DDR4 2x SODIMM slots
Storage
2x SATA, 2x M.2
Expandability
CPU, RAM, storage
Connectivity
1x USB Type-C, 2x USB 3.0, 1x USB 2.0,
VGA, HDMI, DP, audio, WiFi, Gbit Ethernet
For our absolute barebones unit entry, the current iteration of the Asrock DeskMini is perhaps still the closest you can get to a full desktop PC building experience. Double M.2 slots and SATA ports provide superb storage expandability, the freedom to use the latest Ryzen 5000 series APUs, and the option to install low-profile desktop CPU coolers due to the STX motherboard's native AM4 configuration. That being said, as an absolute barebones setup you do, however, still need to buy separate storage, RAM, and even CPU to even get it up and running (jacking up cost).
2. Semi-Condensed PC Build Experience: Asus PN51 (R5 5500U ver.)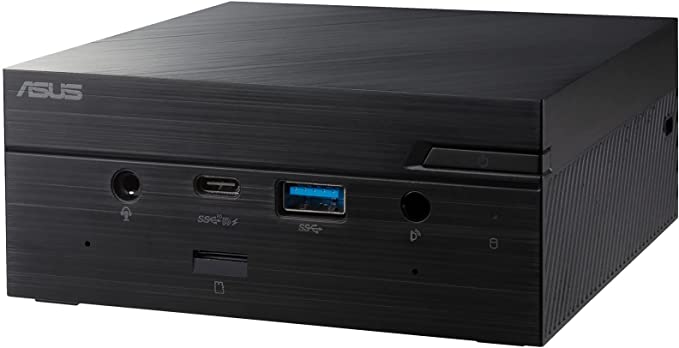 | | |
| --- | --- |
| CPU | AMD Ryzen 5 5500U 6C/12T 4.0Ghz boost |
| GPU | Radeon VEGA Graphics |
| RAM | DDR4 2x SODIMM slots |
| Storage | 1x SATA, 1x M.2 |
| Expandability | RAM, storage |
| Connectivity | 2x USB Type-C, 3x USB 3.0, HDMI, DP, audio, BT, WiFi, Gbit Ethernet |
If you want something that already has a reliable CPU on it, but would still like the freedom to choose RAM and storage options, the most modern/updated one we can find is the Asus PN51. Apart from its Ryzen 5000 series compatibility, it is essentially a PN50 clone, right down to the ventilation opening and port connections. With this entry from ASUS, we are given the very efficient Ryzen 5 5500U, which has proven to be a very reliable low-power, low-heat entertainment workhorse for entry-level AMD Ryzen laptops. Might get a bit warmer on the PN51, but it would nonetheless never throttle down. You can of course go for the higher model with, the ASUS PN51-B7115ZD, powered by AMD Ryzen 7 5700U, pictured above.
3. Ryzen 9 in a Toaster: Chuwi RZBOX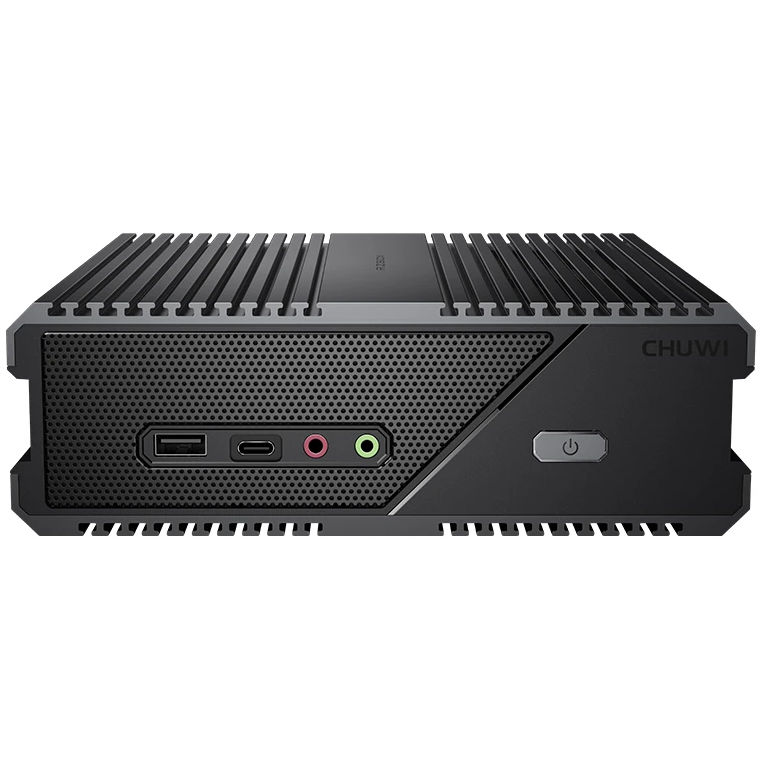 CPU
AMD Ryzen 9 4900H 8C/16T 4.4Ghz boost
GPU
Radeon VEGA Graphics
RAM
16GB DDR4 3200Mhz (default)
Storage
512GB NVMe SSD (default)
Expandability
RAM, storage
Connectivity
1x USB Type-C, 2x USB 3.0, 2x USB 2.0,
VGA, HDMI, DP, audio, BT, WiFi, 2x Gbit Ethernet
Chuwi is far more of a household name when it comes to budget laptops and tablets, but it does occasionally spin its mobile-optimized components for things such as mini PCs. One such product is the RZBOX, which Chuwi very proudly promotes as the very first mini PC using a Ryzen 9 CPU (at the time of its release). Well… it's not exactly Ryzen 5000 series. But with 8 cores, 16 threads, and 50+ watts TDP, it packs a meaty punch on any emulation or productivity load thrown at it. The caveat, of course, is that it also emulates Ryzen 9 laptops, shooting all the way to 100 degrees Celsius at maxed performance levels but worry not, the metal chassis and fins are designed to dissipate heat without making the overall dimensions too big, giving it that powerful car audio amplifier look.
4. The Much-Needed Liquid Fix: MinisForum EliteMini HX90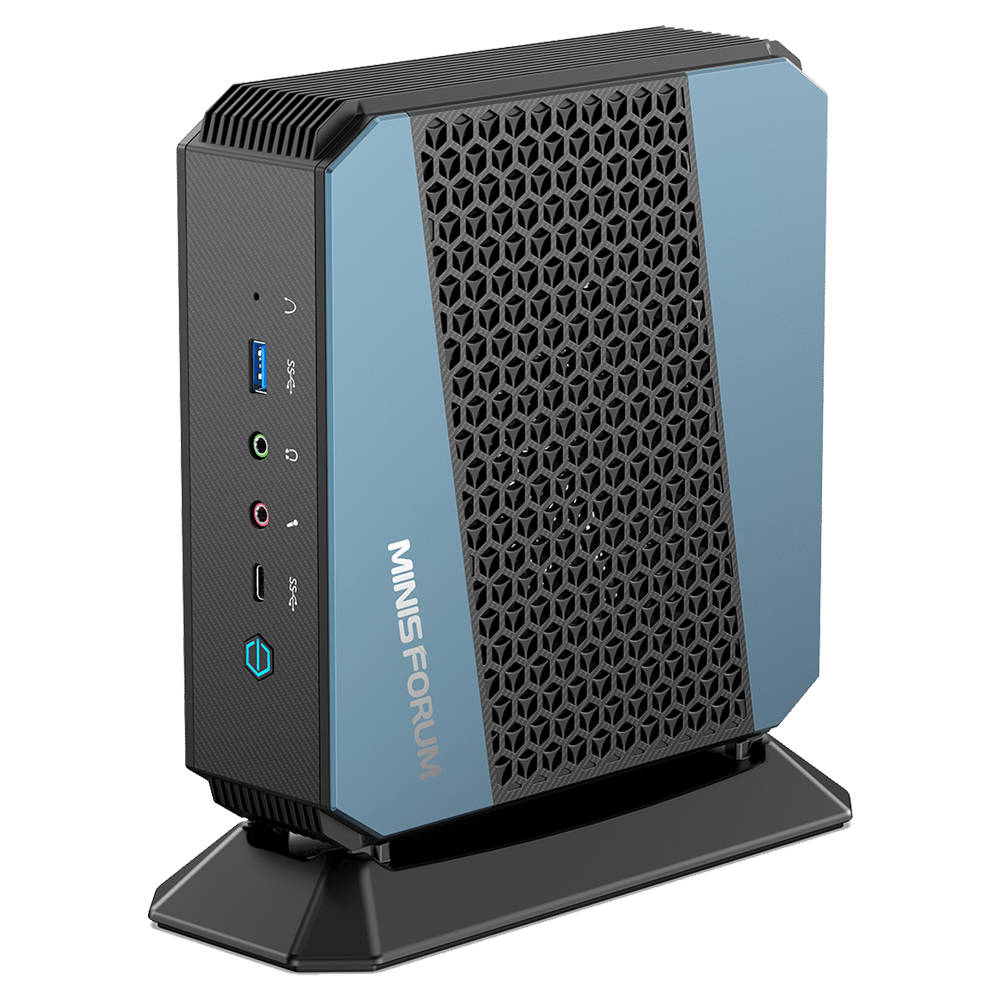 Search MinisForum EliteMini HX90 on Amazon
CPU
AMD Ryzen 9 5900HX 8C/16T 4.6Ghz boost
GPU
Radeon VEGA Graphics
RAM
16GB/32GB DDR4 3200Mhz
Storage
256BG/512GB NVMe SSD
Expandability
RAM, storage
Connectivity
1x USB Type-C, 6x USB 3.0, 2x HDMI, 2x DP,
2x audio, BT, WiFi, 2.5 Gbit Ethernet
The EliteMini HX90 should have been MinisForum's crowning product achievement for 2021. In terms of raw non-throttled performance alone, it was technically the best of the best upon its release within the discrete GPU-less mini PC category. Unfortunately, it came with a slew of heat dissipation and system integrity problems, the most notorious of which is the random spilling of its liquid metal cooling for some of the distributed models. As of today at least, most of these issues have been ironed out, though it will still be as toasty as the RZBOX on maxed loads.
5. Not Even a PC Anymore: ECS Liva Q3 Plus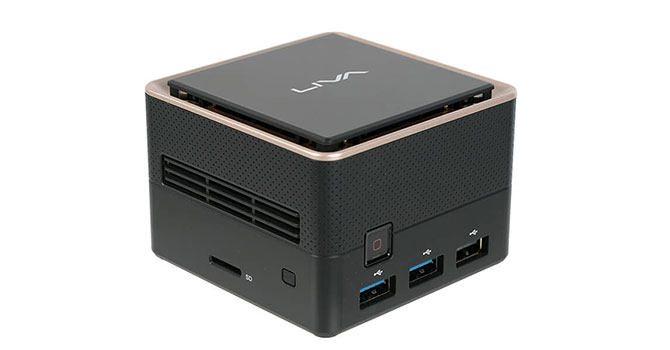 Search ECS Liva Q3 Plus on Amazon
CPU
AMD Ryzen Embedded V1605B 4C/8T 3.6Ghz boost
GPU
Radeon VEGA Graphics
RAM
4GB/8GB DDR4 2400Mhz
Storage
64GB/128GB eMMC
Expandability
none
Connectivity
2x USB 3.0, 1x USB 2.0, HDMI, mini-DP,
BT, WiFi, Gbit Ethernet
For the obligatory micro-PC entry, we'll skip the usual USB dongle PCs and those mythical crowdfunded cubes, and go with the more predictable Liva mini-PC from ECS. The special embedded Ryzen APU is a step up from the usual Intel Pentium mobile offerings, and it can be a casual classic games and emulation machine with a bit of software tweaking. Oh and, it absolutely destroys mid-range full laptops from at least five years ago in a form factor not even bigger than your desktop speakers.
6. Sky is the Bandwidth Limit: Apple Mac Mini M1

Search Apple Mac Mini M1 on Amazon
| | |
| --- | --- |
| CPU | Apple M1 4+4C/8T 2.0Ghz boost (E-core) 3.2Ghz (P-core) |
| GPU | Apple M1 |
| RAM | 8GB/16GB "unified memory" |
| Storage | 256GB/512GB/1TB/2TB SSD + 512GB/1TB/2TB SSD (optional) |
| Expandability | none |
| Connectivity | 2x Thunderbolt 3, 1x USB Type-C, 2x USB 3.0, audio, HDMI, BT, WiFi 6, Gbit Ethernet |
It may be an entire year already after release, but the M1 powered Mac Mini still holds the record as one of the snappiest experiences in a mini PC. For office work, it's super quick. The responsive and multi-tasking experience is superb, but nothing that other higher-end entries on this list can't manage. M1-optimized apps, though, especially video editing-related ones, are an absolute treat to use, even without a beefier thread count or discrete GPU to do the heavy lifting.
One minor disadvantage is that you can't use its Thunderbolt 3 ports to plug an external GPU. But hey, at least it's due shortly for an updated version earlier next year. There is also a limit as to the number of external displays you can hook up. The maximum connected displays is 2 on M1 powered systems.
7. Smaller than Beast Canyon: Intel NUC 11 Enthusiast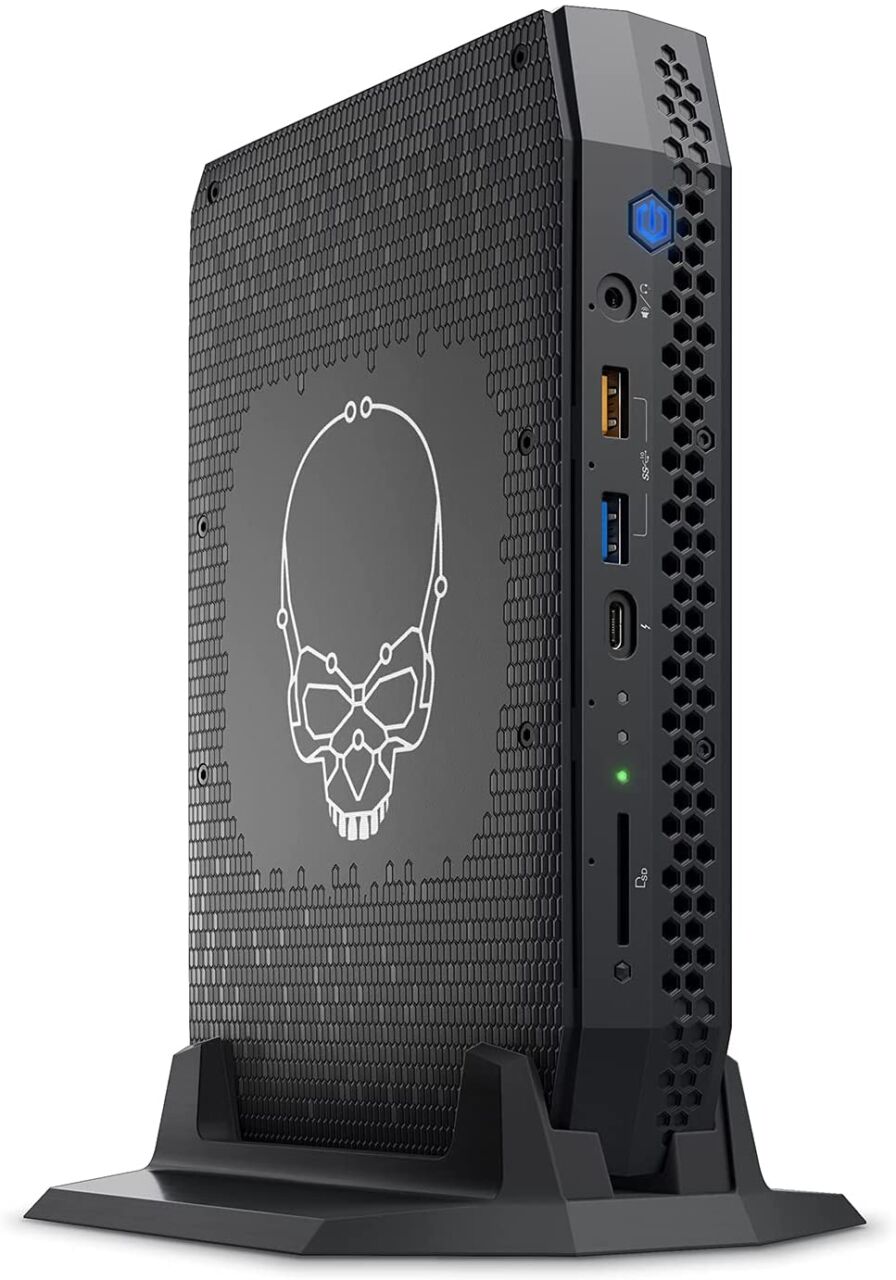 Search Intel NUC 11 Enthusiast on Amazon
| | |
| --- | --- |
| CPU | Intel Core i7-1165G7 4C/8T 4.7Ghz boost |
| GPU | Nvidia Geforce RTX 2060 6GB Max-P |
| RAM | 8GB DDR4 |
| Storage | 128GB |
| Expandability | RAM, storage |
| Connectivity | 2x Thunderbolt 4, 6x USB 3.0, audio, HDMI, mini-DP, BT, WiFi 6, 2.5 Gbit Ethernet |
The Beast Canyon was certainly very impressive pure performance-wise. However, with a significant body bordering on an ITX form factor, it hardly even checks out as a mini PC anymore. Instead, this entry goes to the next best thing, the equally expensive NUC 11 Enthusiast "Phantom Canyon". Its Core i7-1165G7 might sound as disappointing as an H35 series CPU, but it does the job well in a mini PC form factor. This is made even more impressive with the use of a mobile RTX 2060 with 6GB graphics memory, providing an excellent triple-A gaming experience on such a tiny machine.
8. Medium Triple-A Gaming in a Box: TOPTON Mini PC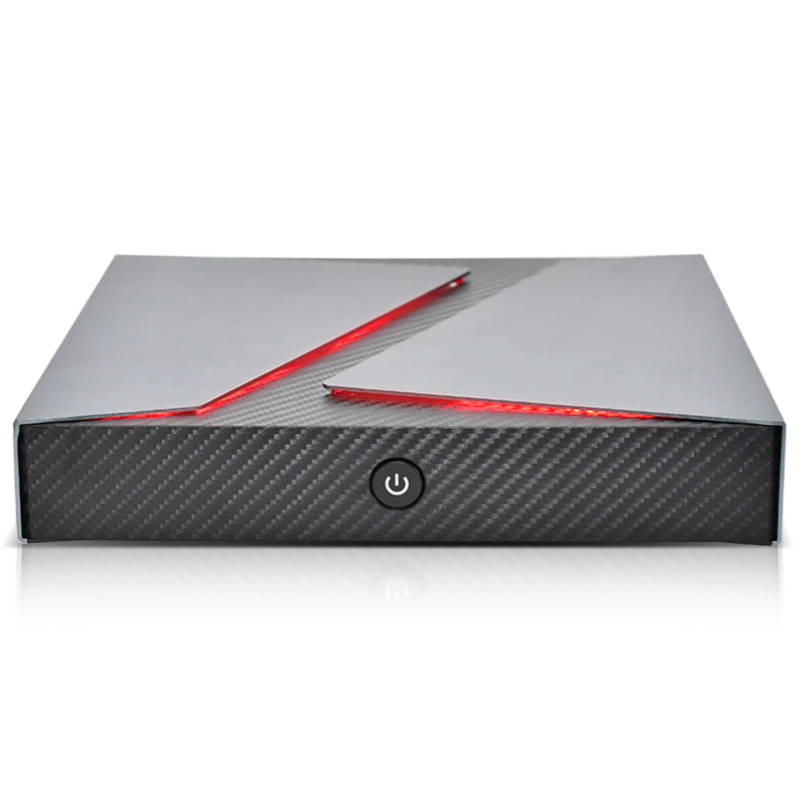 Search TOPTON Gaming Mini PC on Amazon
| | |
| --- | --- |
| CPU | Intel Core i9-9880H 8C/16T 4.8Ghz boost |
| GPU | Nvidia Geforce GTX 1650 (mobile) |
| RAM | 16GB/32GB DDR4 |
| Storage | 512GB/1TB NVMe SSD |
| Expandability | RAM, storage |
| Connectivity | 1x USB Type C, 4x USB 3.0, 2x USB 2.0, audio, HDMI, DP, BT, WiFi, Gbit Ethernet |
At a glance, this weird-looking box with a power button on the front looks like some console machine or TV set top box but the reality is, it is way more than that. This is actually a very well put together mini PC with specs that allow you to play triple-A games! Well, albeit on low/medium settings. But in terms of pure gaming, it is one of the best on this entire list simply due to that discrete GPU. It is powered by an chart topping 8-core 16 thread Intel Core i9-9880H processor paired with Nvidia GeForce GTX 1650 graphics.
Alternatively, if you don't like using a toasty Core i9, variants of Core i5-9300H and i7-9750H flavours are also available. Do take note, though, that this configuration of a wide-ish mini PC with a GTX 1650 has many other different iterations on websites like AliExpress, which would more or less also provide the same level of performance.