Nothing beats actual keys on a keyboard with its proper key stroke, tactile feel, sufficient travel, and standard key layout versus virtual or on-screen keyboards. That's the reason why Apple and Samsung sell smart keyboard covers with their tablets.
But what if you want something smaller and can be put away easily. Enters the folding keyboard. These compact, pocket sized, lightweight and foldable keyboards are your travelling companion offering full-sized typing experience on the go.
Folding Keyboard as Alternative to Smart Keyboard Cover
Not one for paying exorbitant prices for smart covers and keyboard accessories, here are your options. These third party folding keyboards are not only cheaper but just as durable and stylish. Made from aircraft grade aluminium, the well thought out design means these keyboards are both durable and sturdy.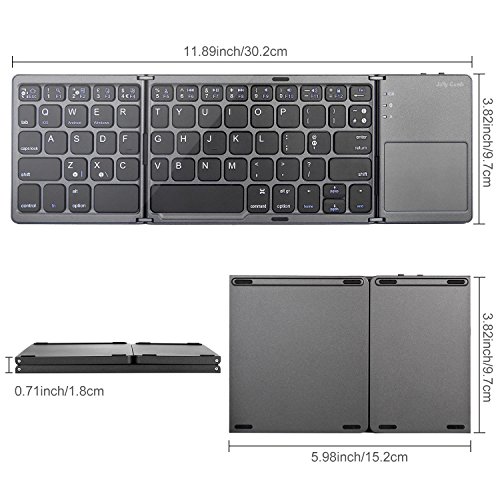 Android, Windows, PC, iOS (Touchpad only for iOS 13 and above on iPad)
Charging Time: 2-3 Hours
Typing Time: 48 hours
Standby Time: 560 hours
Dimensions and Weight: 5.98″ x 3.82″ x 0.71″ (folded) 11.89″ x 3.82″ x 0.71″ (unfolded), 10.4 ounces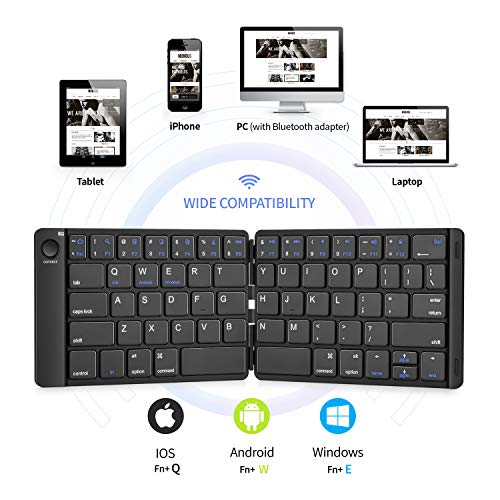 Android, Windows, PC, iOS. Multi mode support with iOS, Android and Windows keys
Charging Time: 2-3 hours
Typing Time: 40 hours
Standby Time: 180 days
Dimensions and Weight: 9.92 x 0.39 x 3.54 in, 5.53 ounces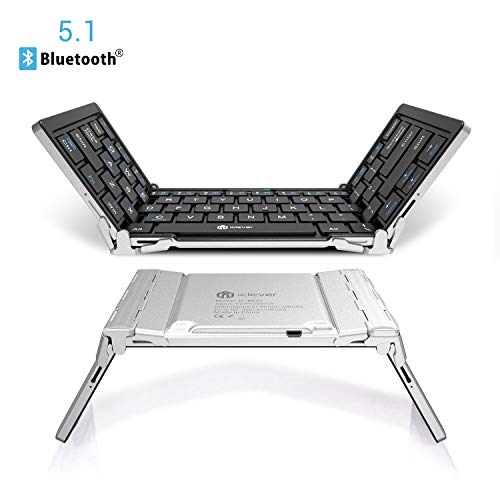 Android, Windows, PC, iOS. Multi channel support for up to 3 devices with dedicated keys. Multi mode switching for Android, iOS or Windows.
Charging Time: 2 hours
Typing Time: 90 hours
Standby Time: 960 hours
Dimensions and Weight: 5.7 x 3.5 x 0.5 in, 6.3 ounces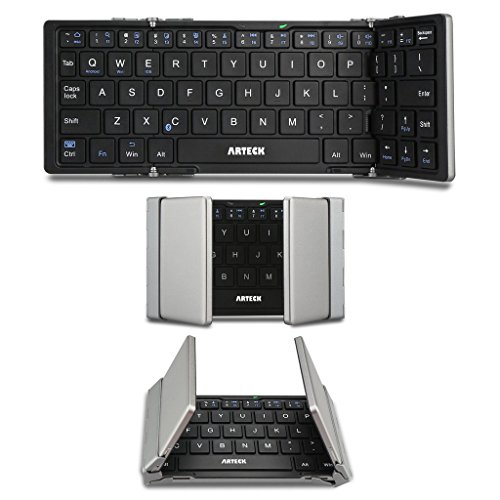 Android, Windows, PC, iOS. Multi mode support with iOS, Android and Windows keys
Charging Time: 2 hours
Typing Time: 60 hours
Standby Time: – hours
Dimensions and Weight: 9.92 x 0.39 x 3.54 in, 6.49 ounces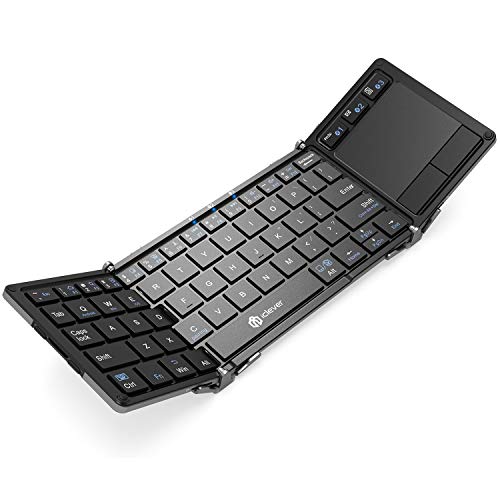 Android, Windows, PC, iOS Multi mode support for iOS, Android and Windows keys.
Multi channel support, connect and switch between 3 devices at the same time. Touchpad not supported on iOS
Charging Time: 2-3 hours
Typing Time: 60 hours
Standby Time: 90 days
Dimensions and Weight: 7.64 x 0.98 x 5.16 in, 7 ounces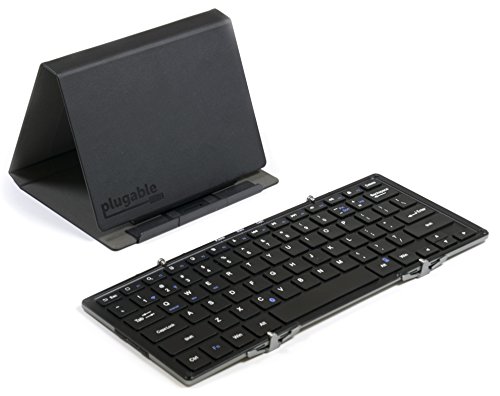 Android, Windows, PC, iOS, Mac. Multi mode support for iOS, Android and Windows keys. Cover doubles as stand for mobile device
Charging Time: –
Typing Time: –
Standby Time: –
Dimensions and Weight: 11.5 x 4.6 x 0.5 inches (292 x 117 x 12.5 mm) when open. 11.2 ounces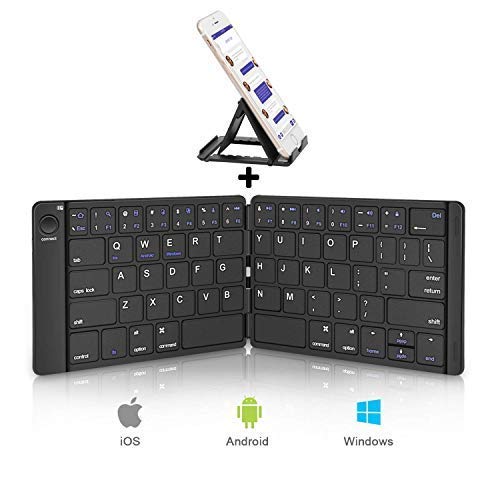 Android, Windows, PC, iOS, Mac. Multi mode support for iOS, Android and Windows keys. PU leather back.

Charging Time: 2-3 hours
Typing Time: 40 hours
Standby Time: 180 days
Dimensions and Weight: 293*100*13mm (11.54*3.93*0.51in), 157 grams 5.52 ounces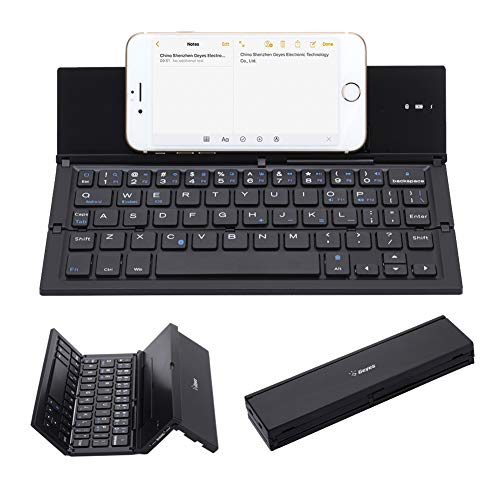 Android, Windows, PC, iOS, Mac. Multi mode support for iOS, Android and Windows keys. Built-in stand for smartphone

Charging Time: 2-3 hours
Typing Time: 120 hours
Standby Time: up to 3 months or 100 days
Dimensions and Weight: Folded size: 55 x 222 x 20 (2.16 x 8.74 x 0.78 inch), unfolded size: 170 x 222 x 6 (6.69 x 8.74 x 0.23 inch) 200 grams 7.05 ounces