The budget device maker, CHUWI has cracked the market with an offering that not only delivers but is a viable alternative to Microsoft Surface Go. Using an ULV quad-core processor, a generous amount of memory and fast SSD storage, the UBook outperforms the Surface Go, a well established 2-in-1 in this segment. Let's look at what else the tablet offers.
No, it's not Chewbacca's other nickname. CHUWI is a Chinese laptop, tablet and mini PC manufacturer churning out cool products aimed mainly at the budget segment. The 11.6-inch UBook and the 12.3-inch UBook Pro are two such great products from the company. These are tablets that take on the Surface Pro and Surface Go profiles but feature a U-shaped kickstand.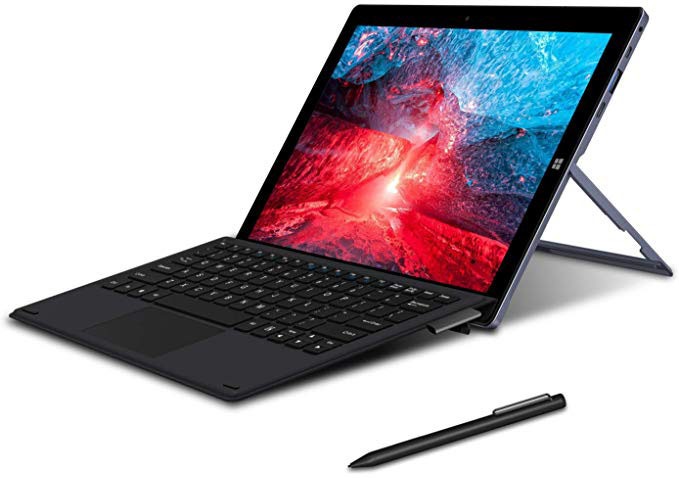 For the 12.3-inch variety, you can have this with Intel Celeron N4100 processor or the Intel Core M3 processor.
CHUWI UBook 2-in-1 Tablet
The first thing that will grab your attention is the price tag. Even though the CHUWI UBook comes with a keyboard and stylus making it a true 2-in-1 from the word go, it is priced cheaper than the Microsoft Surface Go tablet on its own. Yes, the Surface Go Signature Cover and Surface Pen are sold separately while with the Ubook, you get them as part of the purchase. But what else do you get from this budget wonder.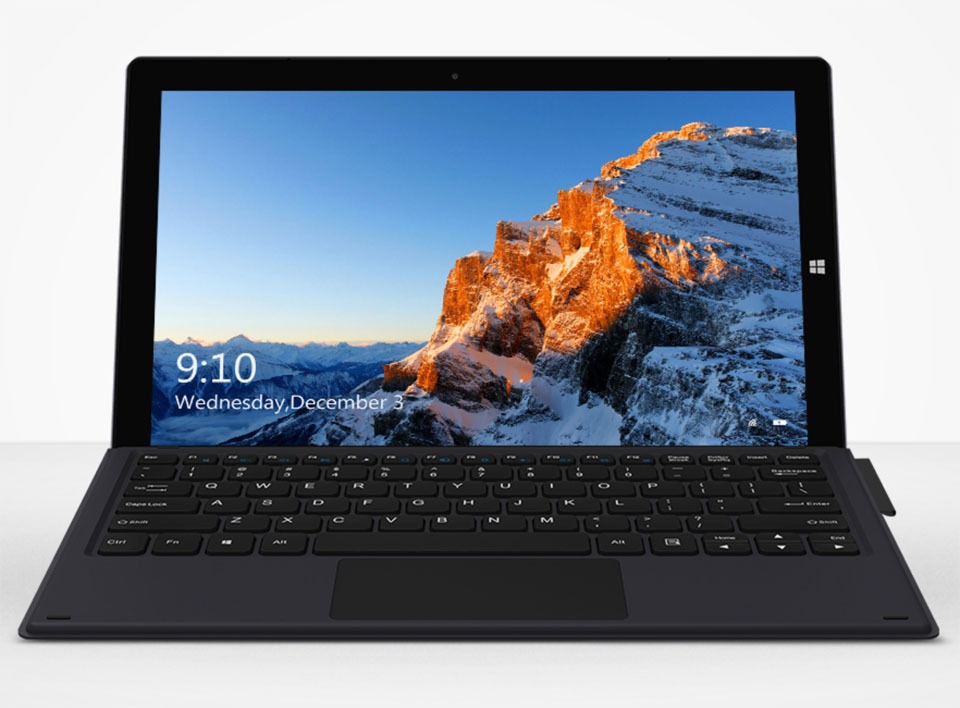 Design –

Surface Go
The U-shaped kickstand is adjustable, offering working angles from 0° to 150° which is enough to cater for most working angles. That is slightly less working angles than what is on offer by the kickstand on Microsoft's Surface Go at 165° but it is not far off. With those angles, it will allow you to work comfortably on any surface, the desk, the sofa and even on your lap. Just have to be careful not to let it slip off.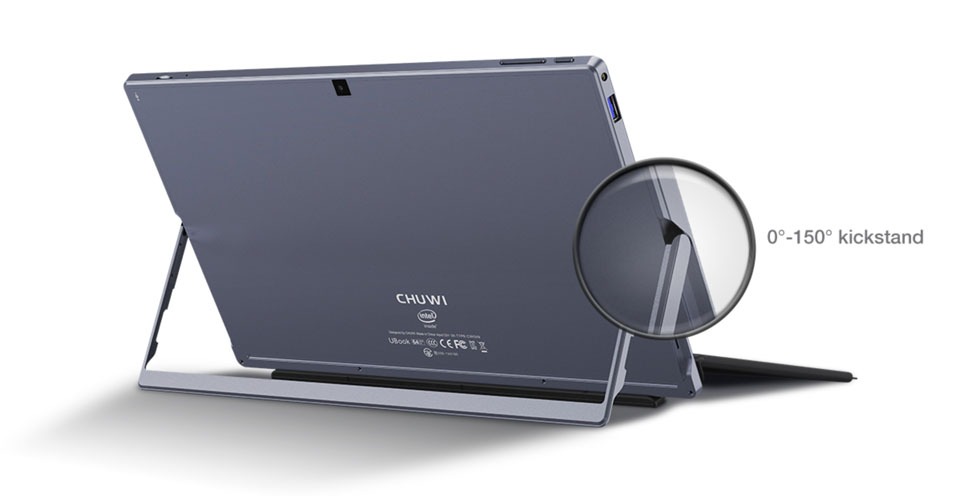 If you are on the road a lot, and you find that tablets are too limiting and that a full size laptop is too heavy, then the UBook 2-in-1 offers the best balance between the two. It is big enough to use comfortably while being super lightweight and ultra compact to take it with you anywhere you go.
Processor –

UBook
Here is where the UBook shines. Using a quad-core ULV processor, particularly the Intel Celeron N4100 code-named Gemini Lake, the processor has a base frequency of 1.1GHz to conserve energy but cranks up to 2.3GHz in turbo mode when need. The dual-core Intel Pentium Gold 4415Y code-named Kaby Lake used on the Surface Go has a base frequency of 1.6GHz with no burst frequency.
| Intel Celeron N4100 @ 1.10GHz | Intel Pentium 4415Y @ 1.60GHz |
| --- | --- |
| Description: Intel UHD Graphics 600 | Description: Intel HD Graphics 615 |
| Class: Laptop | Class: Laptop |
| Socket: FCBGA1090 | Socket: FCBGA1515 |
| Clockspeed: 1.1 GHz | Clockspeed: 1.6 GHz |
| Turbo Speed: 2.4 GHz | Turbo Speed: NA |
| No of Cores: 4 | No of Cores: 2 (2 logical cores per physical) |
| TDP Down: 4.8 W | TDP Down: 4.5 W |
| Typical TDP: 6 W3 | Typical TDP: 6 W3 |
Table: Comparing the Processors
Crunch time. When it comes to performance, quad-core wins hands down. Based on PassMark's Average CPU Mark scores, the Intel Celeron N4100 achieved 2243 points compared to 2218 by Intel Pentium 4415Y in multi-thread performance. When comparing single thread ratings, the Celeron N4100 again tops the chart with 2987 compared to 2427 by Intel Pentium 4415Y. UserBenchmark puts the Intel Celeron N4100 effective speed at 36% higher and Average User Bench at 37% higher putting the slower Pentium Gold 4415Y as the baseline.
This is a fast machine for for word processing, excel spreadsheet manipulation, web browsing and whipping up a presentation. It is also great for streaming music and video as well as playing lightweight online games but it is not a super fast machine.
Memory –

UBook
With the UBook 11.6-inch, there is only one memory option, the 8GB RAM. This is not configurable. However, with the Surface Go, you get the option of 4GB or 8GB. Obviously the bigger the memory, the better and 8GB is certainly a comfortable memory size given how we tend to have multiple applications open at the same time.
Storage –

UBook
Again, we see an advantage with the UBook given that it comes with a bigger 256GB of fast SSD storage. You can add more storage using the TF Card slot. On the other hand, the Surface Go comes with two storage options, the first is the slower eMMC storage at 64GB and the second is a faster SSD storage at 128GB. Both are no where near as big as 256GB on the UBook. Typically, around 25-30 GB is used by the system.
Display –
Surface Go
Here is where opinions split. Personally, I prefer the 3:2 aspect ratio on the Surface Go at 1800 x 1200 pixel eventhough the display is smaller at 10″ compared to 11.6″ on the UBook. It's just better for productivity apps like Word or Excel.
The UBook has a widescreen display with an aspect ratio of 16:9 and a screen resolution of 1920 x 1080. That is a respectable Full HD resolution on a small screen with IPS technology for wide angle viewing. For its size, it is great for entertainment and streaming videos. Also, it is worth noting that the 11.6-inch is fully laminated to work smoothly with the supplied stylus.
You may prefer the UBook's 11.6-inch display given its bigger size, making it easier to work on compared to a rather restrictive 10-inch display regardless of the aspect ratio.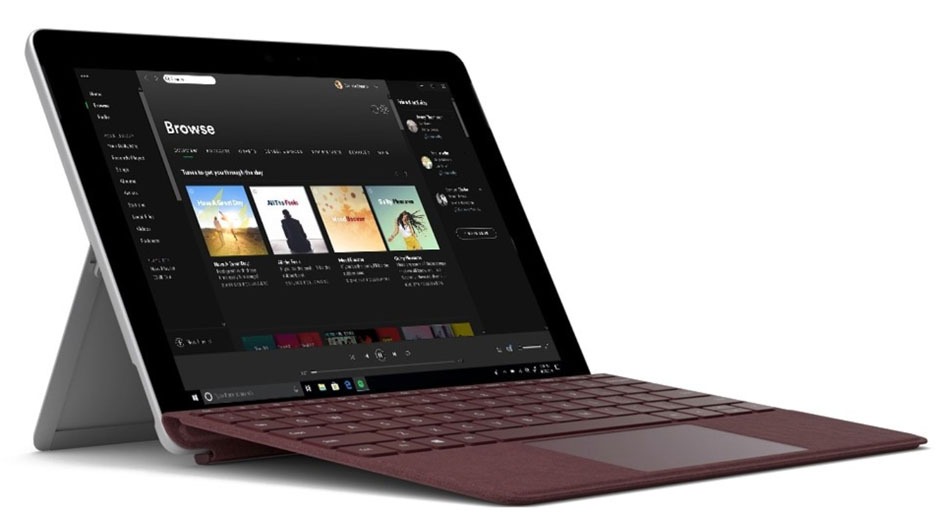 The bigger UBook Pro with a 12.3-inch has a 3:2 aspect ratio with 1920 x 1280 pixel resolution. 
Dimensions and Weight –
Surface Go
The UBook weighs 810 grams while the Surface Book weighs 522 WiFi only and 532 grams 4G model respectively. Screen size being the obvious factor for the weigh, both devices also come in an all-metal chassis.
Still, the UBook measure only 9mm slim which is not very far off from the 8.3mm slim Surface Go. And, it come with smaller bezel all round. This makes the tablet truly compact and ligthweight.
UBook 11.6: 290.4 x 179.3 x 9 mm
Surface Go: 245 mm×175 mm×8.30 mm
Ports –

UBook
For connectivity, the UBook has two USB Type A ports (1 x USB 3.0 and 1 x USB 2.0), a Type-C port, a microSD card slot, a Mini HD port, a 3.5mm headphone jack and a 3.5mm concentric 12V charging port. The Type-C port does not support Power Delivery so no charging via the port. Use the supplied charger.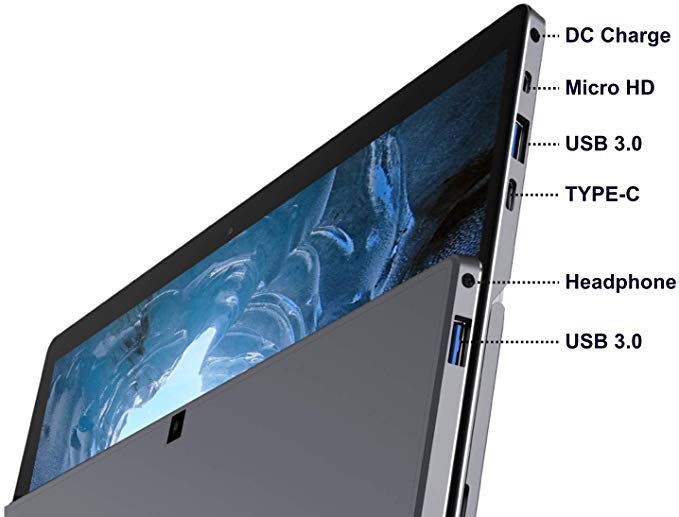 The Surface Go has only 1 USB-c port, a 3.5mm headphone jack, Surface Type Cover port, microSDXC card slot and proprietary Surface Connect port.
Stylus-

Surface Go
The Surface Pen while optional is a more superior input device that comes with tilt support and 4096 pressure sensitivity level. On the opposite end of the pen is the virtual rubber to help with corrections.
Chuwi uses the H3 HiPen with their smaller 11.6-inch tablet. It only supports 1024 pressure level and the stylus comes with a pen-like clip to hold itself in place when keeping it in the front shirt pocket. There is hardly any delay when using it for writing but don't expect to use it for artistic outputs, just simple sketches (see below).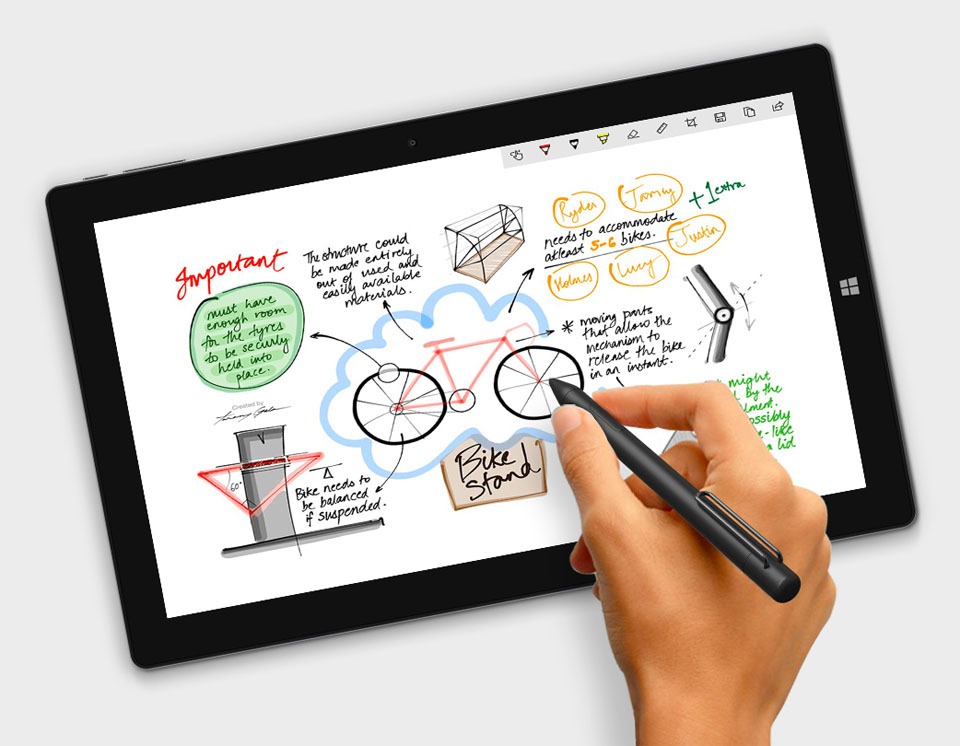 Keyboard –

UBook
We will mention abit more about the UBook keyboard at the end but being that bit bigger than the optional Surface Type Cover for Surface Go makes it easier to type on. Overall, the keyboard is of excellent build quality. It attaches and detaches from the tablet easily with one click.
Battery Life –

Surface Go
With the Surface Go, you can get up to 9 hours of video playback on the WiFi only model and up to 8.5 hours on the 4G model doing the same. The battery life on the UBook with its 3500mAh, 26.6Wh built-in battery can only last up to 5 hours of mixed use.
You can squeeze a few more minutes out of the battery with battery saver mode turned on. Quick charge allows you to top it back up in just over two hours. We have reports from owners that manages up to 8 hours of use on average. If there is anyone else who can back this up, please leave us a comment below.
Camera –

Surface Go
No, it is unlikely that you will use the onboard cameras to capture video and high quality stills but use it mainly for web chats. UBook has a basic 2.0MP front facing camera and a higher 5.0MP rear camera.
Surface Go comes with better camera pair, a 5.0MP front facing camera capable of 1080p Skype HD video chat and an 8.0MP rear facing camera, again with 1080p video capture.
Sound –

Draw
It is to be expected that neither of these tablets will blow you away when it comes to the audio. The UBook has its speakers hidden on either sides near the U-shaped kickstand. You can see them when the tablet's stand is deployed. They are small but offers good clarity albeit a little quiet. The Surface Go also has a stereo speaker setup with Dolby Audio support.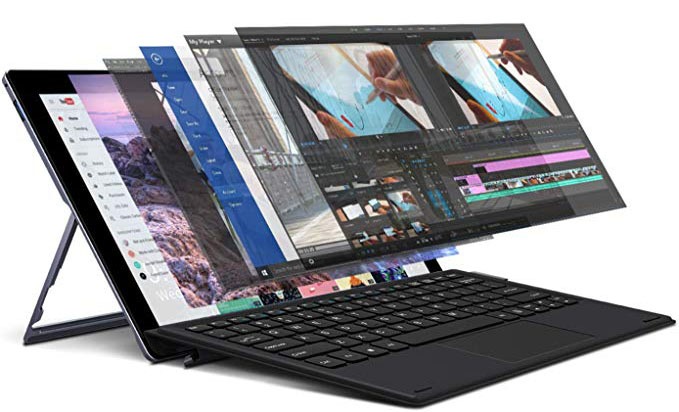 Final Thoughts
There are little quirks on the UBook that needs ironing out such as the power button being used solely to turn on the machine and not able to put the tablet to sleep or shutdown without throwing up a tantrum. You will need to soft shutdown or standby route from desktop. Alternatively, use the keyboard cover, closing the tablet automatically puts it to sleep mode.
The display is fantastic. You can't really fault it. Bright and crisps with amazing viewing angle througout. In conjunction with the processor, memory and OS, it works seamlessly to offer a smooth and responsive touch interface.
The included keyboard has a tactile feel and reassuring key press. It also has a very powerful magnet on either long edges allowing it to mount onto the tablet when used in laptop mode and to cling on tight to the screen when closed.
However, the same cannot be said for the touchpad. The buttons are hard to work with and not as reliable. This can easily be resolved with a Bluetooth mouse or with the use of the stylus.
Finally, while it is a compact, sturdy and lightweight tablet, at 810 grams, it is not as light as say the iPad Pro 12.9 at 633 grams. Granted that the iPad Pro is a flagship and premium device. Carrying the all aluminium UBook tablet in one hand for a long time can take its toll on the wrist and arm. Not so bad if you are going to carry this in your bag and work on the coffee table or desk when you get your destination or during the commute.
Overall, if you need a tablet with the convenience of a keyboard and stylus, the Chuwi UBook fits perfectly. It's not the most powerful machine but will let you get on with work, study, research and even leisure. You can't ask for more at this price for an everyday tablet that has enough processing power to take on basic computing tasks on the go.