Tablets have become an essential gadget for work, play, creativity, and even education. Here, we look at the ultimate buying guide, things to consider when purchasing your next tablet.
How to Buy a New Tablet – Use Our Ultimate Tablet Buying Guide Made Simple
Whether you're a digital artist, a frequent traveler, or just want something bigger than a phone to watch videos, browse the web or check and reply emails on, a tablet might be the perfect gadget for you. But with so many choices available, how do you decide which tablet is right for you? This guide will simplify the process, breaking down what you need to know to make an informed decision. Here's a summary of the 10 key considerations:
1. Purpose: What Will You Use It For?
Before delving into specifications, decide what you'll primarily use the tablet for:
Casual Use: Browsing, streaming, reading.
Productivity: Document editing, note-taking, business apps.
Art & Design: Graphic design, digital art, 3D modeling.
Gaming: Playing high-end games.
Your primary use will dictate the kind of specifications and features you'll need. A basic tablet for casual use, a tablet with keyboard and trackpad accessory option for productivity, a tablet with stylus option for design and a pro-level device for gaming.
2. Operating System: Which One Is For You?
There are three main tablet operating systems:
iOS (Apple): Known for its user-friendly interface and vast app ecosystem.
Android (Google and other manufacturers): Offers a wide variety of devices at different price points, with great customization.
Windows (Microsoft): Provides a desktop-like experience, great for productivity.
When considering the type of OS for your next tablet it is a case of personal preference, familiarity with the system, access your favourite apps, compatibility with your existing hardware such as smartphone and laptop, security and customisation. Generally, pick iOS for the user experience, access to a wide range of apps, security and integration with other Apple products. Choose Android for the variety of hardware from Google, Samsung, Amazon, Lenovo, Asus, Acer, TCL and more. Android OS also has the benefits of customisability and deep integration with Google Services plus the benefit of a wide range of app although third party apps may not always fit the different display sizes and ratio. Finally, pick Windows for that all familiar desktop experience, general productivity and access to hardware from different manufacturers with unique features and design, including convertible units for versatility of use.
3. Size and Display: What Size and Type of Display to Choose?
Tablets range from 7 inches to 13 inches or more. Consider:
Portability: Smaller tablets (7-8 inches) are more travel-friendly. These will fit into small bags and even jacket pockets and is great for reading, light browsing and even gaming.
Balance: Medium tablets (9-10 inches) strikes a balance between portability and usability. They work best for consuming streaming media, checking emails, browsing the web, reading the news and magazines plus general productivity. The last task works best with optional keyboard cover.
Pro-level: Larger screens (11 inches and above) are better for artists, designers, entertainment including gaming with gamepad accessory. These are typically powered by flagship level chips for extra performance to support digital art creation, video editing and capture, multitasking, music mixing and even full desktop experience with the right accessories.
Ensure that the tablet has a high-resolution display (Full HD or better) for clearer visuals. For even sharper images with more details, consider Retina or Quad HD level displays. Other considerations include the type of display technology: IPS for wide viewing angle, OLED and AMOLED for high contrast or miniLED for HDR and super bright images as well as high refresh rate 60Hz or 120Hz. The higher the refresh rate the smoother the on screen video. If you watch a lot of sports, fast action movies and games, you will appreciate the extra frame rates.
4. Performance: Do I Need All That Power?
Processor: More powerful processors like Apple's A-series, Samsung Exynos or Qualcomm's Snapdragon are essential for gaming, design, or multitasking. Mainstream Windows tablets use Intel Core i5 and i7 processors. Midrange and budget processors like MediaTek and Intel's Celeron or Pentium series are for your everyday tablets.
Look for the number of cores in the chip (dual, quad, octa-core etc), the class of processor and the clock speed. Within the same class or category including fabrication (7nm, 5nm and future 4nm) process, the more cores and the higher the clock frequency translate to better performance.
Also, consider sub-processors in the chip like neural engine and image signal processor. These provide additional performance in Machine Learning, image and video capture and editing as well as other routine tasks performed on the tablet. Finally, there is the all important Graphics Processing Unit (GPU). Again the number of cores matter with more graphics core offering higher performance. The faster the GPU the better it is in rendering high definition videos and in-game graphics at high frame rate. Windows tablets sometimes come with discrete or dedicated graphics that offer superior gaming performance.
Memory (RAM): For smooth multitasking, 4GB is a minimum. Power users might prefer 6GB or even 8GB. Also, the higher the memory bandwidth, the faster the overall performance of the chip, with the processor. LPDDR5 memory has a higher bandwidth to LPDDR4 memory.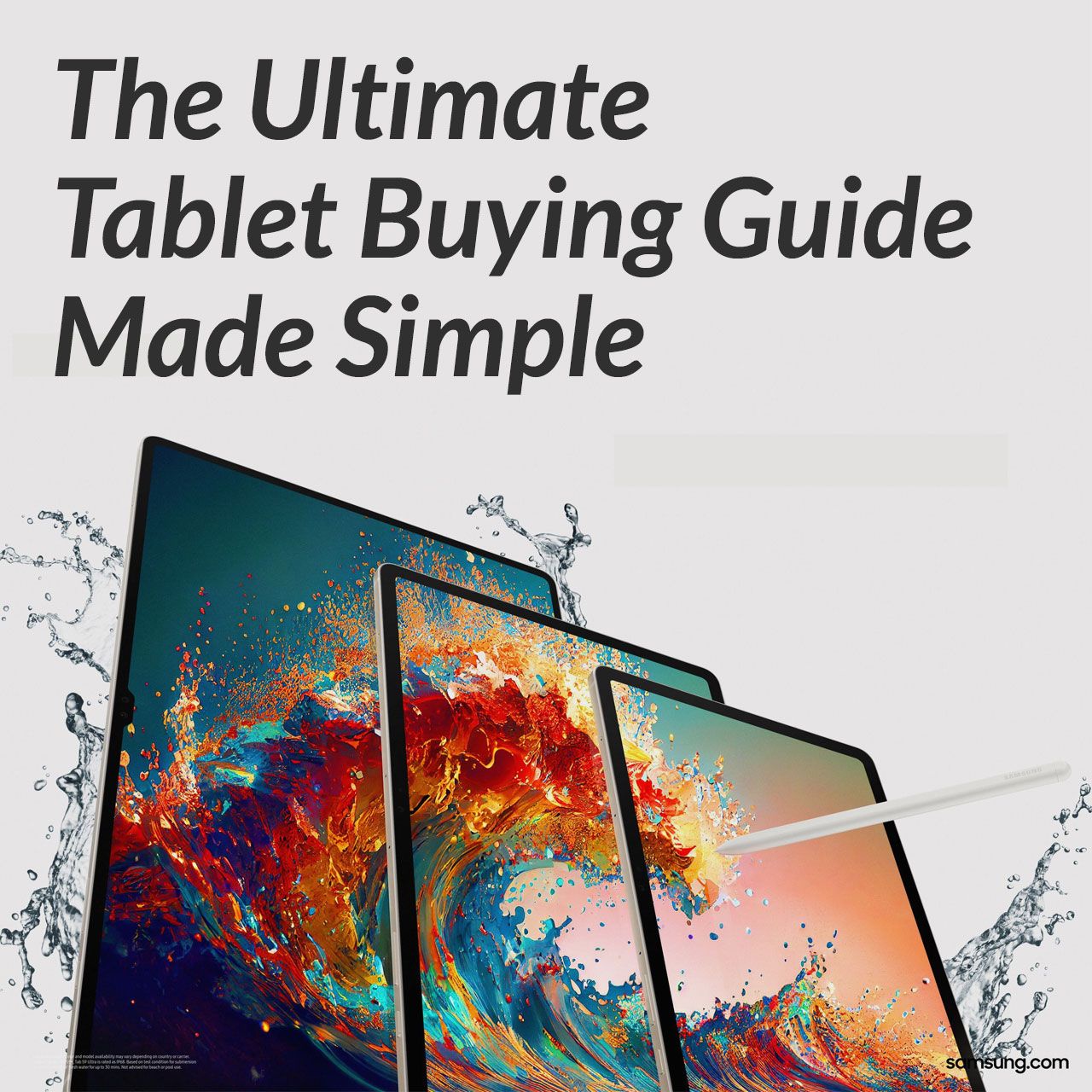 5. Storage: How Much Storage Is Enough?
Storage are not always as advertise as the Operating System, OS updates and pre-installed apps take up space on the storage, making the storage that is available to the end-user less. Manufacturer sometimes list the available storage in their specification. To understand if the storage is enough really depends
Casual Users: 32GB might suffice, but 64GB offers breathing room. Anything at 16GB or less are rare these days and must be avoided at all costs. Consider the Operating system, base
Power Users: Look for 128GB, 256GB, or even 512GB. If you install a lot of apps, play offline games, cache streaming movies and TV shows, capture High Definition photos and videos for editing and mixes your own music on-the-go, pay for the extra storage. You won't regret it. Apple offers 1TB and 2TB options above the those listed here for their iPad Pro 11 and 12.9 while Samsung offers 1TB storage for their Samsung Galaxy Tab S tablets.
Remember, some tablets allow storage expansion via microSD cards but these are less reliable and depends on the speed of the microSD you add. Plus, not all apps will work with microSD card. Remember, there is always the cloud storage. Operating Systems can free up the space on your tablet by offloading infrequently used apps and backing up older photos and videos. Use iCloud for iPads, Google Drive for Android tablets and OneDrive for Windows tablets to backup your files, photos and videos. Alternatively, connect your tablet to the computer and move the photos there.
6. Battery Life: What Is The Average Battery Life These Days?
A good tablet should last at least 8 hours on a full charge. Some high-end tablets can offer up to 12 hours or more. The average battery life on a full charge for a medium size tablet is 10 to 12 hours which is sufficient for a full days use. If you are paying top dollar for a tablet, don't accept anything less. Bigger tablets with display 12-inch or larger will benefit from higher capacity battery that can push their usable life before charge up to 16 hours.
7. Cameras: Who Shoots on The Tablet, You Will Be Surprised?
For most, the tablet camera isn't a primary concern. High end cameras on a tablet are reserved for pro-level tablets. If photography or videography is crucial, look for a tablet with a high-quality rear camera. For video calls, ensure the front camera is decent. A bonus would be support for automatic panning and zooming to follow the subject or zoom out to capture additional person in the frame during calls. Such as device will have ultra wide front facing camera.
8. Connectivity: With Cloud Storage, Bluetooth & Wireless Connectivity, Do We Still Need to Worry About Ports?
Not so much for storage or WiFi but for charging, mobile broadband, fast data transfer, hooking up specialist hardware, external monitor and possibly wired headphones if you still have one of those. Consider if you need:
Cellular Connectivity: Enables Internet access on the go without relying an WiFi signals or Personal Hotspots.
USB-C or Thunderbolt: Faster data transfer and charging. USB-C ports are the standard these days although the older micro-USB ports can still be found on older generation devices. Apart from the added convenience and ease of plugging in the reversible USB-C connector for charging and data transfer, it also offers connectivity to USB-C hub, professional accessories such as microphones and music keyboard and and external displays.
Headphone Jack: Yes, some still prefer wired headphones. Just like the smartphones, modern tablets are opting out of offering the 3.5mm combo jack. If this is the case be prepared to get a Bluetooth headphone or consider an adapter for your wired headphones.
9. Additional Accessories & Features: Anything else to go with it?
Apart from tablet option with bigger storage and memory, manufacturers make their money selling accessories too. These can range from case and  screen covers to stylus, docks, keyboard attachments and type covers.
Accessories
Stylus Support: Essential for artists and note-takers. Also consider if the nibs are replaceable, option to charge this either attaching wirelessly and magnetically on the chassis or separately using an adapter on top of features like pressure sensitivity, tilt recognition, button customisation on the stylus and palm rejection on the display.
Keyboard Attachments: These transforms tablets into laptop-like devices. This is a must-have accessory for productivity work. If typing on documents, entering and editing spreadsheets, replying to emails and updating your blog are your thing, you must factor this into your purchase if it is not included.
Special Features
Biometric Features: Fingerprint or facial recognition for added security.
Water and Dust Resistance: look for Intrusion Protection (IP) ratings. Devices rated IP67 or IP68 offers extra protection from dust and water. The higher the number the better.
Stereo Speakers: dual or quad firing speakers arranged in landscape format are perfect to enjoy your movie or favourite TV shows during downtime but…
Spatial Audio, Dolby ATMOS, HiRes and other audio enhancements: for the ultimate audio experience consider these.
Other proprietary features include Augmented Reality (AR) Sensor on iPad Pro and Desktop Mode with Dex on Samsung Galaxy Tab S are also worth considering.
10. Budget: How Much Will It Cost to Buy?
Last but not least is the price tag. Set a budget. You can only get what you can afford although here, we like to help you make the most of your budget. Use the knowledge above to make the right decision, choosing the best tablet to meet your needs within your budget. Typically, there are three price tiers for tablets. These range from under $100 to over $1000:
Budget Tablets: Under $300. Tablets within this range are your low end options suitable for casual use such as browsing the web, streaming media and basic apps. They are also great for kids or as a starter tablet. If you are after special features
Mid-Range Tablets: $300 – $600
Premium Tablets: Above $600
Remember also to factor in any additional costs for accessories such as case, screen protector, stylus and keyboard attachment, if these are not included and you absolutely must have them. Then there is the cost for your must have apps. While most apps are free, specialised apps may require a one off fee or subscriptions.
Before You Reach For Your Wallet
Buying a tablet requires a blend of understanding your needs and knowing what's available in the market. By considering the factors mentioned above, you can find the perfect tablet for you without getting overwhelmed by jargon or marketing hype. Also, check out the FAQs below: