If gaming smartphones doesn't do it for you, then these tablets ought to do it. Mobile gaming isn't just restricted to small screens. Some of us prefer to get closer to the game with bigger displays. And, while it can mean totting around a full size tablet, it's a small price to pay for a big gaming experience.
Okay, so it's not Steam Deck with its dedicated controls or a full size laptop with keyboard and trackpad but if it is a touch driven game, one that supports on-screen controls or even Bluetooth gaming controller, the tablet is just a good a device to game on. Here, we look at 5 of the best best gaming tablets out there as alternatives to clunky full size gaming machines.
RELATED: Gaming on Budget Tablets: best for streaming and locally installed games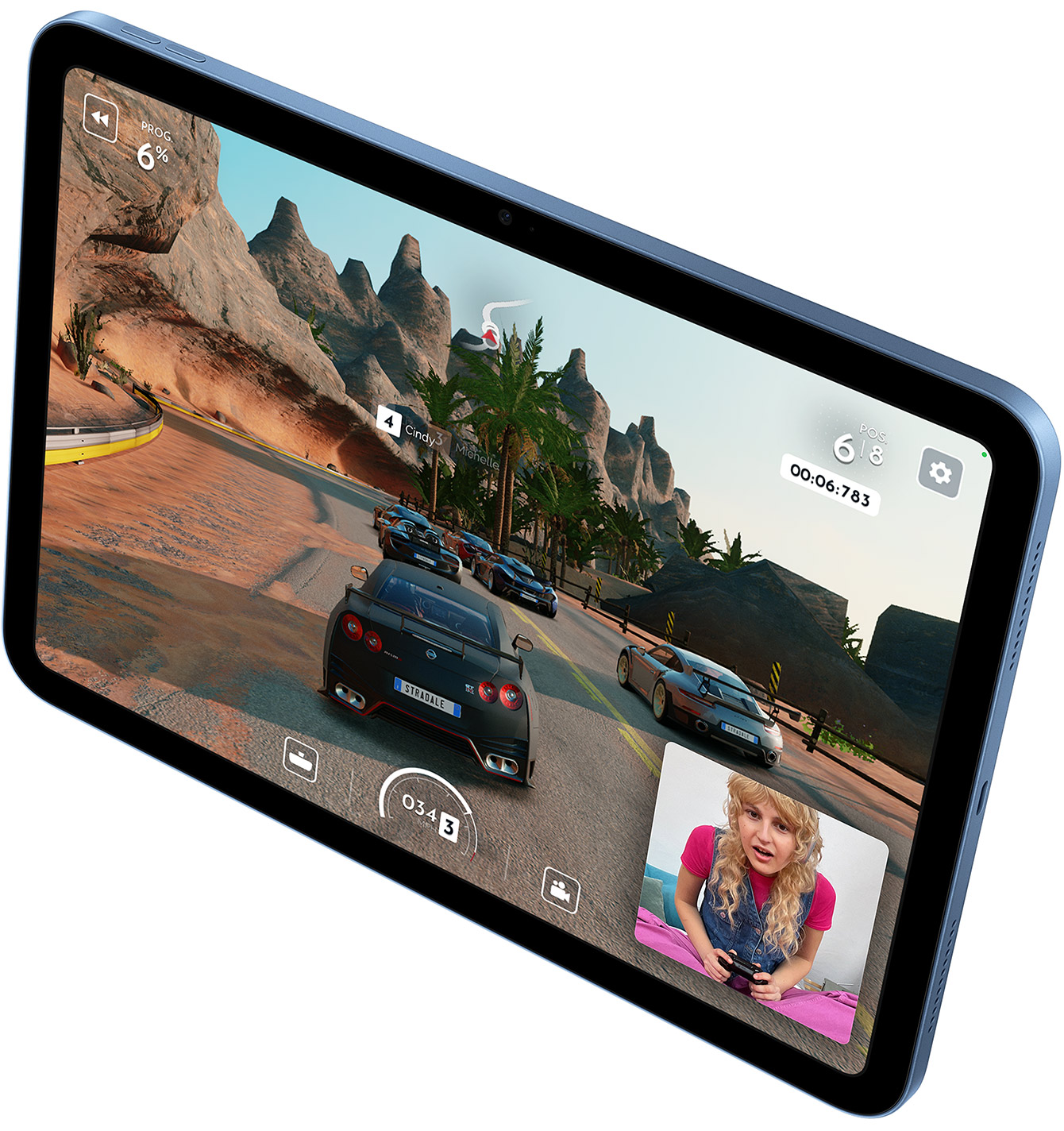 Tablets at Heart
No, these are not sold as gaming tablets but they are certainly more than capable as one. With their powerful flagship mobile chipset and more importantly GPU, they do more than just browse the web, check emails or stream your favourite TV shows. The list is dominated by big players like Apple and Samsung. For mid-range or budget units, check out our other article – gaming on budget tablets.
Apple iPad Air 10.9-inch 2022
Samsung Galaxy Tab S8 11-inch
Apple iPad 10.9-inch 2022
Apple iPad Pro 12.9-inch – Big Tablet
Samsung Galaxy Tab S8 Ultra 14.6-inch – Ultra Big Tablet
Let's take a closer look:
1. Apple iPad Air 10.9-inch 2022
With all the power of the Apple Silicon, the Apple M1 chip at a price that is just over half the iPad Pro 12.9, the iPad Air is our favourite for gaming. Remember, not that long ago, the same Apple M1 chip powers the iPad Pro 11 and 12.9. Not only does the iPad Air come with the all-new full display design with mini bezels, it supports new features like Center Stage, automatic panning and zooming to follow the subject on video capture and Stage Manager on iPad, optimising the home screen for multitasking like no other tablet. Already, there are tonnes of games in the App Store for iPads and with Apple Arcade gaming subscription, you can download, install and run these without restrictions. No more in-app purchases or apps.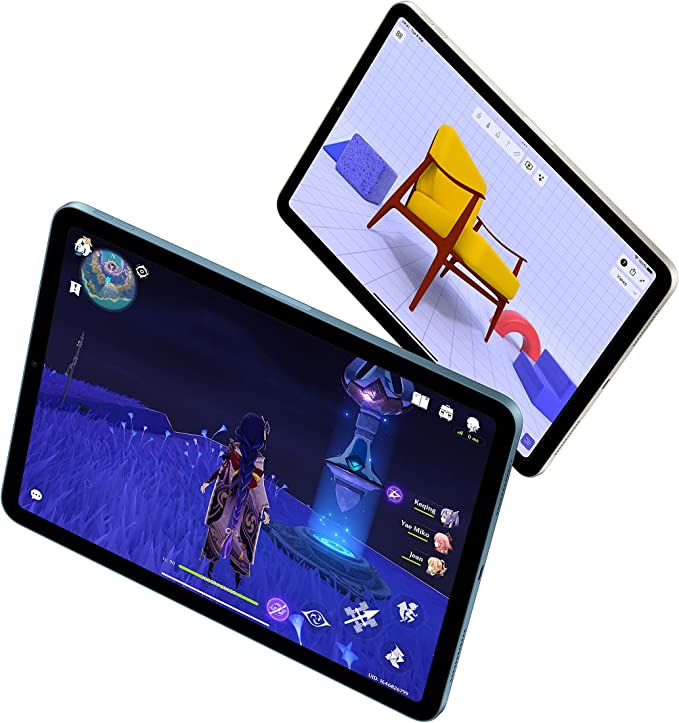 Even without a subscription, you can still find plenty of titles in the RPG, strategy, sports, adventure, racing and puzzle genre to keep the smiles on your face. There are even family oriented and casual games including music and singing to keep everyone in the family happy. Examples include The Oregon Trail, Hot Lava, SpongeBob: Patty Pursuit, Football Manager 2023 Touch, Asphalt 8: Airbone+ and LEGO Star Wars Battles. Popular titles like Call of Duty: Mobile and Mario Kart Tour are also available. The only downside to getting on the iOS platform is the ban on Fortnite that Apple put in place on their App Store. Still, you can get around this using game streaming platform like Xbox Cloud Gaming.
When it comes to streaming games, there is vast headroom in processing and graphics power to stream and enjoy your favourite games via streaming services like xbox cloud gaming. Although, streaming does take a hit on the battery life. The 10.9-inch Liquid Retina display may not have mini LED or OLED but suffice to say that is is good enough for most games and applications. When playing fast action games, it could benefit from high 120Hz refresh rate and HDR like on the iPad Pro but it is a small sacrifice for affordability. Last but not least, it is a very capable laptop replacement especially when you add the Apple Pencil 2nd Gen and Keyboard to take on all the productivity tasks you can think to do on a tablet.
10.9-inch Liquid Retina IPS LCD 500nits (typical) with 1640 x 2360 pixels (264ppi)

Apple M1 chip

8GB RAM and 64 / 256GB storage

12MP wide dual pixel main camera with HDR support, 12MP ultra wide 122˚ front camera with HDR support

Stereo speaker with Dolby Atmos

247.6 x 178.5 x 6.1 mm (9.75 x 7.03 x 0.24 in), 461 grams
2. Samsung Galaxy Tab S8 11-inch
Priced to compete with the iPad Air is the 11-inch Samsung Galaxy Tab S8. Think of it as the compact Tab S8 Plus 12.4-inch except it uses a TFT LCD panel versus SuperAMOLED. You might be thinking, why not pitch it against the iPad Pro with 11-inch display since they both have 11-inch displays? Simple answer, price. The iPad Pro 11 is way more expensive. Still, the TFT LCD panel is capable of high 120Hz refresh rate and is packed with QuadHD pixels which are what any gamers need. Powered by the same Snapdragon 8 Gen 1 chip, it is both powerful and efficient with graphics prowess of Adreno 730 GPU.
To enhanced your gaming experience even further, it is equipped with four firing speakers tuned by AKG with support for Dolby Atmos. The surround sound system will put you in the centre of the game with 3D audio effects. FamouskidVGI shows in his video how to stream and play games on the 11-inch Galaxy Tab S8, playing console quality games including retro PS2, PSP, Sega and Nintendo 64 games using the tablet.
Last but not least, the tablet is also equipped with a Stylus that charges magnetically and with the right cable, keyboard and mouse can be hooked up to a monitor turning it to a desktop. With a Bluetooth game pad, you could be gaming on the big screen, just as you can see in the video.
11-inch TFT LCD display QuadHD 1600 x 2560 pixels, 120Hz
Snapdragon 8 Gen 1
8GB or 12GB memory and 128GB or 256GB storage with microSDXC slot
13MP wide and 6MP ultra wide rear camera, 12MP ultra wide front camera
8000mAh battery with 45W fast charging support
253.8 x 165.3 x 6.3 mm (9.99 x 6.51 x 0.25 in), 503g (WiFi), 507g (5G)
Stylus included
Samsung Galaxy Tab S11 on Amazon
3. Apple iPad 10.9-inch 2022 10th Gen
Why not the cheaper Apple iPad 10.2-inch from 2021 (9th gen) you ask. The answer is simply, the design. I would pick this all new full display iPad that is almost indistinguishable from the iPad Air 10.9 over the older iPad 10.2 any day. The old design is just too old, I dare say since the 1st Gen old. It's time to move on. The only think Apple hasn't moved on is its support for Apple Pencil. The iPad 10.9 is only compatible with Apple Pencil 1 which is a bummer as charging this requires a separate USB-C to Apple Pencil adapter that Apple is selling for $9 and it does not dock magnetically.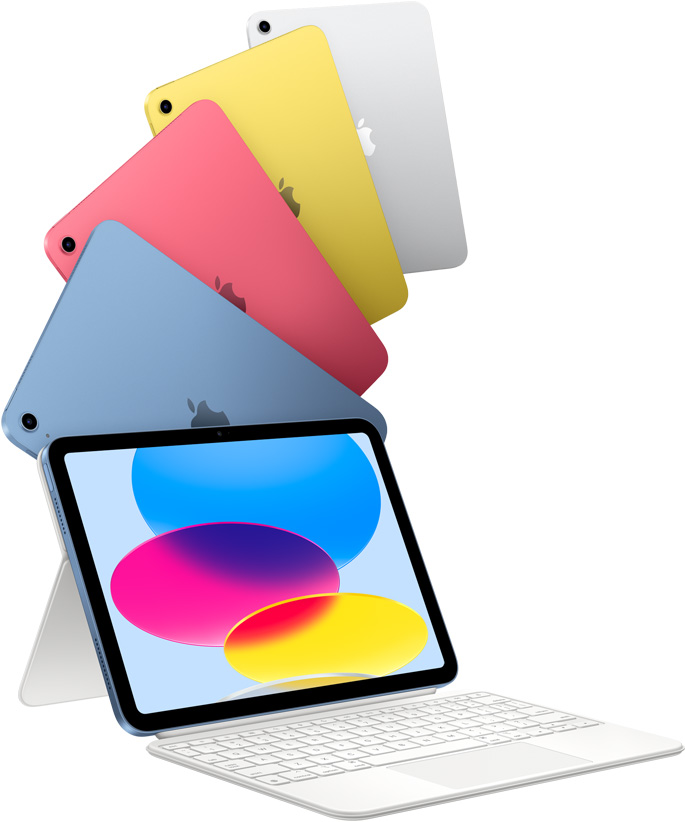 With four bright colours to choose from and optional Magic Keyboard Folio with trackpad, this also a capable laptop replacement. Play big titles like Hyper Light Drifter, Seven Knights 2, FFVII The First Soldier, Call of Duty Mobile, Black Desert Mobile, Marvel Strike Force: Squad RPG and Genshin Impact. The Apple A14 Bionic chip and its 10.9-inch Liquid Retina display will fly through graphic intensive games like a dream. Depending on the game, you can even use SharePlay to invite other users to game together. Pair it with a game controller, PlayStation or Xbox controller are compatible and fire away.
10.9-inch Liquid Retina IPS LCD 500nits (typical) with 1640 x 2360 pixels (264ppi)

Apple A14 Bionic chip

8GB RAM and 64 / 256GB storage

12MP wide dual pixel main camera with HDR support, 12MP ultra wide 122˚ front camera with HDR support

Stereo speaker with Dolby Atmos

247.6 x 178.5 x 6.1 mm (9.75 x 7.03 x 0.24 in), 461 grams
For gaming performance on the iPad 10th Gen watch Geek Culture's review below that looks at Genshin Impact, Apex Legends, Call of Duty Mobile, PUBG mobile and more.
4. Apple iPad Pro 12.9-inch
For a big tablet gaming experience, nothing comes close to the iPad Pro with its XDR display. Forget the smaller 11-inch as this one peaks at 1600 nits brightness with HDR content and up to 1000nits typical brightness with a million to 1 contrast ratio. The iPad Pro 11 M2 (2022) still uses the standard Liquid Retina IPS LCD panel. Even though it supports 120Hz fast refresh rate, HDR10 and Dolby Vision, it is only capable of 600nits typical brightness.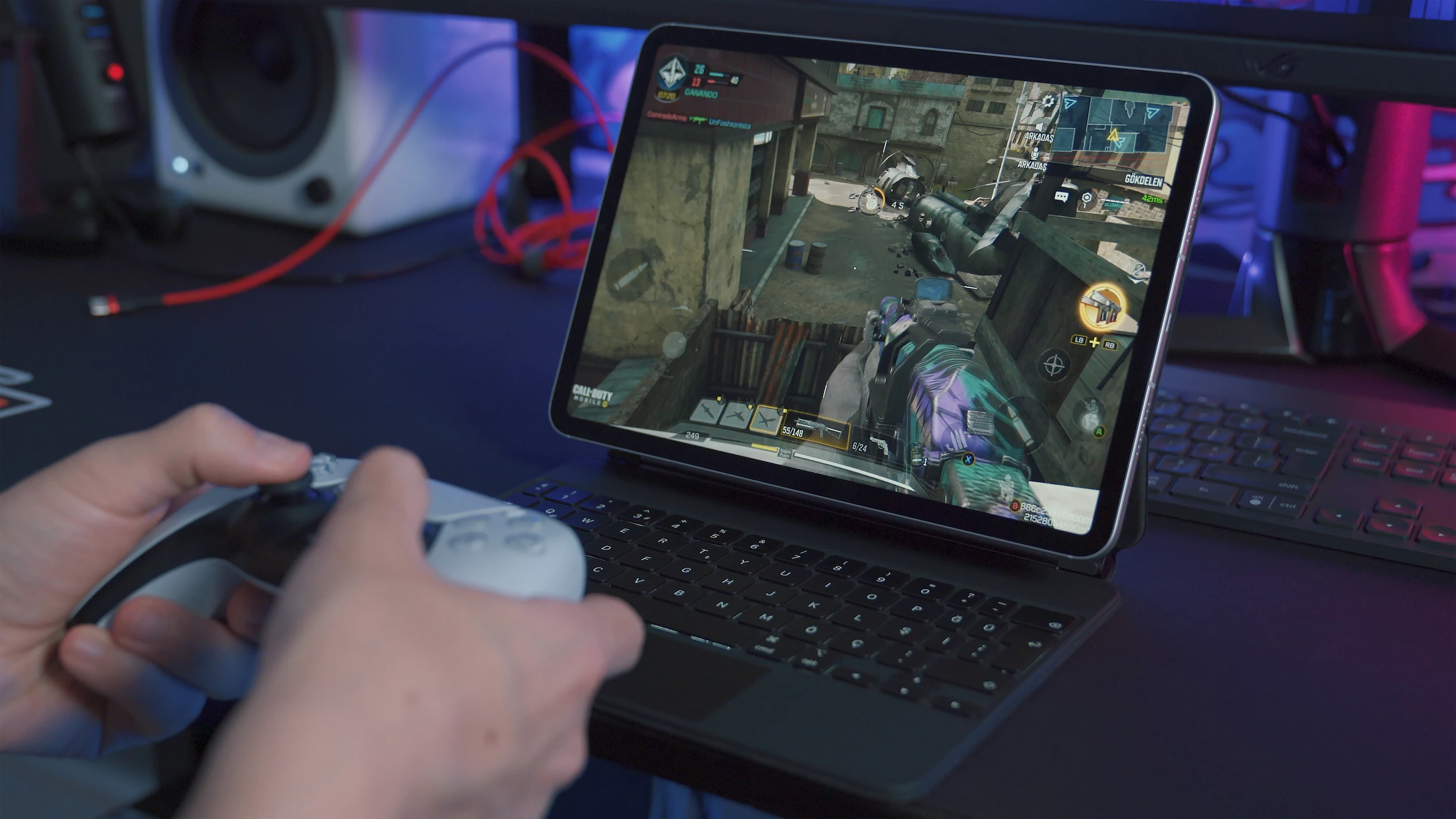 Powered by Apple M2 chip, with 10 GPU core, it blows all the other tablets here out of the water and then eats them for dinner. Together with 8GB memory on the 128GB, 256GB or 512GB storage options or double that to 16GB for the 1TB or 2TGB storage options, you are looking at a beast of a machine. Plus, its LIDAR sensor takes gaming to a whole different level where game developers design their games to interact with the physical environment.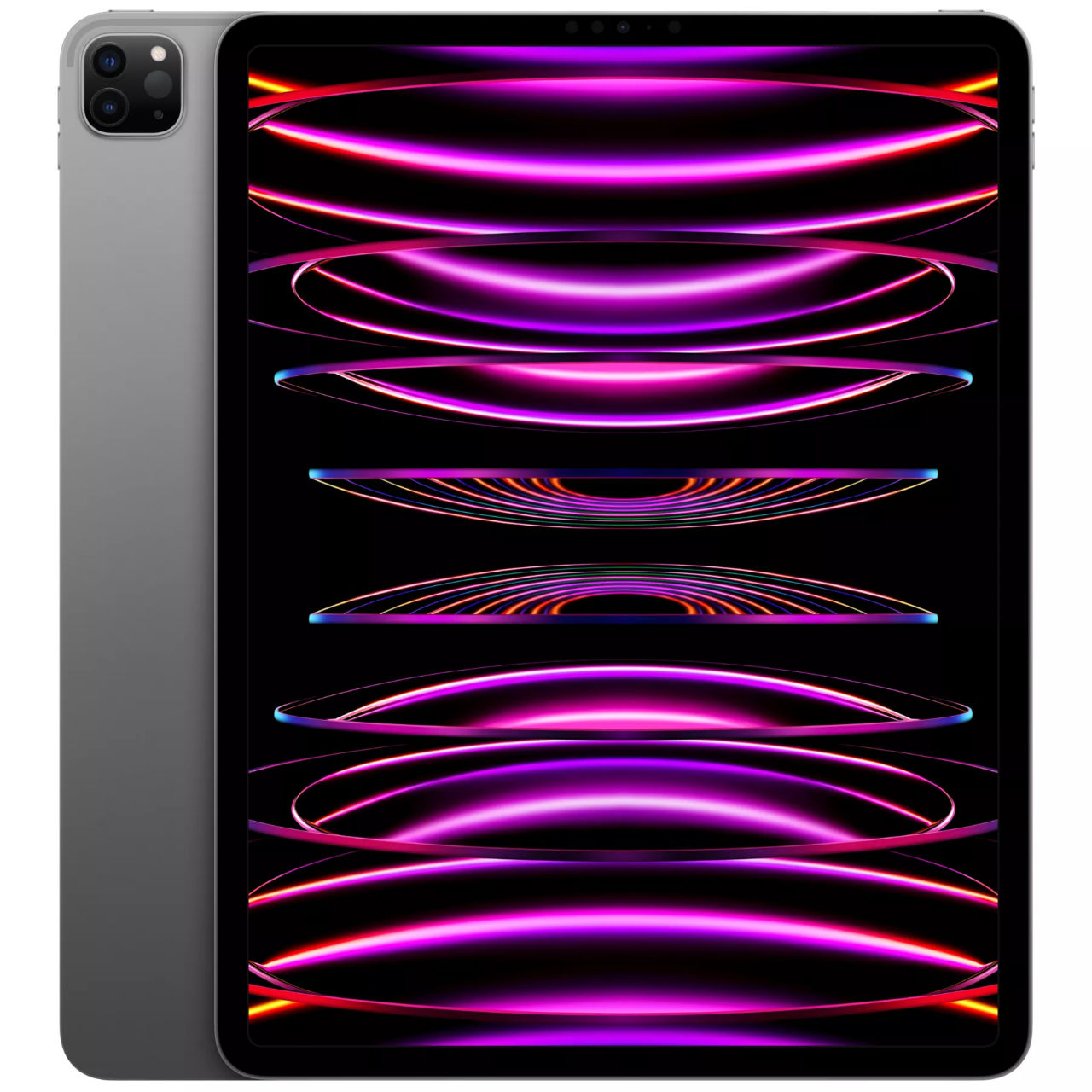 12.9-inch Liquid Retina XDR mini LED LCD display with 2048 x 2732 pixels, 120Hz, HDR10, Dolby Vision, 1000 nits typical, 1600 nits peak.

Memory 8GB or 16GB depending on storage:

128GB, 256GB, 512GB, 1TB or 2TB

Battery life:

Up to 10 hours

280.6 x 214.9 x 6.4 mm (11.05 x 8.46 x 0.25 in), 682g (WiTi), 685g (5G)
5. Samsung Galaxy Tab S8 Ultra 14.6-inch
No, we didn't forget the Samsung Galaxy Tab S8 Plus with 12.4-inch. The smaller cousin is just as capable if not more practical given its smaller dimensions. It also packs a stunning Super AMOLED display, 128GB onboard storage, microSD card support and up to 13 hours of battery life. BUT, the bigger Samsung Galaxy Tab S8 Ultra is just too big to ignore. It's even big enough to give you an extra hour of battery life at up to 14 hours and support Dolby Atmos sound from its AKG tuned quad speakers for that immersive gaming experience. Other useful gaming feature aside from the big and fast 14.6-inch AMOLED 120Hz display.
The flagship tablet is the largest Galaxy Tab in Samsung arsenal and the company pulled out all the stops.  With a powerful 4nm chip from Qualcomm, the Snapdragon 8 Gen 1 and together with fast memory and storage, 8GB, 12GB or 16GB RAM and 128GB, 256GB or 512GB storage, you can play any games available in the Google Play store without any lag whatsoever. The huge 14.6-inch Super AMOLED is a joy to game on, larger than your standard laptop. Packed with 1848 x 2960 pixels, everything looks sharp and thanks to the OLED panel, vivid too with HDR10+ support.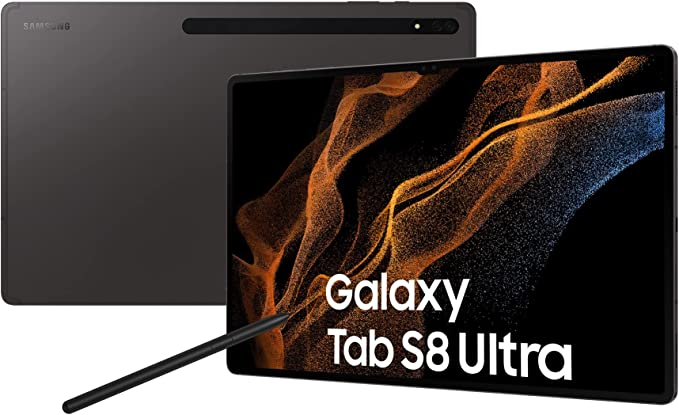 For its size, you ought to consider a stand and game controller for gaming. You might also want a case that will fit the big tablet if you intend on travelling with it. There is no hope in hell playing gyro and touch based games that require you to hold and steer the device. It's just too heavy and bulky. Remember to factor this in your decision making. It will of course play streaming games without a hitch. In fact it will look better too on the big and high resolution 14.6-inch display with high refresh rate for that console like gaming experience. Together with the quad firing speakers tuned by AKG, you have yourself a portable gaming tablet albeit heavy and big.
Its huge 11,200mAh capacity battery will take a while to recharge even with a 45W fast charger.
14.6-inch Super AMOLED display 120Hz, HDR10+ 1848 x 2960 pixels

8GB, 12GB or 16GB memory, 128GB, 256GB or 512GB storage

microSD card slot for up to 1TB

Battery life:

Up to 14 hours

Dolby Atmos

Dual Rear Camera, Ultra Wide Angle Lens and Three microphones
S Pen included, charges when attached magnetically to the back
326.4 x 208.6 x 5.5 mm (12.85 x 8.21 x 0.22 in), 726g (WiFi) 729g (5G)
Samsung Galaxy Tab S8 Ultra on Amazon
Watch Call of Duty gameplay on the Samsung Galaxy Tab S8 Ultra play with ictfix.net below.