Many of you have built your first computers handpicking every part. You have spent a good amount of time crunching the numbers. There are so many things to look into to make sure every component is fully compatible and optimised with the others and would work at their highest efficiency. But the component that often gets left out is the PSU.
Power Supply Unit or PSU is an extremely important component of your computer and needs a good amount of research before you choose to get one. Why? Simple, it powers all of your other components. If somehow someday it fails or even partially fails, you would be left to rue. Rue that if you had invested in a highly rated PSU your precious motherboard or graphics card would have been alive today.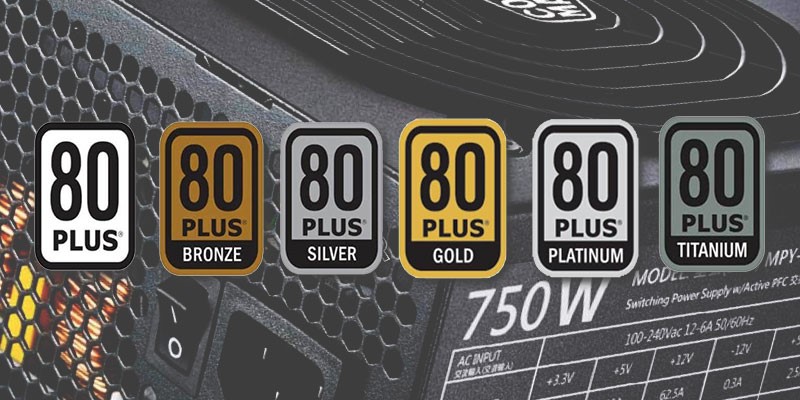 Today we here to help you understand the difference between the '80 Plus' mark we often see on a PSU. We will see the difference between the colours of that '80 Plus' mark and finally, we will try to figure out the PSU that suits you the best.
So, What is This '80 Plus' All About?
Simply speaking, it's efficiency. If you were under the impression that a 500-watt PSU is going to give you 500 watts well you are wrong. Electrical equipments have an efficiency factor that determines the performance of the equipment at different loads. Your 500-watt PSU can surely give you good power at 20 per cent load but when you are deep into your game, and the load on the components is about 60-70 or 80 per cent, what do you think happens then?
The PSU at that time may not provide the same 500 watts. It won't be that efficient at high loads in comparison to low loads. This can have huge impacts if the PSU is wholly inefficient and provides less wattage than the connected devices need. This can result in your components getting damaged. As various components rely on each other, other components can get damaged too.

This brings us to the 80 Plus mark. It started in 2004 as a voluntary programme to promote the use of efficient energy in computers, mainly because a lot of costly components depend on the PSU. There are different voltage rails in a PSU which provide power to the different components inside a computer through the motherboard. The 12V rail that powers the CPU and the GPU, then there are 5-volt rails and a 3.3-volt rail. If you are using externally powered graphics cards then you would need a PSU to power that as well. These rails need stable current over the designated voltage.
An 80 Plus certification ensures that the PSU keeps performing with at least 80 per cent efficiency when on maximum possible loads. This results in a stable flow of electricity to the costly components inside the chassis and they, in turn, keep performing at their best. The 80 Plus mark is a mark of reliability that the PSU is delivering at least 80 per cent of the promised wattage and wasting very little energy which again was the primary reason this programme started.
So, What About the Gold, Silver and Bronze PSUs? How are They All 80 Plus?
Now that we have understood what 80 Plus signifies, it is time to understand the difference between the various 'element' markers.
Let us first know that a PSU is most efficient when it is at around 50 per cent load capacity. Usually, the efficiency percentage starts at a slightly lower mark and peaks at 50 per cent load. When the load is at 100 per cent the curve slightly flattens and returns to the levels as when it started.
Now that we understood the efficiency factor of a PSU let us look at the types of certifications. There are five types of 80 Plus certifications. From bottom to top they go as Bronze, Silver, Gold, Platinum and Titanium. As we move from the bottom towards the top, the efficiency percentage changes. The basic difference between these are their efficiencies at 20, 50 and 100 per cent loads.
An 80 Plus Bronze certified PSU would have the highest efficiency of 82-85 per cent. An 80 Plus Gold PSU would take this few notches higher. Its peak efficiency would touch the 90 per cent mark. This is an excellent number as it implies that the PSU is actually using 90 per cent of the power drawn and very little energy (only 10 per cent) is wasted as heat. At the top, we would have an 80 Plus Titanium PSU offering 95 per cent peak efficiency.
Here is a chart that shows the efficiency of 80 Plus PSUs at various loads.

How is This Made Possible?
In power supply units, the loss in wattage is termed as heat. It is the incapability of the components inside a low rated PSU to process the power and a lot of power is thus wasted. The 'element' decider in the 80 Plus mark depends on the components used by the manufacturer. Better components add better power processing and more efficiency to a PSU which increase the costs.
However, this extra money you pay is recovered within a year or two as an efficient PSU draws less power from the mains which result in savings. Moreover, as the loss of energy is less, the heat generated is also less which reduces the wear and tear and limits the failure rate. This in turn keeps the PSU functioning for a long time.
So, Which One Should I Get?
This depends on the usage and the affordability factor. PSU prices increase as you go for higher wattage. It might become exorbitant if you go for a Gold or Platinum-certified 80 Plus 1200-watt PSU. Thus, I come back to how I started this piece today.
We must spend some good time researching and planning.
We should decide beforehand as to how we plan to use the computer. It would be suitable for a pro gamer to get a 1200- or 1500-watt Platinum or Titanium 80 Plus PSU for two factors. Firstly the components a pro gamer uses are top of the line and need a lot of stable power and secondly, a pro-level gamer can usually afford a Silverstone PSU such as The SilverStone Titanium below.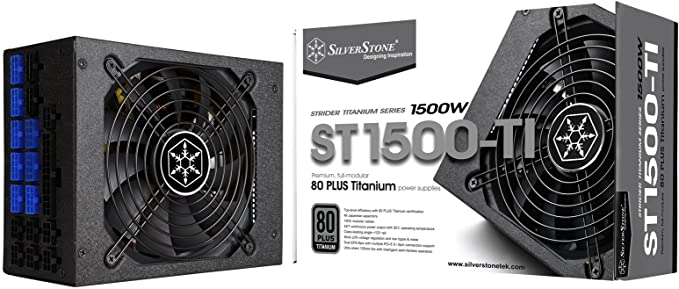 Search 80 Plus Titanium PSU on Amazon
A PSU like the one above might be fancy and a good item for show-off but also a ruthless overkill for an entry-level gamer even if he plans to devote a huge amount of time in the day gaming. Here is a 650 watt 80 Plus Gold PSU from EVGA that should more than serve the purpose from EVGA.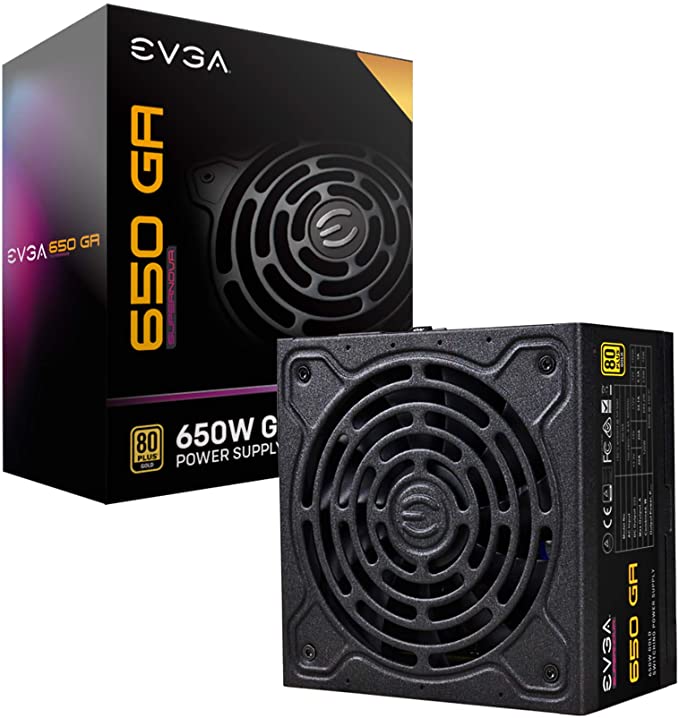 Search 80 Plus Gold PSU on Amazon
Some users might just want to use their computers for casual gaming and moderate entertainment. They can settle in for an 80 Plus Bronze PSU. This 550-watt PSU from Thermaltake looks good for a value for money option with its 5-year warranty and modular design.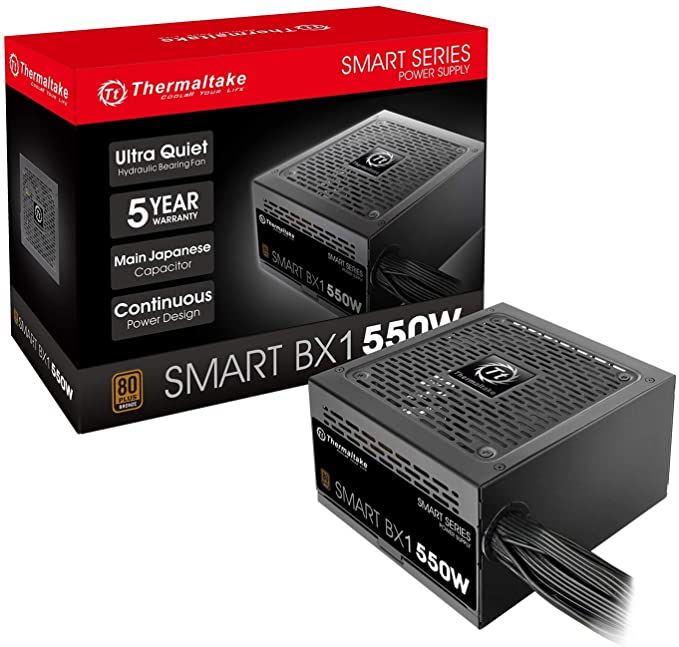 Search 80 Plus Bronze PSU on Amazon
Is That All?
Yeah, Almost.
It would be worth remembering that the wattage of a PSU you are planning to get depends on the requirement of your computer. You should look at the power requirements of the different components of the computer you are building, add them up and then go for the PSU. There are various PSU calculators available which might give you an idea about the power requirements of your PC. Here is one from Outer Vision you can use for reference purposes.
You would do good to get a PSU that surpasses the current requirement by at least 100-150 watts. This would give you some room for any enhancements or upgrades in the future. It would come in handy if you need more hard drives or need to upgrade to a better and more powerful graphics card that needs more power.
Finally, the brand. It matters a lot. There are well-known brands that offer quality products at the right prices and if you can choose your moment, you may just even end up with a steal. Brands like Corsair, Thermaltake, Antec, Seasonic, Silverstone, EVGA to name a few and numerous others have been in the industry for a long time and have gathered a good reputation and even cult followings for their superior quality products.
Conclusion
An efficient PSU is extremely important not just for the better and stable functioning of your pc components but it contributes to saving money as well. They keep performing for a long time resulting in excellent value for money purchases. A final piece of advice. Since PSU powers all the other components in a computer, a single PSU mishap can break your gaming dreams into pieces. Hence, our advice would be to go for branded products, even if some deals on unbranded products leave us salivating.
Happy Gaming!!!