A much-needed upgrade for the iMac is finally here. The new 27-inch iMac received the usual spec bumps. Like the new MacBook Pro 13 2020, it now features 10th generation Intel Core processors with 6, 8 or 10-core processors.
While the world waits eagerly for the first Apple silicon to appear in a commercially available iMac and MacBook pro line-up, we are treated to a much-needed upgrade for the iMac but only for the 27-inch model.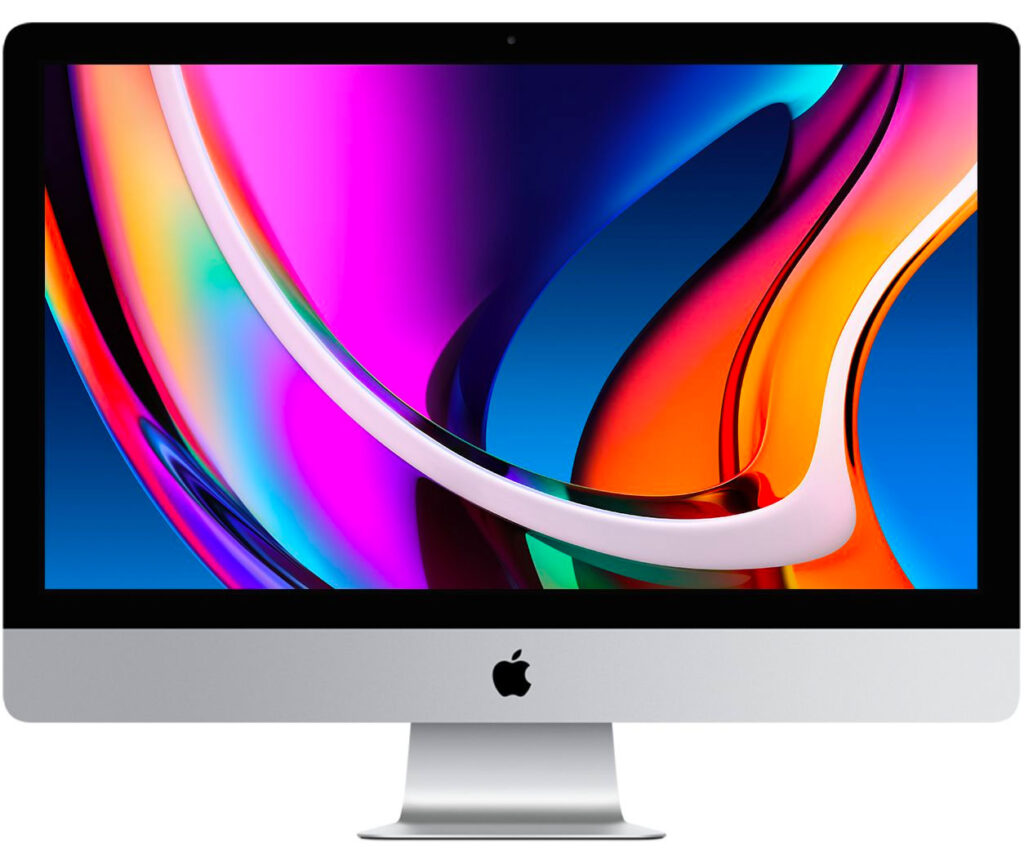 Search Apple iMac 27-inch on Amazon
Chief among the upgrades is the use of 10th generation Intel processors. We saw this first on MacBook Pro 13 albeit in quad-core variant. The previous generation iMacs ran 8th generation and 9th generation Intel Core processors. However, those hoping for a full design upgrade will have to wait a little longer as it is still housed in the same chassis. The same design was introduced back in 2012.
What is the Big Deal with the new iMac 27-inch
For starters, while competitors have introduced laptops and desktops using the 10th generation Intel Core chip, Apple is a little slow to do this for their iMac, in fact the current iMac 21.5-inch from 2019 still runs the 8th generation Intel Core processor.
And, 2 of 3 pre-configured MacBook Pro that was just launched in 2020 uses 8th generation Intel Core i5 processors. Only one pre-configured MacBook Pro 13 in their portfolio uses the 10th generation processor.
While the bigger 16-inch MacBook Pro uses 9th generation Intel Core i7 and Core i9 processors. Introducing iMac 27-inch running 10th generation Intel Core processors brings it right up to date.
Previous generation iMac 27-inch 2019 uses 9th generation Intel Core i5 with varying speeds paired with Radeon Pro 580X, Radeon Pro 575X or Radeon Pro 570X graphics.
Apple doesn't just upgrade to any 10th generation Intel Core processor. These are carefully chosen processors forgoing the quad-core variant in favour of the more powerful hexa, octa and even deca-core processors. As usual, for the three pre-configured models they start with Core i5 processor moving to Core i7 with a fourth processor available through customisation. The processor options are as follows:
3.1GHz 6-core Intel Core i5 with Turbo Boost up to 4.5GHz
3.3GHz 6-core Intel Core i5 with Turbo Boost up to 4.8GHz
3.8GHz 8-core Intel Core i7 with Turbo Boost up to 5.0GHz
A further processor option is available if you customise one of the pre-configured options to configure this with up to
3.6GHz 10-core Intel Core i9 with Turbo Boost up to 5.0Ghz
No More Fusion Drive on iMac 27-inch
The second biggest upgrade in our book is the switch from Fusion Drive to SSD. Previous generation iMac 27-inch is fast but is held back by the speed of its storage, that being the Fusion Drive or hybrid drive. A combination of slow but spacious and cheap spindle based storage with small amounts of solid state drive to boost its speed, hybrid drive are seen as a compromise between space and performance.
Competitors have introduced the super fast SSD storage in their desktops for years now. iMac users can now enjoy this too, but what is disappointing is it starts from 256GB. I mean, come on Apple, for the money, a premium machine with a starting storage of 256GB in 2020 is not going to cut the mustard. And to add salt to the wound, those selecting the entry $1799 model are not given any storage upgrade option. It will have to rely on external drive for storage.
Why Now?
Apple mentioned a two-year transition from Intel to ARM (Apple Silicon) similar to when it switched from PowerPC to Intel. During and after this period, Macs running on Intel processors will continue to be supported. At the same time, it also announced their new operating system, the MacOS Big Sur during Apple's Worldwide Developers Conference on the 22 of June 2020.
While the new operating system will continue to be supported on Macs released since 2013 and 2012 it will have deeper integration and support for Apple's yet to be released Apple Silicon for Mac. Right now developers can get their hands on Mac Mini through Developer Transition Kit program that runs on Apple A12Z SoC, the same Bionic Chip found in Apple's iPad Pro 2020. This creates a 'wait and see' attitude among some buyers, but not everyone is going to just sit on their hands.
Demands are still there from the education, business, public and corporate sector with their planned upgrade cycles, allocated budget and expansions. They will need new machines that allow them to run today's applications on Intel-based Macs. The new iMac 27-inch will fill these gaps and will do this at tremendous speed and performance.
What Does the New 27-inch iMac 2020 Bring To The Table
Apart from the 10th-generation Intel Core processor options, the new 27-inch iMac 2020 features next-generation AMD graphics, up to 128GB of RAM and up to 8TB storage, a higher-resolution 1080p front-facing FaceTime camera, a True Tone display with a nano-texture glass option, a T2 chip, higher fidelity speakers, enhanced video capabilities, studio-quality microphones, and more.
Here is a rundown of what the new 27-inch iMac's brings to the table:
10th-generation Intel Core processors for up to 65 % faster CPU performance (with Logic Pro X). This includes up to a 10-core option with a 3.6GHz base clock speed and Turbo Boost up to 5.0GHz. The previous-generation iMac maxed out at eight cores with 9th-generation Intel processors.
Up to 128GB of RAM, compared with up to 64GB with the previous generation.
Up to 8TB of SSD storage with up to 3.4GB/s sequential read and write speed, compared with up to 2TB with the previous generation.
Fusion drive have been replaced across the line-up with SSD storage for the first time on iMacs.
Next-generation AMD Radeon Pro 5000 series graphics with up to 16GB GDDR6 memory options with up to 55 % faster performance (with Maxon Cinema 4D) compared to previous generation.
True Tone technology that automatically adjusts the white balance of the iMac display to match the color temperature of the light around you. Apple says this provides a more natural viewing experience.
Nano-Texture glass option is available as an upgrade for $500. This is the same minimum glare, maximum detail first seen on Pro Display XDR. This helps the display cope better, and the user work better, in bright work environment like direct light, sunlight or changing daylight. The nano glass etching will reduce glare while the display maintains contrast and details to present the highest quality image.
Nano-texture glass scatters inbound light to minimize glare — while reducing the unwanted haze and sparkle of typical matte coatings.
Apple's custom-designed T2 Security chip for encryption. The chip checks that software loaded during the boot process has not been tampered with.
Apple has also placed a lot of emphasis on video calls as more and more people are in front of their web cam connecting with others for work, leisure or simply to catch up. Here, the iMac 27-inch receives camera, speakers and microphones upgrade.
1080p front-facing FaceTime camera, up from 720p on the previous generation.
Apple says the T2 Security Chip also works with the speakers to enable variable EQ for better balance, higher fidelity, and deeper bass.
A new studio-quality three-microphone array for higher-quality audio.
The new 27-inch iMac starts from $1799 and is available to order today on Apple.com
Search Apple iMac 27-inch on Amazon
The smaller 21.5-inch iMac was also treated to some love in the form of SSD storage across the line from previous Fusion Drive. While it may seem like going backward, if you prefer more room over performance, configure the 21.5-inch iMac to use a Fusion Drive instead. However, there is no going back with the 27-inch iMac, it is either SSD drive or bigger SSD drive.