Be a music producer, video editor or graphic and media designers, these users place specific demands on their work horse PCs. Here, we look at powerful 27-inch All-in-One (AIO) desktops to meet those needs. They not only look good but are packed with plenty of power to take on your next project.
Before we jump into our list, here are some handy tips when shopping for an All-in-One PC for creators and designers.
Choosing the Right PC for Content Creators and Designers
There is no hard and fast rule when it comes to picking the right All-in-One PC for content creators and designers. Unlike custom built machines, the specifications for these machines rely on the manufacturers. Some offer levels of customisations such as choice of processor, memory and storage while others offer different product tiers i.e. budget and mid-range to high-end or premium. Here's a quick list of what to look for:
Fast processor for better performance, faster rendering and quicker application loading time
Big memory for multitasking and handling of big video and image files
More storage for all the files you create and edit including revisions
High resolution display for sharpness and big workspace
Discrete Graphics Card to help with even bigger project dealing with high resolution content
Starting with the heart of the computer, a creator's AIO needs to have a powerful beating heart. Look for AIOs powered by Intel Core i7 or AMD Ryzen 7 processors or higher. They also need plenty of memory and storage. For memory, choose 16GB memory or higher. If you must settle for 8GB, make sure this is user upgradeable further down the road. For storage, a fast and spacious SSD is your best bet. Start with at least 1TB storage. some AIOs come with dual storage configuration. The bigger the storage, the more files you can store on the system without swapping them with an external hard drive.
Next, ensure that your AIO comes with at least Quad HD resolution display. 4K Ultra HD would be ideal allowing for plenty of screen real estate, maximum desktop space and room for apps and floating tool bars. To back the high resolution display, look for a system with discrete GPU options. It doesn't have to be a high end card, certainly not one for gaming. Remember, it is a PC for work first, with little to no distraction, although the occasional games for down time at low or standard frame rate and Full HD resolution is possible. If you have to settle for an AIO desktop with Full HD resolution display, make sure that it comes with HDMI port to connect a 4K Ultra HD external monitor when you have the budget.
1. LENOVO Yoga AIO 7 27-inch All-in-One PC –

DISCRETE GPU, 4K DISPLAY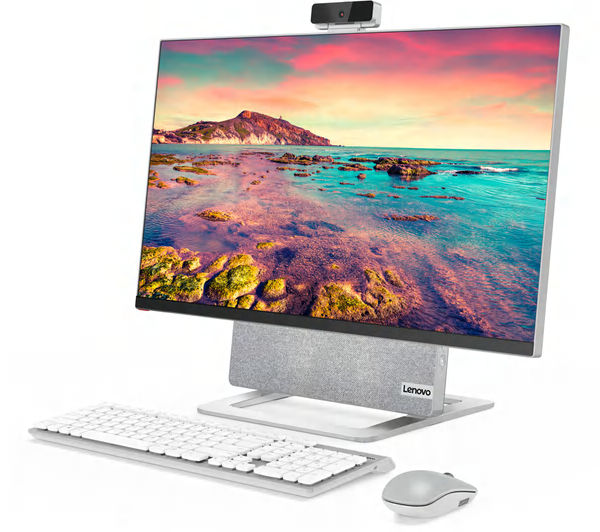 AMD Ryzen 7 5800H Processor

RAM:

16 GB / Storage: 1 TB SSD

Graphics:

AMD Radeon RX 6600M 8 GB

4K Ultra HD display
What We Like: If fancy is what you are looking for then fancy is what you will get with the Yoga AIO 7 from Lenovo. Not only does it come with a 4K Ultra HD bezel-less display capable of 99% Adobe RGB and DCI-P3 wide colour coverage but the monitor can be pivotted on its stand, turning it from landscape to portrait mode and the desktop will automatically adjust its orientation when that happens. There are various use cases where this can come in handy. This and the ability to connect an external monitor to extend the desktop and to use the Yoga AIO 7's display in monitor mode for your laptop.
The AMD Ryzen 7 5800H processor powering the AIO is a octa-core processor with 16 threads just like the Core i7-11700T the fastest processor from Intel that powers the some of the AIOs here. Based on the Average CPU Mark, the processor is around 40% faster than the Intel Core i7-11700T and around 38% faster than the Intel Core i7-11700, see performance comparison chart below. This is one of three AIOs from Lenovo with this being the premium option.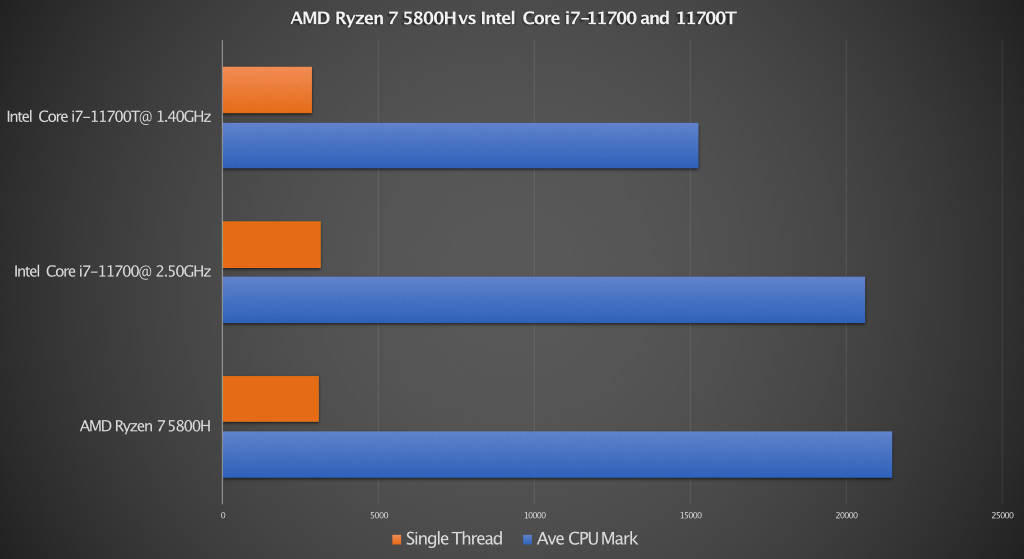 Apart form the fast processor, Yoga AIO 7 also benefits from a discrete graphics in the form of AMD Radeon RX 6600M with 8GB graphic memory. The graphics processing power will let you create 3D models, work on your next blockbuster movies and even play the latest triple A games at Full HD resolution with ease. The onboard JBL speakers push full bodied audio so you can enjoy your final cut in all its glory.
What Could Be Better:
Detachable webcam instead of a pop-up one. At least it is Full HD IR web cam, perfect for facial recognition and video calls. It also means that if you need to use your display in portrait mode, the webcam can be moved to the top position.
2. HP Pavilion 27 27-inch All-in-One PC –

4K DISPLAY, HUGE MEMORY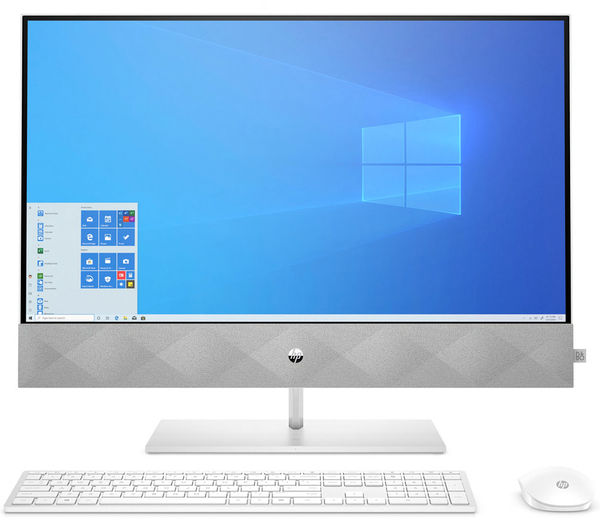 Intel® Core™ i7-11700T Processor

Memory:

16 GB RAM / 32 GB Intel® Optane™

Storage:

1 TB SSD

Graphics:

NVIDIA GeForce MX350 4 GB

4K Ultra HD display
What We Like: This flagship AIO from HP has everything one needs. Fast processor, huge memory and even more swap file memory with Intel Octane and super fast 1TB SSD. The Intel Core i7-11700T is faster than the Intel Core i7-1165G7 with an average lead of 36% based on UserBenchmark. This is an octa-core desktop processor with 16 processing threads while the Intel Core i7-1165G7 is a quad-core mobile processor with 8 threads. Now, it may not have Intel Iris Xe Graphics 96 but the discrete GeForce MX350 GPU with dedicated 4GB graphics memory solves that problem. Everything checks out so far
What Could Be Better: We couldn't ask for a better AIO. This checks all the boxes and then some. Avoid the cheaper unit with the same processor but with only 8GB memory and 1TB SSD but a lower Full HD resolution display.
3. LENOVO IdeaCentre AIO 5i 27-inch All-in-One PC –

BIG MEMORY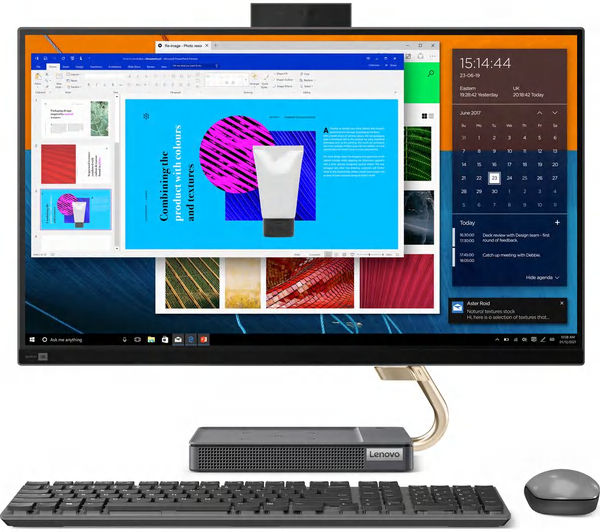 Intel® Core™ i7-11700T Processor 

RAM:

16 GB / Storage: 1 TB SSD

Quad HD display
What We Like: Powered by the octa-core desktop processor with generous 16GB memory and huge 1TB fast SSD storage, the IdeaCentre AIO 5i is a premium unit from Lenovo. The Quad HD screen may not be Full HD but it sufficient for most applications from editing videos to graphics and photos. Elsewhere, the pop-up camera carries a 5MP sensor and the sound system is Harman certified JBL unit complete with woofer and tweeters that support Dolby Audio Premium. If that is not enough, the base carries a Qi wireless charger to charge your smartphone and the system comes ready with wireless keyboard and mouse.
What Could Be Better: Quad HD means 2560 x 1440 pixels which is not as high as 4K but the display offers sufficient brightness at 350nits wrapped in a borderless design. If you need to hook up an external 4K monitor user the HDMI 1.4x out port.
4. DELL Inspiron AIO 7700 27-inch All-in-One PC –

DUAL STORAGE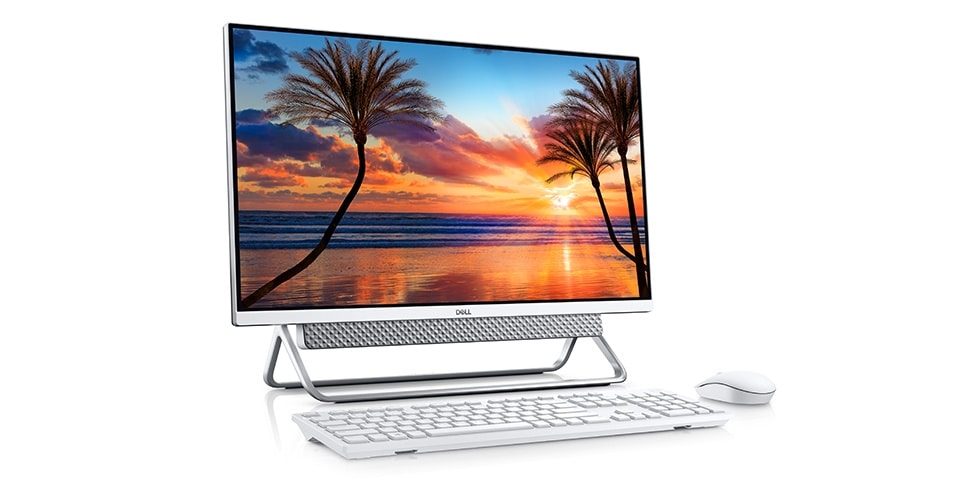 Intel® Core™ i7-1165G7 Processor (12 MB cache, 4 cores, 8 threads, up to 4.70 GHz Turbo)

RAM:

8 GB / Storage: 1 TB HDD & 512 GB SSD

Full HD display, Anti-Clare, Wide Viewing Angle and Infinity Edge with 8mm border
What We Like: Integrated Intel Iris Xe Graphics offers discrete graphics level performance. Dual storage extends the storage capacity offering the best of both huge storage in the form of 1TB Hard Disk Drive and fast boot and application drive in the form of 512GB Solid State Drive. The front firing sound bar that sits between the A frame stand or optional Arch stand. We also love the pop-up camera with FHD sensor. It bodes well to provide maximum privacy.
What Could Be Better: The 27-inch display while big doesn't pack quite enough pixels. At Full HD or 1920 x 1080, it may not be for everyone. Still, there are plenty of ports on the back, including a HDMI-out 1.4 which will allow you to connect to an external Ultra HD display or use the AIO as a monitor with HDMI-in.
5. ACER Aspire C27-1655 All-in-One PC –

SUPER SLIM AND COMPACT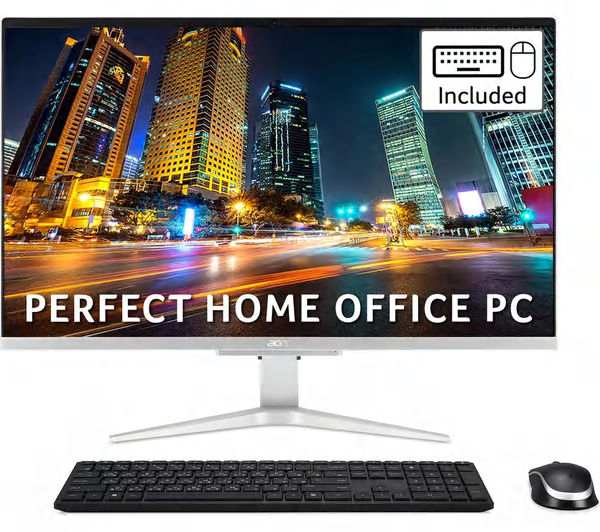 Intel® Core™ i7-1165G7 Processor

RAM:

8 GB / Storage: 1 TB SSD

Graphics:

NVIDIA GeForce MX330 2 GB

Full HD display
What We Like: Competitively priced AIO that is so compact and slim (only 6.8 mm thin) that it will pass as a monitor. It is powered by an energy efficient quad core processor, the Intel Core i7-1165G7 with 8GB RAM memory )upgradeable to 16GB) and fast 1TB solid state drive, everything you need as a creator. While the 11th generation processor already benefit from Intel Iris Xe Graphics, Acer isn't leaving anything to chance and has included an entry level discrete graphic in the form or NVIDIA GeForce MX330 with 2GB of dedicated graphic memory. The side bezels on the display is also incredibly narrow measuring just 3.7mm.
What Could Be Better: Uninspiring design. Full HD resolution on the may not be enough. Use the HDMI output to connect a secondary, preferably Ultra HD monitor. While the chassis is super slim, there is a noticeable bulge at the bottom about a third of the back where it meets the tilt adjustable stand.
BONUS: LENOVO IdeaCentre AIO 3 27-inch All-in-One PC –

AFFORDABLE
AMD Ryzen 7 5700U Processor

RAM:

8 GB / Storage: 512 GB SSD

Full HD display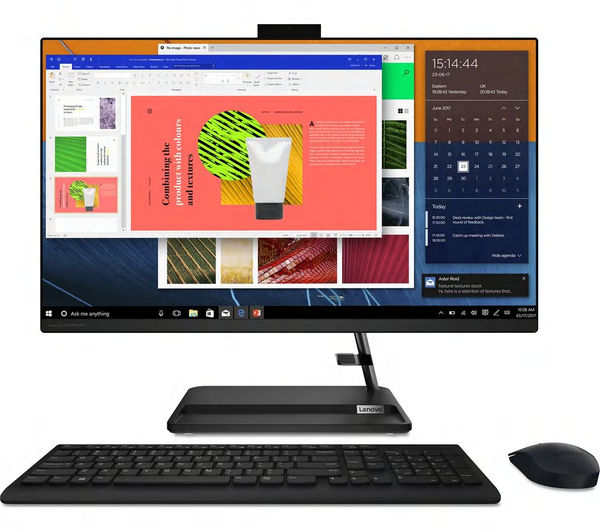 What We Like: The affordable price tag. If you are strapped for cash and still want an AIO that will do it all, this Lenovo IdeaCentre AIO 3 may not be as polished as the AIO 5i but does not lack style. The tubular side anchored stand comes with cable management for all your accessories and peripherals. The octa-core AMD Ryzen 7 5700U with 8MB cache and Radeon graphics will take on your editing projects with ease.
What Could Be Better: The pop-up web cam is only 720p resolution. While we appreciate that this is an affordable unit, and therefore comes with only a Full HD display, the screen brightness is lacking at 250 nits.