If you are a proud owner of a super slim, ultra portable laptop, chances are it will be missing a whole host of ports you use to find on conventional laptops. To keep the chassis small, modern laptops use the USB Type-C ports. Luckily for you, there are reasonably priced USB-C Hub adapters you can buy to give you back all those full size ports. We explore 8 of the best USB-C hub adapters in the market, a must-have for modern laptops.
The Type of Ports Found on USB-C Hub Adapters
Here are the different type of ports you expect to find on a reasonably priced USB-C Hub. In choosing the right USB-C hub for your laptop, consider the devices you are likely to use with your laptop and the ports you need.
USB 2.0 Type A ports
USB 3.0 Type A ports
4K HDMI video output*
RJ45 Gigabit Ethernet Port
SD and/or microSD card reader slots
Power Delivery Port (depending on model up to 100W)
3.5mm Audio Output
* watch out for the video resolution and refresh rate supported. Support for 4K resolution video at 30Hz and 1080p at 60Hz is quite common. For higher 5K resolution output or multiple 4K resolution support, you will need USB-C hubs that support Thunderbolt 3 protocol. But, first check that the USB-C output on your laptop is capable of supporting Thunderbolt 3, there is usually a lightning bolt icon next to port to indicate this. A little more on video support can be found in the next section.
Video Support: Resolution and Refresh Rate
Depending on the laptop, video output via USB-C can use one of the many different standards and protocols and therefore support different output resolutions and refresh frequencies. To illustrate, here is what the MacBook Pro 13-inch 2019 with two Thunderbolt 3 ports is capable of supporting.
MacBook Pro 13 2019 Video Support
Simultaneously supports full native resolution on the built-in display at millions of colours and:
One 5K display with 5120-by-2880 resolution at 60Hz at over a billion colours
Up to two 4K displays with 4096-by-2304 resolution at 60Hz at millions of colours
Up to two 2K displays with 3840-by-2160 resolution at 60Hz at over a billion colours
Thunderbolt 3 digital video output
Native DisplayPort output over USB‑C
VGA, HDMI, DVI, and Thunderbolt 2 output supported using adapters (sold separately)
if your laptop has USB-C ports but does not support Thunderbolt 3, the video output may be limited to one, sometimes two 4K display output. Check with your laptop manufacturer to understand more about its video output.
What Do I Need?
So the question to ask yourself really is what you actually need your USB-C hub adapter for? Here are some questions to help you decide. You can then use the table of comparison below to pick the right hub for you.
1. How many USB Type A ports do I need?
Consider this if you need to access multiple USB devices simultaneously.
2. Do I need Video Output (HDMI mainly)?
Consider this if you wish to connect to an external monitor or two.
3. Do I need wired Ethernet connection?
Consider this if you work in the office or home with wired local area network.
4. Do I need SD or MicroSD card slots?
Consider this if you need to transfer videos of still from your cameras.
5. Do I need to charge my laptop through the hub?
Consider this if you have limited USB-C i.e. a single USB-C therefore no other way to charge your laptop while the hub is connected.
6. Do I need a 3.5mm audio output?
Consider this if you wish to have speakers permanently connected.
7. Are you looking for a docking station setup?
Consider this if you wish to leave your hub permanently connected to all peripherals, monitor(s) and speaker.
8. Will you be travelling with it?
Consider a smaller, more compact unit if you wish to travel with the USB-C Hub.
9. Do I need 5K video output?
If your laptop supports Thunderbolt 3 and 5K video output, there are USB-C hubs that replicates Thunderbolt 3 ports. They look like normal USB-C ports but is labelled with a Thunderbolt icon. These USB-C hub can support up to two 4K display, one via the HDMI port, a second via the Thunderbolt 3 port, although a USB-C video adapter may be required. However, for output to a single 5K monitor, we recommend connecting this straight to the laptop's Thunderbolt 3 port.
10. Do I need dual monitor output?
CalDigit has a USB-C Pro Dock that supports Thunderbolt 3 and dual DisplayPort output. WAVLink 8K has Dual DisplayPort that supports up to 8K (7680 x 4320) @30Hz or 5K (5120 x3200)@30Hz. Use both DP ports for dual 4K resolution at 60Hz output. TOTU has a huge 4K Display Docking Station that supports three video outputs (one DisplayPort and two HDMI ports). Finally, CalDigit also offers a CalDigit Thunderbolt 3 Mini Dock that lets you connect your Thunderbolt 3-equipped laptop to two HDMI-enabled TVs or displays up to 4K at 60Hz. We will look at USB-C docks with multiple monitor output in another post.
If you answer YES to any of the questions above, make sure you have the right type and number of ports on the USB-C hub to correspond to your requirements. Then, use the table of comparison at the bottom which lists out the available ports on each hub.
Top 8 Best USB-C Hub Adapters
Let's take a look at the best USB-C ports we found in the market.
BONUS: FlePow USB-C Hub Multiport Adapter 7-in-1 4.8s3162
Anker has a number of USB-C hub adapters, three of these are on our list which goes to show how popular they are with users. This five in one USB-C hub comes with 2 USB ports, both of which are USB3.0, a HDMI Video Output port that supports up to 4K resolution at 30Hz. On top of that there are two flash memory reader, one for SD and a the other for microSD card.
The hub is compatible with MacBook Pro from 2017 onwards and iPad Pro from 2018 onward as well as Pixelbook and some Windows laptops with USB-C and video output support. Noticeably absent from the hub are RJ-45 Ethernet port, PD charging support and audio output, which helps keep the cost down. That and the use of aluminium and polycarbonate plastic for its chassis.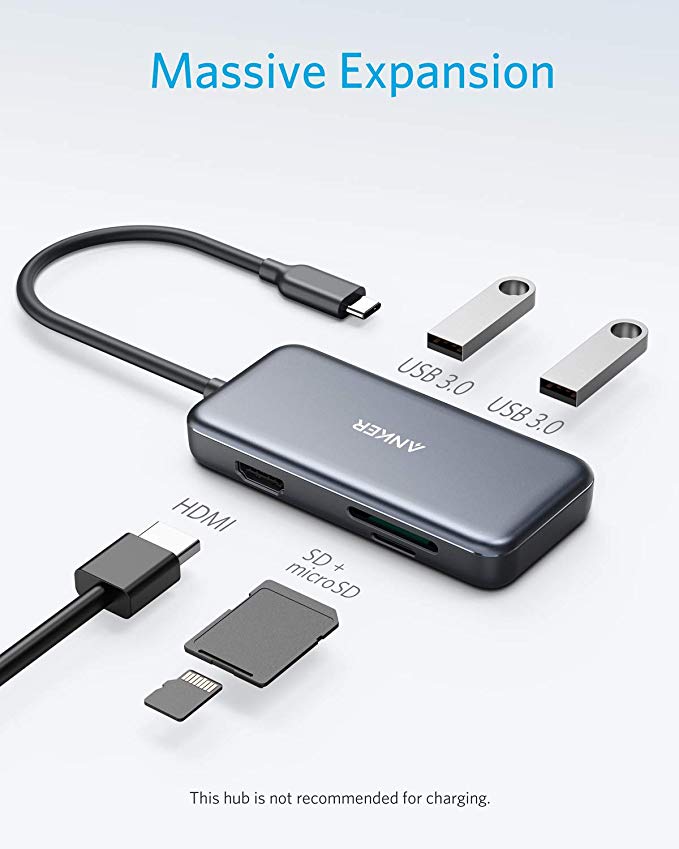 There are two 7-in-1 USB-C Hub Adapters from Anker, this one supports Power Delivery or PD. What this means is that you can use your existing laptop's power adapter to connect to the USB-C hub and have the hub connect to the laptop. This configuration will pass-through the charge.
There is a caveat in that, using a 100W PD charger, it will pass only 85W of power to the laptop as 15W is taken up by the hub itself. Apart from having a huge number of USB ports (2 Type A and 1 Type C), it supports 4K HDMI video output, Gigabit Ethernet, SD and microSD card reader. The only thing not on the list is audio output but that is usually found on the laptop itself. The hub is compatible with both Windows PC laptops and MacBooks.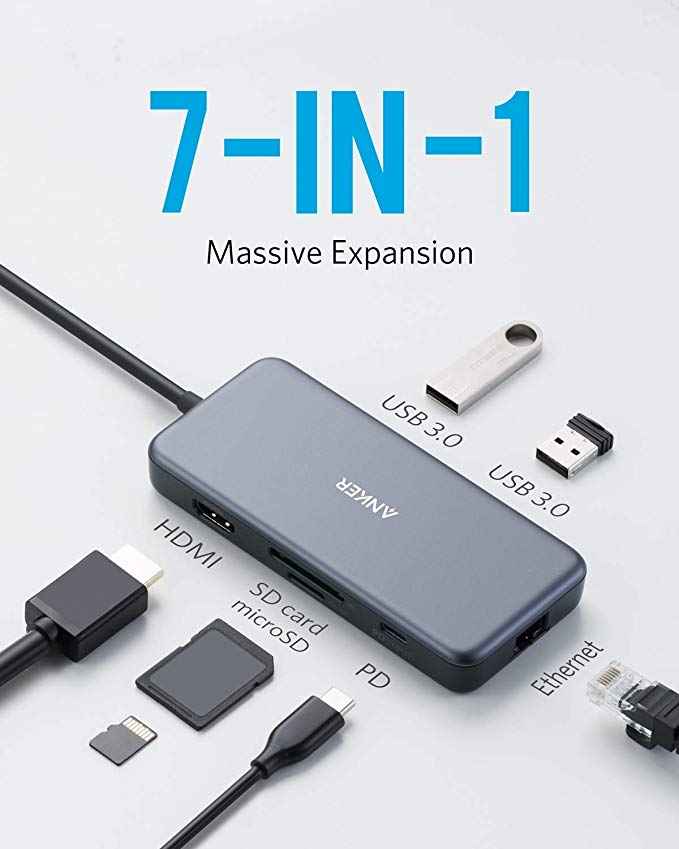 ALSO: Anker USB C Hub Adapter 7-in-1 PD for MacBook designed to fit snugly into existing USB-C ports on MacBook Pro. The advantage of choosing this over standard adapter is that it can support High Definition media display as the expansion hub has 1 Thunderbolt USB-C port. This means it will support up to 5K resolution media at full 60Hz refresh rate. You can also connect a second monitor to the HDMI port simultaneously which will give you another monitor at up to 4K resolution at 30Hz. If you are after a multi-display setup for your MacBook, this hub is one to go for.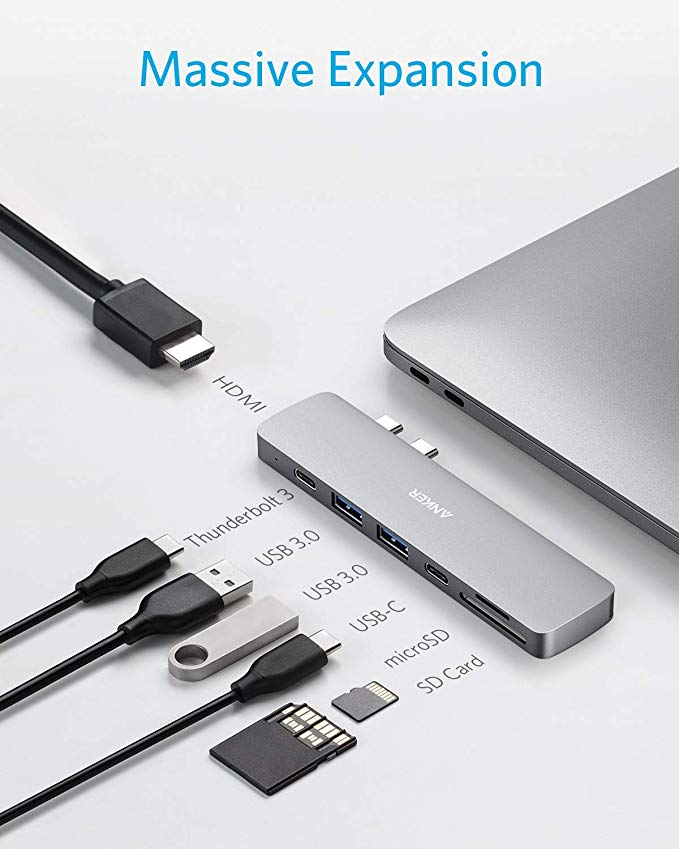 Ethernet Port | 4K USB C to HDMI | 2 USB 3.0 Ports | 1 USB 2.0 Port | SD/TF Card Reader | USB-C Power Delivery
The TOTU USB-C Hub is a slim and compact hub with 2 standard or Type A USB3.0 ports and 1 Type A USB2.0 port. For video output, there is the convenient HDMI port. But being an 8-in-1 device, it also comes with 1 RJ-45 Gigabit Ethernet port for wired network, 1 SD card reader and 1 TF (microSD) card reader. But what is really impressive for its size is that it also has one Type-C USB-C port capable of Power Delivery to pass through power. This PD port supports a maximum of 87 watt from your laptops adapter. We also like that the chassis is made of aluminium alloy in brushed metal finish.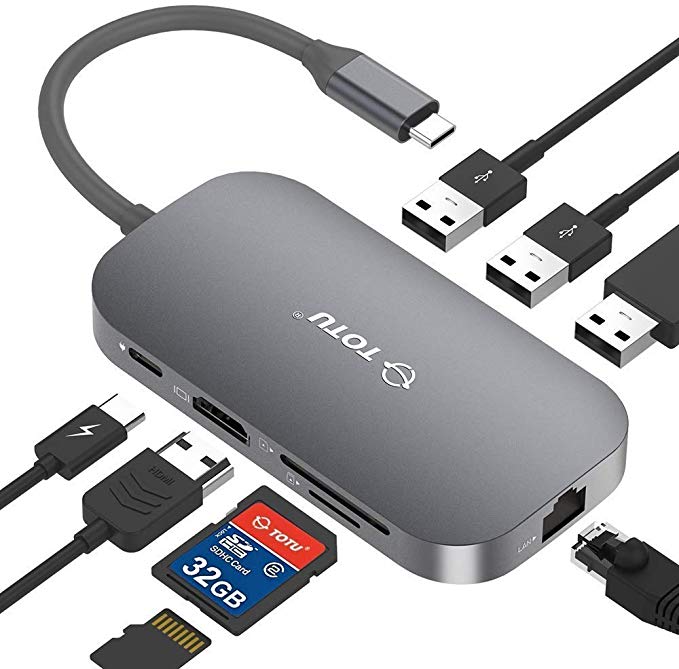 4K USB C to HDMI | 2 x USB 3.0 Ports | 1 x USB2.0 Port | 1Gbps Ethernet Port | SD/TF Cards Reader | Audio Output | USB-C Power Delivery
Moving on, we have an offering from VAVA USB-C Hub Adapter with not 8 but 9 ports. The hub is one up from the TOTU adapter above in that it includes a 3.5mm audio output. The HDMI port supports 4K UHD o Full HD 1080p video output. There are three standard Type-A ports with 2 x USB 3.0 and 1 x USB 2.0 port. Other ports include an RJ-45 Gigabit Ethernet port, a 65W pass through USB-C charging port,  All those ports are housed in a sleek aluminium alloy casing which is an added bonus.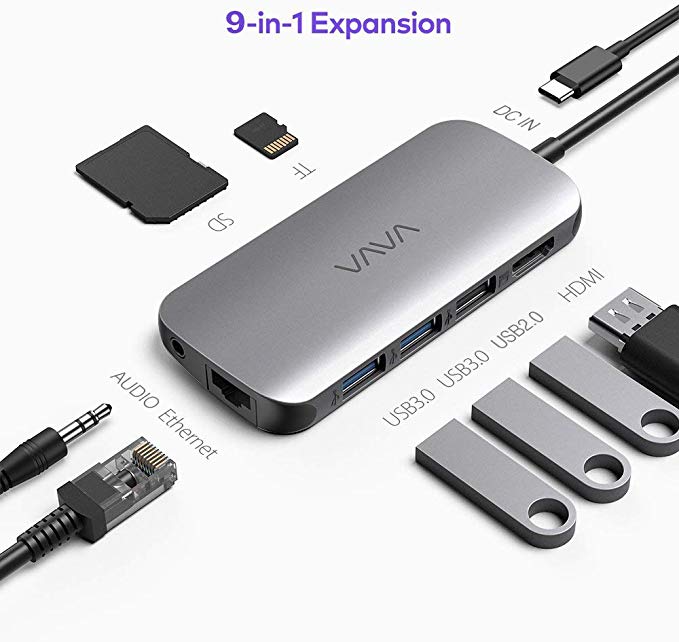 USB C Adapter with 4K USB C to HDMI, 3 USB 3.0 Ports, SD Card Reader, Pd Charging Port for MacBook/Pro/Air Chromebook,And More USB C devices (Grey)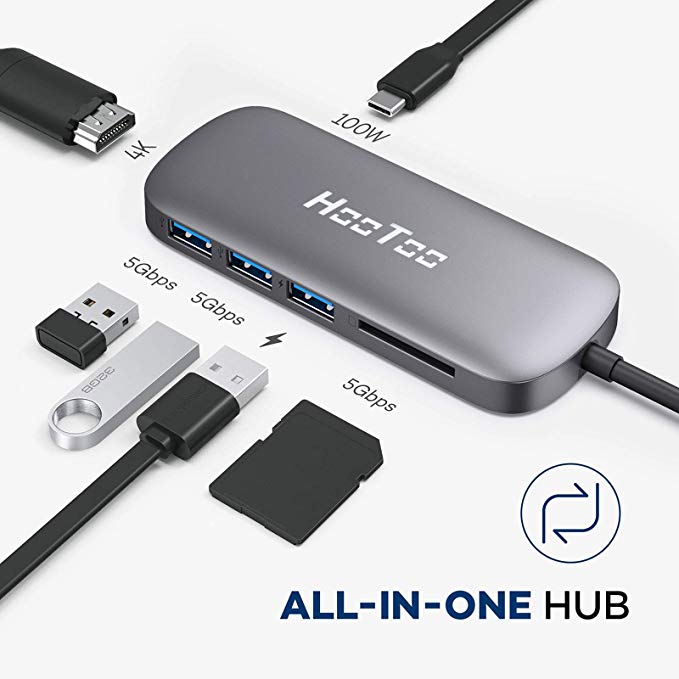 4K USB C to HDMI | Ethernet Port | 3 USB 3.0 Ports
This is by far the most compact USB-C hub with video output we have come across. Instead of a soap bar profile, depending on how you see it, this Anker USB-C has an almost tube like profile. The sleek, stem like shape takes up very little room in the bag and on the desk. It is compatible with all MacBook Pro from 2017, iPad Pro from 2018, ChromeBook, XPS, and More.
There are two versions of Anker USB-C Hub Adapter with the same profile. This 5-in-1 USB C Adapter is the updated version with 4K USB C to HDMI, Ethernet Port, 3 USB 3.0 Ports, making it a total of 5 output options. Perfect as a travel companion for your laptop, the only downside is that it does not support Power Delivery but that's a small price to pay given how portable and easy to store away this unit is.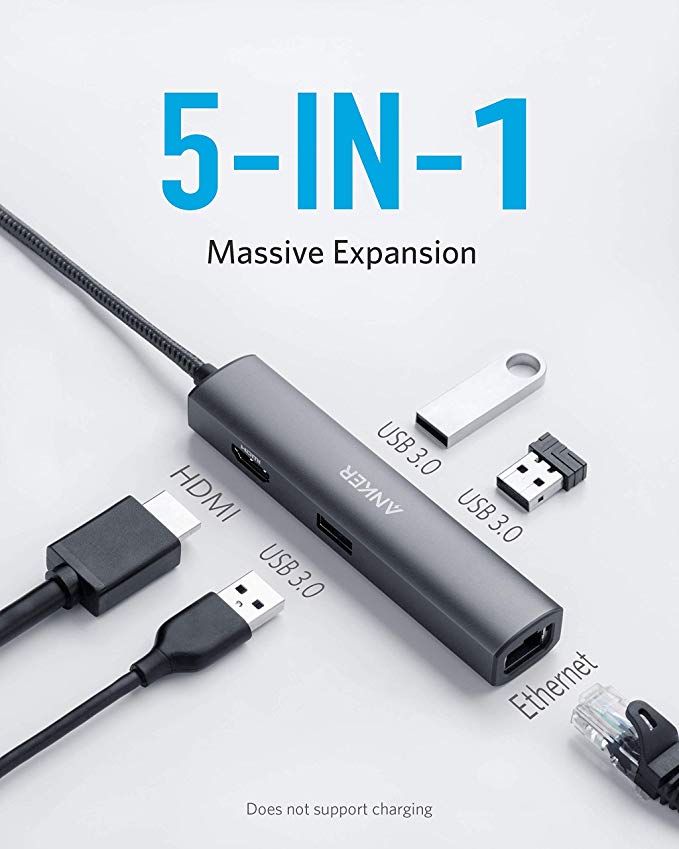 If you are after an even smaller USB-C adapter hub and has no real need for video output or Ethernet connection then this AUKEY USC-C Hub Ultra Slim is for you. The big giveaway is in its name. Available only with USB ports, AUKEY was able to make this hub super compact, even smaller than the ANKER above.
There is not much else we can say about this hub apart that all ports are capable of supporting up to USB 3.0 standard. The basic nature of this device makes is compatible with a wide range devices including MacBook Pro, Chromebook, Pixelbook and some mobile devices that support USB-C. The real reason you want this hub apart from only needing USB port expansion is that it is super affordable.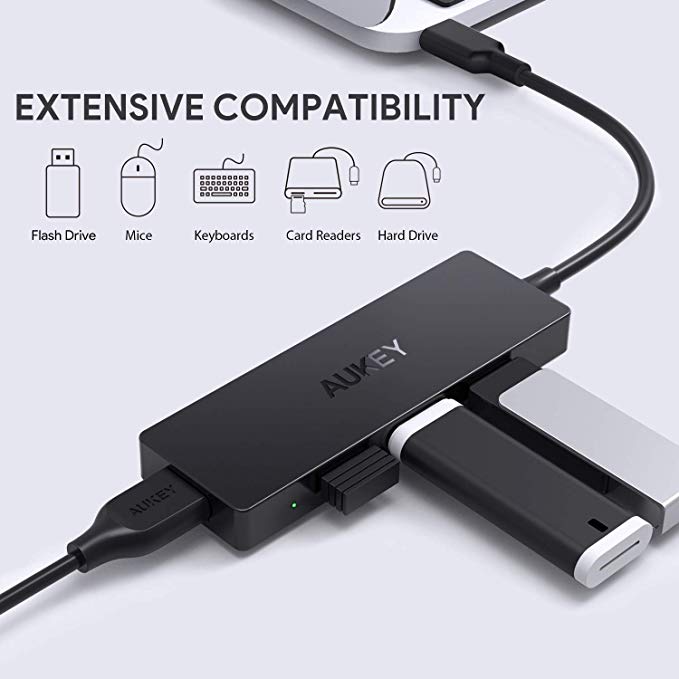 It is really fitting that in the 8th place is this 8-in-1 USB C Adapter from Vilcome, perfect as a docking station for your desk be it at home or in the office. The Vilcome unit supports 4K video output via HDMI.  Plug the USB-C connecter to your laptop and you can enjoy HDMI, dual card reader both SD and TF format, Ethernet for LAN connectivity and 3 USB 3.0 Ports. It also supports 87W Power Delivery making it a near perfect hub as a docking station. The only thing left now is the sound output should you need your dock to be permanently wired to your desktop speakers.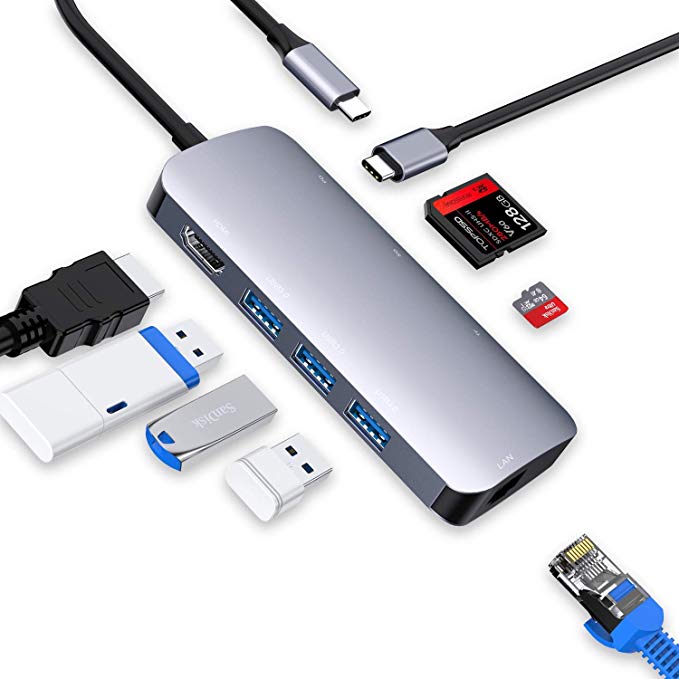 Finally, for a balance of portability and versatility in terms of the number of expansion ports, here is the Fle-Pow USB-C hub with seven ports. Among the ports are 4K HDMI Output, 3 USB 3.0 Ports, a dual format card reader; an SD and a TF/Micro SD Card Reader. Made from Aluminium and finished in space gray, it is a perfect match for MacBook Pro, some XPS and other Type C Devices. The Fle-Pow also features a chip to prevent overheating, keeping the hub cool during operation. It is small enough to be a travel companion for your laptop however, in keeping it small, it does not support PD charging making it less suitable for static use.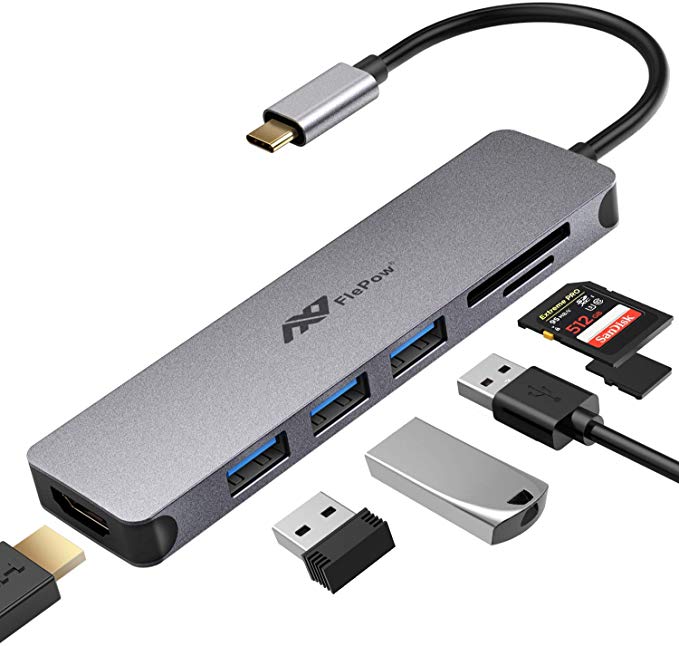 Table of Comparisons