USB-C hubs are a godsend especially for laptops with a limited number of expansion ports. Not only do USB-C Hubs have full size USB ports, some also feature HDMI, VGA, wired Ethernet, 3.5mm audio output and a SD card slot all in a tidy little package. But what exactly is a USB-C Hub Adapter and why would you need one.
Port replicators and docking stations are so yesterday.
These USB-C hubs blow them all out of the water. They are smaller in comparison, packed with so many connectivity options and are available at such affordable prices that you would not even think twice in getting one (or two).
What is a USB-C Connector
USB Type C refers to the type of connector. This is the new generation connector that is both smaller and reversible. Unlike its predecessors, the Type-A (rectangular one way connector), which is still very common and Type-B (squarish connector) which is hardly used, it goes beyond just replacing the old serial, parallel, PS/2 and FireWire ports.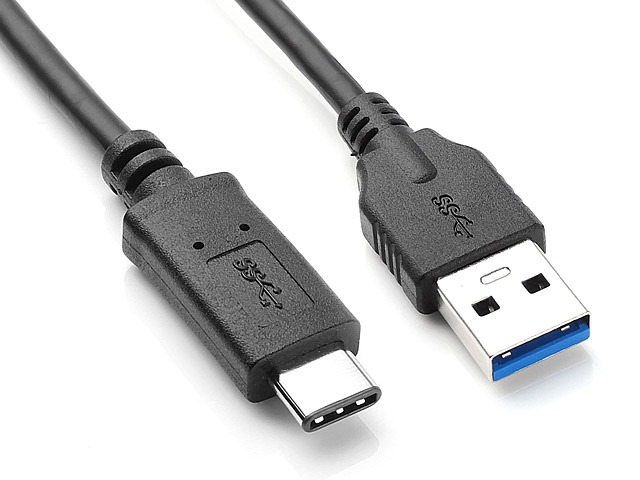 The Type-C connector now supports the latest USB4 standard that incorporates Thunderbolt 3 protocol, PCI Express, DisplayPort and Host to Host communications as well as backward compatible with previous USB3.2 and USB2.0 standards.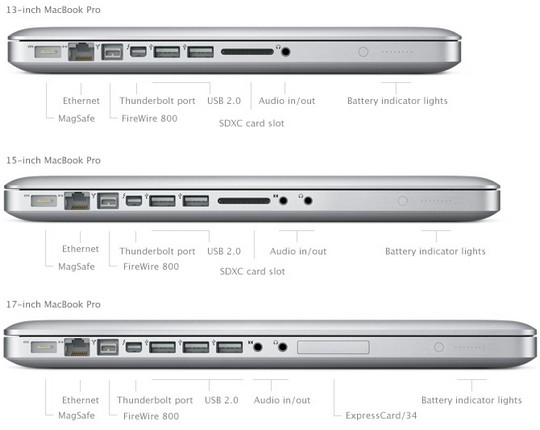 If that's too many buzz words for you, it means it is future proof, super fast and flexible, merging all the different ports under one super small and easy to use port, the USB-C port. As a comparison, look at the different ports on the MacBook Pro from 2011 above and compare this to the ports on the MacBook Pro 2019 below.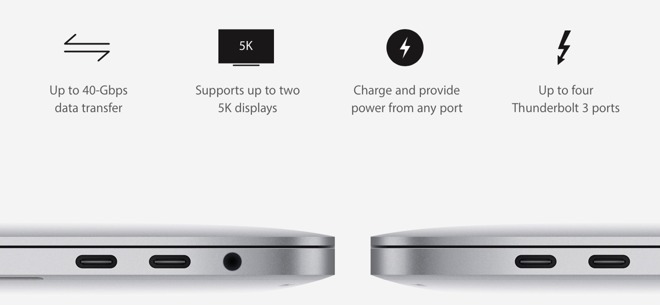 Search USB-C Hub Adapters on Amazon
Why Do You Need a USB-C Hub Adapter
In order to make laptops slimmer, manufacturers needed a new standard connector that is both smaller and can replace the plethora of ports in use (DisplayPort, Thunderbolt, VGA, Ethernet, USB Type A). If you just bought an ultra portable, super slim and lightweight laptop PC, Chromebook or MacBook, chances are you are stuck with USB-C ports being the only connectors available on your device.
Understandably, it is the only port small enough to fit in the super slim chassis. This leaves you with the need for a USB-C hub to connect your existing hardware and peripherals. But wait, there is more, here are five reasons why you should get a USB-C Hub.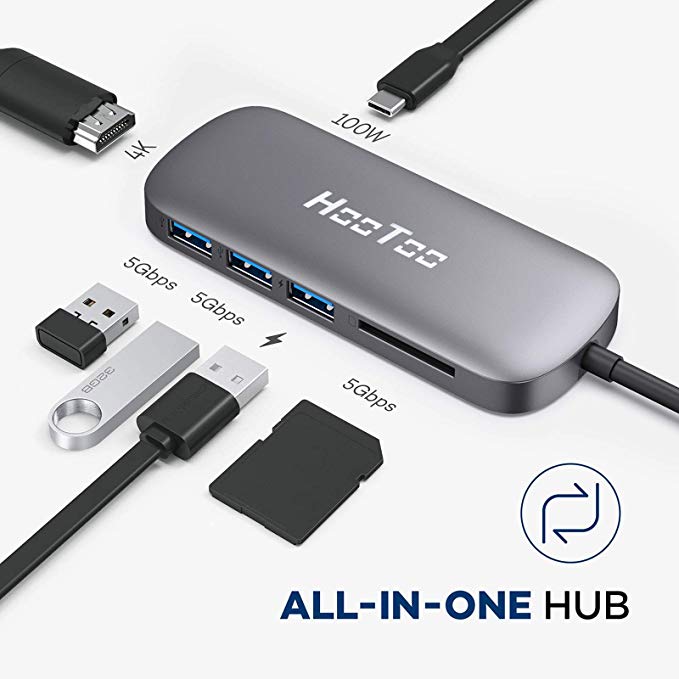 Search USB-C Hub Adapters on Amazon
1. Bigger Bandwidth & Backward Compatible
We love the benefits of USB Type-C connector. It is small, compact and reversible. The latter means there is no right side up, making it easier to plug the cable in. But the benefits goes beyond size and practicality. It is designed to be compatible with the old USB standard (2.0 and 3.0), Thunderbolt and DisplayPort as well as comply with new USB3.1 standard. Depending on your laptop and the type of standards and protocols it supports, the USB-C port can have one or all of these features:
USB 3.1 standard with transfer speed at 10Gbps and USB3.2 with dual lane for 20Gbps.
USB4 standard with transfer rate at 40Gbps (USB4 routing for tunnelling of USB3.x, DisplayPort 1.4a, PCI Express traffic and host-to-host transfers based on Thunderbolt 3 protocol below)
Support for USB audio standard and 3.5mm audio output
Backward compatible with older and more common standards USB2.0 and USB1.0 Type-A devices via adapter
Thunderbolt 3 (favoured by Apple) with transfer rate up to 40Gbps, two 4K video output at 60Hz and hook up an external GPU. Thunderbolt ports are marked with a lightning symbol.
HDMI, VGA, DisplayPort for video output
USB Power Delivery (USB PD) to charge your laptop using supplied adapter (up to 100Watt)
Provide up to 15 watts of power to charge connected devices like smartphones
2. Hook Up Your Existing Devices
Type-A USB connectors and devices are still the most common and if your laptop manufacturer has left the port out in favour of a couple of USB-C ports, then you are practically stuffed. The only way to access your USB flash drive, external hard disk drive, smartphone, tablet, camera or any input devices like mouse, keyboard and writing tablet is with a USB-C Hub Adapter. Some USB-C hub includes HDMI video signal output to connect to an external monitor or big screen TV. Others include SD Card reader, Ethernet network port and sound output. These are made possible with the big bandwidth, super fast transfer rate and protocols it supports (see previous section).
3. One Port to Rule Them All – USB-C Hub as 'Docking Station'
If your laptop is your main machine and it comes with the modern USB-C port then you will want a USB-C hub for the office and another for home. Have all your peripherals (full size mouse, keyboard, touchpad, writing tablet, printer and scanner) as well as an external full sized monitor and cabled network connected to the USB-C hub. Leave this connected so when you arrive at the office or home, all you have to do is to plug in your USB-C hub and you have a full workstation setup. Simples.
4. Power Delivery
Some USB-C hubs support power delivery (PD) to charge your laptop at the same time. This is a feature that is inherent in a docking station but you would need a separate power brick for that. With a USB-C hub that support PD, it is capable of passing through the power from your existing power adapter to charge your laptop, removing the need  to carry two adapters. Plus, the USB-C hub is way smaller and more portable than a docking station.
5. Cheaper Than Proprietary Port Replicator or Docking Station
Finally, proprietary port replicator or docking station are expensive. You can only get ones that are designed specifically for your laptop which means going back to the manufacturer. They are not as common and are built for a handful of models only. This means that when the manufacturer moves on to a new model, they seize to produce the port replicator or docking station making them that bit harder to get your hands on.
Now that you have learnt about the technology behind USB-C and what it is capable of, it is time to consider a USB-C Hub Adapter.
Search USB-C Hub Adapters on Amazon