While gamers are busy assembling their custom pc with the heavyweights such as motherboards, processors or graphics cards, the thought of lightweights such as gaming headsets tend to slip out. That curved 4K display is indeed splendid but what about the sound? Surely you could have done a bit more to address the 'audio' section of that superb 'audio-visual experience' you are seeking. Here, we look at some of the best gaming headsets for pro gamers.
With online gaming taking over a large chunk of the gaming industry, investing in a gaming headset is sure to pay you dividends for a long time.
Gaming headsets are a necessity now without which your custom pc would feel incomplete. A gaming pc without a gaming headset is like a well-dressed person without the right accessories. You might feel that your basic $20 wired headset is doing just fine but that's because you haven't come across one of these gaming headsets before. If you really want to have an out worldly experience and demand something more from your games, a gaming headset is the way to go. Mind it, you do not need a ton of cash for it. $50 is a good point to start and then you can surely upgrade once find yourself cuddling with it. Here are our picks.
1. The Budget Benchmark: Kingston Hyper X Cloud II
Aluminium Frame for Durability
Virtual 7.1 Surround Sound
Detachable Microphone
In wire Volume and Surround Control
Superb Noise Cancellation
53 Millimetre Audio Drivers
Compatible with PC and Consoles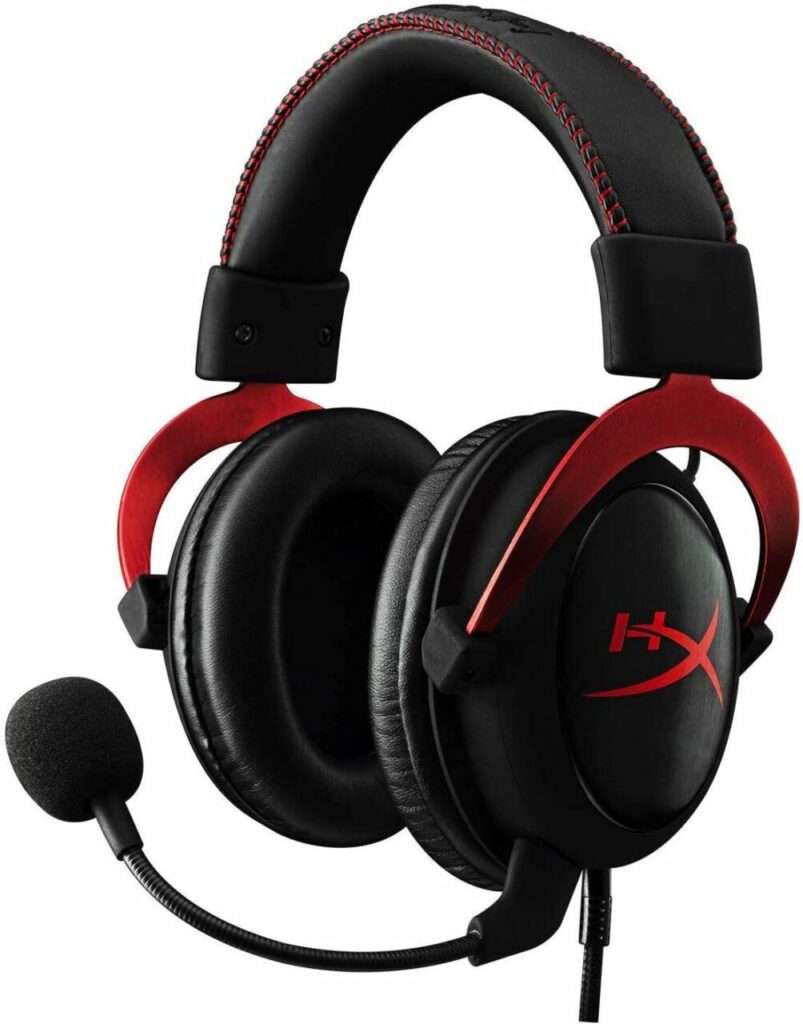 First, we have the 'Idol' of budget gaming headsets. It is the headset that other budget headsets want to become. For more than two years, the Hyper X Cloud II is the best-selling gaming headset in the United States. It has tons of positive reviews from users as well as critics alike. Loved by PC as well as console gamers due to its seamless compatibility across platforms. The Hyper X Cloud II is what we call the perfect balance between price and performance. Users have been blown away by its longevity and durability. 56 mm drivers give a lot of clarity and achieve a great balance in every genre of games played. Many of these have gone through Hell (Search for Frustrated Gamers on YouTube) and have still managed to stay strong.
2. The King of Style: Hyper X Cloud Stinger
Features
Swipe to Mute
50 Millimetre Audio Driver
Lightweight
Rotating Ear Cups
Virtual 7.1 Surround Sound
Inbuilt Steel Sliders for Durability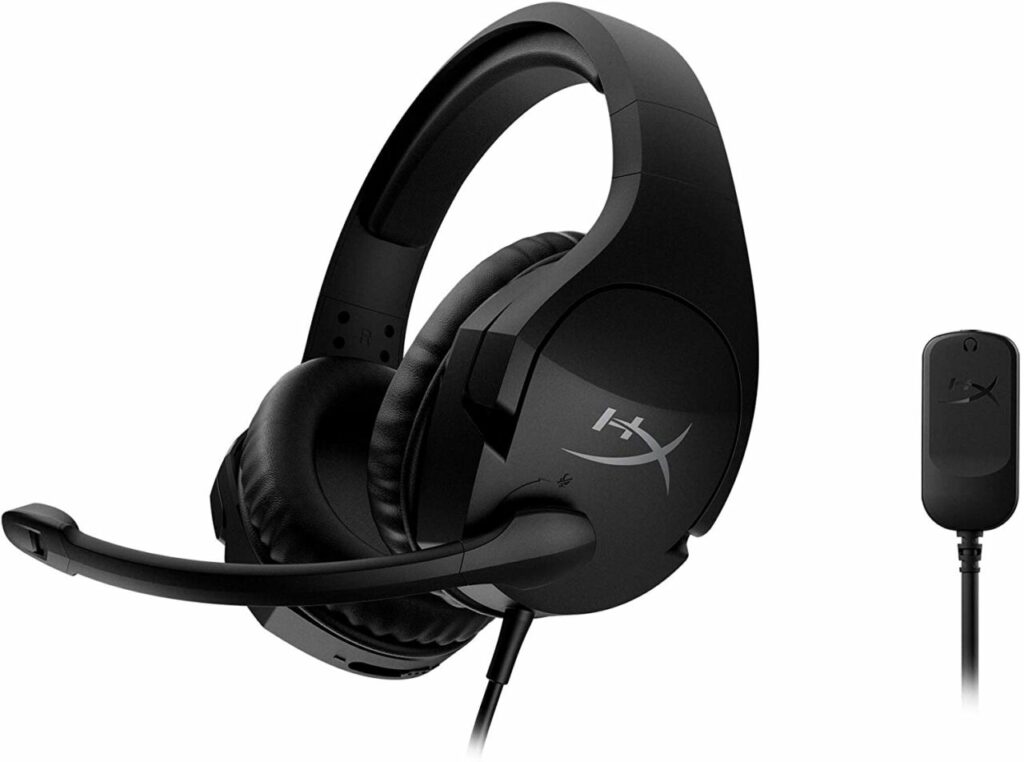 The Stinger from Hyper X has overwhelming popularity amongst gamers due to its all-black styling. The audio quality is very balanced and it is tailor-made for intensive gaming. Its 50 mm audio drivers are positioned a parallel to the ears for enhanced bass and optimum quality. For $50 you get a headset that has a sensor attached which auto mutes the mic when you swipe it up. From rotating ear cups which can be comfortably placed around the neck when the game is loading to a 7.1 virtual surround audio, everything about the Stinger oozes style, quality and perfect features. The headset has steel sliders inside its plastic body which makes it durable and it can survive occasional drops and rough handling. The Stinger from Hyper X is built to last.
3. The Nimble Versatile: Steel Series Arctis 1
Features
Wireless Connectivity
Detachable Microphone
Compatibility with PC, Consoles and Android (2.4GHz, Bluetoooth, USB-C Wireless Dongle)
Breathable Ear Cushions
Lossless 2.4 GHz Wireless Connectivity
Humongous 20 hours battery Life
Comes with X Box Game Pass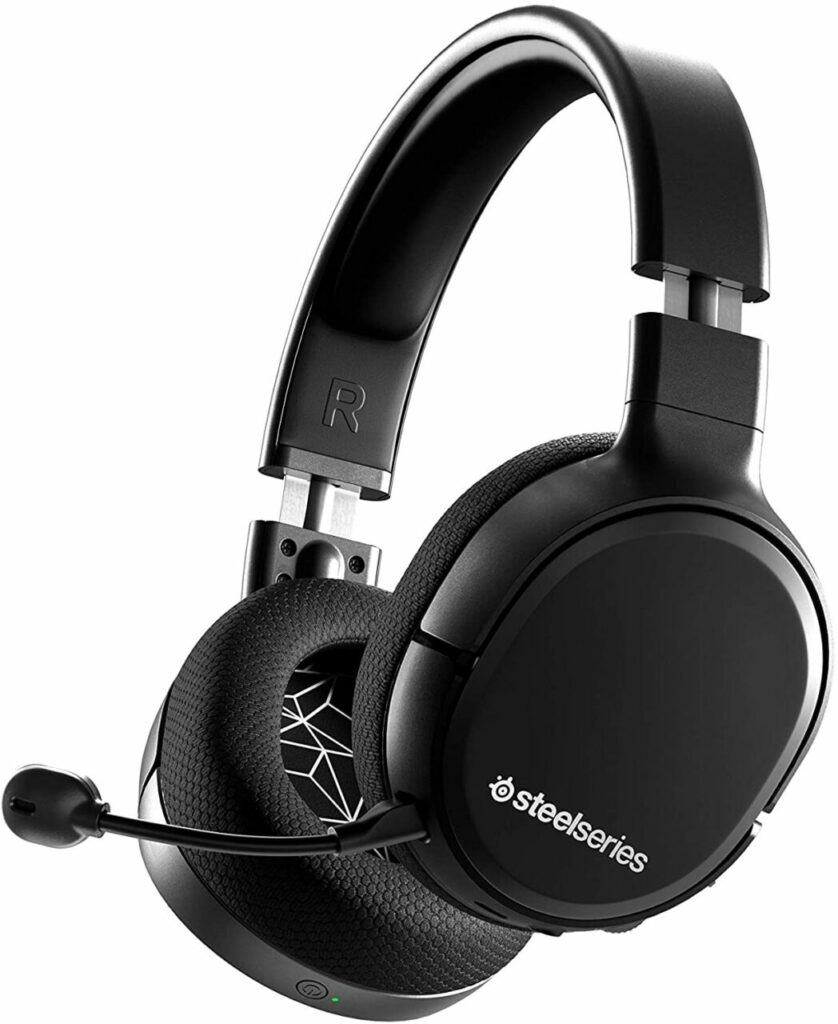 For a change let's look and behold the beauty of Steel Series Arctis 1. It is available in both wired and wireless models but it's the wireless model that caught our eye. What it cannot provide in terms of rotating ear cups, it more than makes up for in terms of a detachable mic and comfortable ear cushions. It has a huge battery life of 20 hours which when coupled with its breathable ear cushions makes the Arctis 1 a sweetheart for gamers. The headset can be used for hours at a stretch without any discomfort or sweat in the ears. As far as the audio quality goes, we could actually hear the rustling of the leaves in Assassin's Creed: Odyssey, which by the way was not heard on the speakers we tried. It has Bluetooth too for those of you who do not want to purchase a separate wireless adapter.
4. The Certified Beast: Asus TUF H3
 Features:
Clear Communication Certified by Discord
50 Millimetre Audio Driver
Fast Cool Ear Cushions
Asus Rog Armory Drivers for Enhanced Audio
Lightweight Design
Windows Sonic Supported 7.1 Surround Sound
Wired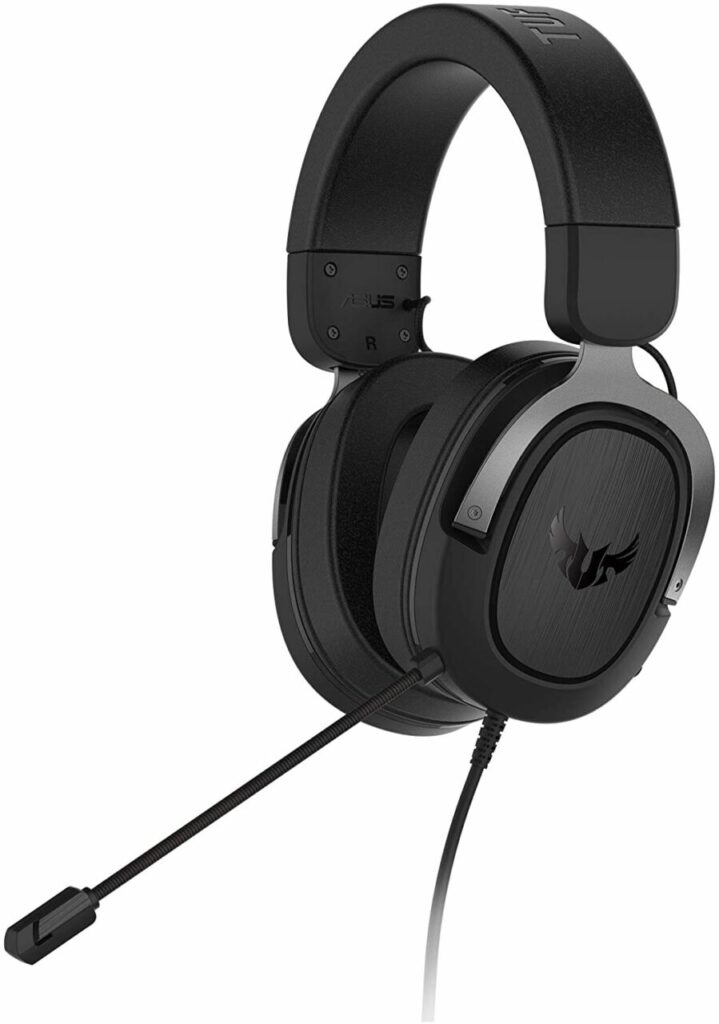 Long gone are the days when Asus are known only for produce motherboards. Today they produce almost every PC component including the popular gaming laptops based on Ryzen 5000 series chip and the undisputed ASUS ROG Phone 5. Now, they have come up with a gaming headset. This headset costs only $35 but it packs some punch. Its neodymium 50-millimetre audio drivers with an impedance of just 32 ohms, delivers 7.1 virtual surround sound with good clarity and bass. It uses Windows Sonic spatial audio to deliver superb clarity during in-game communications. It is a certified headset from Discord and TeamSpeak and has performed better than many pricier counterparts in terms of in-game communication. The downside of this headset is that it is not at all pretty but it ticks all the necessary boxes which makes it a superb choice for gamers on a budget.
5. The Gorgeous: Corsair Virtuoso RGB Wireless SE
Features
RGB Integrated
High-Resolution Audio
Broadcast Quality Microphone
Wireless connectivity
20 Hour Battery Life
Multiple Connectivity Options (2.4GHz dongle for PC/Console, USB-A, 3.5mm)
Detachable Omnidirectional Microphone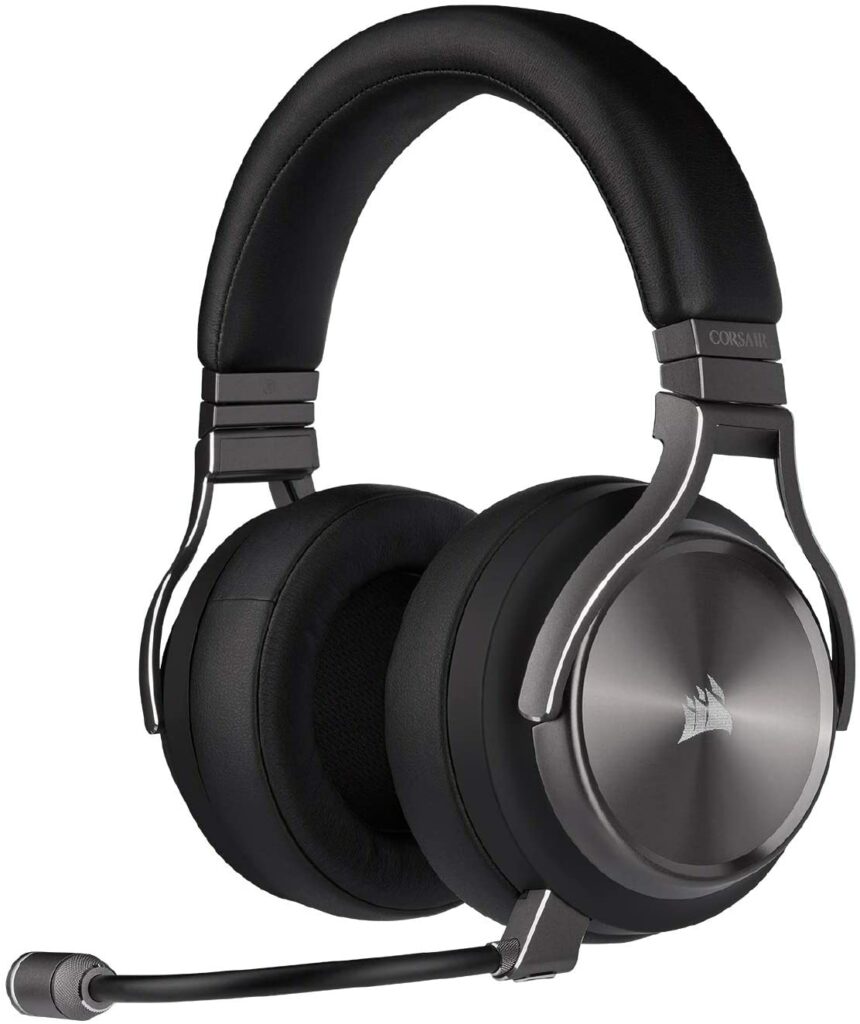 The Corsair Virtuoso RGB Wireless SE looks as awesome as it performs. The standout feature of this headset is its wide range of connectivity options. It can be used on a PC or a console thanks to a 2.4 GHz wireless dongle it comes with. Add to it a USB Type-A and a 3.5 mm jack and you are looking at a headset that can be used for gaming on virtually ANY device. It is loved by gamers and audiophiles all along for its high-fidelity audio system. The studio-grade microphone gives your listeners immaculate clarity and you are expected to keep it on for hours at a stretch thanks to its 20-hour battery life. The aluminium finishing on the cans with an RGB lit Corsair logo give the headset a look as premium as it sounds.
6. The Veteran: Sennheiser GSP 300
Features
EPOS Engineered Audio
Lift to Mute Microphone
Sturdy Ball Joint Build
Side Mounted Volume Adjustor
Closed Acoustic Noise Cancellation
Comfortable Memory Foam
Wired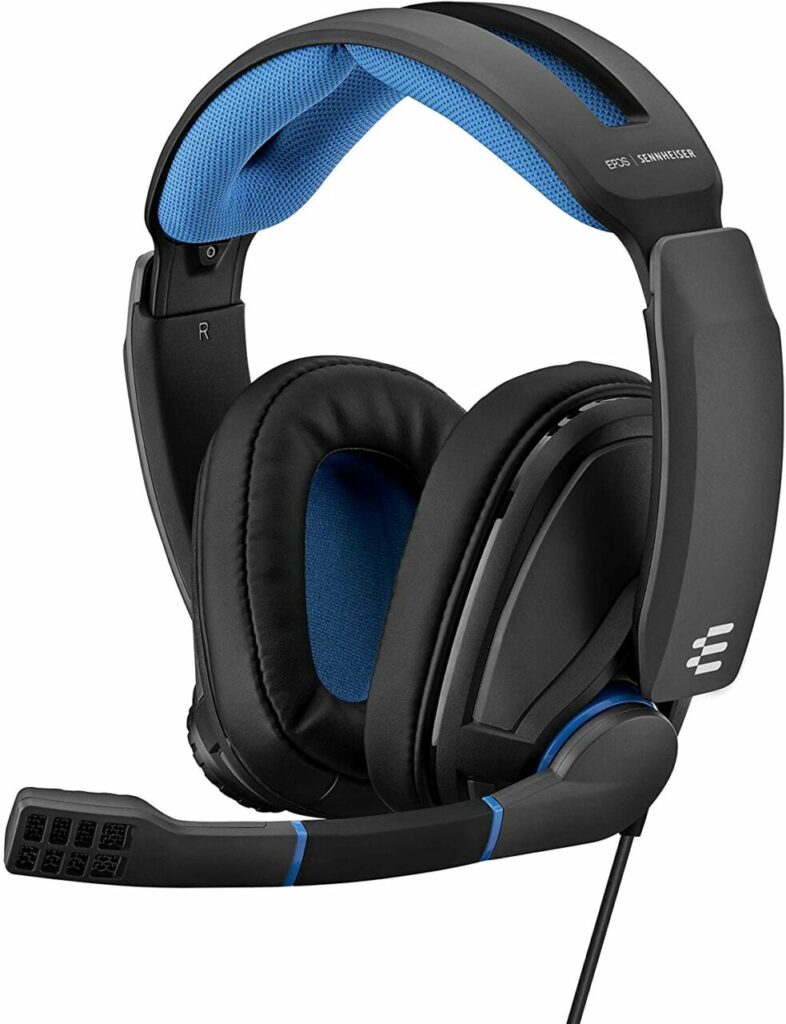 This is the only headset we are featuring here that has foam pads on the head which prevents digging discomfort during intensive gameplay. The 'flip to mute' mic is a handy feature that spares you the troubles of looking for the mute button on the in-line controller while gaming. Speaking of which, there is no in-line controller, as the volume dial is located on the right ear cup for smooth volume adjustment and aid an unhindered and constant gaming. Sennheiser has a cult following amongst audiophiles for its superior sound in headphones and it seems to have brought the same audio experience in the field of gaming as well. The audio is engineered from EPOS which is well known for providing high end audio solutions to enterprises and gaming.
7. The Show Stopper: Turtle Beach Ear Force Stealth 450
Features:
DTS Audio Integration
True 7.1 Surround Sound
Unmatched Clarity
Wireless Connectivity
Sound and Equalizer Modes
15 Hour Battery Life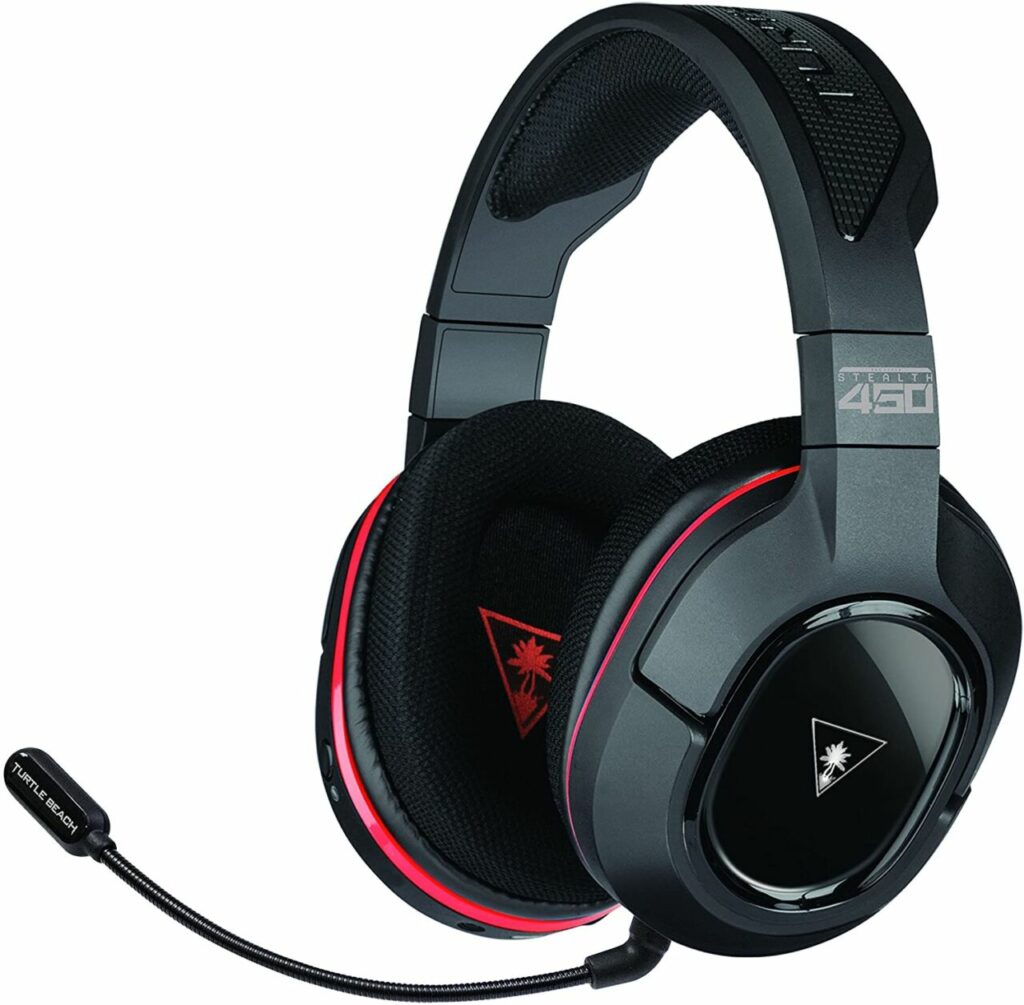 We know you have been waiting for a Turtle Beach. There you have it. The Turtle Beach Stealth 450. It is the only headset in the list that does not employ software to deliver 7.1 surround sound. It has a DTS chip embedded in its board to deliver dynamic and high quality, true 7.1 surround sound. However, as all premium products do, it comes with a high price tag. The Stealth 450 has a plethora of audio customization and optimization options and in-built equalizer presets that is sure to give you superhuman hearing and clarity during stealth gameplays. You are assured to actually hear the pin when it drops in the silence.
8. Best for Comfort: SteelSeries Arctis 7
Features
2.4G wireless for low latency audio
Uses S1 speaker driver
discord certified, ClearCast microphone
Supports DTS v2.0 7.1 surround sound (on PC)
Super long 24 hours battery life
Works with PS5, Switch, Mobile, PC, Mac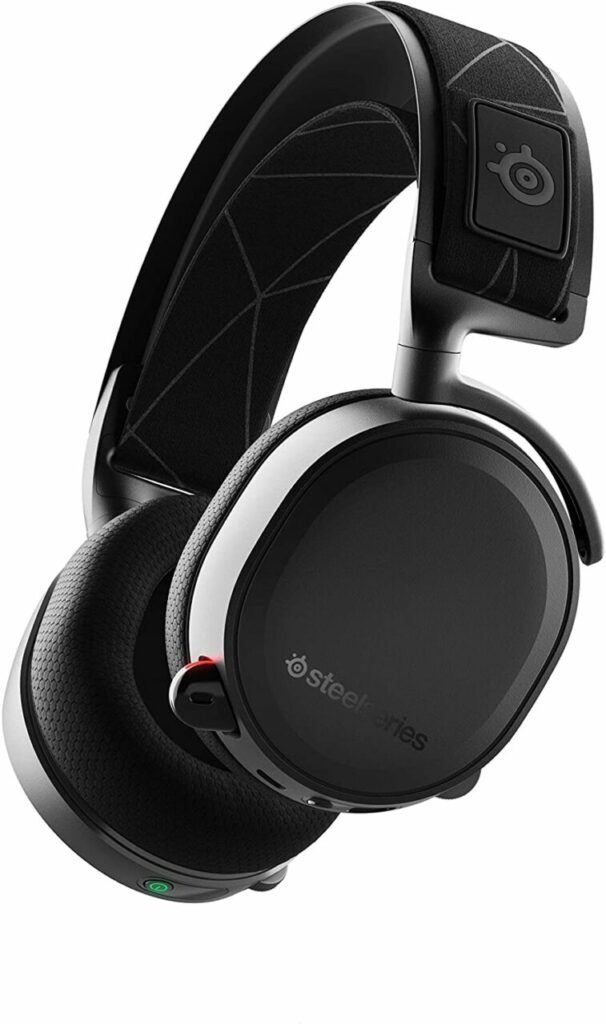 We already featured the Artics 1 and praised this for its amazing value and long battery life in wireless mode. The Artics 7 takes it to a whole different level. This wireless gaming headset uses 2.4GHz band for ultra low latency audio with a dedicated lossless dongle. ClearCast bidirectional microphone supports noise cancellation for added clarity. And, super long battery life of 24 hours keeps you going all day and night. But above all, the DTS:X v2.0 surround sound support ensures that you hear everything that is around the corner. Plus, as an added bonus, the premium steel headband is covered by high quality ski goggle fabric. That elastic fabric offers the best in comfort and support when worn over your head for prolonged period. On the subject of comfort, don't forget the athletic inspired fabric AirWeave cushion, keep your ears cool and dry at the same time. Overall, if you value good quality sound and comfort, the Artics 7 has your back.
Conclusion
Gaming headsets are there to compliment your gaming PC and give you the edge you need during competitive gaming. With the right headset, you will be totally immersed in your game, you can pick up footsteps of your enemy to know where they are coming from with the onboard surround sound system support. Those playing in groups will have a competitive advantage too of being able to communicate and hear their team mates clearly via the headphone and built-in microphone.
We often overlook the accessories a gaming PC needssuch as a good gaming headsets in our quest to build the ultimate gaming rig with the best components. While you can manage with any headset, it is a pro gaming headset that is sure to give your gameplay a boost and a sharpness with above-average detailing and good sound quality that is sure to land you the Chicken Dinner every time.
Edited by Samuel J Tan