A gaming chair is a smart investment that is sure to round off a gaming PC build. There is nothing better to treat your posterior with than a chair that is meant for gaming. It is worthwhile spending some time (and money) choosing a gaming chair like you did while choosing the components of your gaming PC.
A prolonged period of gaming can adversely affect your body. The back may start aching or the spine might ask for a rest. Many face musculoskeletal disorders due to a lack of proper hand rests in traditional chairs. Some have trouble moving their heads due to sharp discomforts at the back of the neck. A gaming chair is built to provide comfort to the pressure points of the body and let you sit on and enjoy your games for hours on end. But nothing beats actual rest, pause, stand up and walk around after a long session of gaming. Go out and get some fresh air and sunshine during your break if you game through the day.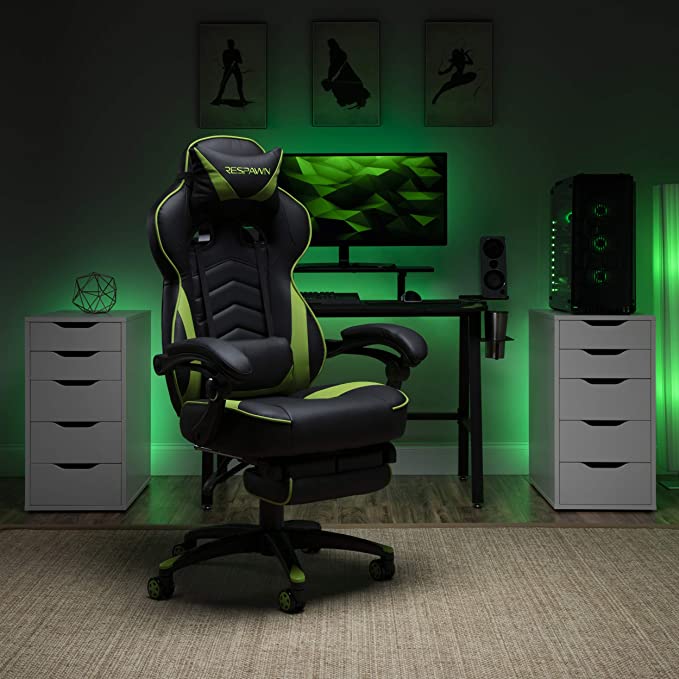 What you need to consider when buying your first gaming chair
Gaming involves an adrenaline rush and at times we subconsciously position our body in postures that are not natural for the body. This causes muscle fatigue which seems trivial during short gameplay sessions but starts giving trouble as time goes on. Just for a moment during intense gameplays, if you consciously look at your hand or body posture you will find that either the body is crooked or your entire arm is dangling in the air just with the support of the wrists which is on the mouse, keyboard or gamepad.
Eventually, this will cause pain in the arms and shoulder joints. The correct and natural posture is to rest your arm on a support so that the muscles do not go through extra fatigue. Another wrong posture we go into subconsciously while gaming is hemming into the monitor. That causes pain in the spine. Many suffer from spondylitis after prolonged strain on the spine. The natural position is sitting straight or leaning back.
Hence while choosing a gaming chair these are 7 indispensable factors that you must take into account.
1. Comfort
This is the single most important factor to consider while choosing a chair. The whole purpose of a gaming chair is to game comfortably. Hence a gaming chair must have the necessary footrests and armrests to let you game in comfortable and stress-free positions. Some chairs have lumbar support, some have mesh siding and adjustable back or neck rests. Make sure you choose the one which gives you comfort in the exact areas you need.
2. Size
The next element is the size of the chair. It must suit your physique. There is no point in going for a huge chair with a high neck rest if your head ends far below the head or neck rest. Most chairs have a maximum height and weight specifications which you must check before purchasing. Hence choose a chair which suits your height and weight.
3. Build Quality
The paddings of a chair can be made of various materials each with its pros and cons. A sponge padding may give you a lot of comfort but it may not last for long as prolonged use will cause the sponge to flatten. A chair made of other materials may last long but the comfort may not be as good. The fabric used on the outer surface that comes in contact with the skin should give you a nice pleasurable feeling. You may choose faux leather if you are a foodie cum gamer as spillage won't be an issue but then longevity definitely would be one. Moreover, you can expect to sweat more as faux leather does not breath as genuine leather. As for genuine leather gaming chairs, these come with a premium so be prepared to spend more.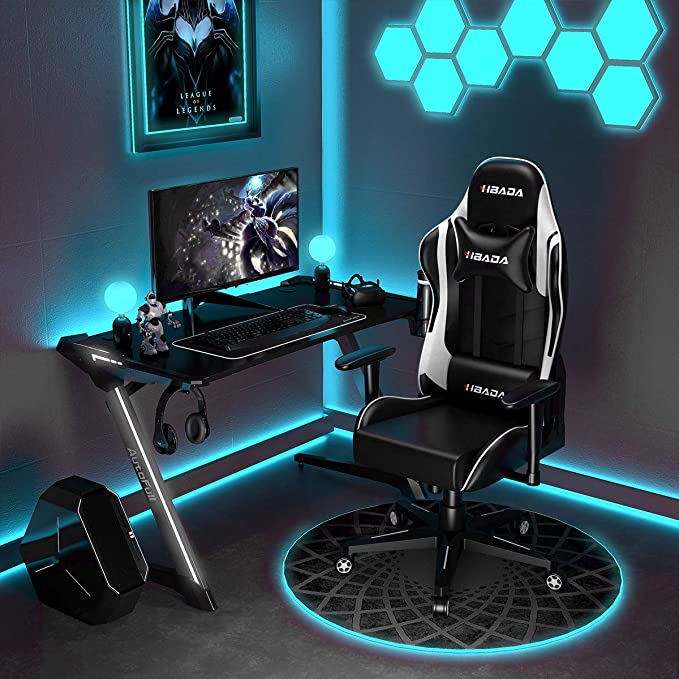 4. Extra Tech
Many gaming chairs are mechanised and offer a lot of extra features over conventional office chairs. Some can be connected over Bluetooth with the PC and they vibrate and rumble when there is a kill or you score a goal in FIFA. Some have inbuilt massagers which you can activate to some therapeutic treatment for the back. Other features include storage spaces of soda cans and food, headrest speakers, extendable tight rest and fold out leg rest. However, expect these chairs to be expensive and you should go for them only if you are sure of using these features while you game.
5. Adjustable
A perfect gaming chair is one that is suitable for people with various sitting and playing styles. This allows you to adapt the chair quickly to suit your game and mood. At also means that if you have friends over, they too can play on your chair and not find a fixed armrest getting in their way. Some love a more laidback position and the chair must have facilities to tilt backwards when you want a break. Some prefer to keep their chin upwards while gaming and an adjustable headrest would be a must-have feature for them.
6. Appearance
If you are going for a gaming chair then it means you are a serious gamer and may end up streaming your gameplay one day. To achieve a professional gaming look, a chair with cool techs and vibrant colours would add a vibe to the room you are in. You can try colour matching the chair with the LED theme of your PC (if you have one) or other colours in the room.
7. Cost
For many, the cost factor is the first they would consider but we have our reasons to put it as last. When you are going for a gaming chair it is understood that there is a significant cost involved. However, the cost should not be the primary reason for you choosing a chair. There must be a balance between the cost incurred and the item received. The exact term is value for money. If a better chair exceeds your budget but just by a little then it is worthwhile waiting for a discount offer or sale period than just make do and invest in an inferior product which would leave you ruing every time you sit on it
Our Recommendations with Pros and Cons
Here we bring you 10 gaming chairs on various budgets. The pros and cons of every chair are listed from various reviews submitted by the users.
1.  RESPAWN 110 Racing Style Gaming Chair – Best for Extendable Foot Rest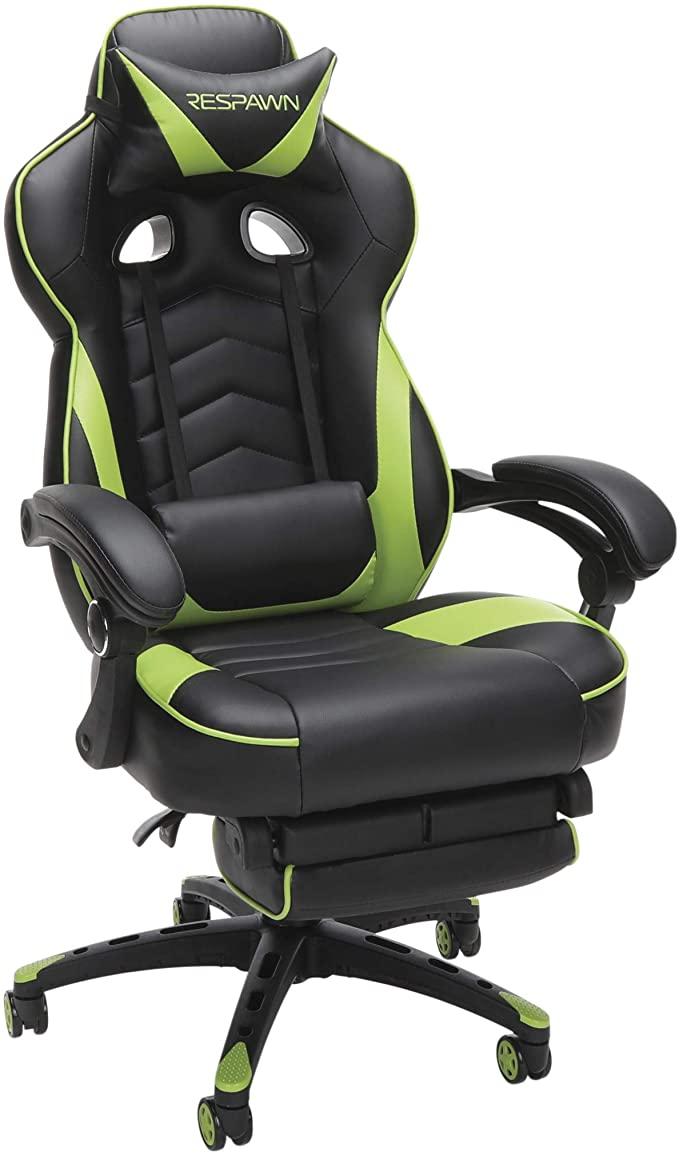 This is one of the widely purchased gaming chairs on Amazon. Black is the main colour while different accents like white, grey, red, blue and green. There is a quick video tutorial on how to assemble the chair too as it will be delivered in bits. People have appreciated the comfort of this chair and its capacity to tilt like dentist chairs. It also comes with a fold out and extendable foot rest. However, the height of the arm rest is fixed. Here are its pros and cons
| | |
| --- | --- |
| Pros | Cons |
| Stays Comfortable Even After Prolonged Use | Flimsy and Fixed Armrests |
| Comfortable and Sturdy Foot Rest | Set-Up Needs to be Done on Own |
| Dust Resistant and Durable | Hydraulics Issue |
| Impeccable Customer Support | |
---
2. Hbada Gaming Chair – Best for Height Adjustable Armrests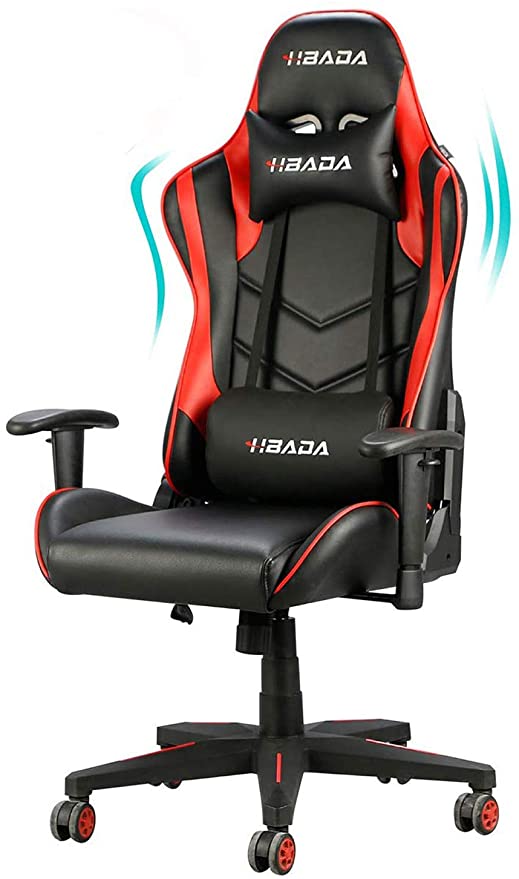 A costly option from HBADA but only a smidge more expensive than the Respawn 110 above. With its fancy bucket seat styling, adjustable head, neck and lumbar support, this HBDA offering makes a great gaming chair. Using highly durable PU leather, it is long lasting too. The high backrest will recline to 155 degrees. Plus, the armrest is adjustable for better support and clearance to fit under different desk height.
| | |
| --- | --- |
| Pros | Cons |
| Huge Lean Back Angle | Inadequate Hydraulics Rise |
| Only 15 Minutes to Assemble | Cushions and Padding Flatten Quickly |
| Huge Lumbar Support Cushion | No Foot Rest |
| Adjustable Arm Rest | |
3. BOSSIN Racing Style Gaming Chair – Best for Value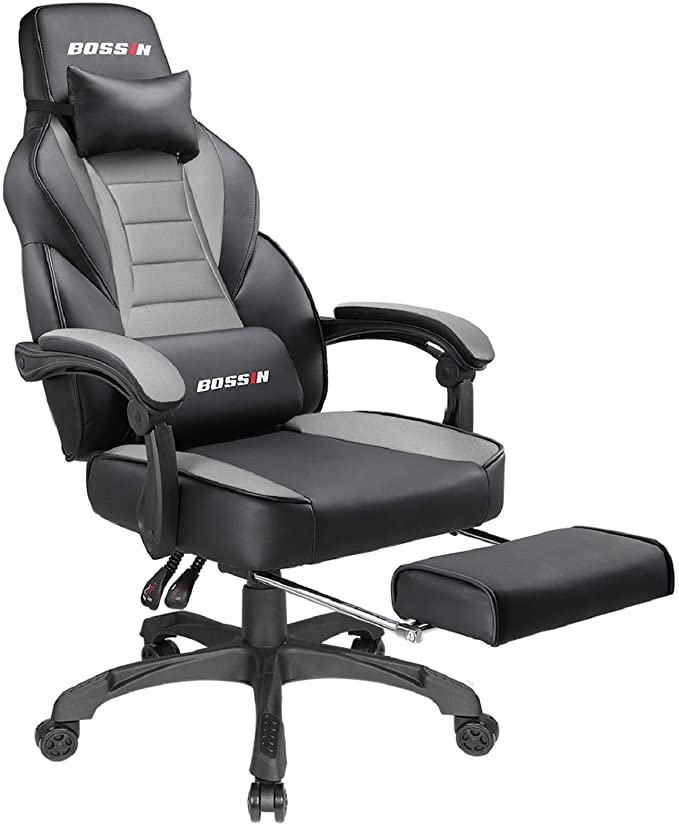 This racing style gaming chair may not be as impressive as previous chairs but it is a good value proposition and although some corners have been cut it still comes with recline function and fold out and extendable leg rest. It does not have quite the same sculptured backrest as others here and the backrest cushion is not adjustable.
| | |
| --- | --- |
| Pros | Cons |
| Comfortable in Different Positions | Armrests Wobble |
| Easy to Assemble | Lumbar Pillow Needs Adjustments Every time |
| Great value | Flimsy Leg Rest |
---
4. RESPAWN 900 Gaming Recliner – Best for Leg Support and as Recliner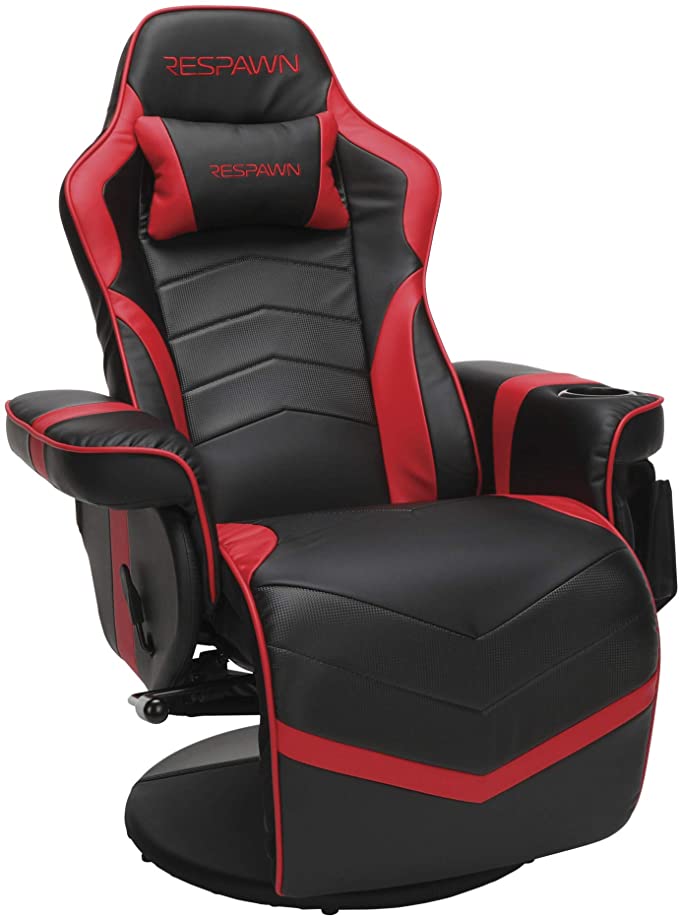 As the name suggests this is more of a recliner than a chair. It stands out from the rest as a cross between fat boy and gaming chairs featuring chunky armrest with cup holder and full width leg support. People have used it mostly for building a theatre at home. A very costly option at 275 USD. Many have complained of the cover losing its stitch quickly.
| | |
| --- | --- |
| Pros | Cons |
| Next Level Comfort, Detachable Cushions | Fabric Used Causes Sweat |
| Various Angles to Recline | Head/Neck Cushion Cannot be Adjusted |
| 360 Degree Swivel | Crunching Sounds from Leg Rest |
| Arched Full Width Leg Rest | Chair Height is too Short |
---
5. Soontrans Gaming Chair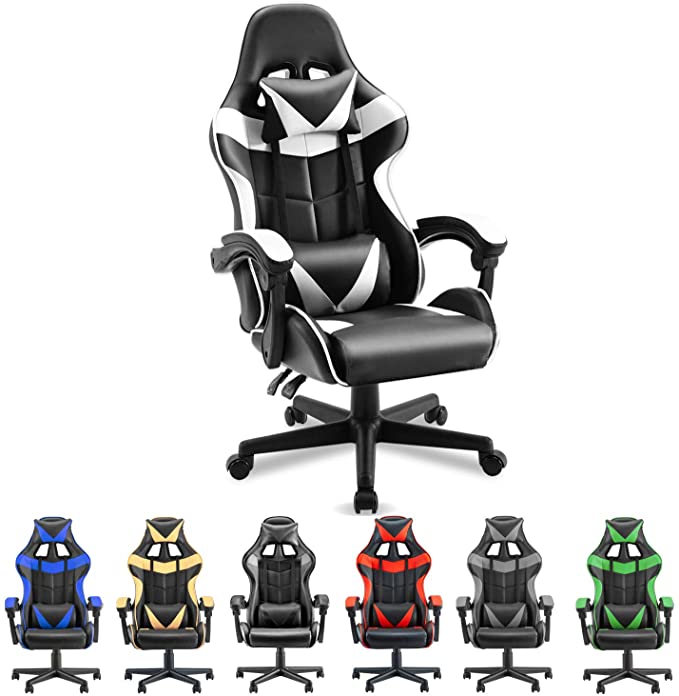 Soontrans Gaming Chair mixes features and style. It can be be hit and miss for many and it does not come with telescopic foot rest or adjustable arm rest. What it does best is the bucket seat styling, colour options, adjustable back and next cushion, reclining backrest up to 160 degrees and quiet castors.
| | |
| --- | --- |
| Pros | Cons |
| Easy to Assemble | Lean Back Angle Cannot be Adjusted |
| Cushioned Arm Rests | Arm Rests are Wobbly |
| Adjustable lumbar cushion | Comfort Level a Hit or Miss |
6. Nokaxus Gaming Chair – Best for Massage Function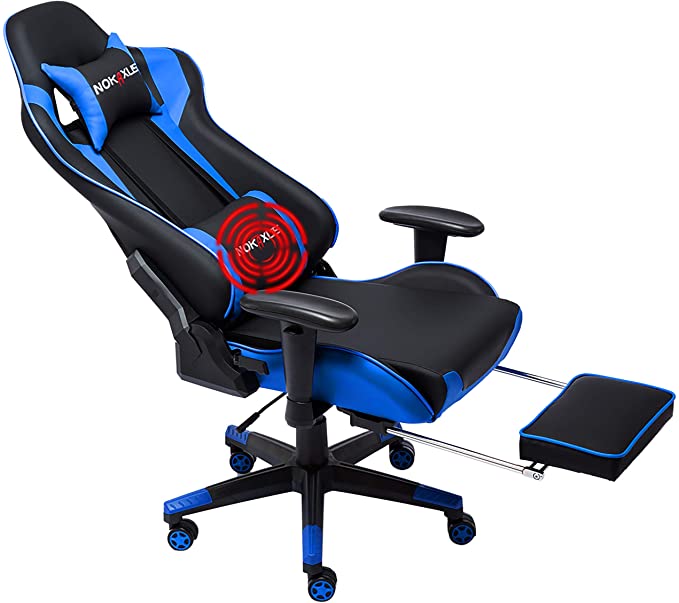 The gaming chair with a massager cushion got everything right. The high back rest that declines, the fold out and extendable telescopic foot rest and the height adjustable arm rests. It ticks all the boxes including stylish bucket seat. In fact it even comes with a fold flat backrest that goes all the way down to 180 degrees although we wouldn't recommend going that far. You will have to pay a bit more for all those extra features.
| | |
| --- | --- |
| Pros | Cons |
| Easy to Assemble | Has Longevity Issues |
| Lumbar Cushion Includes a Massager | Unbalanced, Gives a Feel of Leaning |
| High-Density Sponge for Comfort | Leg Rest is Flimsy |
| Big Size, Suitable for Well Built Physiques | Arm Rests have Limited Rise Function |
---
7. OFM ESS Collection GAMING CHAIR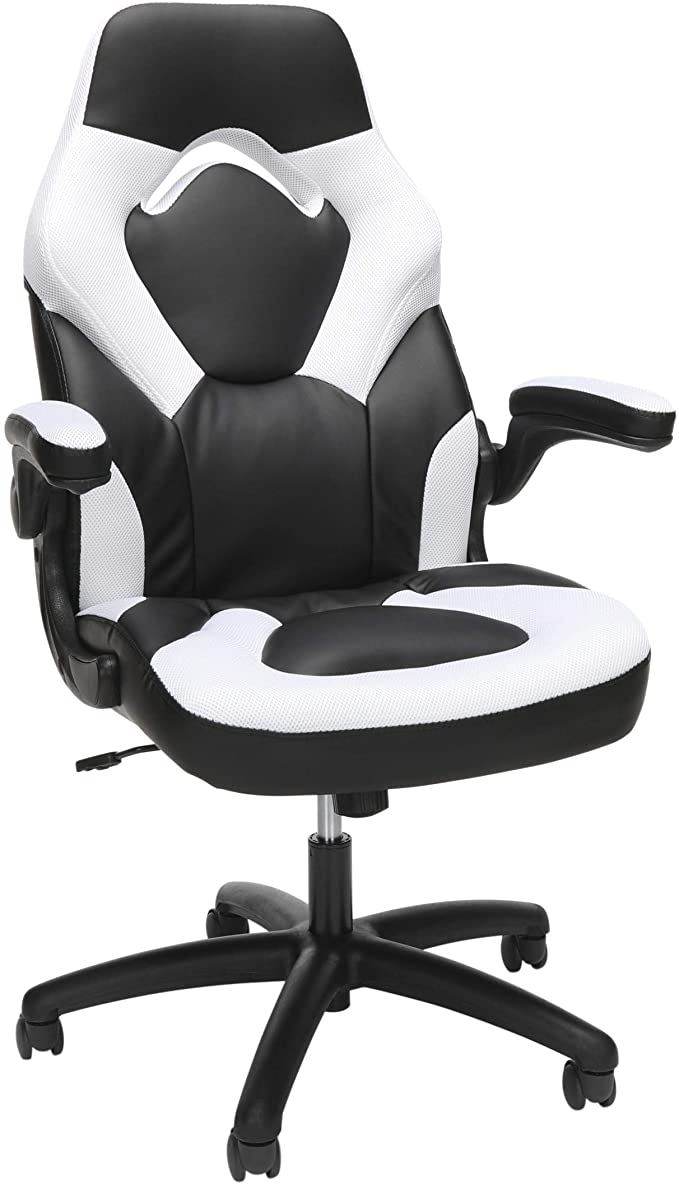 An absolute no-frills gaming chair with the looks to match. It has everyone a standard user would want from a computer chair including stylish trim and wide colour options. This is the cheapest chair we have on our list. If you are looking for a chair that excels in all the basic features then this is the chair for you. It is missing that lumbar and next cushion and there is no foot rest or adjustable armrest although the armrest can be flipped up. It will tilt back but the backrest does not recline. Like we said it is a great computer chair
| | |
| --- | --- |
| Pros | Cons |
| Very Comfortable | No Leg Rest and no Recline function |
| Smooth Chair Movement and Swivel | No Separate Lumbar or Neck Rest |
| Sturdy Arm Rests | Hydraulics Can be an Issue above 170 Pounds |
| Easy to Assemble and Great Value | Limited Scopes of Adjustment |
---
8. Cadcah Ergonomic Gaming Chair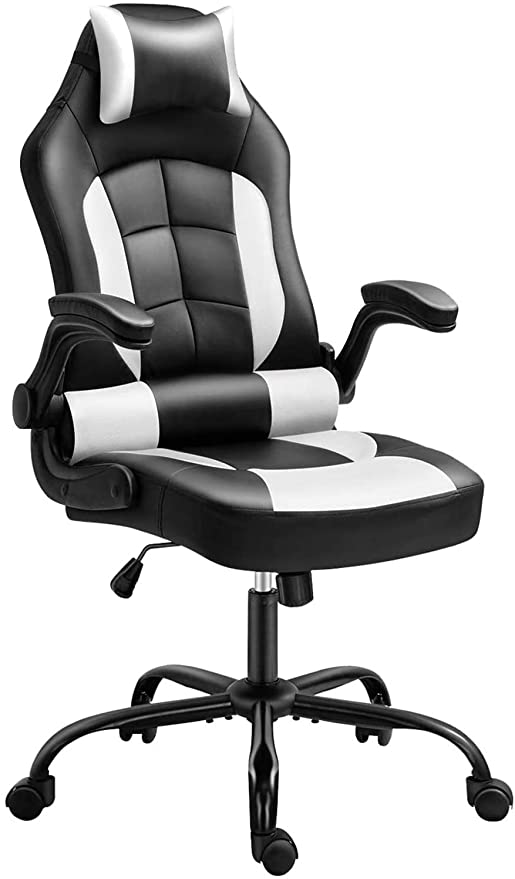 A departure from the bucket seat styling, the Catch focuses more on ergonomics with integrated lumbar support plus a posterior cushion and a neck rest. The arm rests lifts up and can be lowered too for the right elbow support. It will take up to 250 Pounds so suitable for heavy use. People have come back happy talking about the comfort factor.
| | |
| --- | --- |
| Pros | Cons |
| Great Back  Support | Fitting the Wheels an Issue |
| Arm Rests Flip Up | Leg Rest Missing |
| Good Quality Fabric | Customer Support not Helpful |
| Strong Built | Inconsistent Quality |
9.  KILLABEE Big and Tall Massage Gaming Chair – Best for Study Design & Massage Function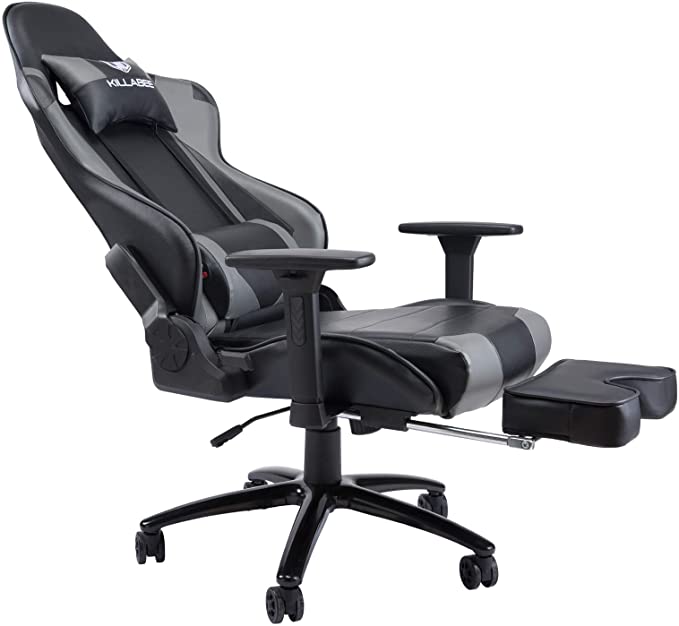 If you have been following closely, here is an entry that looks pretty much like the Nokaxus above with a lumbar massage cushion and minor tweaks. It may not have the same number of colour options, only grey or blue trim or all black but it works just as well. Adjustable height arm rest, up to 20 degree tilt angle, fold out and telescopic foot rest, reclining back rest up to 155-degrees and neck cushion. Killabee is so confident with their quality product, it claims to support up to a whopping 350 pounds. It has a metal frame, heavy metal base and explosion-proof gas spring, we can believe that. For all that stability and durability, it does come at a price.
| | |
| --- | --- |
| Pros | Cons |
| Great Back  Support with Massager | Only Available in Black Colour |
| Leg Rest Included | Arm Rests have Low Rise |
| Lean Back up to 155 Degrees | Has Issues with Base Plate |
| Foam Seat Cushions | Delay in Customer Support |
---
10.  Luckwind Video Gaming Chair Ninja 2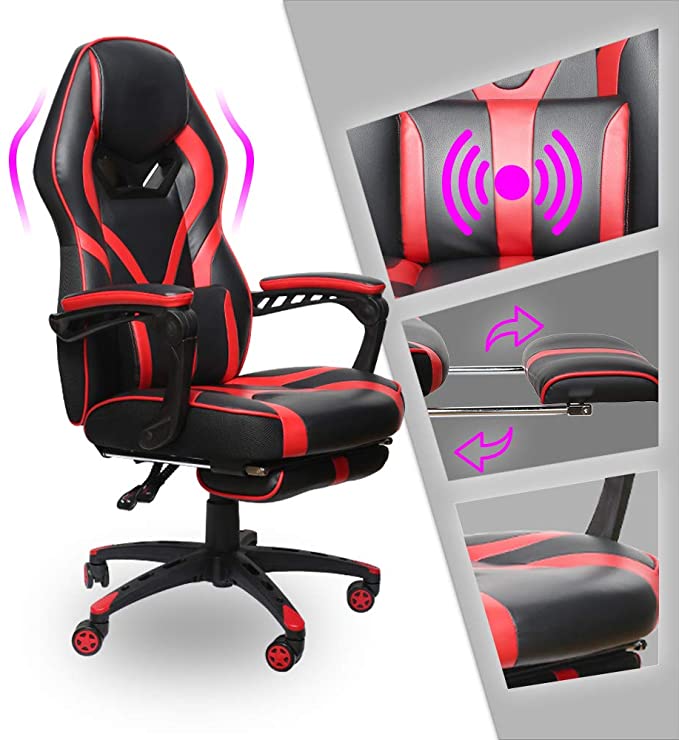 Finally, we have this entry from Luckwind. This is a rugged build chair that offers a lot of comfort to its users. It has a contoured shape and 4 layer memory foam to aid the gamers during long gaming durations. Conveniences include backrest that reclines up to 135 degree, back massage pillow, padded bucket seat styling and dual stitched PU leather finish. Even the retractable foot rest is colour co-ordinated and is one of the best looking ones around. Call it attention to detail, we say with its affordable price tag, we say it is good value too.
| | |
| --- | --- |
| Pros | Cons |
| Lumbar Pillow is Height Adjustable | Screws Loosen Over Time |
| In-Built Massager | The Massager is a Hit or Miss |
| Cushioned Arm Rests but not Height Adjustable | Poor Assembly Instructions |
| Superb Customer Support | Not Suitable for Tall Gamers |