External storage has evolved, not only are they physically smaller, bigger in capacity and much faster than spindle based hard drives, these External SSD storage drives are truly portable and reliable with no moving parts and most importantly come with USB Type-C support.
It is time to make the most of that reversible USB Type-C port on your laptop. These compact, silent, run-cool, fast and reliable external storage based on SSD technology will have you backing up your work, transferring photos and videos in no time. They take up very little space on the desk or in the bag, you will hardly notice it is there yet so useful to have when you have a big assignment or work files to move.
The first thing that hits you is just how small these external storage drivers are. Based on a bunch of chips, there are no spinning platters or mechanical reading heads inside. This makes them more reliable, silent and run cool.
Manufacturers differentiate by coming up with some really cool designs incorporating LED lights, key chain loop, shock proof and rugged cases and even soft fabric covers. Samsung has even added a fingerprint scanner on their SSD, the Samsung T7 Touch, making it ultra secure and super cool at the same time.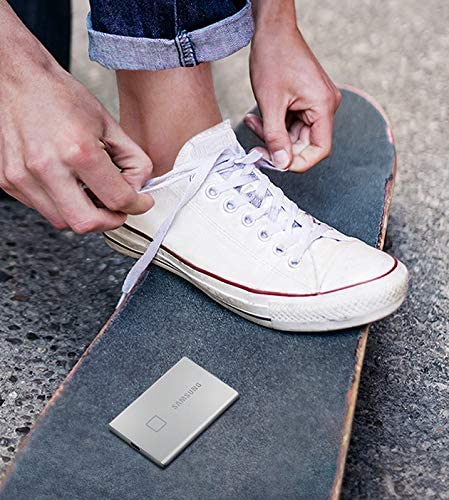 The Need for Speed
Earlier generation portable SSDs have super fast data transfer rates of up to 560MB/s. Recent generation breaks that ceiling with speeds up to 1050MB/s which is nearly double. If your laptop of computer supports Thunderbolt 3, that transfer rate is doubled again with the right drive, up to an eye watering 2800MB/s. The latter uses a combination of the latest components to achieve that breakneck speed, ultra fast NVMe storage with Thunderbolt 3 connectivity vs USB 3.1 Gen 2 (10Gb/s).
Top 10 Best External SSD Storage Drives with USB Type-C Connector
The G-DRIVE mobile SSD is not only compact but is designed to withstand tough conditions and is IP67 water and dust resistant rated. With its durable and rugged body, it will withstand a 3 meter drop and 1000lb of crushing weight. On top of that, it is also designed to be shock and vibration resistant to endure bumps and knocks. As for its performance, it has a fast transfer speed of up to 560MB/s using USB 3.1 Gen 2 interface. A bigger and faster model is also available below.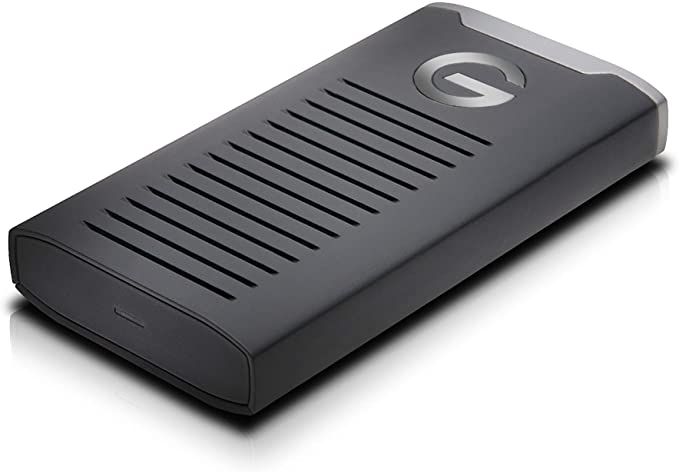 A durable design with IP67 water/dust resistance, 3M drop tested, and 1000lb crush resistance
Super fast transfer rates up to 560MB/s

Latest generation USB C connectivity (USB 3.1 Gen 2) cables included

Shock and vibration resistant solid state drive

Dimensions: 95mm x 50.04mm x 14.48mm
ALSO: G-Drive Mobile Pro SSD from G-Technology (500GB, 1TB, 2TB) is bigger and uses ultra fast Thunderbolt 3 interface for faster transfer rate going up to 2800MB/s. At that speed, you can even edit natively on the drive itself, saving you the time of transferring to the local drive and back.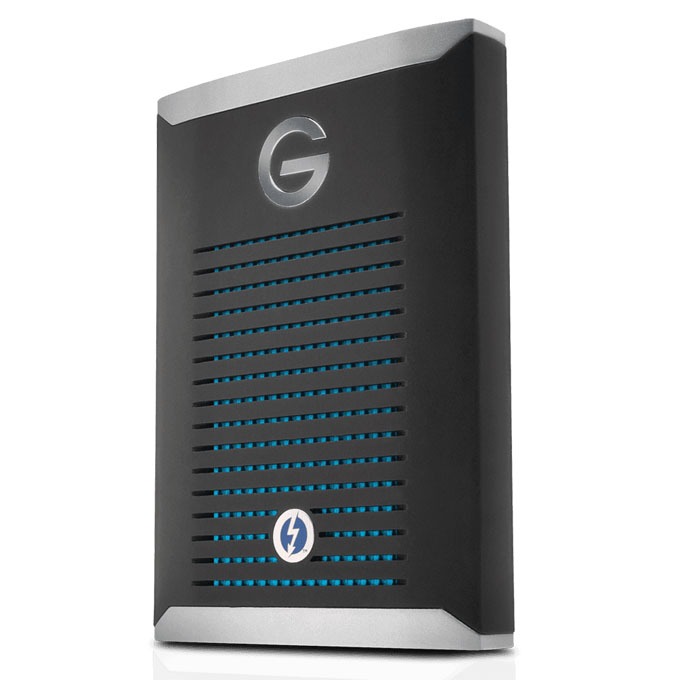 Dimensions: 112.01mm x 80.01mm x 17.02mm
---
Earlier version, the SanDisk Extreme Portable SSD was popular thanks to its cool and rugged design. It had a high transfer speed of up to 550MB/s and IP55 rating. The SanDisk Extreme Pro Portable SSD takes on the same design and is nearly twice as fast at 1050MB/s transfer speed. It achieves this with lightning-fast, in-house NVMe technology and the use of USB 3.1 Gen 2 interface. With that kind of speed, it allows for full-frame editing from the drive, saving time and keeping the internal storage free. The Pro is also IP55 rate for water and dust resistance.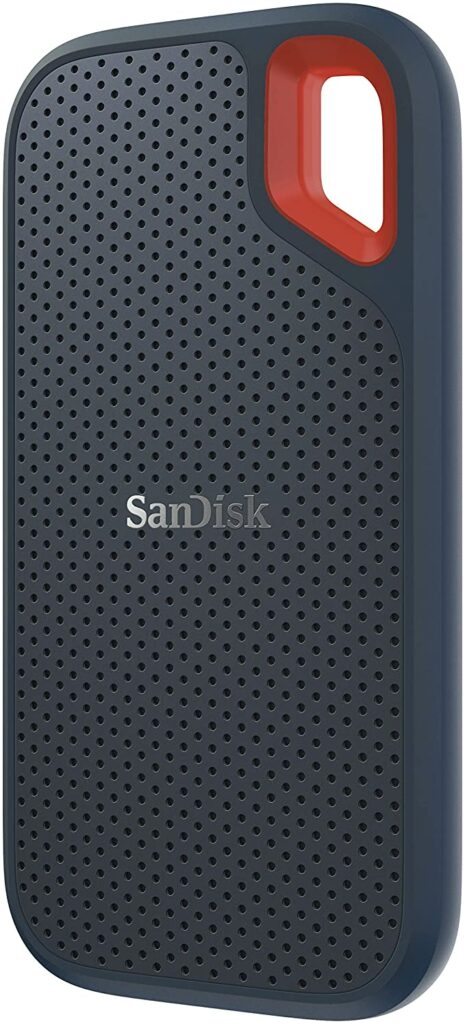 High-speed transfers with up to 1050MB/s read speeds let you move hi-res photos and videos fast (Based on internal testing; performance may be lower depending on drive capacity, host device, OS and application.)
Ruggedized, water- and dust-resistant (IP55-rated) (IEC 60529 IP55: Tested to withstand water flow (30 kPa) at 3 min.; limited dust contact does not interfere with operation. Must be clean and dry before use.)

Shock-resistant solid state core for greater durability (Shock-resistant (up to 1500G) and vibration-resistant (5g RMS, 10-2000 HZ), Non-Operating Temperature(from ‐20°C to 70°C), operating temperature (from 0°C to 45°C))

Compact and pocket-sized

Dimensions: 4.34″ x 2.26″ x 0.4″
ALSO: SanDisk Extreme Portable SSD
Up to 550MB/s read speed
Dimensions: 3.79″ x 1.95″ x 0.35″
---
The Samsung T5 Portable SSD has been around for a while. Clad in an all lightweight aluminium unibody jacket, the drive is both compact and durable. It is capable of transfer speeds of up to 540MB/s using V-NAND flash memory and USB3.1 Gen 2 interface. The unit measures only 57.3mm wide, 74mm long and 10.5mm thick and can handle drops of up to 2 meters. For higher transfer rates check out the T7 and the X5 models below.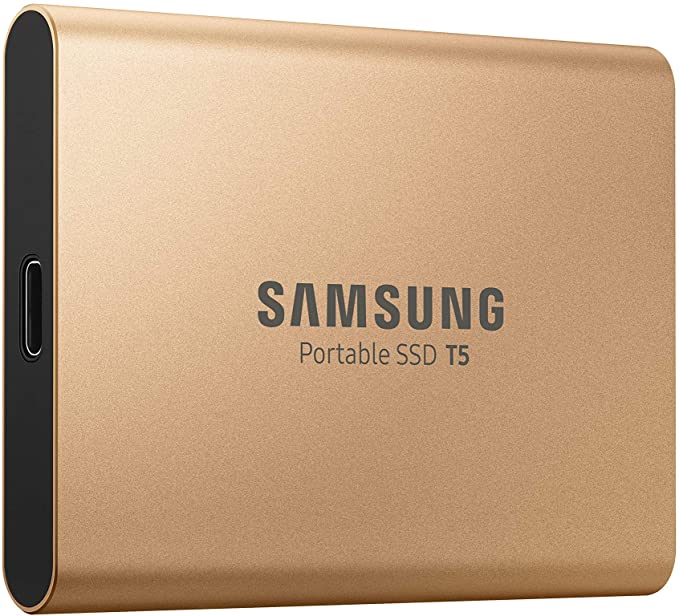 Samsung T5 Portable SSD
Superfast Read Write speeds of up to 540 MB/s

Top to bottom metal design that fits in the palm of your hand

Optional password protection and AES 256 bit hardware encryption

Includes USB Type C to C and USB Type C to A cables; Shock resistance
---
Next we have the Seagate Barracuda Fast SSD. The portable SSD has a green glowing light around an accent similar to that found on LaCie's offering at the bottom of our list. Geared towards gamers, the Barracuda Fast SSD uses USB-C interface to achieve transfer speeds of up to 540MB/s. Seagates other offerings, the One Touch SSD (up to 400MB/s) and Ultra Touch Pro SSD (up to 500MB/s) with woven fabric cover are slower.
Use it to install, boot-up and take with you, your games. The 2TB capacity storage will hold more than 50 game titles. Plus, with that kind of speed, you can browse, edit and transfer high resolution photos as well as stream stored videos directly from the drive. Both USB-C and USB-C to USB-A cables are included.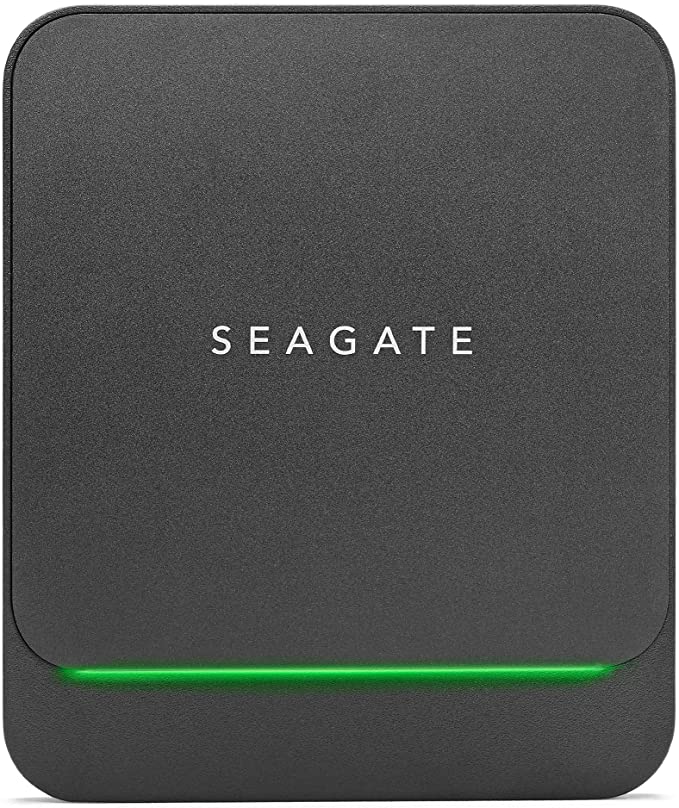 Barracuda Fast SSD combines reliable performance with boosted solid state speeds of up to 540MB/s for ultra fast file transfers in a portable SSD featuring a minimalist design and a sleek, green LED accent light

Perfect solution for external Xbox or PlayStation storage with faster installation and loading

Store loads of photos, files, and videos with up to 1TB of massive space

Seamlessly connect to a Mac laptop, mini PC, or desktop computer using the reversible USB-C cable

9.1mm x 79mm x 93.45m, 140 grams
---
The Seagate Ultra Touch SSD is available in black or white with matching woven fabric. Don't mistake this for the Seagate One Touch SSD, as these do not come with USB-A to USB-C adapter. Choose the Seagate Ultra Touch SSD if you wish to connect the portable SSD to a USB-C compatible computer. The Ultra Touch SSD is also faster, with a maximum transfer rate of 500MB/s. Compare this to the Seagate One Touch SSD that can only achieve a maximum of 400MB/s, it is 20% faster. Finally, all Seagate SSD drives are shock-resistant but not IP rated.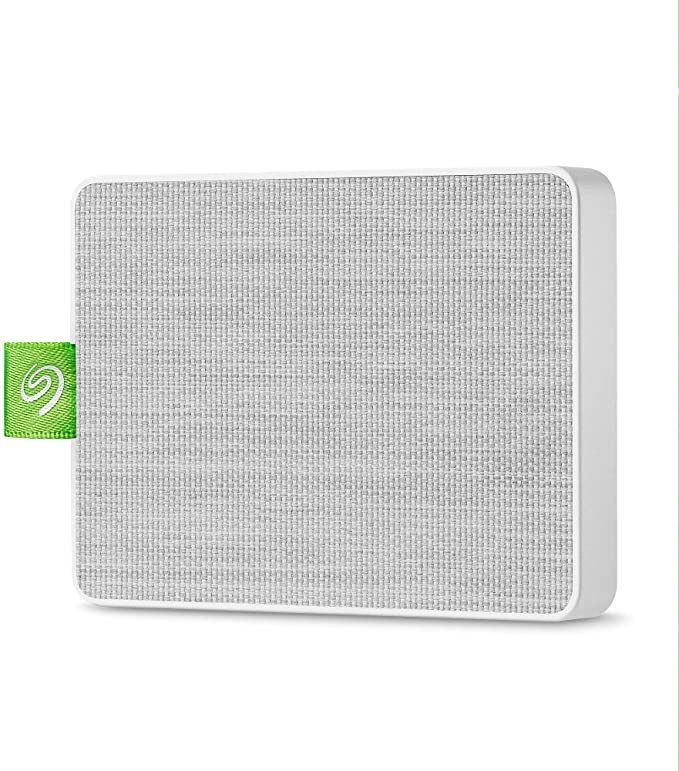 Max Speed 500MB/s

ANDROID READY Easily manage phone content using the included Android app

Includes a USB-A to USB-C adapter and an integrated USB cable for Windows and Mac* 

FABRIC SSD: Featuring a palm-sized, lightweight, fabric design, this portable SSD delivers high-speeds for streaming stored videos directly to a laptop and backing up on the go

Dimensions: 11.7 mm x 114.8 mm x 78 mm
Special Edition comes with woven fabric with camo design.
---
The WD My Passport SSD has been around for a while. It has a cool two tone snack bar design with grippy texture in silver on one end and black matte surface on the other. Again, like most portable SSDs here, it is both shock resistant and compact with a durable design. It can achieve a high read speed of up to 540MB/s using the USB Type-C port. It is compatible with USB 3.1 Gen 2 interface. Finally, it is built to withstand a drop of up to 6.5 feet or 1.98 meters, a dependable drive you can take anywhere with you.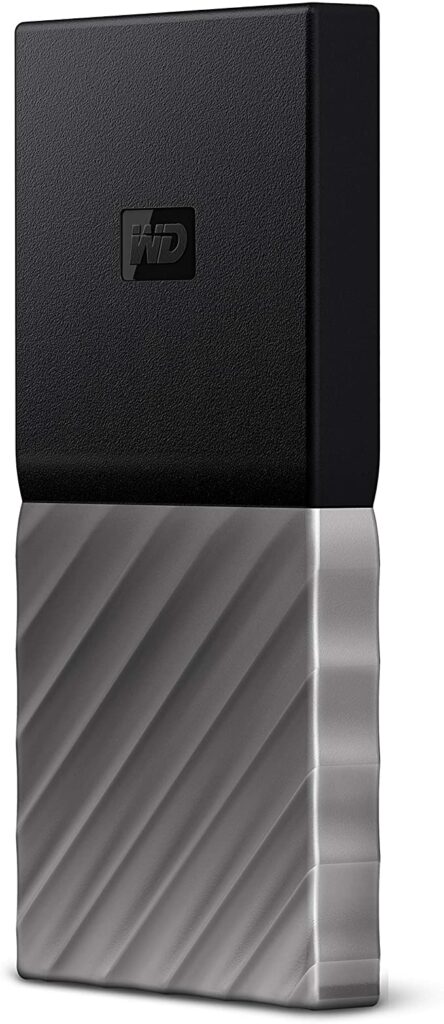 Blazing-fast file transfers with read speeds up to 540 MB/s

Password protection with hardware encryption

USB Type-C and USB 3.1 Gen 2 ready; USB 3.0, USB 2.0 and USB-A compatible

WD Discovery software for WD Backup, WD Security, Social Media and Cloud Storage import, WD Drive Utilities

Dimensions: 90mm x 45mm x 10mm
---
Adata may not look it but beneath that brushed aluminium body is a high performing SSD storage with read and write speeds of up to 1000MB/s. For a feel of how fast that is, it can transfer a 50GB 4K movie real quick, in as little as 50 seconds. You will need your laptop or computer to support USB 3.2 Gen 2 and UASP mode enabled to achieve that performance. The drive is also designed to be durable with waterproofing, dust-proofing and shock resistance built-in. A removable cover seals the single USB-C port during transit to keep the elements out. This allows the device to comply with IP68 rating (up to 30 minutes in 1.5m of water) and MIL-STD-810G (drop tested from 1.22 meters) for shock and impact resistance.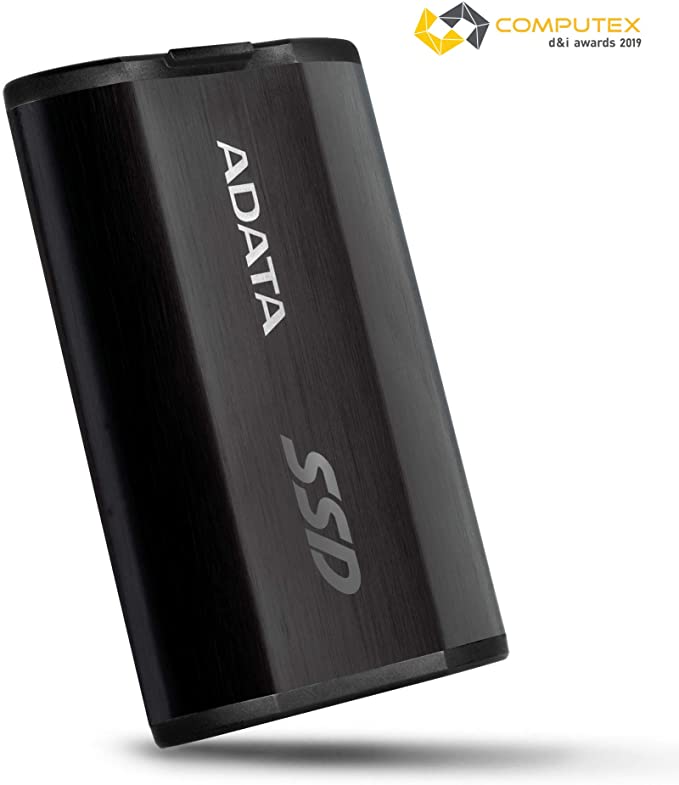 Superfast Read/Write Speed up to 1000 MB/s
IP68 Rated: Ruggedized Waterproof / Dust-proof / Drop-Proof / Shock-resistant

Exquisite hairline-brushed surface for sleek look, compact and lightweight it's perfect for travelling

Interface: USB 3. 2 Gen 2 Type-C, backward compatible with USB 2.0

Dimensions & Weight: 72.7 x 44 x 12.2 mm / 2.8 x 1.7 x 0.4 inch, 40 grams
---
Crucial X8 Portable SSD by Micro supports fast transfer speeds of up to 1050MB/s over USB 3.2 Gen-2 interface that's 1.8x faster than the standard portable SSDs and up to 7.5 times faster than portable HDDs. It has a no nonsense all black soap bar design with rounded corners and a slim profile. To keep the data safe, the case is made with unibody core of anodized aluminium to be durable and rugged to withstand extreme temperatures, shock, vibration and drop from 7.5 foot. That case helps dissipate heat too.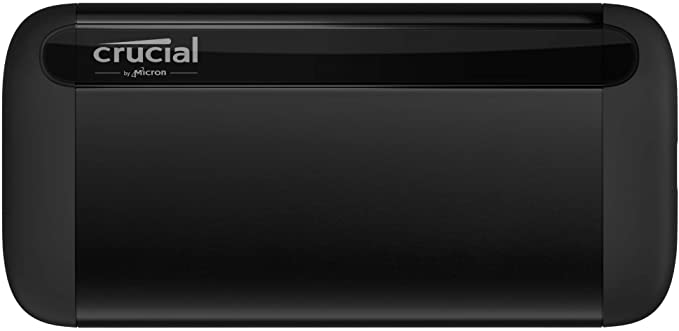 Incredible performance with read speeds up to 1050 MB/s

USB-C 3.1 Gen2 and USB-A connectors

Beautiful and durable design, featuring an anodized aluminum unibody core. Drop proof up to 7.5 feet. Extreme-temperature, shock, and vibration proof
---
The fastest SSD in our line-up, the Samsung X5 Portable SSD uses Thunderbolt 3 technology and NVMe interface to deliver ultra high transfer speed. Thunderbolt 3 bandwidth is up to 40Gb/s, four times faster compared to USB 3.2 Gen 2 with 10Gb/s bandwith. This allows the X5 to achive read/write speeds of 2,800/2,300 MB/s. This makes it 5.2x/4.5x faster than a Portable SSD with SATA interface and 25.5x/20.9x faster than an external HDD. The X5 lets you transfer a 20GB 4K UHD video from your PC to the X5 in just 12 seconds.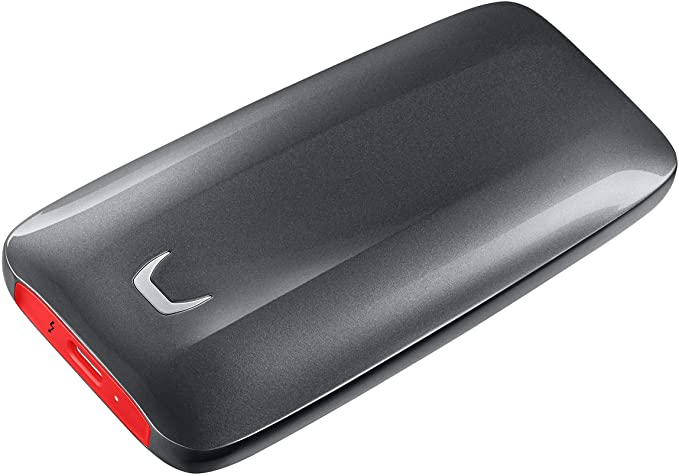 THUNDERBOLT 3 AND NVMe POWER: up to 40Gb/s data transfer speeds

Sequential read and write up to 2,800MB/s and 2,300MB/s, respectively

Full metal body with glossy top and non-slip bottom mat withstands drops of up to 2 meters; Shock resistant internal design features Dynamic Thermal Guard technology to help maintain optimal performance and temperature.

Optional password protection and AES 256-bit hardware encryption keeps your personal and private data more secure

119 x 62 x 19.7 mm, 150 grams
---
As the name suggests, the Samsung T7 Touch Portable SSD has as touch ID fingerprint recognition built-in to secure the content of your drive. But what is even more important is the use of PCIe NVMe technology. Together with USB 3.2 Gen 2 on the T7 Touch, it allows the device to reach sequential read/write speeds of up to 1050/1000MB/s respectively. That'd almost double the speed of T5 above. Like the T5, it is also built to be touch allowing the data to stay intact from falls of up to 2 meters thanks to its sturdy metal body. That body measures a mere 57mm wide by 85mm long by 8mm thin, slimmer than T5 and only longer by 11mm.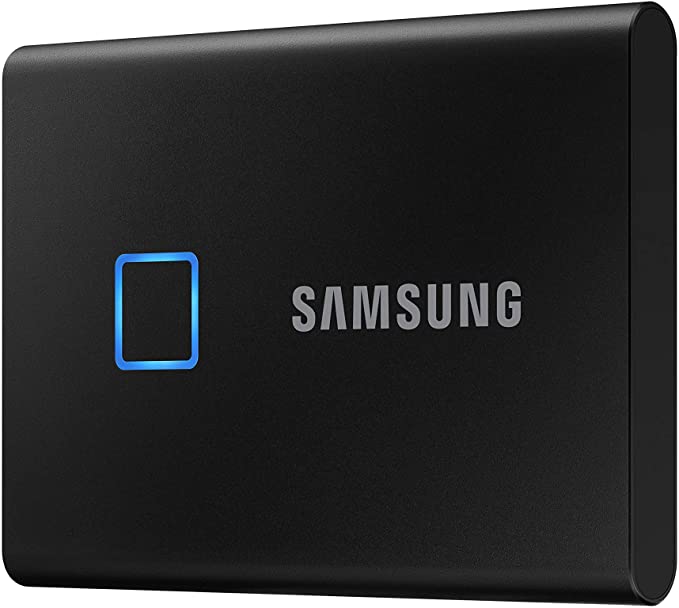 SSD with fingerprint and password security

Transfers files nearly 9. 5x faster than hard drives

Reads up to 1, 050 MB/s / Writes up to 1, 000 MB/s

LED status indicator

Shock-resistant and withstands drops from 6ft

57mm (W) x 85mm (L) x 8mm (D), 58 grams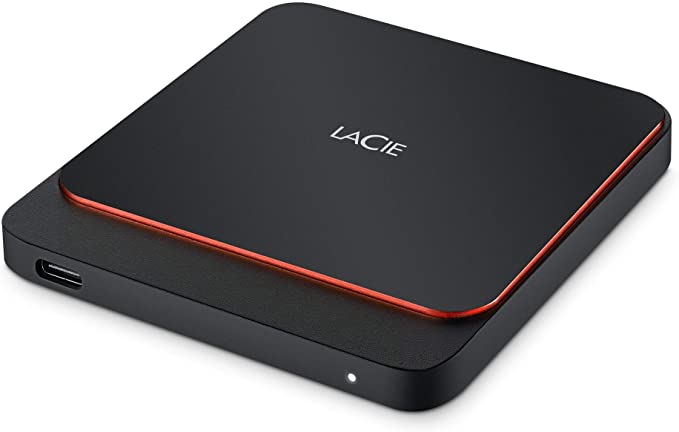 Up to 540MB/s high Performance external SSD for fast file transfers and editing

Up to 2TB capacity to store hours of 4K videos and thousands of High resolution photos

USB-C connector for universal compatibility with USB 3.0, Thunderbolt 3, Mac and PC

Lightweight, shock resistant design for traveling light and safely