Here are 12 of the most outrageous and best gaming PC cases that let you stand out from the rest. They are certainly not your typical rectangular boxes with square edges. If looks is what you are after for your custom-built PC, these cases will take it to the next level.
Want a PC case for your next custom built that not only works well but looks good too, you have come to the right place. We take a look at 12 of the most far-out, borderline crazy, PC cases that scream and shout at everyone that looks at them. They are not your standard rectangular desktop cases. These are designed with one thing and one thing alone, to shock and awe. Okay, maybe that is two things. If good looks is what you are after for your custom PC, you can not go wrong with these.
Top 12 Designer PC Cases that Gamers and PC Enthusiasts Loves
You would be hard pressed to find a right angle on these cases. They are not square or rectangle, even the cube varieties are angled have a floating profile. Let's take a closer look.
1. Thermaltake AH T600 E-ATX Full Tower Case and AH T200 m-ATX Micro Tower Case
Thermaltake Helicopter styled cases are available in two sizes for the small m-ATX and big E-ATX form factor. Both sizes are available in black or white. The front of the case is styled with a three pane window akin to the cockpit in a helicopter. The side panels are made of tempered glass and is mounted with a hinge near the front to allow them to swing open.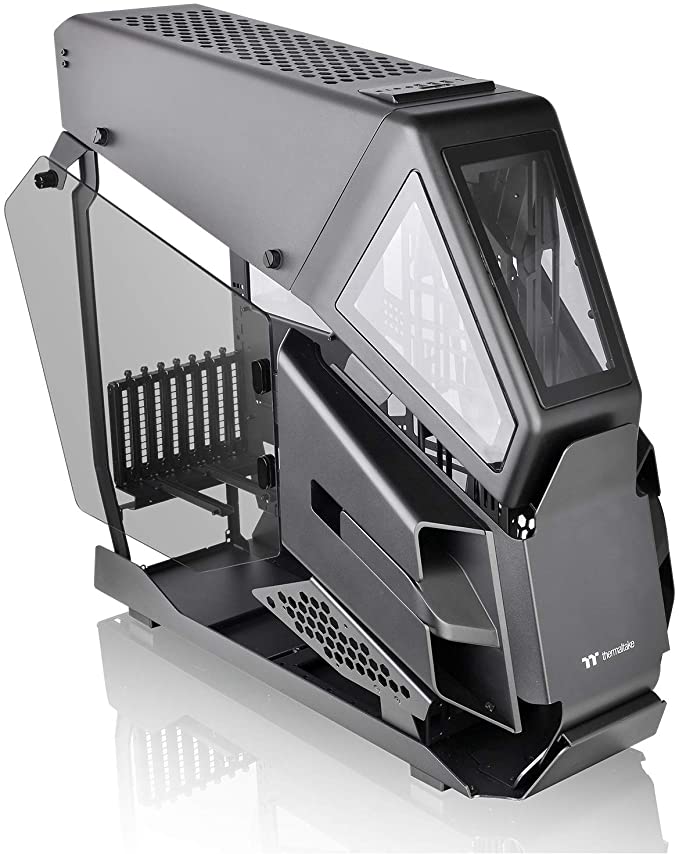 There is ample room in the case and the rotational PCI-E 8 slot placement offers flexibility in how you wish to display the graphics card, vertically or horizontally. For cooling, there is room to mount two 120 or 140mm fans on the front and two 120 x 140mm fans on the top of the chassis with bracket for 240mm or 280mm radiator in front. Finally, the IO panel is situated on the top of the case and is equipped with Type-C x 1 USB 3 0 x 2 USB 2 0 x 1 HD Audio x 1 ports.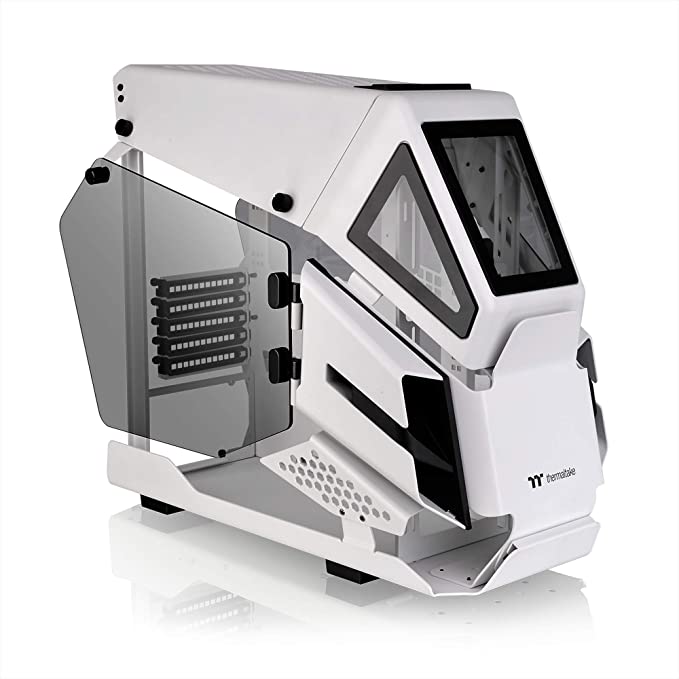 2. GOLDEN FIELD – Silver Fox 5300 ATX
The Silver Fox 5300 case from Golden Field is a Full Tower with support for up to ATX form factor motherboard. For cooling, it supports 360mm x 120mm radiator and comes with room for 3600mm length graphics card or 400mm if you do not install a water radiator. There is a red removable hollow style top cover, a decorative sheet metal that also lets you access the cables. The removable side panels are made from 4mm tempered glass and the top IO panel comes with 1 x USB3.0, 1 x USB2.0, 1x HD Audio and 1 x Microphone. Note that the case employs a vertical air flow path with three chambers to deliver cool air from the bottom.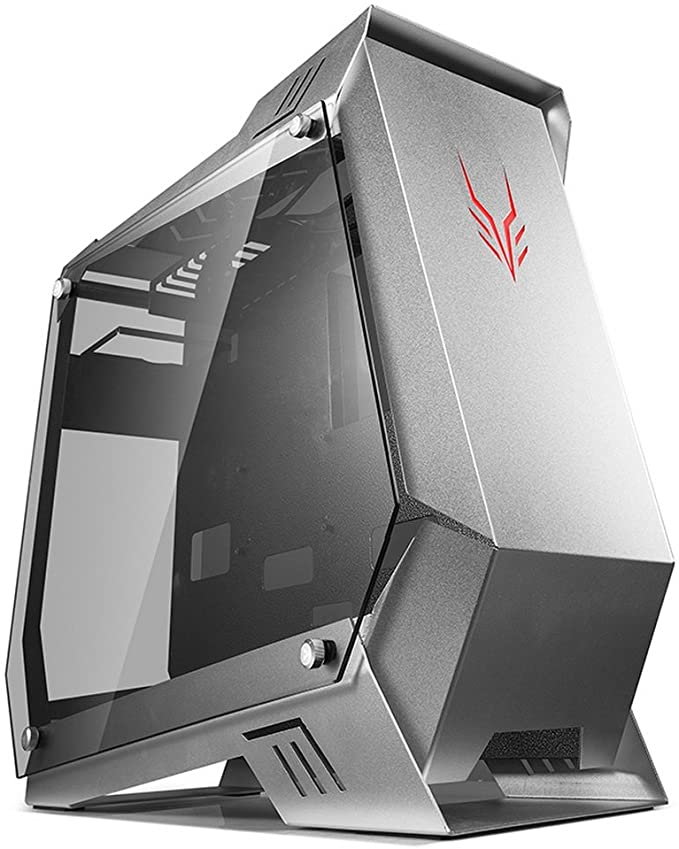 3. FSP Gaming/Streaming Case CMT710
They say two heads are better than one, this is what the CMT710 available in red as shown below or gold is about. It has enough room for two motherboards up to E-ATX form factor. Which means two computers in one, two separate chambers with enough room for dual water-cooling system.The external IO panel comes equipped with Type-C port, USB 3.0 x 2, HD audio x 2 and audio output. The case looks like it can take off with its T-WINGS design. What would you use it for? Anything from video editing to intensive gaming to dedicated streaming tasks, workstation and server.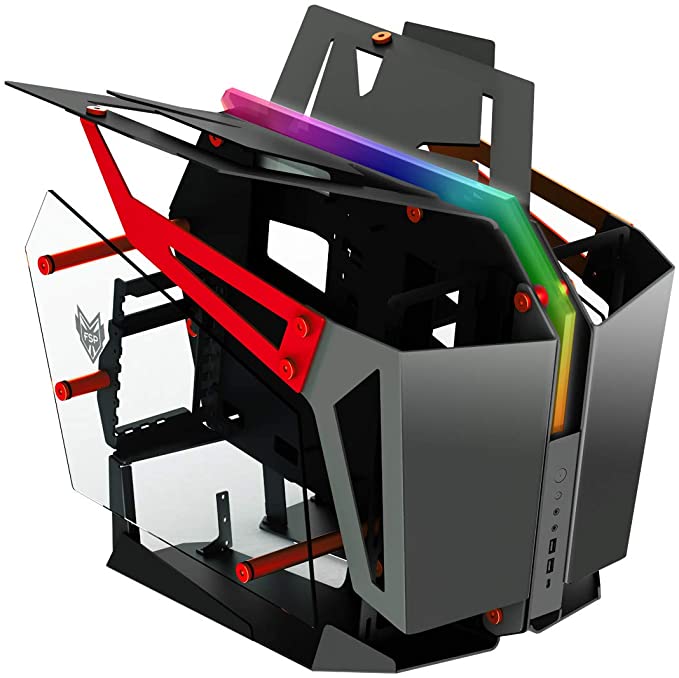 4. darkFlash Knight Open Frame Gaming Case ATX
This rather handsome case looks just like the designers have taken a leaf from the design of a knight's helmet. With three mounting panels on the front for cooling fans; 2 x 120mm fans or 240mm radiator on the bottom most yellow section, 1 x 120mm fan on the midsection and 3 x 120mm fan on the top section, it offers superior airflow. Two more fan mounting points are available for the back, see second image below with optional RGB fans. The I/O panel is on the left side, while the two side panels are made from 4mm tempered glass.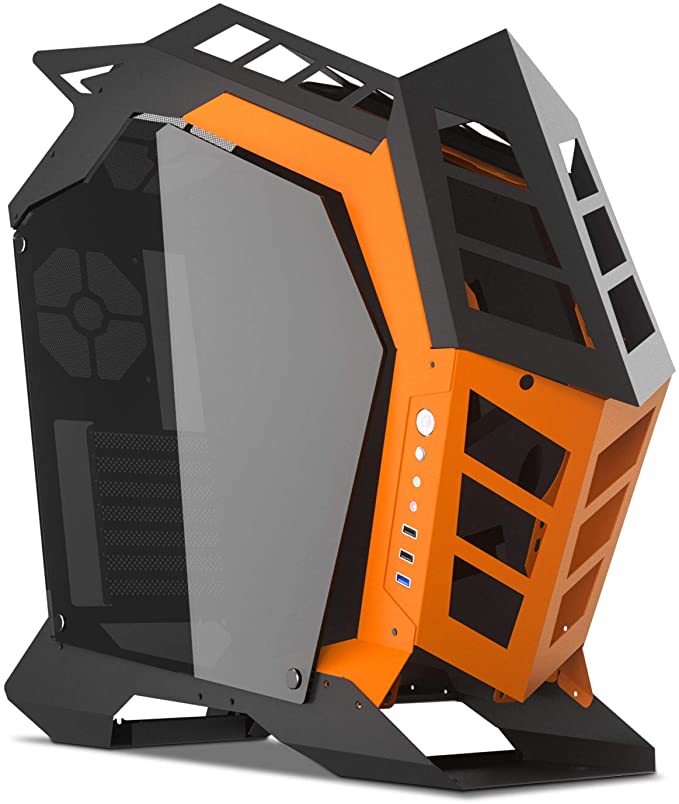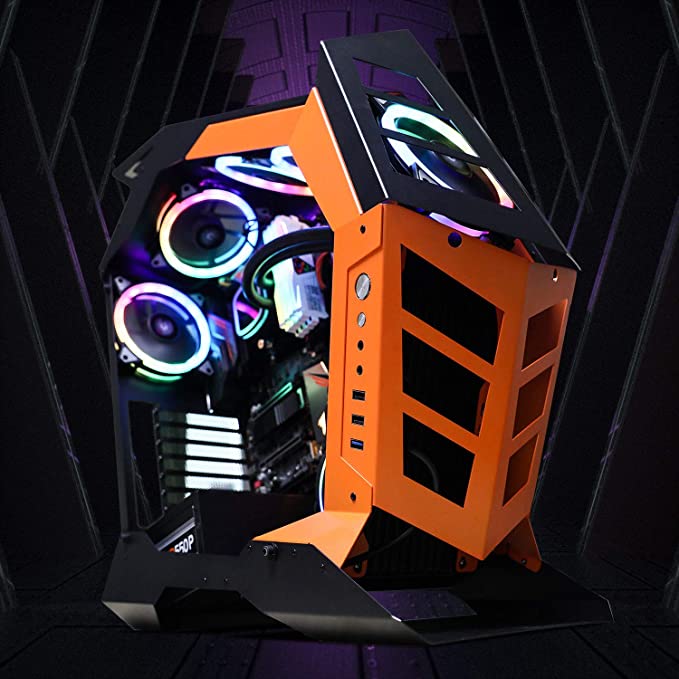 5. Cougar Conquer 2 Ultimate Gaming Full Tower E-ATX
With integrated RGB lighting using Trelux dynamic RGB lighting and slide out bracket design for easy access and installation, this much improved, one of a kind, gaming tower from Cougar is both unique and eye-catching. The first Conquer, also featured on this list, has nothing on this. It's unique metal frame comes with slide out and detachable sub-chassis, see the second image below. There are altogether four tempered glass panels, two on either side and one in front.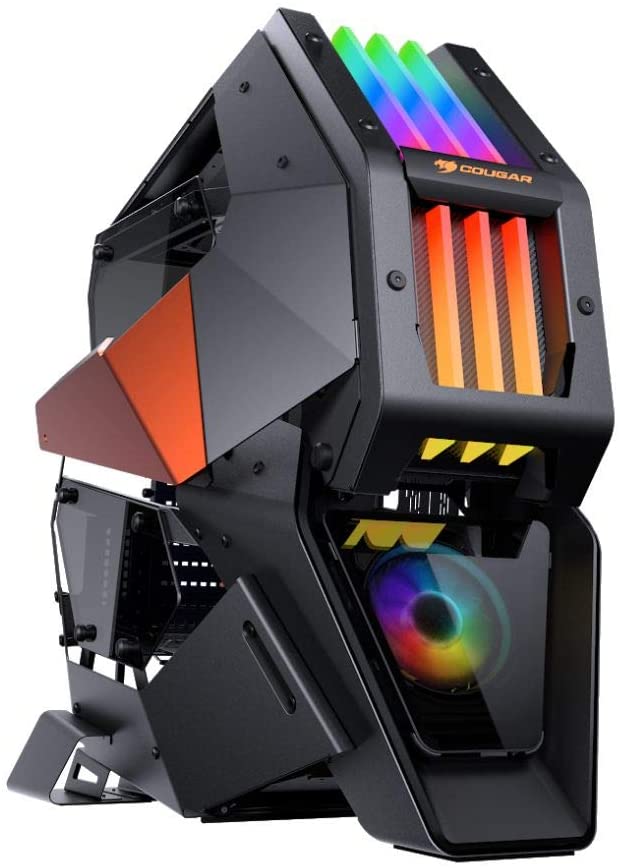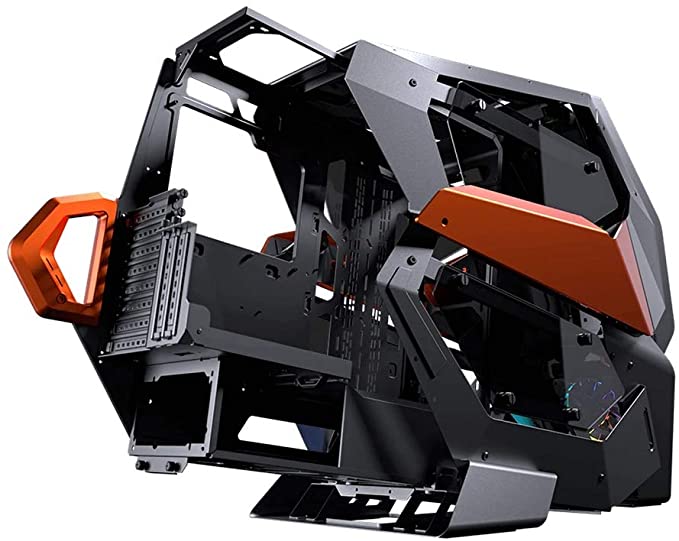 6. Cougar BLAZER Superb Mid Tower
A more toned down case from Cougar is the Blazer is a Mid Tower with the orange accent that we like from Cougar Conquer 2 and Cougar Conquer. This case is of course an upright one with fewer angular surfaces. The IO panel (2 x USB3.0, Mic, Audio, Reset Button) is situated on top of the chassis while inside, you get plenty of room for up to an ATX form factor motherboard, up to 360mm radiator at the side near the front end and two 120mm cooling fans on the top.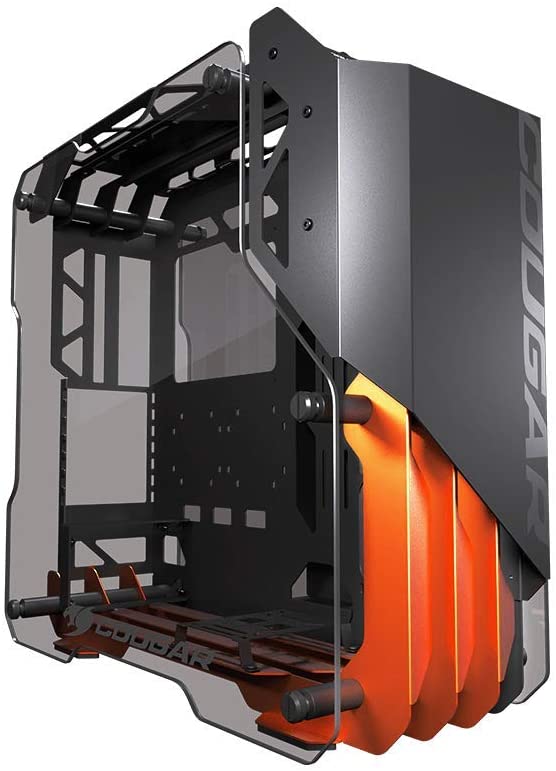 7. Antec Torque Aluminum ATX Mid Tower –

EDITOR'S FAVOURITE
Next, we have a pretty unconventional case from Antec, available in black with red accent or white with black accent, shown below. It has a forward leaning case design with tempered glass sides and a lot of aluminum alloy frame and panels, doubling on some sections with 14 panels altogether. The I/O panel is on top of the logo. Adopting an open frame design, this award-winning case use 4mm tempered glass panels on both sides and has room for up to 360mm radiator inside. It is also USB 3.1 Type-C ready and can house motherboard up to E-ATX form factor.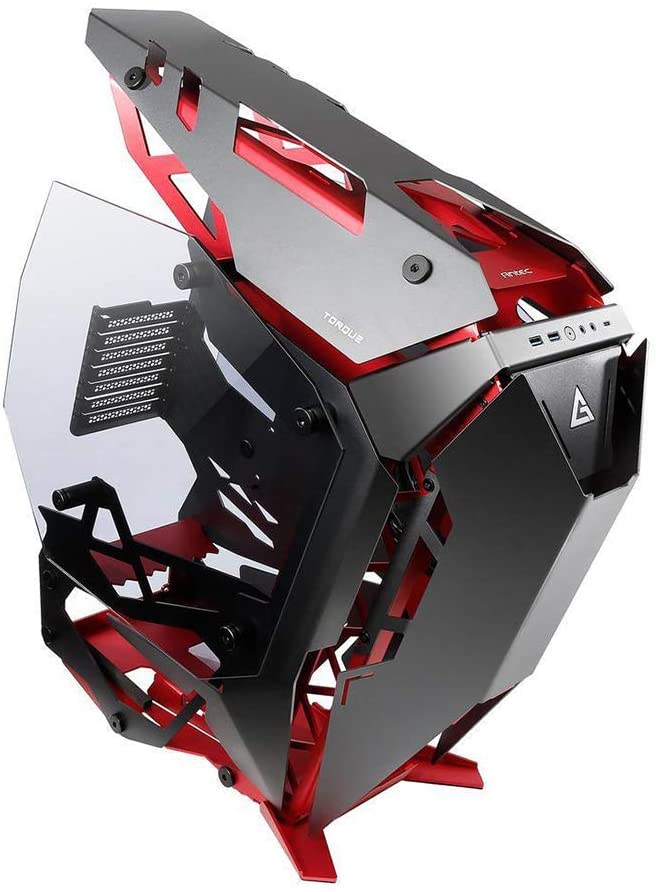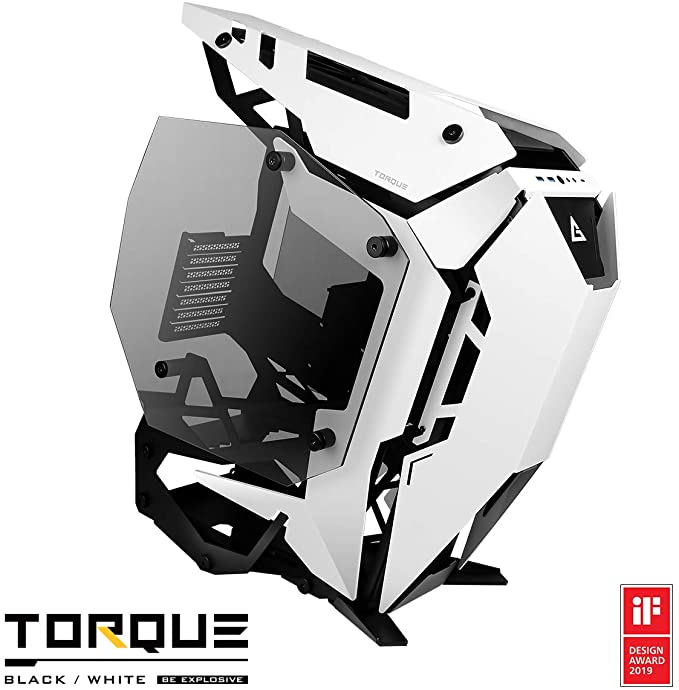 8. Cougar Conquer Mid Tower Gaming ATX Case
A close cousin to the Antec Torque series above is the Cougar Conquer below. Also available in two different colours, black with red accent or white, it has a laid back profile versus the forward leaning profile with the Antec Torque. With an all-aluminium alloy frame and two 5mm thick tempered glass panels, it is beautiful from any angle. Key to its design is its ability to support 360mm water cooling radiator at the top and 240mm radiator at the front with room for graphics card up to 350mm. Finally, it is equipped with three 120mm CFD LED fans, supports up to three 3.5-inch HDD or four 2.5-inch HDD/SSD storage devices.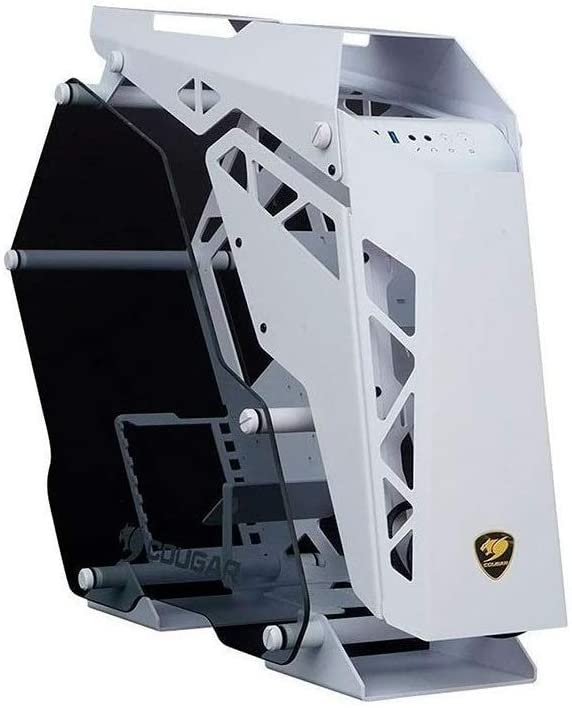 9. AZZA CSAZ-802F Cube Case
You don't see many cube-shaped chassis around, but the AZZA Cube is not just your ordinary box case. It comes with a stand that props the frame of the chassis on an angle. It comes included with 5 Hurricane II Digital RGB fans, 4 mounted on the front panel and one on the back. These can be controlled directly from a compatible motherboard. The space inside however can only support radiators up to 240mm with dual chamber design, power supply in one and display card in another. There is room for graphics card up to 280mm long. Finally, tempered glass panels are applied on three sides of the chassis.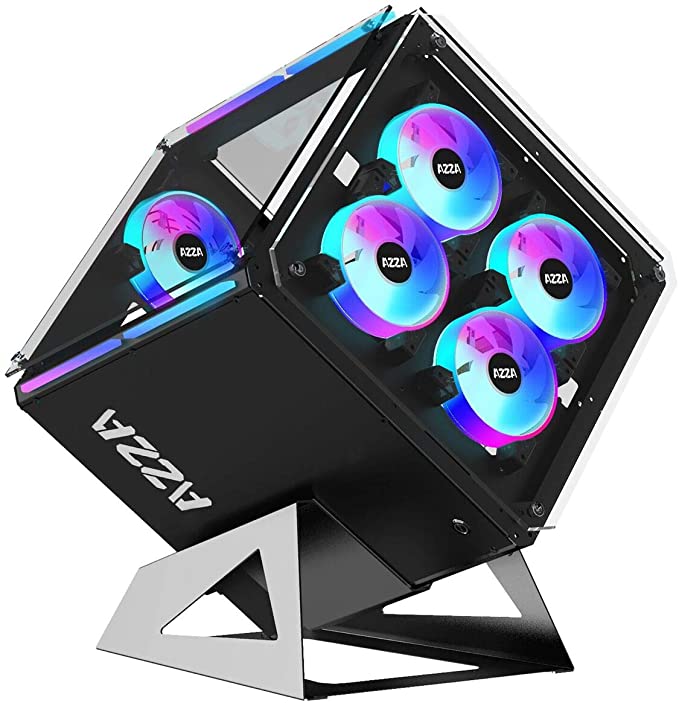 10. KEDIERS 7 PCS RGB Fans ATX Mid-Tower
On the subject of stands, the KEDIERS Mid Tower ATX case also comes with what looks like a stand but is actually the raised base of the chassis. The Mid-Tower ATX case is spacious inside and there is no short of cooling fans either. It comes equipped with 7 RGB fans. That's three in front, two on top and two on the side. A version with 5 RGB fans is also available. Those RGB fan lighting can be controlled via 5V-3PIN addressable RGB motherboards. Compatible software includes US aura Sync, MSI Mystic Light Sync and more. Finally, the I/O panel comes with 1 x USB3.0 Port, 1 x USB2.0 Port, 1 x HD Audio, RGB Button, Power Button. It looks to us to be a bit of an after though but 240mm radiator can be mounted on the top panel near the grab handle.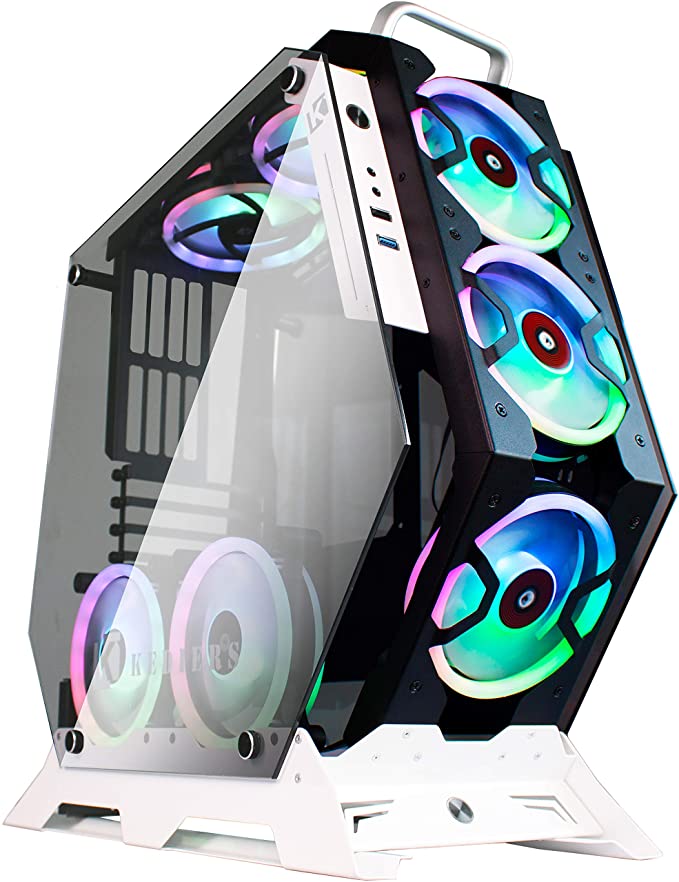 11. Deepcool Quadstellar Full Tower Gaming Case
Deepcool Quadstellar case is a full tower with RGB lighting built-in. It is like no case we have seen. All four segments can be disassembled to reveal four compartments inside. One main compartment for up to E-ATX motherboard, dedicated video card slot(up to 3), storage bays (8 x 3.5-inch and 2 x 2.5-inch), power and cooling components. The idea is each of these independent compartments can contain heat generated by its components with it to eliminate heat dissipation interference for maximum cooling efficiency. QUADSTELLAR is also equipped with an APP for dynamic lighting management, heat dissipation, and active thermal control components. That last part refers to the front air inlet covers or gates that can open to let air flow through. As for CPU cooling, it can house a 240mm on the side or 360mm radiator on the front.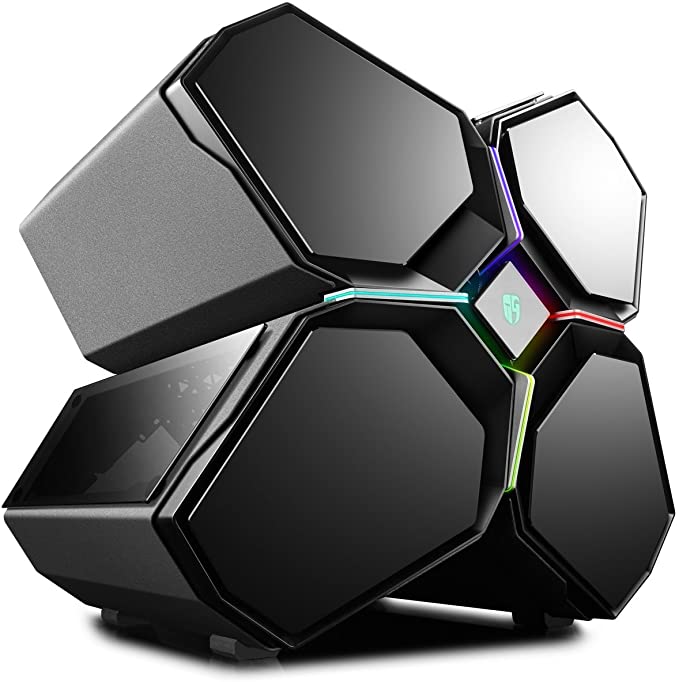 12. InWin D-Frame Mini Motocycle Steel Tube Case Mini-ITX
One inspired by helicopter, now motorcycle. This InWin D-Frame compact mini-ITX case looks like a roll cage on an off-road buggy. Using steel tubes, these are formed, strengthened and welded together to created a rigid rig with rubber bumper to prevent sliding or knocks during transit. The side panel is made of tempered glass. A newer 2.0 version in gold, an ATX full tower case is also available from InWin, see second image below.