The right set of gaming keyboard and mouse can make a huge difference in gameplay with speed and precision being a significant advantage. Buying as a set not only ensures that they work well together, but they are cheaper too. Here are 8 of the best affordable RGB backlit gaming keyboard and mouse combo to boost your game.
Top 8 Best Affordable Gaming Keyboard and Mouse Combos
A mechanical keyboard with RGB lighting, the Redragon Gaming Keyboard with Multimedia Keys above the function keys, wrist rest (not palm rest) and RGB back light. The gaming mouse has red LED lighting and a high resolution of 3200 DPI (Black). The same keyboard is also available with a higher resolution 7200 DPI mouse with multi-colour RGB backlight. Shown below is the black model. A white version is also available.
7 different RGB lighthing modes and effects
4 back light brightness levels with adjustable colour changing speed. The latter gives the keyboard a 'breathing' effect with colours changing in waves from one to another
Actual and uniform backlighting in key cap
10 dedicated multimedia keys plus 12 function keys for a total of 114 keys
6 button mouse (5 programmable) with up to 3200DPI accuracy
mouse comes with adjustable weight with 8 x 2.4 gram weight bars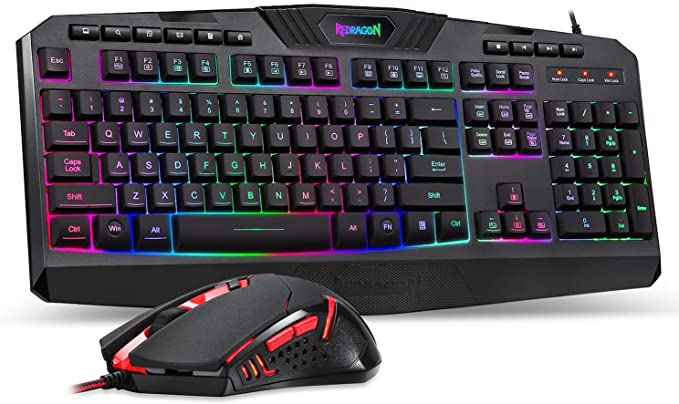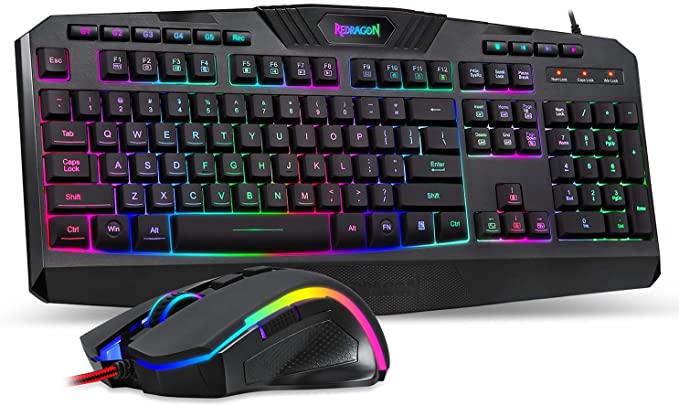 If you are after the reassuring feedback and click of a mechanical keyboard, this Havit Mechanical Keyboard and Mouse Combo is for you. The RGB Gaming keyboard comes with 104 Keys and zero edge, making it more compact than usual for a full-size keyboard. It also comes with a big but detachable wrist and palm rest. Both keyboard and mouse has co-ordinated RGB lighting built-in and keys you can program to suit your games.
14 backlit modes keyboard and 7 colour effect gaming mouse
mechanical all metal panel and floating keys
104 keys with full n-key rollover
Mouse with programmable DPI 800/1600/ 2400/ 3200 / 4000/ 4800
7 buttons and 7 RGB light mode programmable mouse via software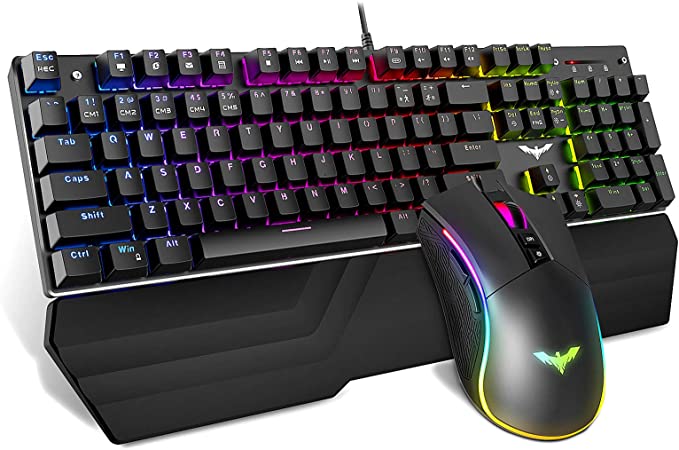 The K1 from MageGee is available in black or white (shown below). This full-size keyboard also comes with floating keys but lacks a palm rest. Around the back are adjustable stands to tilt the keyboard for better typing position. As for the mouse, this is a 3200 DPI resolution mouse for more accurate and faster response. The mouse has lightning blue LED with matching graphics. The backlight on the mouse can be changed to seven different colours directly on the mouse or use the cycle breathing effect to gradually change from one colour to the next.
ergonomic rainbow colour RGB LED back lit keyboard
104 key mechanical keyboard with dual layer injection key cap and F keys
multimedia functions are built into the function keys
high precision 3200 DPI mouse (800, 1200, 2400, 3200)
7 colour mouse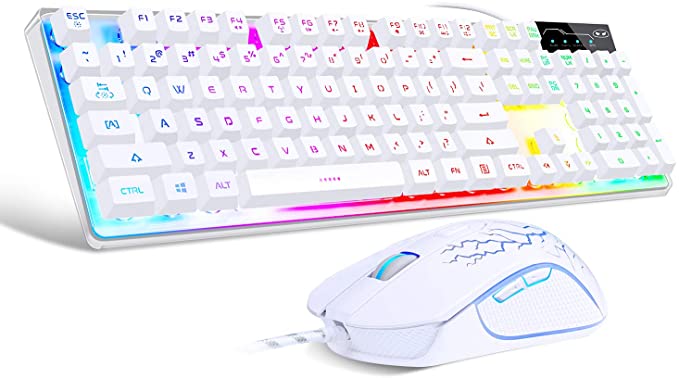 Next, is another entry from Redragon, the higher S107 model. The combo includes not only the keyboard and mouse but mouse mat too. The keyboard is backlit with 5 lighting modes. Multimedia keys are integrated into the function keys unlike the S101 with independent multimedia keys. The accompanied  mouse has an equally high 3200 DPI resolution with 6 buttons, 5 of which are programmable. However, back light on the mouse is limited to red, blue, green and purple.
RGB LED backlit mechanical gaming keyboard with clicky key action
ergonomic 104 keys, WIN keys can be disabled for gaming, 11 multimedia keys integrated
7 colours, 6 back light effects, 4 brightness levels and adjustable breathing speed
Gaming mouse with breathing Mode. Up to 3200 DPI, 4000FPS, 10G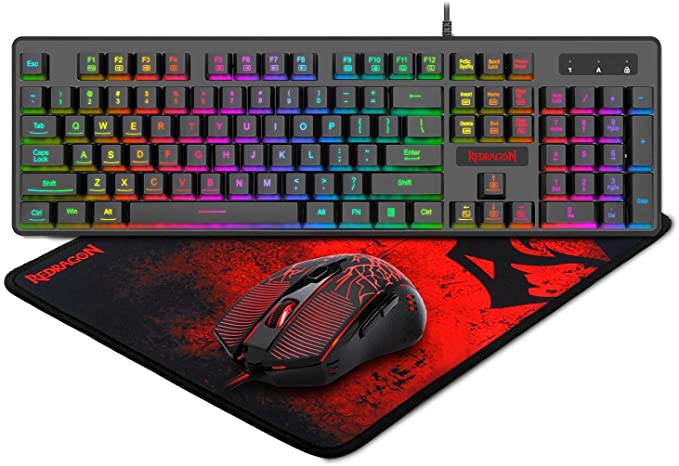 Our second Havit entry, this time is the Havit Wired Gaming keyboard and mouse combo set. The backlit keyboard supports RGB LED lights with rainbow effect. The mouse supports 7 different colours with breathing effect. It has 6 keys including the scroll wheel and a dedicated DPI changing button.
Backlit RGB Gaming Keyboard with small wrist rest
104 Keys Keyboard Mouse 4800 DPI with 19 conflict free keys (n-key rollover), 11 multimedia combination keys.
There are four interchangeable keys W, A, S and D and volume down and up keys
RGB Gaming Mouse Ergonomic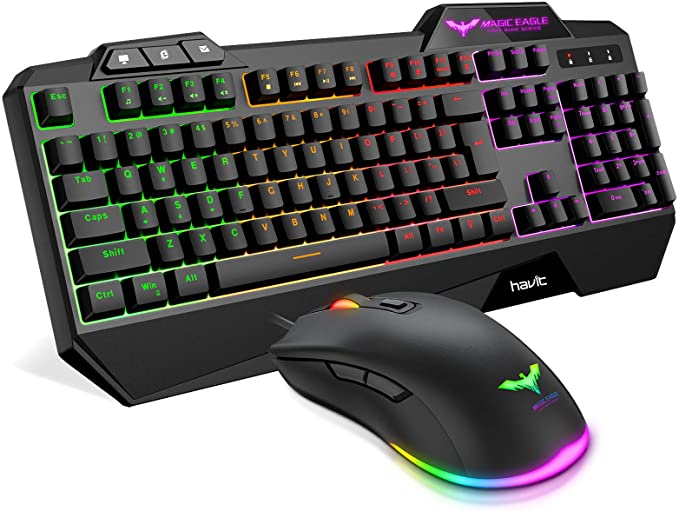 Our next affordable PC gaming keyboard and mouse combo comes from FLAGPOWER. The rainbow backlit mechanical keyboard comes with 4 colours and supports breathing effect. The lighting effects can be controlled directly on the keyboard using the following combination keys, Fn and Pause for breathing modes, Fn and scroll lock for permanent lighting mode and Fn and up or down cursor keys for brightness level. The breathing LED back light mouse supports up to 3200 DPI resolution and offers four colour modes: red, blue, purple and pink with breathing effect.
Rainbow colour changing backlit keyboard with 3 brightness levels and 2 breathing modes
104 mechanical floating keys, 19 non-conflict keys with anti-ghosting
12 multimedia keys built into the Fn keys.
3200DPI resolution with dedicated DPI button
4 colour, circular breathing LED mouse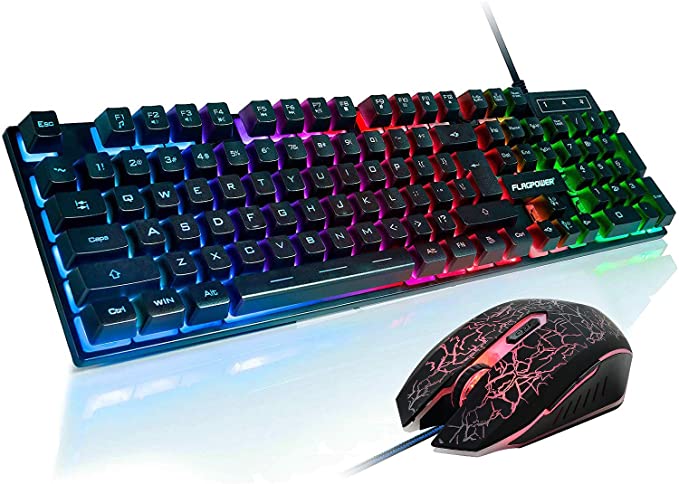 Another entry from Havit, this time a compact mechanical gaming keyboard with floating 104 Keys offers that classic clicky and tactile feedback. The Rainbow Backlit Keyboard is no different to the one used in the Blue Switch combo above except it does not come with the palm rest. It is also paired with a high resolution 4800 Dots Per Inch mouse with 7 Button and 7 different RGB lights. Together the lights can use breathing mode, streaming mode, rainbow mode, flow light mode, waltz mode and 4 seasons mode. If you had enough of the light, you can also switch it off. A dedicated DPI selector switch with 6 corresponding colours to mark the resolution level and brightness button are also present.
104 rainbow floating keyboard 21 different light modes for the keyboard
12 multimedia key combinations
7 different light modes for the mouse
adjustable brightness and light changing speed
6 mouse resolution settings 800-1600-2400-3200-4000-4800 DPI with dedicated colour indicator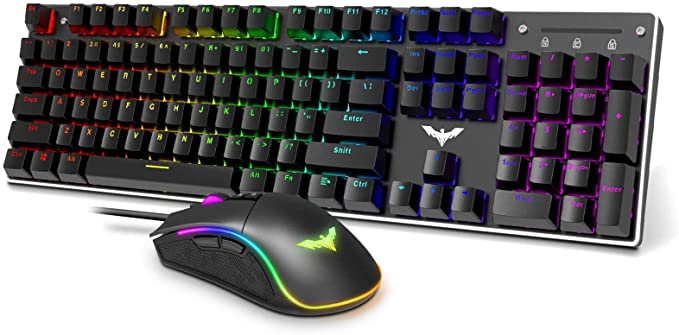 Finally, we have this compact 87 keys backlit gaming keyboard and mouse from MFTEK. You can still enjoy full size keys and cursor controls but what is missing is the numpad leaving only 87 keys with dedicated Function keys. With that numpad column on the far right gone, this helps reduce the footprint of the keyboard considerably, freeing up desk space. The Gaming Mouse has one of a kind design with 6 buttons, 4 colours (blue, red, purple and rose) and 4 changeable DPI resolution.
RGB colour keyboard with breathing light effects
87 floating keys with mechanical click feedback, adjustable rear feet
12 integrated multimedia keys, support all keys conflic free
mouse with 4 adjustable backlit colours and 4 changeable DPI resolution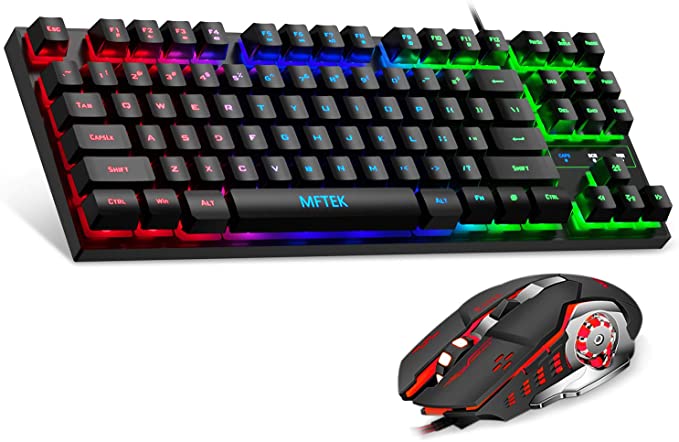 While not offered as a combo, if you are after a compact keyboard, the compact Havit Mechanical Gaming Keyboard with PBT Pudding Keycaps is your other option. This comes with a hybrid numpad and cursor with a total of 89-keys.