There are many foldable keyboards in the market and believe me, I tried a number of them. If you are not a fan of bulking up my iPad Pro with a keyboard cover and too stingy to pay for the Apple Magic Keyboard for iPad, let me introduce you a bi-fold Bluetooth folding keyboard from Samsers.
Note: for the UK market, the same keyboard is available as Joyzy Foldable Keyboard and other resellers.
Using the Apple Wireless Magic Keyboard 2 with the iPad
I love the Apple Wireless Magic Keyboard 2, the one that comes with the iMac also available to buy separately. Before considering a foldable keyboard, I was carrying one with my iPad. It offered a full size typing experience like no other. It has all the keys in the right places and the tactile feel of the key press to match. It wasn't long before I started feeling uncomfortable packing the keyboard in my backpack with the keys exposed. My only wish is that they do a travel cover or case for the keyboard.

iPad Keyboard Cover Bulks Up the iPad
I am not one for adding heft to my devices. Heck, if I can get away with not using a Smart Cover or case for my iPad, I would. But, I love it too much to not have it protected in some shape or form. My only option is a portable Bluetooth keyboard. One that I can chuck in the bag and take with me, and only take out when I need it. That way it is not stuck on the iPad all the time, adding weight to an already heavy 12.9-inch device.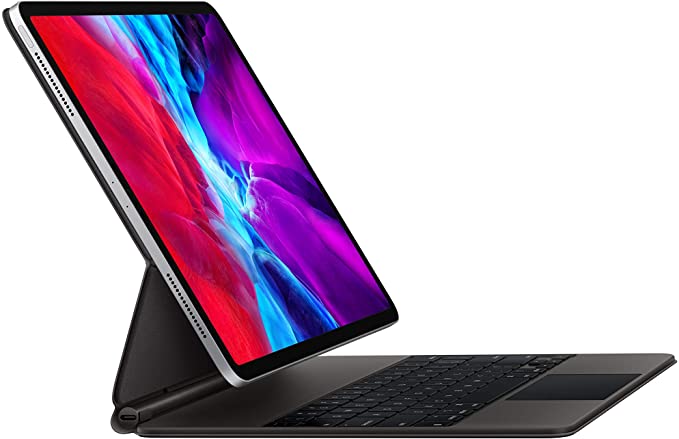 What Are My Options – Foldable Keyboards
Both Jelly Comb and eSynic do tri-fold keyboards. My experience with them were somewhat mixed. The overall dimensions are smaller than the standard Apple Keyboard. While the Jelly Comb tri-fold Bluetooth keyboard measures 30cm wide when open, part of that is used for the small touchpad to the right. This leaves the actual keyboard to just under 20cm. The eSynic on the other hand has a total width of 25.2 cm when fully open. For reference, the Apple Magic Keyboard 2 has a width of 27.9 cm.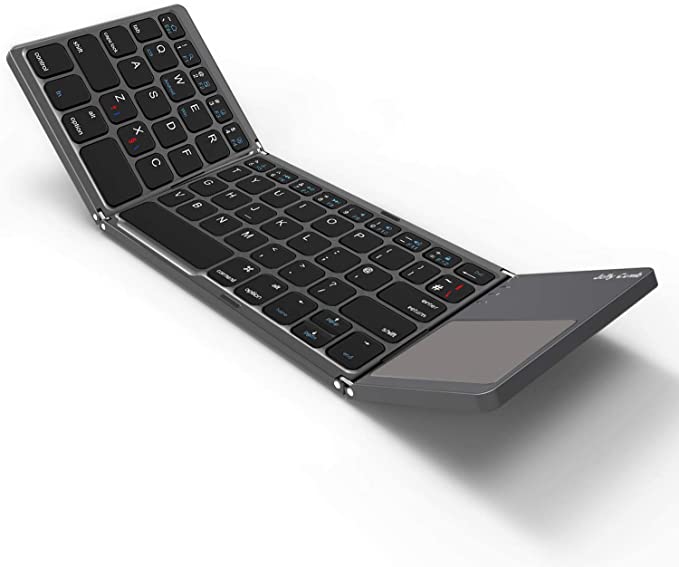 My Pick – Samsers Foldable Keyboard (also carried by Joyzy)
After countless hours of research and trying out the different foldable keyboards, I hit gold. Well nearly because to me nothing comes close to the experience of typing on the Apple Magic Keyboard 2. This relatively obscure keyboard had fewer reviews than the eSynic, Jelly Comb or IKOS on Amazon but I took a bet on it anyway and it is paying off. Like many techies, I get to boast that this review was written using the Samsers keyboard with my iPad Pro.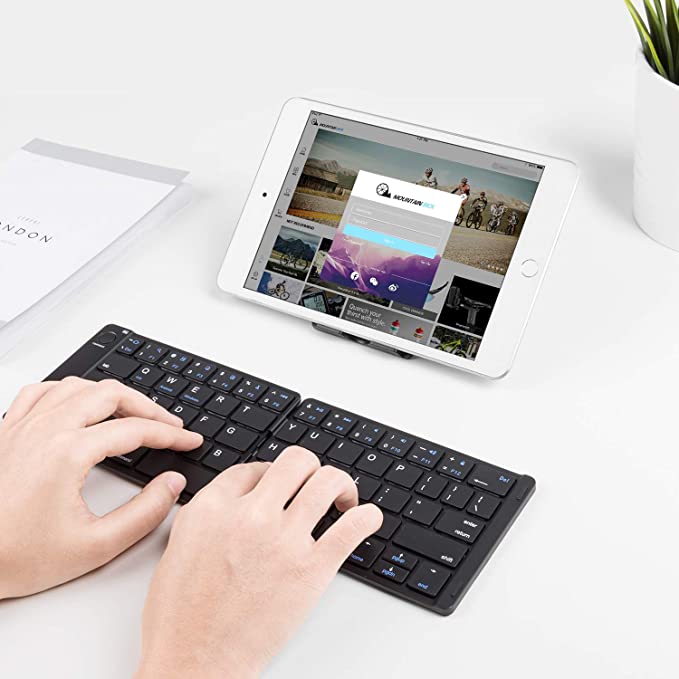 So here is my quick review on what works and what doesn't.
What's Great
Easy to setup, once paired, you can set the function keys to match your operating system. iOS, Android and Windows supported. MacOS is not not on the list but I am sure it will work well as most keys are the same as iOS.
The have full-size keys, well mostly. The first row with mainly numbers, symbols and functions are slightly smaller. Also, some keys on the far right are also squashed especially on the second row, see image gallery.
I tried many foldable keyboards before this one and they were too small and I kept hitting the wrong keys or missing some. No problem here. The overall dimensions of the Samsers keyboard when open is a healthy 11.36 x 4.2 x 0.18-inch. Take a closer look at how the folding keyboard compares to the Apple Magic Keyboard using the gallery below.
This bi-fold keyboard just feels right, no cramped touchpad that is prone to accidental swipes while you type and no unnecessary blank spaces on the keyboard to throw you off.
While there is a big connect button to enter pairing mode with a long press, there is no power button. That is because the hinge is active. When you unfold the keyboard, it turns on and pairs to the last device automatically.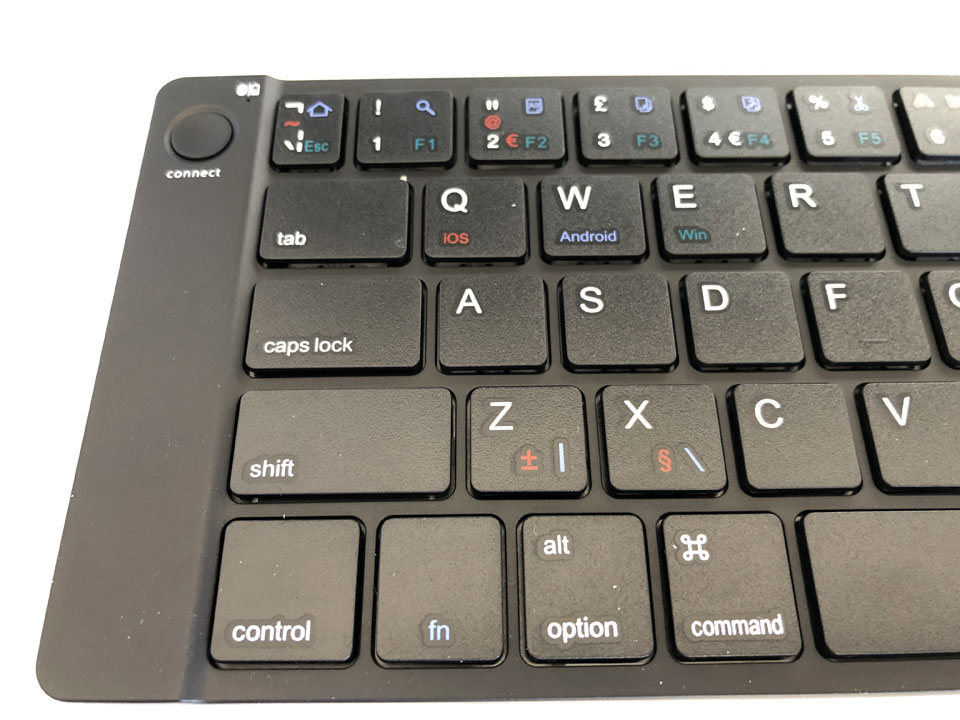 To turn it off, simply fold up the keyboard and it will go to sleep or shut down. Immediately, disconnecting from your tablet. It will also go to sleep after 10 minutes of inactivity. To wake it up, simply tap on any key.
Like smart covers, the bi-fold keyboard snaps together magnetically when folded with enough force to keep it together in storage and still allow you to open it up effortlessly.
It takes around two hours to full charge from a USB port or USB power adapter (not included) with charging micro USB to Type A adapter cable. Once fully charged it will last for months with moderate use. But judging from the current draw of less than 1.5mA and standby current of under 0.5mA it is likely so. The onboard battery has a 90mAh capacity. Samsers claims up to 40 hours of use or more than 10 days.
Finally, it folds up to a small and compact package measuring only 5.58 x 4.2 x 0.54 inch and weighing only 140 grams so can carry this in your pocket, side pockets of our back or hand bag.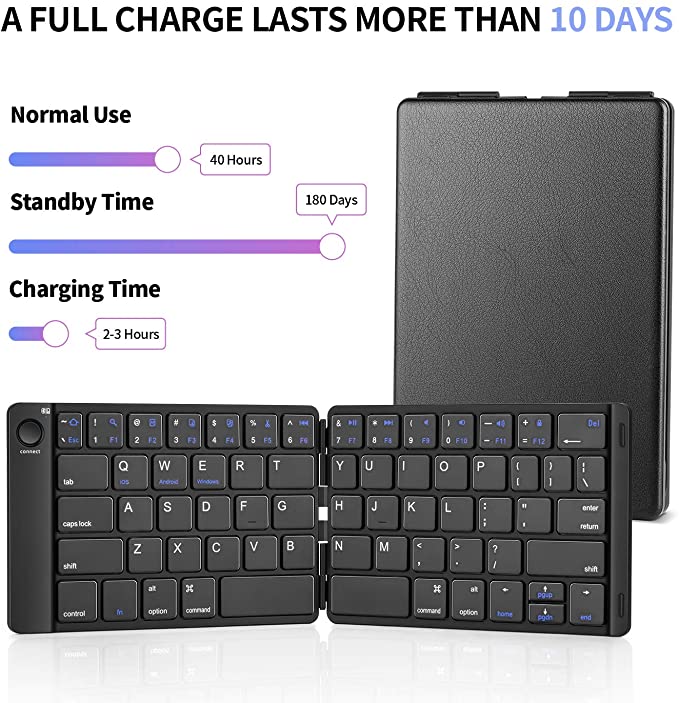 Not so Great
While lightweight, the build quality is not quite up to the level we are used to. The keys while tactile and offers plenty of travel felt a little flimsy.
The Enter key is a little small. My little pinky kept hitting the edge of the keyboard.
The plastic base or cover has a faux leather texture. This has good grips as it will stay stuck on the surface during typing but it picks up dust easily. Make sure you give your table a wipe before laying out the keyboard.
All plastic construction including the plastic hinges means this is not a keyboard to throw around. I personally keep it in the box that it came with. Special care is needed to avoid damage, especially to those plastic hinges. I dread to think what will happen if I accidentally unfold the keyboard beyond its 180 degree flat profile.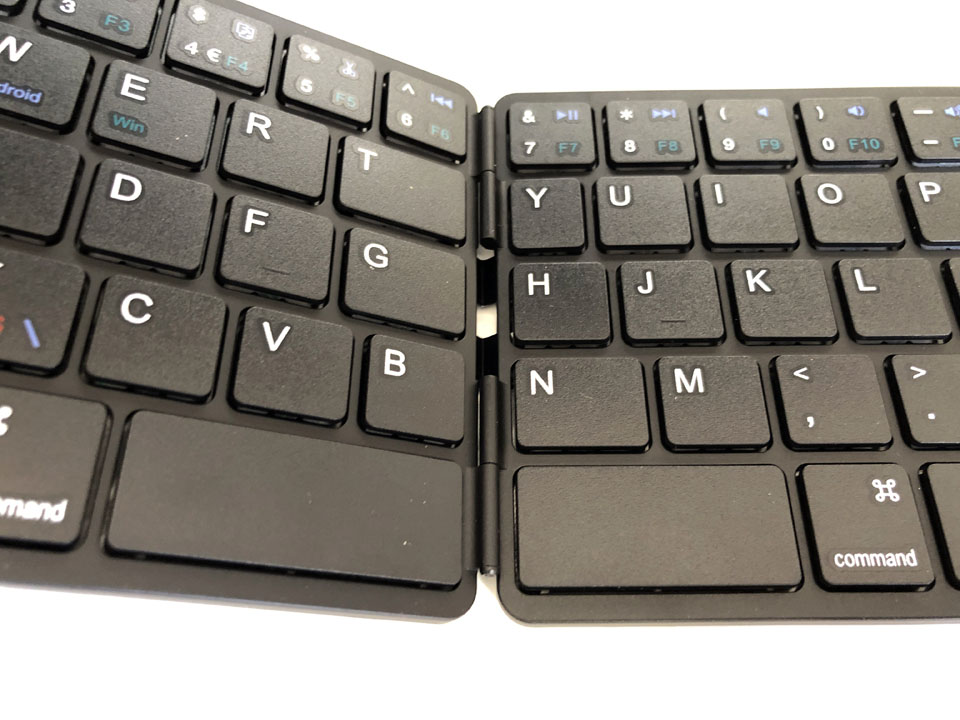 There are visible gaps between the key and chassis of the keyboard. This gives the impression that the keys are floating on the keyboard. It would be useful if it came with LED back light, those gaps would have allowed lights to shine through. But, in this case, I can see how these are traps for dust and hair.
Back to the plastic backplates, these are super soft and bends to very little force even when folded. It flexes easily. You can squeeze it together with your fingers when folded and the keys on either side will touch each.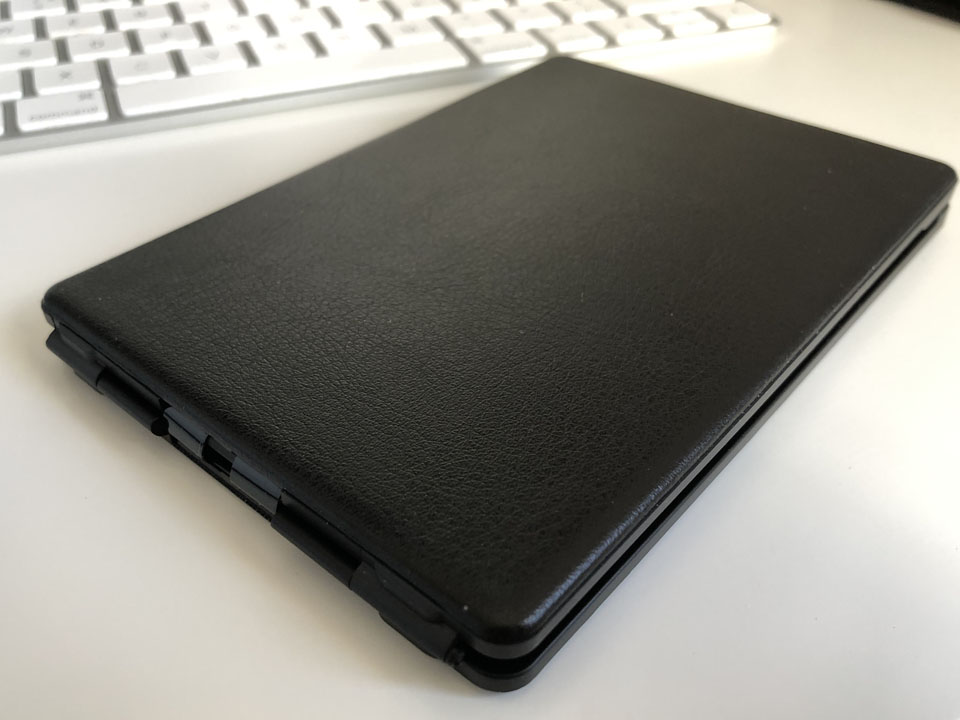 Some keys towards on the second row down at the far right are squashed. These are however symbols and brackets so I am not too fussed about them.
There is no integrated trackpad but that's okay. With my affinity for full desktop like typing experience, I would favour a mouse or full size trackpad with my iPad and only whip them out when I need to use it.
Because of the way the letters are split, the Y key is a tad too small. You can get used to it after a while.
The keyboard does not stay flat on its own when open. There is no mechanism to lock it in place. So, you won't be able to type on our lap. It will have to be on a flat surface like the table or desk or a tray that goes over our lap.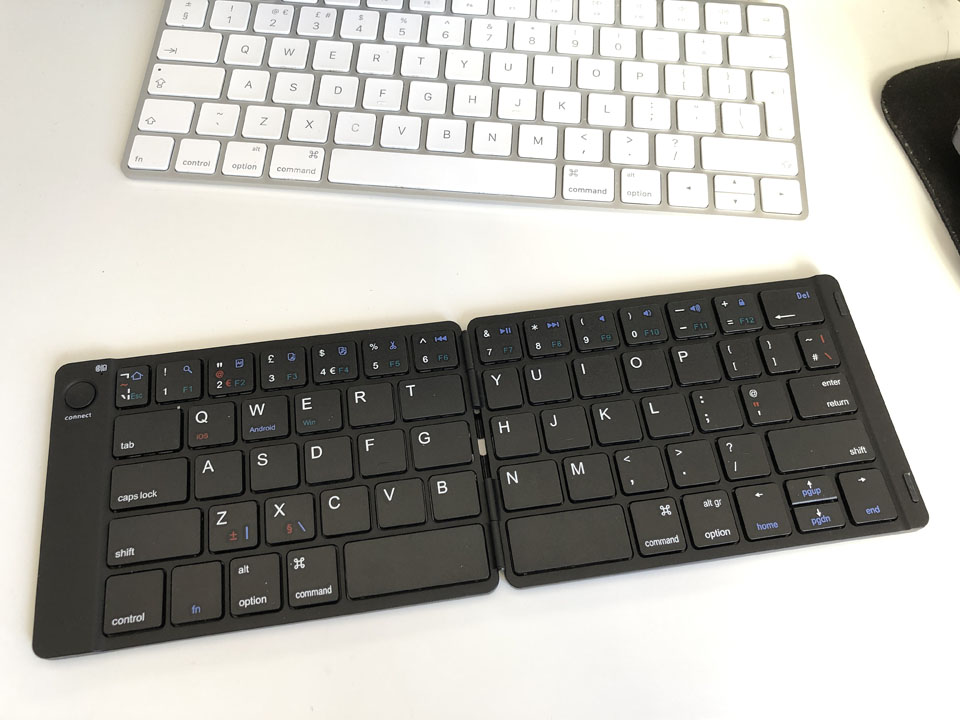 Final Thoughts
This is a cheap and affordable folding keyboard. It has full size keys and a great layout and that alone is enough for some. It is the closes thing to a Microsoft Universal Foldable Keyboard which costs nearly four times more than the Samsers. It comes with useful shortcut keys and works well with both iOS and Android.
While I haven't tried it on MacOS or Windows, it does support them. My unit came with a flat battery, but a quick charge brings it to life and I can connect without any issue. The choice of material for the case could be improved. Flexing plastic just doesn't do it for me but I am a careful user anyway, so can expect this keyboard to stay working for me for the foreseeable future.