It is a strategy that never fails. It worked for all the OnePlus smartphones, and it worked for OnePlus Pad, the company's first tablet. Their marketing strategy; create hype around the product, present Early Bird Offers with free gifts and free shipping for those who place an order before launch and customers just snap them up to the point of being sold out. This is even before the price is revealed. Madness!
OnePlus Pad First Impressions
So what do we know about OnePlus's first tablet. It is worth the hype? Where is its place in the market? And, should you get one?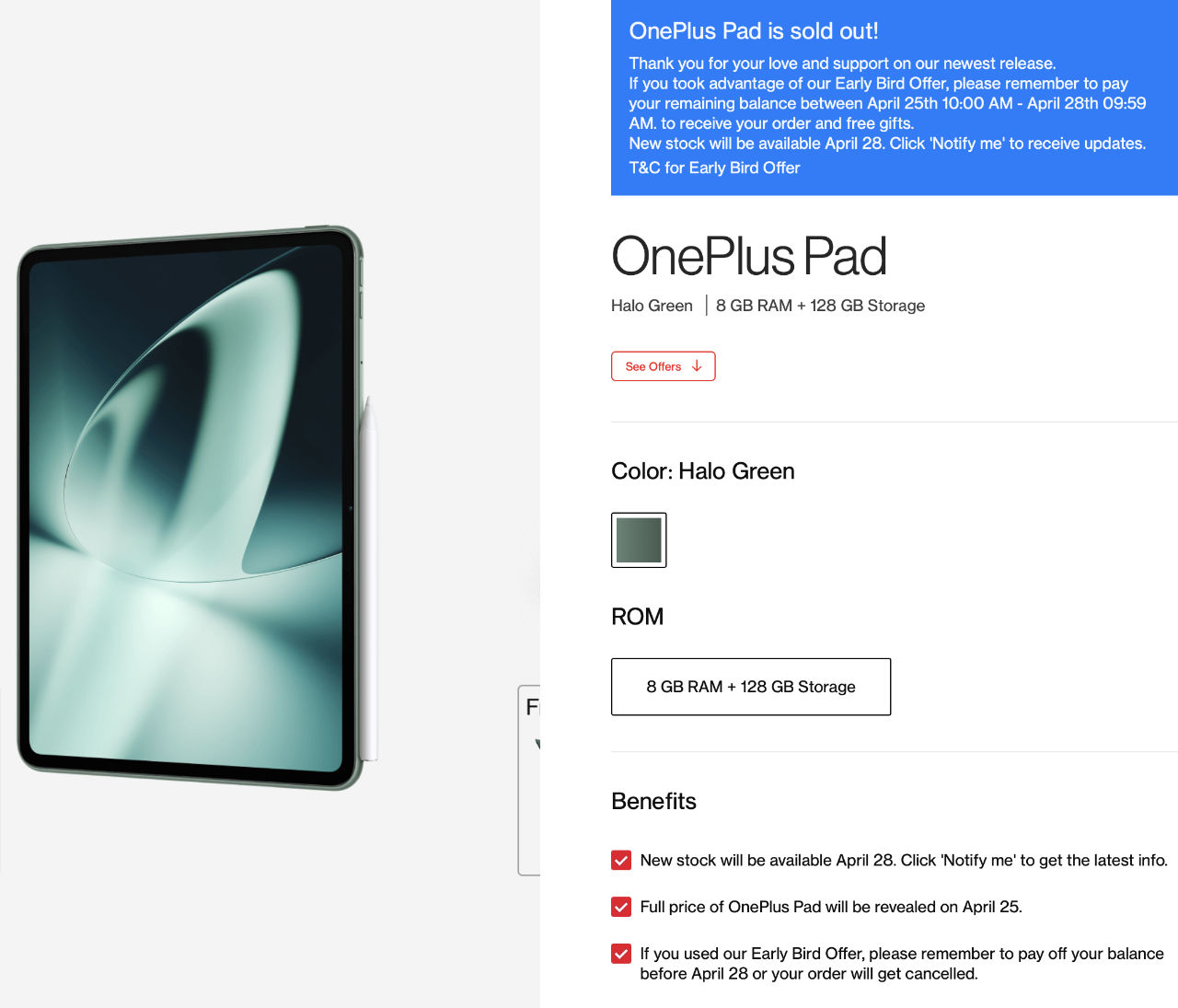 On first impression, the OnePlus Pad looked like the iPad Pro 11 with its full display, rounded corners and all-even black bezel around the screen. But, on closer inspection, it has rolled and rounded edges, like on iPhone 6 instead of square and is only available in one colour, Halo Green. This is not a new colour as a couple of smartphones from OnePlus share this shade. The OnePlus 10 Pro and the OnePlus 11G both available in Halo Green, see below.
Made from a single piece machine aluminium, the device has the hallmarks of a flagship tablet. However, turn it over and it stands out from your typical flagships in that the rear camera is near the centre, see image below. This is reminiscent of earlier Galaxy Tab S tablets. Remember those 2.5D curved glass used on earlier iPhones and iPads? It found its way here covering the front edge to edge for a stronger glass front.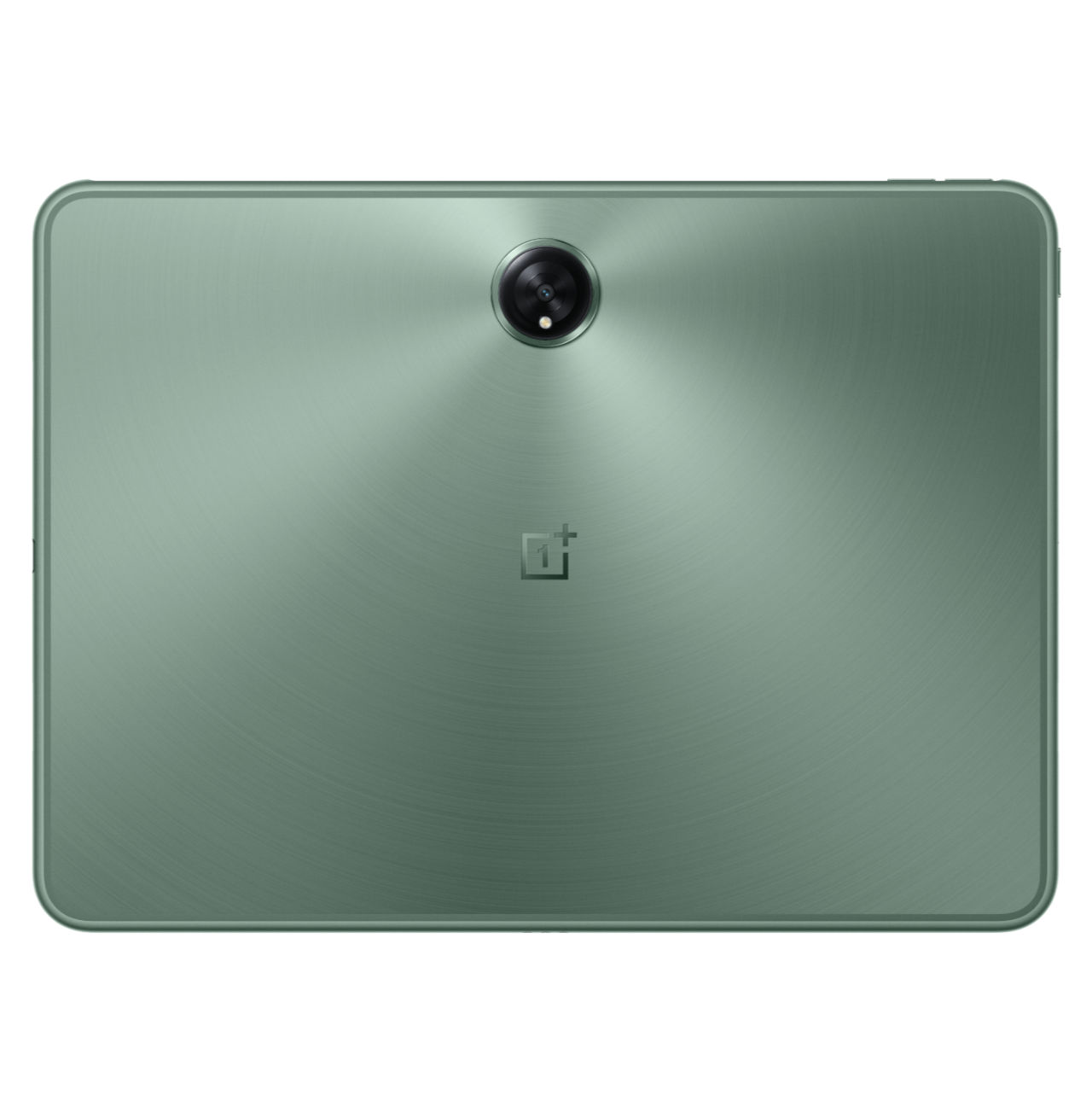 1. The Display
Not quite 12-inch, and not 11-inch either, the display measures 11.6-inch corner to corner. There was a time when laptops and MacBook Air 11.6-inch were common, but this is not your typical wide screen format. It  takes on a 7:5 ratio. OnePlus claims this as a first in the world and even gave it a name called ReadFit. The ratio is said to be better for viewing. The display is wrapped in a slim bezel with a high 88% screen to body ratio and packs 2800 x 2000 pixels with a high refresh rate of 144Hz plus Dolby Vision support and a peak brightness of 500nits. Full display specs as follows:
Size: 11.61″ (measured diagonally from corner to corner)
Type: LCD
Screen-to-body Ratio: 88.14%
Resolution: 2800 x 2000 pixels
Refresh Rate: 30/60/90/120/144 Hz
Touch Sampling Rate: 120 Hz/144 Hz
PPI: 296
Contrast: 1400:1
Brightness: 500 nits (Typical)
Delta E: <2
2. The Chip
Some of the latest and best smartphones use the Dimensity 9000 flagship chip from MediaTek. The powerful yet efficient 4nm chip is slowly finding its way into smartphones and tablets particularly in the mid-range segment. These are affordable devices with raw power to boot. Combined with ARM's Mali-G710, a powerful gaming GPU, MediaTek pitched the chip's performance to the likes of Apple A15 Bionic with other comparing it to Samsung Exynos 2200 and Qualcomm Snapdragon 8 Gen 1. Benchmark numbers put Dimensity 9000 neck-to-neck with Snapdragon 8 Gen 1 with better battery life faring better.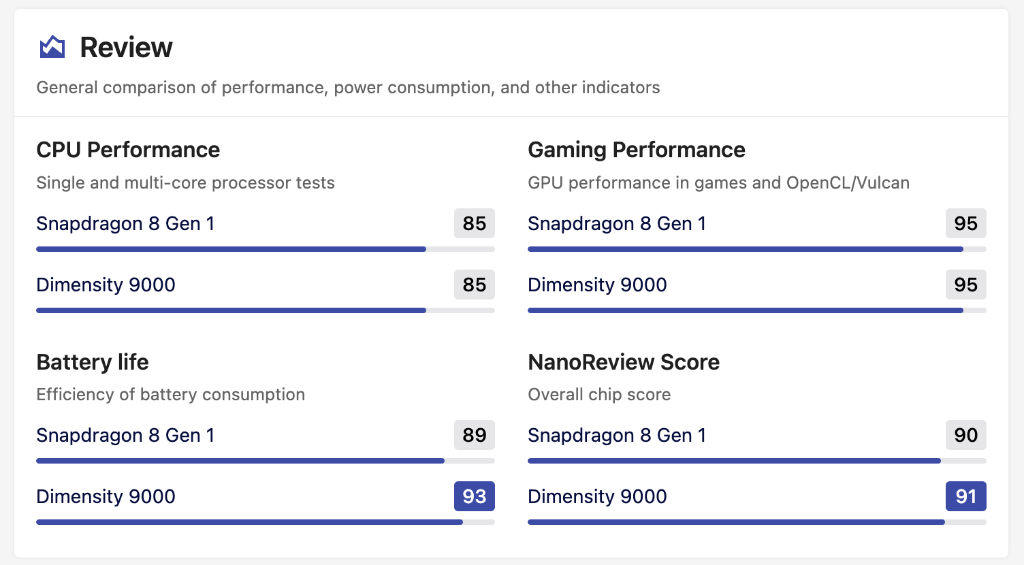 OnePlus will be using the same chip in their mid-range smartphone, the OnePlus Nord 3. Already an Internet favourite, the successor to Nord 2 from the mid-range series will be a cheaper alternative to their flagship OnePlus 11. Other smartphones already adopting the Dimensity 9000 are Honor 70 Pro+, OPPO Find X5 Pro Dimensity Edition, Realme GT Neo 3T, Vivo X80, Xiaomi 12T and Xiaomi Redmi K50 Gaming. Already a proven chip, there is no reason to doubt its performance. Powering the OnePlus Pad with a generous 8GB LPDDR5 memory and 128GB UFS3.1 super fast storage, this is bound to be a fast tablet and even fast enough for gaming,
OnePlus boast that with the configuration, the OnePlus Pad can launch and keep up to 18 apps running in the background so you can multitask away.
Multitasking Modes supported
Dual Windows – two instances of the same app side by side subject to app support
Split Screen mode – two apps running on the home screen at the same time with option to drag video and images from one to the other. Drag separating line to adjust the size of the split screen.
Multi Screen Connect and Auto Connect with OnePlus phones (Oxygen OS 13.1 or higher), more on this later.
3. The Cameras
On the rear, hidden in a circular black cluster near the centre of the tablet is a single 13MP camera and LED flash. It is suitable for shooting when the tablet is held in landscape but not so in portrait. There is risk of covering the lens with the your hand when held in portrait. Still, it supports up to 4K 30fps video capture and EIS stabilisation.
Unlike its smartphone, the OnePlus 11 5G, the camera cluster only carries one rear camera and LED flash. The smartphone has 3 rear cameras plus flash. Why take up all that space when you only have the one camera? Still, it carries the OnePlus signature design of a rounded cluster for its camera(s).
The front facing camera uses an 8MP sensor but is only capable of Full HD 1080p 30fps video capture. No ultra wide angle for panning and zooming like centre stage but also supports EIS stabilisation. This is not going to be the tablets forte. It is more than sufficient for video calls but not much else, not even for vlogging or talking head videos.
4. The Dimensions & Weight
Measuring only 6.54mm thin, it is even thinner than some of the smartphones out there. As for its weight, you would expect it to weigh more than your 10 or 11-inch tablet give its bigger display but not by much. iPad Pro 11 weighs 470 grams while the OnePlus Pad weights 552 grams, 82 grams more. I would consider this as an ultra portable tablet any day. Together with those 2.5D glass, rounded corners and rolled edges, it is easy on the palm and wrist.
Height: 258.03 mm
Width: 189.41 mm
Thickness: 6.54 mm
Weight: 552g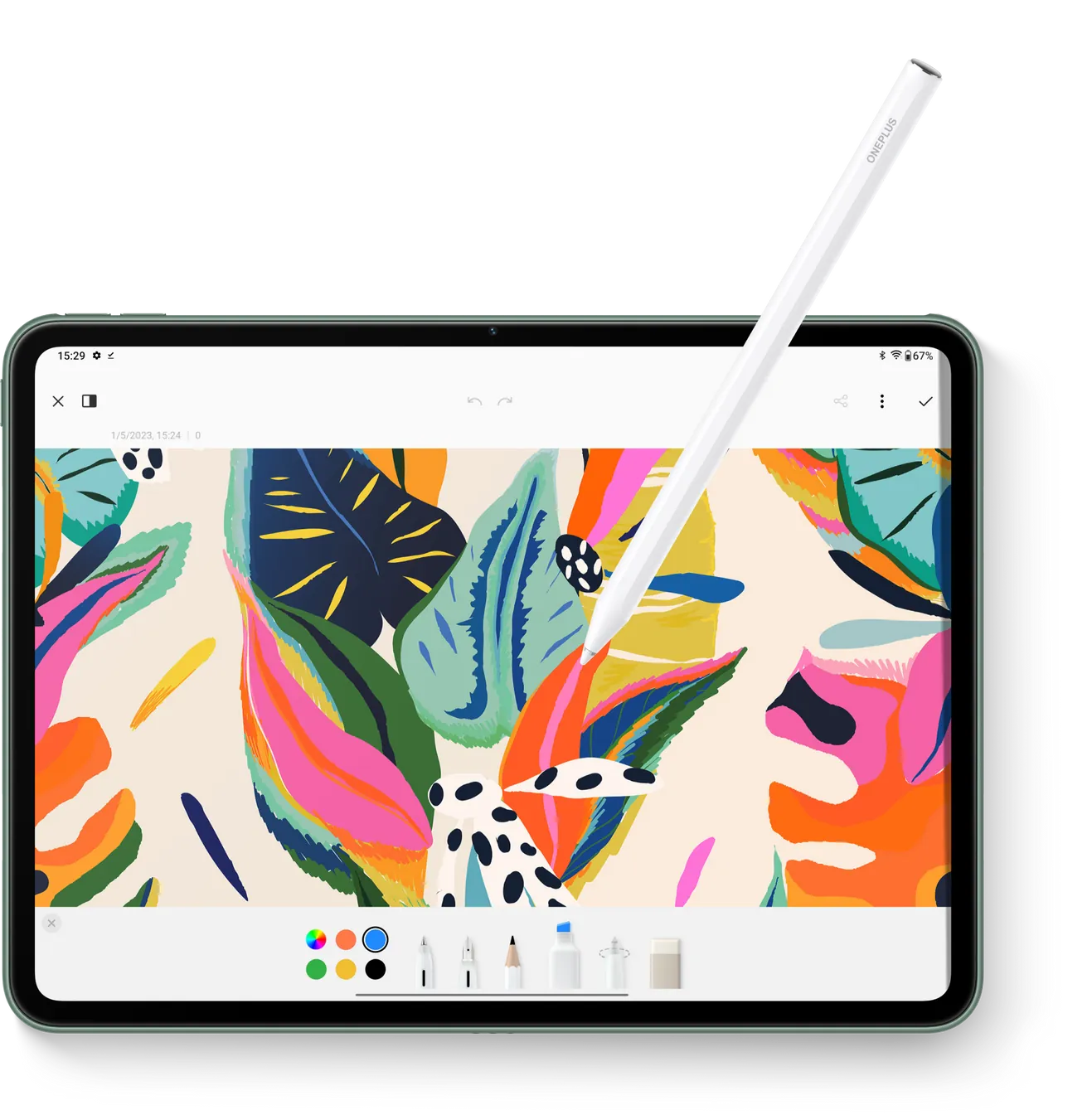 5. The Battery & Fast Charging
Thanks to the efficiency of the Dimensity 9000 chipset and the super high capacity 9510 mAh battery, the OnePlus Pad can go on continuous use for up to 12.4 hours of video playback. It will also last up to 30 days on standby or weeks in between uses. For the average user, its enough to keep you going without worrying about charging for a long time, Should you need to pick up the charge, 67W SUPERVOOC quick charging will push the battery level back up to 100% in just over 60 minutes. And, don't worry about overheating as the advanced Battery Health Engine will keep charging safe for your device.
6. Sound
With quad firing speakers, the OnePlus Pad doesn't miss a beat in the sound department. Using what OnePlus calls Omnibearing Sound Field technology, you can experience optimum sound and enhanced quality no matter how you hold your device. This is on top of the support for Dolby Atmos to go with Dolby Vision HDR on the display for a complete cinematic experience.
7.  Auto Connect
Here is a feature that OnePlus insists that you look into, expanding the use of the OnePlus Pad beyond just the standalone device. Auto Connect allows for seamless cross device connectivity with cellular data sharing and cross-screen transmission. The former goes beyond Internet hotspot direct to 5G data sharing via the same account. The latter offers closer integration between phone and tablet like immediate transfer of photos to the tablet for editing and getting notifications and messages from the phone directly on the tablet. iCloud users are already familiar with this mode of working where app data and user files are synced across registered devices. Use the Multi-Screen Connect and Auto Connect features with compatible OnePlus smartphone to access this feature.
8.Accessories
OnePlus Stylo – the stylus, Magnetic Cover that doubles as a stand like Apple's Magic Keyboard for iPad Pro but minus the keyboard and OnePlus Magnetic Keyboard with trackpad. That last one really do look like the Magic Keyboard, except for its matching green shade. The Stylo however is only available in white, not quite the colour match.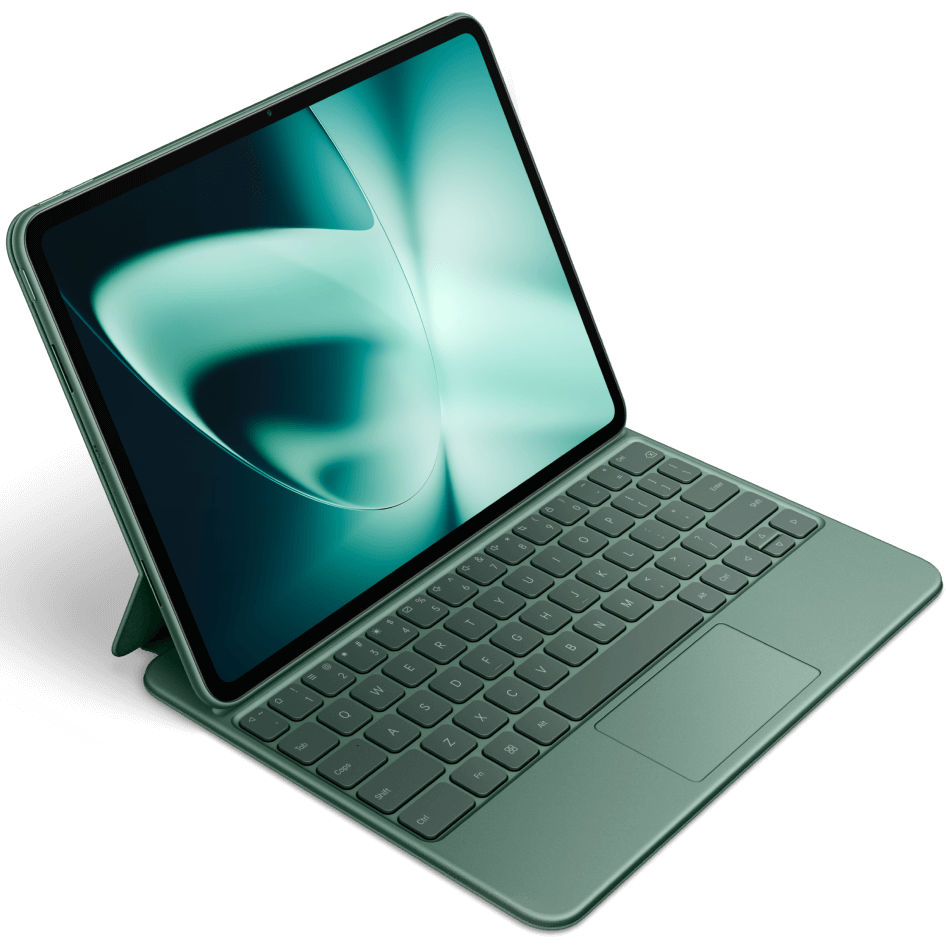 Check out OnePlus's page for the OnePlus Pad.
Final thoughts, without knowing the price and depending on where you are there are many competing mid-range tablets of this size in the market. There are the budget HONOR Pad 8 with 12-inch display and Lenovo Tab P11 and P11 Plus with 11-inch 2K display. In the mid-range segment, there are Xiaomi Pad 5 11-inch tablet and Huawei MatePad 11 with 11-inch screen. OnePlus is entering an already crowded market. One to watch would be the Oppo Pad 2 which looks very similar to the OnePlus Pad. However, the Oppo Pad 2 also powered by Dimensity 9000 chip set its aim at Huawei and Xiaomi's tablets.
OnePlus Pad Alternatives
11-inch tablets are all the rage right now which means consumers have options when it comes to the OnePlus Pad 11.6-inch tablet. While the closes tablet in term of size is the HONOR Pad X9 with an 11.5-inch display, alternatives include the Amazon Fire Max 11, Google Pixel 11, Xiaomi Pad 5 and 6 and the aforementioned Honor Pad 8 and X9.
Related: Tablets – The Ultimate Buying Guide Made Simple: How to buy a new tablet