Think 11.5-inch 120Hz 2K glass fronted full display in an all metal chassis powered by Snapdragon 685 4G 6nm octane-core chip with 4GB memory and 128GB storage running Android 13. Then throw in 6 speaker surround system and a generously sized 7250mAh battery with a price tag of under £160 during and offer, and you have yourself a seriously amazing good value tablet bar none.
1. Fast Display and Sufficiently Bright Display
For the display, 2K here stands for 2000 x 1200 pixel resolution, that's Full HD+  resolution with Full HD being 1920 x 1080 pixels. Not a huge amount sharper than your standard Full HD display but good effort from Honor especially when the TFT LCD panel is capable of 400nits maximum brightness, 120Hz fast refresh rate, 1.07 billion colours, 100% sRGB colour gamut and is TÜV Rheinland Certified Low Blue Light. The Screen to Body ratio measures a respectable 86%.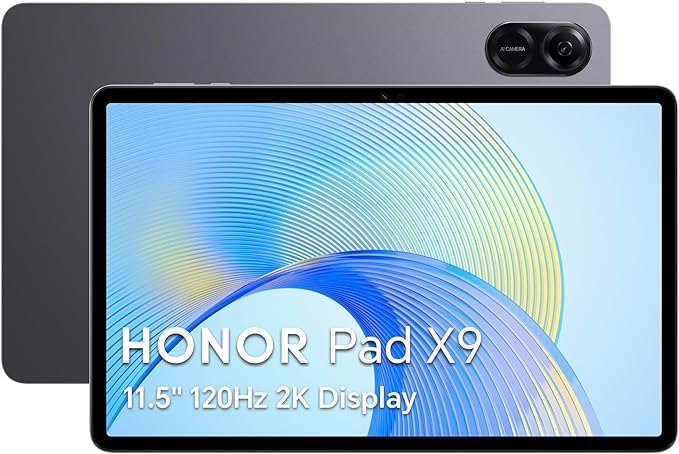 Not only does the tablet come with a big and sharp display, it also allows for multi-tasking, supporting up to 4 apps on screen at the same time.
2. What Is It Like Performance Wise
Powered by the Qualcomm Snapdragon 685 chip, an 8-core mobile chipset that was first announced on 23 March 2023, it is from the value range from Qualcomm's offerings. This is also the chip that powers Xiaomi Redmi Note 11 smartphone. With their 8 series being the premium range and 7 series being yesterdays flagship chip with some changes, with performance levels between mid-range to flagship, this leaves the 6 series in the mid-range segment. There is one more tier, the Snapdragon 4, the entry level of chips which lacks powerful GPU and abilities like 4K video recording. So what does value for money and mid-range mean for the Snapdragon 685 chip and where does it place in performance?
Snapdragon 8-series chips – PREMIUM & FLAGSHIP RANGE
Snapdragon 7-series chips – MID TO FLAGSHIP RANGE
Snapdragon 6-series chips – MID & VALUE RANGE
Snapdragon 4-series chips – ENTRY LEVEL RANGE
The Raw Numbers
NanoReview has theses figures to offer comparing 685 to its predecessor 680 to back up the claims from Qualcomm below giving CPU and Gaming the following scores:
| | | |
| --- | --- | --- |
| | CPU performance | Gaming Performance |
| Snapdragon 685 | 24 | 18 |
| Snapdragon 680 | 22 | 16 |
There are no real gains in the battery department. Overall NanoReview rates Snapdragon 685 at 36 points compared to 34 awarded to Snapdragon 680. Points aside, the Snapdragon 685 has a comfortable 12% lead in AnTuTu 10 benchmark, 14% and 4% lead in GeekBench 6 single and multi-core benchmarks and 45% lead in 3DMark Wild Life Performance. These figures are also backed by NotebookCheck.
Indeed, the Snapdragon 685 chip does have a few tricks up its sleeves. Apart from being an affordable platform, it packs 15% faster performance from its Kryo CPU and 10% better Adreno GPU performance for graphics. With the latter, this meant FullHD+ gaming with up to 120FPS image for smooth motion. Excellent news for gamers. There is even Q-Sync support to match the device and in-game frame rates. And, if you are worried about running out of juice mid-game, the fast charge support Quick Charge 3 brings the battery back up to 80% in just over half an hour (35 mins). Full charge will give you up to 13 hours of local video playback from its 7250mAh battery. Here is a look at its gaming performance:
PUBG Mobile
59 FPS
[Medium]
Call of Duty: Mobile
60 FPS
[Low]
Fortnite
23 FPS
[Low]
Shadowgun Legends
65 FPS
[Low]
World of Tanks Blitz
62 FPS
[Medium]
Genshin Impact
26 FPS
[Low]
Mobile Legends: Bang Bang
54 FPS
[Ultra]
Honor Pad X9 will no doubt deliver on performance for gamers and the average productivity focused users alike. Interaction with the device is snappy. Apps load quickly with no lag and scrolling is smooth. It is without a question, a great tablet for light gaming with no jitters or performance issues.
What Else Is It Capable Of…
Other features include Snapdragon X11 LTE modem support for 4G connectivity and lag-free gaming, ability to capture 3 photos or videos at once with Qualcomm Spectra 12-bit ISP (Image Signal Processing) – useful for simultaneous triple capture or to take detailed shops up to 108MP. However, the thing that is on everyones tip of the tongue theses days is its Ai support. The Qualcomm AI Engine improves on-device multimedia experience for more responsive in-game voice command, brilliant low light capture capabilities for clear and crips images in dark environment and better always-on voice assistance.
Summary of Chip's Capabilities on Honor Pad X9
To summarise, the Snapdragon 685 that powers the Honor Pad X9 is capable of
15% faster CPU, 10% faster GPU performance compared to previous Snapdragon 680 4G
Quick Charge 3 up to 80% in 35 minutes
Smooth 4G gaming with Snapdragon X11 LTE Modem
FHD+ at 120 FPS display refresh rate
Q-Sync for automatic synchronization of display rate and game frame rate
Qualcomm AqsticTM and Qualcomm® aptXTM Adaptive deliver superior audio performance
integrated AI support for multiple hardware accelerated, always-on voice assistant and
support for multi-microphone far-field detection and echo cancellation.
Other features that were not taken advantage of by the Honor Pad X9 are:
its ability to capture three sources of video and photos simultaneously OR
single-shot photo at up to 108MP with the help of Qualcomm Spectra Triple ISP
4G LTE support with Snapdragon X11 LTE modem.
3. Adequate Memory and Storage
Okay, so in this department, there is nothing to shout about, except that at this price point, it comes with 4GB RAM memory and 128GB storage. Even Amazon Fire Max 11 only starts at 64GB storage and it costs a hundred more. Switchover to 128GB and it costs 140 more. There is also an app called Honor OS Turbo what is known as Honor RAM Turbo in the Honor X8 smartphone. It is a technology that allow storage to be added to RAM. For Honor Pad X9, this means increasing the memory to 7GB with a combination of 4GB physical memory with 3GB storage memory, much like windows virtual memory.
4. Good Surround Sound with 6 speakers (including dedicated subwoofers)
The surrounding 6-speaker design delivers sound in symmetry when viewed in landscape profile. The creative arrangement forms a surprisingly good sound effect from bottom to top. Quality and volume is sufficient and the lightweight subwoofer units deliver a multi-directional sound field from the bottom speakers. Overall, the music and sound produces is indeed more powerful. But one does have to keep their expectations in check as these are only tiny speakers inside an ultra slim metal case no doubt. Having said that, power in numbers does help here when most tablets including premium flagship ones come with only four speakers. The 6 speakers gives it that extra punch.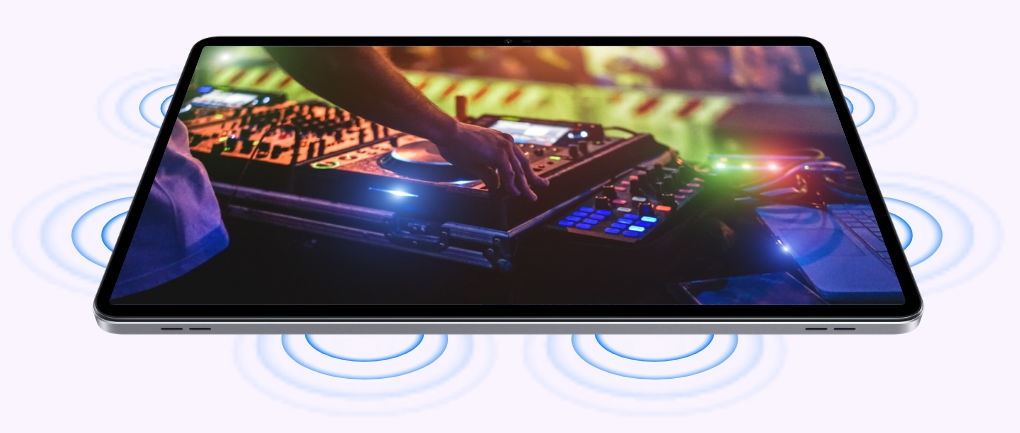 Beyond media consumption and gaming, the table also brings some innovative designs to the table with respect to its sound system. Honor uses its own Vocal Enhancement Algorithm to boost the vocals in online lessons, video calls or simply, movies and TV shows. The serves to extract the vocal channel and enhances it so that central to your video is the human voice. It works great when you have to work from home or attending online lessons as part of distance learning.
5. Stylish Design
Not only is the display bigger than your average tablet, it also has the tiniest bezels making the overall footprint really compact. At 11.5-inch, you can see more of what you are doing without carrying a huge and hefty device. With full glass front and all aluminium alloy chassis, finished in brushed texture, it looks every bit a flagship device.
The front facing 5MP camera is hidden in the top bezel when placing the tablet in landscape mode.The rear camera however is housed in a floating double ring cluster. The double symmetrical rings design takes its inspiration from the planetary light bell. Although, in our books, it just bulks up the single camera, making it look like a cluster of cameras. It does however help with the overall aesthetics.
Finally, the unibody design all metal design gives the device its rigidity and solid feel but pushes the weight to nearly 500 grams (499grams). There are no comparable devices out there as 11.5-inch tablets are not that common. However, if you have to compare, the Apple iPad Pro 11 with a smaller 11-inch display weights 468 grams, around 30 grams lighter. As for its thickness, it is exactly 1mm thicker than the iPad Pro 11 at 6.9mm. All we care about is it feels great holding and working on the tablet.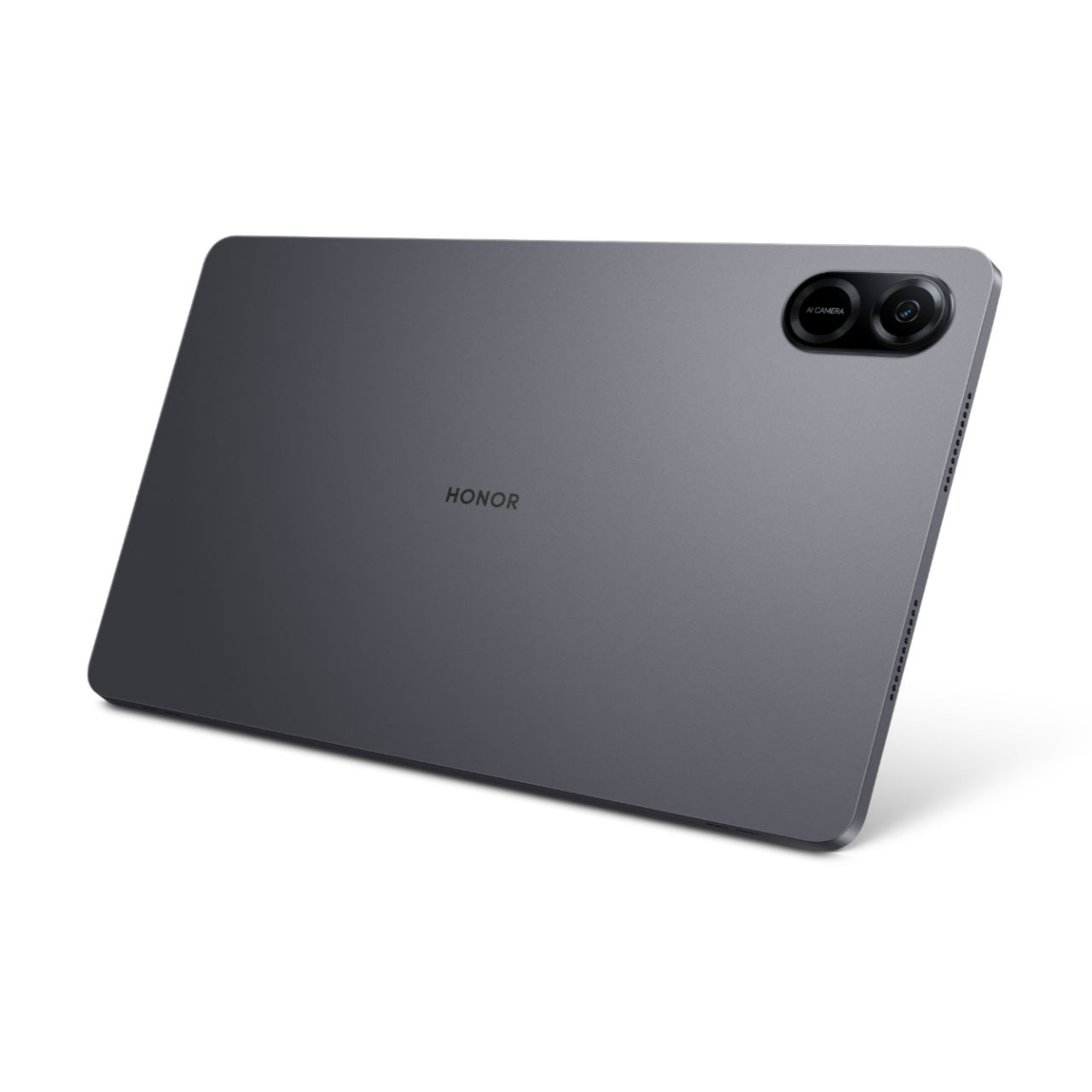 Finally
For an 11.5-inch tablet, design wise, it is on par with premium tablets like the iPad Air and Samsung's Tab S series. It measures a slim 6.9mm and weighs only 499 grams. This is a very strong Amazon Fire Tablet alternative at the price point. While the Snapdragon 685 is a tweaked version of the 680, an old line from Qualcomm, it is still capable and runs well on the tablet. The strong battery life and large display makes this a no brainer. And, unlike Huawei, Honor still has access to Google Play store giving you all the apps you will ever need for Android. Mainstream apps will look right at home, making the most of the large display. Apps built for smartphones may look a bit out of place but such is the nature of the Android platform. Here is a quick summary of the pros and cons:
Pros:
Excellent value for money
Perfect for media consumption and light gaming
Large display with high refresh rate
Great for productivity, browsing and multitasking with big display
Amazing built quality, stylish and sturdy
Cons:
GPS built-in but no Compass but then again, this is a tablet and not a smartphone
Cameras could be better given Snapdragon 685 supports up to 108MP, these are only 5MP
While the Snapdragon 685 is a 4G mobile platform, there is no 4G LTE modem included, then again, we are asking a lot for this price.
HONOR Pad X9 Alternatives
With a larger than 11-inch display, the other direct competitors are the HONOR Pad 8 with 12-inch display and OnePlus Pad with 11.6-inch display. But if you are willing to compromise on the display size, there are plenty of 11-inch tablets out there within the same segment. Here are your HONOR Pad X9 alternatives:
Related: Tablets – The Ultimate Buying Guide Made Simple: How to buy a new tablet