Up till now, Amazon Fire Tablets are uninspiring slates designed to do one thing alone, consume content. Be it streaming TV shows or movies, listening to music or audio books, reading magazines or ebooks, a Fire tablet puts those things front and centre. While they are well built, they are plasticky, come with chunky bezels and thick heavy chassis. Amazon Fire Max 11 tablet is set to change all that.
I have the Fire HD 10 7th gen and it is not very different to the current 11th gen tablet. The design of the entire range of Fire HD stayed pretty much the same until now. This is the dawn of a new design language for Amazon's Fire Tablet. Not surprisingly, it is also the most powerful and biggest tablet from Amazon with a new octa-core chip and an 11-inch display. You can pitch this against iPad 10 with 10.9-inch display or the Google Pixel Tablet but are they really on the same playing field?
Amazon Fire Max 11 Tablet
The new tablet from Amazon coming in June 2023 is the first to tablet from Amazon to feature a slender and light chassis made from aluminium. It measures 7.5mm thin and weighs 490 grams. For comparison the plastic chassis on the 11th generation Fire HD 10 is 9.2mm thick and weighs 465 grams for a 10.1-inch device. However, we're not here to compare the two tablets but to give credit where credit is due.
A completely new design language for Amazon's Fire tablet. One that brings the line out of the 'dark tablet ages'. Here's the Fire Max 11 with a modern look.
The Fire Max 11 is Amazon's great leap to a modern tablet with squared edges, rounder corners and full display with mini and even bezels all around. Amazon calls this the 13th generation device. Fire HD 8 was named the 12th gen (2022) while the current Fire HD 10 from 2021 is 11th gen. Now that we are up to speed, let's look at the USPs that make you want to reach for your wallet and what is not so hot about this tablet.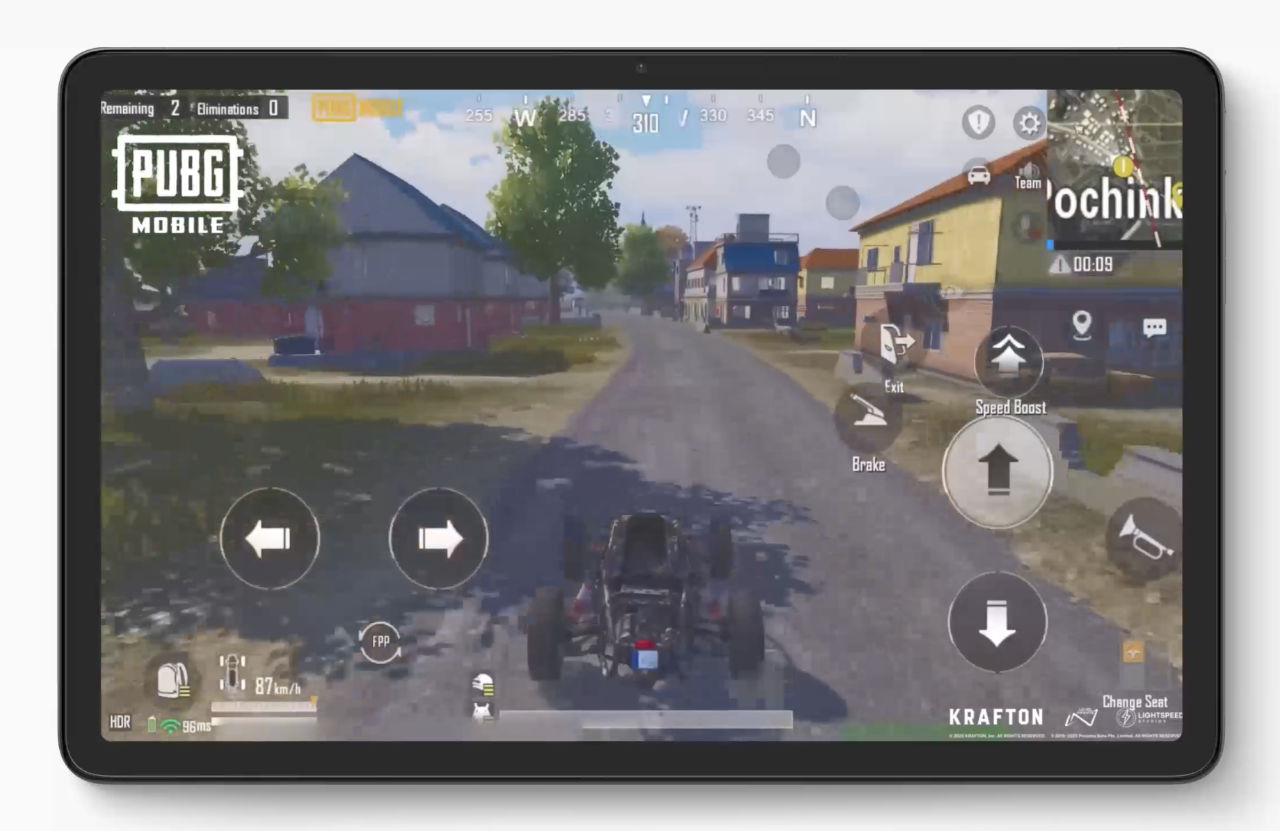 The Good: Reach for the Wallet
Apart from the slim all-aluminium chassis and strengthened aluminosilicate glass, the USPs of the Fire Max 11 are as follows:
1. Big 11-inch Display at a High 2K Resolution
New 11-inch display with 2K resolution grace the front of the device. It is the biggest display on a Fire tablet to date. It is also TUV Rheinland Eye Comfort certified so you can be sure that your eyes are safe even from prolonged used. Like we mentioned earlier, this is a clear departure from the old design with an even bezels all around and a full display with rounded corners.
2. Supports a Stylus and Keyboard with Trackpad
The display also supports a stylus. You can get the Fire Max 11 on its own or bundled with a Made for Amazon Stylus Pen or choose the productivity bundle and have the Keyboard case thrown in too. The latter is two parts, the keyboard itself that snaps magnetically to the pogo pin connection on the tablet and the kick-stand cover snaps magnetically to the backplate unlike the clunky keyboard and case combination for Fire HD10. See image below. It is sleek but you miss out on the corner bumpers and edge protection of a real case.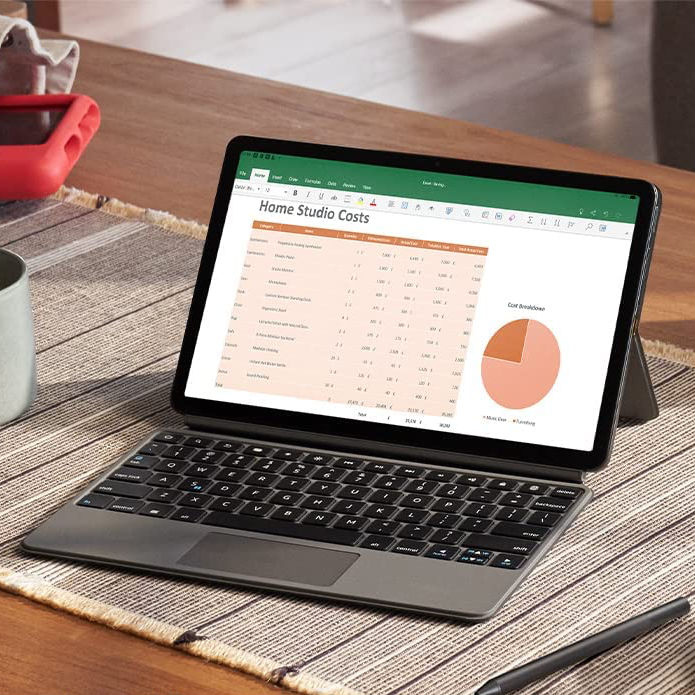 3. Fingerprint Sensor on the Power Button
Another first for Fire tablets, there is a fingerprint sensor on the power button immediately making this tablet a more secure one. Use this to unlock the device and maybe, some time down the road, authorise purchases. The only pet peeve we have with this is while it is all well and good that you can unlock the tablet with your finger, on the Ads model, it will bring up the Ads lock screen. You then have to swipe from the bottom of the screen to get to the Home Screen.
4. Fast  Processor & Fast Connectivity
Fast Processor and Fast Connectivity options with Octa-core MediaTek MT8188J, WiFi 6 (802.11ax) and Bluetooth 5.3. A USB-C port is available for wired (charging and audio) connectivity. Amazon also did not leave out the microSD slot. It can support up to 1TB of additional storage, great for cheap storage expansion and to carry all your data. The 8-core chip comes with two performance Arm Cortex A78 CPUs and six efficient Cortex A55 CPUs. This is mated with ARM G57 MC2 GPU for graphics processing.
5. Long Battery Life
Long 14 hours battery life for an 11-inch tablet is two hours more than the Fire HD 10's 12 hours mark. It means that you can stream your favourite TV shows all day without needing to charge. Just watch out for pesky apps that may drain the battery life faster than others.
There is a pair of front and rear 8MP camera capable of 1080p HD video recording but don't expect anything amazing from these. Together with a pair of microphones, the front camera will be great for video calls. Those microphones can also be used to summon Alexa for hands-free access to the voice activated assistant. If it is anything like my Fire HD 10, it is perfect as a smart home controller but as the microphones are not far field, you will need to be right up to the tablet.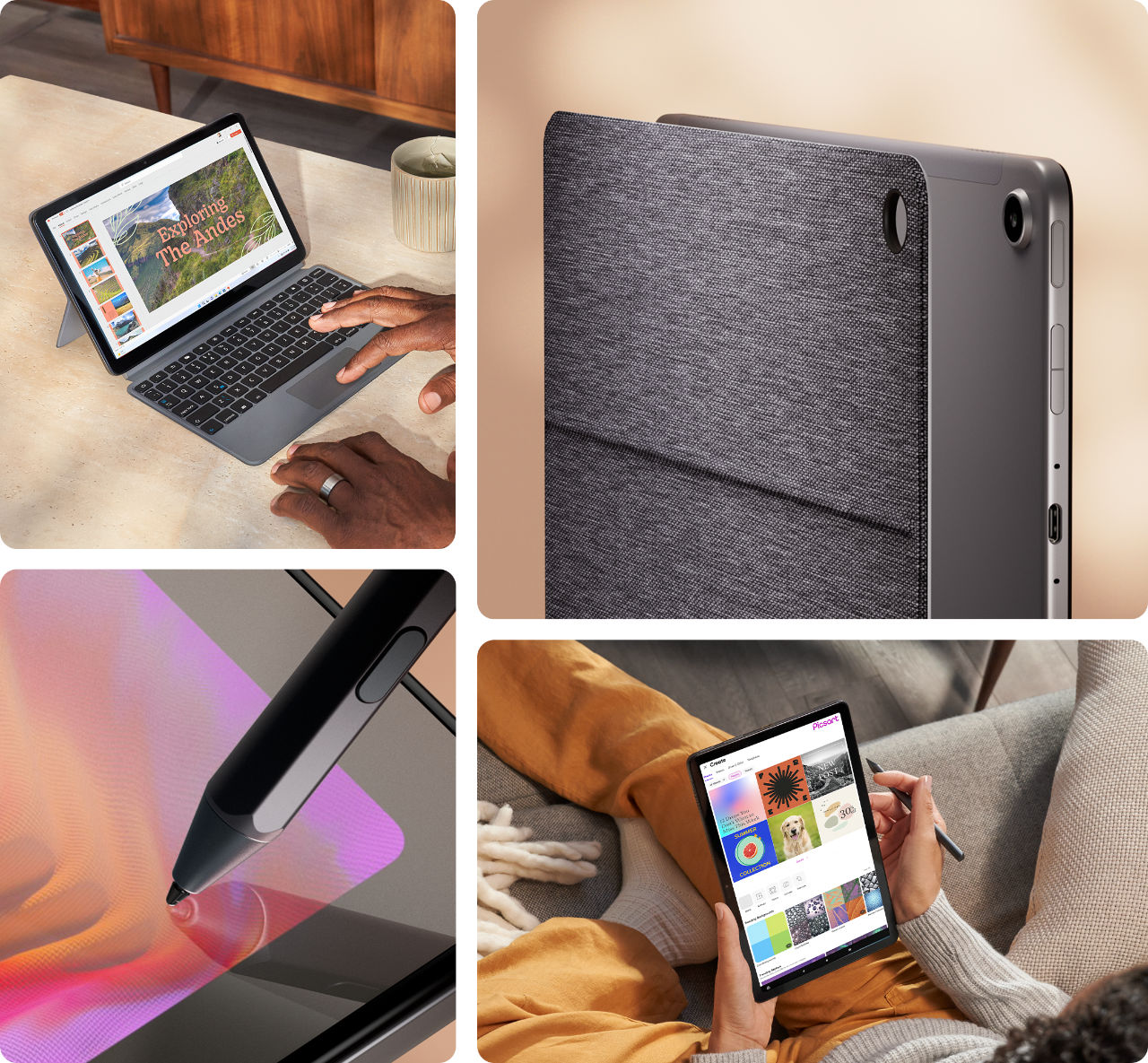 The Bad: Not So Hot
Here are the top five reasons why I would avoid it:
1. Screen Aspect Ratio Not Suited for Productivity
That display still spots a wide screen format, not exactly productivity friendly. Basically, browsing the web on the Fire Max 11 will be no different to Fire HD 10. A resolution of 2000 x 1200 isn't really far off from 1920 x 1200 pixels on the Fire HD 10. Width wise, height wise when scroll through a website in landscape mode, it is actually the same. It would be more useful with a 2.5K resolution display, productivity oriented aspect ratio and a panel that supports higher than 60Hz refresh rate.
2. Low Starting Storage and Small Memory
We applaud Amazon for going with a new and faster Octa-Core Processor, the MediaTek MT8188J. Little is know about the chip so we will have to wait for benchmarks to find out where it stands but 4GB memory and a paltry starting storage of 64GB just doesn't cut it. These days, we need at least 6GB of memory for multitasking and quick app switching. Also, we recommend paying the extra to double the storage to 128GB as with the 64GB model, you are left with only about 53GB after the OS and preloaded apps. More onboard storage means more games and apps without relying on slower microSD storage. Back to the chip, it will take on PUBG Mobile and Asphalt 8 so it must be quick.
3. No Access to Google Play Store
NO Google Play store. Until such time that we can side-load Google Play and I know it won't be long before someone gives you the step-by-step instructions to do this, it doesn't have access to download Google's apps. The tablet is configured for Amazon's own App Store only.
4. Many Options At This Price
At this price point, there are plenty of capable options out there. Samsung Galaxy Tab A8 10.5-inch 64GB storage and Lenovo Tab P11 Plus 11-inch with 128GB storage are direct competitors. From the budget end, you've got Honor Pad 8 12-inch with 128GB storage, Xiaomi Redmi Pad 10.61-inch with 128GB storage and Acer Tab 1123 11-inch with 64GB storage. The former is a no brainer being cheaper and comes with a bigger 12-inch display.
5. No Fast Charging
Still with a 9W power adapter with no fast charging support. One of the bug bear with all Fire HD models is how long it takes to charge up the tablet. This one takes 4.2 hours to fully charge with the included adapter. Amazon does say that the tablet supports 15W charging which will cut the charging time down to 3.5hours but why include a 9W adapter when they could have easily just supplied the 15W.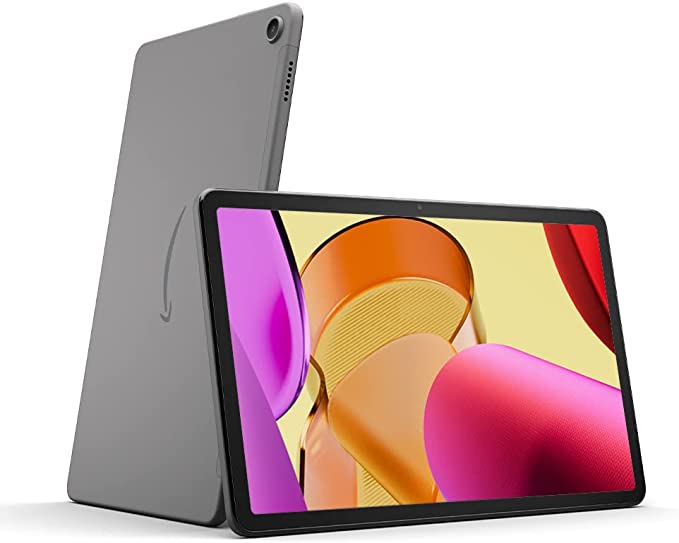 Another thing to note is, the stylus snaps magnetically to the short edge to charge which is a breath of fresh air. Most tablets charge their stylus magnetically on the long the long side and if you have your tablet on landscape mode, it is pretty easy to grab the stylus no matter which dominant hand you've got. Now, if you write with your right hand, you will need to reach further to get the stylus.
However, if you do decide to get the Amazon Fire Max 11, you might also want to consider being an Amazon Prime Member. Not only does it give you free and fast delivery, but Prime Video and Amazon Music streaming (the limited edition). You can also access Prime Gaming and plenty of storage for your photos on Amazon Photos. That's not all. For those who loves to read, Prime Reading lets you access ebook lending library and books with audible narration. Check out Amazon Prime Now.
Amazon Fire Max 11 Alternatives
Looking for other mid-range tablet with display around 11-inch or more, here are six strong alternatives to the Fire Max 11 reviewed here.
Related: Tablets – The Ultimate Buying Guide Made Simple: How to buy a new tablet