While dedicated smart displays are great, you can't take it with you when you leave the house. And while there are a few tablets out there that can turn into a smart display with the right accessory, none does it as well as the Google Pixel Tablet. Here's Google's newest Pixel Tablet to take on the role of a flagship tablet and smart home display.
Google Pixel Tablet 2023
The Google Pixel Tablet is Google's latest tablet offering that carries the Pixel name with a twist. It comes with a charging speaker dock right out of the box. When you dock the tablet magnetically to the charging speaker dock, it turns on its hub mode, switching into a full-fledge smart display. And, while the likes of Lenovo have tried to do this in the past with the optional speaker docks for their Lenovo tablets, none does it so beautifully (literally) in matching colour options and integrate so well with Google's software and hardware ecosystem.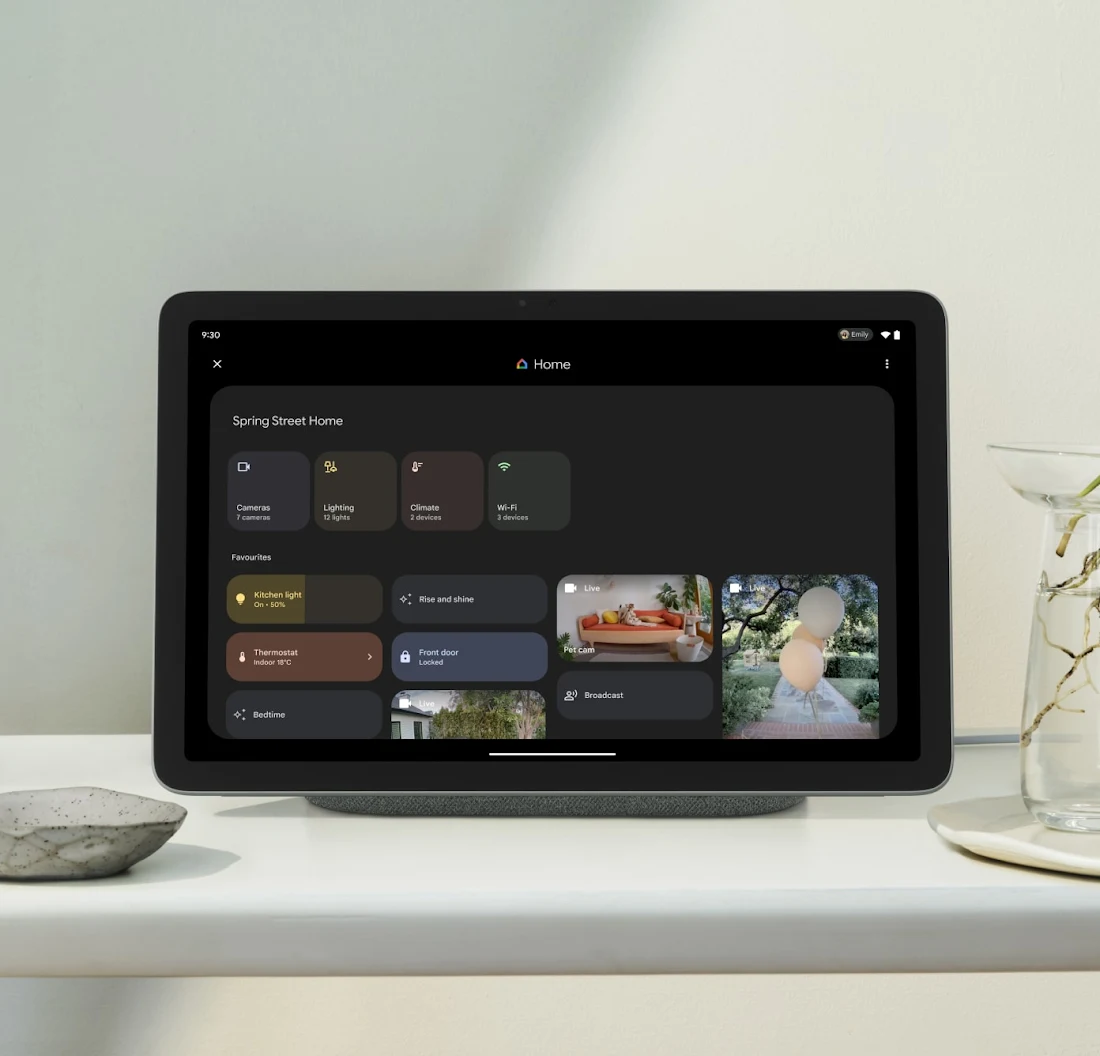 Other tablets with optional speaker dock.
As an 11-inch Tablet
First off, this is a good size 11-inch tablet. It is a shame that Google did not make a bigger 12-inch option to match Apple and Samsung's flagship tablet offerings. This may be something for the engineers at Google to consider. For now, we will just have to make do with the 11-inch device.
The Display
It doesn't disappoint as the 10.95-inch corner-to-corner display is a bright 500 nits LCD display that packs a plenty of pixels (2560 x 1600 resolution) to produce brilliant and smart images in a more web browsing friendly 16:10 aspect ratio. It even comes with an anti-smudge coating and support for USI 2.0 stylus like the Penoval USI 2.0 Stylus or the Lenovo USI Pen 2.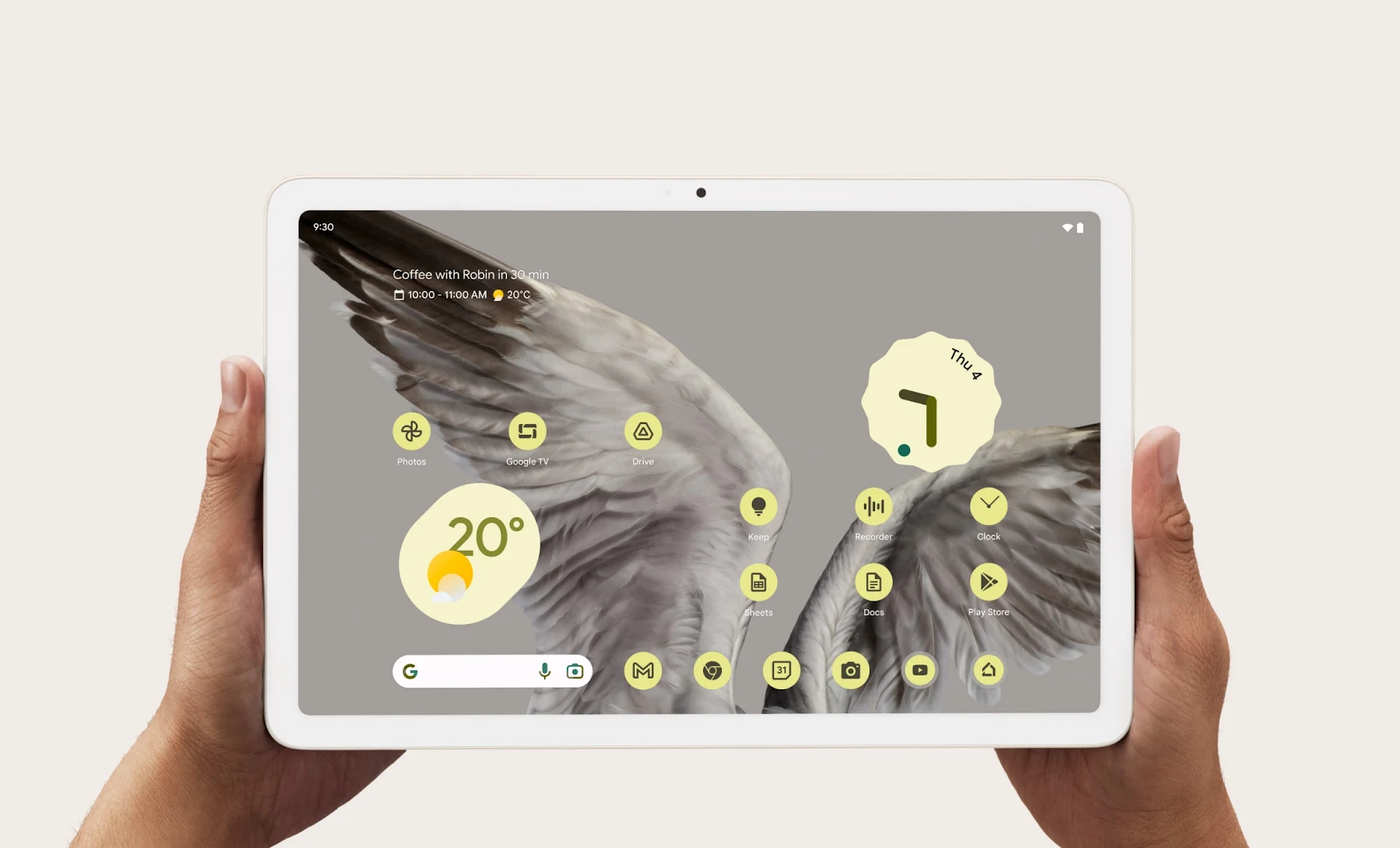 Search Google Pixel Tablet on Amazon
The Bezels
That display is wrapped all around with even bezels in white for the 'Porcelain' coloured model and in black for the 'Hazel' coloured model. The corners of the display are rounded too again with the rounded bezels to match. The front facing camera and sensor is housed in the top bezel in portrait mode so you conduct your video calls in said mode without your fingers getting in the way.
What we love about the Pixel Tablet is how the User Interface works with the tablet's physical outlook. Those pill shaped search bars, circular icons and pill shaped weather widget are the same as those found on Pixel Phones' UI but recoloured and resized to blend perfectly with the tablet's design.
The Processor
The Pixel tablet is also powered by Google Tensor G2 chip, the same processor used in Google's smartphones, the Pixel 7a, 7 and 7 Pro as well as Google's first foldable smartphone, the Pixel Fold.
Google's second generation SoC is co-developed with Samsung and now uses the Mali-G710 GPU rather than the G78 making it 20% more performance and efficiency. However, it is still not as powerful compared to Snapdragon 8+ Gen 1 and Apple A16 Bionic in CPU performance. But it is not all about the CPU these days.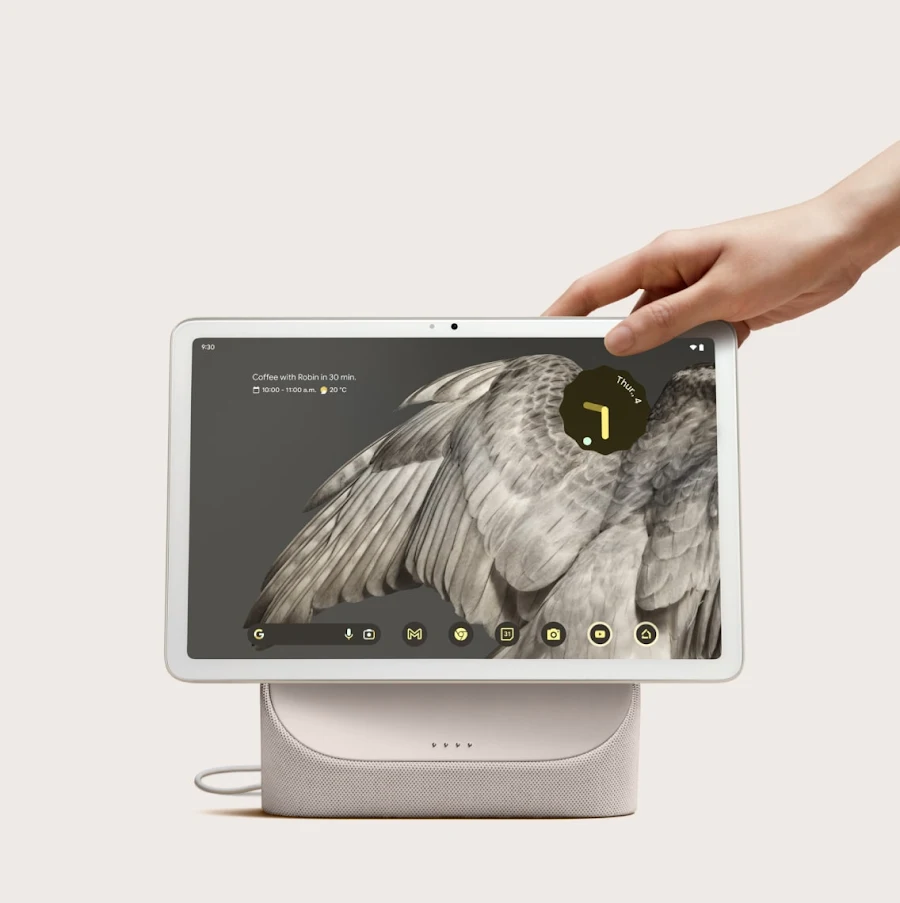 Search Google Pixel Tablet on Amazon
The Smarter Choice – AI and ML
Being a custom chip means Google had a hand in its design, especially with the inclusion of the new Tensor Processing Unit (TPU), state of the art AI and ML unit. Machine Learning will run 60% faster on the chip with 20% more power efficiency. This helps with things like speech recognition to translating conversations, voice assistance and AI-driven features. It also comes with a powerful Image Signal Processing (ISP) for image enhancing, including photos captured by other devices. Remember the Magic Eraser on Pixel phones? Both TPU, ISP and powerful GPU combined to make this a great chip.
Plays well with other Pixel devices
By that we mean the Pixel smartphones and compatible Android phones and tablets. The Pixel Tablet supports Nearby Share. Akin to AirDrop on iOS and MacOS devices, this lets you quickly and securely share files, phones, contacts, links and videos with others.
Storage Options
Apart from the two colour choices, two storage options are available. They are the base 128GB and the bigger 256GB with a price difference of a hundred.
As an 11-inch Smart Display
What about as a home smart display? When docked, the tablet not only recharges its battery, that by the way on a full charge delivers up to 12 hours us, but turns into a smart display. This means you can summon the voice assistant hands-free, in this case, use 'Hey Google' to get news updates, weather, recipes, search and watch video on YouTube.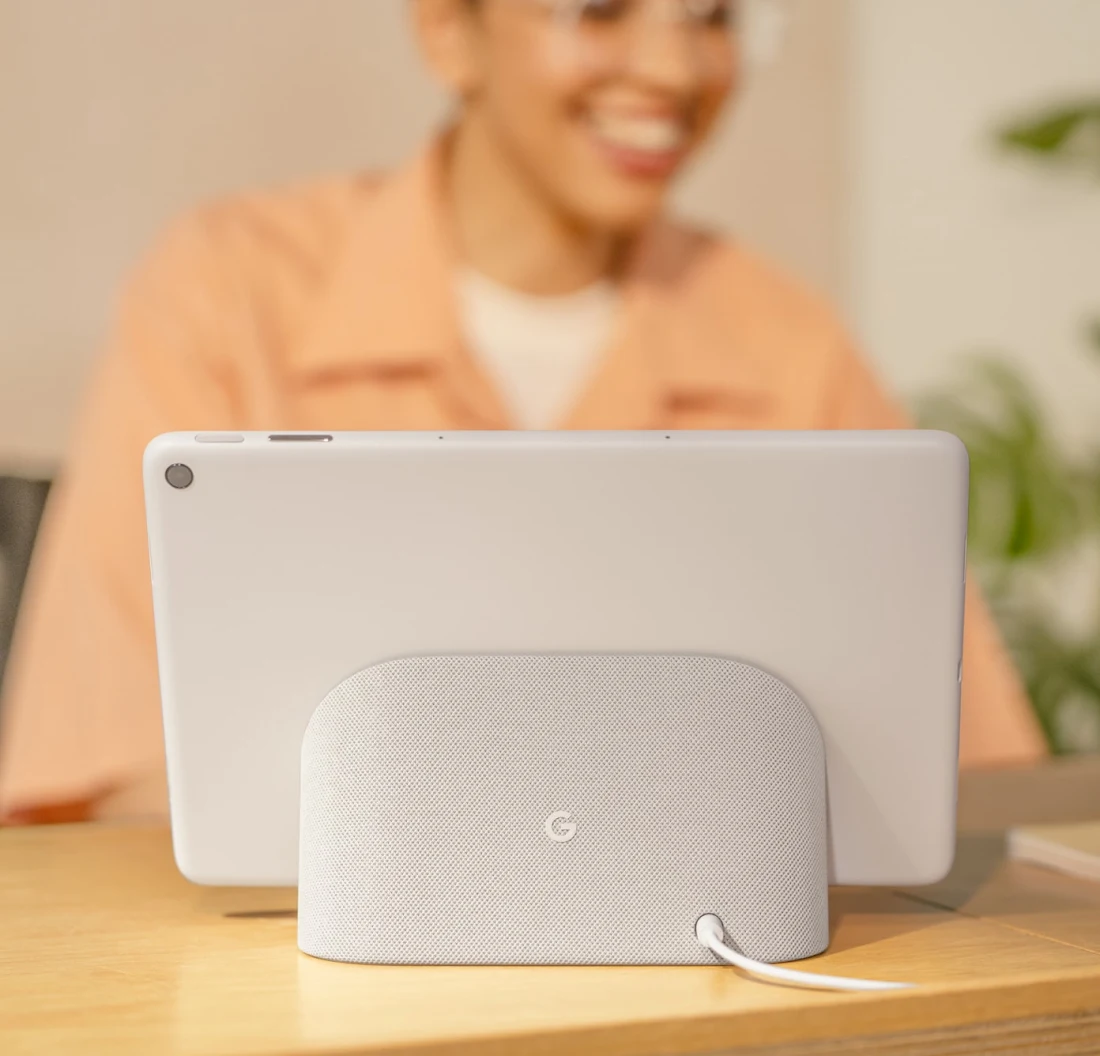 Be the Boss of Your Smart Home
You can also use the touchscreen display or voice assistant to control compatible smart home devices such as smart thermostats, lights, door locks and cameras. Use the Google Home app as the hub to bring all your compatible smarts in one place. It now has a new and improved interface with more personalised and organised view.
Cast Video and Music
On the subject of playing well, the Pixel tablet is also the first with Chromecast. Remember those new generation white and pale coloured Chromecast with Google TV dongles that came out in 2022 and Smart TVs from the likes of Sony with Chromecast built-in, Pixel Tablet is capable of Chromecast too. What it does is it lets you share your music or video from your Android smartphone to the 11-inch display and speaker dock.
Video Calls
Smart display won't be a smart display without the ability to make video calls. Make video calls via Google Meet using the tablet either docked or on the go. The front facing 8MP fixed focus camera will do the job. It's a pity it doesn't come with ultra wide viewing angle and ability to pan and zoom automatically, a feature you would expect a flagship tablet to have.
Digital Photo Frame
If you store your photos in Google Photos, you can set the Pixel Tablet to show your vacation or family photos from there as your screensaver. This takes the Digital Photo Frame idea to the next level as if you have the same Google Photos account logged in on your smartphone, the photos you take will end up showing on the docked tablet via the cloud.
Turn Your Tablet into a Smart TV with Google TV
What if you can bring all your streaming subscriptions (and shows) under one Smart TV app and make it available on your Tablet. This is what Google has accomplished by making Google TV app available on the tablet. Admittedly, you can install the same app on other Android tablets and do the same, except you have it on Google's own tablet. It is Google's answer to Apple TV. Bringing together all the subscriptions under one app, means you don't have to jump between different streaming services to find your show. Google will search streaming services, live TV, music, sports, apps and even YouTube for the shows you are looking for.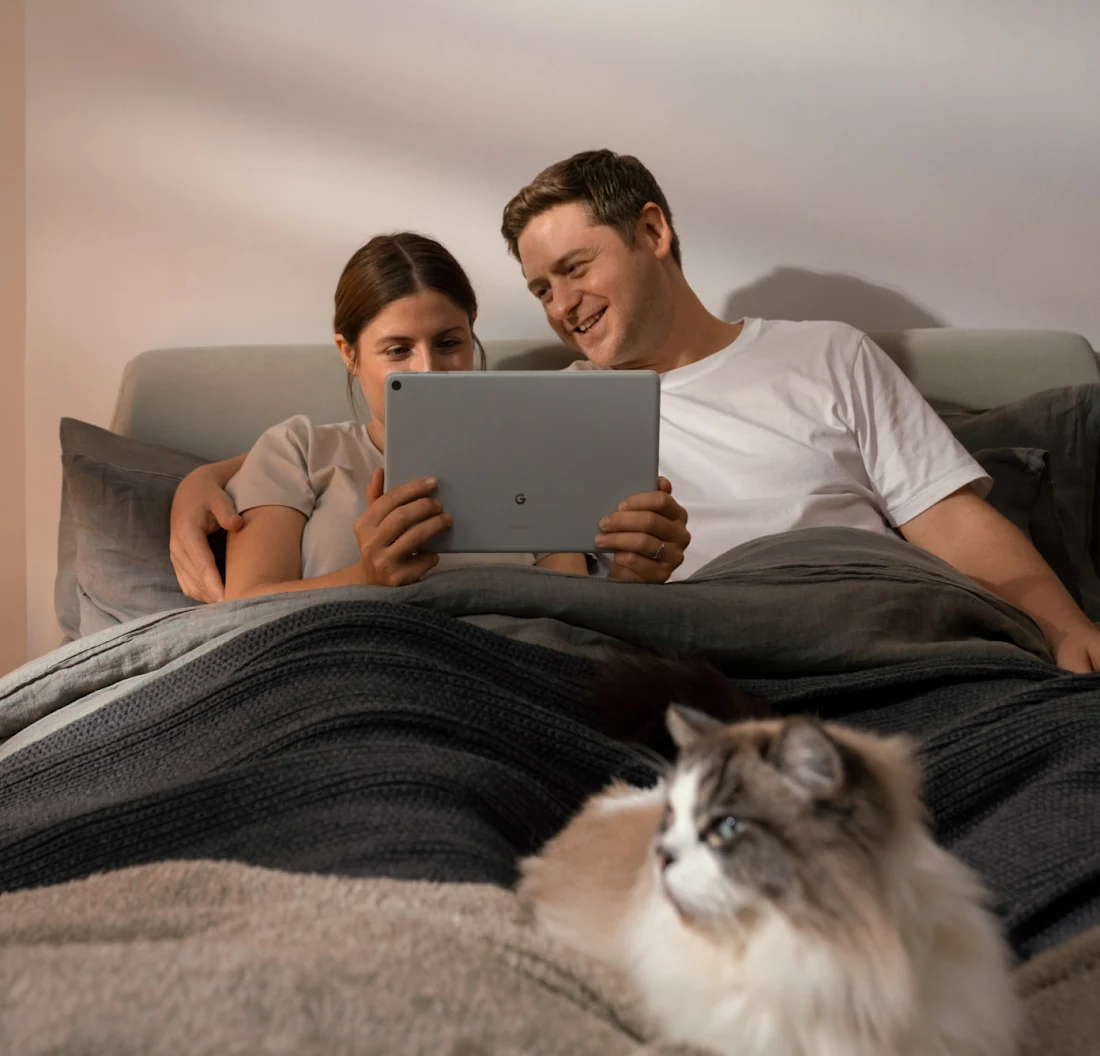 Other Interesting Accessories
If you want another Charging Speaker Dock so you can move from home to the office and still be able to dock and charge, it is available to buy separately although we think it is rather pricey. There is however, a fancy colour matched case to protect your tablet from bumps, scratches and drops. Fancy because it has a one-of-a kind kick stand made from a polished steel oblong ring that when unfolded can set the tablet at almost any angle. When folded, it serves as a guide, allowing you to dock the tablet perfectly and without getting in the way. This is well thought out design. Kudos to Google.
Third party accessory are also available from Speck such as the Speck ShieldView Glass Screen Protector and the Speck StandyShell Case.
You can find more essential accessories for Google Pixel Tablet to turn it into a productivity tool here (on our sister site).
Final Thoughts
As flagship tablets go, Pixel Tablet lives up to its name. It is a pity that Google did not offer a keyboard cover nor a stylus to go with the tablet. You will need to get third party accessory e.g. Bluetooth Keyboard that works with Android OS for that. Both will allow you to explore the tablet as a productivity tool which it is more than capable of being.
Out of the box, this is a very capable tablet and when you are not using it as such, it is a very powerful smart display. A unique two-in-one offering for more ways to use your tablet or smart display depending on which way you choose to look at it. In choosing this over a standard tablet and a separate smart display, you may be saving yourself some money there too.
Talking about money, the Pixel Tablet with the charging speaker dock is priced to sell. It is around the price of an iPad Air 10.9-inch and we know Apple does not have a speaker dock with the Air. It is certainly cheaper than the iPad Pro 11 and Samsung Galaxy Tab S9 11-inch. Again, the latter two tablets do not have charging dock options let alone external speakers.
Of course, it won't be a Google product if not to push Google service. For a small subscription, you can get 100GB cloud storage to use across Google Drive, Gmail and Google Photos with Google One. Three free months of Google One is included. Then there is the more expensive subscription of YouTube Premium. This lets you enjoy YouTube videos and music without those annoying ads plus you can use view them in the background or make them available offline.