Powered by Snapdragon 870 flagship performance chip, equipped with a fast 144Hz WQHD+ display and wrapped in all metal unibody chassis, the Xiaomi Pad 6 carried on the flagship torch from Xiaomi Pad 5 with a great many improvements. We take an in-depth look at the flagship tablet and why we think it is the best value tablet in the market right now.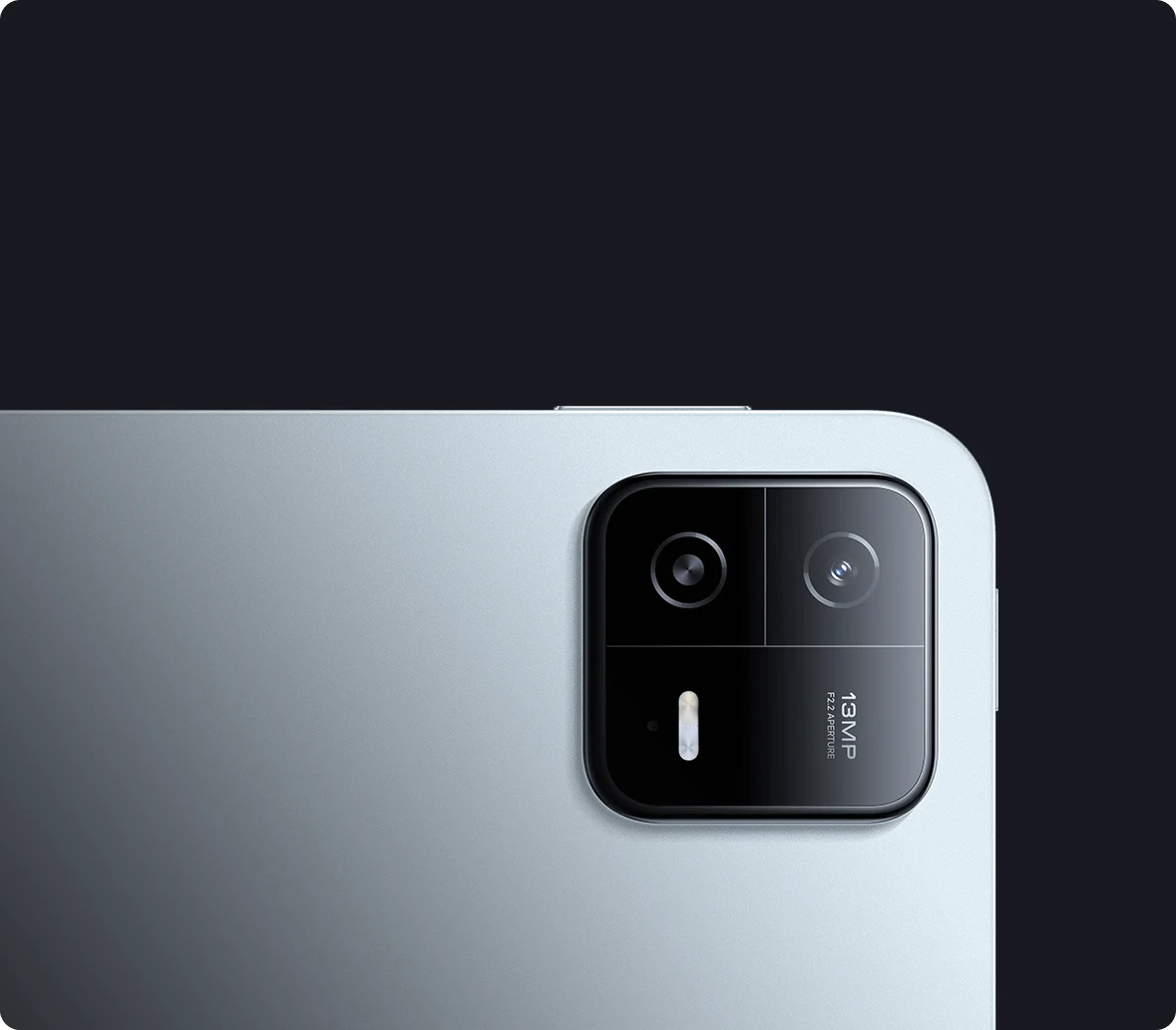 The 11-inch tablet segment just got hotter with companies like OnePlus, Xiaomi and Honor moving in with their offerings to challenge the companies like Apple and Samsung. Here are the choices for buyers of 11-inch tablets:
Honor Pad X9 11.5-inch
Apple iPad Air M1 10.9-inch
Samsung Galayx Tab S8 11-inch
Apple iPad Pro M2 11-inch
However, there is another challenger in the market more from Xiaomi, the Xiaomi Pad 6. It stands out among the 11-inch tablets for quality, performance and above all value. Let's take a look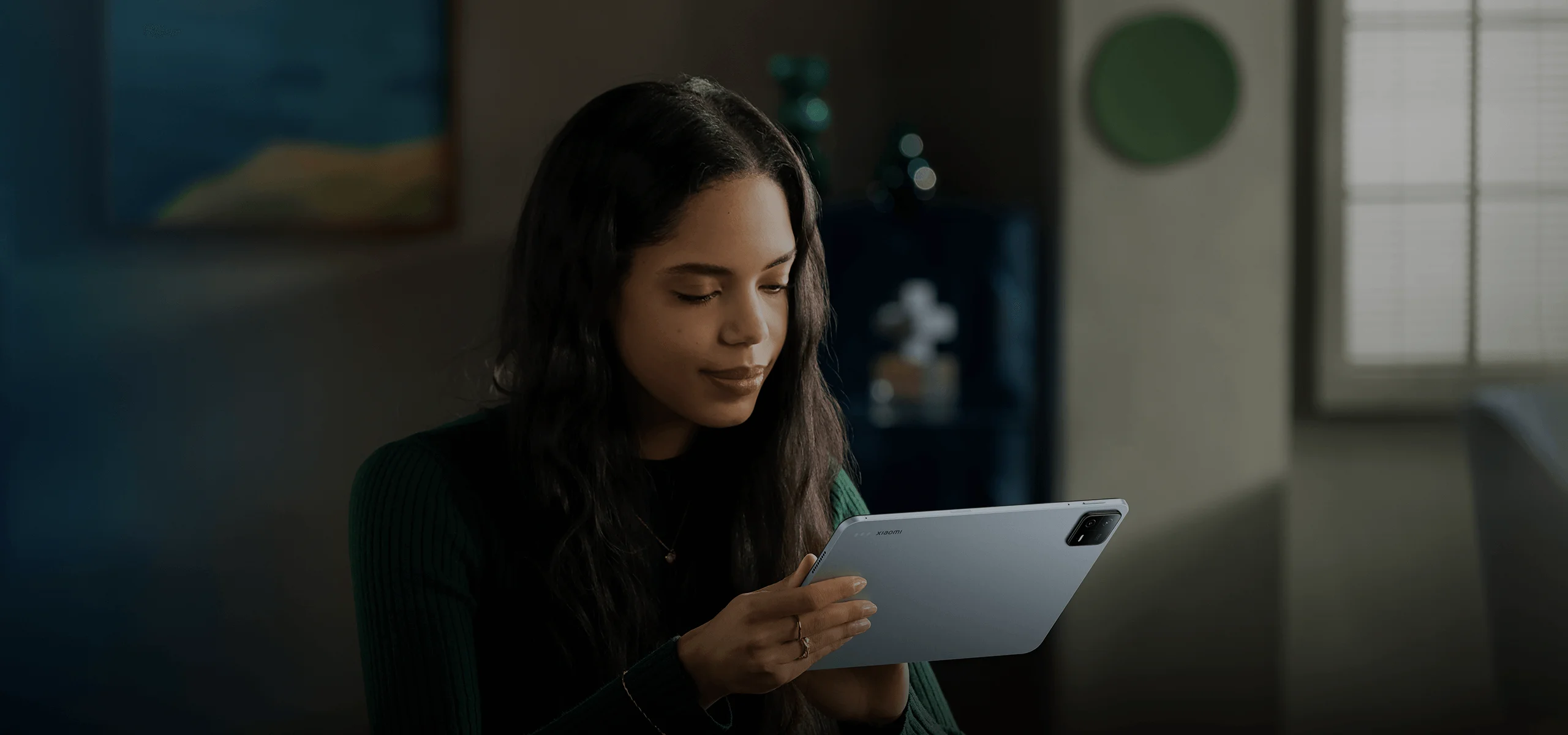 The Best Value Flagship Tablet
For its price, you do get a lot for your money. Priced to compete with the entry level Apple iPad 10.2 9th gen, it punches above its class as a mid-range tablet going all out with an upgraded chip, the Snapdragon 870. Previous Xiaomi Pad 5 reviewed here is powered by Snapdragon 860 so this looks like the next generation device, especially when they share the same size display. The number in the name is akin to the number used to describe different generations of smartphones e.g. iPhone 14 and iPhone 15. So why would we consider this a great value flagship, let's start with the design and work our way down the list.
1. Premium Flagship Design
Available in three different colours; Gravity Gray, Mist Blue or Gold, the premium metal unibody design gives the tablet a flagship tablet feel. Pick up the tablet and you will immediately realise how thin it is and if you must know, it measures 6.51mm thin. It looks every bit an expensive tablet with the display reaching all the way to the edge, keeping the bezel small and hugging the rounded corners. The complete package weighs only 490 grams. For comparison the iPad Pro 11 measures less than 1mm slimmer at 5.9mm thin and a smidge lighter at 468 grams in weight making the Xiaomi Pad 6 a device that costs only a fraction of the iPad Pro 11, a treat.
2. Flagship Level Performance
With a flagship class chip, the Snapdragon 870 Mobile Platform, there is nothing the tablet can not do. It will handle multi-tasking, app switching, game loading, graphic intensive games and large file swiftly. It will even let you edit 4K video with the right app as well as other processor intensive applications. It is all thanks to the speedy combination of fast chip, fast LPDDR5 memory and fast UFS3.1 storage. Together, they offer better performance while consuming less power. No compromise on performance.
3. Super Fast Display
The 144Hz super fast display looks brilliant. Everything feels smooth like butter when it comes to scrolling, video motion or simply swiping between pages. The refresh rate can be adapted automatically choosing one of 7 different levels. It also packs plenty of pixels at WQHD+ resolution or 2880 x 1800 pixels, giving it a respectable 309 ppi density.
The panel also supports DCI-P3 colour gamut, over 1 billion colours and is TUV Rheinland Low Blue Light certified. We are also impressed with its brightness at 550nits and the presence of an ambient colour temperature sensor that helps set the display for optimal viewing. Although, we have to say that the contrast is not all that great at 1400:1 ratio.
However, the biggest pull has to bet support for Dolby Vision and HDR10, making it perfect to enjoy streaming media that supports it. Xiaomi pull out all the stops for Xiaomi Pad 6.
4. Superb Sound with Dolby Atmos support
On the subject of Dolby Vision, wouldn't it be great to accentuate it with Dolby Atmos surround sound. That's exactly what Xiaomi has done for Pad 6. Putting its quad firing speakers to work to produce a loud cinematic sound great enough to fill a small room. The speakers support that all important Dolby Atmos for three dimensional audio experience.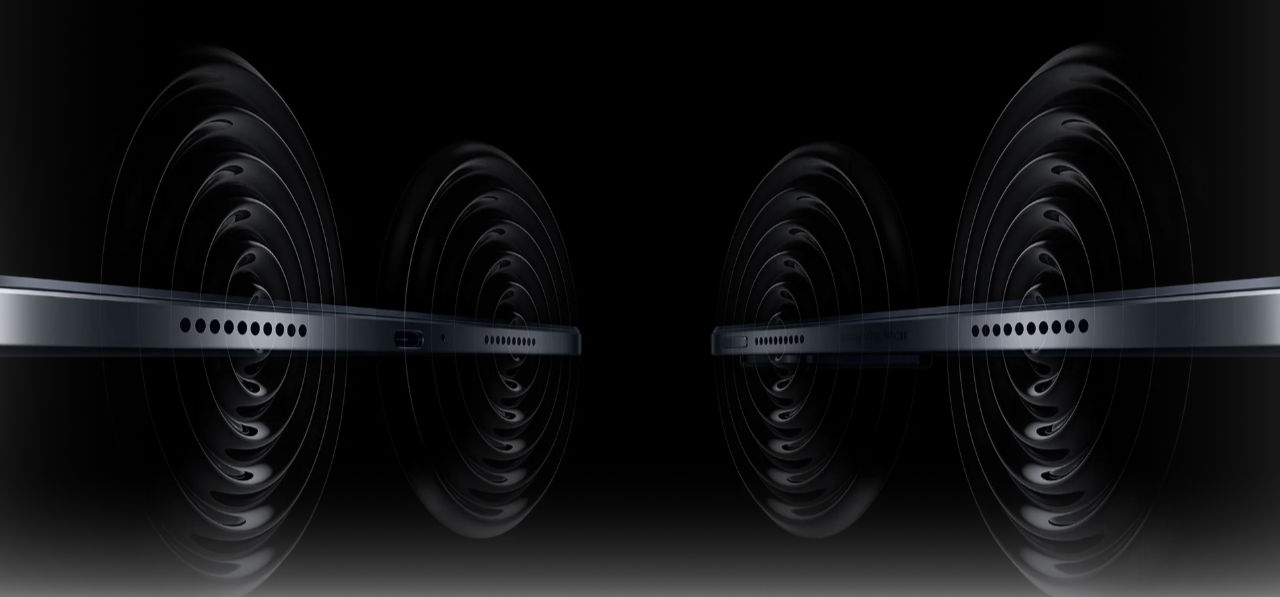 5. Big Capacity and Long Lasting Battery with Super Fast Charging support
We are blown away with the battery configuration and fast charging strategy that Xiaomi adopted for their smartphones. Here, it is no different. The tablet supports 33W charging that will take the high capacity 8840mAh on-board battery from zero to 100% in under 100 minutes. Once topped up, it will last in standby for up to 26.9 days, play music for up to 65 hours and video for up to 16 hours. If you are an avid reader, know that the tablet will last for up to 23 hours.

Many more tricks up the MIUI sleeve
Instant Split Screen
If all that hasn't moved you, Xiaomi also introduced a great number of software tricks focused on improving work efficiency and productivity. Together with Android 13, the custom MIUI Pad 14 skin offers unparalleled multitasking features. They include quick split screen mode with three finger swipe giving you quick access to your daily tasks in an efficient and convenient manner.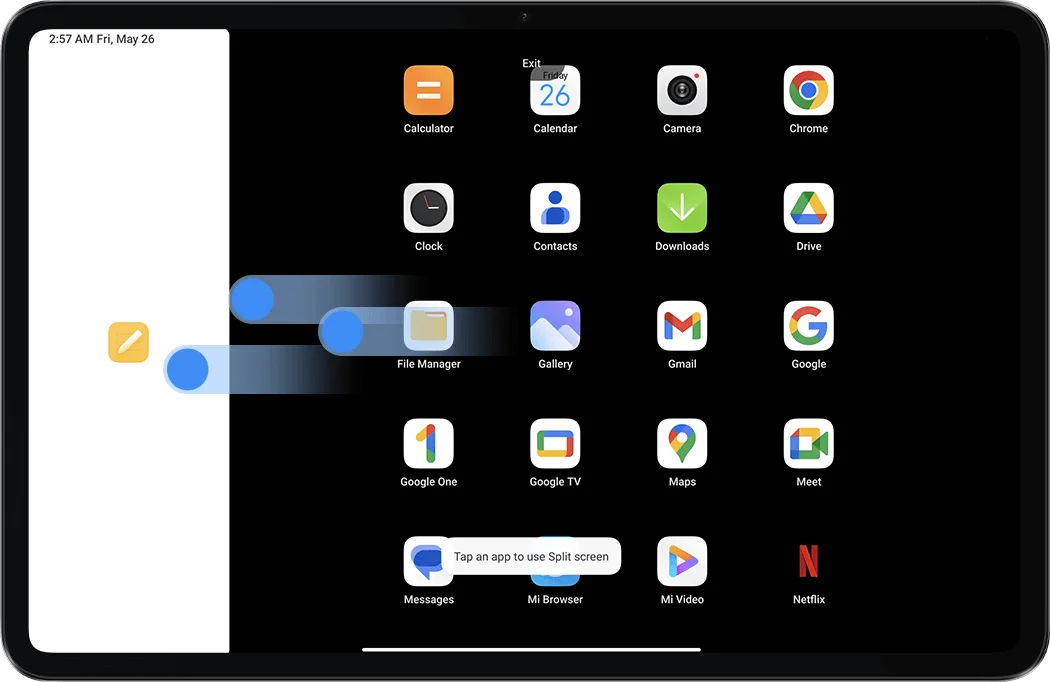 Open up to 4 apps in one go
Next, Xiaomi threw in another curve ball, letting you access up to 4 apps at once, two in the split screen and two floating windows. With four apps running simultaneously and all accessible and viewable on screen at the same time, it will match your multi-tasking ability and skills with ease. This is truly taking multi-tasking on a tablet to the next level.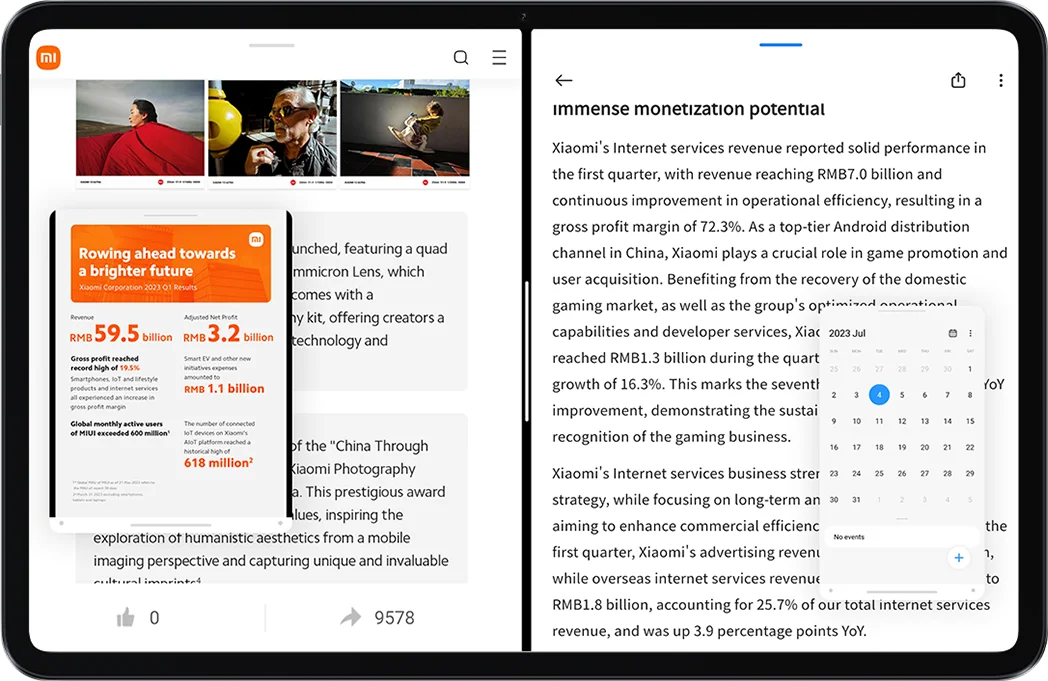 Xiaomi has also made copying and pasting between apps as easier with drag and drop. It is intuitive and quick to drag text, images, files to share across different apps when in split screen mode. This feature however is limited to only supported apps. But, when it works, it does truly help make productivity tasks that much easier.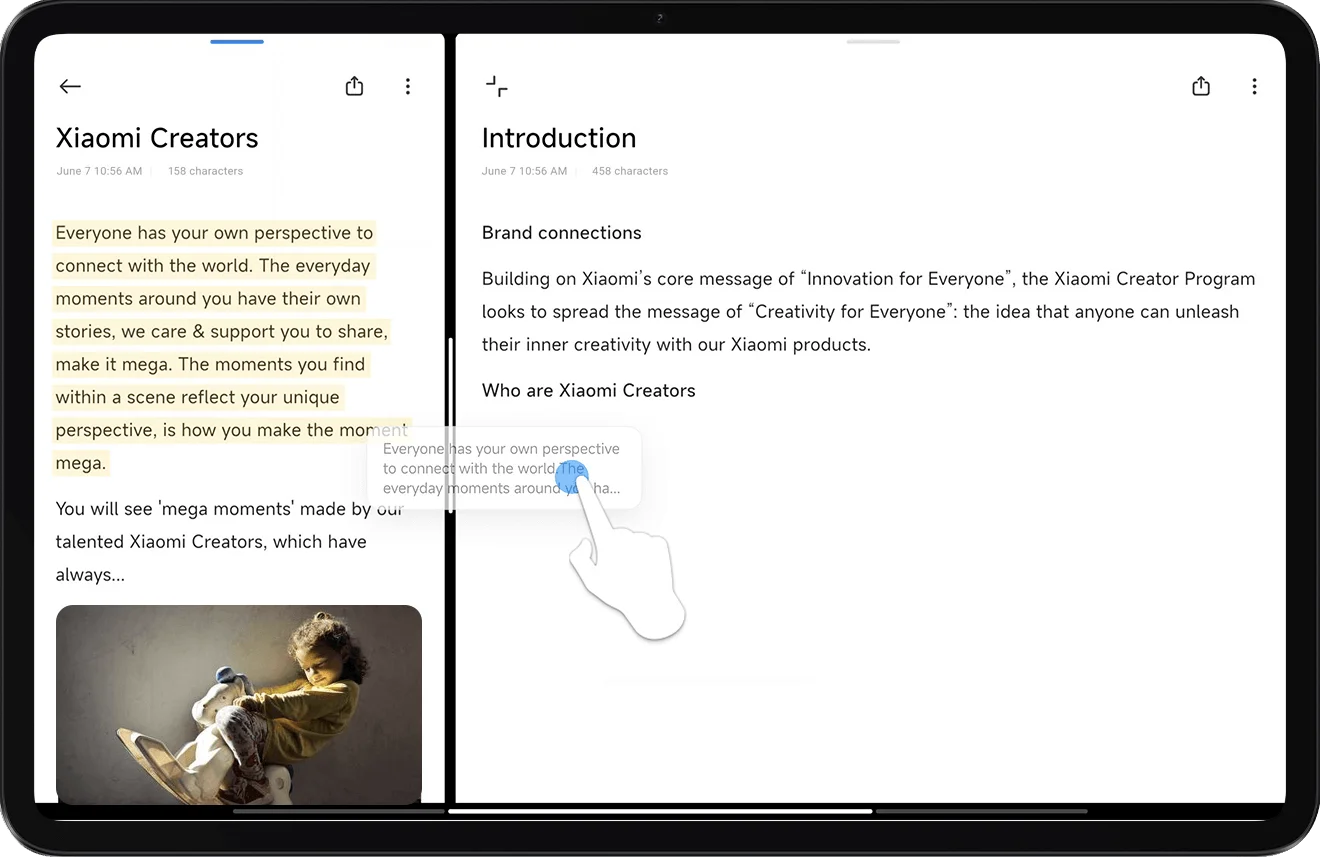 8MP front facing camera with FocusFrame and Fill Light function
Another productivity feature that no-one should be without is the auto framing of the subject during a video call. Pad 6 got you covered with FocusFrame. It will keep you entered, even when you move. panning and zooming automatically to fit. It will also accommodate someone joining the frame and automatically adjusts the frame again when they leave. But Xiaomi goes one step further by introducing fill light to make you and everyone at your end appear lit.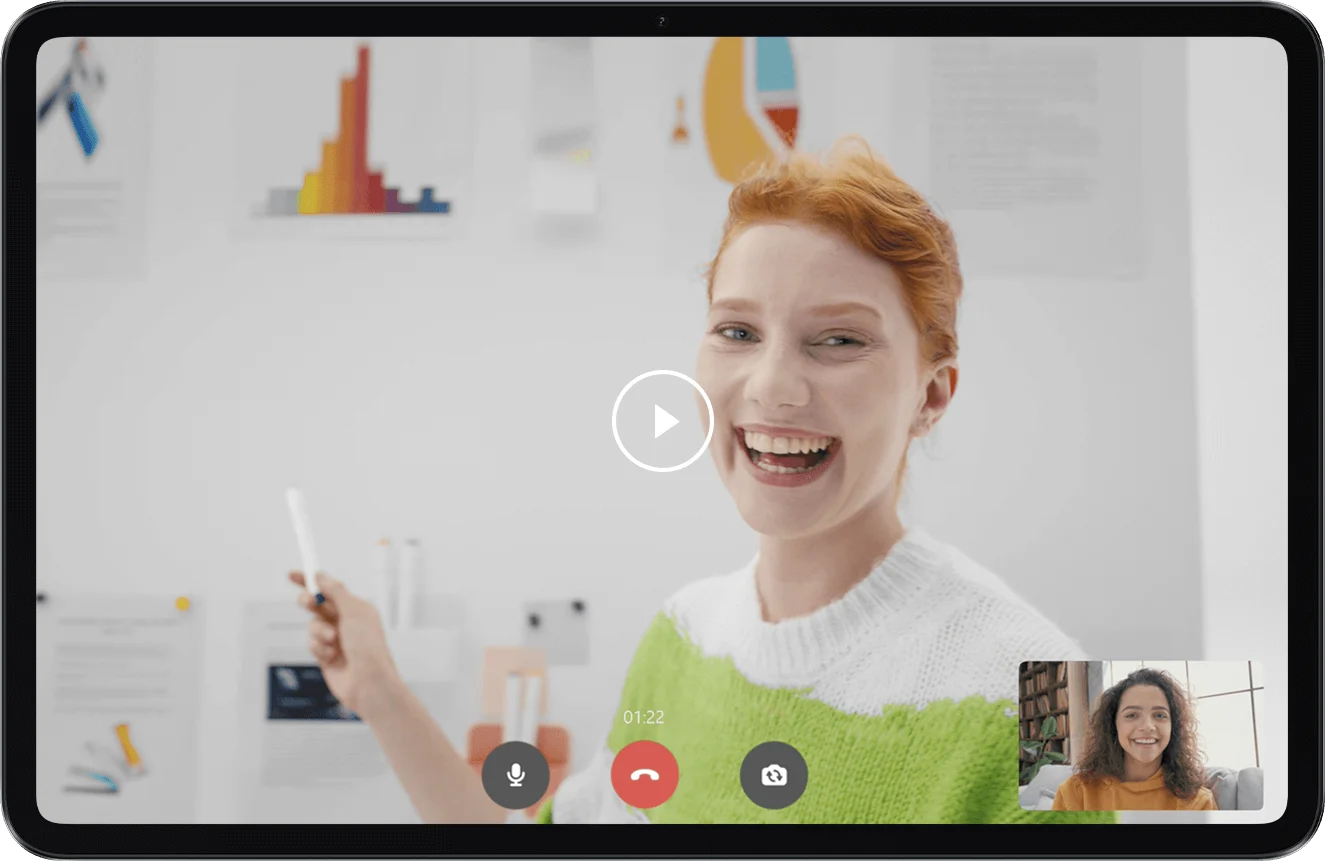 Rear Facing Camera
The rear shooter is a capable 13MP sensor capable of capturing 4K 30fps videos with f/2.2 aperture lens and Phase-Detection Autofocus PDAF. The single camera is housed in a floating island cluster together with the LED flash. While doing so makes it chunkier, it does give it that premium look and feel. Think iPad Air's single rear camera design vs iPad Pro's cluster layout.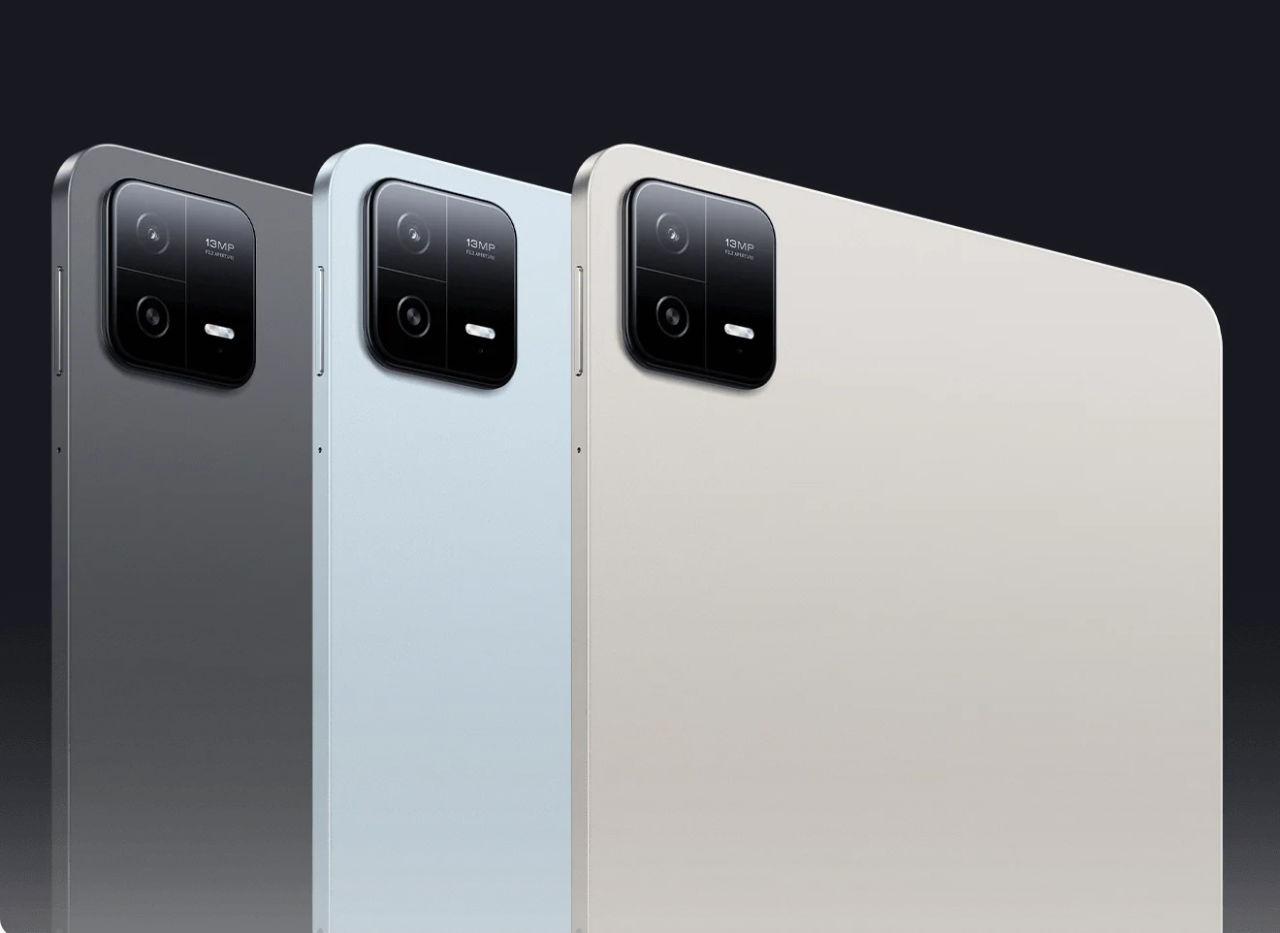 Final Thoughts
You can't talk about a flagship tablet and not talk about stylus support. While not included, the Xiaomi Pad 6 supports the optional Xiaomi Smart Pen. There is also the option Xiaomi Pad 6 cover available in matching colours and made from smooth PU material. Going back to the tablet, this is an extremely good table for its price. It has a brilliant display, powerful chip and an amazing display. Xiaomi has definitely set the bar high for other manufacturers.
Working on the device is effortless. Productivity features are intuitive and easy to accesss. At the time of writing, Xiaomi is offering the Xiaomi Pad 6 for free when you buy the flagship Xiaomi 13T Pro smartphone with 12GB memory and 512GB storage. The same offer is also available if you pick the smartphone model with bigger memory and even bigger storage (16GB and 1TB). On its own, it is already a great value, free with a smartphone purchase makes it a no brainer.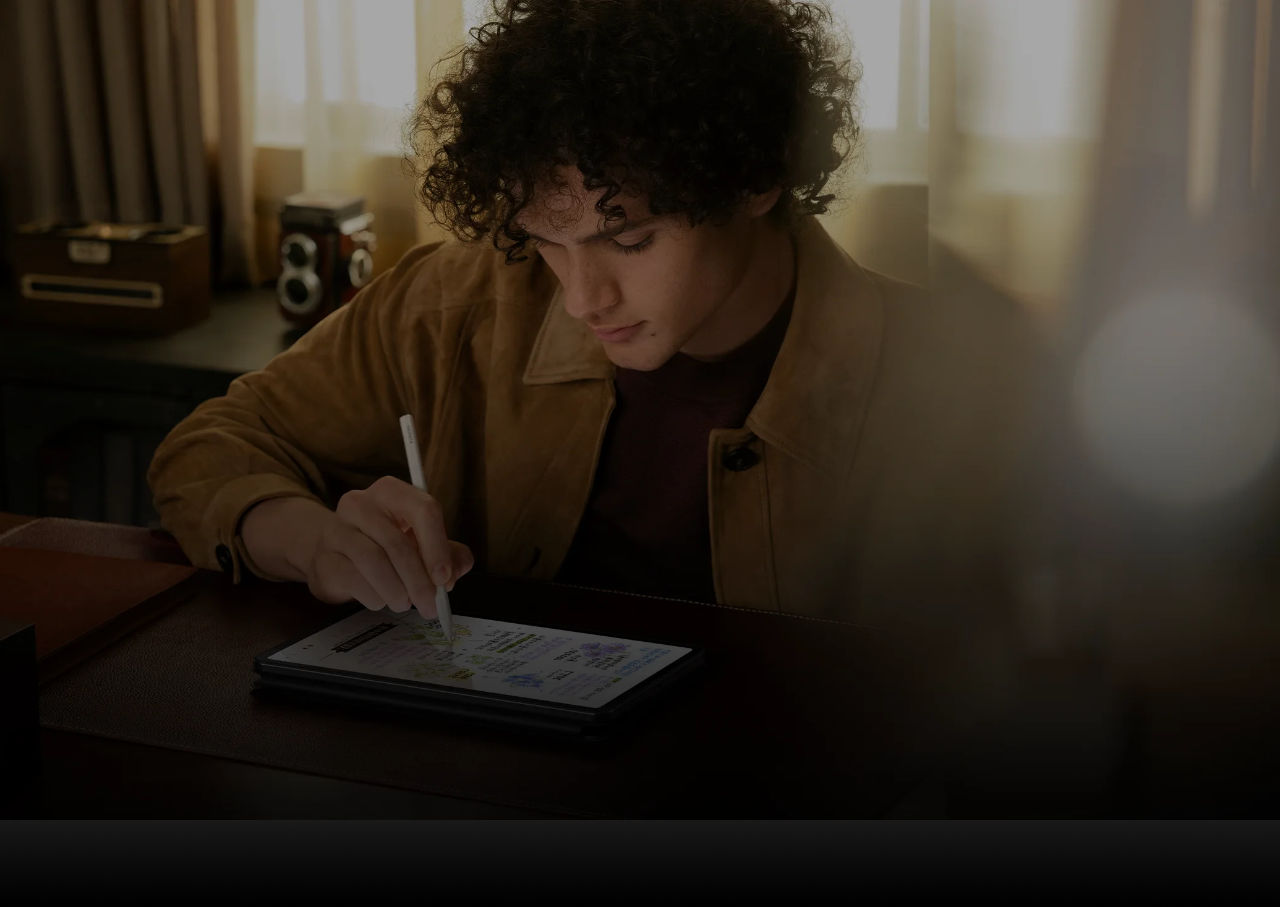 Xiaomi Pad 6 Alternatives
Don't forget the Xiaomi Pad 5, the previous generation tablet from the same company. The previous generation Xiaomi Pad 5 might have less memory and lower resolution display but if it on offer, it is still worth a look. Alternatively, consider these 5 other Xiaomi Pad 6 alternatives below:
Related: Tablets – The Ultimate Buying Guide Made Simple: How to buy a new tablet