From Xiaomi's sub-brand that caters to the price conscious, Redmi comes Redmi Pad SE with an 11-inch FullHD+ display. Bigger than the original Redmi Pad but not more expensive, the tablet is powered by the more mainstream Qualcomm Snapdragon 680 chip versus the MediaTek Helio G99. The real benefit of picking this over the Redmi Pad comes from its raw performance. Will the budget mid-range tablet beat its own Redmi Pad? Let's take a look.
Redmi Pad SE 11 vs Redmi Pad 10.61
Borrowing from Apple's SE moniker for iPhone SE, the Redmi Pad SE is seen as an affordable alternative to the mainstream Redmi Pad. However, it is not immediately obvious where Redmi Pad SE stands when it comes with a bigger 11-inch display over the Redmi Pad with 10.61-inch display. We look at the different aspects of the tablets, comparing them side-by-side to paint a clearer picture of how one tablet is better than the other.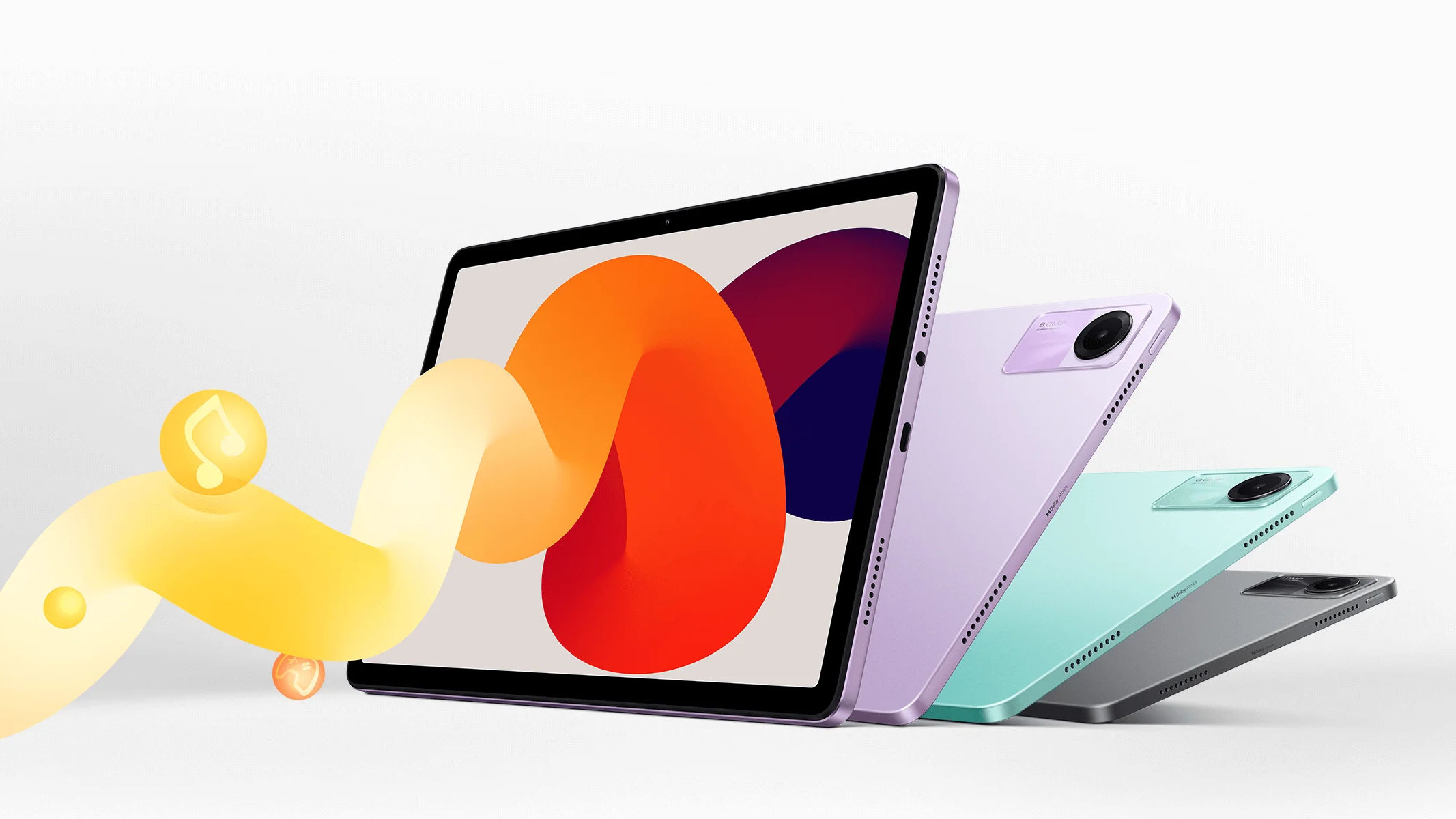 1. Qualcomm Snapdragon 680 vs MediaTek Helio G99 Chip
Central to a tablets performance is in the chip used. In this case, the Qualcomm Snapdragon 680 in the Redmi Pad SE vs the MediaTek Helio G99 in the Redmi Pad. It is not all rosy with the Snapdragon 680 when compared to Helio G99. According to nano review.net, the 680 is given a 34 NanoReview score while the G99 is a higher 39 which puts the G99 at around a 14.7% lead even though the 680 chip has a 9% higher clock speed at 2400MHz vs 2200MHz. Overall, the G99 is just a more powerful chip in the CPU, GPU, Memory and UX benchmarks under AnTuTu 10, see table below.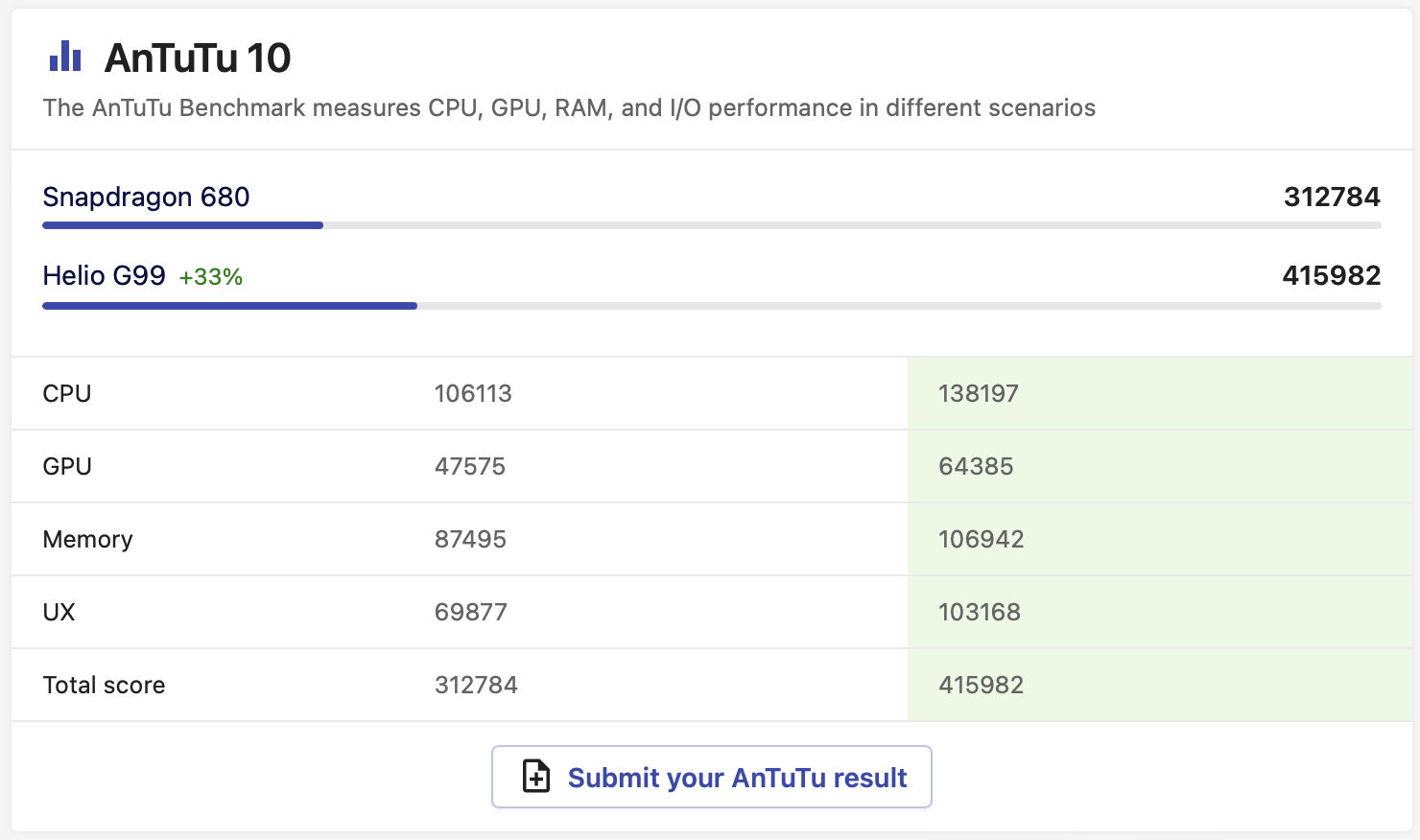 Under the AnTuTu Benchmark the G99 scores a big 33% performance gain over the Snapdragon 680. Another benchmark, the GeekBench 6, tells of a similar story with a gain of 76% in the Single-Core Score and 37% in the Multi-Core Score. This is a more practical benchmark as it deals with real life applications on the phone such as using compression, browsing the web, rendering PDF, detecting image, performing HDR, creating background blur, processing photo and ray tracing. Ultimately, all these activities point to a higher processing rate on the Helio G99. But what is really the icing on the cake is the GPU score, the Helio G99 performed 130% better than Snapdragon 680 in the Computer Score.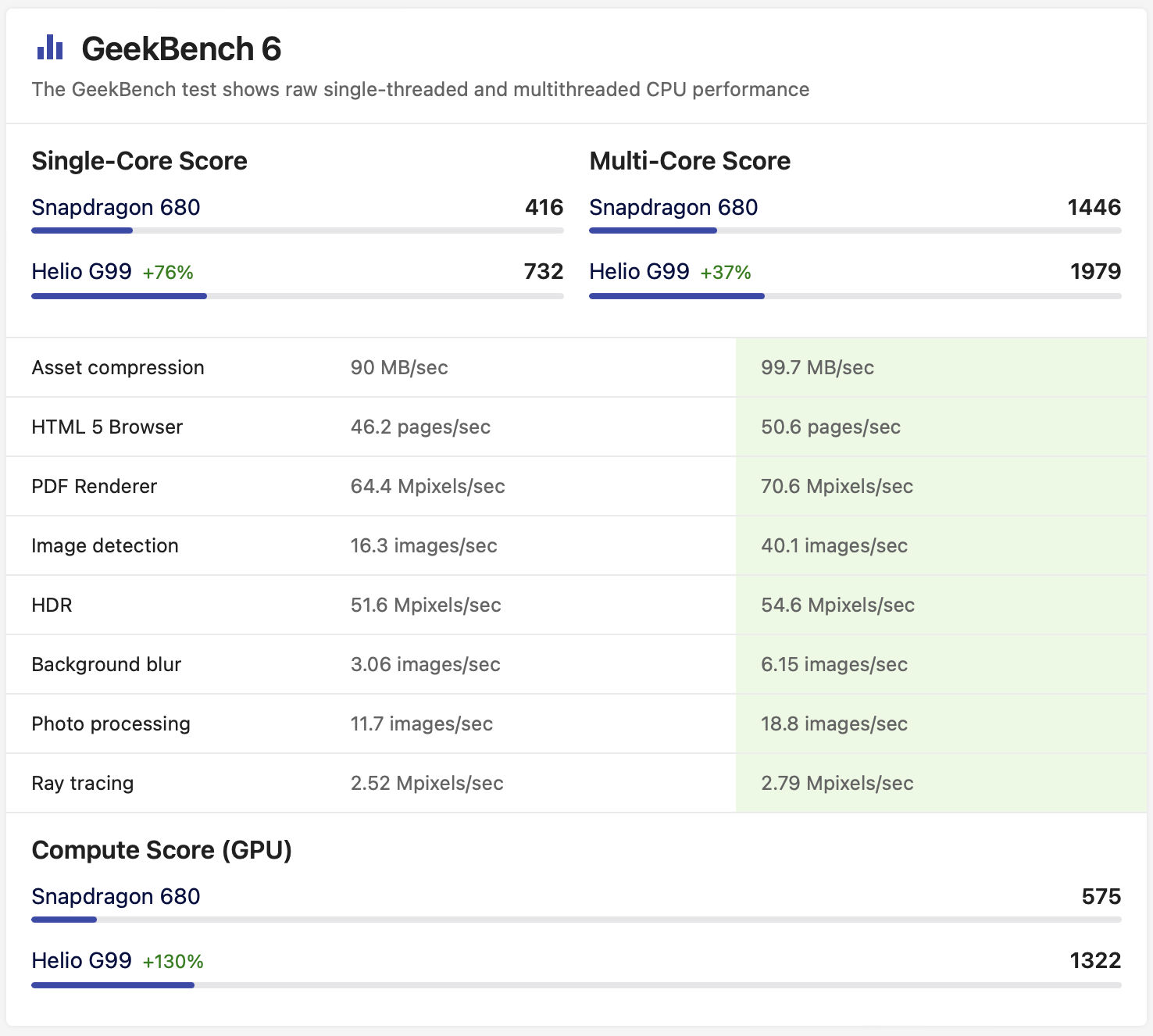 Winner: Redmi Pad for battery CPU performance
2. GPU Performance
The huge gain the GPU performance in the Helio G99 over the Snapdragon 680 is again proven in the 3DMark benchmark. In 3DMark Wild Life Performance below, the Helio G99 shows nearly twice the performance over the Snapdragon 680 at a huge 184% gain.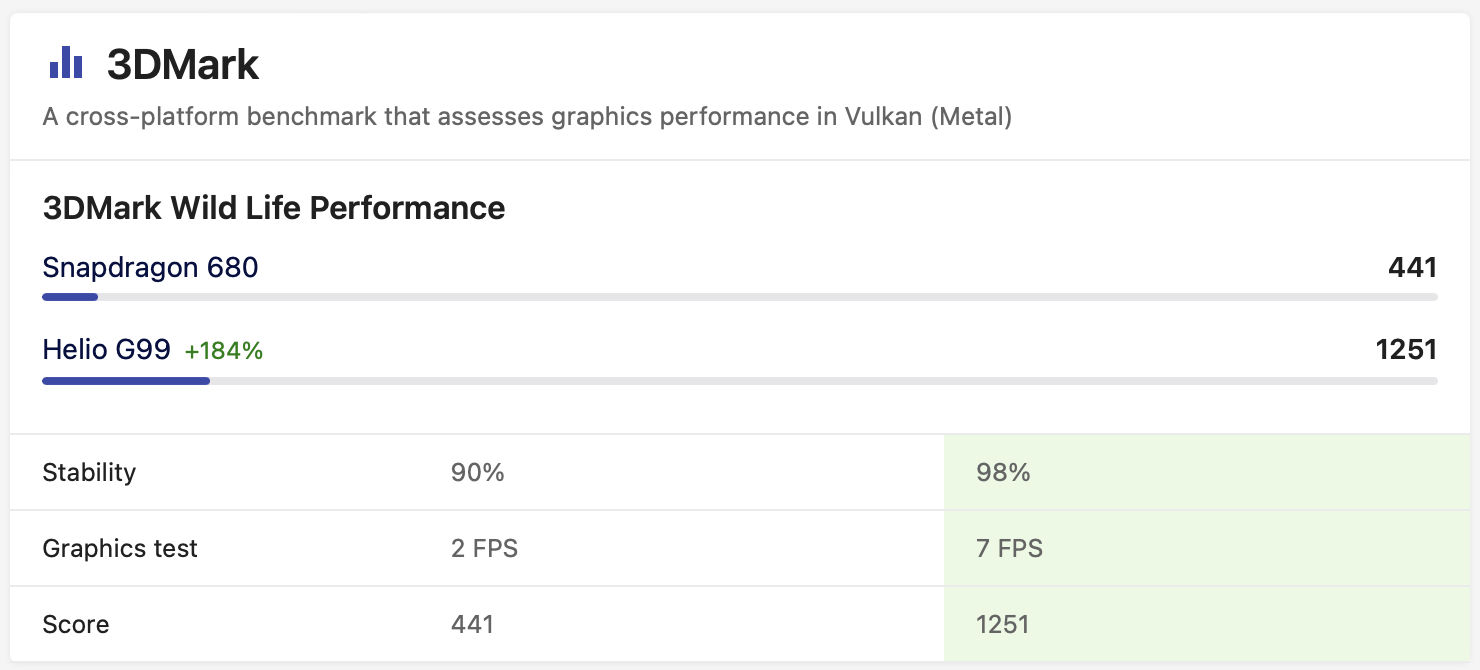 But the real acid test is in actually pulling off high Frames Per Second (FPS) in a handful of games and comparing the average frame rate based on the same or higher graphics settings. Helio G99 shines again pushing much higher frame rates and in some cases at higher graphics settings in games like Call of Duty: Mobile, Shadowgun Legends, World of Tanks Blitz, Genshin Impact and Mobile Legends: Bang Bang.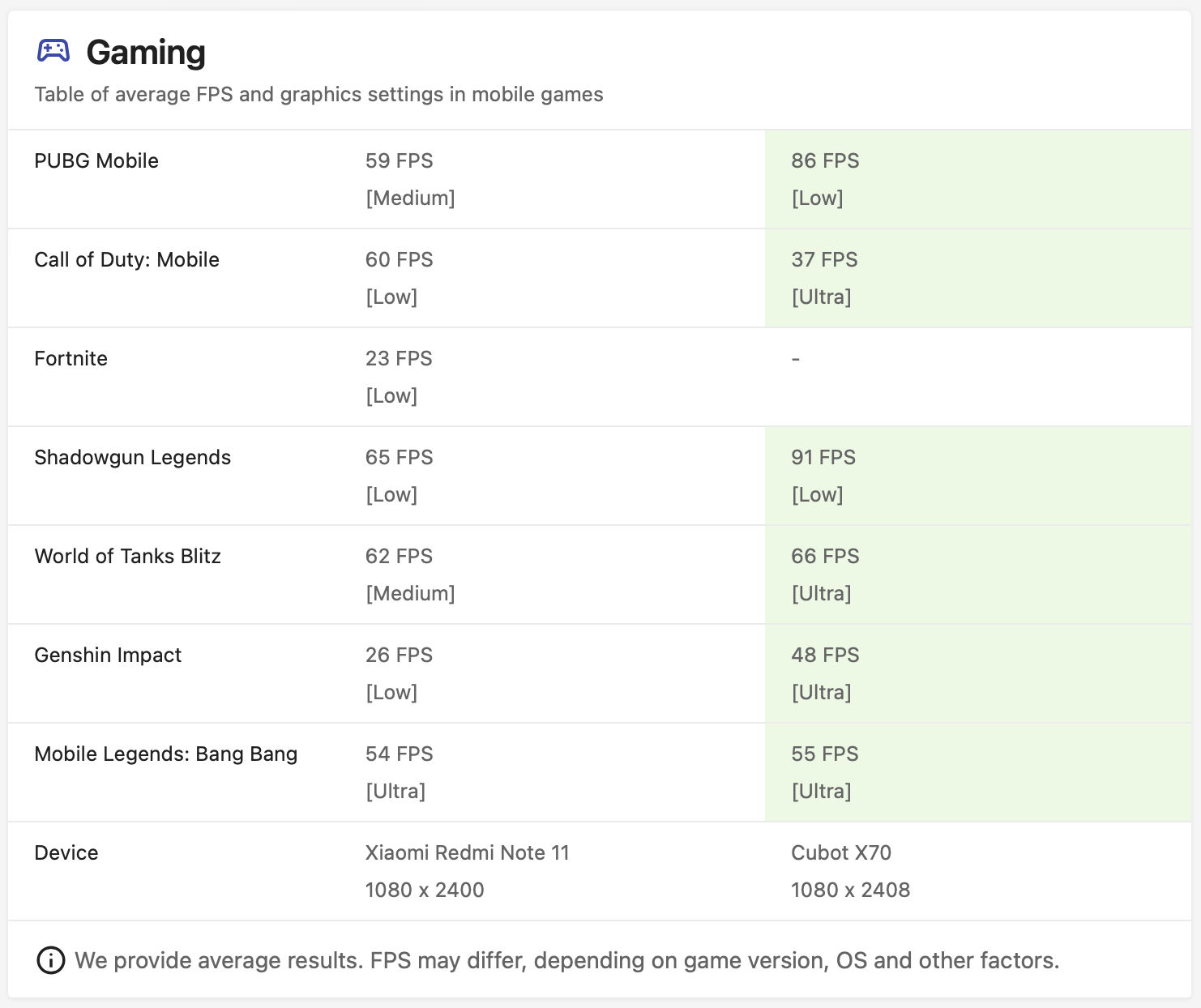 Benchmark results are drawn from Nanoreview.net and are only used here to illustrate the performance comparison between the two chips.
This points out to that the original Redmi Pad powered by Helio G99 chip is a much better gaming tablet compared to Redmi Pad SE powered by Snapdragon 680. As for general productivity apps, this will also see an increase in speed and performance of up to an average of a third faster. Blackview has a quick summary comparing the two chips's architecture and which one is a better SoC.
Winner: Redmi Pad for better graphics performance
3. Storage and Memory
For a small price difference (10 pounds), you can get the Redmi Pad at the same 4GB memory and 128GB storage configuration. At the time of writing, the more expensive Redmi Pad is offered with a huge discount, pricing both tablets around the 200 mark. This makes picking the Redmi Pad SE over the Redmi Pad even tougher. What is unclear is the use of storage type. While both tablets use LPDDR4X RAM, the Redmi Pad uses the faster UFS 2.2 storage while Redmi Pad SE uses slower eMMC 5.1 storage. In comparison, the UFS 2.2 is faster in both sequential and random read and write speeds. It also has lower latency allowing the chip to access data more quickly. Both tablet comes with microSDXC slot for expandable storage.
Redmi Pad SE: 4GB+128GB / 6GB+128GB / 8GB+128GB with LPDDR4X RAM + eMMC 5.1 storage
Redmi Pad: 3GB+64GB, 4GB+128GB, 6GB+128GB with LPDDR4X RAM + UFS 2.2 storage
The following tables of comparison between UFS 2.0, 2.1 and 2.2 and the different versions of eMMC up to 5.1 are to illustrate the performance differences between the two storage technologies.
| | | | |
| --- | --- | --- | --- |
| UFS version | 2.0 | 2.1 | 2.2 |
| Year of launch. | 2013 | 2017 | 2020 |
| Storage Capacity. | 128 GB, 256 GB | 512 GB, 1 TB, Automotive versions | 512 GB, 1 TB, Automotive versions |
| Sequential Read | 350 Mbps (with 128 GB), 850 Mbps (with 256 GB) | 860 Mbps (with 512GB) | 860 Mbps (with 512GB) |
| Sequential Write | 150 Mbps (with 128 GB), 260 Mbps (with 256 GB) | 255 Mbps (with 512GB) | 255 Mbps (with 512GB) |
| Random Read (IOP/sec) | 19,000 (with 128 GB), 45,000 (with 256 GB) | 42,000 (with 512GB) | 42,000 (with 512GB) |
| Random Write | 14,000 (with 128 GB), 40, 000 (with 256 GB) | 40,000 (with 512GB) | 40,000 (with 512GB ) |
| Security Level. | Same as the previous generation. UFS 1.1 | 20% more secure than the previous generation. UFS 2.0 | Same as the previous generation. UFS 2.1 |
| WriteBooster | No | No | Yes |
| Bandwidth per lane | 600 MB/s | 600 MB/s | 600 MB/s |
| Max. total bandwidth | 1200 MB/s | 1200 MB/s | 1200 MB/s |
| M-PHY version | 3.0 | 3.0 | ? |
Winner: Redmi Pad. Even though Redmi Pad SE has bigger starting storage and bigger starting memory option, both tablets are currently available with one memory and storage configuration only at 4GB and 128GB. Redmi Pad also has faster storage.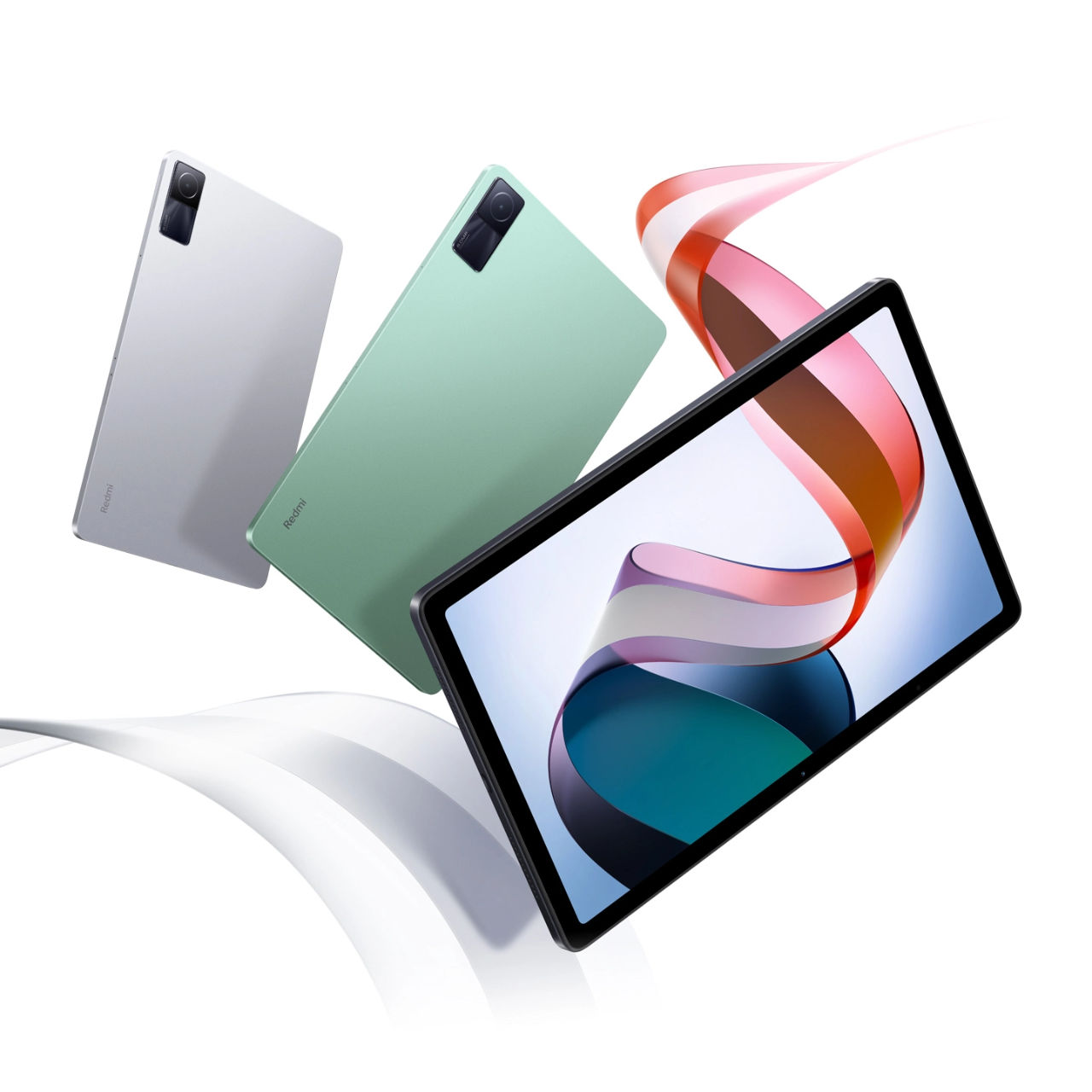 4. Display Size & Resolution
The single biggest advantage of the Redmi Pad SE is in the size of its display. At 11-inch this is bigger than 10.61-inch on the Redmi Pad. However it is not any sharper. At FHD+ resolution or 1920 x 1200 it has slightly fewer pixels compared to the 2000 x 1200 pixels on the Redmi Pad. Both panels are capable of 400 nits typical brightness and 90Hz refresh rate. There is however another advantage in that the Redmi Pad SE panel is TÜV Rheinland certified for Low Blue Light and Flicker Free. This makes it better for reading and prolonged use. If we have to decide a winner for this round, we would favour bigger over marginally sharper display, so Redmi Pad SE would be our pick.
Winner: Redmi Pad SE for bigger display
5. Chassis & Design
Both tablets have very similar designs. They even share same colour options, Mint Green and Graphite Gray. The Redmi Pad SE has a Lavender Purple option while the Redmi Pad has a. Both are wrapped in all aluminium alloy unibody chassis. Dimensions wise, the Redmi Pad SE is bigger in all directions simply because it has a bigger display. We also won't hold it against the Redmi Pad SE for being slightly heavier given the same.
Redmi Pad SE: 255.53mm x 167.08mm x 7.36mm, 478 grams
Redmi Pad: 250.38mm x 157.98mm x 7.05mm, 445 grams
Winner: On par / Draw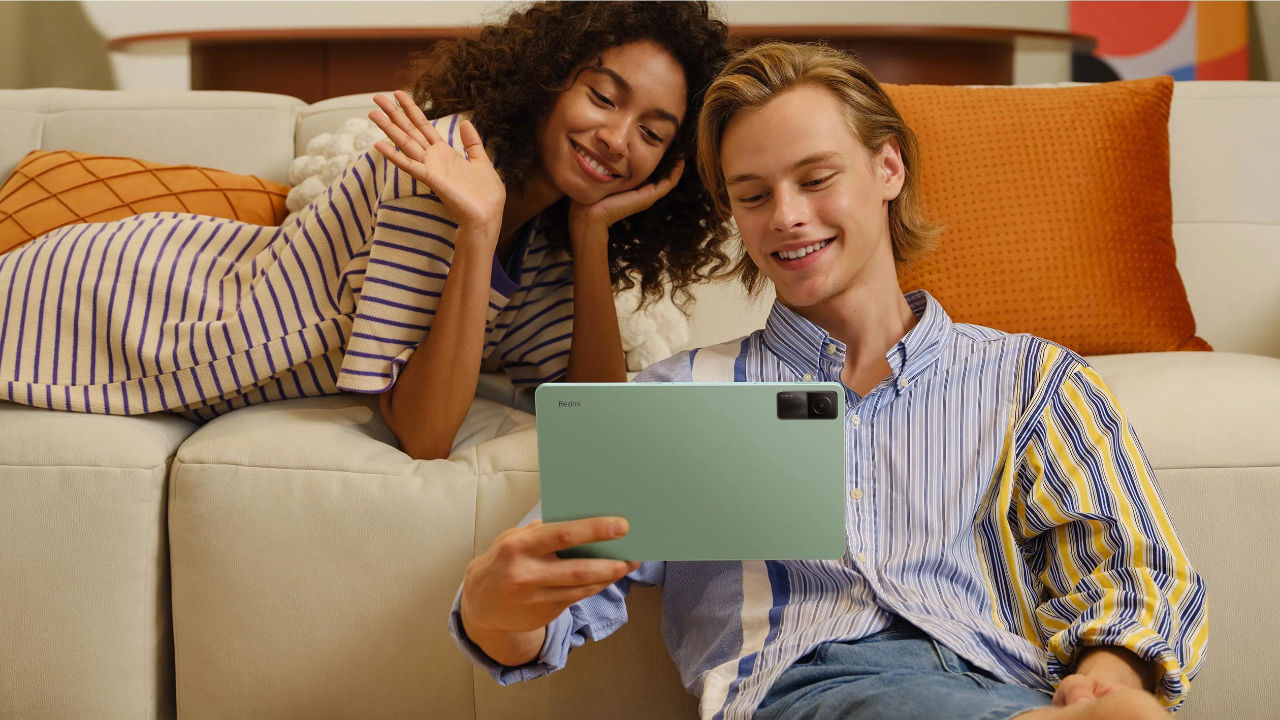 6. Cameras
Both tablets use 8MP rear camera with f/2.0 with 1.12μm pixel size sensor auto focus camera. Where they differ is in the front camera used. The Redmi Pad SE uses a lower 5MP sensor with an ultra wide lens. The Redmi Pad goes one up with a higher 8MP sensor that uses an ultra wide lens with 105° FOV and FocusFrame. The latter is where the camera will automatically track its subject and keep them centred in the Frame during video calls. It allows you to move around without worrying about the other side losing sight of you.
Winner: Redmi Pad has better front facing camera with wide angle and FocusFrame feature.
7. Sound System
Both Redmi Pad SE and Redmi Pad have a quad speaker arrangement that supports Dolby Atmos. They also supports HiRes Audio but the Redmi Pad SE carries a 3.5mm headphone jack while the Redmi Pad does away with this.
Winner: On par / Draw
8. Battery Capacity and Fast Charging
We have established that beyond the chip, storage, display and front facing camera, both tablets are indeed quite similar in outlook and design. They also share the same battery capacity of 8000mAh but it draws the line where charging is concerned. The Redmi Pad SE only supports 10W charging while the Redmi Pad supports 18W Fast Charging both via the USB-C port.
As for battery life, the Redmi Pad claims 26 hours of reading, 21 hours of video playback and 12 hours of gaming. The only claim that we can categorically compare with the Redmi Pad SE is the 14 hours of video playback which gives Redmi Pad an upper hand with longer lasting battery life.
Winner: Redmi Pad supports fast charging and better battery life.

Final Thoughts
The Redmi Pad won 5 out of 8 categories considered while the Redmi Pad SE won 1 out of the 8 categories in our comparative review. That one category being the bigger 11-inch display. Both tables draw or are on par in two categories, Chassis & Design and Sound System.
The bottom line is if you are looking for a tablet that offers better performance all round, at the right price, go with the Redmi Pad. The tablet is powered by the stronger Helio G99 even though it is now around a year old (launched 4 October 2022).
However, if you can get the newer Redmi Pad SE (launched 15 August 2023) at a much reduced price almost to the point of a budget or entry level price point then it is worth considering. However, you would seriously value the bigger 11-inch display over anything else if you pick the Redmi Pad SE.
So the answer to the question "Will the new Redmi Pad SE budget mid-range tablet beat the company's own Redmi Pad?", the answer is most certainly not.