With the same octa-core 2.0GHz processor used in the Fire HD 8 but with 3GB vs 2GB memory, the 11th generation Amazon Fire HD with optional keyboard case in the Productivity package looks to go beyond just a media consumption device but can it pull it off.
As an affordable 10-inch tablet to consume media, generations of the Amazon Fire HD 10 have been flawless. I have the 7th generation model, first to support Alexa hands free and while it may be a slow compared to my iPad Pro 2020, I did pay nearly 8 times more for the iPad Pro.
It still downloads my favourite shows for offline viewing while waiting to pick up my kids and I can download my favourite magazines and newspaper for the same. It will even connect to my smartphone's hotspot to pick up emails and browse the web on a big screen. Will I do more beyond that, probably not. But here is the thing, Amazon is changing the way we think bout the tablet by introducing a keyboard cover and Microsoft 365 bundle.
We look mainly at the Amazon Fire HD 10 as a Productivity Tablet below.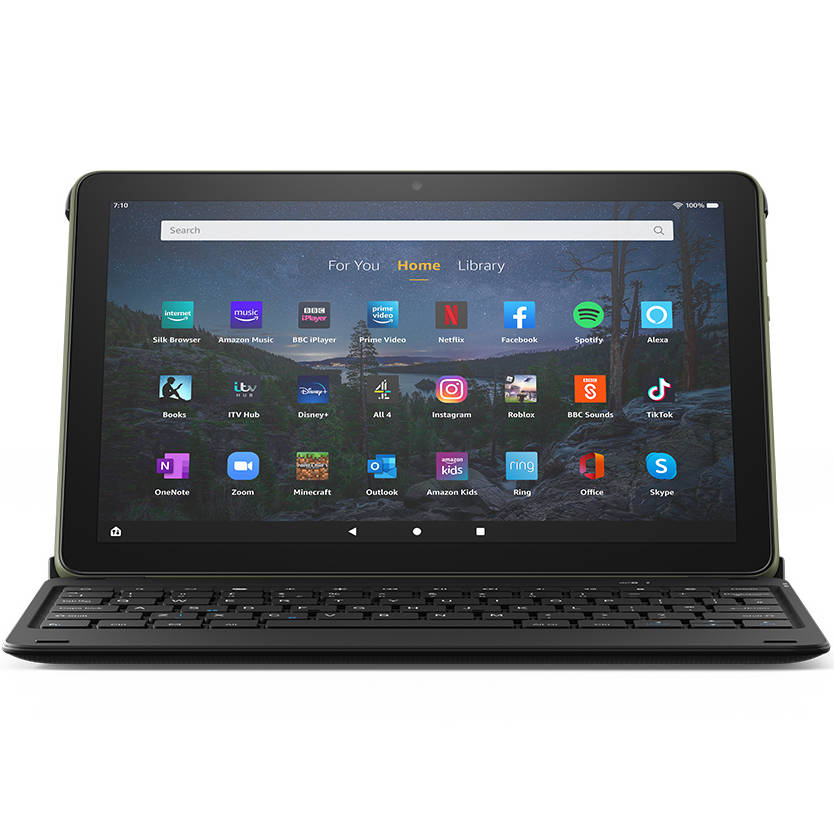 Search Amazon Fire HD 10 Tablet on Amazon
Amazon Fire HD 10 Tablet 11th Gen 2021 Good Enough for Productivity
Amazon hopes to change the way we use its full size tablet, the Amazon Fire HD 10. This 11th gen device is not only faster, but comes with more memory and a detachable keyboard cover plus 12-month subscription to Microsoft 365 Personal. With the latter, you have access to 1TB OneDrive Cloud Storage and Office Apps for up to 5 devices (not users). That package is worth £59.99 per year. Office apps include Word, Excel, PowerPoint, Notes, Outlook, OneCloud and Skype. It is essentially everything you will need to turn the tablet into a mobile productivity power house.
1. Bluetooth Keyboard Case & Battery Life
The keyboard case is not actually from Amazon but designed in conjunction with Fintie. It comes with a detachable case for the Fire HD 10 that offers protection for the corners and back of the device with access to the buttons, ports, microphone and speakers There are no docking contact points on the tablet to charge or connect to the keyboard so it relies of Bluetooth and onboard rechargeable batteries. However, you shouldn't need to worry too much about charging as the keyboard will be good for up to 400 hours of use per charge or a year long standby power. When it runs low, charge it via the USB-C port and supplied USB-C cable. Note that this only works with 11th generation 2021 model. As for the tablet, a full charge will give you up to 12 hours of use.
2. Detachable on Folding Hinge
The tablet attaches to the keyboard magnetically to a folding hinge. This allows the keyboard and tablet to form a clamshell profile, making the tablet works like a laptop. That hinge also lifts the keyboard, tilting it at a comfortable typing position akin to Ergo Lift system on Asus laptops. Stability wise, due to the weight of the tablet, it can tip over if the viewing angle is pushed to its maximum, so you have been warned.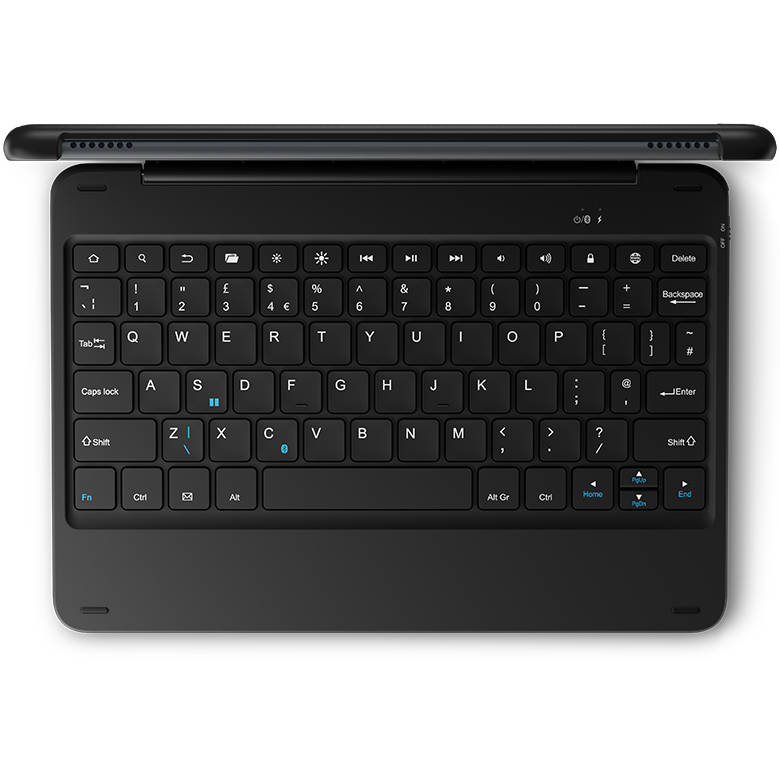 3. Size of Keys
Given the width of the 10-inch tablet in landscape mode, and the keyboard having to follow this width to make the design sleek, the keys are a little small for our liking. This is an issue with keyboards designed even for a big tablet. Unless you look for bigger, 11 or 12-inch tablets and their compatible keyboard covers, size of the keys are going to be a compromise and something you have to live with. Also there are no touchpad on the keyboard, so you are going to have to lift your hand to tap on the display to navigate around the system.
4. Auto Wake and Sleep
Two things to consider here. First, how to tablet behaves with they keyboard. With its clamshell profile, the device will automatically wake up when you open it like a laptop and vice versa. Goes to sleep automatically when you close the lid. Then there is the power to Bluetooth keyboard itself. For that, we are a little disappointed that it does not go to sleep automatically when the lid is shut, but only after 30 minutes of inactivity. To wake the keyboard, you need to open the lid, and strike any key to bring it back to life.
5. Processing Power, Memory & Storage
This may not be the most powerful tablet but the 2.0 GHz Octa-Core processor from MediaTek (MT8183 Hello P60T) is a mid-range 12nm chip. It has four 2.0GHz Cortex-A73 cores and four 2.0GHz Cortex A53 cores. This is paired with Mali-G72 MP3 graphics for its GPU. To help with multi-tasking, the device also gets a bigger memory at 3GB, previous generation and smaller tablets relies of 2GB memory. A Plus version is available, taking that memory to 4GB, effectively double the old memory level.
We are however disappointed with size of the starting storage. At 32GB and the option to go up to 64GB, this isn't quite productivity ready. The same storage levels have been around since my 7th generation Fire HD 10 launched in 2017. This 2021 model could use more storage starting from 64GB with 128GB option. This will allow for more media, apps and data to be stored in the fast onboard storage. You can of course get up to 1TB storage using a microSD card.
6. Appstore
One major limitation is no access to Google Play store. Amazon limits access to download and install apps to their own Appstore. Amazon's own Appstore is not as extensive but you should find most of what you need there. While I managed to side load the Play Store for my 7th generation device, you will have to look around to find suitable APK files for the 11th generation device to get Google Play Store there. Beyond installing the APK files necessary to support Google Play Store, you can download, install and update apps via Google Play Store without any hiccups. How-To Geek and Android Police carry some instructions to achieve this.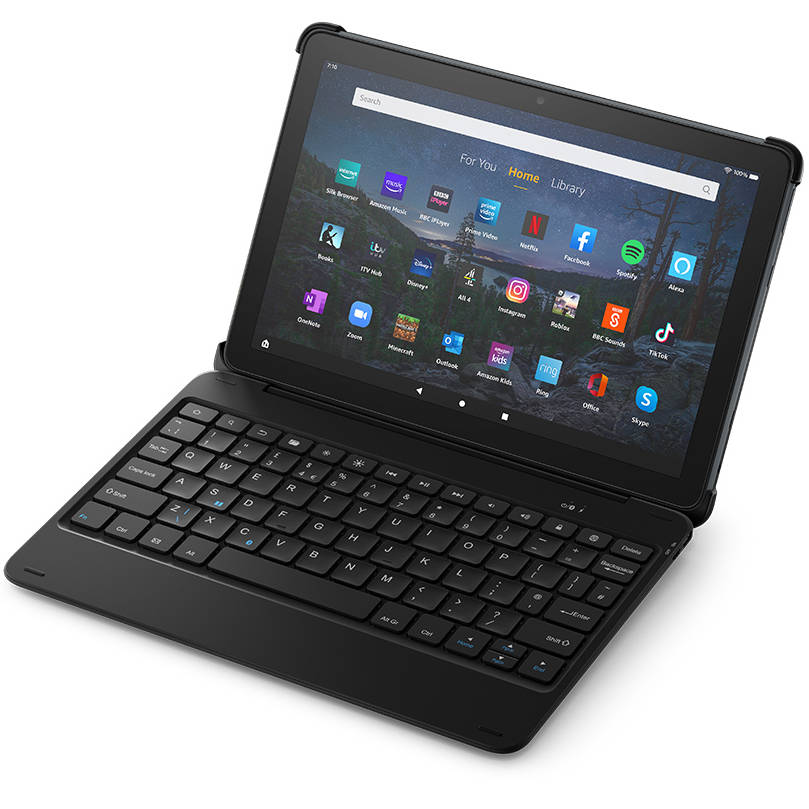 Conclusion
Overall, the tablet got everything right for productivity. The right Full HD resolution, sufficiently fast mid-range processor and enough memory to multitask and run productivity apps. The design of the detachable keyboard and cover works well with the tablet, turning it into a useful clamshell laptop (see image below). On the other hand, the keys on the detachable keyboard are smaller than what I would prefer but I have bigger than average hands. Lack of trackpad may be a downer for some but not a show stopper.
USB-C charging is a real bonus, making it easier and quicker to charge both the keyboard and tablet. On top of that, a full day 12 hours use per charge means, you don't have to worry about carrying the charger. Storage options haven't moved since like forever ago, at 32GB or 64GB. I would pick the 64GB version if you intend on using the tablet as your main portable. There is also the issue of App Store access. With Amazon locking out Google Play Store, you either side load this or be contented with Amazon's Appstore.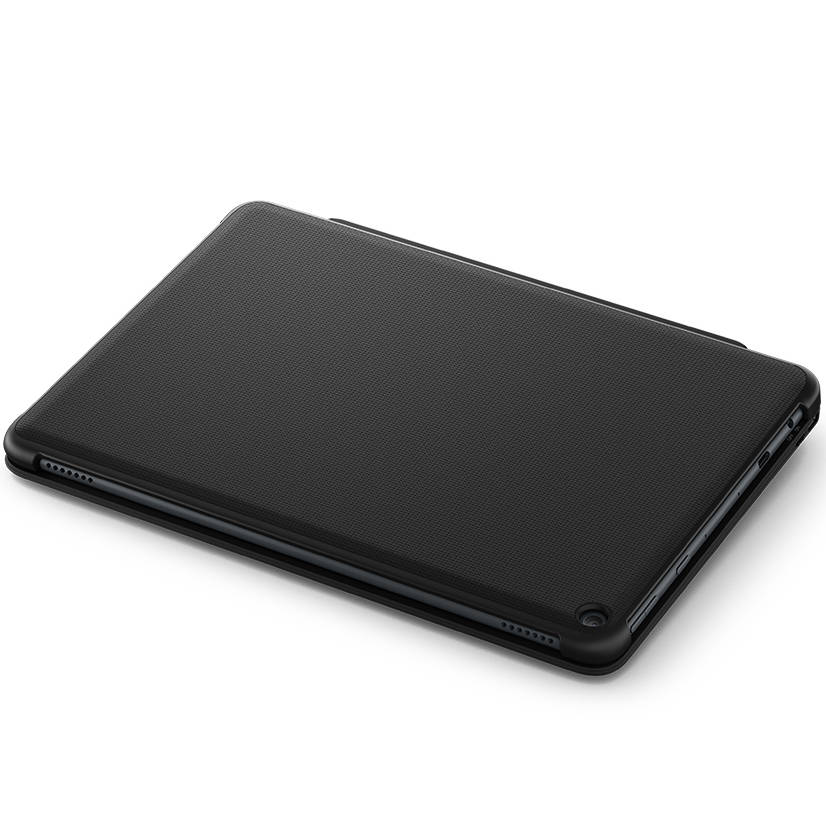 Suitable for Home, Office and School
At the price it is offered, Amazon is also hoping to cater to the education and private sectors. Students and office workers can use the affordable tablet for learning and work. Typing their email, notes, documents and preparing their presentation on the go with the help of the keyboard cover. When at home, it can be used for entertainment; watching movies and catching up on TV shows apart from browsing the web, reading books and staying in touch on Skype and meet on Zoom.
Can I buy the keyboard separately?
If you did not get the productivity bundle and opted for the standalone Fire HD 10 at the point of purchase, you can still come back and get the keyboard separately. However, you just don't get the Microsoft 365 subscription. For the ke
Best Time to Buy It
The best time to get the Fire HD 10 or the Fire HD 10 Productivity is during Prime Day or Black Friday. For the 2021 Prime Day, the tablet itself is offered with a 47% cheaper or £70 savings at £79.99 while the bundle is offered at 42% cheaper or £110 savings at £149.97.
Search Amazon Fire HD 10 Tablet on Amazon