We were waiting for Apple to launch new Pro MacBooks with the M2 processor but it seems it had other plans. Fall 2021 has seen Apple come out with better versions of its tried and tested but now an aging M1 processor. The new MacBook Pros comes with two new chips, the M1 Pro and M1 Max which the company markets as extremely powerful APUs that can take on heavy workloads and mainstream gaming all with a single hardware.
Apple MacBook Pro 14 and 16 now come with these new processors but sadly the youngest of the siblings, MacBook Pro 13 does not get any upgrade and still comes with the older M1 chip.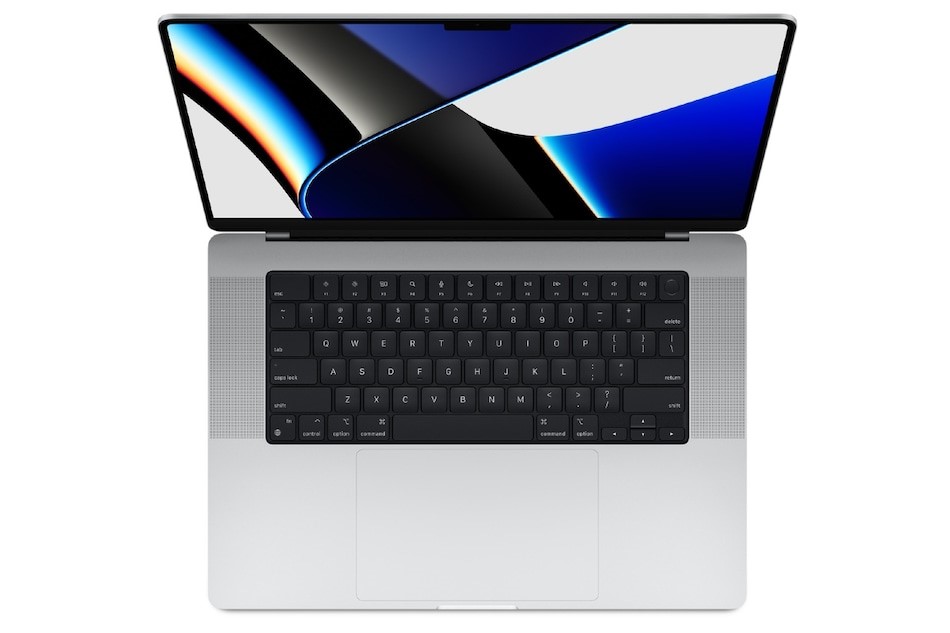 Search Apple MacBook Pro 16 on Amazon
The new processors are a scaled-up versions of the already impressive architecture of the M1 chip and now come with a system on chip design that comes with fast unified memory, industry-leading performance and power efficiency with increased memory bandwidth
Let us look at different variants of the M1 Pro and M1 Max SoCs that Apple allows users to configure the MacBook Pro 14 and 16 with and understand how they fare against the M1 processor of the MacBook Pro 13.
| | | | |
| --- | --- | --- | --- |
|   | Apple M1 Pro SoC | Apple M1 Max SoC | Apple M1 Processor |
| Total CPU Cores | 8 or 10 | 10 | 8 |
| Performance Cores | 6 or 8 | 8 | 4 |
| Efficiency Cores | 2 | 2 | 4 |
| GPU Cores | 14 or 16 | 24 or 32 | 7 or 8 |
| Neural Engine Cores | 16 | 16 | 16 |
| Maximum Memory Supported | 32GB | 64GB | 16GB |
| Peak Memory Bandwidth (GBps) | 200 | 400 | n/a |
| ProRes Accelerator | 1 | 2 | None |
| Available In | MacBook Pro 14 and 16 | MacBook Pro 14 and 16 | iPad Pro 5th Gen, iMac 24, Mac Mini. MacBook Pro 13 and MacBook Air |
Available In MacBook Pro 14 and 16 MacBook Pro 14 and 16 iPad Pro 5th Gen, iMac 24, Mac Mini. MacBook Pro 13 and MacBook Air
Design
With the new MacBooks, Apple has focussed more on function than form while designing the devices. This has been the trend since iPhone 12 where focus has been more on the utility than on cosmetics. The MacBook Pro 14 and 16 retain a lot of design elements from older devices and but goes on to add an SD Card slot, an HDMI 2.0 port and a MagSafe connector on top of the USB-C Thunderbolt 4 pots. The new MacBook Pros are designed with a more practical approach than just bettering the look and feel of the device.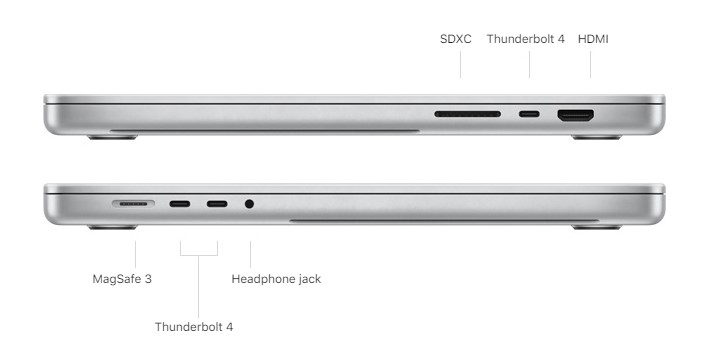 Display
The new MacBooks comes in two colour variants, Space Grey and Silver and a 14.2-inch Liquid Retina XDR Display with 3024 x 1964 native resolution resulting in a stunning 254 pixels per inch on the MacBook Pro 14 while the Pro 16 has a higher 3456 x 2234 resolution on a 16.2-inch Liquid Retina XDR Display. Strangely though the pixels per inch in the Pro 16 is same as Pro 14. This mirrors what Apple does with the iPhones. While iPhone 13 Pro and iPhone 13 Pro Max come with different display sizes, the pixel densities are the same.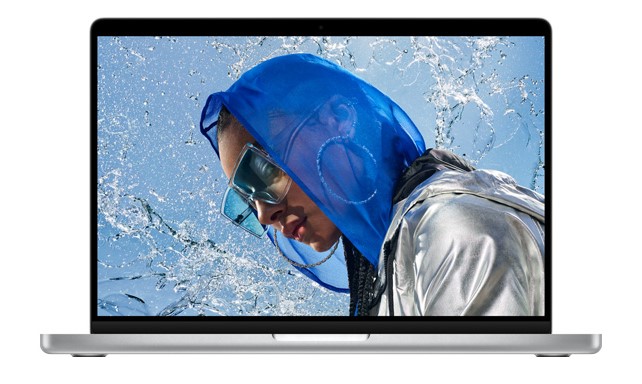 Search Apple MacBook Pro 14 on Amazon
The MacBook 13 uses an IPS panel LED Retina display that is a tad smaller at 13.3-inch and operates at 2560 x 1600 resolution with a lower 227 pixels per inch. In addition to the True Tone Technology, the new MacBooks come with XDR (Xtreme Dynamic Range) that has 1000-nits of sustained brightness and 1600-nits of peak brightness which is more than triple of what MacBook Pro 13 can do. The new devices also have a much higher contrast ratio thanks to the superior Liquid Retina Display allowing up to 1 billion colours to be displayed on the panel.
Processor
The biggest point of difference between the new and old MacBooks is the processors at use here. The M1 Pro and M1 Max SoCs are not only power efficient but they also pack huge punches. These new processors have a lot of generational improvements over the original M1. The overall improvement is up to 70 percent than the M1 which is a clear indication as to why Apple decided to postpone the launch of M2.
It would be wrong to tag the new processors as mere improvements of the original M1 as the increase in performance metrics for Apple are much higher than generational releases of other processor manufacturers. To put things into perspective AMD's Zen 3 brings only 11 percent single-core and 20 percent multicore increase in performance over Zen 2. The numbers are similar for Intel with the 11th Gen outperforming the 10th Gen by just 20 percent.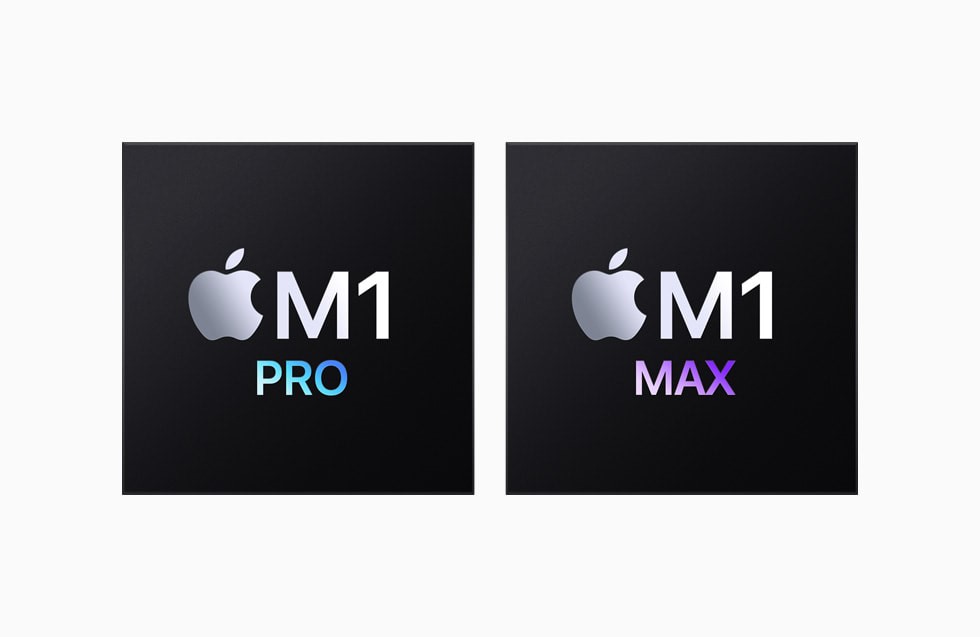 The new M1 SoCs come with improved unified memory that is shared by the CPU and GPU which improves performance and decreases latency during inter segment data transfer. This unified memory concept is present in Intel processors as well but it is severely limited and the GPU allows the processor to use its video memory for Resizable BAR but the CPU is not so kind to the GPU.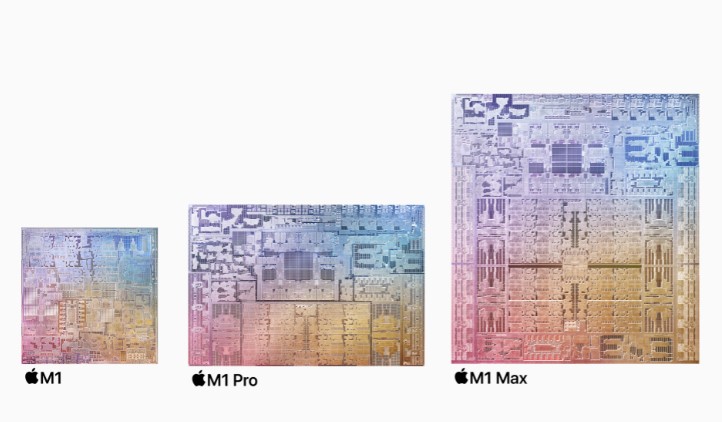 The MacBook Pro 14 and 16 come with three different M1 Pro SoCs to choose from. An 8-core CPU with 14-core GPU, a 10-core CPU with 14-core GPU and a 10-core CPU with 16-core GPU. Of these three combinations, the 10-core M1 Pro easily outscores Intel Core i9-10910 and trades blows with the Nvidia GTX 1650.
In comparison to the M1 chip in the MacBook Pro 13, the new SoC is also built using a 5-nanometre process that allows more transistors and graphics processing cores to be packed in without increasing the footprint of the SoC. The M1 Pro packs in 33.7 billion micro transistors that aid in lightning-fast operation and processing. This is more than double the number of transistors present in the M1.
MacBook Pro 14 and 16 equipped with the M1 Pro can handle complex tasks such as 4K editing with extreme ease using less power. The 16-core GPU operates at double the speed of MacBook Pro 13 while utilizing less power and uses the 200GB/s bandwidth of the unified memory to enable high-quality 3D content creation on the go.
If M1 Pro has delighted you already, wait for the M1 Max. There are two variants of the M1 Max SoC, one with a 10-core CPU and 24-core GPU and another with the same CPU core count but 32-core GPU. There are three configurations of the MacBook Pro 16 the highest of which come with equipped with the 10-core CPU and 32-core GPU variant of the M1 Max while cheaper variants of the Pro 16 come with the M1 Pro chip which can be configured with the Max SoCs. In stark comparison to the MacBook 13 where the maximum configurable memory is up to 32GB, both the new MacBook Pros can be configured to 64GB unified RAM.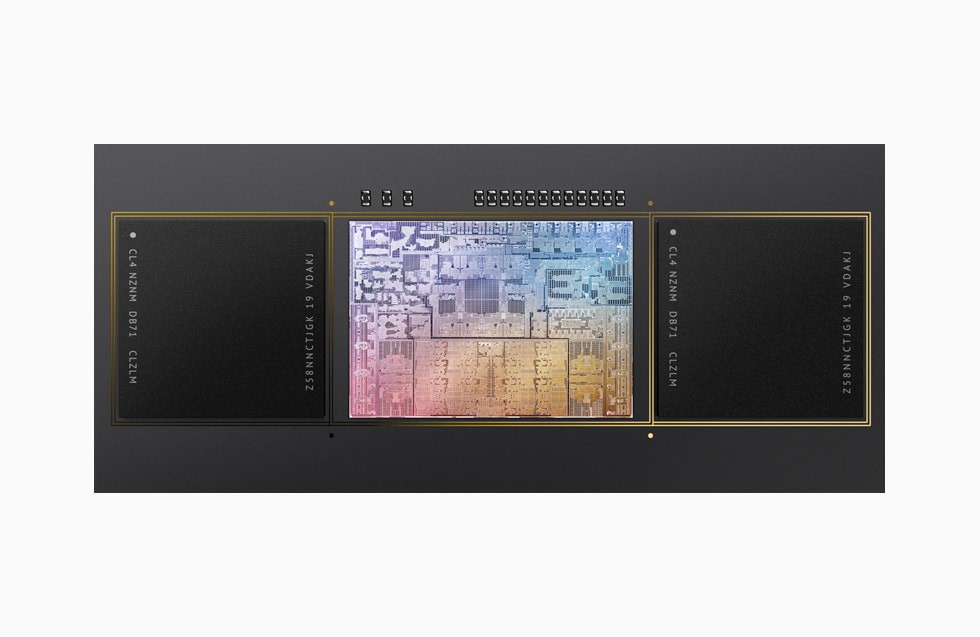 The M1 Max SoC comes with a jaw-dropping 57 billion transistors that offer 70 percent more performance than the M1 Pro and almost 4 times the performance of the M1 in the MacBook Pro 13. The M1 Max is a large chip and the integrated 32-core GPU offers extremely good gaming performance that overall results in reduced power consumption by close to 100-watts when compared with discreet graphics solutions in most Intel and AMD powered laptops.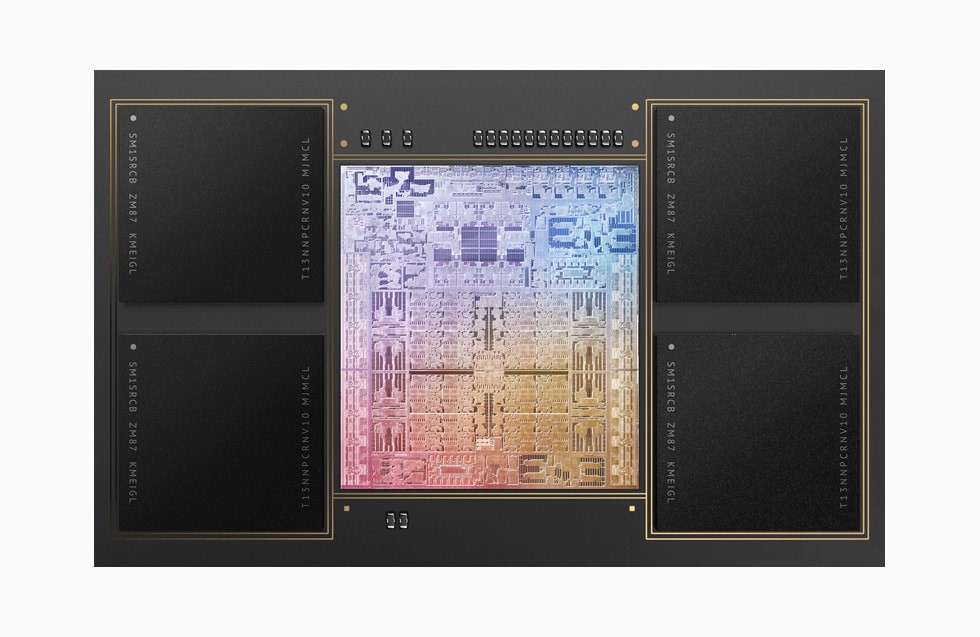 Apple's most powerful processor makes graphics-intensive workflows a cakewalk. 4K or 3D Video rendering times are shorter by over 13 times than the MacBook Pro 13 owing to the powerful CPU-GPU duo and even the heaviest of applications like Auto Desk Maya or Final Cut Pro renders videos in a jiffy.
The on-chip fabric comes with a high bandwidth that offers flabbergasting 400 GB/s data transfer rate in the M1 Max which is 6 times of what the M1 offers in the MacBook Pro 13. No doubt, the current generation of MacBook Pro 14 and 16 are the most powerful pro laptops when equipped with the M1 Max processor.
ProRes Accelerator
Apple has equipped the M1 Pro and Max with a media engine for faster video processing. Apple has ditched the Intermediate Codec that it introduced in 2007 and has opted for a faster and efficient ProRes video codec that allows simultaneous playback of 4K and 8K videos. The M1 Max has two of these ProRes accelerators that deliver double video acceleration speed and 10x faster video transcode in Compressor in comparison to MacBook 13.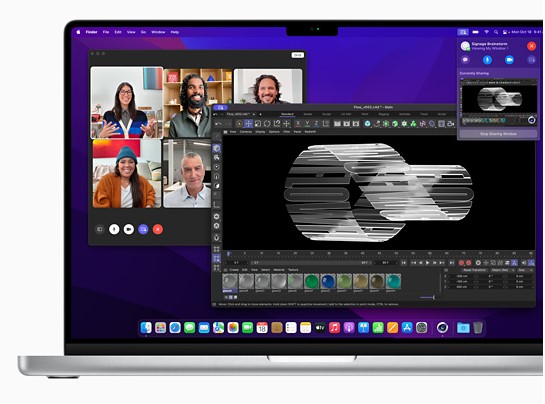 The new MacBook Pro 14 and 16 come with macOS Monterey that is custom engineered to wring the best out of the new processors and offer breakthrough performance with battery capabilities. The new MacBooks are now instantly wake from sleep and are extremely responsive.
Battery Storage and Connectivity Options
The base variants of the MacBook Pro 14 come with 512GB and 1TB in-built but they can be configured with 2,4 and 8TB options at additional costs. MacBook Pro 16 comes with 512GB and 1TB variants which can again be configured with higher storage options. The MacBook Pro 13 has two factory-built 256GB and 512GB storage options with the configurations offered up to 2TB.
The audio system in the new MacBooks is far better than the MacBook 13 with six high-fidelity speakers and force-cancelling woofers producing wide stereo sound. Spatial sound is provided by Dolby Atmos and the 3.5mm audio jack supports high impedance headphones. The MacBook Pro 13 comes with age old stereo speakers that produce wide stereo audio and supports Dolby Atmos playback.
The MacBook Pro 13 comes with pretty limited connectivity options with a single headphone port on the right and two Thunderbolt 3/USB4 ports on the left. The new MacBooks however have three Thunderbolt 4 ports, a full-sized SD card slot, a MagSafe 3 port, an HDMI port and a 3.5mm headphone combo jack. Wireless connectivity is managed by Wi-Fi 6 and Bluetooth 5.0 in all the devices.
The MacBook Pro 14 has decent battery prowess with its 70-watt-hour battery returning up to 17-hours of movie playback and 11 hours of web browsing. The 8-core CPU model comes with a 67W USB charger and the 10-core CPU comes with a 96W power adapter.
The battery performance of the MacBook Pro 13 is better than the new Pro 14 as the older device manages up to 17 hours of web browsing and 20 hours of video playback from its 58-watt hour battery and 61W USB C charger. MacBook Pro 16 however comes with a 100-watt hour battery that manages 21 hours of video playback and 14 hours of web browsing. It comes with a superb 140W USB-C power adapter and a USB-C to MagSafe 3 cable.
Conclusion
The new MacBook Pro 14 and 16 powered by the M1 Pro and M1 Max processors are right now the most powerful computing devices in the world. While the world was expecting Apple to unveil the M2 processor, and there was a bit of disappointment with the company choosing to go with better versions of the old processor at first, any doubts about them being just simple improvements over the existing M1 vaped away the moment performance numbers of the new chips were revealed. It is now a matter of anticipation and speculation that if members of the same M1 family show such an increase in performance, what the M2 would bring to the table.
Overall, the new MacBooks are much better devices than the MacBook Pro 13 and barring the battery life, which by the way is still miles ahead of what some of the best Windows laptops can deliver, they are currently the epitomes for excellent value for money gadgets. Apple has set extremely high benchmarks with the new MacBook Pro 14 and 16 which frankly we don't foresee any Intel and AMD powered Windows laptops to cross anytime soon.
Unless you really need a MacBook Pro with bigger and brighter 14-inch or 16-inch displays, more ports and crazy overhead in terms of graphics and processing performance, you can pretty much stick with the MacBook Pro 13 with M1 chip. The existing M1 staple of devices are still very powerful.