While earlier Galaxy S21 supports the S Pen stylus, Samsung did not include this. The new generation Galaxy S22 Ultra however not only comes with the S Pen but an onboard storage silo to charge it when docked. This begs the question, what will the future of Galaxy Note20 Ultra Ultra be?
The Galaxy Note20 with 6.7-inch screen and Galaxy Note20 Ultra 5G with its 6.9-inch screen may just be superseded with the Galaxy S22 Ultra with a 6.8-inch display.
Both Galaxy S22 Ultra and Galaxy Note20 Ultra now come with the S Pen stylus. If stylus is not for you, choose one of  the smaller Galaxy S22 6.1-inch or Galaxy S22+ 6.6-inch as these smaller handsets stayed with the original S series by not including a stylus.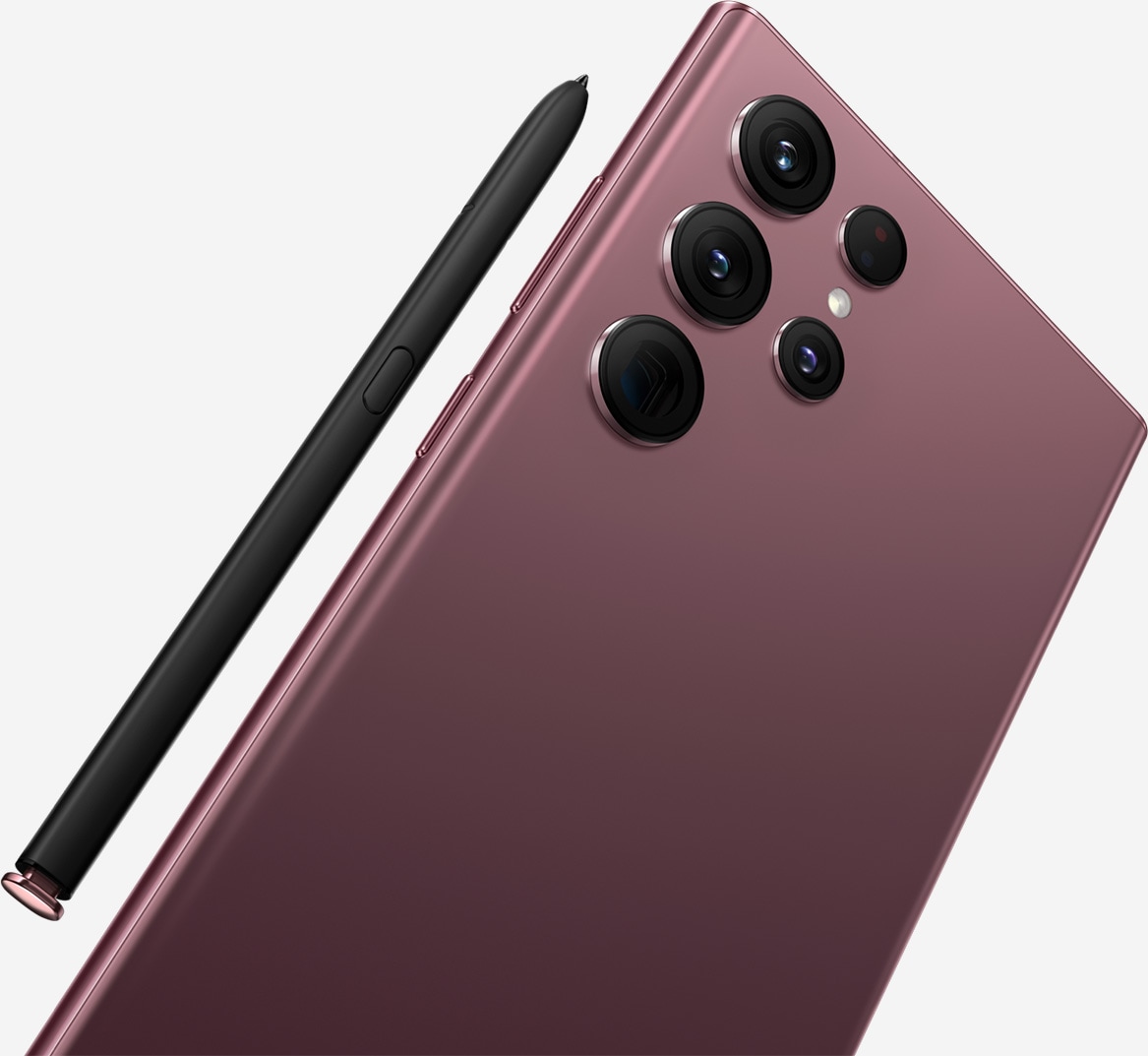 Samsung Galaxy S22 Ultra vs Galaxy Note20 Ultra
Let's take a quick look comparing the two Ultra handsets with S Pen support.
1. Processor, Memory, Storage
The Galaxy Note20 Ultra is powered by octa-core processor with 2.73GHz, 2.5GHz, 2GHz frequency, the 7nm Exynos 990. In the US, the handset uses Qualcomm SM8250 Snapdragon 865 5G+ (7 nm+). It's not as fast as the S22 or even the Qualcomm SM8350 Snapdragon 888 5G (5nm) powering the Galaxy S21 Ultra but it is still a powerful chip. Storage wise, it is only available with 256GB or 512GB storage. As for memory, depending on your choice 8GB or 12GB memory.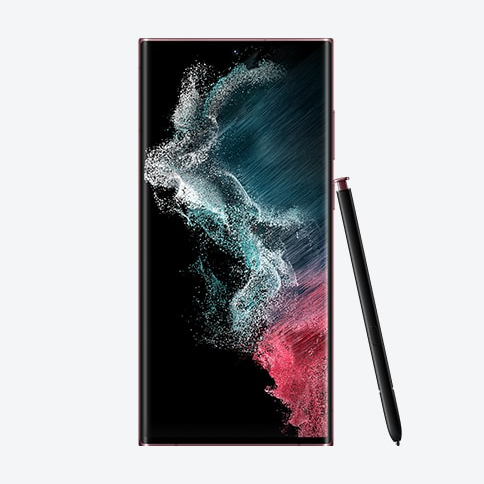 The Galaxy S22 Ultra is powered by a 4nm Qualcomm SM8450 Snapdragon 8 Gen 1, the fastest chip currently in the market. Units in Europe will use Exynos 2200, also a 4nm chip with both being octa-core processors. The 4nm chips have an advantage over previous generation chips with its powerful NPU unit (Neural Processing Unit). This promised to be twice as fast as that found on Galaxy S21 which will mean more efficient AI processing. Carrying the Ultra label also means, you get ultra large storage options not available on the S22+ and S22's standard 256GB and 128GB. These are 512GB and 1TB, with the latter available exclusively from Samsung's website only. In the memory department, options stayed the same at 8GB or 12GB memory.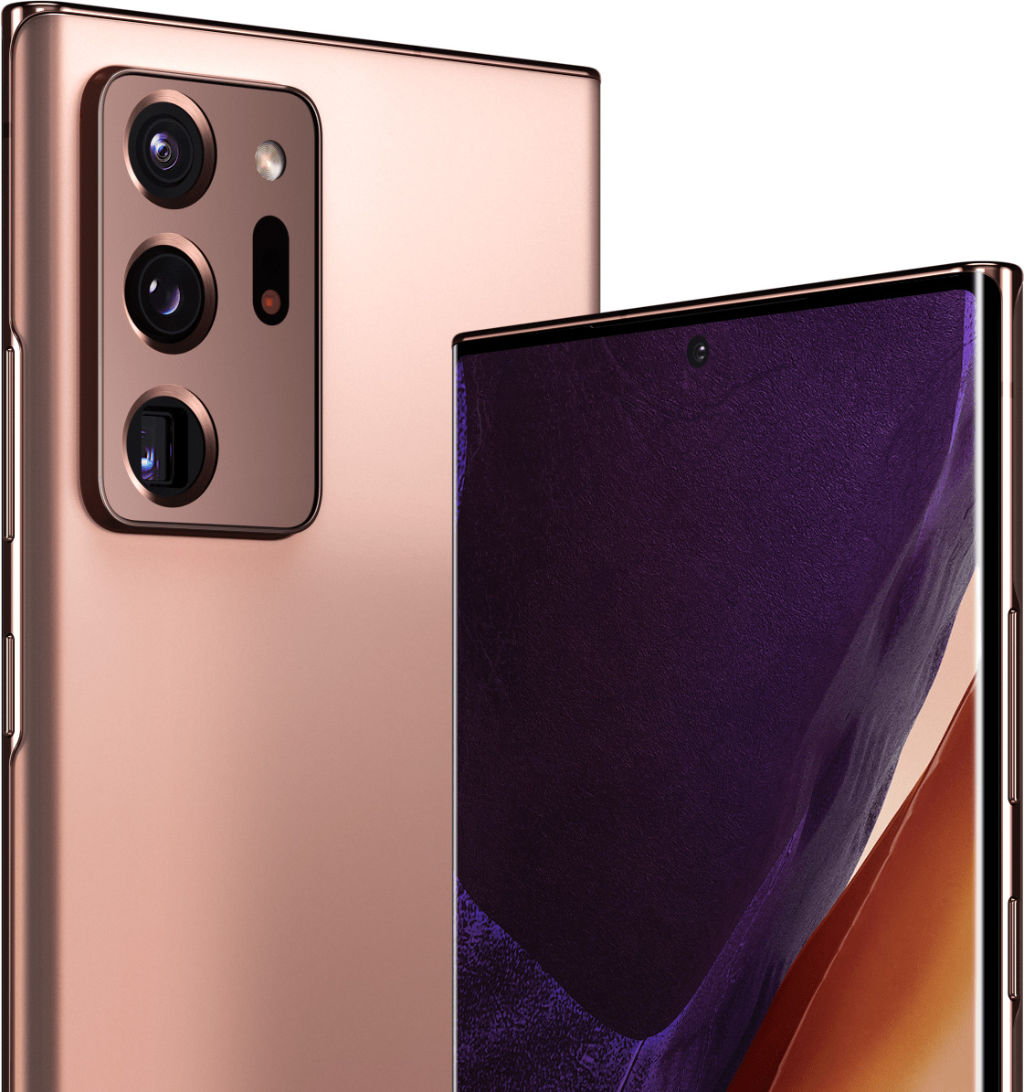 Samsung has been at the forefront of innovation where smartphone technology is concerned especially with their flagship Samsung Galaxy S and the latest Galaxy S22 is no different. The Galaxy S22 Ultra gets all the high-end goodness including use of recycled plastic to build their phone, pro-level cameras and features and for the first time on an S-series smartphone, a built-in S Pen charging silo and S Pen. Even the S Pen itself has been improved over those found on Note20 with much lower latency.
2. Display
The 6.9-inch display on the Galaxy Note20 Ultra is no slouch. With its Dynamic AMOLED 2X and infinity-O panel, it looks every bit as good as the display on Galaxy S22 Ultra. The 3088 x 1440 (Quad HD+) screen can also achieve a high peak brightness of up to 1500 nits, slightly lower than the S22 Ultra but plenty for outdoor use. Adaptive 120Hz refresh rate keeps everything smooth and jitter free.
The 6.8-inch display on Galaxy S22 Ultra is also a Dynamic AMOLED 2x panel with high peak brightness of up to 1750 nits making it a treat to use outdoor. It also supports dynamic refresh rate of up to 120Hz for silky smooth scrolling and same resolution of 1440 x 3088 pixels (Quad HD+), that's more than 500 ppi density. Just like the Note20 Ultra, when you are not scrolling, it switches to a lower refresh rate to conserve battery life.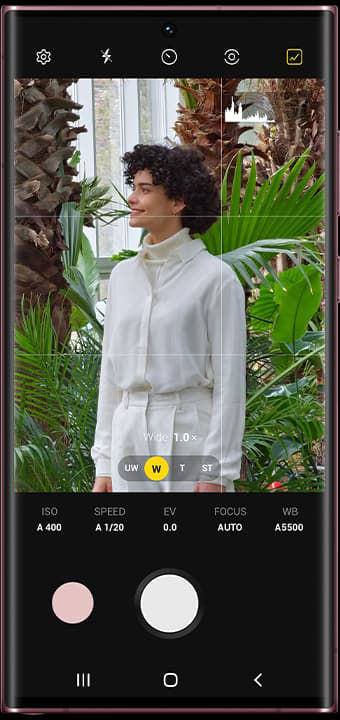 The display on Galaxy S22 Ultra is further enhanced with Vision Booster, a software feature that continually analyse and balance the performance of the display against environmental parameters and the content it is displaying.
3. Weight
The Galaxy Note20 Ultra may come with a bigger 6.9-inch edge Infinity-O display but it still weights only 208 grams.
The Galaxy S22 Ultra is heavier even though the display is smaller at 6.8-inch. It weighs 229 grams, a whole 21 grams more than the Note20.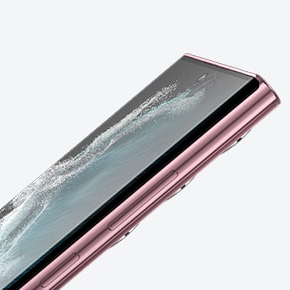 4. Body Materials and Design
The Samsung Galaxy Note20 Ultra features Gorilla Glass Victus front and back held together with a stainless steel frame. The chassis is IP68 rated, dust and water resistance up to 1.5m for 30 minutes.Available in three colours, Bronze, White or Black.
The reasons why The Galaxy S22 Ultra is heavier are the use of strong aluminium frame, tough Corning Gorilla Glass Victus + front and back and IP68 rated for water and dust resistance design. Colour options include Phantom Black, White, Burgundy, Green, Graphite, Red, Sky Blue.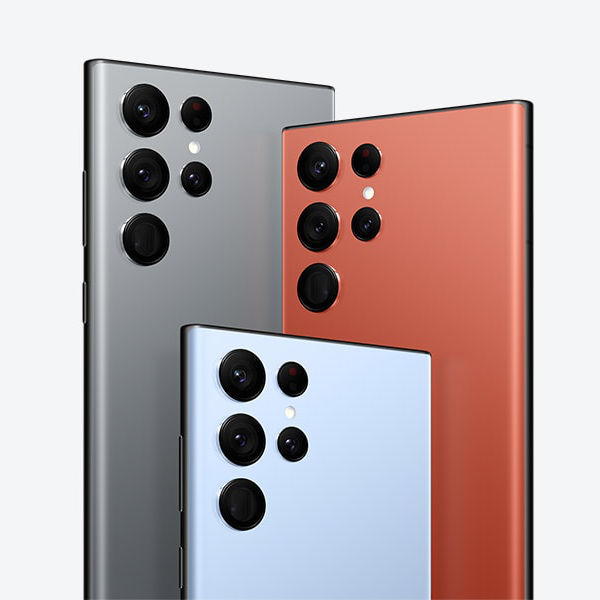 The Galaxy S22 Ultra is now a full-fledge productivity smartphone complete with stylus. The similarity with Note20 Ultra doesn't stop there, even the chassis design is inspired by the Note20 Ultra, minus the camera cluster. This marks the return to minimalist individual lens bulges instead of an added bump with a cluster on the S22 and S22+. However, the S Pen and slot plus cameras does make the S22 Ultra thicker at 8.9mm versus the 7.6mm on S22 and S22+.
5. Cameras
The Galaxy Note20 Ultra 5G supports 5x optical zoom and 50x Super Resolution Zoom with its triple camera setup. The cameras go from wide angle 0.5x to standard 1.0x to telephoto 5.0x when sticking to optical zoom and 10x with Space Zoom. The triple cameras consists of 12MP Ultra Wide Camera, 108MP Wide Camera and 12MP Telephoto Camera assisted with Laser AF Sensor and support for Pro video recording and effects capturing up to 8K video and HDR10+ with Dynamic Tone Mapping. Up front, you get a 10MP selfie camera.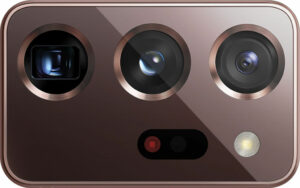 The Portrait Mode on  Galaxy S22 now benefits from stereo depth mapping with the help of its many different cameras. What this means is it can differentiate its subject from its background even better, down to strains of wind swept hair.
As for the new Galaxy S22 Ultra also gets a quad camera setup with the first two cameras are shared with the Galaxy Note20 Ultra. They are the 12MP Ultra Wide Camera, the 108MP Wide-angle Camera and two 10MP Telephoto Camera. The second 10MP Telephoto Camera gives the cameras a 100X Space Zoom. Even the S22+ and S22 only gets 30X Space Zoom. In any case, that's 10 times more Space Zoom than Note20 Ultra, if you are into zooming. The Galaxy S22 Ultra as with S22 and S22+ now supports even better night mode shooting and more advanced post capture editing features. The latter can be applied to both stills and motion captures. Plus, you can enjoy Super Steady video without the use of a gimbal, just clever AI self adjusting framing and capture frame rate.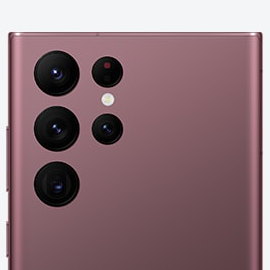 Note that 100X Space Zoom uses 10x Optical Zoom and 100x digital zoom with AI Super Resolution Technology. As with all zooms, once you leave the realms of optical, quality is bound to deteriorate so don't expect 100x digital zoom to be super sharp even with AI intervention.
6. Battery
Real world battery life depends on many different factors but the 4500mAh capacity battery on Galaxy Note20 Ultra will get you through the day and then some. Up to 15 hours internet use on LTD, up to 19 hours video playback and up to 24 hours 4G LTE talk time with audio playback time up to 75 hours. To charge it back up, it supports 25W Super Fast Charging
The Galaxy S22 Ultra has an even bigger 5000mAh battery promising 81 hours of audio playback and support for 45W Super Fast Charging to quickly recharge your drained device. Super Fast Charging pushes the battery level back to 50% in under 20 minutes. When comparing between claimed audio playback times, the Galaxy S22 Ultra does have an edge. However, this doesn't paint an overall picture of battery life.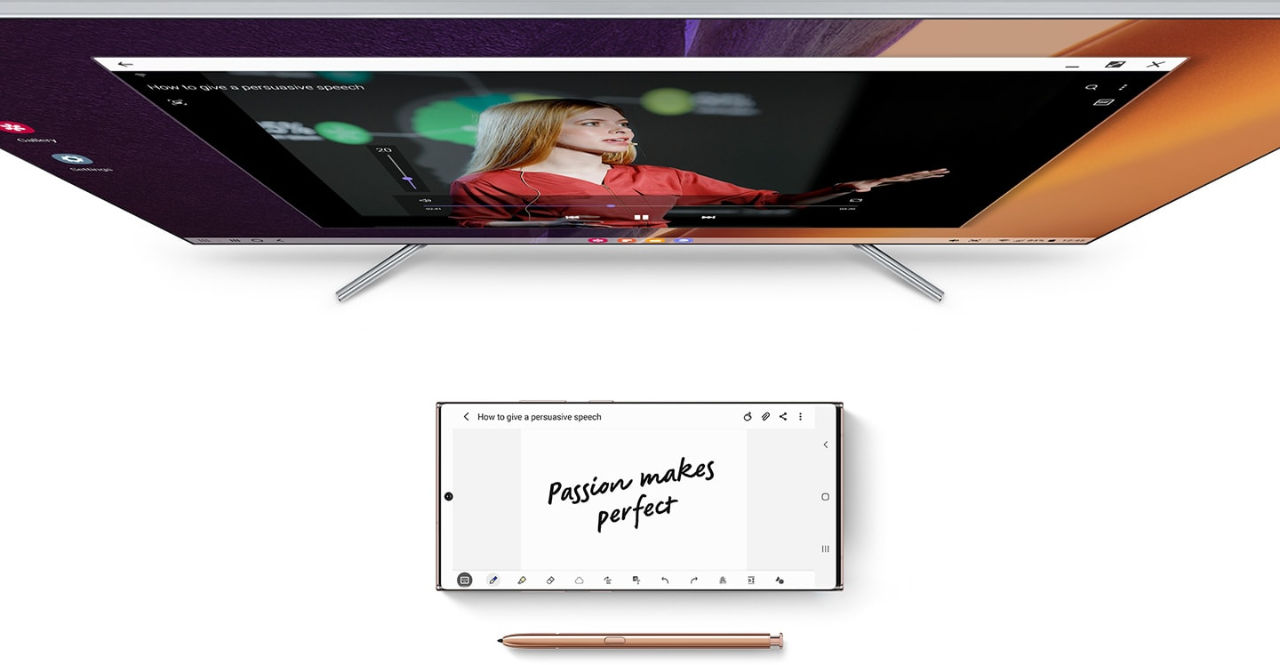 7. S Pen included and embedded
We know the Galaxy Note20 Ultra comes with the S Pen, but it is a first for the Galaxy S series with Galaxy S22 Ultra. It supports pen on paper like writing experience and Air Actions to remotely control the phone. But that is not all, it is also significantly faster with a low 2.8ms latency, compared to Galaxy Note20 Ultra's 9ms latency.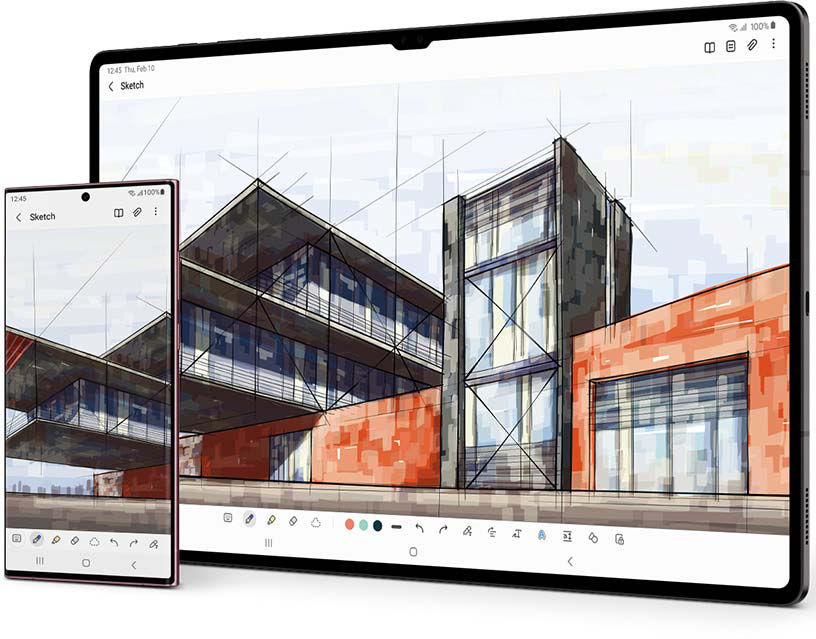 Samsung Galaxy S22 Ultra Specification
Display: 6.8″ edge Quad HD+ Dynamic AMOLED 2X, Infinity-O Display (3088×1440), 500 ppi, HDR10+ certified, 120Hz refresh rate
Processor: 4㎚ 64-bit Octa-Core Processor * 2.80

㎓

(Maximum Clock Speed) + 2.5

㎓

+ 1.8

㎓ OR 

4㎚ 64-bit Octa-Core Processor * 2.99

㎓

(Maximum Clock Speed) + 2.4

㎓

+ 1.7

㎓

Memory and Storage:

12GB RAM (LPDDR5) with 1TB internal storage
12GB RAM (LPDDR5) with 512GB internal storage
12GB RAM (LPDDR5) with 256GB internal storage
8GB RAM (LPDDR5) with 128GB internal storage

Main Quad Camera:

12MP Ultra Wide Camera – Dual Pixel AF, Pixel size: 1.4μm, FOV: 120˚, F.No (aperture): F2.2, 1/2.55″ image sensor size
108MP Wide-angle Camera – PDAF, OIS, Pixel size: 0.8μm (12MP 2.4μm), FOV: 85˚, F.No (aperture): F1.8, 1/1.33″ image sensor size
10MP Telephoto Camera – Dual Pixel AF, Pixel size: 1.12μm, FOV: 11˚, F.No (aperture): F4.9, 1/3.52″ image sensor size, 10x Optical Zoom
10MP Telephoto Camera – Dual Pixel AF, Pixel size: 1.12μm, FOV: 36˚, F.No (aperture): F2.4, 1/3.52″ image sensor size, 3x Optical Zoom
Space Zoom: 3x, 10x Dual Optical Zoom, Super Resolution Zoom up to 100x
OIS (Optical Image Stabilisation)
Laser AF

Selfie Camera: 40MP PDAF, Pixel size: 0.7μm (10MP 1.4μm), FOV: 80˚, F.No (aperture): F2.2, 1/2.82″ image sensor size
Sound: stereo speaker with surround sound, Dolby Atmos technology (Dolby Digital, Dolby Digital Plus included)
IP68 Water Resistant (up to 1.5meters of freshwater for up to 30 minutes)
Sensors: Ultrasonic Fingerprint sensor, Accelerometer, Barometer, Gyro sensor, Geomagnetic sensor, Hall sensor, Proximity sensor and Ambient Light sensor.
Wireless Connectivity: 5G, LTE, WiFi 802.11 abgnacax, Bluetooth 5.2, USB-C, NFC, Location (GPS, Galileo, Glonass, BeiDou), Ultra Wide Band.
Battery capacity: 5000mAh (typical) supports Fast Wireless Charging 2.0 and 45W/25W USB PD3.0 Super Fast wired charging (AFC and QC2.0 compatible). Also support reverse wireless charging with Wireless PowerShare
Colour Options: Burgundy, Green, Phantom White, Phantom Black. Samsung.com exclusive colours: Graphite, Sky Blue, Red
Dimensions: 77.9 x 163.3 x 8.9mm
Weight: 228g
S Pen: Dimensions: 5.8 x 4.35 x 105.08mm, Weight: 3.04g. Bluetooth enabled, Pressure levels: 4096, Pen tip diameter: 0.7 mm, IP68
For More Information
https://www.samsung.com/uk/smartphones/galaxy-note20/specs/
https://www.samsung.com/uk/smartphones/galaxy-note20/performance/
https://www.samsung.com/uk/smartphones/galaxy-s22/models/
https://www.samsung.com/uk/smartphones/galaxy-s22-ultra/