iOS and Android have been at loggerheads since inception and while Apple has done a lot in terms of innovating both its hardware and software, Android was lagging somewhat with design and features shared between most of the popular manufacturers. With rumours of Apple planning to incorporate a minimized version of the M1 in the iPhone in the future, Google has yet again become the flag-bearer of the Android smartphone industry that desperately needed a shake-up.
And, that time is now with the introduction of two devices from the company that the smartphone industry needed and deserved right now, the Pixel 6 and 6 Pro featuring for the first time, Google's own in-house developed chip.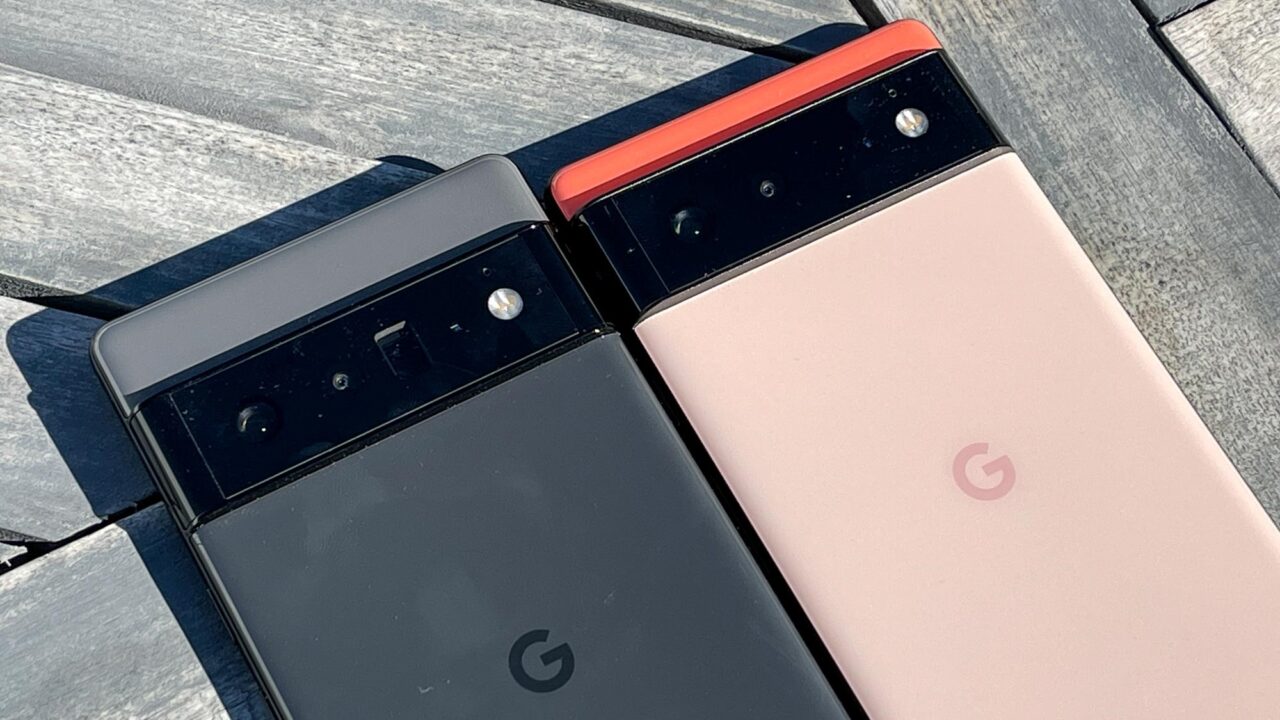 The new Pixel devices do not offer path-breaking performance in any single segment, be that the battery, display, or the processor but their uniqueness and excellence lie in the breath-taking harmony that is the result of the innovation seen in almost every segment of the new Pixel devices. Read on for more.
Google Pixel 6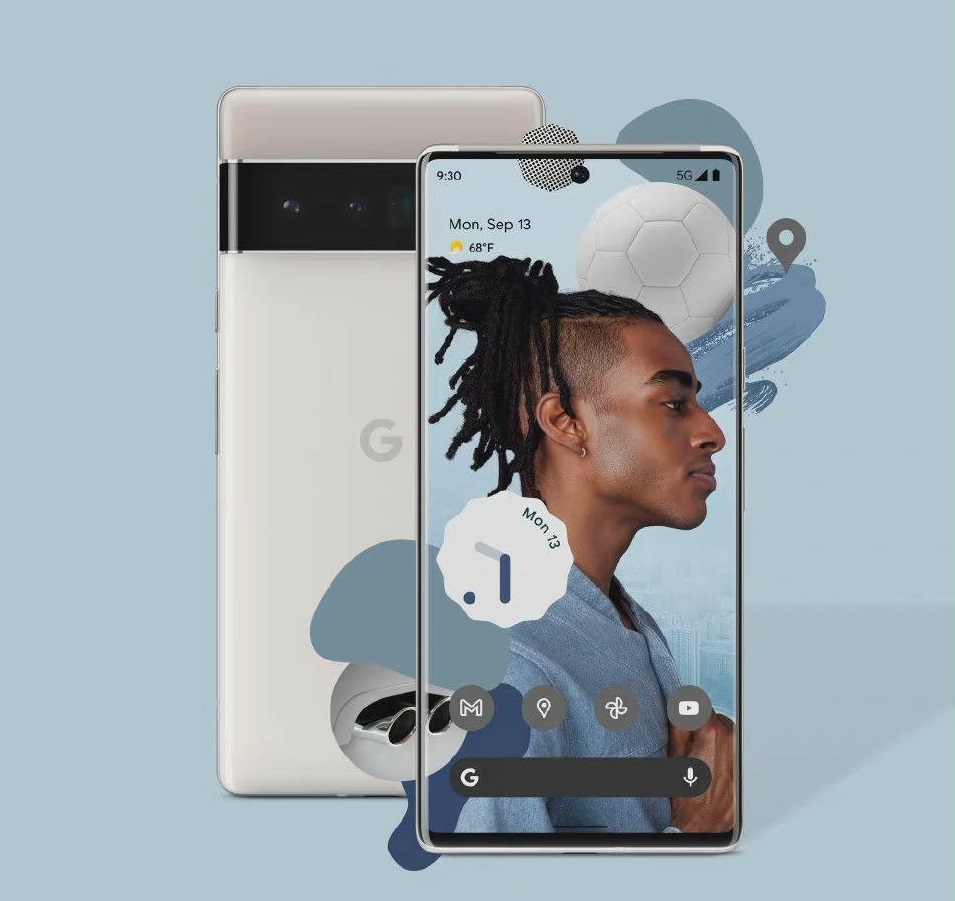 | | |
| --- | --- |
|   | Main Specifications |
| Display | 6.4-Inches, AMOLED, 90Hz, HDR10+, 1080 x 2400 |
| Processor | Google Tensor, Octa-Core |
| Storage | UFS 3.1, 128 GB/256 GB |
| Memory | 8 GB |
| Camera | Main: 50MP + 12MP Front: 8 MP |
| OS | Android 12 |
| Battery | 4614 mAh Li-Po |
Look and Feel
Structurally both the Pixel 6 and 6 Pro look similar with a rectangular camera module on the top rear edge of the device and an aluminum frame protected with a Gorilla Glass Victus front and back. The Pixel 6 is available in three light coloured variants, light blue, light peach and faded black.
The display uses a bright AMOLED panel supporting 2K plus resolution and comes with 411 PPI. Screen brightness is adequate and the colours are just what you would expect from AMOLED panels. There is a fingerprint sensor underneath the display which by the way is garnering a bit of stick already from the fans just after its launch for being too slow for a flagship. Google has attributed it to the enhanced security features of the Pixel 6 and 6 Pro.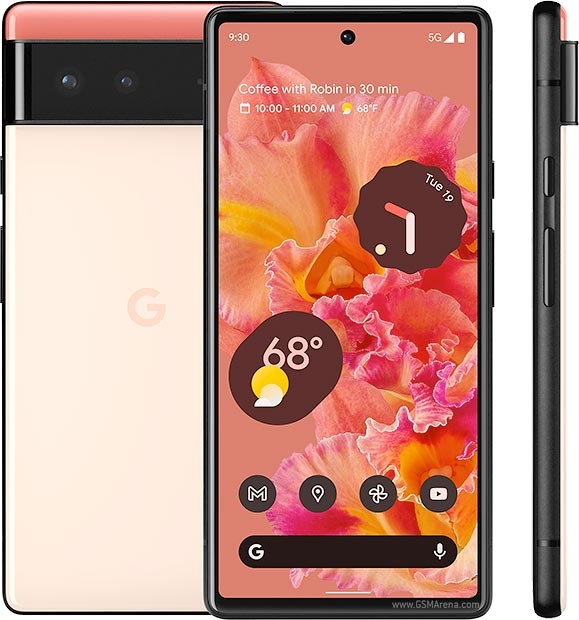 Camera and Connectivity
There is nothing new to take away from the impressive Google Camera application and this time it comes with two excellent 50MP and 12MP rear sensors that capture breath-taking wide-angle photos. Images are extremely detailed and low light performance gives the best devices from Samsung and Apple a run for the money.
Where the camera lacks are the absence of any optical zoom and Google has somewhat managed to nullify it using a 7x digital zoom which still does a commendable job. The front 8MP snapper captures portraits with excellent edge detection but video recording isn't as pleasant as the EIS, Auto Focus and HDR-enabled rear camera.
The Pixel 6 comes in 128GB and 512GB UFS 3.1 enabled storage variants with a fixed 8GB memory in both variants. It has all the regular connectivity features like dual-band Wi-Fi 6e and also comes with aptX HD enabled Bluetooth 5.2 for superb lossless audio over compatible headphones. Sadly, the 3.5mm jack has been done away with on both devices.
Behold The Tensor
Making headlines with the new Pixel devices is the Tensor processor from Google's own backyard. There has been an underlying desire of popular smartphone manufacturers to shift away from the monopoly of the OEMs Qualcomm and MediaTek for the SoCs in their devices. Samsung did it successfully with its Exynos chips, Apple has its own A-series chip and Google now seems to have found its own 5nm processor with the Tensor.
Tensor is powerful enough to take on the best of Exynos and Snapdragon SoCs but it is not as energy-efficient as its competitors. It is similar to Apple's Artificial Intelligence focussed, Machine Learning enabled A15 chip and is designed to push Google's vision automation. The new Tensor chip is designed to learn as it runs through better image processing in photography and better speech processing. It comes with several layers of security features never seen previously on smartphones.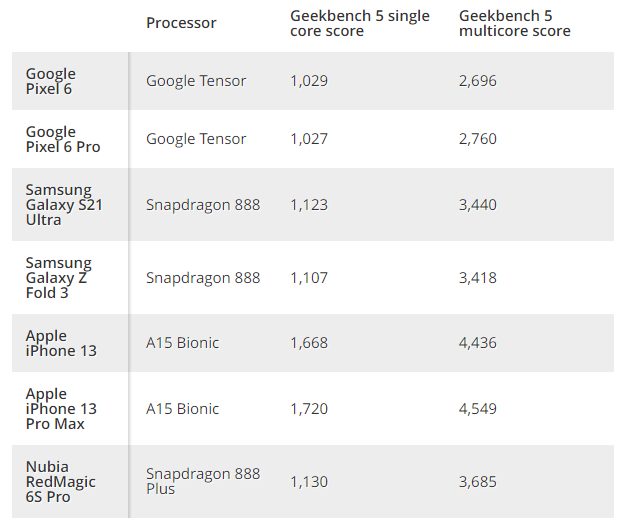 The Tensor is a 5G enabled SoC for the future. According Google, it is less of what people need today and more of what they would need tomorrow. Google has ditched Snapdragon and has gone all-in with this new 5nm processor with next-gen Machine Language capabilities that can power future devices and open new possibilities of how people would use smartphones in the future.
The capabilities of the Tensor are the result of perfect harmony between hardware and software. It can better what Google has already achieved in photography using lesser megapixels and sensors in the Pixel 5a than the iPhone 13 Pro.
The new processor comes with an Octa-core CPU with two high-performance ARM cores operating at 2.80 GHz and two cores operating at 2.25 GHz while the rest of the four cores are battery-saving 1.8 GHz cores. On the SoC itself is an Image Signal Processor that processes images using Google's photography algorithms. The Tensor might not set or even beat benchmarks set by Apple's A15 Bionic and in reality, it even doesn't seem to try and do so. The focus of the Tensor is on bringing real-world experiences that were not seen or heard of before in a smartphone.
One such feature is the use of the Real Tone feature in photography. Real Tone works to remove the bias photo processing has towards processing darker skin tones. Auto white balancing will now be further tuned and auto-exposure largely improved to offer a natural skin tone to a person's skin in images using the Tensor that would give images an extremely natural look in place of seeming artificially enhanced or washed out.
The Tensor continues to weave its magic even more with videos. Computational analysis that the older pixels were already excellent at now comes enabled in video capture. Videos are a string of fixed images played at a rapid speed every second to give the impression of a moving picture. It is difficult to map tones and apply them to each of these multiple frames being captured every second. With a new tone mapping algorithm called HDRnet, the Tensor can do this instantly by enabling HDRnet onto its Image Signal Processor resulting in an out-of-the-world video capturing experience. The Tensor can also apply this new algorithm in 4K videos recorded at 60 fps for a true 4K video recording feature in mobile devices.
Google Pixel 6 Pro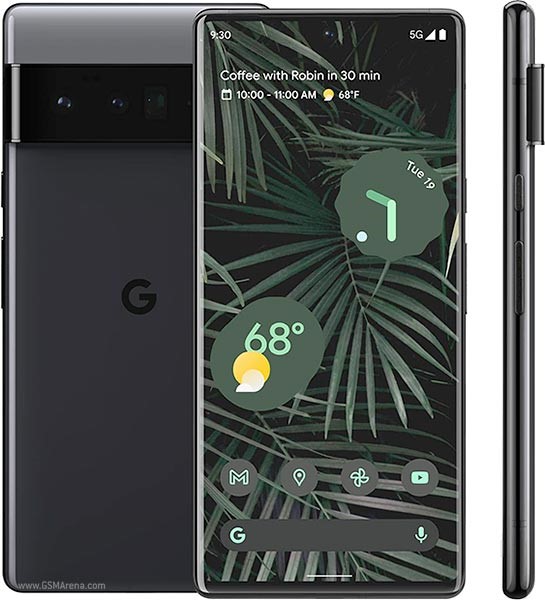 | | |
| --- | --- |
|   | Main Specifications |
| Display | 6.7-Inches, LTPO AMOLED, 120Hz, HDR10+, 1440 x 3120 |
| Processor | Google Tensor, Octa-Core |
| Storage | UFS 3.1, 128 GB/256 GB/512 GB |
| Memory | 12 GB |
| Camera | Main: 50MP + 48MP + 12MP Front: 11.1 MP |
| OS | Android 12 |
| Battery | 5003 mAh Li-Po |
Well on first look it might be difficult to distinguish the Pixel 6 Pro from the Pixel 6 as they look similar. The difference lies in the colours of the 6 Pro and the bigger display resulting in a bigger space between the top edge and the rear camera module. The Pixel 6 Pro's only dent could be the bland colour combinations that look more like washed-out blue, washed-out orange and faded black.
Display
The Pixel 6 Pro is bigger than the Pixel 6 and has a better HDR10+ panel that pops out colours even more than the Pixel 6. This LTPO AMOLED panel has a refresh rate of 120Hz and a huge 512-pixel density owing to its flabbergasting QHD+ 1440 x 3120 resolution. The panel has a max brightness of around 850 nits on Adaptive Modethat offers excellent legibility in direct sunlight. You are allowed to manually switch between two colour modes for either a 'Natural' look or a slightly saturated 'Boosted' look.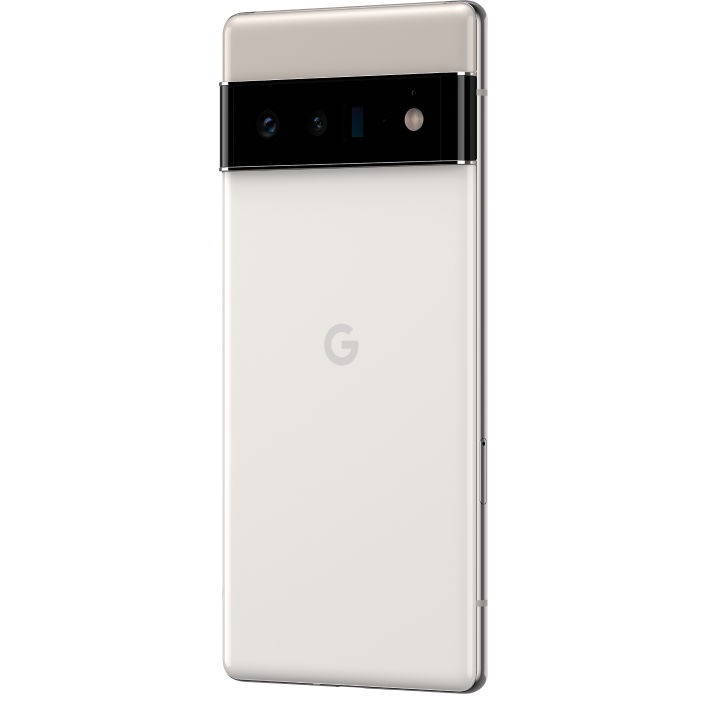 Camera
The 6 Pro comes with the Tensor processor which we now know is excellent for photography and hence there is an additional camera sensor at the back of the 6 Pro as Google tries to bring its version of 'Hollywood' in your pocket. In addition to the two lenses of the Pixel 6, there is an additional 48 MP telephoto lens this time with OIS and 4x Optical Zoom. The front camera has been bumped up with an 11 MP ultrawide sensor for group selfies.
The images in the Pixel 6 Pro have improved exposure and colour reproduction. The hardware is optimized to work well with third-party camera apps. The camera app now includes Action Pan and Long exposure modes that allow you to focus on moving objects, blur out their background and capture them with ease. Long exposure allows you to capture a fast-moving object by keeping the background intact. Add to this the Image Signal Processing of the Tensor processor and Google seems to have the perfect answer to iPhone 13's Hollywood camera.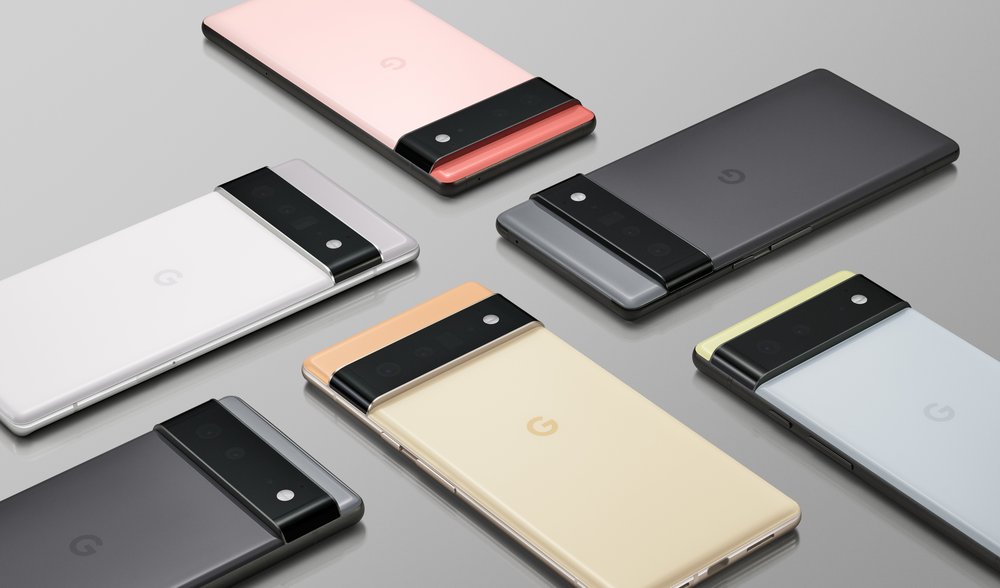 Battery
This is the only section that still needs work, perhaps via OTA updates. Although Google claims that the battery of both the Pixel devices as a two-day battery and neither supplies chargers in the box, battery backup is not that impressive. It falls well short of the claims made by Google with allowing you to just about get through the day with the Pixel 6 on heavy usage and the Pixel 6 Pro managing to hang on for a couple of more hours than the Pixel 6. The issue could be in the Samsung-made modem that can be sorted with future firmware updates.
Conclusion
Pure number lovers might not be impressed with what they have seen till now. Indeed, the claims of Google regarding its Tensor processor even matching the Snapdragon 888 is far-fetched. The A15 Bionic in the iPhone 13 series is still the king of smartphones, but Google has also pointed out that it is aiming for the future with the Tensor and the Pixel 6 and 6 Pro are the first steps towards what future smartphones would be like.
There is no other processor right now with the image processing capabilities like the new Pixels. At $599 for the base model of the Pixel 6 and $899 for that of the Pixel 6 Pro, the deal seems extremely sweet. The question could be, for how long can Google fanboys keep boasting of new smartphones that are best only at photography.