Looking for the biggest display on a foldable smartphone currently available in the market? Today's foldable smartphones come with foldable displays that are inching closer to the 8.3-inch Retina display on the Apple iPad mini tablet. Even the front or cover display are as big as the average smartphones being around 6 to 6.5-inch. Here are 5 of the best foldable smartphones with the biggest displays you can buy.
10 Reasons Why I Chose a Foldable Smartphone
Foldable smartphones with its new form factor come with several advantages, but also face certain challenges. Here are some of the notable benefits:
Increased Screen Real Estate: The very obvious advantage being increased display size. Foldable smartphones can provide users with a larger screen when unfolded. This can be especially useful for activities such as watching videos, playing games, reading, or multi-tasking.
Portability: When folded, these phones can become more compact, making them easier to carry in pockets or small bags. Essentially, you can get the benefits of a larger screen without sacrificing portability. However, it goes without saying that when folded, it is thicker, double the depth of your typical smartphone.
Versatility: Some foldable designs allow the device to be used in multiple configurations. For example, the phone can be partially unfolded to be used in a "tent mode" or "laptop mode" which could be useful for presentations or watching media. Depending on the app, part of the display can show different information or the virtual keyboard when in laptop mode.
Innovation: The very nature of foldable smartphones pushes manufacturers to innovate in other areas, including more durable materials, more flexible batteries, robust hinges, foldable displays that crease less and adaptable software interfaces.
Productivity: The added screen space can be utilized for better multitasking. Some foldable smartphones allow running multiple apps side by side, enhancing productivity. With an open book profile, manufacturers tend to use the right and left hand side for different apps with an inclusion of a small floating window when it comes to multitasking features.
Multimedia Experience: A larger screen can enhance the experience of consuming multimedia, making videos, games, and other content more immersive.
Novelty Factor: Being a relatively new technology, owning a foldable smartphone can be seen as having a device that stands out, offering a unique and fresh experience.
Potential for New Software Experiences: Developers can create unique applications or adapt existing ones to take full advantage of the foldable screen. For instance, a book app might show pages side-by-side like a physical book when the device is unfolded giving the user the experience of reading a traditional book even when they are e-books.
Adaptable User Interface (UI): Manufacturers can design UIs that adapt based on the fold status, providing an optimised experience whether the phone is folded or unfolded.
Enhanced Camera Capabilities: Depending on the design, the primary cameras on foldables can sometimes be used for both regular photos and selfies, potentially offering better selfie image quality.
However, it's essential to balance these benefits with the challenges and drawbacks that foldable phones currently face. These can include issues related to durability, higher costs, potential creases or marks on the display from folding, and the need for software optimisation. Not all app developers ready their apps to adapt to the extra real estate. Moving from the smaller cover display to the bigger foldable display means, app windows have to resize to fit. Without changing the layout of the app to take advantage of the added space, apps tend to look out of place. As technology advances, some of these challenges may be mitigated or resolved but it is still a long way.
Top 5 Best Foldable Smartphones with the Biggest Displays 2023
We look at the biggest cover displays and that all important foldable main display. From major plays like Samsung and Google to Huawei, Xiaomi and Vivo come innovative foldable smartphones with the biggest foldable and cover displays. Here is how they rank.
Xiaomi Mix Fold 3 5G: 8.03-inch / 6.56-inch
Vivo X Fold 2 5G: 8.03-inch / 6.53-inch
Huawei Mate X3: 7.85-inch / 6.4-inch
Samsung Galaxy Z Fold 5: 7.6-inch / 6.2-inch
Google Pixel Fold: 7.6-inch / 5.8-inch
BONUS: MS Surface Duo 2 8.3 inch
1. Xiaomi Mix Fold 3 5G
Xiaomi Mix Fold 3 packs the biggest  foldable OLED display. The foldable display measures a whooping 8.03-inch. Up front, the cover display is also a big 6.56-inch size with a 21:9 aspect ratio. Both displays offer the same level of features with a high 120Hz refresh rate, HDR10+ and Dolby Vision support with 1 billion colours. On top of that, the cover display benefits from the added protection of Corning Gorilla Glass Victus 2. With a flagship Snapdragon 8 Gen 2 (4nm) chip and plenty of memory (12GB/16GB) and storage (256/512GB/1TB) this is a flagship smartphone to reckon with.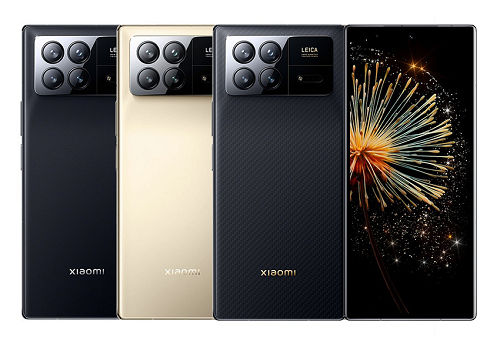 Xiaomi pulled out all the stops to make this a proper flagship. It has four rear shooters and two front facing cameras, one of the cover display (top centre) and one on the foldable display (top left corner). The on Both front facing cameras are in their respective pin holes on the displays. The four cameras that form the main shooter consist of 50MP main, 10MP 3.2x Telephoto, 10MP 5x Telephoto and 12MP Ultra wide 120˚camera. These cameras are housed in a cluster to include the Leica brand and flash. Needless to say, the cluster is huge but the bump is a gradual slope this time compared to Mix Fold 2. As for the front cameras, they use the same 20MP f2.3 23mm wide sensor.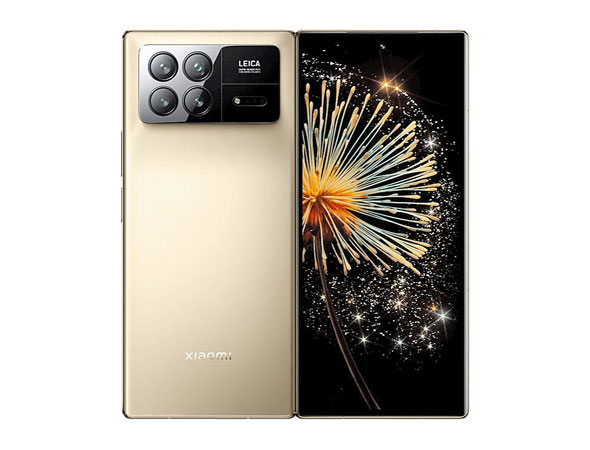 8.03-inch Foldable LTPO OLED+, 1B colors, 120Hz, HDR10+, Dolby Vision, 1916 x 2160px resolution, 10.15:9 aspect ratio, 360ppi
6.56-inch AMOLED, 1080 x 2520 pixels, 120Hz, HDR10+, Dolby Vision, 21:9 ratio, Corning Gorilla Glass Victus 2.
2. Vivo X Fold 2 5G
Vivo X Fold 2 5G may share similar screen sizes with Xiaomi Mix Fold 3, for both its cover and foldable displays but that is as far as similarity goes. Both phones are very different in design, especially in the execution of the hinge. The Vivo X Fold2's main shooter is also based on three cameras over four and the front facing cameras (on the cover display and foldable displays are identical but based on 16MP wide f/2.5 sensors. It does however, use the same flagship chip, the Snapdragon 8 Gen 2 with 12GB RAM memory and 256GB or 512GB storage.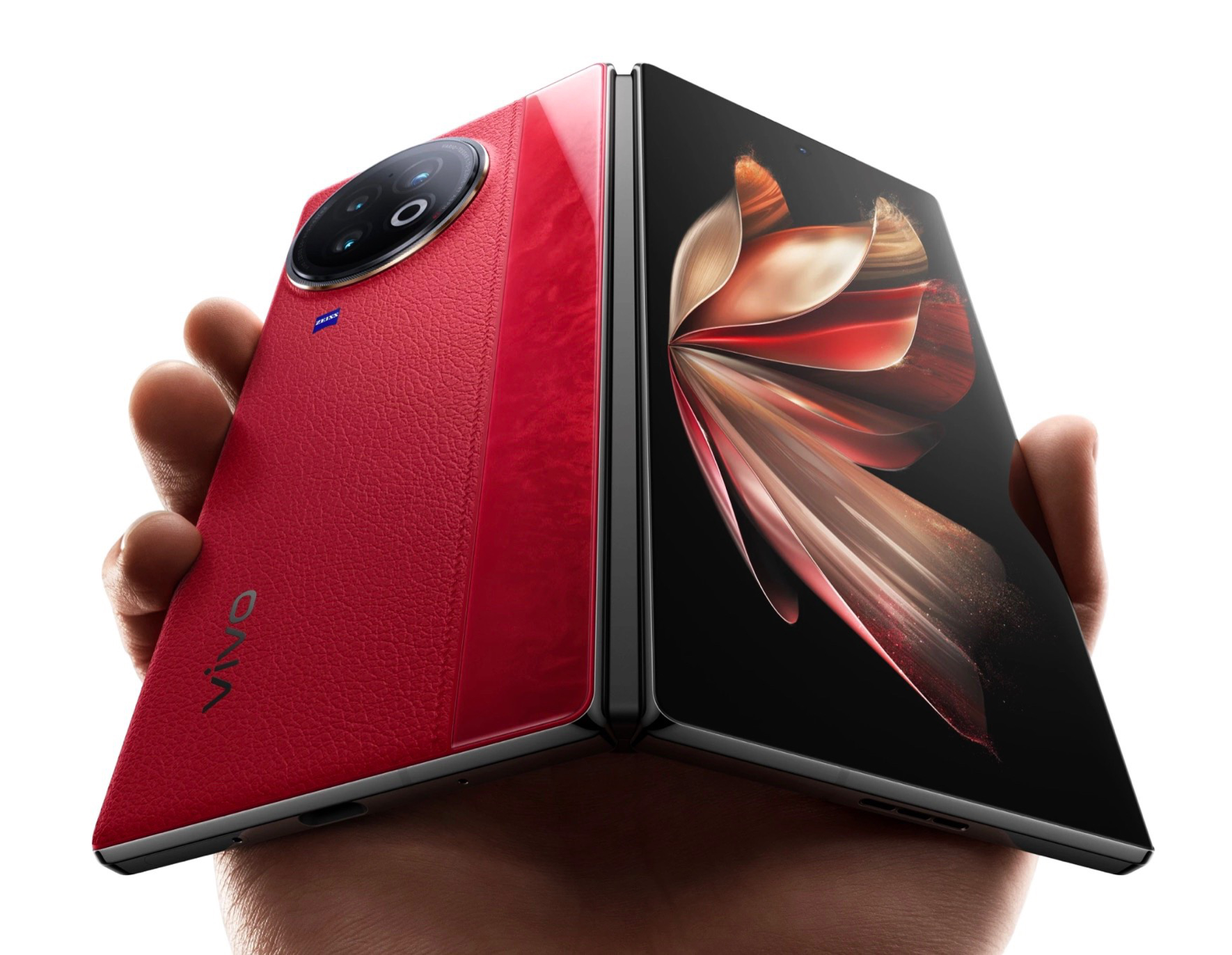 Going back to the main triple shooter, the main cameras are housed in a circular cluster over a rectangular bump making the Vivo X Fold 2 distinctly different. This same circular bump is shared with Vivo X Flip and Vivo Pad maintaining the same design language across their portfolio.
8.03-inch, 206.5 cm2  Foldable LTPO4 AMOLED, 1916 x 2160 pixels, 120Hz, HDR10+, Dolby Vision, 1800 nits (peak)  (~360 ppi density)(~89.3% screen-to-body ratio)
6.53-inch AMOLED, 1080 x 2520 pixels, 120Hz, HDR10+, Dolby Vision, 1600 nits (peak)  21:9 ratio
3. Huawei Mate X3 4G
Since US blocked sales of 5G chip to Huawei, the company can only use 4G chip on their foldable smartphone which is a shame as the Huawei Mate X3 has a lot to offer. Launched around the same time as Xiaomi Mix Fold 3 and Vivo X Fold 2 above, it had to fall back on the Snapdragon 8+ Gen 1 4G (4nm). Third in our list of largest displays, the Huawei Mate X3 has a 7.85-inch foldable OLED display with a much resolution. Packing more pixels per inch, around 426PPI, images are sharper and with a high refresh rate of 120Hz, videos and active motion run smoother too. However, it won't be long before the company overcome the limitation as information on Huawei using locally fabricated 5G chips are making the news.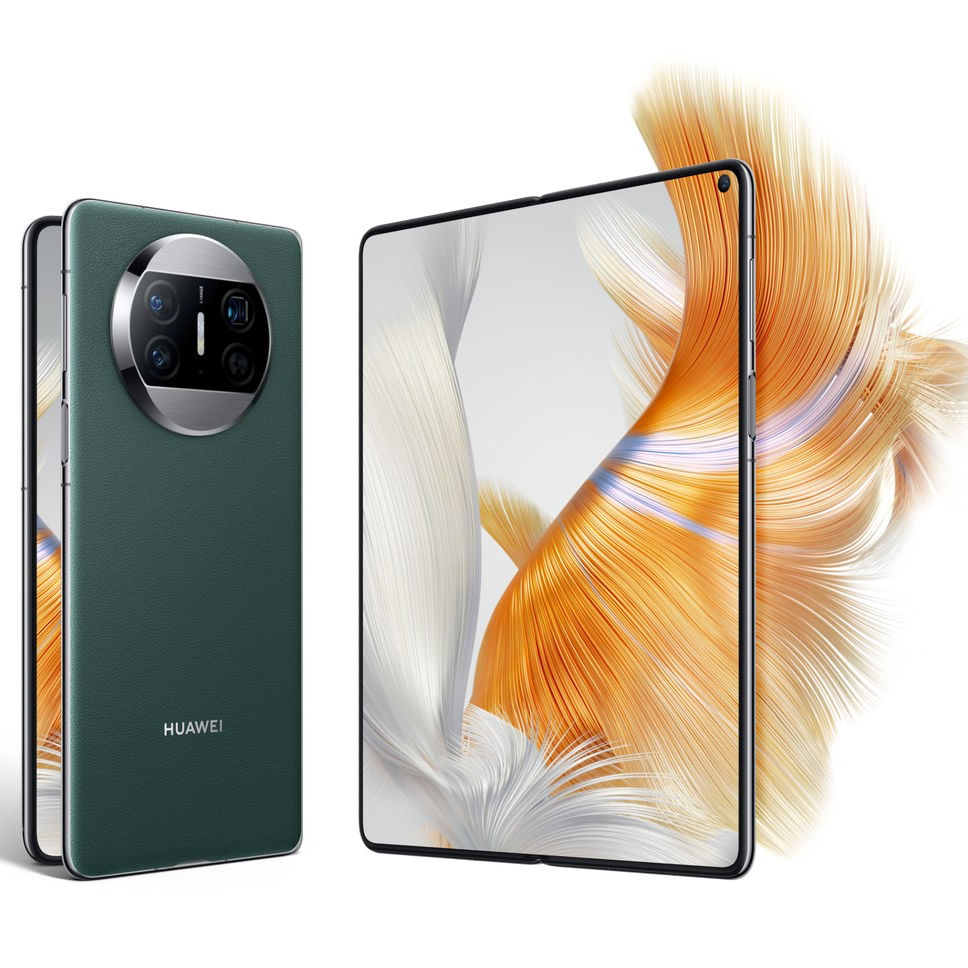 7.85-inch, 197.5 cm2 Foldable OLED, 2224 x 2496 pixels, 1B colors, 120Hz  (~426 ppi density)  (~88.9% screen-to-body ratio)
6.4-inch OLED, 120Hz, 1080 x 2504 pixels, Kunlun Glass (cover display only)
4. Samsung Galaxy Z Fold 5 5G
It may not have the biggest foldable display (7.6-inch) nor cover display (6.2-inch) but the Samsung Galaxy Z Fold 5 is much improved from its predecessor especially that now, the hinge actually folds perfectly flat. Samsung finally got the folding mechanism right, doing away with that ugly gap since the first generation. The same 'design flaw' plagued the company's flip phones. Finally, both Galaxy Z Fold 5 and Flip 5 are now gap free when folded. This will stop things in the pocket from getting wedged between the phone's display.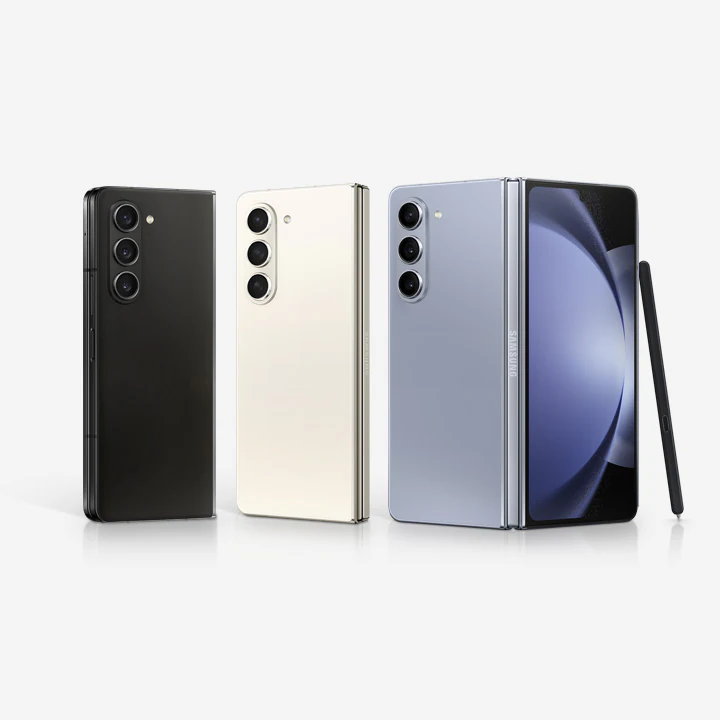 However, being gap free hasn't improved on the IPX8 rating, meaning it is still susceptible to dust intrusion. Beyond the hinge, the Fold 5 has identical displays to its previous generation which isn't a bad thing. The 6.2-inch Dynamic AMOLED 2X cover display is rich in colour, high in contrast and bright. When opened, it reveals a 7.6-inch Dynamic AMOLED 2X that is equally strong if not better, now capable of 1200 nits typical brightness and 1750nits peak brightness. We do have a gripe with the cover display in that it is still tall and narrow, not the convention we are used. Shown in the image below is the Z Fold 5 with the S Pen support although this is not included nor is there room to house it.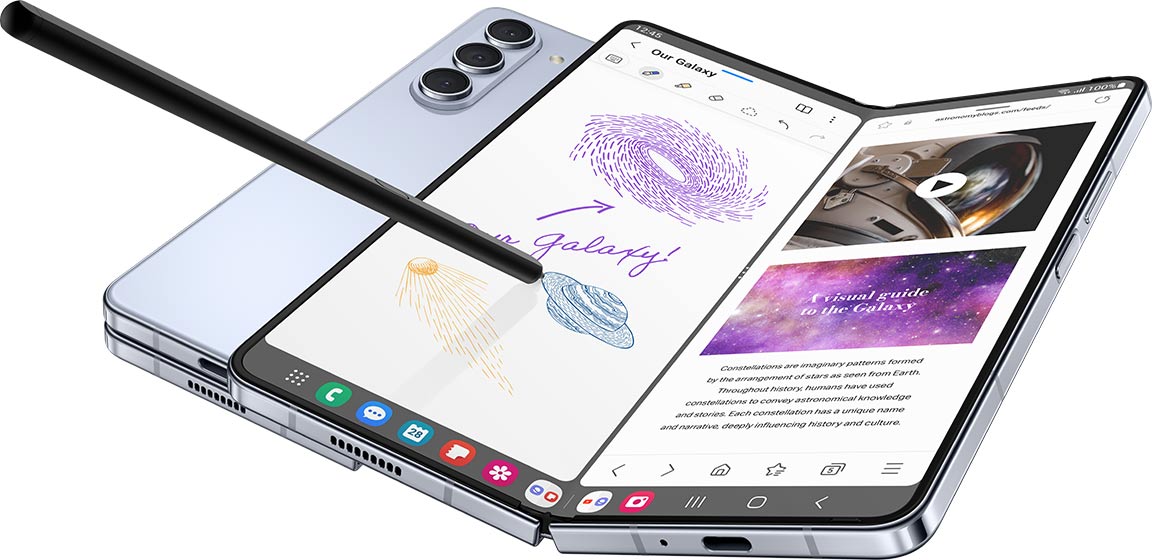 Powered by flagship Snapdragon 8 Gen 2 (4nm) with 12GB RAM memory and plenty of storage options to choose from (256GB, 512GB or 1TB), the phone has plenty going for it. The triple firing main shooter consists of 50MP wide, 10MP telephoto with 3x optical zoom and 12MP ultra wide sensor. The under display selfie camera is a little low on resolution at 4MP while the cover display enjoys a 10MP wide camera in the pin hole. Lastly, the huge 4400mAh capacity battery on a full charge will let you run the phone for up to 20 hours.
7.6-inch, 183.2 cm2 Foldable Dynamic AMOLED 2X, 1812 x 2176 pixels (~373 ppi density), 120Hz, HDR10+(~91.1% screen-to-body ratio)
6.2-inch, Dynamic AMOLED 2X, 904 x 2316 pixels 120Hz, Corning Gorilla Glass Victus 2, 23.1:9 ratio, 401ppi
5. Google Pixel Fold 5G
Google's first jab at the foldable format, the Google Pixel Fold doesn't come cheap. It is at the bottom of our list with its small 7.6-inch foldable display and an even smaller 5.8-inch cover display, both of which are super bright OLED panels. We do like that the cover display uses a friendlier 17.4:9 aspect ratio. For those unfamiliar with those numbers, just know that the cover display is wider, unlike the tall and narrow on Z Fold 5 which makes it easier on the palm and better to drive apps on. It also enjoys a premium stainless steel frame, giving it a polished high end finish.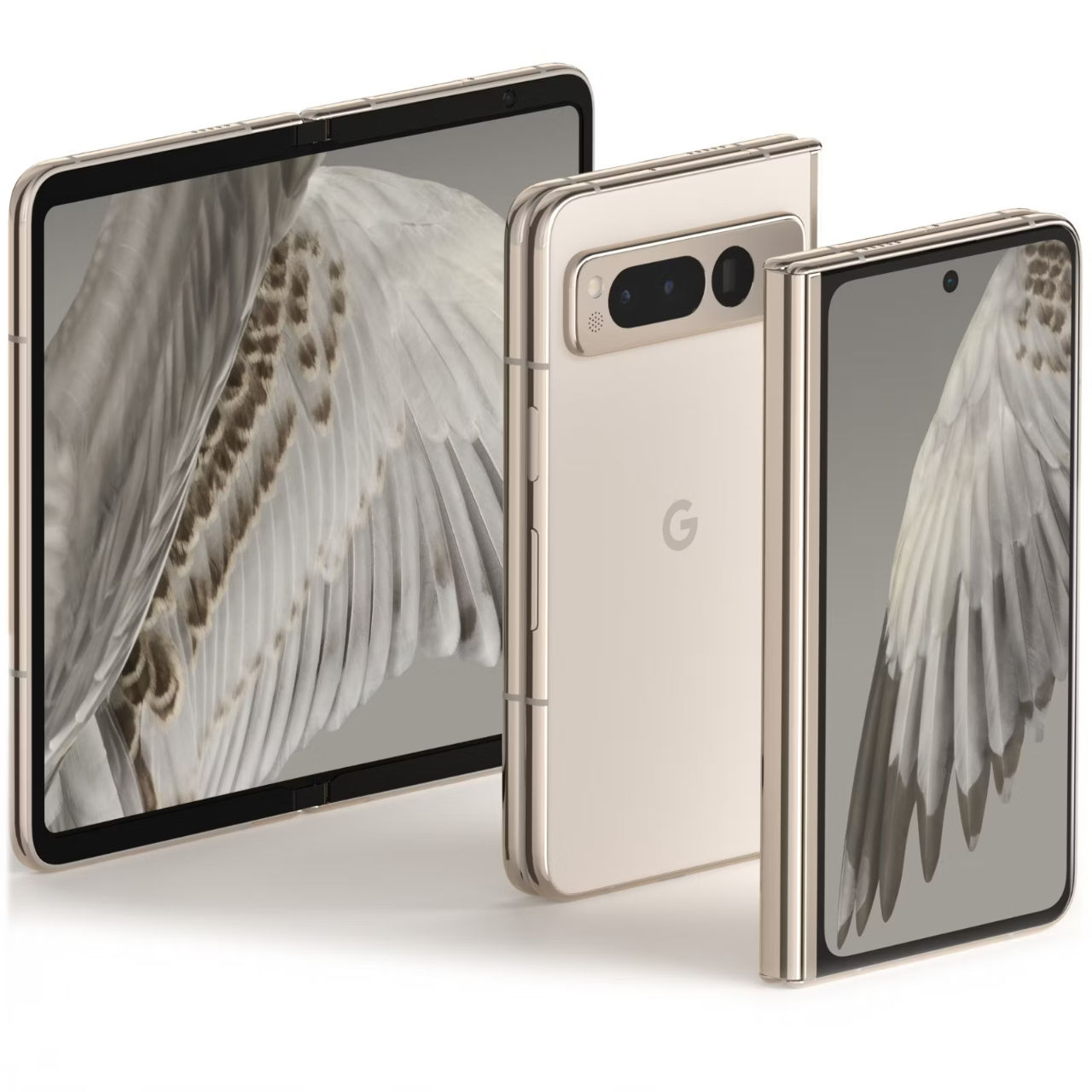 For power, it shares the same custom chip, the Google Tensor G2 with its single screen siblings and Google Pixel Tablet. This also means that it benefits from Google's custom sub-processors including Tensor Processing Unit (TPU) and Image Signal Processing (ISP). With Google's hand in the design, both hardware and software, Google's own apps looks right at home on both displays. Even big name apps look great, using the extra real estate without looking out of place. On a full charge, the phone lasted up to 15 hours and it supports fast charging with a 30W adapter (not included).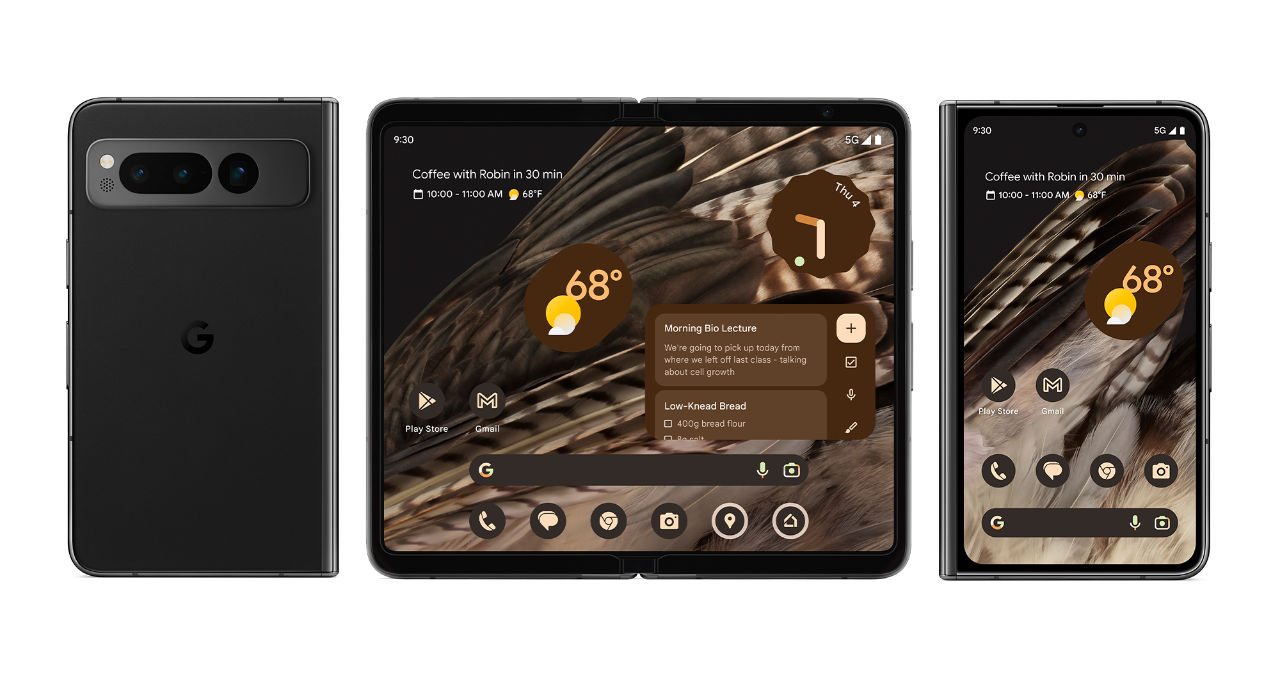 7.6 inches, 183.3 cm2, Foldable OLED, 1840 x 2208 pixels (~378 ppi density), 120Hz, HDR10+, 1000 nits (HBM), 1450 nits (peak) (~82.7% screen-to-body ratio)
5.8 inches OLED, 1080 x 2092 pixels, 17.4:9 ratio, 408 ppi, 120Hz, HDR, Corning Gorilla Glass Victus, 1200 nits (HBM), 1550 nits (peak)
BONUS: Microsoft Surface Duo 2
Not quite in the same category but a foldable smartphone just the same, the Microsoft Surface Duo 2 doesn't come with a cover display and instead of a foldable display, it uses two panels side-by-side for its main display. However, the 360 hinge does let you fold the phone all the way to use one 5.8-inch display in folded position. Back to the main display, both panels give it a total of 8.3-inch real estate, making it even bigger than the Xiaomi and Vivo offerings above.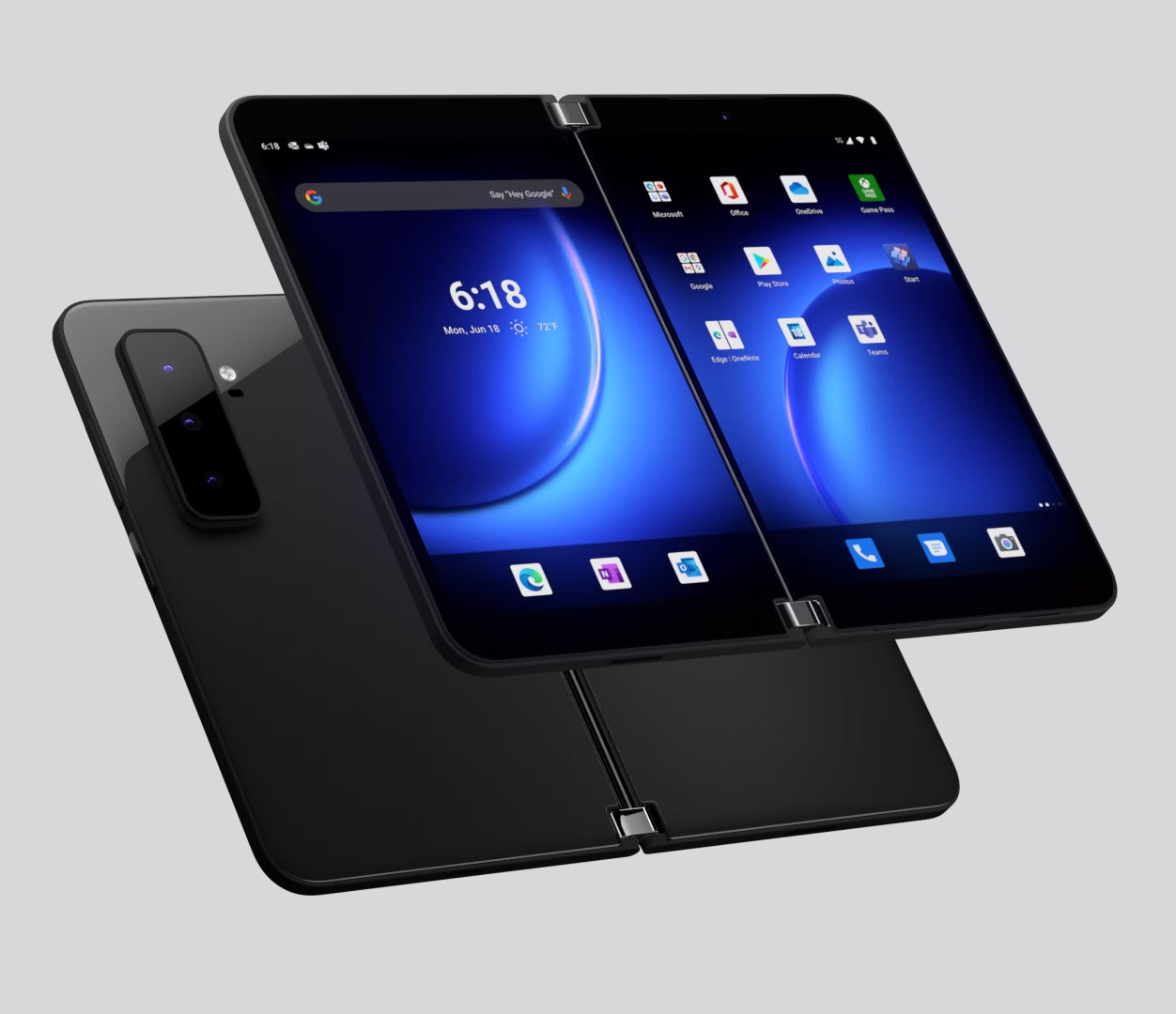 At 8.3-inch diagonal, it is significantly bigger than the 8.03-inch foldable display. Even at this size, it packs plenty of pixels at over 400 PPI making everything on the display sharp with images displayed with Plenty of details. The only display that can match this level of detail is the Google Pixel Fold and Huawei Foldable Mate x3.
8.3 inches, 204.0 cm2, AMOLED, 1892 x 2688 pixels (~401 ppi density), 90Hz, HDR, 800 nits (peak) (~152.6% screen-to-body ratio) Corning Gorilla Glass Victus
Folded position display: 5.8 inches, AMOLED, 1344 x 1892 pixels (4:3)