The Galaxy A40 sits between the Galaxy A20e and the Galaxy A50. Only marginally bigger than the A20e with a 5.9-inch Infinity-U Super AMOLED display. The A20e has a 5.9 Infinity-V display but lacks Full HD+ resolution and only has a TFT display.
When compared to the A50, both Galaxy A40 and A50 enjoy Full HD+ resolution displays with bright Super AMOLED panels at 5.9-inch and 6.4-inch respectively. The screen alone on the Galaxy A50 is far more superior than that on the A20e and this piqued our interest, we just have to find out more.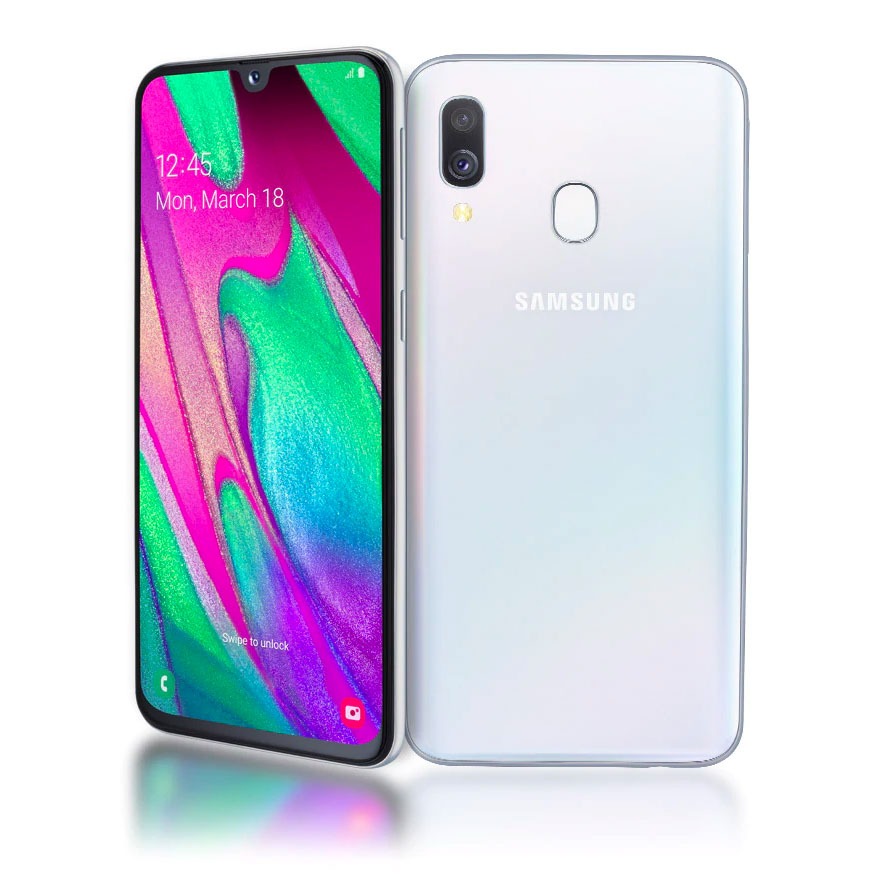 OVERVIEW
View every detail with the 5.9″ Infinity-U FullHD+ Display
Brilliant Super AMOLED panel, colours so vivid they jump out
Premium design in a choice of 4 colours with the use of clever material
Capture moments with a powerful dual camera; standard and wide angle
Super Affordable 5.9-inch Smartphone with Super Bright Screen
Samsung manages to keep the price down for the Galaxy A40 by leaving the on-screen fingerprint sensor out and using two instead of three cameras for the main shooter. It also uses half the amount of storage compared to the A50 at 64GB and slower processor. But this does not mean that the phone isn't any good. Far from that. To the average user, a smartphone with dual camera and conventional fingerprint sensor on the back plate is more than enough.
The screen feels like those on a top of range smartphone. Very easy to use.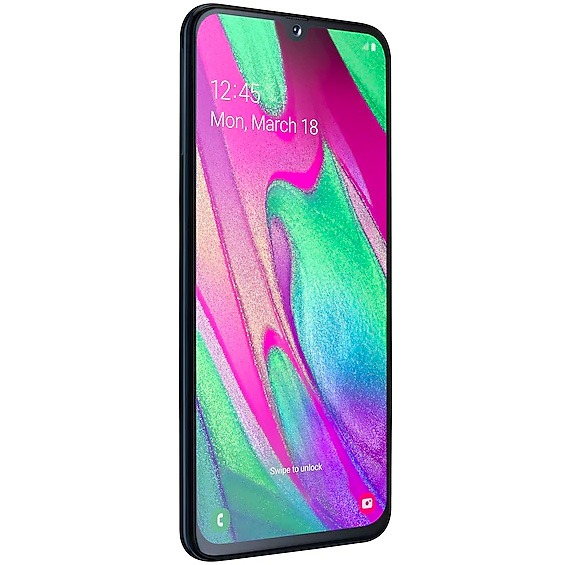 Brilliant Super AMOLED Display
The Galaxy A40 is a moderately sized phone by today's standard given that the A50 has a 6.4-inch display, the A70 and A80 have 6.7-inch displays. This is a phone that is not very much bigger than the iPhone XS. Its display measures 5.9-inch rectangle or 5.7-inch to take into account the rounded corners. And, like the iPhone XS, it is a Super AMOLED panel with more vibrant colours and darker black. For sharpness, the display is FHD+ or 2340 x 1080 pixel resolution, letting you enjoy every detail in your video in all its glory with colours that pop out of the display.
Great screen definition, easy to use and great value for money.
Minimal Notch
Unlike the iPhone XS, the Galaxy A40 has a small U-shaped notch, what Samsung likes to call the Infinity-U display. Together with near zero side bezels, the screen is as big as the footprint of the phone safe for the slightly bigger bottom bezel. The small U-shaped cut out on the display houses the single 25MP selfie camera.
Performance
To give you an idea of its performance compared to the phones that sandwiche the Galaxy A40, it has an octa-core processor clocking in at 1.8GHz and 1.6GHz. The A20e is powered by a much slower octa-core processor at 1.6GHz, 1.35GHz. On the other hand, the A50 has a much faster octa-core processor clocking at 2.3GHz, 1.7GHz. Given the jump in price between the A50 and the A40, even with the lower clock speed, it is still a good value phone.
The phone charges very quickly has a very good camera and lots of memory. I also found it copes better with signal in places where my older phone and my friends new i phone on the same network struggle.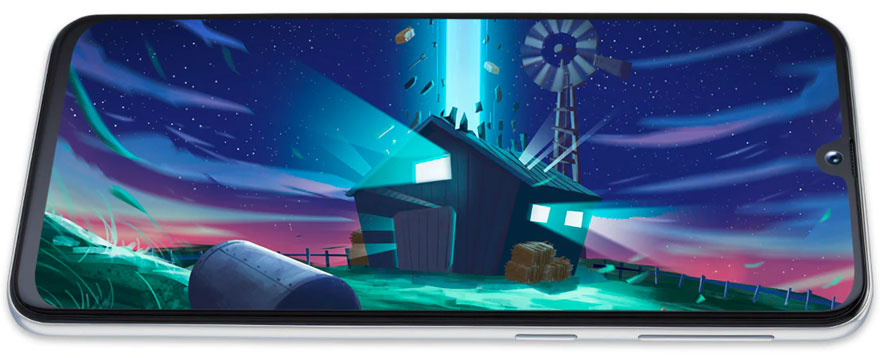 When opening apps, the phone feels quick and snappy. Apps pop up in an instant. Fire up graphics-heavy games and it sails through it like a dream. The Galaxy A40 has got the power and performance to make things run smoothly. What's more, it has 4GB of RAM and 64GB of ROM so you can store more app and data and worry less about lag.
Plenty of Memory and Storage
The Galaxy A40 has the same amount of storage as the A50 at 4GB RAM. A different story to the Galaxy A20e with only 3GB RAM. Storage wise, it has half that of the A50 at 64GB and double that on the A20e (only 32GB). Both memory and storage, 4GB and 64GB respectively is sufficient for most applications. For extra storage, there is always the microSD card slot that takes up to 512GB.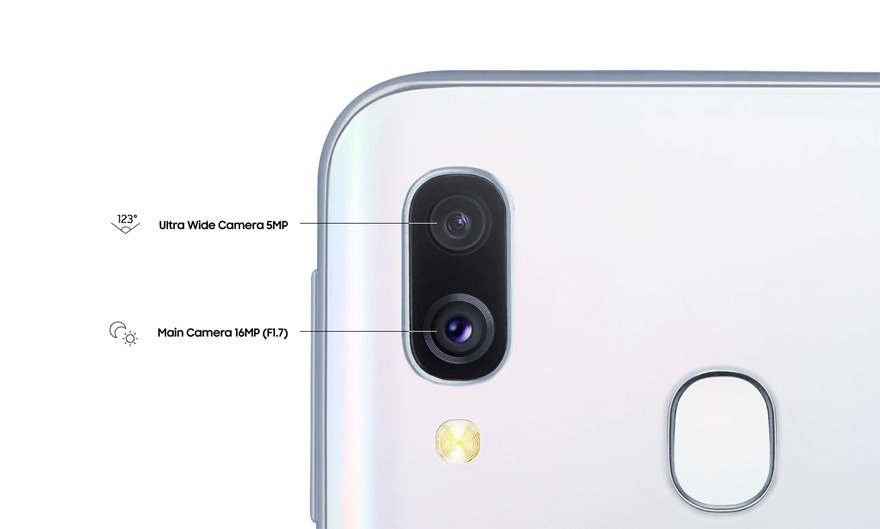 Dual Camera: Standard and Wide Angle
To cut cost, the main shooter is made up of a pair of cameras, 16.0 MP and 5.0 MP. The standard 16MP (F1.7) camera and a 5MP Ultra Wide Camera with a 123-degree field of view will cater for most people's needs. It's able to see every scene just like the human eye and capture every single memory.
Capture More
From epic landscapes to group photos, the Ultra Wide Camera fits everything in. And with a 16MP main camera, you can dive into each detail whether it's day or night. Everything you capture will come out clear, bright and lifelike. The cameras also support background blur for bokeh effect when shooting portraits.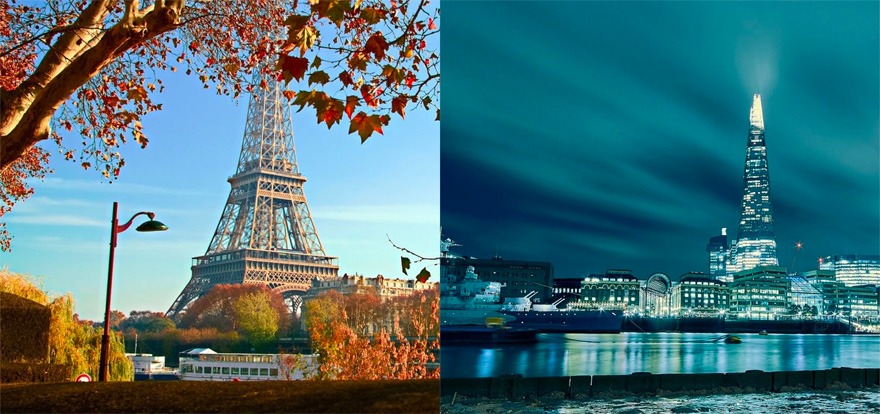 Automatic Photo Optimisation
With clever AI, the phone can automatically detect and apply the right scene, choosing from 1 of its 19 modes for optimum levels of brightness and saturation. Your photos will always be optimised for best result. The Scene Optimisers are Food, Person, Flowers, Indoor, Dog, Scenery, Greenery, Trees, Sky, Mountain, Beaches, Sunset, Waterside, City Street, Night View, Waterfall, Snow, Bird and Test.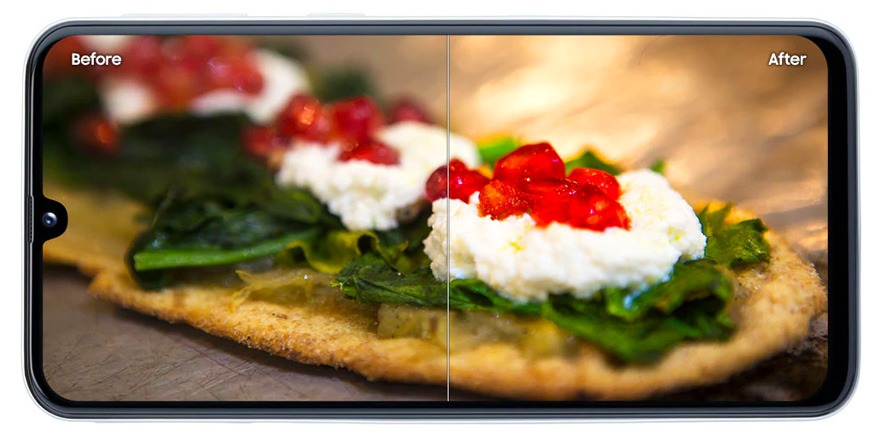 Whooping 25MP Selfie Camera
As for the Selfie Camera, it works just as well in daylight or low light. A high resolution 25MP sensor captures vivid selfie and selfie focus blends the background and puts your features in focus. Plus, Smart Beauty mode ensures that you always look good.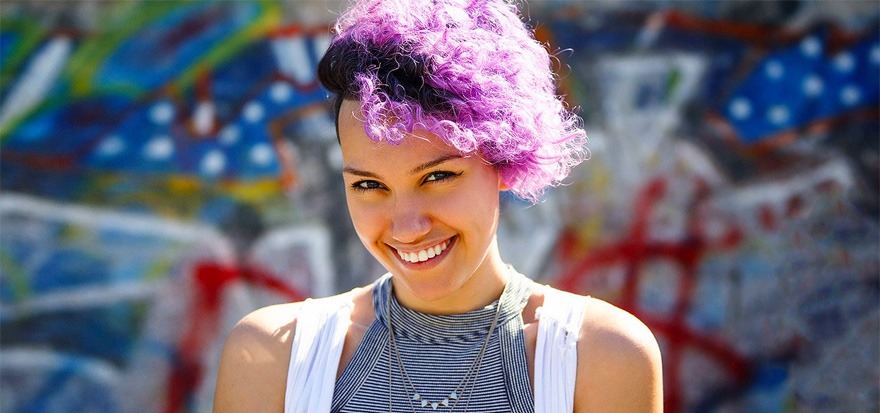 To spice things up, use the many different camera effects. Compose and share your shots and videos with AR Emoji, AR Sticker, Stamps and a range of other filters. When you are ready, send it to a friend or share it online.
Design and Colours
This is a lightweight phone weighing only 140grams. It is also a small and slimline phone measuring 144.4 x 69.2 x 7.9 mm. That's 7.9mm thin. Apple's iPhone XS measures 7.7mm thin so kudos to Samsung for achieving this with a budget phone. The Galaxy A40's lightweight and super slim design is large thanks to the use of Glasstic back. The new minimalist 3D Glasstic is available in black, blue, coral or white. Moreover, it comes with stunning curves at every corner making the phone look no less premium than flagship smartphones.
Battery Life
With its 3100 mAh capacity battery, the Galaxy A40 can last all day. Use it to stream movies and make calls. But being limited to a moderately sized battery also meant that it will need to be topped up at the end of the day. But don't worry as it comes with a 15W Fast Charger that lets you quickly top up when needed. Samsung claims internet usage on LTE of WiFi to last up to 11 hours. If you are using this offline, you can get up to 14 hours of video playback or up to 64 hours of music playback.
Battery life is good I am very happy with the phone I would recommend to anyone. Samsung keep up good work.
Fast Charging USB Type C adapter
The fast charge feature is good but a spare data/charge cable can be expensive as it has the new type C plug. Overall a good phone if you can get it at a competitive price
Had this a week and so far it's been brilliant. Long lasting battery, easy to use. I used Samsung Switch to bring all the stuff from my previous A5 and it worked a treat.
Final Thoughts
Everything works great and I haven't had any problems so far. It does everything you need a phone to do. We would recommend buying a case as it likes to slide off if you are not careful. Overall, for the price, we can't fault it. If you are looking for a budget handset, here is an amazing value find.