Apple couldn't wait to get to number 10 with the iPhone X and now XS. For Samsung that milestone is marked by amazing devices with the Galaxy S10 and S10+ and now the ultra flagship Galaxy Note 10 and Note 10+. These are do-it-all smartphones with 5G support and stylus. Although like the S series, the 5G version comes at a premium on the Note 10+.
Samsung's sales pitch – "With Galaxy Note10, Note10+ and Note10+ 5G we've designed a mobile experience that's like a computer, a gaming console, and a professional camera, all in one device." and we have to agree.
6.3-inch or 6.8-inch Super AMOLED Infinity-O display with HDR10+ certification
Ultrasonic in-display fingerprint sensor and face recognition
Powerful processors, plenty of memory and storage makes
5 cameras available only on Galaxy Note10+ (1 front and 4 rear). Galaxy Note10 has 4 cameras (1 front and 3 rear).
Big on Features Small in Size
The potential use of the Galaxy Note has always been big. Now with 5G, it's even bigger. Every review sites have been raving about the phone since launch and it is easy to see why. Touted as the best phone yet, the S Pen functionality is second to none and performance is super fast but above all that is the design. The 10th generation device is a culmination of all of Samsung's work in making the best Android smartphone, more compact, fast yet pocketable and beautifully crafted.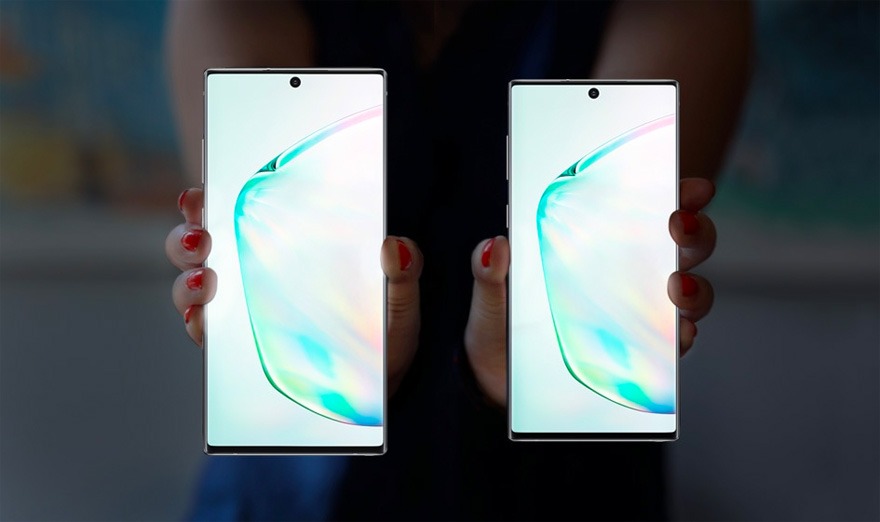 20 Things You Need to Know About the Galaxy Note 10 and Note 10+
Samsung Note 10 and Note 10+ are beautifully designed phones jam packed with tonnes of features. Here, we look at twenty things that matters the most.
1. Two Not One Ultra Flagships
When Samsung introduced three iterations (based on screen sizes) for the Galaxy S10 i.e. the S10e, S10 and S10+ it is hinting at what the future holds for Note 10. While fans have to stick with only one Galaxy Note 9 with 6.4-inch display, they can now choose between Galaxy Note 10 with 6.3-inch and Note 10+ with 6.8-inch display. Like the Galaxy S10+, you can get the Note 10+ in 4G or 5G but we count that as one since both have the same display size.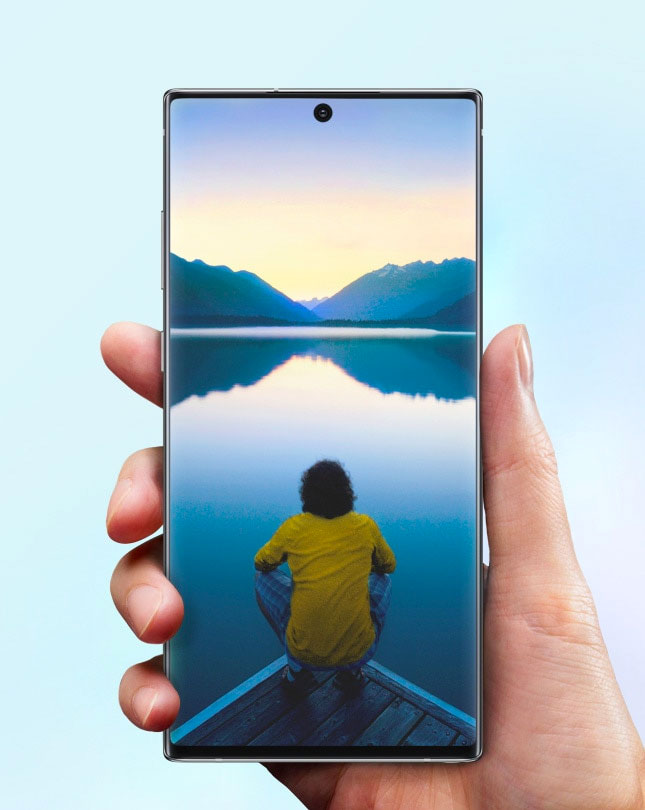 2. New Infinity-O display
Notch-less design: with the Samsung Note 9, Samsung resisted adding a notch like most conventional smartphones. That meant the top and bottom bezels are huge. The top bezel housed all the sensor, cameras and earpiece. With the Galaxy Note 10, a different approach is taken. Using the new Infinity-O display, the Galaxy Note 10 now has an 'O' cut-out top for front facing camera on the top centre of the screen. The Galaxy S10 and S10+ featured this too but on the top right corner.
3. Smaller Top and Bottom Bezels
This allowed Samsung to push the display all the way to the top edge removing any top bezel. They also worked their magic on the bottom bezel, minimising this but with unequalled result. The bottom bezel while small is still slightly bigger than the top. Still, it is an amazing effort, much better than the Note 9. The ultra narrow and small but a tad bigger top and bottom bezels are akin to those on Galaxy S10 series.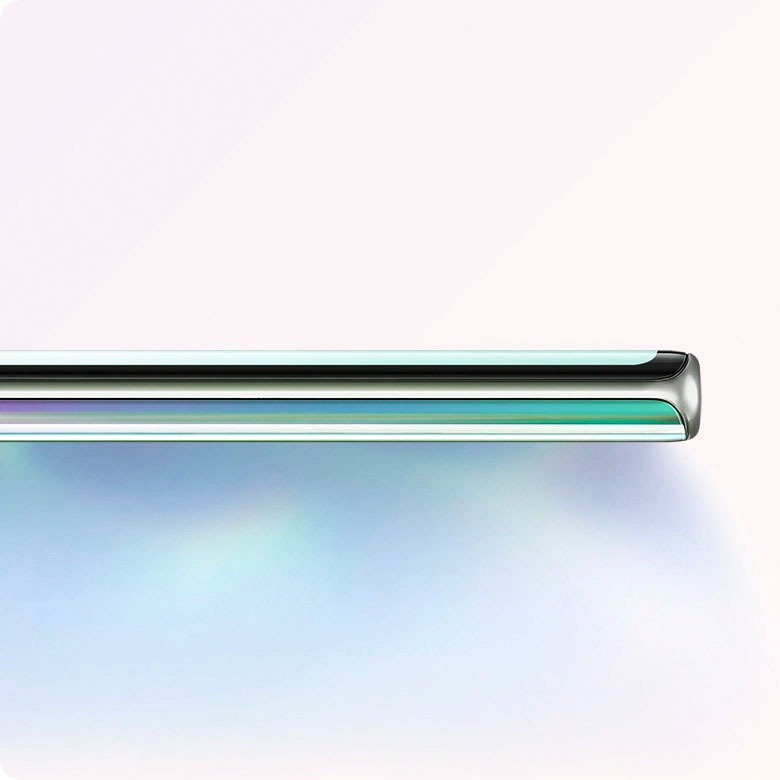 4. Still with Curved Edges
Like the Note 9, it still has the signature curved display on the long edges – the displays on Samsung Note 10 and Note 10+ are curved on either sides of the long edges. It feels less of a curve than previous Note 9 but this could be an illusion given the bezel free design. In addition to that the glass backplate also curves to meet the polished metal frame. With both front and back Gorilla 6 glass curving in equal degrees, it feels almost like a rolled edge.
5. Bigger Display Option
Get the 6.8-inch AMOLED Infinity-O display with the Note 10+ if you fancy a phone with big display. Even at that size, the phone only weighs 196 grams. Remember, there used to be only one size for Note 9 at 6.4-inch. The smaller Note 10 is only 0.1-inch smaller than previous generation Note 9, measuring 6.3-inch. The panels are HDR10+ certified with Dynamic Tone Mapping for playback with tone and contrast true to how it's intended to be seen. Together with speakers or Type-C earphones, you can experience entertainment with both amazing visual and stereo sound enhanced by Dolby Atmos.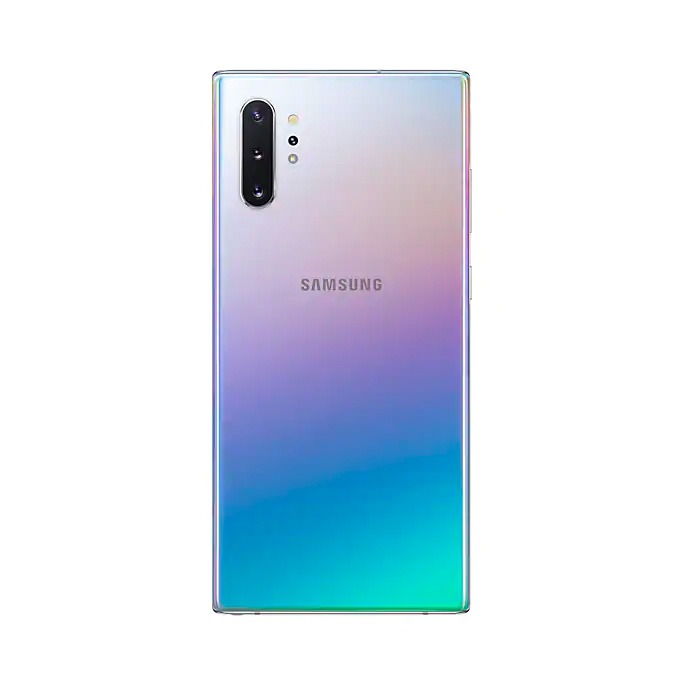 6. Dynamic AMOLED Certified
The Dynamic AMOLED display on Galaxy Note 10 and Note 10+ received the certification from VDE Germany for 100 percent Mobile Colour Volume in the DCI-P3 colour range, which means your images aren't washed out and you'll get unbelievably vivid colours regardless of differing levels of brightness.
7. Copes Well in Direct Sunlight
The display can achieve peak brightness of up to 1200 nits, improving the contrast between dark and light aspects of digital content for a more brilliant picture quality, with a 2,000,000:1 contrast ratio to make the mobile experience more immersive. You will have no problem viewing the screen outside in broad daylight.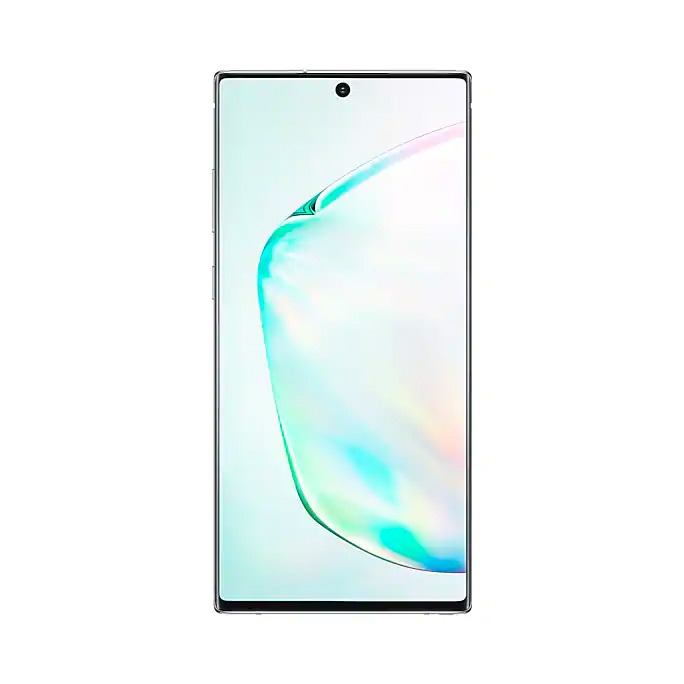 8. Caters to the Dark Side Too
When reading in the dark, blue light can cause eye strain and discomfort. The display lessens eyestrain and sleep disturbance by removing harmful blue light at the pixel level, without compromising colour. Samsung has picked up a TUV Rheinland certification. This meant that the Note 10 and Note10+ displays are Eye Comfort Certified and is able to drastically reduce the harmful effects of blue light.
9. Two Colours Only
Nothing too fancy with the colour choices. Pick from aura glow or aura black. Personally, we would go with Aura Glow, it's more exciting, the way the polished glass catches the light and reflects this in an aura like hues. The colour is light blue with vibrant purple and lavender in the mix. Both sides of the phone is made of durable Gorilla Glass 6, together with the metal frame it creates a futuristic and premium look.
Aura Glow glass backplate has a funky chameleon effect that bends light and produces different shades depending on the angle that you look at it.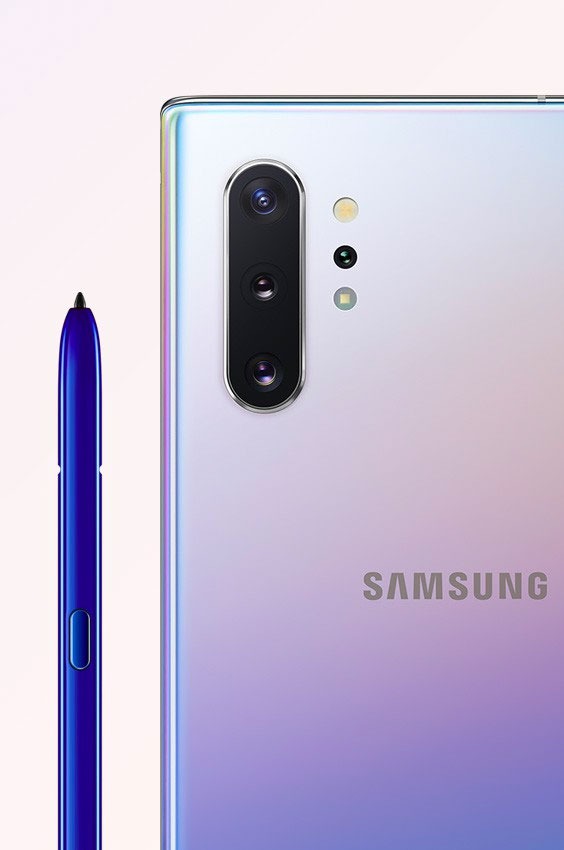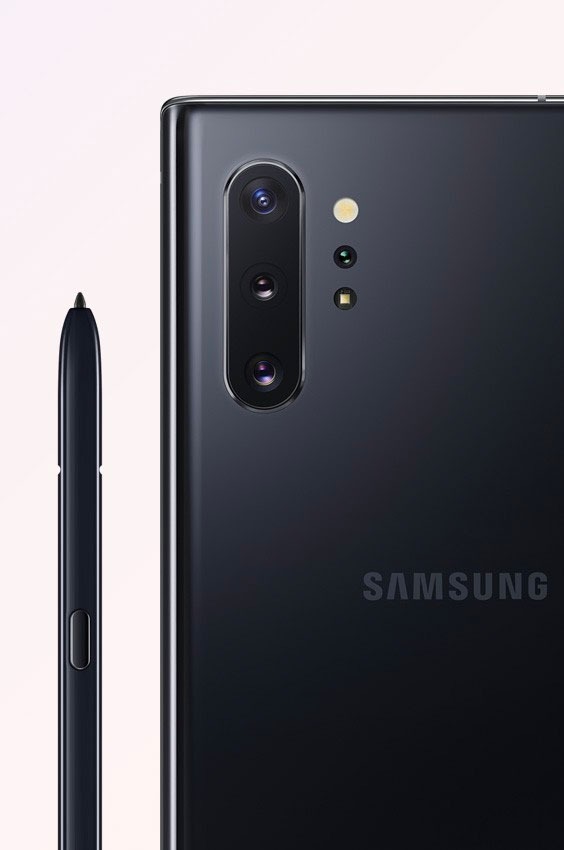 10. Smaller and Lighter
Smaller and lighter than the Note 9, the Note 10 measures 151 x 72 x 7.9 mm and weighs 168 grams. This is thanks to the use of a slightly smaller display at 6.3-inch and ultra narrow top and bottom bezels. The Note 9 with its 6.4-inch display has a whooping footprint 161.9 x 76.4 x 8.8 mm and weighs 201 grams. That's 10 mm taller, 4.4 mm wider and 0.9 mm thicker while weighing 33 grams heavier.
The effortless, ergonomic grip and lightweight build set a new standard for smartphone design.
11. Bigger Note 10+ compared to Galaxy S10+
The question now is how much bigger is the Note 10+ and how this compares to the Galaxy S10+. With a 6.8-inch display it is bigger than the 6.7-inch display on the Galaxy S10+. The Note 10+ has a dimension measuring 162.3 x 77.2 x 7.9 mm. On the other hand, the Galaxy S10+ is smaller at 157.6 x 74.1 x 7.8 mm. Note 10+ is also heavier at 196 grams, 21 grams heavier than S10+'s 175grams but not heavier thanS10+ ceramic edition that weighs 198 grams.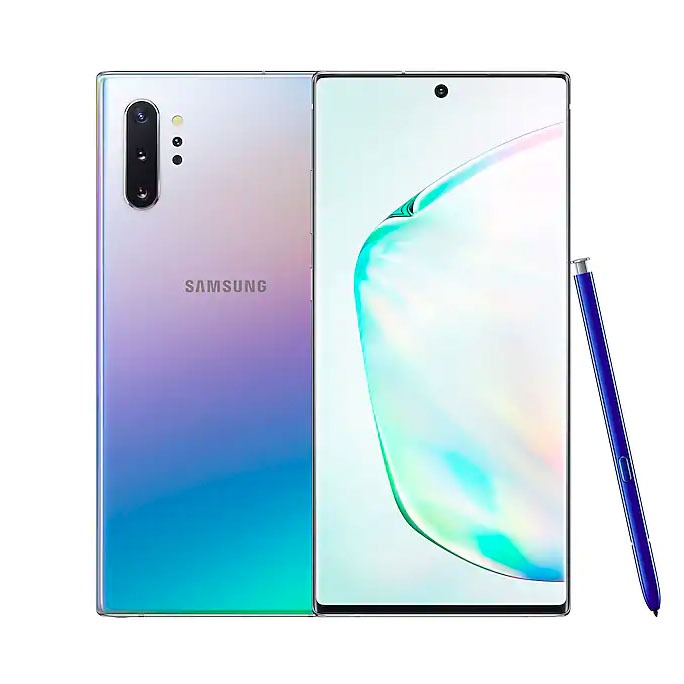 12. Lots of Memory
The Note 10+ has 12GB of RAM. That's a lot of memory, more than even the most expensive laptops. This compares favourably to S10+ with only 8GB and only hitting 12GB on the 5G version. The smaller Note 10 has 8GB of RAM, the same amount of memory on the S10. This is already a step up from the Note 9 with 6GB or 8GB of RAM.
13. Big on Storage Too
There is only one storage option on the Note 10 at 256GB and two storage options on the Note 10+ with 256GB and 512GB. This is a step up and a glimpse of things to come. The Galaxy S10 and S10+ having just been released in March, some five months earlier still features an entry storage of 128GB. Here, that entry storage has doubled to 256GB offering more space for files, media and apps.
What is absent is the 1TB storage option that we see on the Samsung Galaxy S10+ Performance Edition which also has a huge 12GB RAM memory. For extra storage up to 1TB, use a microSD card in the shared SIM slot.
There is a caveat here where SIM slots for microSD cards are concerned. The Galaxy Note10+ 5G only takes one SIM card but can be used with a microSD card for up to 512GB additional storage. The Galaxy Note10+ offers a Hybrid SIM port to add an extra SIM card or a microSD card, depending on your needs.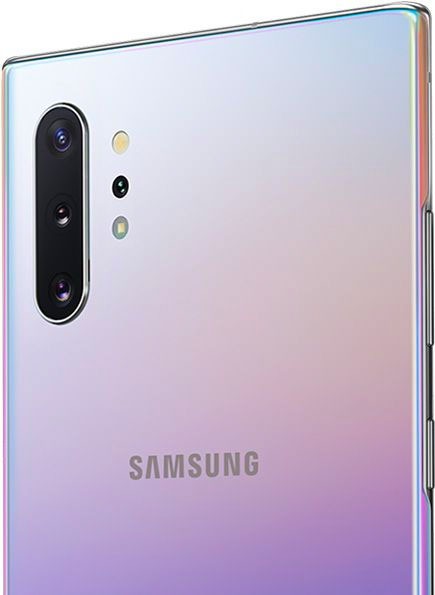 14. Four Rear Cameras on the Big Boy
Using a Quad Camera Array on the Note 10+ you get the best camera setup on a flagship smartphone. Apart from a bonus depth sensing camera, the other cameras are 12MP telephoto for 2x optical zoom, 16MP for ultra wide-angle (123° field of vision) and 12MP standard wide angle camera. The Note 10 lacks the Time of Flight DepthVision sensor leaving you with only a triple camera arrangement. Both phones have a 10MP front facing selfie camera.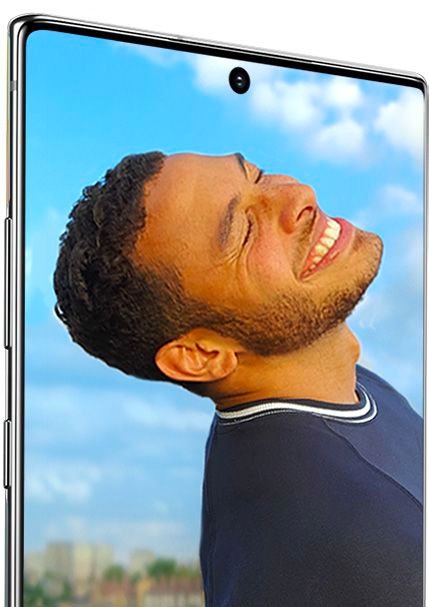 Adapts to Low Light
The Wide-angle camera auto-adjusts to the surrounding light: F1.5 mode brings light into dark scenes, F2.4 mode keeps things sharp in bright daylight and Night Mode brightens up the super low-light scenes.
Powerful Professional Video Features
The Note 10+ offers a breakthrough in smartphone videography. It now supports video bokeh. Previously, bokeh effects or blurred out background are only available on still photos. The DepthVision camera lets you blur out the backgrounds in a video for movie-like depth of field and add special effects in real time to capture artistic moments that stand out. At the time of writing there are four different video bokeh effects to choose from. Remember, this is only available on the Note 10+.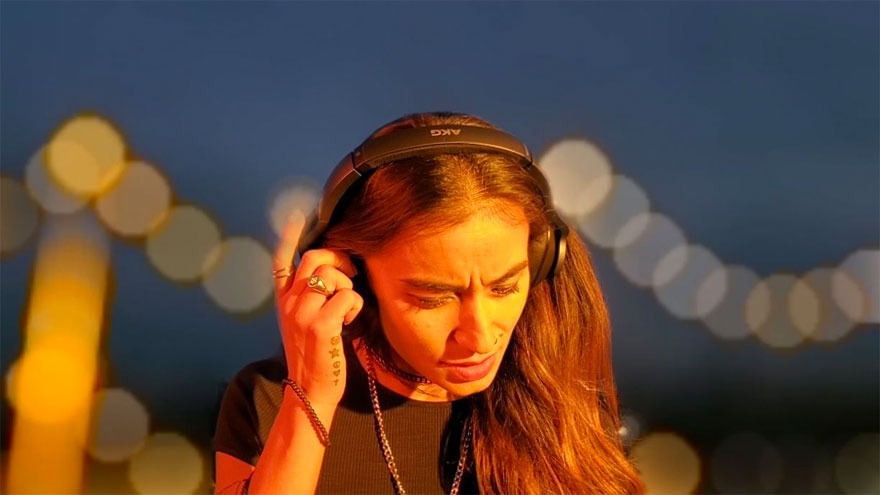 Audio Zoom with Zoom-in Mic
Another feature which you might or might not find useful is the audio zoom. Using a combination of video AI and mic, the microphone can zoom in or out to capture the sound you want.
Scene Optimiser with 30
Using clever AI, the phones recognise popular subjects and use Local Tone Mapping to adjust settings and optimise the photo. There are 30 modes available: Face, Baby, Person, Dog, Cat, Food, People, Beaches, Sky, Mountain, Sunset, Sunrise, City, Snow, Waterfall, Watersides, Scenery, Stage, Vehicles, Drinks, Flowers, Trees, Greenery, Animal, Shoes, Backlit, Indoor, Text, Clothes and Night view. The same software in available on other Samsung devices such as the Galaxy A series.
Super Steady shots and HDR10+
Other camera features include Super Steady shooting when working with action shots, HDR10+ and Dynamic Tone Mapping capture enriched hues and contrast and the include video editing suite. The latter lets you edit to multiple videos, insert transitions or subtitles, change the speed and even add illustrations with S Pen.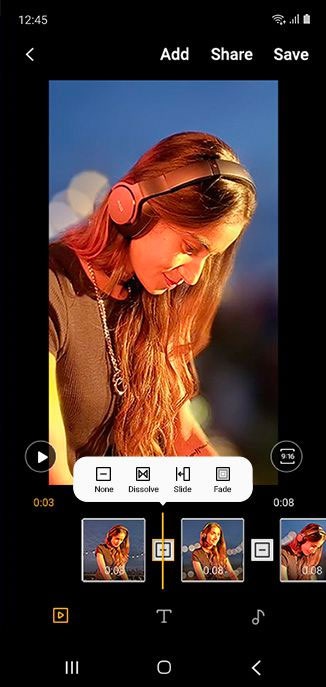 15. High Capacity Battery and Fast Charger
The Note 10 and Note 10+ use high capacity 3500mAh and 4300mAh batteries respectively. This allow the phones to outlast the day so you don't have to worry about the battery giving up on your mid-day. This is achieved with intelligence built into the phone, cleverly recognising the things you do and adjusting power consumption to meet those requirements. When you run low, use the included 25W power adapter for super fast charging.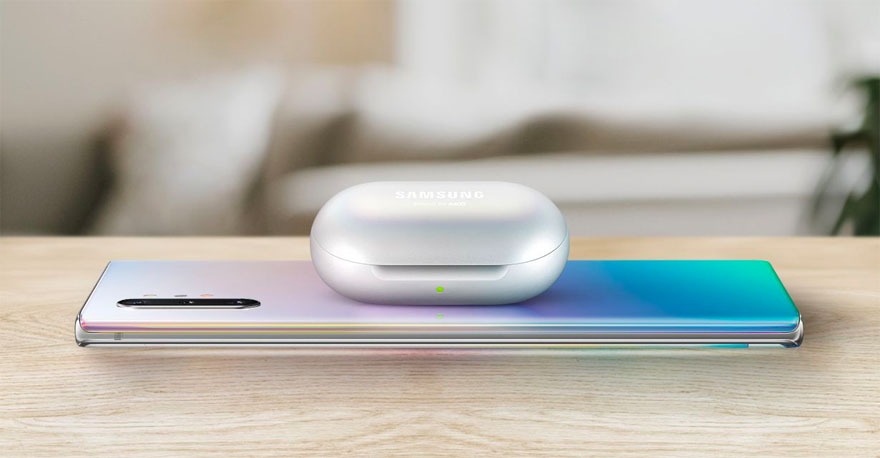 16 Wireless Charging and PowerShare
The Notes support fast wireless charging with Wireless Charging 2.0. A compatible wireless charger is required to use this feature. When its' high capacity batteries are topped up, the phones can act as a charging pad to charge up any Qi-enabled device or other phone. Known as reverse charging, the phone can be turned into a charger to top up other devices in an emergency without needing cables.
17. Waterproof and Dustproof
Both Note 10 and Note 10+ complies with IP68 rating. This means that they are both waterproof and dustproof. It's the highest rating on smartphones from Samusng with the Note 9, Galaxy S10 and S10+ all boasting the same rating. This means, the phones are waterproof up to 1.5m for 30 minutes should you accidentally drop it into water.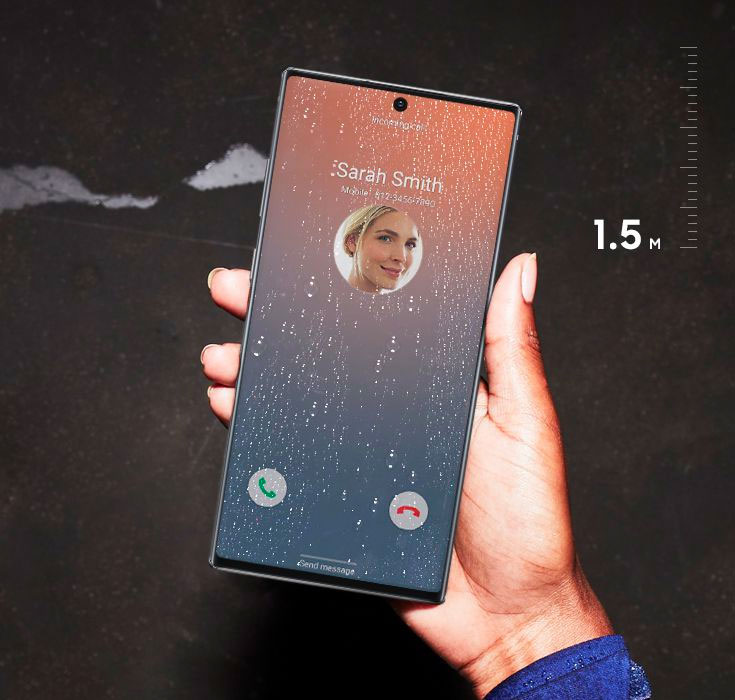 18. The One UI
Samsung's new custom skin on the Android 9.0 (pie) brings everything you need to the front and centre. It is intuitive with clever features that you would actually use. In addition, the user interface has also improved taking into consideration every possible interactions you would have with the phone. Essentially, it brings into focus the things that matters to you most, showing only what you need to see when you need it.
19. Powers Your Through Any Task
A do-it-all phone must be matched with an equally fast chipset and processor. Depending on where you are geograpically, you either get the Exynos 9820 chipset or the Snapdragon 855 processor. Together with ample memory at 12GB for the Note 10+ and 8GB on the Note 10, it will whiz through any task you need doing quickly be it streaming, playing games or downloading. The intelligent processor will even preload frequently used apps to you get them incredibly fast.
Chipset
Exynos 9820 (8 nm) – EMEA/LATAM
Qualcomm SDM855 Snapdragon 855 (7 nm) – USA/China
CPU
Octa-core (2×2.73 GHz Mongoose M4 & 2×2.31 GHz Cortex-A75 & 4×1.95 GHz Cortex-A55) – EMEA/LATAM
Octa-core (1×2.84 GHz Kryo 485 & 3×2.42 GHz Kryo 485 & 4×1.78 GHz Kryo 485) – USA/China
GPU
Mali-G76 MP12 – EMEA/LATAM
Adreno 640 – USA/China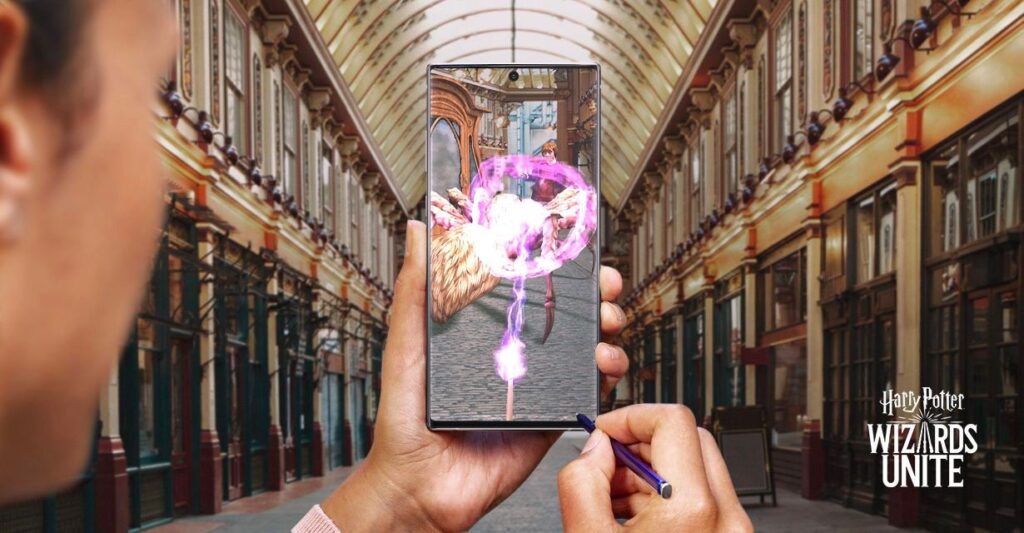 Plus, designed with gamers in mind. There is a slimmer, newly designed vapour chamber cooling system, an improved AI and enhanced NPU working together to provide a smooth gaming experience with reduced lag, even when the game heats up.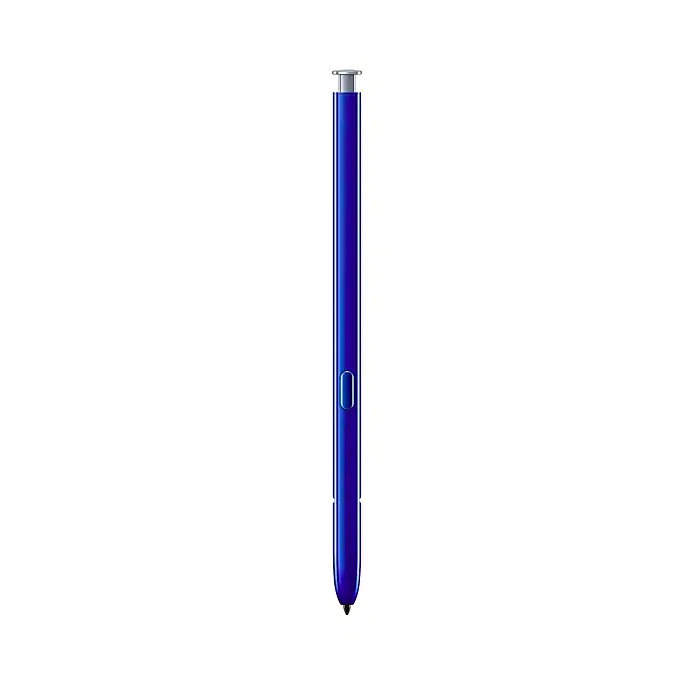 20. The S Pen is mightier than the sword
The classic S Pen has been updated yet again. It now supports gesture controls which means you can control apps without even touching the screen. You can also use it as a remote shutter control, remote control for video playback or remote control for presentation slides. It does so with easy to learn gestures like move clockwise or counterclockwise to zoom in and out, flick left or right to go back or forth in the Gallery app or gesturing up and down to control volume. This is on top of the S pen's drawing and hand writing recognition or transcription functions may be the reason why you would choose this over the Galaxy S10 or S10+.
Pop out the S Pen to use Screen off memo. Write and draw in a variety of colours. Then save your screen to Samsung Notes or pin it to the Always On Display.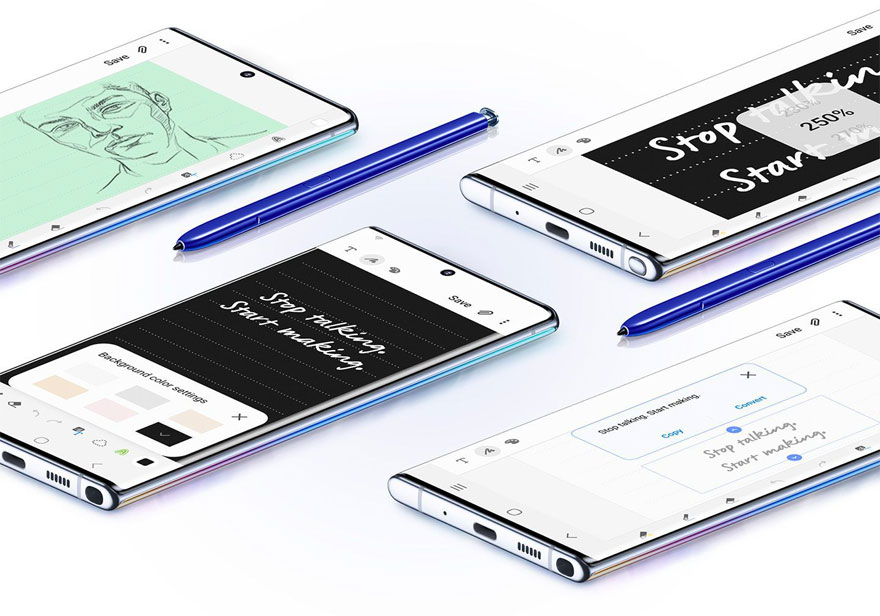 BONUS: 5G Ready & Samsung DeX
Depending on where and when your provider supports it, the Note 10+ 5G version will download at super high speed. We are talking a peak data rates of up to 300 megabits per second (Mbit/s). Again, subject to provider and 5G signal availability. You can expect low latency and minimal lag when streaming 4K quality video. With intelligent Wi-Fi 6, the phone will connect safely and quickly even in a crowded space.
Finally, go beyond the mobile screen with Samsung DeX. Using an optional USB to HDMI adapter, you can connect the phone to a big screen and use the DeX full desktop interface. You may need a bluetooth keyboard and mouse too while you are at it. Many apps are supported in this mode.
Even without the adapter, connect the phone to the PC or Mac via USB cable, download the required app and use the Samsung DeX desktop mode in an emulator-like window. Plus, enjoy drag and drop capability to transfer files between the laptop and phone. A computer in a computer.
When connected in both modes, the phone will still work independently, not mirroring the desktop perfect for multi-tasking. On supported app such as Adobe Sketch, it will even serve as an input device allowing for zooming and drawing while viewing the whole picture on the monitor.
Remember, separate licenses may apply to make the most of DeX but it is one huge step towards tech convergence.