Had enough of low profile keys? Fancy a keyboard with a bit more heft, better feedback, solid strokes and tactile feel with a reminiscence of old-school typing when working on your Mac? Here are eight of the best compact mechanical wireless keyboards to replace the Apple Magic Keyboard.
How to Identify a Mac Layout
The simplest way to do this is to look for the keys at the bottom left corner. Typically, you will find the function [fn], control, option [alt] and command keys (see keyboard layout below). If you see a windows logo, then you will know straight out that this isn't a Mac keyboard. However, there are dual-mode or sometime even triple or quadruple mode keyboards that support MacOS/iOS and Windows/Android operating systems. These keyboards typically come with switches be it physical slide selector switch on the side or Function [FN] key combos that lets you change modes straight on the keyboard. For these multi-mode keyboards, the bottom right and left keys are also dual purpose and marked accordingly to support the different operating systems. Now that you know how to identify a Mac Layout keyboard, lets take a look at the Apple Magic Keyboard alternatives, specifically compact mechanical keyboards.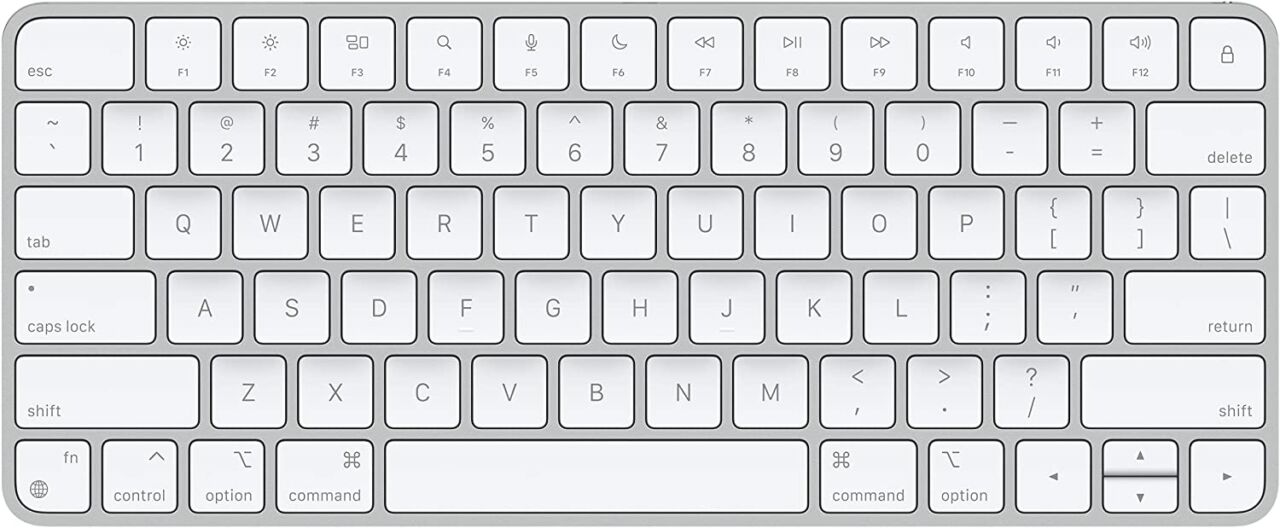 Compact Mechanical Keyboards Alternatives to the Apple Magic Keyboard
A bit about mechanical switches used in some of these keyboards. Most mechanical keyboard are based on Cherry MX switches, a German company that designed and manufactured the switches, the gubbins under the key cap. Depending on the type of switch used, these offer either no feedback (sometimes known as linear), tactile (with feedback) or tactile and clicky sound. A table of summary is shown below.
| | | | | | | |
| --- | --- | --- | --- | --- | --- | --- |
| Cherry MX | Feedback | Sound | Switch | Actuation Distance | Actuation Force | Suitable for |
| Black | no feedback | when it hits the bottom | Linear | 2mm | 60cN | Gamers (RTS and shooter) |
| Red | no feedback | when it hits the bottom | Linear | 2mm | 45cN (less force) | Typing |
| Blue | tactile feedback | loud & clear click | Clicky | 2mm | 60cN | Typing |
| Brown | tactile feedback | no sound | Tactile | 2mm | 55cN | Gaming and Typing |
Other Cherry MX switches are Silver (like Red but with a smaller 1.2mm actuation distance), Green (like Blue but with actuation force of 80cN usually used on space bars), Clear (like Brown but with actuation force of 65dN) and Grey (like Brown but with actuation force of 80cN). However, the most common ones are already listed in the table above. Other keyboard switches manufacturers include Kalih, Greetech, DMET, Moron, Gateron and Goate/Outemu. These manufacturers make Cherry MX equivalent switches.
Now that you know what's underneath those key caps, here are 5 compact mechanical keyboards to replace the Apple Magic Keyboard.
1. Logitech Pop Mechanical Wireless Keyboard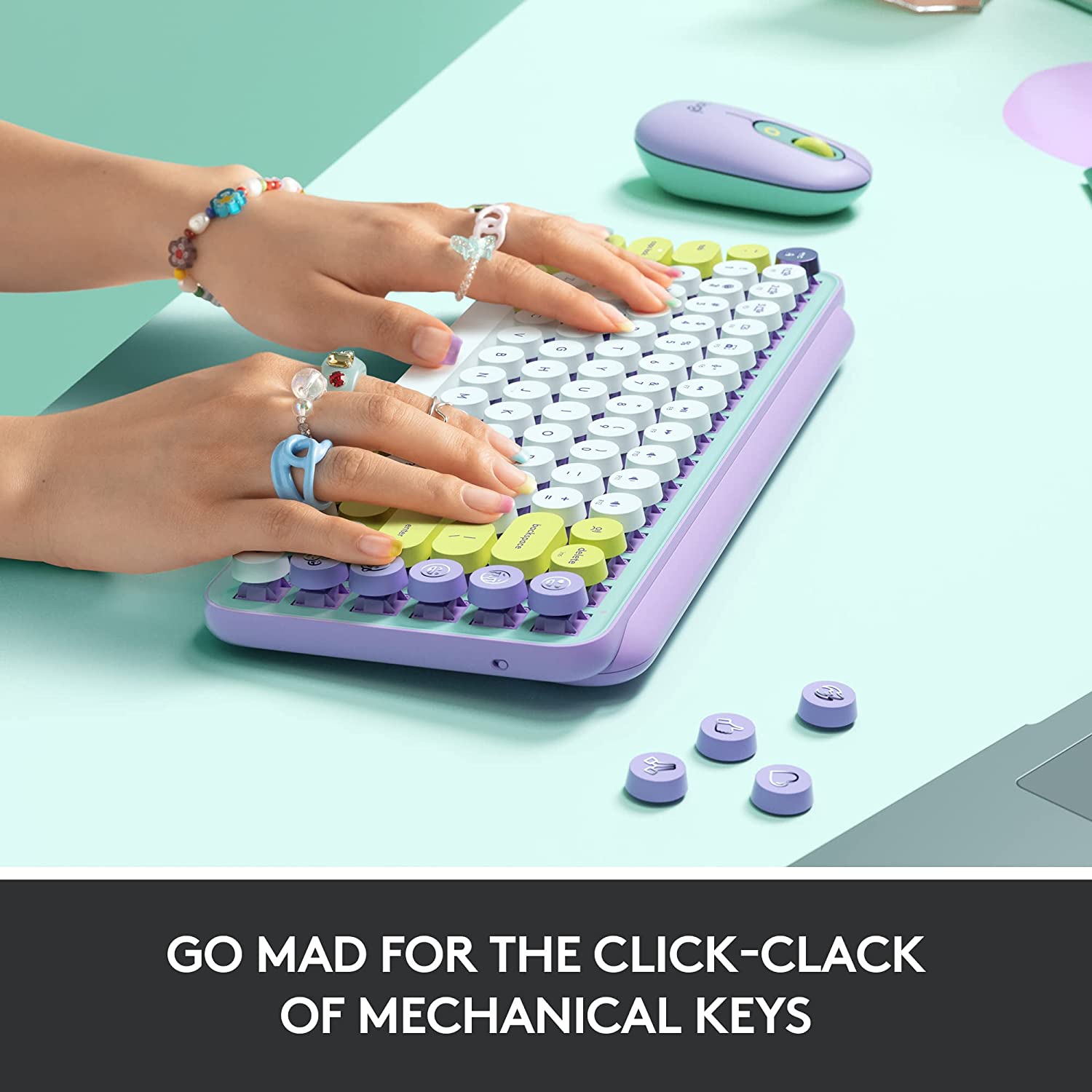 We kick off with a wireless mechanical keyboard from Logitech. The Logitech Pop Keys come with customisable emoji keys and is available in three different designs. The keys are rounded, reminiscent of retro typewriters and are well spaced out. To the far right is a column of keys with emoji icons. These are swappable and programmable to quickly access the different emoji shortcuts for your chat or messenger app.
True to its mechanical nature, typing on the keyboard gives a satisfying click-clack noise. On the top row are 12 function keys that doubles as shortcuts when used with the FN key. But, it goes beyond just system shortcuts. The first three Easy Switch keys lets you switch between three devices with a single tap. That way you can type on your phone, tablet, laptop (or desktop) switching across different operating systems like Windows, MacOS, ChromeOS, Android, iOS and iPadOS.
For connectivity, it comes with a choice of Bluetooth or Logi Bolt USB receiver (2.4GHz) depending on the device. The included two triple A batteries is said to last up to 36 months (3 years) with average use. You can of course replace these with high capacity rechargeable or long life alkaline AAA batteries after. For those interested, the mechanical key switches are based on Cherry MX brown, suitable for both gaming and normal typing with tactile feedback.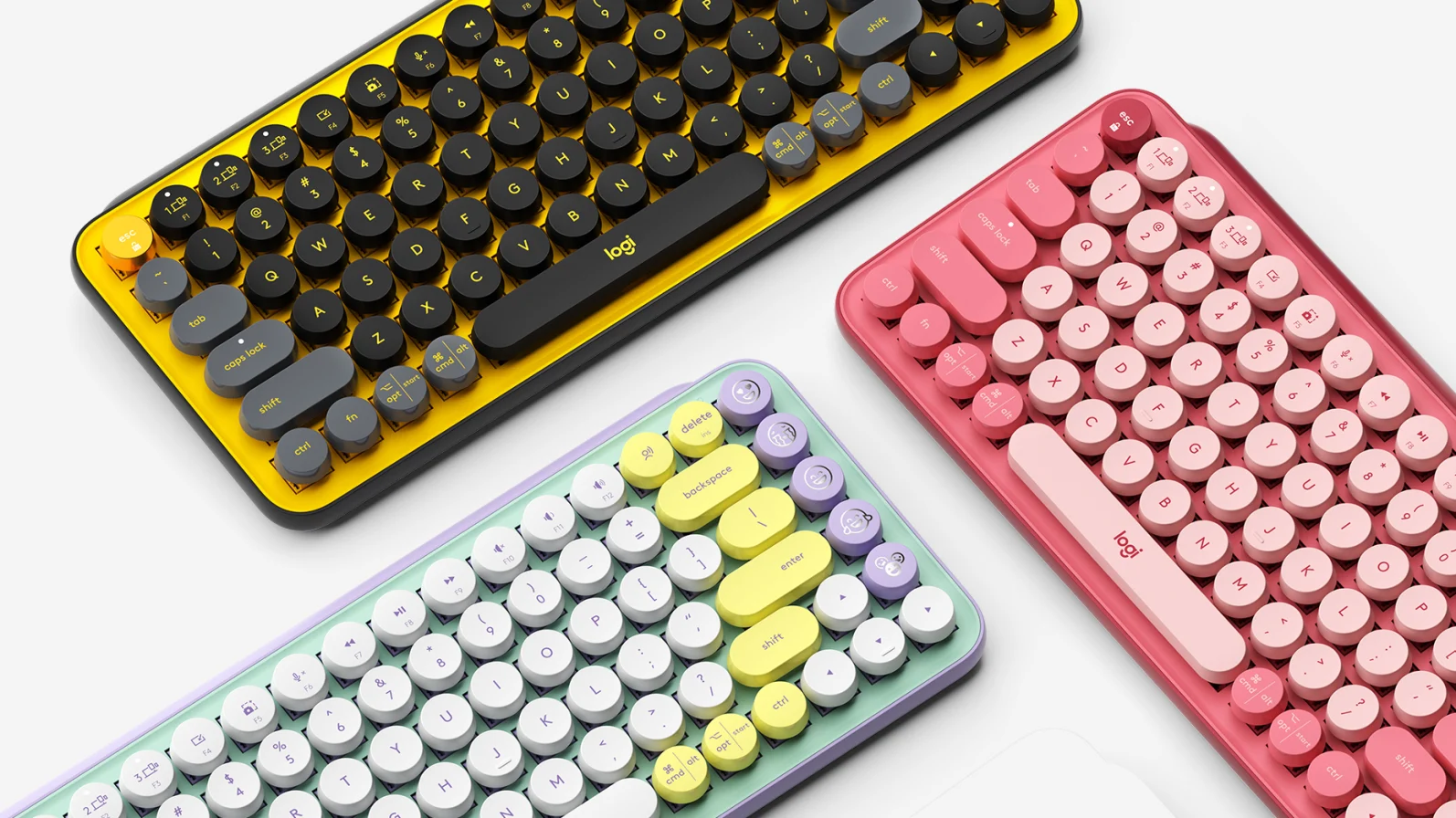 Logitech Pop Keys Colour Options
loud, retro, bouncy keys in a combination of bold colour options
8 swappable emoji keys and 1 emoji menu key customisable via Logitech Software for MacOS and Windows
support multi device pairing up to 3 and quick switching between then with Easy-Switch keys.
3 years battery life with supplied AAA batteries (2) and keys that lasts 50 million strokes.
Bolt dongle stored in hatch for batteries.
Fixed tilt, not height adjustable.
2. Keychron K2 Wireless Bluetooth/USB Wired Gaming Mechanical Keyboard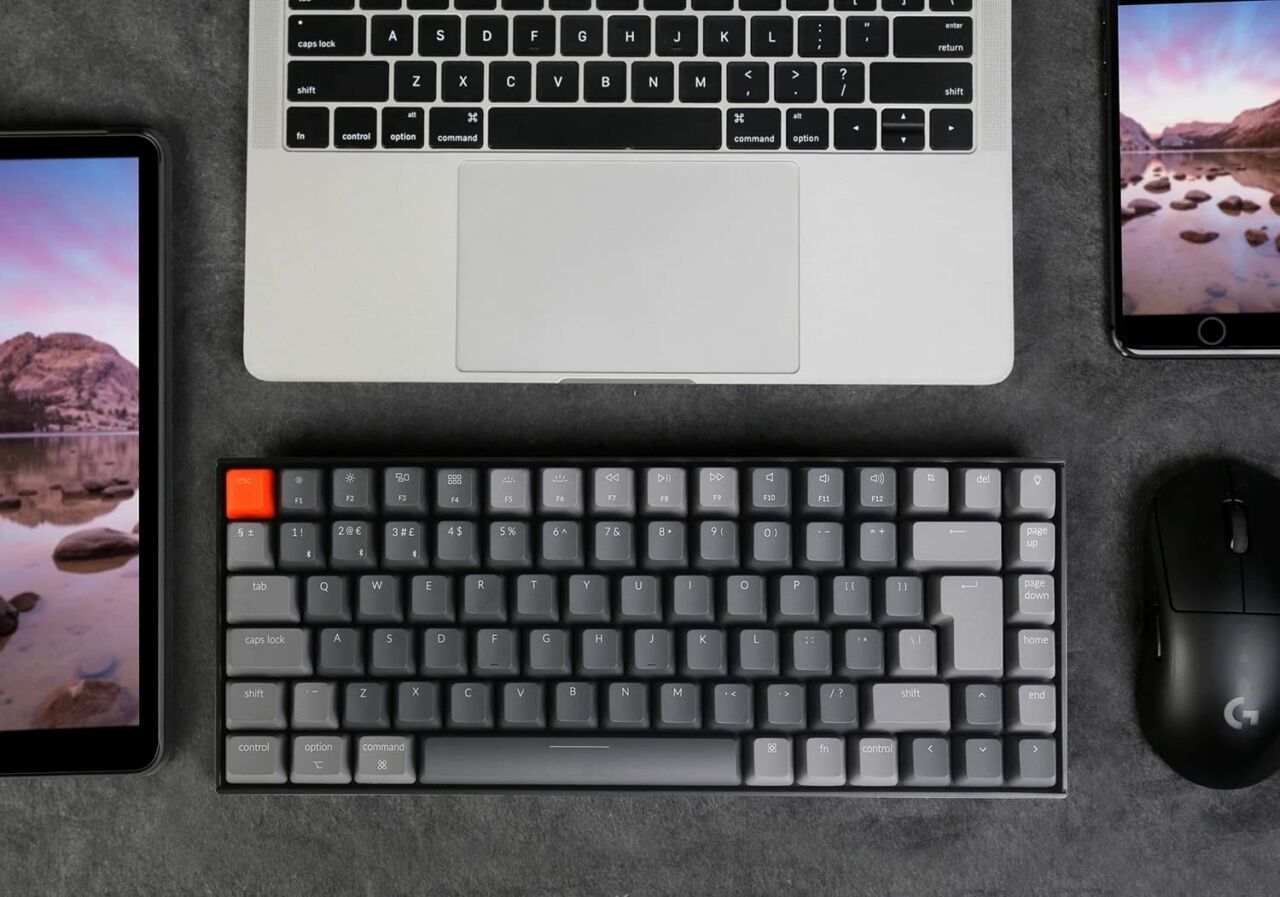 The Keychron K2 has a unique Mac layout with the necessary Mac specific keys. Keycaps for Windows are also included to swap out the buttons if need be. It comes with a USB-C charging port, operating system (Windows/Android or Mac/iOS) switch and connectivity modes switch (Bluetooth / Wired / Off) on the left side of the keyboard. Beneath the keyboard are also foldable feet that lets you tilt the keyboard by 9 degrees. Apart from the RGB backlight, it stands out from the other keyboards with its bright vermilion ESC key and two tone (grey and dark grey) keys.
84 keys (ten keyless keyboard but retains shortcut and arrow keys)
79% mechanical keyboard
RGB Backlight: Gateron Brown, Blue or Red Switches available
Connects up to 3 devices via Bluetooth 5.1
4000mAh battery, 72 hours typing, up to 7 days normal use with 8 hours per day
3. Keychron K8 Tenkeyless Wireless Mechanical Keyboard
Not quite as compact as the K2 above but the K8 is still a tenkeyless keyboard. This means it does not come with the number pad while retaining full size cursor keys. Pick one with red switches (pictured below) for typing or brown switches for gaming and typing with the latter offering a tactile feedback. You can use the keyboard wired via USB-C port or wireless via Bluetooth 5.1. During use, it offers a sturdy feel and good feedback thanks its CNC processed aluminium frame and full size keys. The switches are manufactured by Gateron and follows the Cherry MX design.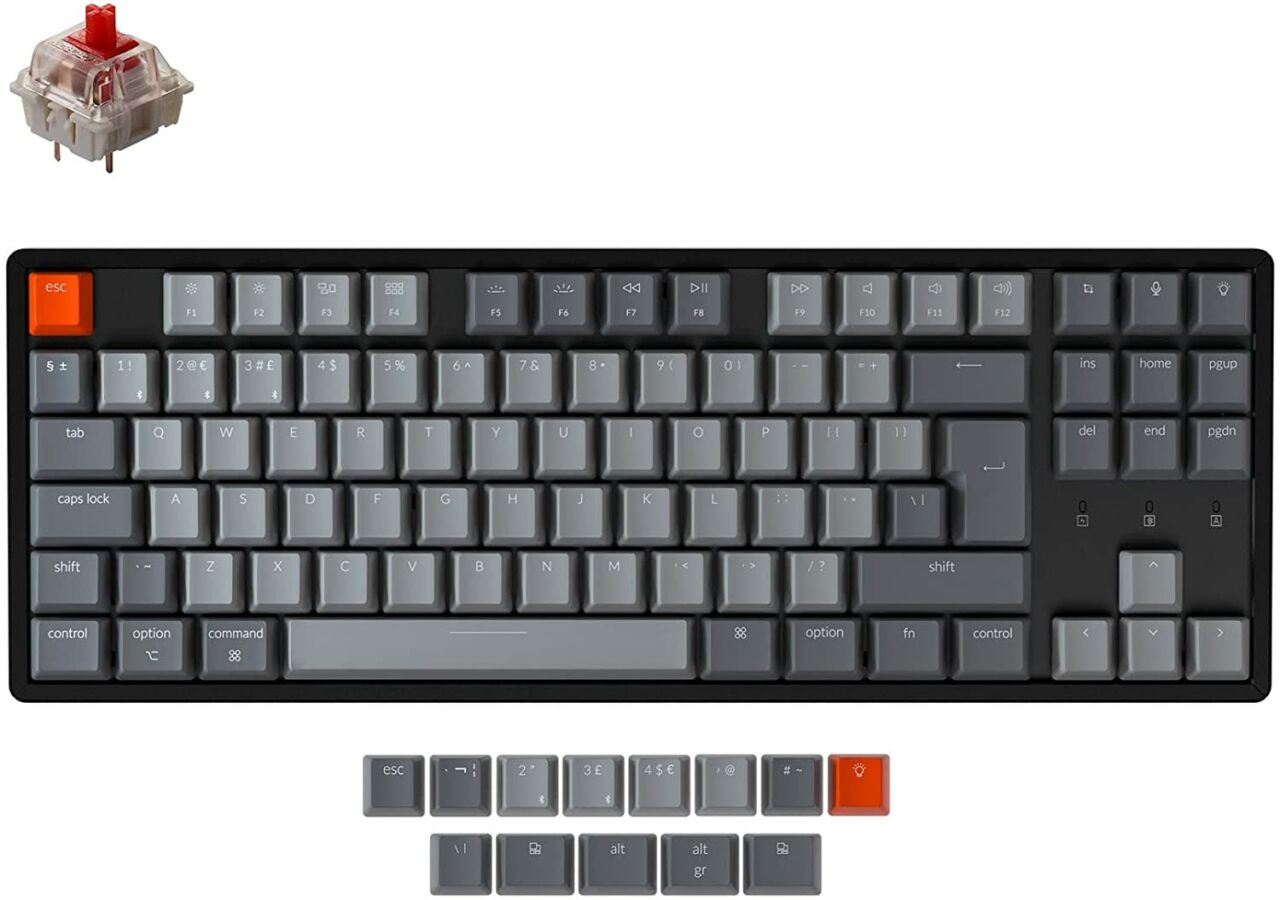 87 keys ten keyless layout
RGB backlight: Gateron Brown, Blue or Red Switches available
unique Mac layout with key caps for Windows included
Connect up to 3 devices via Bluetooth 5.1 or wired mode with USB Type-C
4000mAh battery, last up to 200 hours with backlight off
Adjustable feet for incline
4. VELOCIFIRE M87 Mechanical Wired Keyboard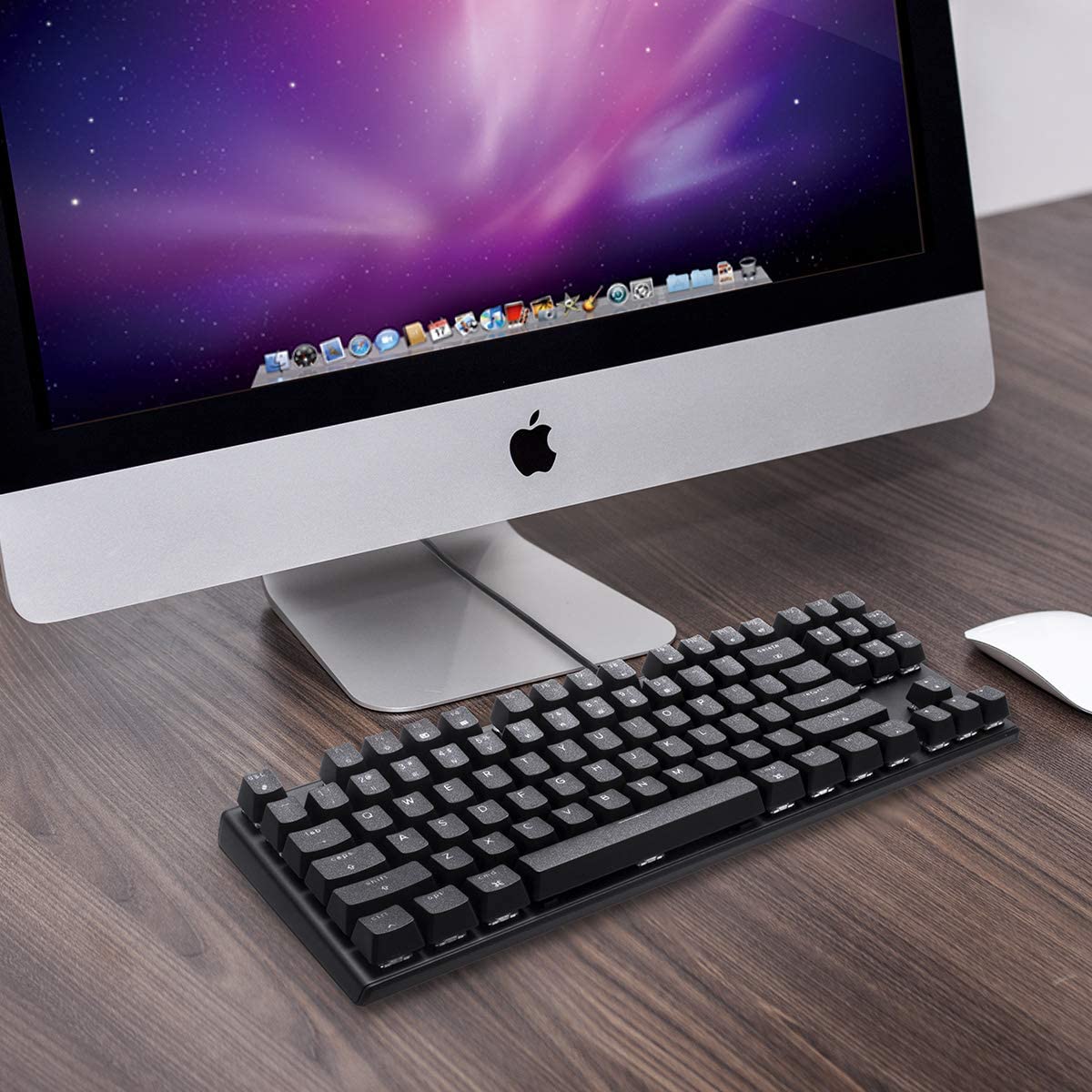 Also not quite as compact but you will appreciate the full size cursor keys to the right, like those that you get with Keychron K8 is this next unit. The Velocifire M87 comes with 87 keys arranged in Mac Layout. It is a wired keyboard with USB-C connector. Apart from the choice of mechanical switches, the Velocifire M87 is available in white or black colours and come with adjustable feet for elevation.
87 keys (TKL – Tenkeyless keyboard)
RGB Backlight: Red, Black or Brown Switches
Wired connection: USB-C
Adjustable feet
5. CIY X79 Wireless Mechanical RGB Keyboard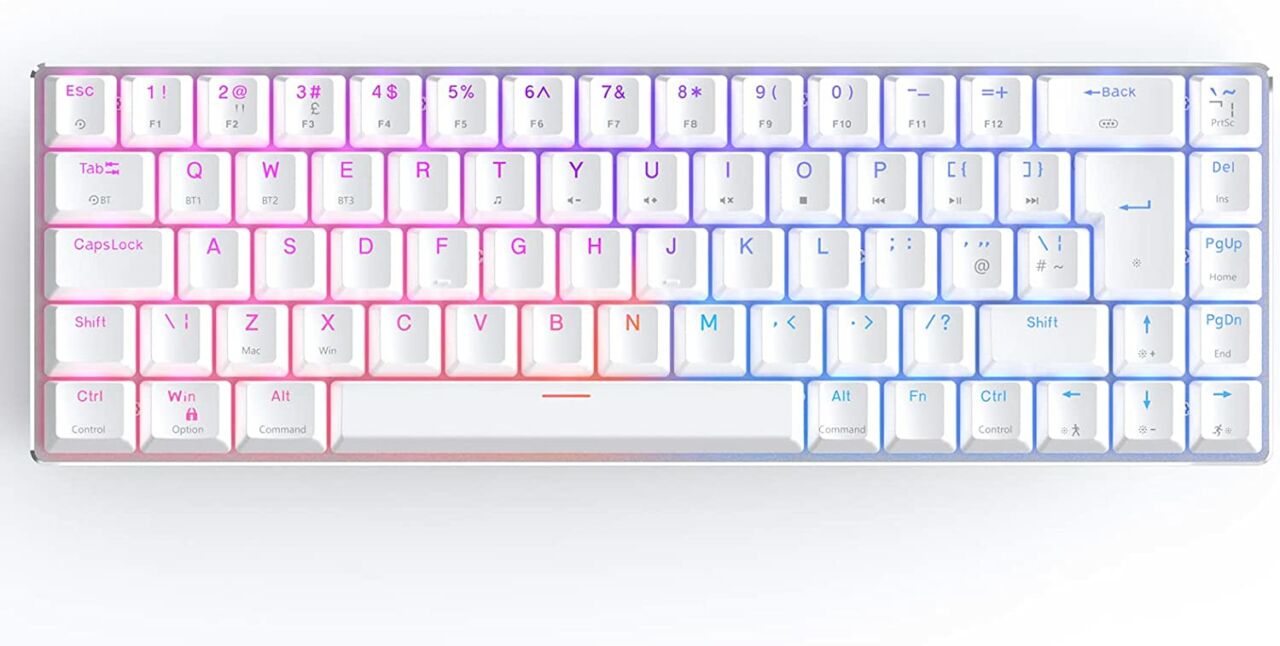 Back to a wireless unit, the CIX X79 is a compact wireless mechanical keyboard. It only has 5 rows of keys instead of six giving it an ultra compact footprint or 65% of the normal keyboard layout. For connectivity, it uses either Bluetooth 5.0, 2.4GHz ISM or USB Type-C wired connection. Onboard the keyboard is a 2000mAh battery that offers months of use and like the EPOMAKER Theory TH80 below, the key caps and switches are also hot swappable with 3 pins and 5 pins switches. For the type of switches used, you get red linear switch for quiet operation, particularly suited for typing. The keyboard also comes with two stage adjustable feet for best typing angles. For Mac users, the Control, Option and Command keys are marked with small prints as shown above and the Fn key is on the right side of the space bar.
65% keyboard size
68 keys with hot swappable 3 pins and 4 pins switches
RGB Backlight: Red linear and quiet switch.
Connectivity: USB Type-C wired, 2.4GHz ISM, Bluetooth 5.0
Adjustable feet for tilt
6. DREVO Calibur V2 TE Cherry MX Wired
The Drevo Calibur V2 TE is another wired keyboard that uses red switches. This makes it great for typing and quiet gaming. Apart from the choice of switches, you also get a choice of manufacturers for those switches. Pick between Cherry MX or Outemo. The dual mode keyboard supports PC or Mac and can be switched quickly with FN + TAB toggle. The RGB backlight is also customisable directly from the keyboard with FN + INS combo. The DREVO Calibur V2 TE is also a super compact keyboard with only five rows of keys vs the conventional 6 rows.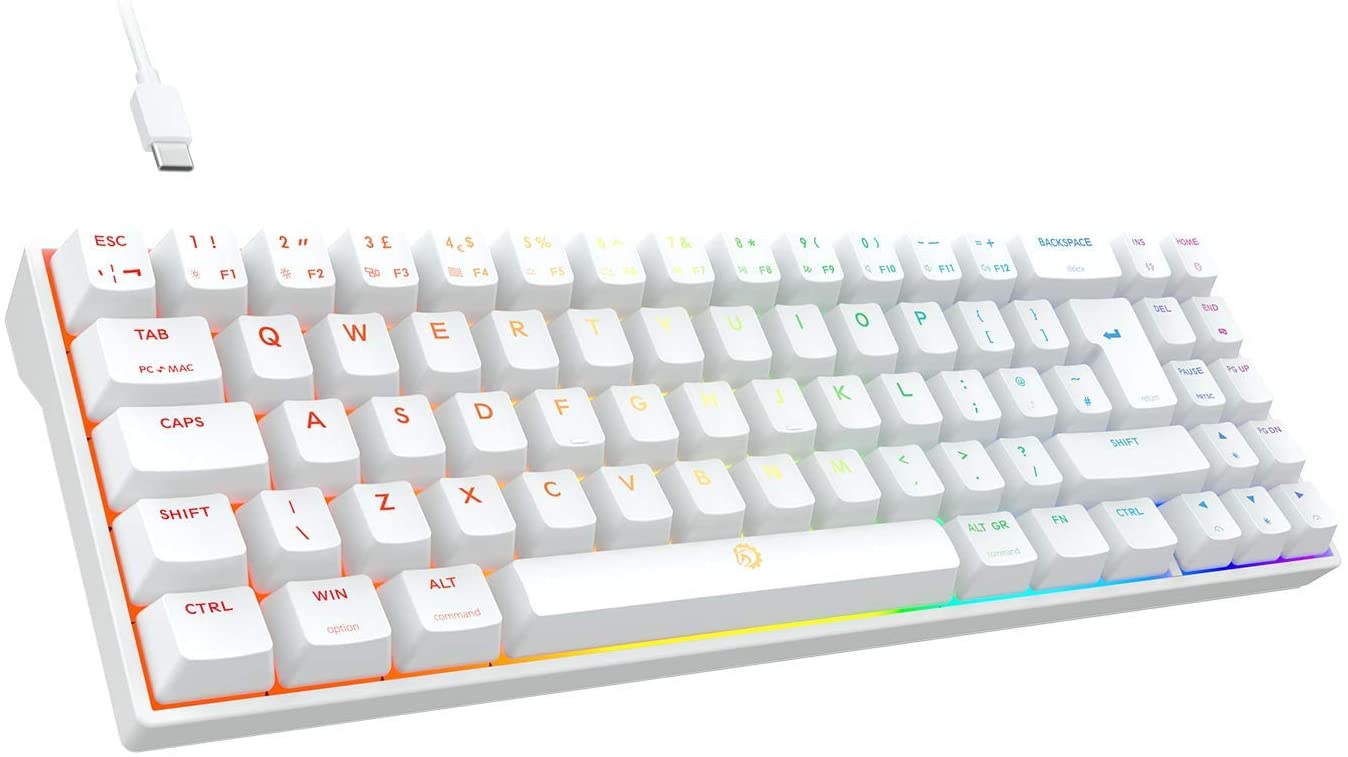 60% keyboard size, 71 keys layout
RGB Backlight: Red, Blue or Brown Switches
Dual mode PC/Mac switch with FN+TAB key combination
Gaming Mode: Cherry MX switches – anti-ghosting, N-key rollover and accurate response
USB Type C
Removable Magnetic Feet for height adjustment
7. EPOMAKER Theory TH80 Wireless Mechanical Gaming Keyboard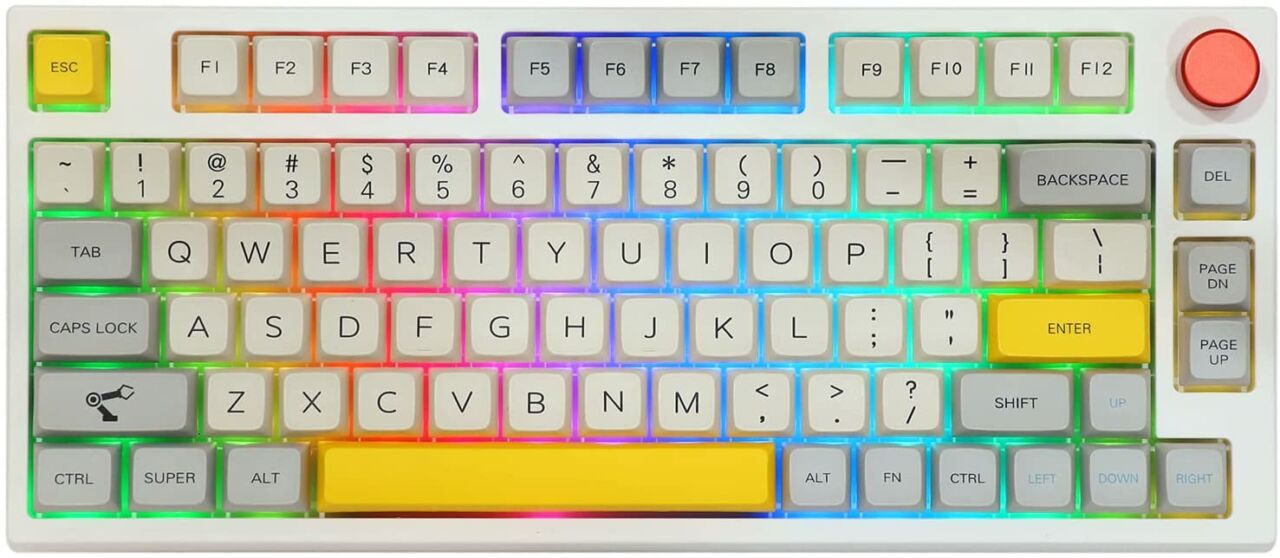 If you think the Pop Key is quirky, take a look at the EPOMAKER Theory TH80. It is a compact wireless mechanical gaming keyboard with a couple of tricks up its sleeve. You can swap out the Gateron Pro mechanical switches without disconnecting the keyboard. Not that you will need to swap them any time soon as they last 50 million keystrokes. And, there is a shiny aluminium metal knob that you can program to mute with a push and control the volume. Use the FN key 1, 2 or 3 combo to switch between Bluetooth devices, FN + 4 for 2.4GHz and FN + 5 for wired connection. 2.4GHz receiver included and a
75% keyboard size compact layout
80 keys and knob control
RGB Backlight: Gateron Pro Blue, Black, Brown, Red, Yellow options available
Connectivity: wired via USB-C, Bluetooth 5.0 and 2.4GHz
Adjustable feed for best typing position
8. IQUNIX A80 / L80 or OG80 Wireless Mechanical Gaming Keyboard
Last but not least is this IQUNIX wireless mechanical gaming keyboard with hot swappable keys and a huge choice of Cherry MX switches. This 83 key RGB LED backlit keyboard comes with Mac Key Caps so you can make it a truly Mac layout keyboard. A non-backlit version is also available if you are not fussed about fancy lighting. For connectivity, you have a choice of 2.4GHz wireless, Bluetooth 5.0 or USB Type-C. A huge 4000mAh battery offers up to 200 days (5 hrs per day) of use via Bluetooth and 60 days via 2.4GHz. For different OS modes, use the FN + TAB combo by holding this down for 5 seconds to switch between Windows, MacOS, iOS and Android. Finally, the vast Cherry MX switches options are Brown, Blue or Red. You can also opt for Gateron Brown, Blue or Red switches which are $10 cheaper.