For the avid writer, nothing can be more satisfying than typing on a retro typewriter. With its tactile bump feel, satisfying audible clicks, next line lever and scroll knobs, it brings back a feeling of nostalgia. What if we were to tell you that there is a way to relive or recreate that mechanical experience? Here we look at six different wireless mechanical keyboard that draws its design inspiration from vintage typewriters.
For that clickety-clackety typewriter feel, any one of these retro inspired wireless mechanical keyboard will do the trick. The question then is a matter or style and taste. With so many designs and colours to choose form, you are bound to find one that suits your needs and style.
Overview
Here is a quick look at six of wireless mechanical keyboard that will take you back to the good old days of typing. Click on the images for a closer look.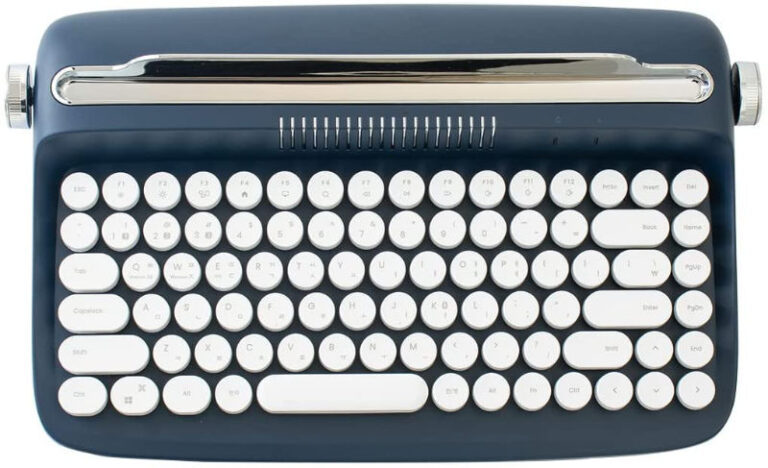 Search Retro Wireless Mechanical Keyboard on Amazon
1. YUNZII ACTTO B303 Wireless Retro Keyboard
Available in five different colours (ivory, pink, blue, mint and white), the Yunzii Actto B303 keyboard is more of a 1960s typewriter reminiscent of Smith-Corona Sterlings with its white keys and rounded corners. Even the midnight blue option gives it that old-school vibe. There are altogether 86 keys arranged in 6 rows with 12 function keys on the top row. FN+ combo lets you access useful shortcuts.
The onboard Bluetooth 5.0 lets you connect up to 3 devices and you can change between each device with FN+1/2/3 combo. The keyboard also support different modes; Windows, Android and iOS, again using FN+Q/W/E to switch between the modes. For power, it uses two AAA batteries.
Other features include adjustable feet for better typing experience and built-in tablet or smartphone holder. The latter is 12 inch long and 0.59 inch wide. We love the included bright red ESC key cap that you can swap out. Truly a nice touch.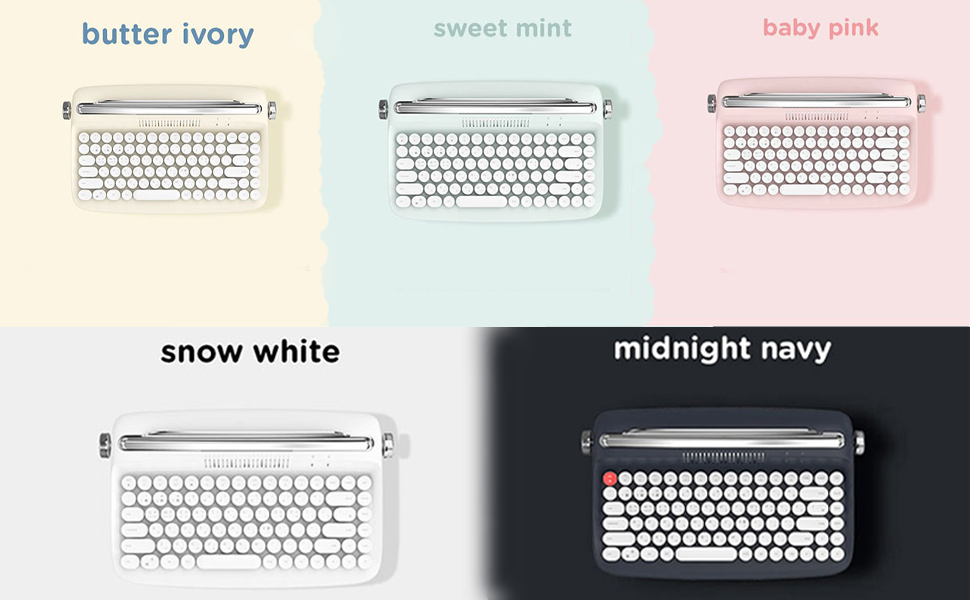 2. RYMEK Typewriter Wireless Keyboard
Next, we have typewriter style retro wireless keyboard. While the knobs on the YUNZII are purely aesthetic, the knob and lever on the RYMEK actually works. The former acts like the enter key while the latter is to control the volume. There is also built-in dynamic RGB backlight (5 brightness levels, 7 light effects, 4 dynamic speed) for when you are typing in the dark.
As with other wireless keyboards here, it can be used via wired or wireless using Bluetooth. For Bluetooth, it can be paired with up to 3 devices with quick switching between them. Supported modes include Windows, MacOS, iOS and Android. And, if you are familiar with mechanical switches, it uses blue switch for tactile bump feedback and audible clicking sound.
While we like the lever and knob, the raised mid section with the array of LEDs meant to represent the curved strike keys of an old fashion type writer gets in the way of the view as it is raised in front of the metal stent which is the tablet stand for device up to 9.7-inch length. However we do like the 2000mAh on board rechargeable battery which offers up to 50 hours of use from a single charge. Colour options include black, gold or white.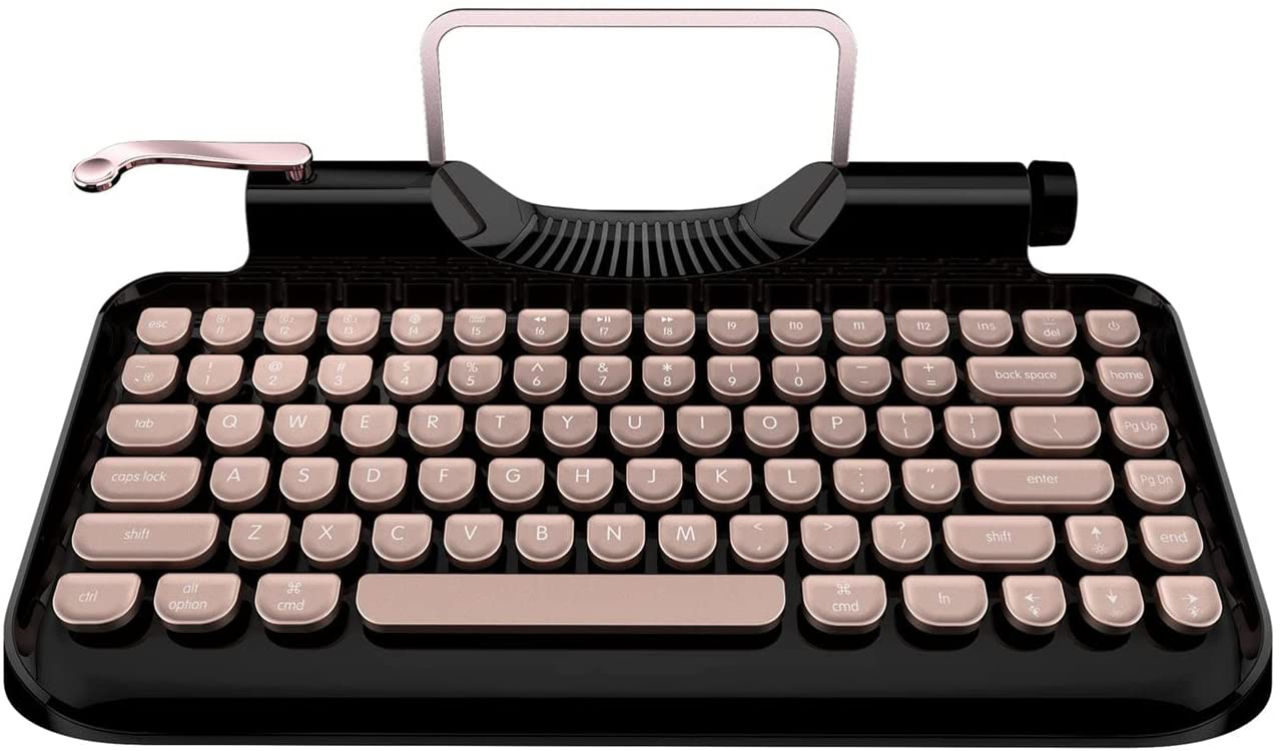 3. Qwerkywriter S Typewriter Inspired Retro Mechanical Wireless Keyboard
This next entry again combines the use of knobs, but this time, two instead of one. These are for volume control and page scroll. It doesn't have the raised mid-section that blocks the view of your tablet or phone when seated in the holder and the holder can support up to 12.9inch tablet with its open ends.
You get plenty in way of attention to details from the rounded buttons with silver bezels to aluminium alloy chassis and the programmable Return Bar. The lever that defaults to Enter for start. You can change it to add up to 15 characters as part of your signature or use it as cut, copy or paste. Like other Bluetooth keyboards here, it will support up to 3 different devices and four modes (MacOS, Windows, iOS and Android). The switches underneath the key caps are manufactured by the world-renowned German company, Cherry.
4. TW1867 
Retro Typewriter Wireless Bluetooth Keyboard
This typewriter inspired Bluetooth keyboard is available from various dealers and are rebranded accordingly. From names like 7KEYS, Adventurers, Orindcod Green Axis and Centaurus AZ, these are essentially the same hardware in wood or black finish, carried by different dealers. Welcome to the world of drop shipping.
It also comes with two knobs and a lever. The left knob control the back light brightness while the right controls the volume. The carriage lever is used to control the RGB lights. Use it wired or via Bluetooth with separate slider switches for wired, bluetooth and power on the back.
Pair with up to 3 devices wirelessly and switch between them right on the keyboard. If you must know, the keyboard uses Blue switches from OTEMU for that all important old-school clickety-clack sound and feel. For power, it comes with 2000mAh on board rechargeable battery for up to 10 hours of use.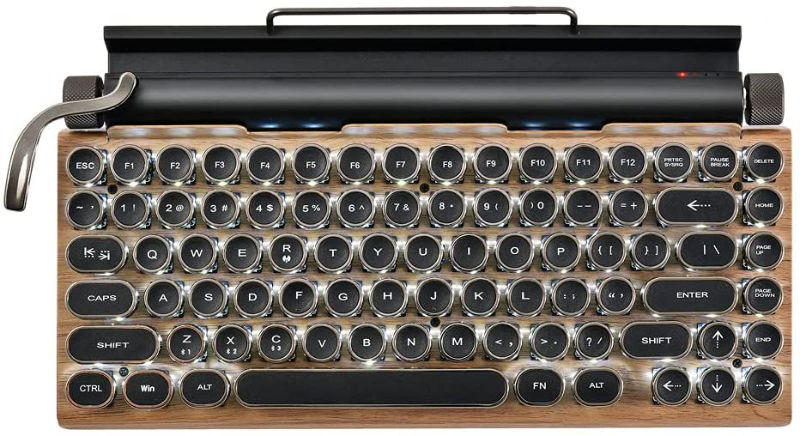 5. OZIO Retro Wireless Keyboard
OZIO's retro wireless keyboard offering is available in two sizes. We are interested in this compact one with matching palm rest shown below. The full size keyboard comes with conventional a conventional keyboard layout, separate function keys, cursor keys and number pad. Apart from the Artisan model below, there is also the Gold and White, Silver and Maple or Grey and Elwood options shown in the gallery below.
The letters R.C.K on the keyboard refers to Retro Compact Keyboard. Nice touches include genuine leather backplate and aluminium alloy frame in satin finish. On the top edge of the keyboard Bluetooth/USB/Off slider, Mac/PC mode slider as well as USB-C port. For Bluetooth, connect up to 3 devices like all the keyboards here and switch between them with FN +1/2/3 combo. Both Windows and Mac key caps are included so you can swap them out to suit your operating system. Last but not least, are height adjustable feet for the corners. These are swappable pillar style feet with matching chrome edging for the best typing angle.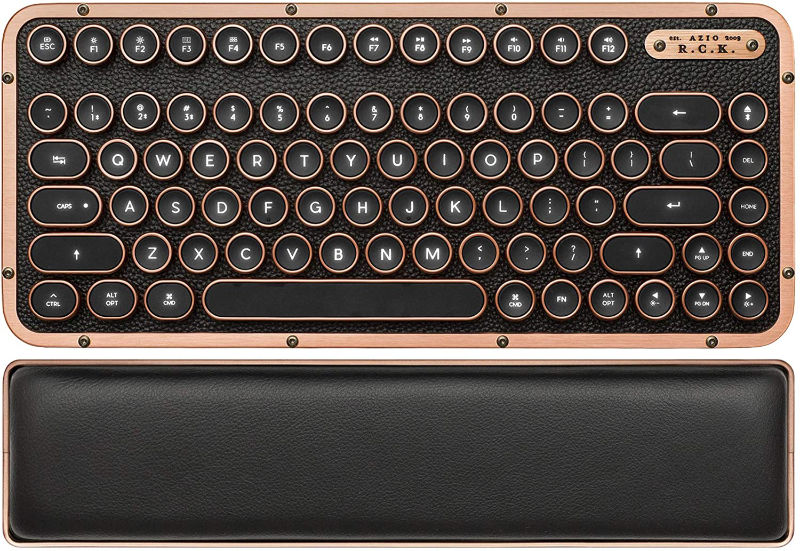 6. FINEDAY Bluetooth Keyboard 2.0
Finally, we have this full size 104 keys retro keyboard from FINEDAY. The Bluetooth keyboard lets you connect up to 3 device, nothing new here. You can also use it connected via USB-C as the fourth device. As you would expect, the tablet holder is the biggest among all the keyboards here, so it will support the iPad Pro in landscape mode.
For that satisfying click and tactile feedback, Blue switches from OUTEMU are used under the keys. A few things to note, given those extra knobs and lever. The left lever works as Enter, the left wheel works to control the white LED backlight brightness which and the right wheel controls the volume on your connected device. The keys are angled for comfort and prolonged typing.