Budget gaming is a trend that is on the rise right now with AMD and Intel launching processors with powerful embedded graphics. Both AMD and Intel have launched their share of powerful mobile chips. This makes gaming on a budget possible with some of the cheapest gaming laptops available right now.
AMD launched its 6000 series mobile processors with RDNA 2 graphics and Zen 3+ microarchitecture and has claimed to match the gaming performance of discreet graphics cards on laptops. In reply, Intel launched its 12th Generation HX series Alder Lake processors that can match AMD and in some cases even better them in terms of built-in graphics. 
With these processors, mainstream gaming on laptops built on a thin and light chassis is now a reality. All we have to do right now is to wait for a steady supply of latest-generation chips. This will take budget gaming without discreet graphics card mainstream. In the mean time, take a look at what we have here for you.
Are Budget Gaming Laptops Any Good?
With technological improvements in the computing sector every year, laptops with older generation components are easily available for the cheap. Budget gaming is a segment where you can play most of the latest titles but at a slightly reduced quality.
Older games would still run on Full HD but you might have to compromise more on the quality with the latest titles. If you are a gamer and looking to transition from desktops to a more portable way to live your passion then you are definitely in for a treat today.
We have rummaged the Internet to bring you some of the best budget gaming laptops that you can buy right now. All of these devices can still manage Full HD gaming on the popular titles and are priced well under a grand.
1. Lenovo IdeaPad 3 – Best Budget Gaming Pick for Overall Performance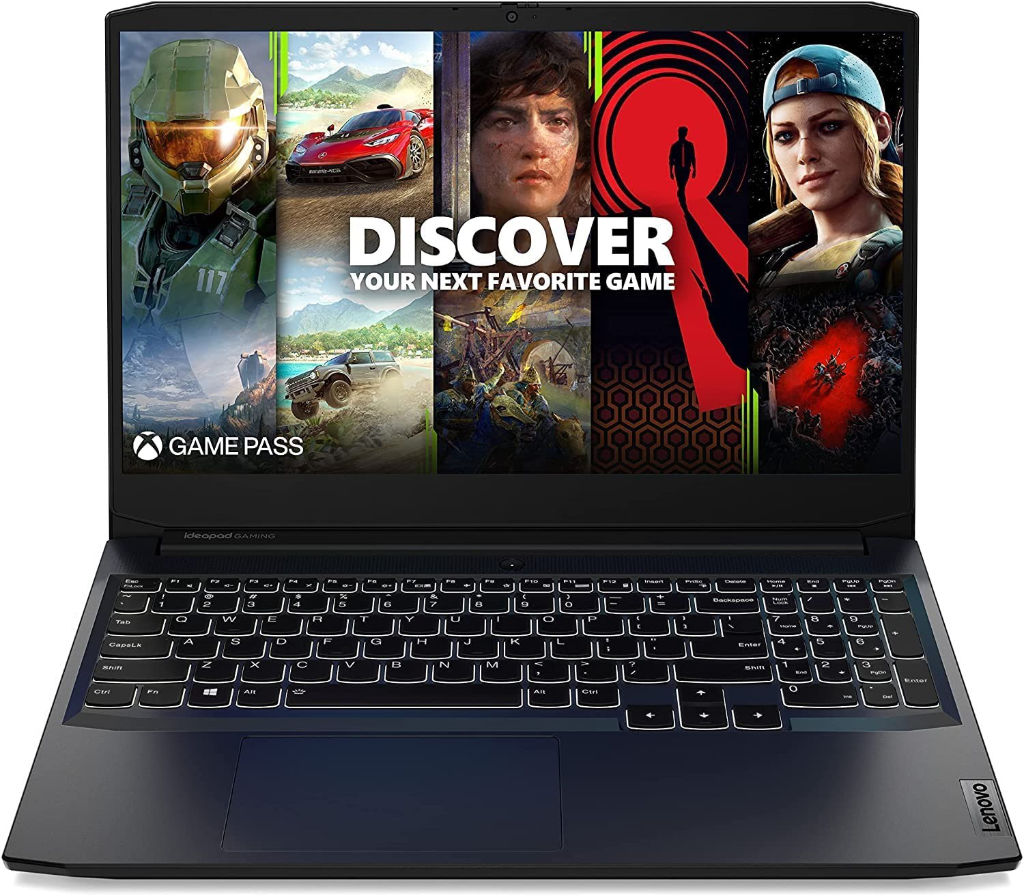 At present with gaming laptops built on the latest hardware are launched at a price close to two grand, here is a superbly powerful gaming laptop from Lenovo that perhaps went under the radar. Right now the Lenovo IdeaPad 3 is available at dirt-cheap prices.
It is a powerful gaming laptop that sits at a sweet spot for esports and offline gaming alike. At the current prices, this gaming behemoth with a Ryzen 5-5600H and RTX 3050 Ti 4GB GDDR6 graphics is a steal deal that you cannot afford to miss.
It comes in at just under a grand to include 16GB memory and 512GB SSD storage or around the 700 mark with 8GB memory and 512GB SSD storage. Yeah, you should let it sink in before proceeding.
The Ryzen 5 5600H powering IdeaPad Gaming 3 is our top pick for powerful overall gaming performance. The multi-threading enabled Hexa-core processor is just a year old and has close to 3000 points on Passmark for single-core performance thanks to a high 3.3GHz base clock and over 17,000 points in multi-core performance.
It is built on an advanced 7nm process with high L3 cache memory. Adding to this blistering power is 2nd Gen ray tracing in the form of Nvidia RTX 3050 graphics with 4GB GDDR6 memory. All this with an 8GB DDR4 memory and a 512GB SSD on a 120Hz Full HD 15.6-inch display makes the IdeaPad 3 a no brainer for gamers looking for a laptop on a budget.
2. Acer Nitro 5 – Best Pick for High Refresh Rate Gaming on a Budget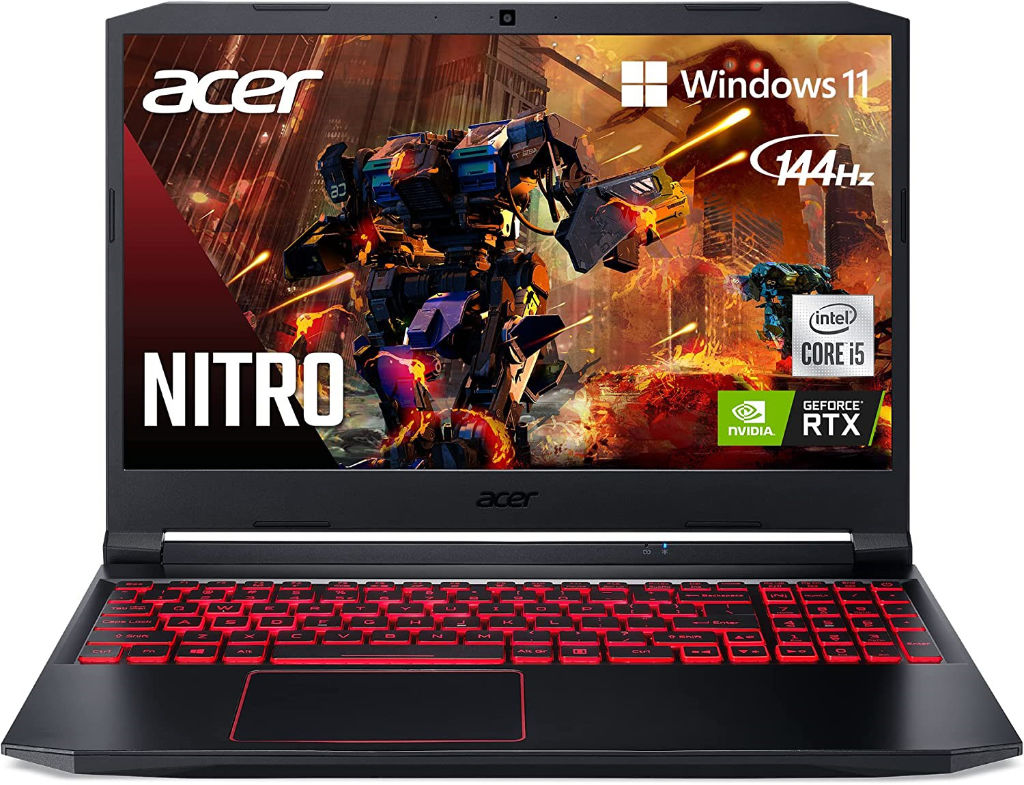 Let's keep the description short lest you spend more time reading and miss the deal. The Nitro 5 fought hard to be our top pick but its Core i5-10300H couldn't keep up with the faster Ryzen 5-5600H on the Lenovo IdeaPad 5. However, the Intel processor on the Acer Nitro 5 is by no means a slouch as the hyper-threading enabled quad-cores have a peak turbo speed of 4.5GHz and offers stable overall performance across different genres of games.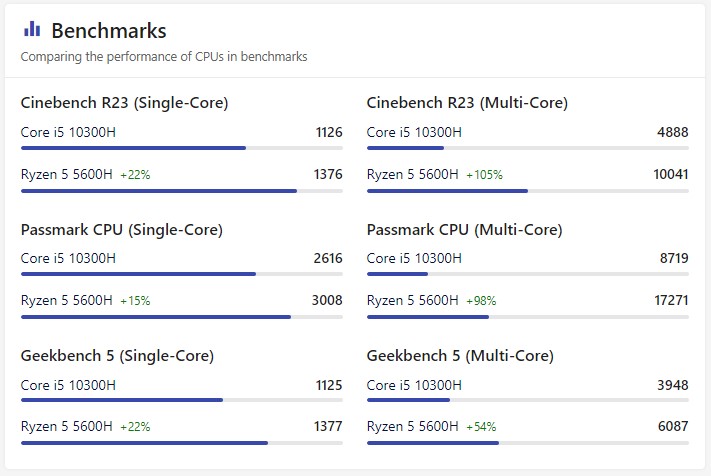 It scores above 2500 points in Passmark single-core CPU tests and close to 9000 points in multi-core tests. It has a higher boost clock at 4.5GHz and even higher maximum memory support at 128GB than the Ryzen 5 5600H. However, as we all know, a good gaming laptop is not just about powerful processor.
Powering the graphics is the same RTX 3050 as above with a dedicated 4GB GDDR6 video memory for superb gameplay. Add to it an 15.6-inch FHD IPS display on a sweet 144Hz refresh rate, 8GB DDR4 memory, 256GB SSD and superb networking features with Killer Ethernet E2600 and Wi-Fi 6 and you have an excellent value for money laptop that is capable of some serious high-resolution gaming even after two years of its launch.
While we won't recommend it, those of you who are after a real bargain can opt for the exact same laptop but with GeForce GTX 1650 4GB graphics.
3. MSI GF63 Thin – Best Budget Gaming Laptop with Thin Bezel Display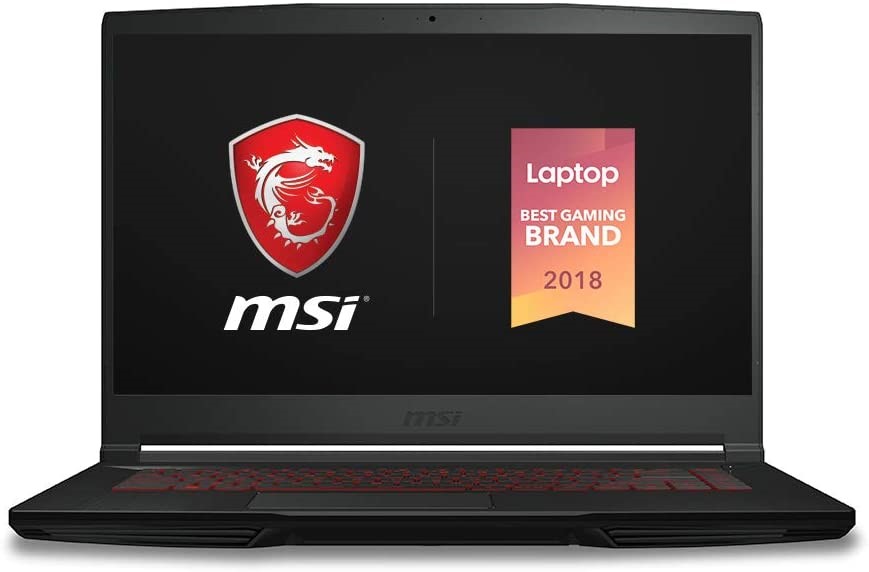 The MSI GF63 is a powerful gaming laptop on a thin chassis. It has a sleek and stylish design on a brushed aluminium chassis and powerful mid-range gaming performance thanks to a 10th Gen Intel Core i5-10300H processor and a Max-Q powered GTX 1650. The Intel processor is a quad-core hyper-threading enabled chip built on a 14nm process with a peak frequency of 4.5GHz and peak TDP of just 45-watts. The GTX 1650 with 4GB GDDR5 memory on a 1245 MHz boost clock can run most titles with ease at medium quality settings.
The Max-Q powered GTX 1650 goes easy on the battery with the MSI GF63 able to last 7+ hours on a full charge. The highlight of the laptop is its razor-thin bezels around the 15.6-inch Full HD display. Cooling features are extensive and the laptop comes equipped with 8GB DDR4 RAM and a 256GB NVMe SSD with plenty of upgrade features. On a 2.71 mm thin and portable built, the MSI GF63 is sure to get you excited for gaming every time you fire it up. All that for a price tag around the 600 dollar mark.
4. Lenovo IdeaPad L340 – Best Mid-Range Powerhouse on a Budget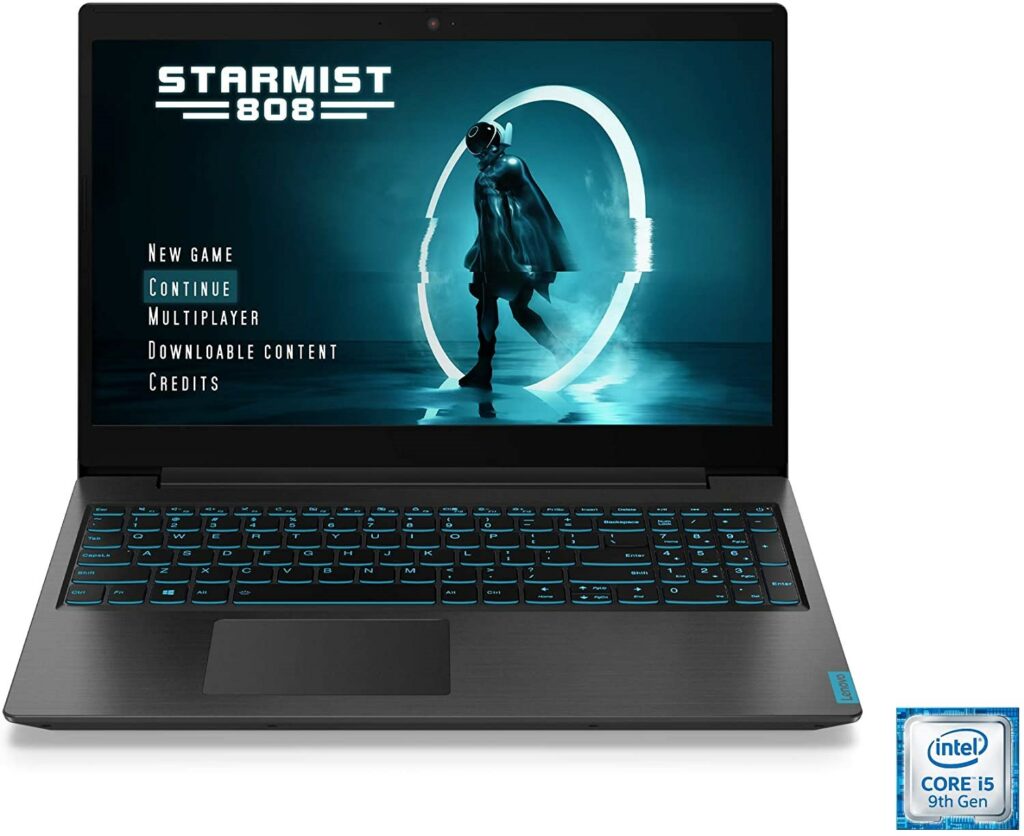 Gaming laptops need not have flashy styling or RGB laden aesthetics. It can be as simple as the Lenovo IdeaPad L340 with a simple no-frills design or branding on the lid. Once you lift the lid you see a blue backlit keyboard that looks extremely elegant with the grey plastic build.
Mind it the IdeaPad is not going to break records with its mid-range processor in the Intel Core i5-9300H but it manages to run older games on Full HD resolution without compromising on quality. Nvidia GTX 1650 powers the graphics with a 4GB GDDR6 video memory and can run the latest games on medium quality settings.
There is an 8GB DDR4 memory module and a 512GB SSD for storage with provisions for further expansions. Users would love the astounding 9 hours they are going to get when the laptop is running unplugged.
Audio experience on 15.6-inch IdeaPad L340 is exemplary thanks to Dopundsy audio tech and users would also appreciate switching between the two working modes for more power or lesser noise depending on their usage.
5. Acer Nitro 5 AN5 15 – Best Budget Gamer with a Strong Build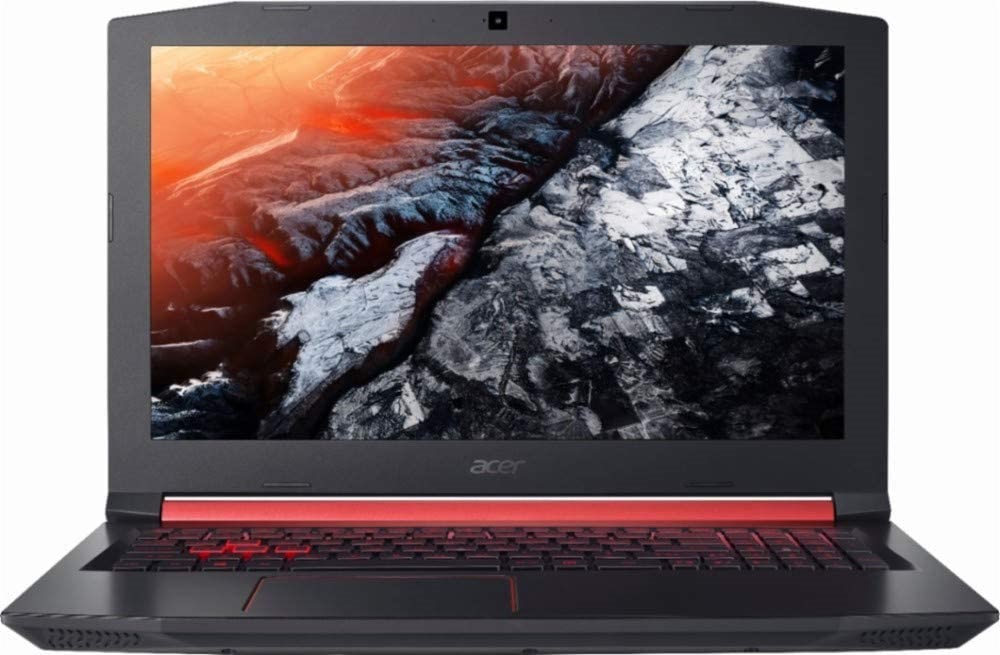 We have picked the Acer Nitro 5 AN5 15 primarily for two reasons. It has a strong build with adequate cooling features and the perfect budget graphics card in the Nvidia GTX 1050 Ti. As with most budget picks you need to manage with an old 9th Gen Core i5-9300H processor with a lowly boost clock of 4.00GHz but the laptop is highly rated and can run most games at Full HD resolution with high details. It is a heavy device mainly due to its bulky chassis that has excellent cooling features.
The Core i5-9300H is a quad-core processor with eight threads that offers a balanced performance on both single and multi-threaded applications. The graphics card comes with 3GB GDDR5 memory that is good enough for even Full HD gaming on older titles. The 15.6-inch display has a native resolution of 1920 x 1080 and though it is not a match for IPS displays, the viewing angles are still very good. The laptop offers gaming on the go with a 4-cell lithium-ion battery that lasts close to 6 hours.
6. Asus TUF Gaming F15 – Best Upgrade Options on a Budget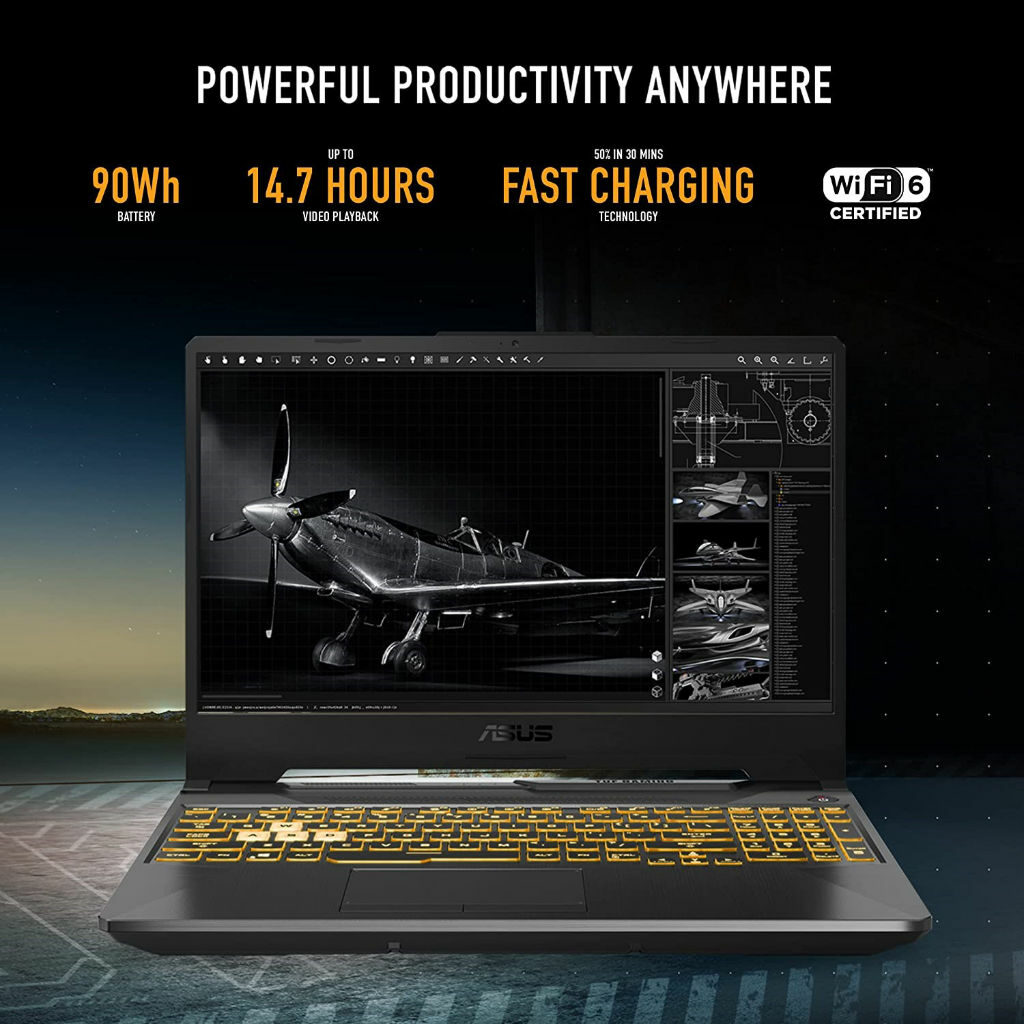 We have tried to stay around the $700 mark in our picks for budget gaming and finishing off the list today is the Asus TUF F15 with a 10th Gen Intel processor and Nvidia GTX 1650 graphics. This laptop has the best keyboard of the lot with RGB Aura backlit and good spacing along with a number pad.
The F15 has a fast-charging tech with a 90Whr battery on a 15.6-inch 144Hz display. On a budget, the TUF F15 offers a lot of future-proofing with a good upgrade possibilities and it also comes with the latest Windows 11.
The Nvidia GTX 1650 is a versatile graphics card that is good at gaming and even content creation. The 4GB GDDR6 video memory can run most games smoothly on Full HD but you would probably have to tune down the quality for future titles.
The Core i5-10300H is an able mid-ranger with solid single and multi-core performance. Physical memory is set at 8GB but Asus allows you to go for more RAM when you need it later. There is even a free SSD slot in case you need more than the 512GB SSD the laptop comes with.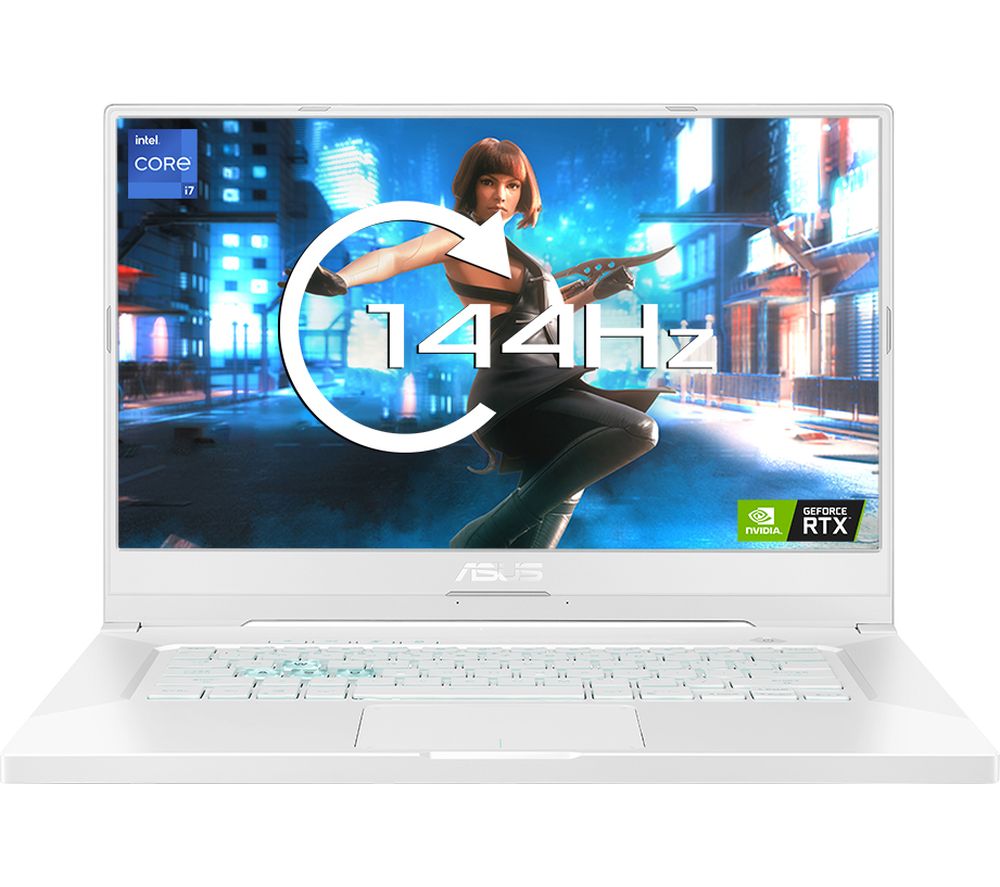 Now for around a hundred dollar more, you can get yourself the next generation ASUS TUF F15 powered by Intel Core i5-11300H with 8GB memory and 512GB SSD storage. But, it comes with a more powerful NVIDIA GeForce RTX 3050 with 4GB of memory promising near 169 FPS on fortnight at 1080P on the Full HD 15.6-inch display also with 144Hz refresh rate. It may be stretching the budget a little bit you get a bang up to date graphics albeit an entry level one.
Conclusion
There are quite a few options for budget gaming with top yesteryear laptops now being available at a lower prices. Processors like the AMD Ryzen 5 5600H and Intel Core i5-10300H offer extremely solid mid-range performance with plenty of headroom for multi-tasking. Nvidia GTX 1650 and GTX 1050 offer balanced performance between gaming and content creation.
The bulky chassis on some of these devices are oddly due to technological limitations while some integrate military-grade durability onto the device for protection against rough use such as the Asus TUF Gaming F15.
Our buying advice in this regard would be to look for future upgrade options as the latest titles need a lot of physical memory and older laptops mostly have an 8GB memory modules to start with. We strongly feel that going a year or two back with the hardware for a casual gaming laptop is an excellent deal in terms of price to performance ratio. Happy Gaming.