Just got the new iPad Pro 12.9-inch. Yes, the camera cluster bump is quite big, leaving your iPad Pro with its back on the table can be a rocky affair. Luckily, it does not cost much to protect your investment with one of these best budget iPad Pro.
Compared to Apple's case, the Smart Folio 12.9 that costs nearly 100 dollars, these cases cost just a fifth up to a third of Apple's variety and work just as well. Offering protection for the back and front of the iPad with a magnetic flap that automatically wakes the iPad Pro as you open the cover, it's everything one needs. You can also fold the cover to serve as a stand to prop up the iPad in two unique positions, stand or lying at an angle.
Type of Budget Cases
To help pick the best budget case that suits you, we summarise the different profiles available and the level of protection it offers.
Magnetic front and back cover to easily remove the case. These cases offer no side edge protection but is easy to put on or remove as it simply snaps on magnetically. The cover doubles as a stand when folded into a triangle. This design echos Apple's Smart Folio use of a single piece of polyurethane cover.
A case similar to the above but comes with a magnetic flap that goes over the Apple Pencil. This offers some protection for the Apple Pencil during transit.
Wrap around case that protects the side edges with a magnetic cover to activate sleep and wake modes when close or open. The cover also doubles as a square when folded as a triangle.
A case similar to the above but comes with a storage silo for Apple Pencil. This offers protection for the Apple Pencil during transit. Some manufacturer extends the magnetic cover to enclose the Apple Pencil in its silo entirely for maximum protection.
A slightly bulkier and padded PU leather folio combines both a wrap around silicone or rubber case with a more rigid but padded cover with limited folds.
Top 10 Best Budget iPad Pro 12.9 Cases
Apple Smart Folio alternatives and other budget cases that fit the big iPad Pro 12.9 from 2018 and 2020.
1. ESR Rebound Magnetic Smart Case for iPad Pro 12.9-inch 2020 & 2018
This ESR Rebound Magnetic Smart Case has an advantage over Apple's Smart Folio case in that it offers flap that goes over the Apple Pencil for some protection. Beyond that, it is not very different from the Apple Smart Folio. Standard features include easy snap on back and tri-fold front cover that doubles as a stand and support wake/sleep function. As with Apple Smart Folio, there is no corner or side edge protections.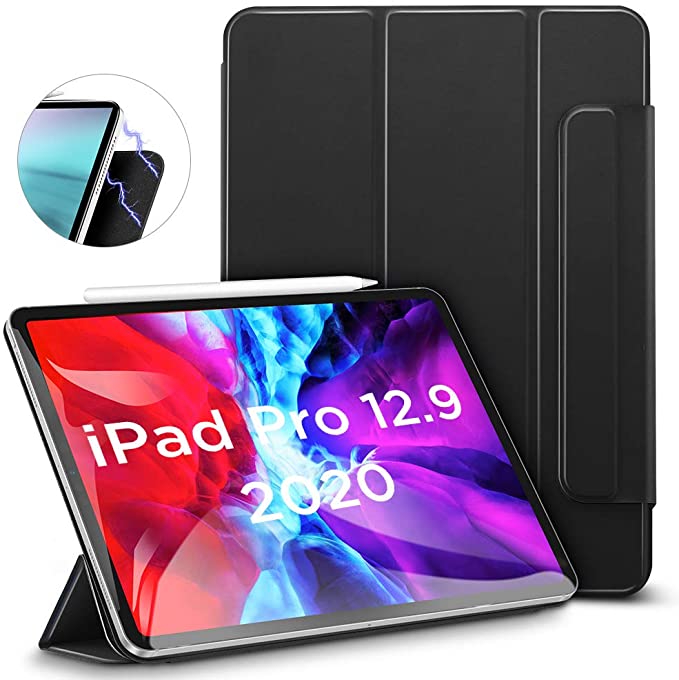 2. KHOMO iPad Case Pro 12.9 Case 2020 with Pencil Holder – Dual Series
The KHOMO iPad Case Pro is the first in our list to offer all round protection and Apple Pencil Holder. This means the buttons are wrapped in with pressure points and there are cut-outs for speakers and port. The built-in pencil slot holds the pencil in place while charging and in transit. Around the front, you get the standard tri-fold stand cover with magnetic shut for wake and sleep function but does not cover the Apple Pencil.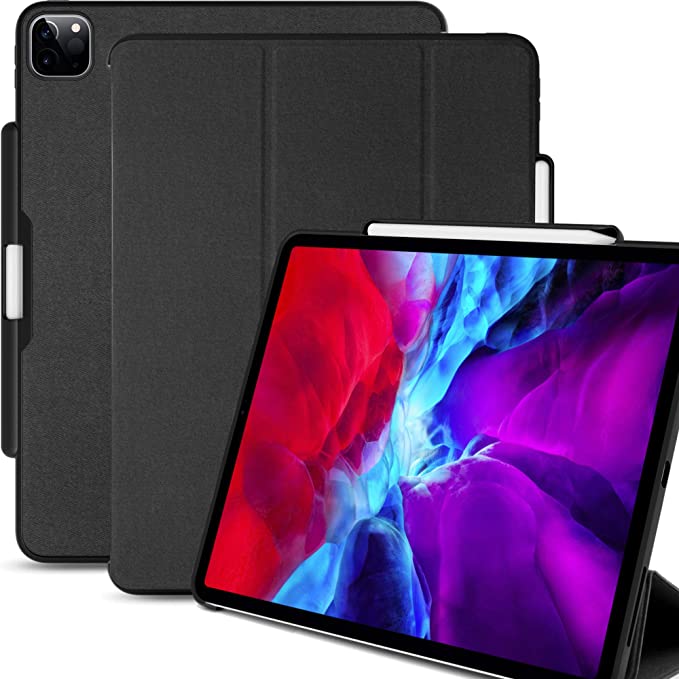 3. Ztotop Case for iPad Pro 12.9 Case 2020 Premium PU Leather Case with Multiple Viewing Angles
The padded faux leather cover makes it thicker than the polyurethane covers we have seen, but it appeals to some especially for its executive feel and elegant finish. Those decorative stitches and edge trims complete the traditional folio look. There is a slim plastic shell that protects the corners and edge of the iPad Pro. The lined faux leather cover then sandwiches it, making it even thicker. However, it has an advantage over the rest because it offers more viewing angles than the tri-fold covers, 4 versus 2 positions.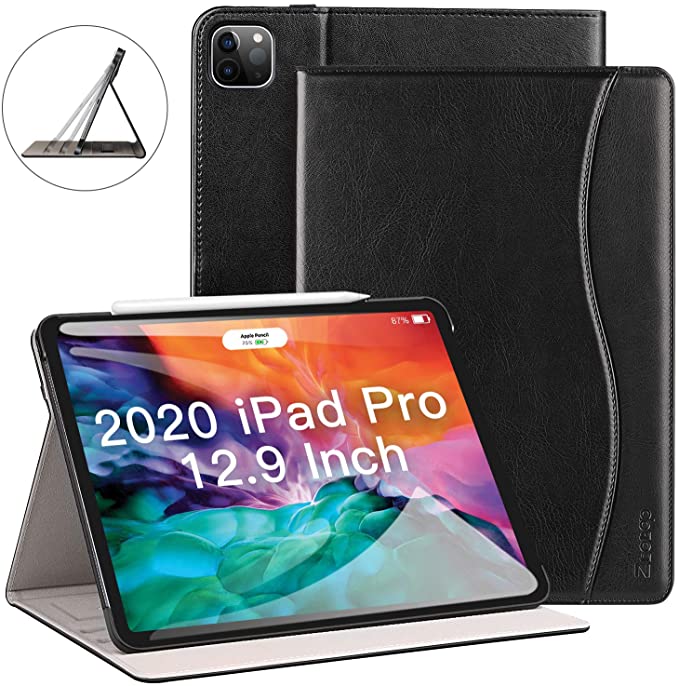 4. ESR for iPad Pro 12.9 Case 2020 & 2018 with Pencil Holder, Soft Flexible TPU Back and Cover
The matt finish back offers a nonslip surface and stops fingerprint marks. Also, the soft flexible back makes it easy to slip over the iPad Pro to put it on. It offers complete protection ver the corners and buttons with some impact protection. But the biggest advantage is that the tri-fold cover extends over the built-in pen cover making it one seamless slab protecting the Apple Pencil within the case during transit. The penalty is a bigger footprint or wider dimension to accommodate the Apple Pencil in its charging position.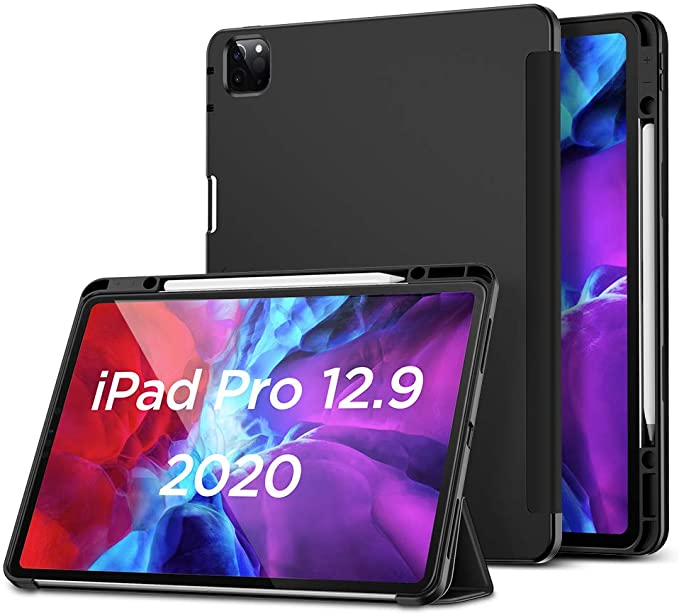 5. Poetic Lumos X Series iPad Pro 12.9 Case with Apple Pencil Holder
Don't want to hide your elegant iPad Pro in a case but still want some form of protection, here is a smart cover that uses clear TPU back. The soft and flexible TPU back jacket wraps around the iPad Pro with cut out for buttons, speakers and port. It also comes with a pencil holder. Around the front is your standard tri-fold three segment polyurethane magnetic cover that doubles as stand and support wake-sleep function. The slight disadvantage is when the cover it shut, it does not close the pencil in.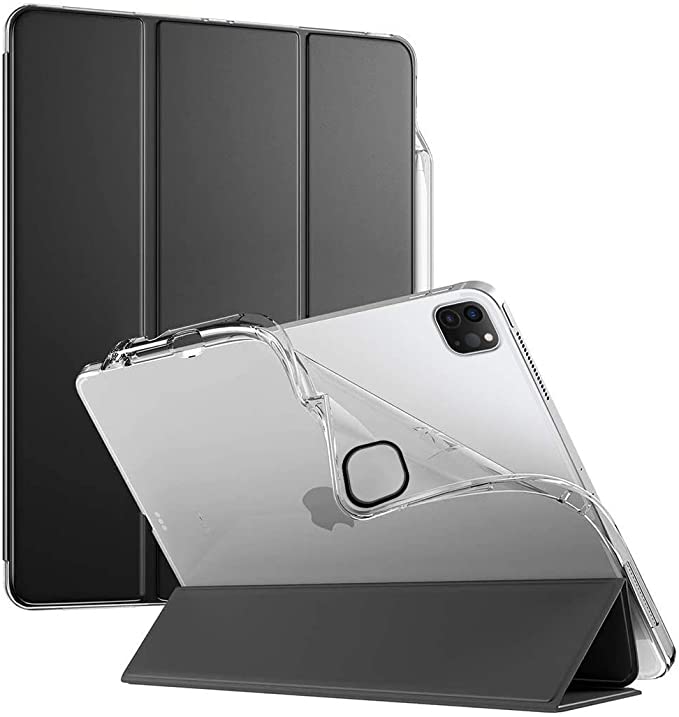 6. MoKo Smart Folio Case Fit iPad Pro 12.9-inch 2020 & 2018
The Moko Smart Folio Case follows the Apple's Smart Folio design with a single polyurethane cover that extends from front to back and clings on magnetically to the iPad Pro. This means you get both front and back protection, but it exposes the corners and three side edges.
That is a compromise that you have to live with if you are looking for a slim and lightweight cover for the iPad Pro. Other standard features include tri-fold cover that doubles as a stand and support magnetic closure for auto wake/sleep function. Also, it is not a real disadvantage if you do not have an Apple Pencil to begin with, but if you do, you can charge it but the case does not offer a storage for the input device.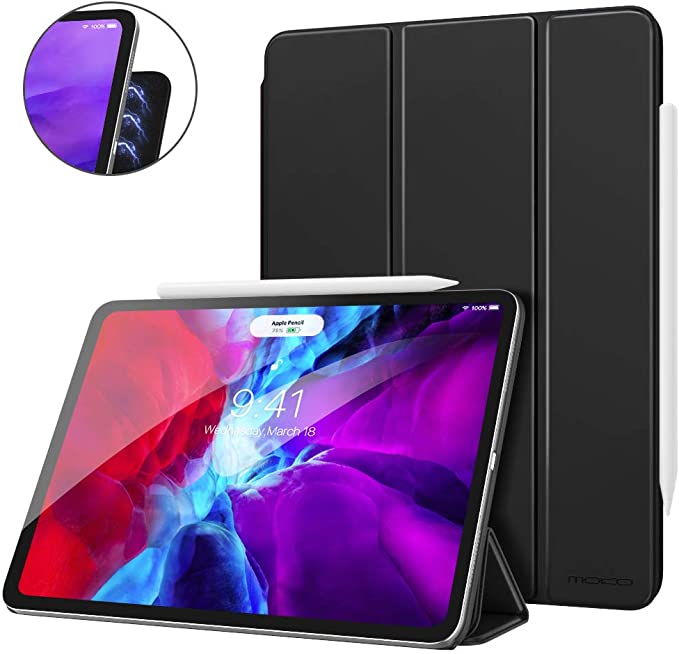 7. Ztotop Case for iPad Pro 12.9 Case 2020 (4th Generation) Strong Magnetic Minimalist
You are not wrong in assuming that these snap-on polyurethane cases are the same as those with the same profile above, they most likely are. In fact, the minimalist Ztotop case comes with magnetic snap-on back and tri-fold cover that doubles as a stand. It is no different from the other snap-on cases that takes on the Apple Smart Folio as a viable alternative. You can find the same case by MOKO and ESR above. Just be aware that such cases do not offer corner and edge protection. In other words, there are no wrap around shell to protect the iPad Pro from knocks and bumps.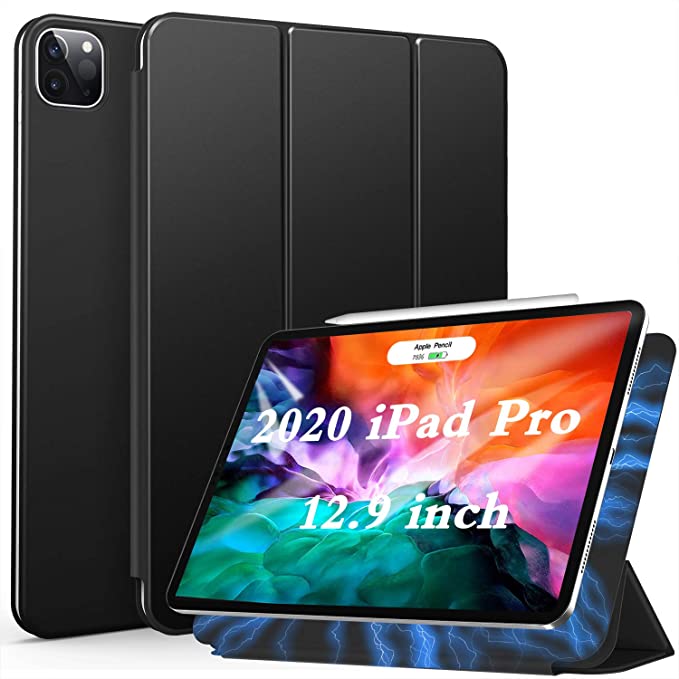 8. ZtotopCase iPad Pro 12.9 Case 2020 Hard Back Lightweight Trifold Stand Smart Folio Case
If protection is foremost on your mind and you are not worried about adding a bit of heff, look up the ZtotopCase with hard back shell. The case offers substantially more protection with corner bumpers and raised protection. In the front, you get wear-resistant PU leather cover with the standard three segment fold to turn it into a stand.
The inner side is lined with microfibre cloth to protect the screen. It has the usual features like allowing access to the long edge where the Apple Pencil charges but no storage silo and it supports the sleep and wake function with the magnetic cover.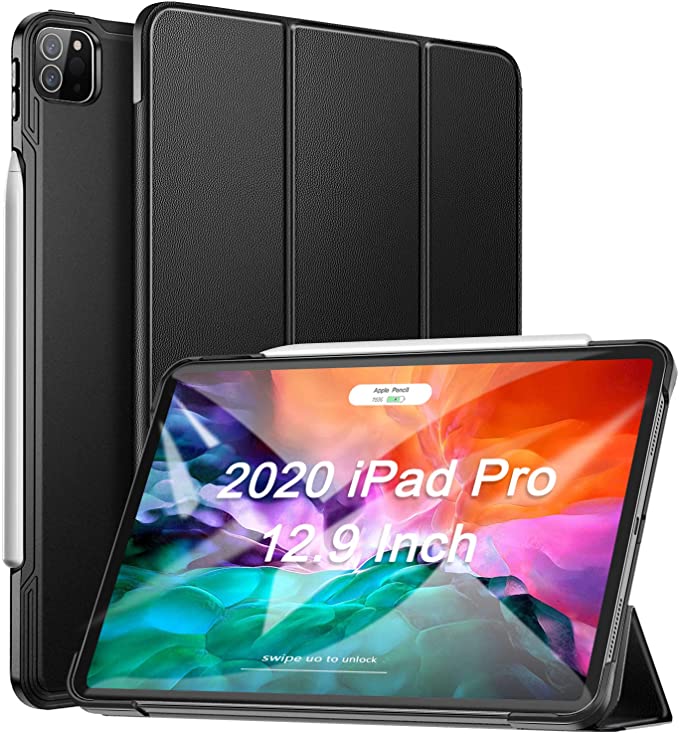 9. ProCase iPad Pro 12.9 Case 2020 & 2018 Slim Shell Smart Cover for iPad
The hard back shell is super thin and lightweight. Around the front is the same polyurethane design cover with three segments allowing it to be folded and serves as a stand. The super thin shell does make it more vulnerable from knocks but offers protection from scratches and scuffs. It is also designed to expose the area where the Apple Pencil mounts to the iPad Pro magnetically but does not protect the Apple Pencil during transit.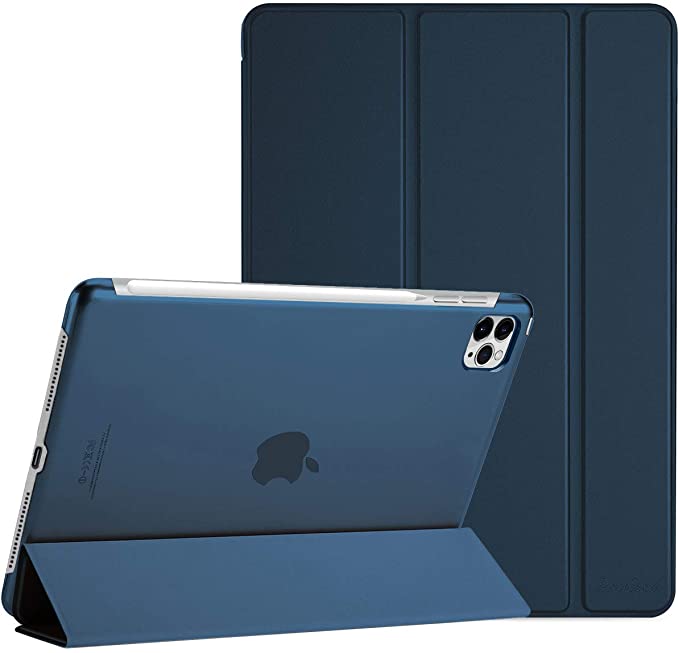 From experience, thin plastic shells are prone to cracks near the corners and edges due to stress over time. The ProCase is no exception. For careful users this won't be a problem but know that it has a shorter lifespan over hard shell and silicone cases. Such is a toss up between super thin and lightweight over full body protection.
10. INFILAND iPad Pro 12.9 Case 2020 with Apple Pencil Holder and Full Soft TPU Jacket
It may be bigger, but it makes a lot of sense. With the Apple Pencil tucked away in the silo, the magnetic flap extends to cover the entire unit, including the Apple Pencil during transit. We handled this and a similar case from ESR and are very confident with the amount of protection it offers. This does mean that with the case on, it increases the overall size of the device, especially the footprint, but does offer all round protection to guard your investment. What makes it different is the front and back cloth lining to give it that soft designer touch.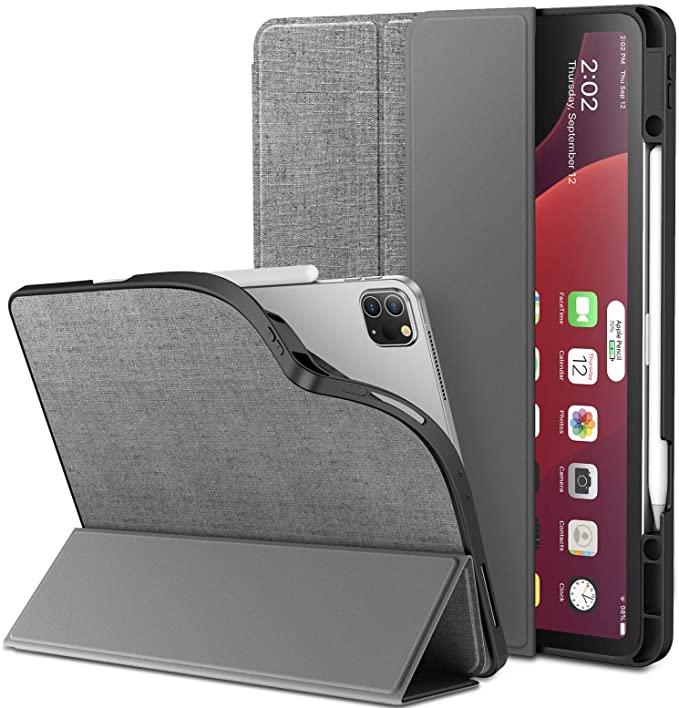 If keeping your Apple Pencil safe during transit is a priority, this INFILAND case has a dedicated Apple Pencil slot that also allows it to charge while in storage. The cover extends over the Apple Pencil keeps it from slipping out.
BONUS: Ztotop Case iPad Pro 12.9 2020 Protective Hard Shell Wraparound case with Apple Pencil Storage and Rigid Cover
This Ztotop case has an advantage over other cases listed here, it supports multiple viewing angle with its kick stand. The rigid front cover folds back and act as a stop for the kick stand. It comes with six anti-slip magnetic slot to hold the kick stand in unique positions.
As for the back, it is a full on wrap-around rugged, hard shell with bumper around the corners and generous anti-slip design on the surface and edge. The stow away kickstand folds flat into the back when not in use and is held magnetically. There is also an Apple Pencil silo built-in and a the rigid cover snaps shut both to keep the Pencil in and for sleep and wake function.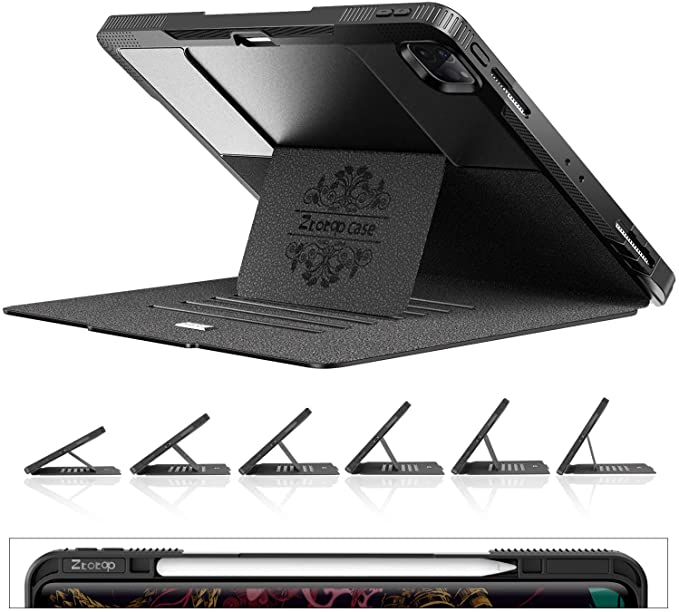 The strong magnetic kickstand doubles as a mount to hold the iPad Pro securely on a metal surface. Be sure to test this out on the surface you wish to mount the iPad and make sure it does not slide out of place.