While the previous generation Samsung Galaxy Tab S6 10.5-inch is more of an Apple iPad Air 10.5 alternative, we are glad to see that Samsung's flagship tablets, the next generation Galaxy Tab S7 and S7+ are catching up with Apple's iPad Pro 11 and 12.9 line-up.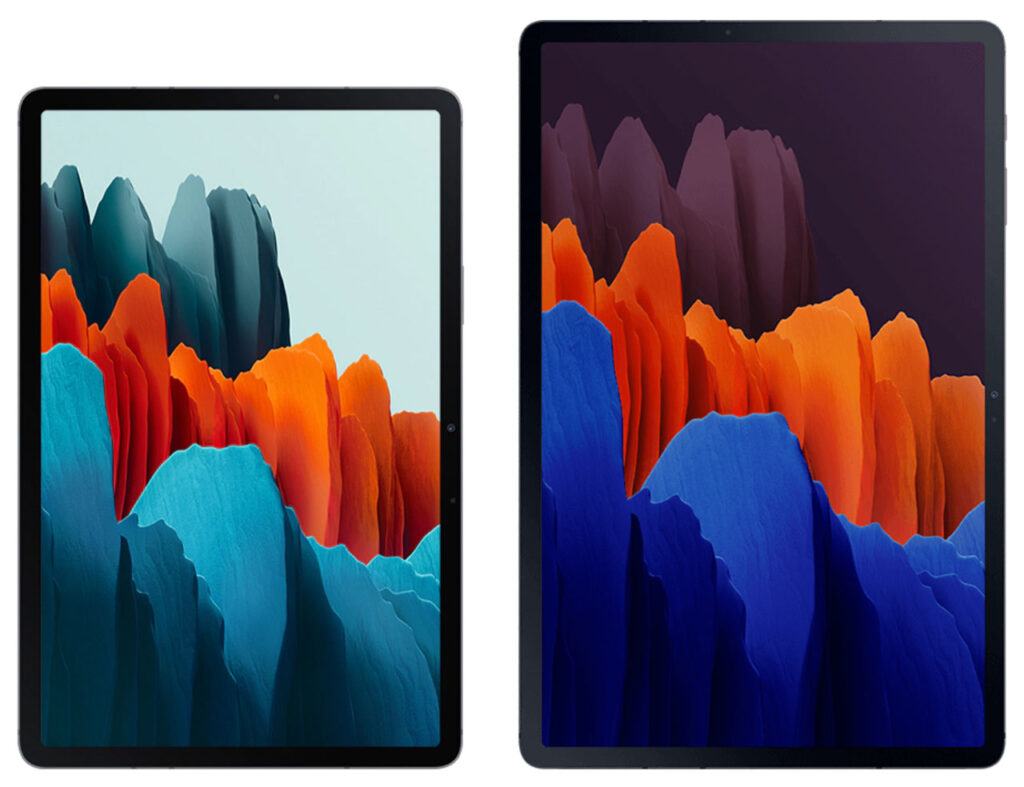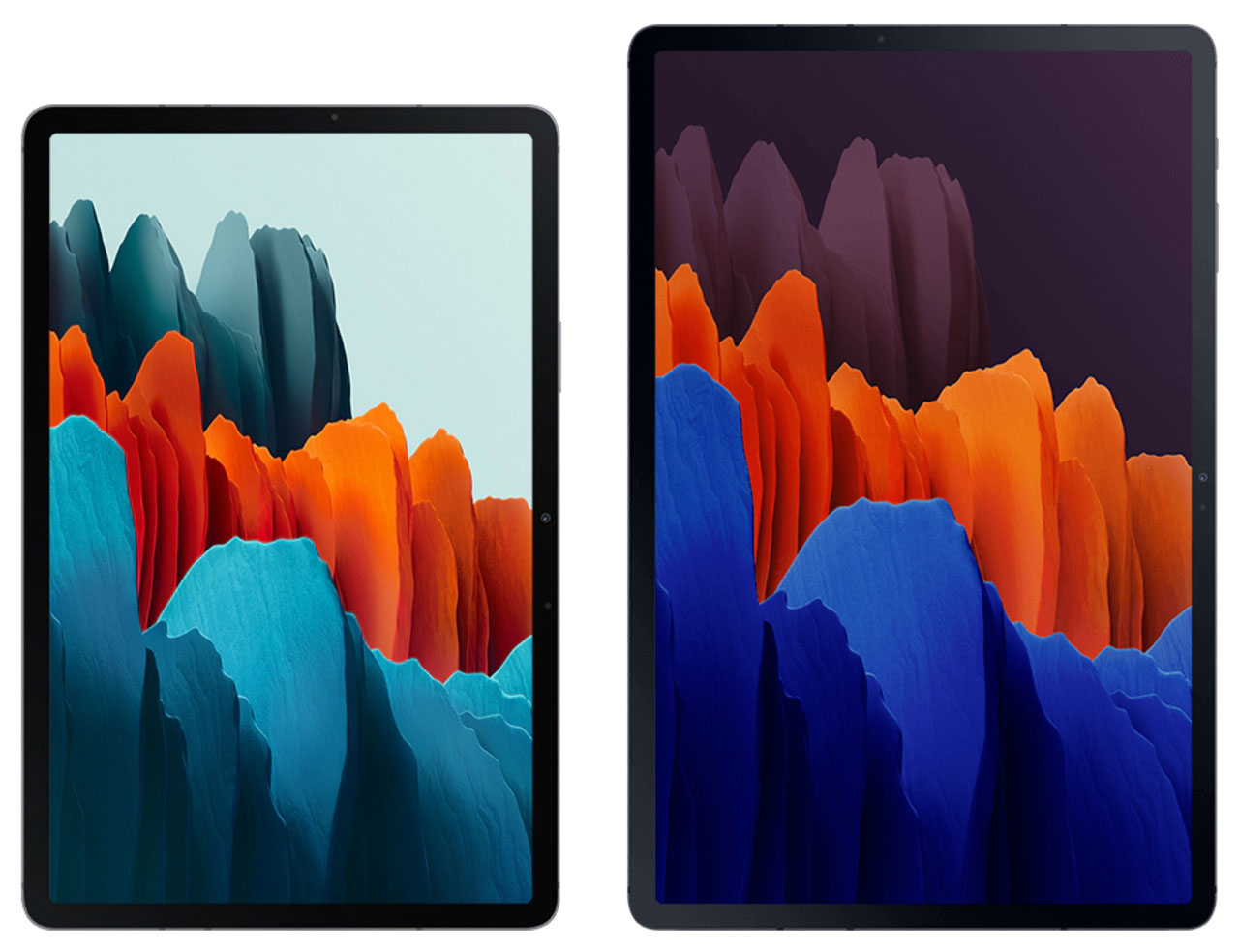 Search Samsung Galaxy Tab S7 and S7+ on Amazon
Two Displays vs One to Match Apple's iPad Pro Offerings
The evidence is in its size. The Tab S7 has an 11-inch LTPS LCD display much like the iPad Pro 11 and the Tab S7+ has a 12.4-inch Super AMOLED display. Both displays packs up to 276 ppi (pixels per inch) with the 12.4-inch having a slightly lower 266 ppi. Plus, both displays also feature rounded corners like the iPad Pros when the Tab S6 had square corners wrapped in narrow bezel and square edge metallic chassis.
It is worth noting that the Galaxy Tab S6 Lite that came out after the Tab S6 comes with a 10.4-inch display with rounded corners. But for cost cutting reason, it uses an LCD panel as oppose to Super AMOLED and is powered by Samsung's own chip.
It does not stop there, both panels are capable of a high 120Hz response rate. This means instant reaction to motion and no stuttering or jittery effects compared to standard 60Hz display. Gamers will benefit from this when playing high motion games, allowing them to spot everything on the screen. Scrolling will feel smoother with the higher refresh rate and fast action films won't feel out of place.
Comparing the Two Displays
| | |
| --- | --- |
| Galaxy Tab S7 | Galaxy Tab S7+ |
| 11-inch | 12.4-inch |
| LTPS LCD | Super AMOLED |
| WQXGA 2560 x 1600 | WQXGA+ 2800 x 1752 |
| 500nit Brightness | HDR10+ High Dynamic Range |
| 276 Pixel Per Inch | 266 Pixel Per Inch |
| DCI-P3 Colour range | NTSC Colour range |
| Low Blue Light Certification | Eye Care Certification |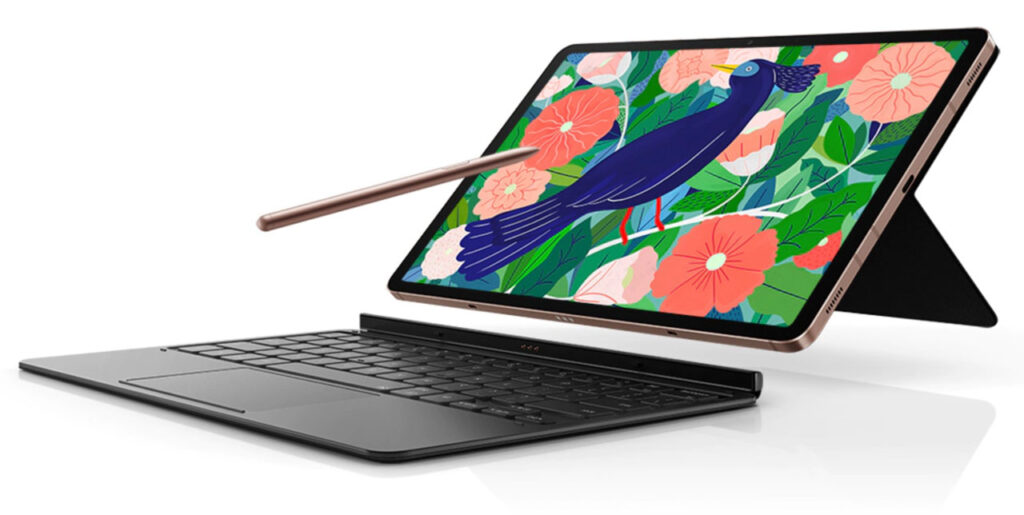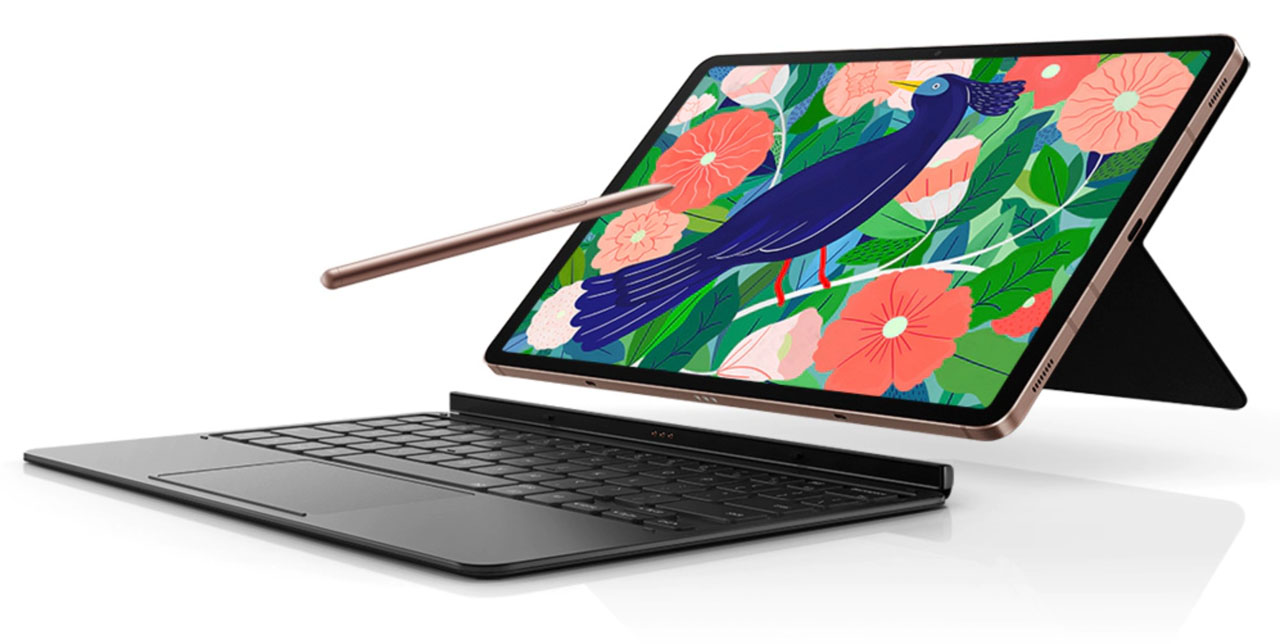 Faster Processor, Fastest in a Galaxy Tab
But the displays are not the only area that the new generation tablet has improved upon. While previous Tab S6 launched in 2019 spots a Snapdragon 855 chip, these new generation tablets use the groundbreaking Qualcomm Snapdragon 865 Plus mobile platform. This makes them the fastest Galaxy Tabs with 25% faster core performance, 36% faster graphics performance and 77% faster neural performance compared to Galaxy Tab S6.
Both tablets come with standard 6GB memory and 128GB storage. No other storage or memory options available as yet which makes it a no brainer when placing an order. The onboard microSD card slot allows for adding of additional storage should you need this. It is capable of taking memory cards up to 1TB. A must-have for those who capture lots of video and photos and wish to carry their music, TV shows and movie collection.
Gaming and Streaming
Together, the beautiful display and powerful processor makes this a go-to tablet for gaming and streaming movies and TV shows. To complete the who play everything experience, the tablet is equipped with quad speakers pumping out high-quality audio by AKG and support for Dolby Atmos. It is like having your own personal cinema with HDR10+ (High Dynamic Range) and NTSC colour range capable Super AMOLED display on the Galaxy Tab S7+. A true entertainment tablet.
Better Battery Life
Even with all that power, the tablets still manage iPad Pro beating 14 hours on the Tab S7 and 15 hours on the Tab S7+, respectively. Previous generation Tab S6 was already achieving 15 hours on a 10.5-inch form factor. Apple's iPad Pro on the other hand only manages up to 10 hours of battery life. The Tab S7 has an 8000 mAh capacity battery while the Tab S7+ has a huge 10,090 mAh capacity battery. And, when you are running low, you will be glad to know that Fast Charging is supported but you will need a 45W Fast Charger. This is sold separately.
Dual Rear Camera Setup with Flash
The dual camera setup first featured on Galaxy Tab S6 with 13MP and 5MP sensors are back but this time, these cameras are accompanied by an LED flash on the Galaxy Tab S7 and S7+. The pair of cameras are wide (13MP/F2.2) and ultra wide (5MP/F2.2) which will be sufficient for all manner of photography on the tablet. The cameras are capable of 4K video capture at 30fps and supports mobile photography functions and features like Single Take, Night Mode, Night Hyperlapse, Front and Back Conversion Recording, Scene Optimiser and AR Doodle.
Dimensions and Weight
The Tab S7+ with its 12.4-inch display is slimmer at 5.7mm with an overall dimension of 185.0 x 285.0 x 5.7mm while the smaller Tab S7 with its 11-inch display is 6.3mm thin with an overall dimension of 165.3 x 253.8 x 6.3mm. For reference, iPad Pros measure 5.9mm thin.
Incredibly thin and light, even thinner than the iPad Pro 11 at 5.7mm but the Tab S7+ is a smidge thicker at 6.3mm. With premium anodised aluminium styling and micro-sand blasted finish for a soft buffed texture, it not only looks good but feels nice to touch.
In term of weight, the 12.4-inch model with WiFi weighs 575 grams while the smaller 11-inch model weighs 498 grams, with LTE model weighing 500 grams. Again, for reference, iPad Pro 11 weighs 471 grams (WiFi) and 473 grams (Cellular) while iPad Pro 12.9 weighs 641 grams (WiFi) and 643 grams (Cellular). This makes the Tab S7 heavier than its equivalent and Tab S7+ lighter than its equivalent. 
Stylus Included
Even though the Tab S7 and Tab S7+ are already cheaper compared to iPad Pro 11 and iPad Pro 12.9 with 128GB storage, they also come with S Pen included. Which, when compared to Apple Pencil Generation 2 that costs $129 is a huge saving. This on its own is a cost saving and continues to lower the total cost of ownership for the devices, making them much more appealing.
The included S Pen stylus has also received an update, with a promise of low latency, smoother and faster response. You are bound to notice very little lag, a push towards a natural writing and drawing experience. The S Pen air actions or gestures for quick remote control of the apps and navigation on the tablet. And, like the Apple Pencil 2, it will attach magnetically to the back of the tablet when done.
Also Inching Towards a Laptop
With the optional Book Cover Keyboard, sold separately, the new Galaxy Tab S7 and S7+ are also gunning for the hybrid or detachable laptops. With the operating system offering PC-like interface, snap on the keyboard and you get your laptop replacement. The Book Cover Keyboard snaps onto the long edge of the tablet magnetically, coming into contact with the tablet directly, where it gets its power and transfer keystrokes and touchpad.
Book Cover Keyboard All Grown Up: bigger keys and larger touchpad
The optional keyboard has also grown in size, thanks to the increase in display sizes to 11-inch and 12.4-inch. This means the keys are 26% bigger and the key pitch, the space between the absolute center of two keys are also wider apart at 18.3mm. This makes for more ergonomic and comfortable typing. Furthermore, the integrated kickstand on the Book Cover Keyboard offers up to 165° of working angle using a free stop hinge.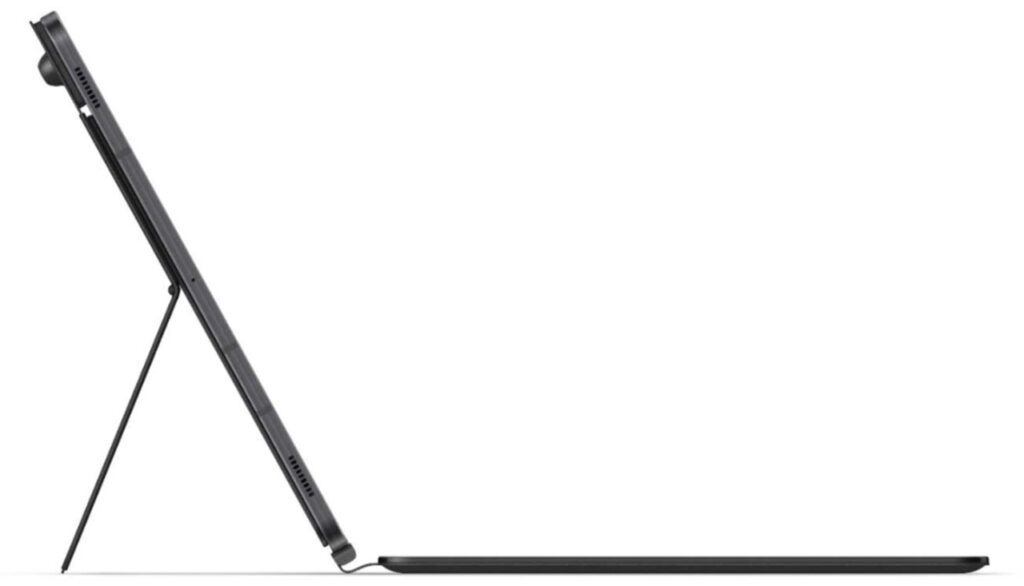 In addition to that, the touchpad is now 42% or 63% larger depending on the keyboard you pick for your device, S7 or S7+ compared to Galaxy Tab S6. This makes multi-finger gestures easier on a more spacious touchpad. Also, on the top of the keyboard a function keys, all 16 of them supporting different intuitive shortcuts that are aligned with Samsung Windows PC and include both Android and Samsung DeX specific keys.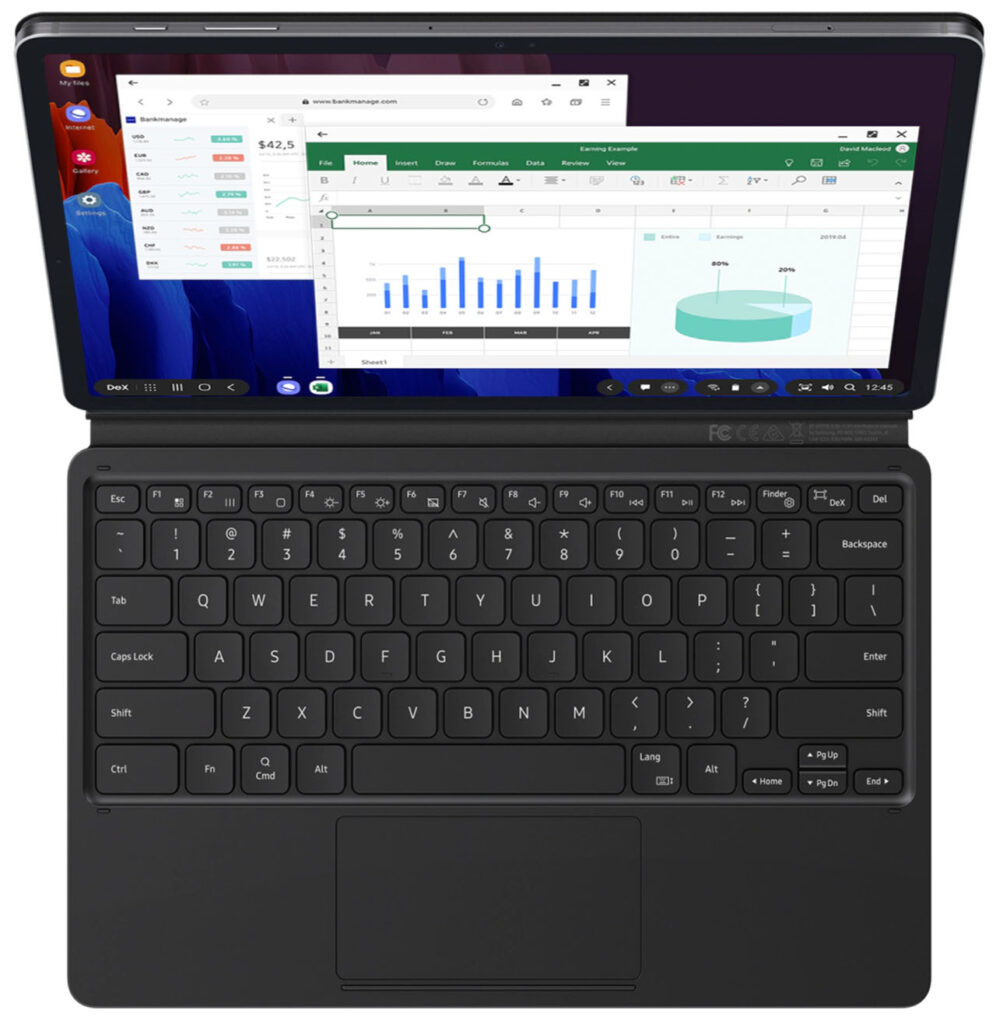 Always On Connectivity Options
While both tablets are available with WiFi, you can choose cellular options too. Pick either 4G LTE or 5G mobile connectivity options based on the size of the tablet. The Galaxy Tab S7 comes with a 4G LTE cellular model. On the other hand, the Galaxy Tab S7+ comes with a 5G cellular option for always on connectivity. You will never be out of an Internet range. Something that Apple is still very much behind.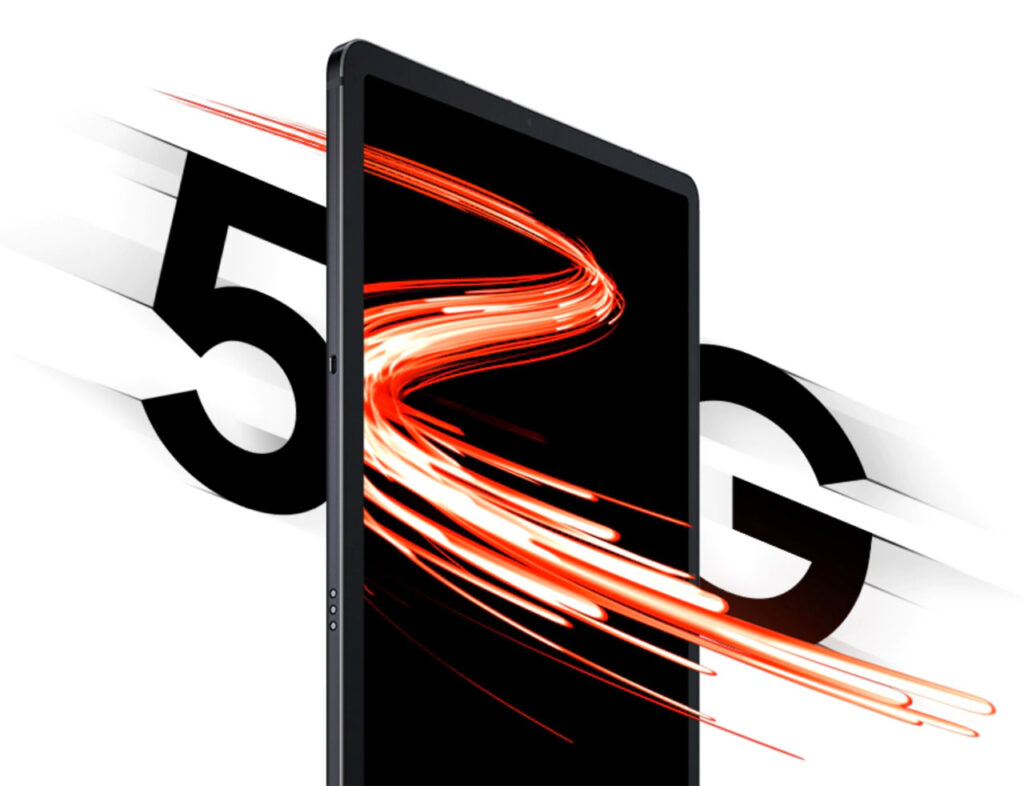 Final Thoughts
What is missing is the onscreen optical fingerprint scanner located on the bottom middle section of the screen in portrait mode, for quick unlock. Also, the previous generation Tab S6 had a second configuration option with 8GB memory and 256GB storage and still support up to 1TB extra storage via SD card slot. Hopefully, more memory and storage options will become available post launch.  Remember, the Galaxy Tab S7 Book Cover and Keyboard are sold separately so remember to budget for those if you wish for maximum versatility in using the tablet.
Elsewhere there is mention of Daily Board, a smart home dashboard that lets you manage and control smart appliances including the use of a scheduler and memo board. Like the Tab S6, the new generation tablet will also pair with your smartphone for calls and texts. With the LTE and 5G options, you also get Auto Hotspot, a one-touch tethering feature that turns your tablet instantly into a WiFi router for Internet connectivity. Samsung is also catching up with Apple's AirDrop feature with their own Quick Share function to easily share files to nearby devices simultaneously.
Both Samsung Galaxy Tab S7 and S7+ are available in black, silver or bronze. In each colour that it comes in, advanced dual colour anodising technique is used to ensure that the shades and hues endure. Making them robust to the daily grind while at the same time, stylish. It uses exquisite aluminum textures created by polycrystalline diamonds, with a micro-sand blasted finish soft to the touch.
Search Samsung Galaxy Tab S7 and S7+ on Amazon
App Screens Gallery
We leave you with an image gallery showcasing the different app screens.