Not quite as big as the iPad Pro 11, which is what Samsung is aiming for, the Galaxy Tab S6 is a premium tablet with a 10.5-inch device. This means it sits right next to the iPad Air 10.5-inch. But is its ambition of being an iPad Pro 11 alternative big enough to beat the iPad Air 10.5-inch.
On paper the Samsung Galaxy Tab S6 is a powerful device but the iPad Air 3rd generation is no slouch either, it has an equally powerful A12 Bionic chip, the same chip found on the company's flagship iPhone XS.
With a cheaper price tag, this makes the iPad Air 10.5 even more attractive and affordable. But, are the extra features on the Galaxy Tab S6 enough to convince us to go with the more expensive Samsung flagship tablet?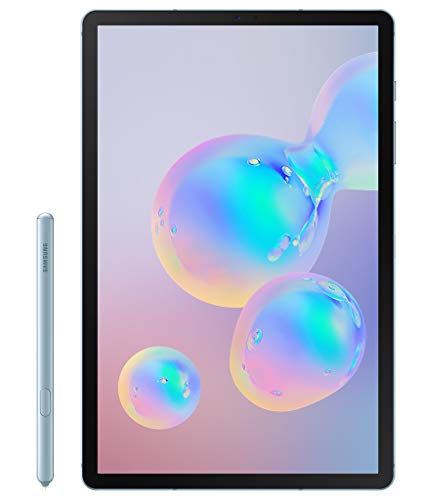 Samsung Galaxy Tab S6 10.5-inch vs Apple iPad Air 10.5 (3rd Generation)
1. Design
Both devices are just as attractive although the iPad Air spots a dated design. One that has been around since the first iPad, with its chunky bezel, at least on the top and bottom bezel, home button and physical fingerprint scanner.
The iPad Pro 11 and 12 both receive the new squared edge profile, come with narrow and even bezel all round, have panels with rounded corners and gave up the home button. Unfortunately, the new iPad 10.2, iPad Air 10.5 and even the new iPad mini retain the old profile. This gives them a slight disadvantage in the appeals department.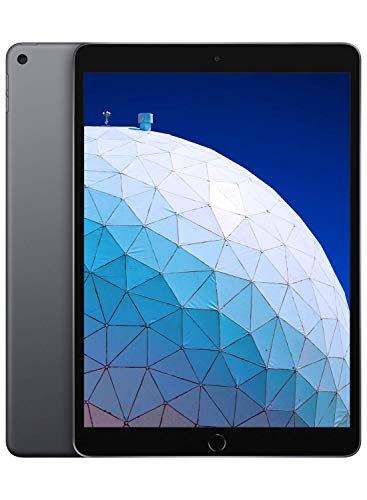 The Galaxy Tab S6 on the other hand is very similar to the stop gap Galaxy Tab S5e. The latter is more of a mid-range device compared to the high-end premium devices like the Tab S4 and the Tab S6 itself. Both Tab S6 and S5e have the same updated design and 10.5-inch AMOLED display. The Tab S5e even has very similar dimensions with the S6 and weighs just 20grams more.
The display panel may not have rounded corners like the iPad Pros but it is wrapped in a sleek uniform bezels and an all metal chassis with rounded corners. It has also lost the traditional home button and physical finger print scanner. The Galaxy Tab S6 does one better by including an onscreen optical finger print scanner not available on the iPad Air 3.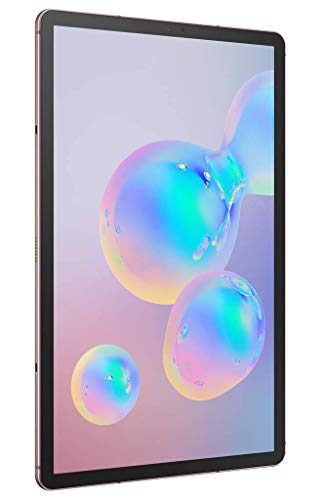 | | Samsung Galaxy Tab S6 | Samsung Galaxy Tab S5e |
| --- | --- | --- |
| Display | 10.5-inch Super AMOLED | 10.5-inch Super AMOLED |
| Processor | Snapdragon 855 | Snapdragon 670 |
| RAM | 6GB/8GB | 4GB/6GB |
| Storage | 128GB/256GB | 64GB/128GB |
| Rear Camera(s) | 13MP + 5MP | 13MP |
| Front Camera | 8MP | 8MP |
| Speakers | Quad | Quad |
| Battery | 7,040mAh | 7,4040mAh |
| Weight | 420g | 400g |
| Dimensions | 244.5 x 159.5 x 5.7mm | 245 x 160 x 5.5mm |
| Fingerprint Scanner | In-display | Side-mounted |
| S Pen Support | Yes | No |
With even and slim bezels all round, onscreen fingerprint sensor and up-to-date metal chassis design, this makes the Samsung Galaxy Tab S6 the winner in this category.
WINNER: Samsung Galaxy Tab S6
---
2. Display
Based purely on numbers alone, the iPad Air 10.5-inch has a lower resolution and pixel density at 265 ppi. Conversely, the Tab S6 with its superior Super AMOLED display packs more pixels at 287 ppi density. This is owing to the use of higher resolution panel.
Next, we look at the aspect ratio of the panels. This is subjective as some would prefer wider and shorter display with 16:10 ratio of the Tab S6, geared towards media consumption. While others prefer the more conventional 4:3 ratio for productivity and web browsing on the iPad Air 3.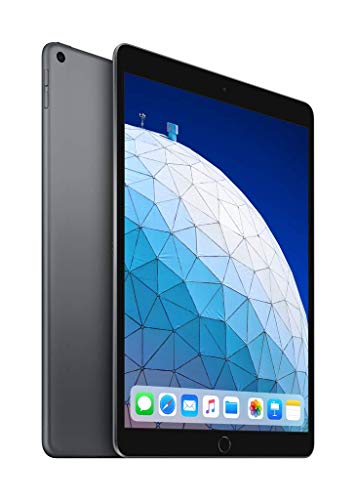 Both panels offer wide colour gamut but one is LED (iPad Air) while the other is OLED (Tab S6). Still, the iPad Air has a wide P3 colour gamut with True Tone display and fingerprint resistant oleophobic coating. It is capable of 500 nits of brightness and incorporates with it an anti-reflective laminate reducing reflectivity down to 1.8%.
The display on the Tab S6 is crisp and sharp. Super AMOLED never disappoints. It has become a mainstay for all of Samsung's mid-range to high-end devices owing to its superior quality, excellent contrast and amazing colours. With higher resolution, superior OLED panel and brilliant contrast plus bigger screen-to-body ratio, the Tab S6 is the clear winner in this category.
Samsung Galaxy Tab S6: 10.5-inch Super AMOLED display, 2560 x 1600 (WQXGA) at 287 pixels per inch (ppi) 16:10 aspect ratio. 82.5% screen to body ratio
Apple iPad Air 10.5: 2224 x 1668 resolution at 264 pixels per inch (ppi), 4:3 aspect ratio. 78.3% screen to body ratio
WINNER: Samsung Galaxy Tab S6
---
3. Dimensions and Weight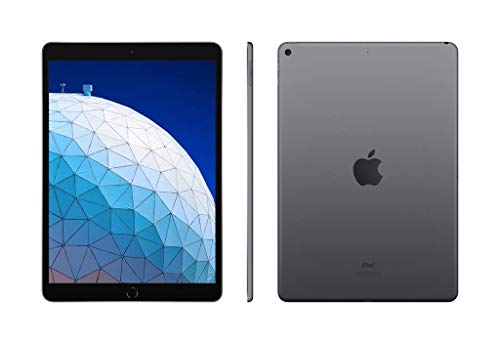 The iPad Air measures 6.1 mm thin and weighs 456 grams. On the other hand, the Galaxy Tab S6 measures 5.7 mm thin and weighs only 420 grams. This makes the Galaxy Tab S6 more grip and wrist friendly. Even though the iPad Air is already pretty light and slim, the Galaxy Tab S6 still manages to shave off 0.4mm in thickness and 36 grams of its heft. This is still slimmer and lighter than the iPad Pro 11 which is 5.9 mm thin and weighs 468 grams.
WINNER: Samsung Galaxy Tab S6
---
4. Cameras
I have to admit, I am not one to take photos or capture videos with a tablet. It just looks totally out of place and odd especially in public. But the Samsung Tab S6 has given us reasons to capture images and motion pictures with not one but two rear facing cameras.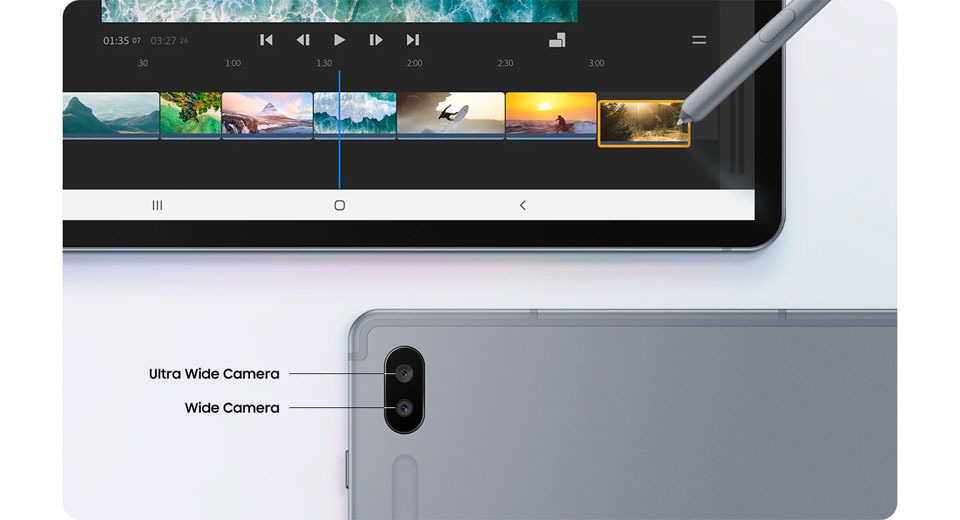 This makes it an even more convincing work and productivity tool. Imagine if you are an interior designer, artist, product designer and stage production manager. Sports coaches, golf professionals or photographers would find the ability to capture wide angle photos and videos useful. Coupled with pre-installed video and photo editor, it is a self contained professional editor, perfect to cut, optimise and edit your videos and photos. For the cameras, you get a wide main camera and an ultra wide secondary camera.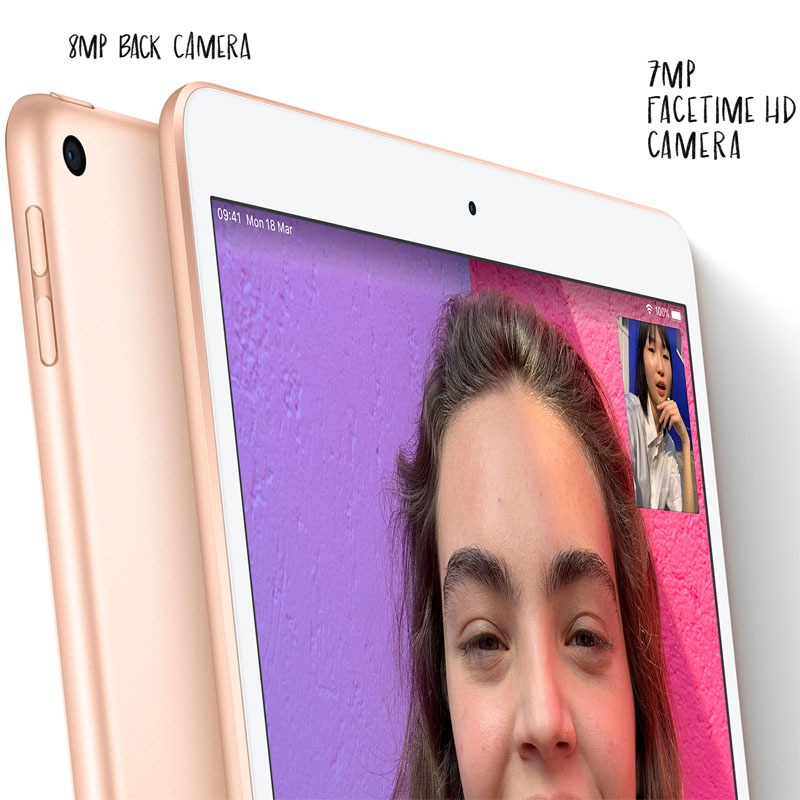 Samsung Galaxy Tab S6: Rear Camera: 13.0 MP f/2.0, 26mm 1.0µm, AF Wide Camera + 5.0 MP f/2.2, 12mm Ultra Wide Camera, 1.12µm. Front Camera: 8 MP, f/2.0, 26mm (wide), 1/4.0″, 1.12µm
Apple: Rear Camera: 8MP f/2.4 31mm (standard), 1.12µm, AF. Front Camera: 7 MP, f/2.2, 31mm (standard)
WINNER: Samsung Galaxy Tab S6
---
5. Stylus & Keyboard
Both devices supports pen input device with this difference. With the Samsung Galaxy Tab S6, the S Pen is included while with the iPad Air 10.5, you will need to fork out for the optional Apple Pencil. The S Pen has also grown in terms of size and is now a full size Bluetooth powered pen. This means it supports remote control and new Air Gestures functions to control the tablet remotely. Perfect for presentation.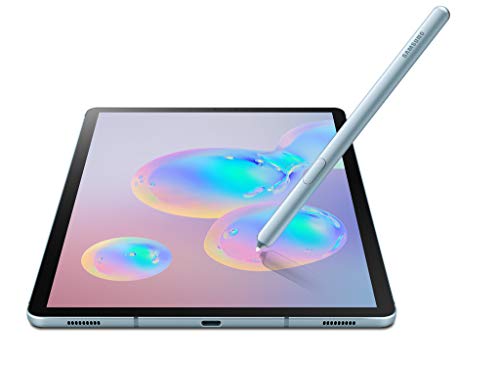 Our problem is with the S Pen docks. The stylus latches on magnetically to the back of the tablet in a groove to charge rather than the long edge like the iPad Pro. However, the saving grace is that, with the optional keyboard cover, there is room to cover and protect the pen when docked on the back plate. The pen also has as slightly rectangular profile like the new Apple Pencil 2 compared to the Apple Pencil 1 which has a round cross section.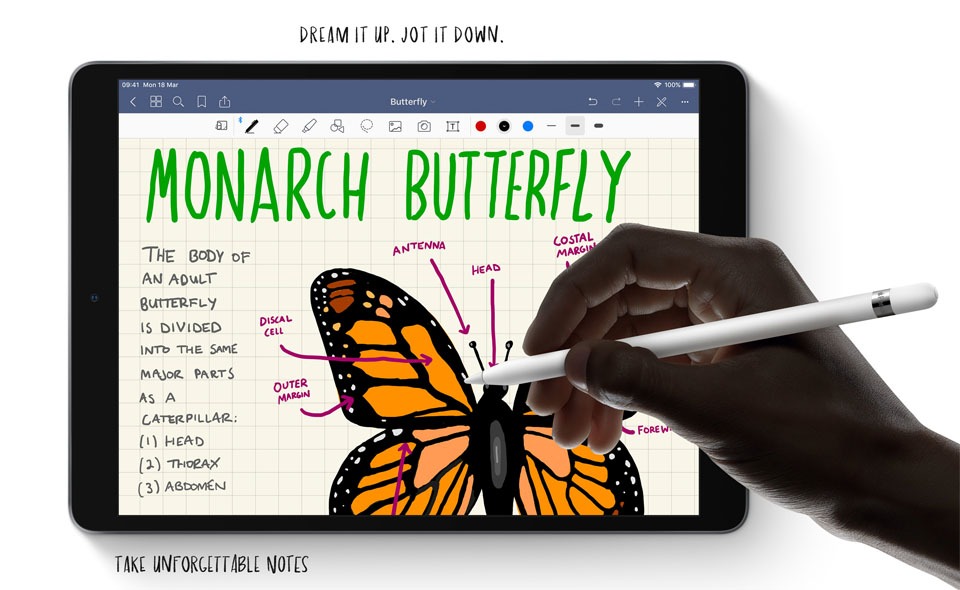 Both stylus support precision and pressure sensitive input with up to 4096 level of pressure sensitivity to compose lively brush strokes.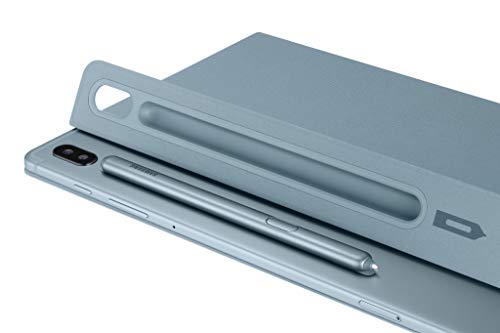 WINNER: Samsung Galaxy Tab S6
On the subject of keyboards, the Smart Keyboard for the third generation Pad Air is bigger and more comfortable to type on but the Tab S6 keyboard book cover has a trick up its sleeve. It comes with a track pad, more on this in the next section. Both snaps on magnetically but the Samsung keyboard book cover comes with a multi angle kick stand integrated for better ergonomics when using the tablet in laptop mode. It is also bulkier which means it is less helpful as a cover in tablet mode. There have been concerns about the magnet not latching on to the back properly causing the cover to come off when in tablet mode. As mentioned earlier, the cover also protect the S Pen in its dock when applied.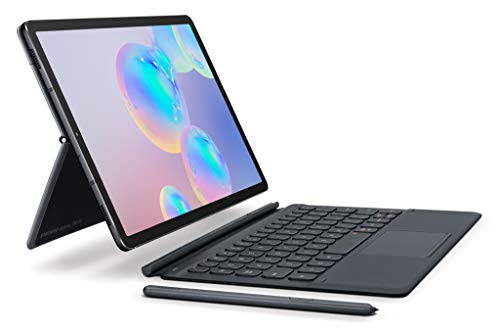 The Apple Smart Keyboard for iPad is a proven piece of kit. In fact, the keyboard is compatible with multiple iPad models not withstanding the iPad Air 3rd generation. It works with iPad Pro 10.5-inch and the new iPad 7th generation. The full size keyboard connects to the iPad Air via the Smart Connector. It folds to create a slim and lightweight cover to fully protect the screen and but not the back of the tablet. Unfortunately, the tablet in only supports the display at one angle in laptop mode.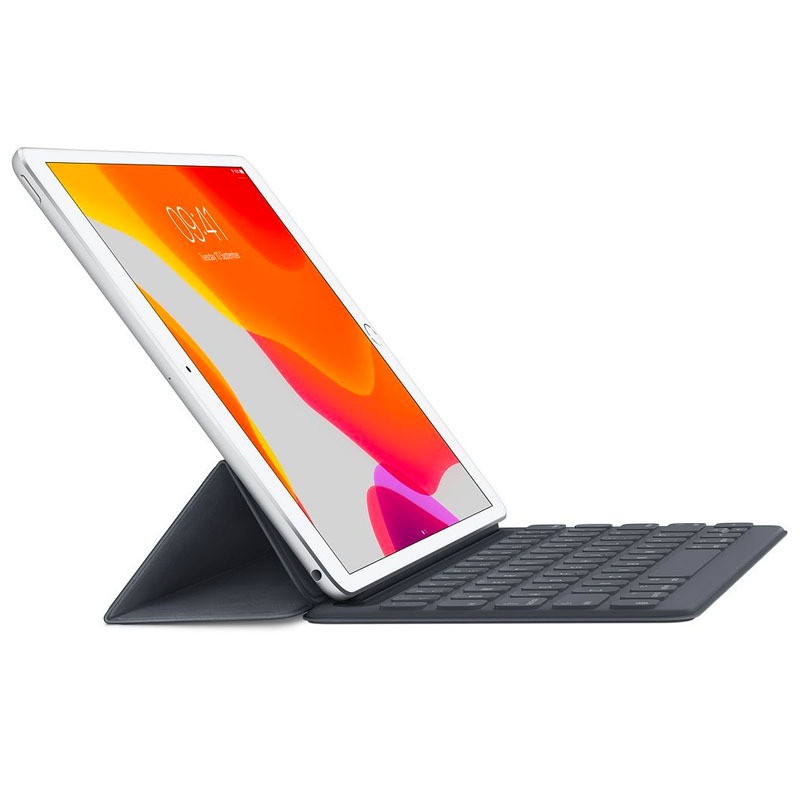 WINNER: Draw
---
6. Desktop Experience
With iOS13, Apple has branched the mobile device operating system to cater to iPhones and iPads separately. This means the iOS13 iPad version also known as iPasOS is more tablet user centric and vice versa, the iOS13 iPhone version is more smartphone centric. This gives the iPad more laptop like features. In splitting the iOS based on device, it is able to make the most of the extra real estate on the display, multi-touch and gestures.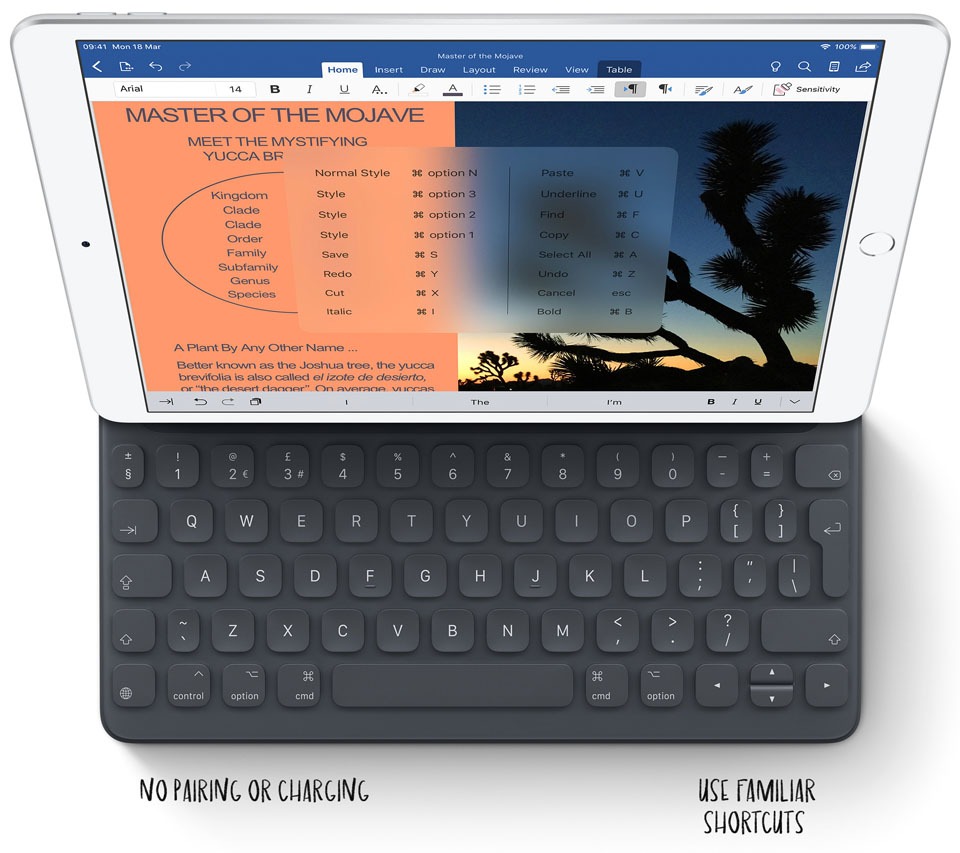 Some of iPadOS's desktop like functionality includes ability to drag and drop files, slide over and split view between multiple apps and even open multiple documents in the same app. Switching between app is also easier via icons on the dock.
On the other hand, Samsung has incorporated the full PC experience into the Tab S6. Previously, you will need a Samsung Dex adapter, a monitor, keyboard and mouse to enter the desktop environment, you can now do this with a quick keyboard shortcut.
Using the optional smart keyboard cover with a built-in mouse pad, you can turn the tablet into a laptop using the Function and dedicated DeX access key. On both devices, you can navigate between apps or documents intuitively and while Tab S6 supports the trackpad or pointing device, iPad Air requires turning on Assistive Touch and adding your Bluetooth mouse via Pointing Devices.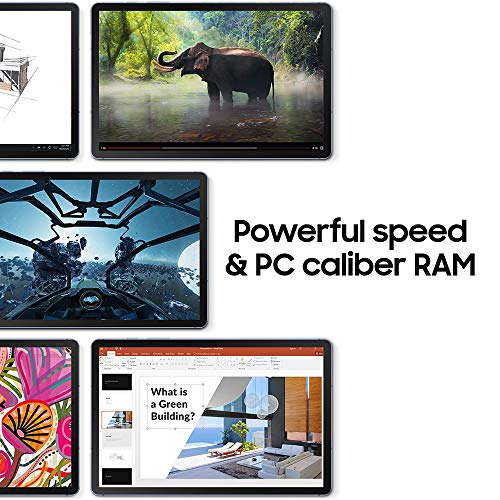 WINNER: Draw
Final Thoughts
As our comparison focuses on the hardware, the Samsung Galaxy Tab S6 excels in 5 out of the 6 areas of comparison. It betters the iPad Air 10.5 in terms of design, display, dimensions and weight. On top of that, it has a dual main camera and a higher resolution front facing camera.
The Galaxy Tab S6 also has the upper hand in that the S Pen stylus is included. The same cannot be said for the iPad Air 10.5-inch as the Apple Pencil 1 is an optional purchase ballooning the cost of owning the device once you include the smart keyboard and stylus.
Finally, both tablets will need the optional keyboard to enjoy full desktop experience allowing you to use the tablets in laptop mode. These are DeX on Tab S6 and iPadOS with iOS 13 on iPad Air. We won't go into the merits and disadvantages of the operating systems as they each have their good and bad points.