Amazon launched the 10th generation Amazon Fire HD 8 and an upgraded version with wireless charging support and extra memory. Dubbed the Fire HD 8 Plus, it is not overwhelmingly different from the standard version. So, for a difference of $20, is it worth doling out the extra cash?
The budget tablet from Amazon, the Fire HD 8 is a favourite. Sitting between Fire 7 and Fire HD 10, it strikes a balance between portability and useability with its 8-inch display. The tablet received a spec bump in 2020 but the device looked largely similar to the previous 2018 version. Before we go into the comparison between Fire HD 8 and Fire HD 8 Plus, let's look at what the new generation devices gained and what stays the same:
Same 8-inch IPS display or at least the same HD resolution with 1280 x 800 display with 189ppi wrapped in the same robust feel and drop friendly strong plastic chassis
30% faster processor with MediaTek MT8168, a 12nm power efficient SoC that combines a quad-core Arm-Cortex A53 MPCore CPU with Arm NEON engine clocking in at 2GHz
Better gaming performance with up to three times higher frame rates on benchmarks using Mali-G52 MC1 GPU
Bigger Memory, upgraded from 1.5 to 2GB on the standard version and 3GB on the plus version
Double base storage, upgraded from 16GB to 32GB
Bigger 64GB storage option now available
MicroSD slot can take up to 1TB
USB Type-C for speedy charging and easier to connect up
On the subject of charge, a full battery offers up to 12 hours battery life, 20% longer than previous model that offers up to 10 hours
Now includes Alexa hands-free support, not available previously.
Re-ordering of buttons, speakers, microSD slot and headphone sockets there now work better in landscape mode
Fire OS 7 over Android 9.0
The Differences Between Amazon Fire HD 8 and Amazon Fire HD 8 Plus 2020 (10th generation)
For starters, both devices are exactly the same, physically. They share the same dimensions and weight. The only visible difference is the colour. The standard Fire HD 8 has 4 colour choices (Black, Plum, Twilight Blue and White) while the Fire HD 8 Plus is only available in Slate black. So how exactly do they differ? Here, we explore the differences between them, followed by some of the features we like best about these tablets.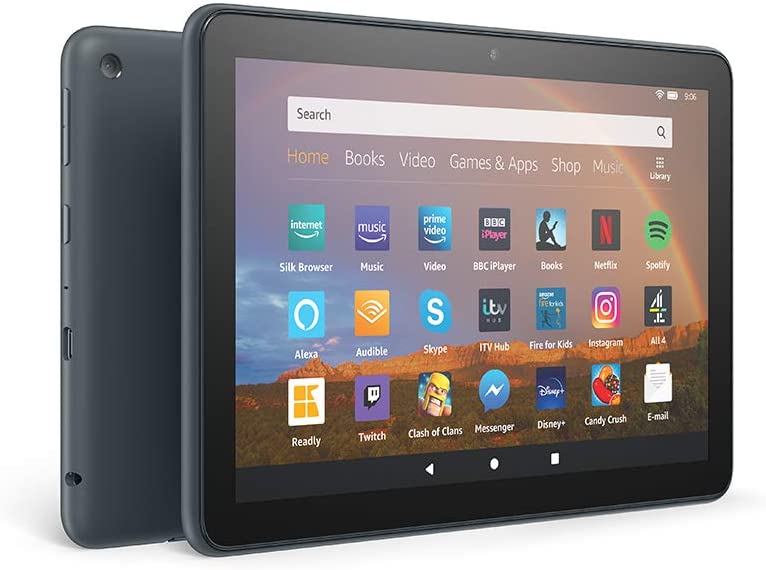 1. Memory: Every little extra helps on a tablet, especially for a device that is not user upgradeable. Having 3GB RAM versus 2GB RAM system memory is definitely a plus. 2GB RAM system memory is a minimum these days. With 50% more memory, it allows apps to load faster, shaving a few seconds here and there. The tablet will also cope better with multitasking, especially when juggling between a few key applications.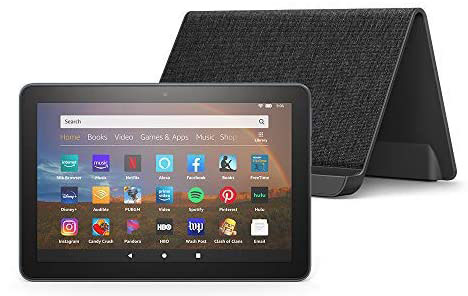 2. Wireless Charging Support: The new Amazon Fire HD 8 Plus supports Qi wireless charging. Not via a case that connects to the USB charging socket and offer contacts to a dedicated cradle (shown below) but with proper wireless charging. To take advantage of this, you will need a separate wireless charging dock or existing Qi certified wireless charger. Amazon offers a bundled option and the Wireless Charging Dock to buy on its own. When docked or charging the tablet automatically switches to Show mode ready for Alexa to accept hands free commands.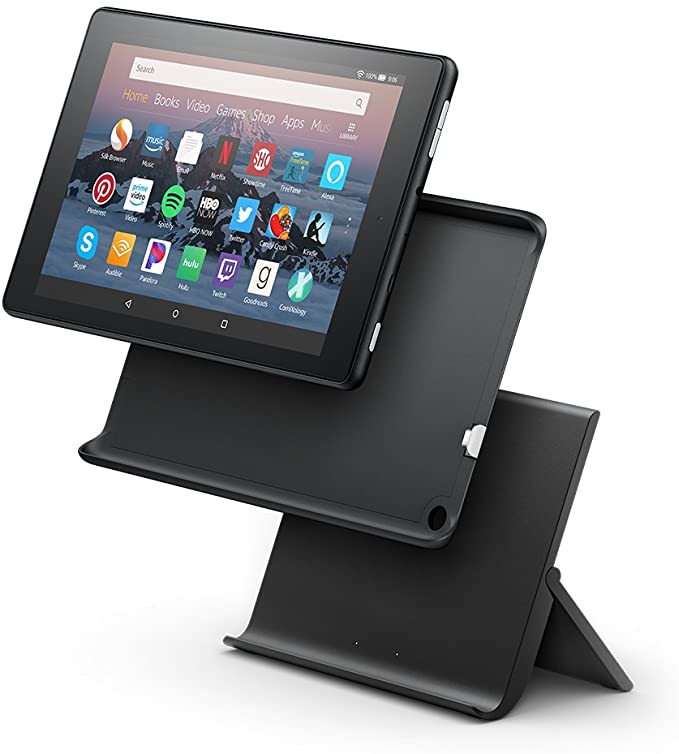 3. Faster Charging: With included adapter, the Fire HD 8 Plus also takes a shorted time to charge, up to 4 hours compared to 5 hours for a full charge on the Fire HD 8. This may not be a great deal of difference, but if you are in a hurry, every minute counts.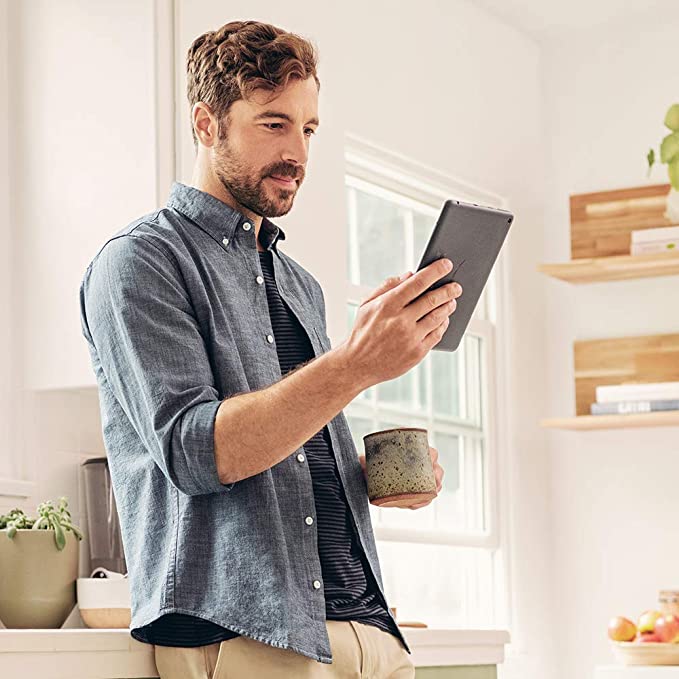 4. Free Kindle Unlimited: Finally, not a feature pertaining to the specification of the device, but the Amazon HD 8 Plus comes with three free months' access to Kindle Unlimited so you can access, download and read ebooks and audiobooks published on the platform for free.
Here is a quick comparison table between the two models.
| | | |
| --- | --- | --- |
| | Fire HD 8 | Fire HD 8 Plus |
| Display | 8″ HD | 8″ HD |
| Resolution | 1280 x 800 (189 ppi) | 1280 x 800 (189 ppi) |
| Battery life | Up to 12 hours | Up to 12 hours |
| Processor | Quad-core 2.0 GHz | Quad-core 2.0 GHz |
| Memory | 2 GB | 3 GB |
| Storage | 32 or 64 GB (expandable by up to 1 TB) | 32 or 64 GB (expandable by up to 1 TB) |
| Weight | 355 g | 355 g |
| Dimensions | 202 x 137 x 9.7 mm | 202 x 137 x 9.7 mm |
| Ports | USB C (2.0) | USB C (2.0) |
| Charging time (with included adaptor) | 5 hours | 4 hours |
| Wireless charging | No | Yes |
| Audio | Dual speakers | Dual speakers |
| Dolby Atmos | Yes | Yes |
| Show Mode (full-screen Alexa experience) | Yes | Yes |
| Hands-free with Alexa | Yes | Yes |
| Camera | 2 MP front- and rear-facing | 2 MP front- and rear-facing |
Features Noteworthy Features
The 10th generation comes with some improvements of its own. It has an 8-inch IPS technology HD touchscreen capable of 1280 x 800 resolution and packs a respectable 189ppi pixel density. It is powered by a quad-core 2.0GHz processor and comes with either 2GB or 3GB of RAM memory as we have learnt. Storage options hasn't changed, starting at 32GB with a further 64GB available. Of course, this is expandable with up to 1TB via microSD card slot.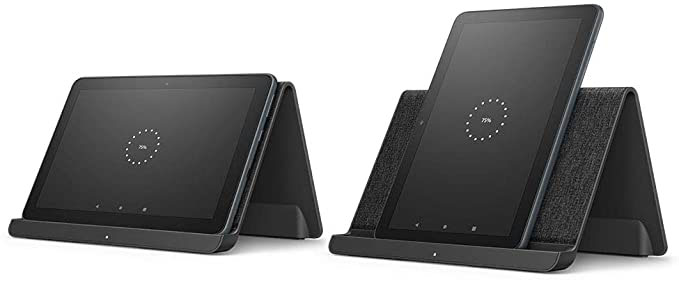 For a small tablet, it also offers an all day battery life of up to 12 hours of mix use. When you run low, charge it back up in under 4 hours (Plus model) or 5 hours (standard model) with supplied 9W adapter via the USB-C charging port. The Plus version enjoys an even quicker 3 hours charging with the optional 10W Wireless Charging Dock. It supports fast charging, bringing a flat battery up to 80% in under two hours. The dock supports both portrait and landscape mode, turning that tablet instantly into a smart display or as Amazon likes to call it Show Mode. It is worth mentioning that wireless charging works even through a cover or case, up to 4mm thick.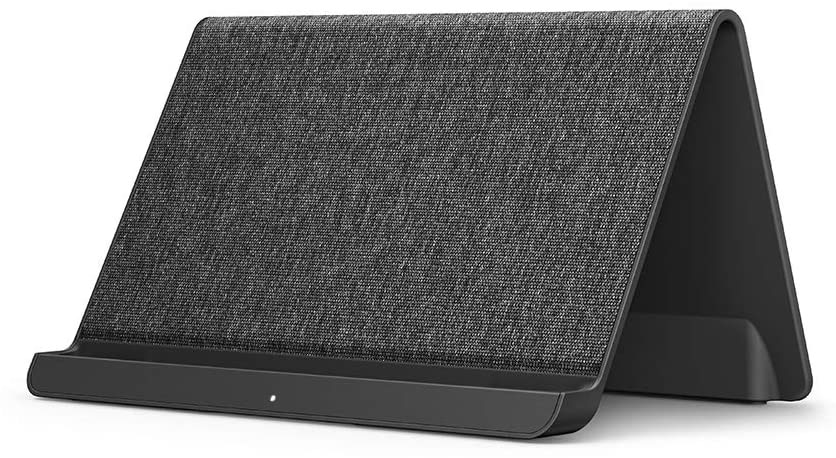 Elsewhere, you get a pair of stereo speakers, dual-band WiFi with 802.11a/b/g/n/ac and Bluetooth 5.0 LE with A2DP but no WiFi 6 (802.11ax) support. Both front and rear cameras uses 2MP sensors capable of 720p HD video recording. These are used mainly for video calls. The tablet measures 8.0" x 5.4" x 0.4" (202 x 137 x 9.7 mm) and weighs 12.5 oz (355 g). It does not make it the smallest,  slimmest or even lightest tablet in its class but works just the same as a reliable knock about device for the coffee table, to chuck in your bag and take with you or as a dedicated media tablet for streaming and reading.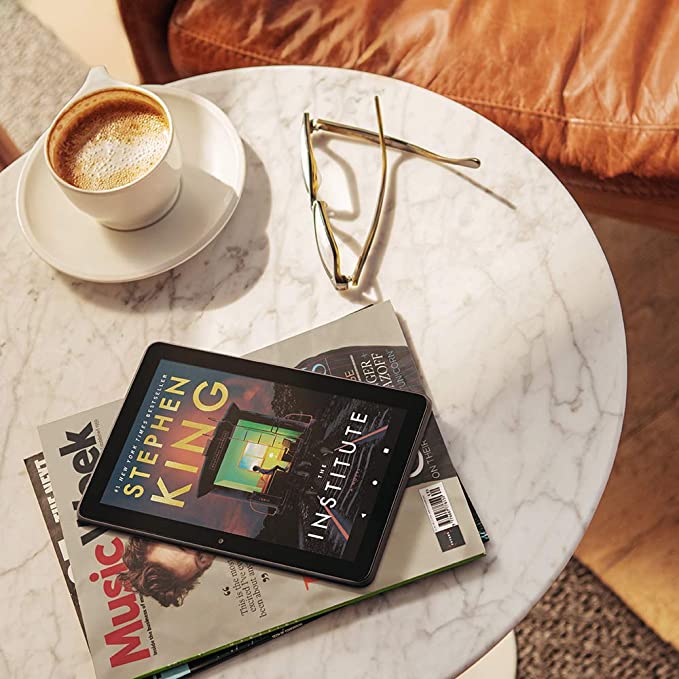 Final Thoughts
Is it worth the extra money? In our books, certainly. If nothing, that extra 1GB memory, wireless charging and shorter charging time offers some much-needed future proofing for the device. It also means that the Fire HD 8 Plus will support Show mode with a Qi wireless charger turning it into a hands free Alexa smart display.
Amazon's wireless charging dock is available to buy separately for $40 ($39.99). To buy it up front as a bundle will cost $30 more than the price of the Amazon Fire HD 8 Plus, saving you $10. This makes the total price difference a whooping $50/$60 depending on when you buy the wireless charging dock. If that is money you can part with, we say go for it. Otherwise, the standard Amazon Fire HD 8 works just as well as, as a tablet to consume media and reading.