Here is a mid-range tablet, the Samsung Galaxy Tab S6 Lite 10.4-inch which is priced to compete with Apple's entry level iPad 10.2-inch. As far as tablets that support a stylus go, this is way up there in terms of performance for the price.
There are plenty of budget Android tablets in the market from the likes of Amazon, Lenovo, Huawei and even Samsung. They cost under 200 dollars and is sufficient for browsing the web, checking email and consuming media. Examples of budget Android tablets with 10-inch display are listed below:
LENOVO Tab E10 Tablet
HUAWEI MediaPad T3 10 9.6-inch Tablet
AMAZON Fire HD 10 Tablet
HUAWEI MediaPad T5 10 10.1-inch Tablet
LENOVO Smart Tab M10 10.1-inch Tablet
HUAWEI MediaPad M5 Lite 10.1-inch Tablet
Samsung Galaxy Tab A 10.1-inch Tablet
Samsung Galaxy Tab S-series Comparison
Before we take a closer look at the Samsung Galaxy Tab S6 Lite, here is a table of comparison to give you an idea of where the tablet stands in comparison to other Samsung Galaxy Tab S tablets in the family. The Samsung Galaxy Tab S4 is still around and kicking. With the powerful Snapdragon 835 chip it still has a lot to offer but is priced significantly higher than the Tab S6 Lite.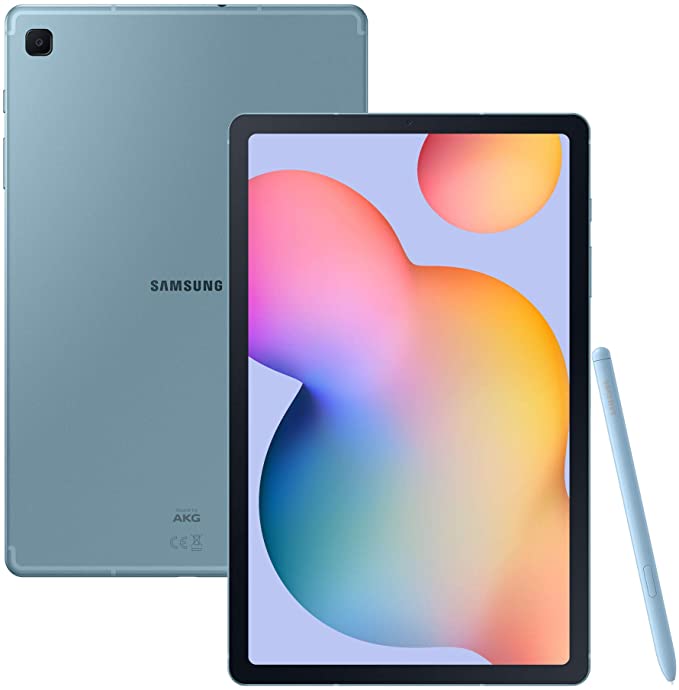 Search Samsung Galaxy Tab S6 Lite on Amazon
The Tab S5e on the other has a slight advantage over the Tab S6 Lite in that it comes with a bigger 10.5-inch Super AMOLED display in a slimmer and lighter chassis. However, it lacks the S Pen support, which by today's standard is a bit of a downer. Priced just a smidge over the Tab S6 Lite, it serves a niche. If you absolutely do not need a stylus and just want a super bright, vibrant and clear display with quad firing speakers, the Tab S5e is for you.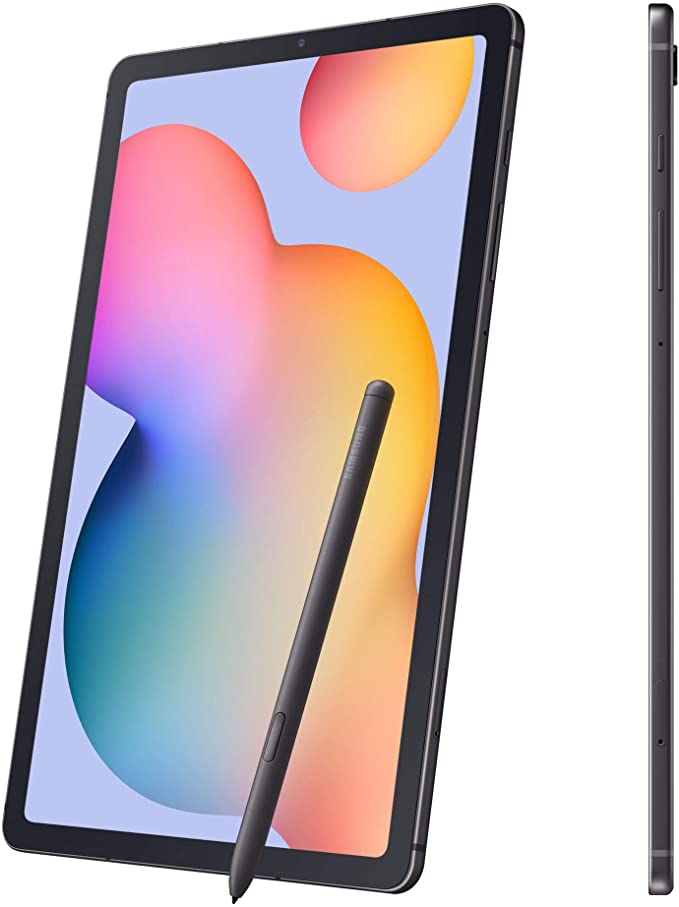 The biggest difference is going to be the comparison between Tab S6 Lite vs Tab S6. Both bearing the same iterative numeral. One being the cut-down version of the other. Here, we see the Tab S6 Lite at only half the price of the Tab S6 loses the superior 10.5-inch Super AMOLED display in favour of a cheaper 10.4-inch TFT display. It also uses a slower albeit still capable processor, with half the memory and storage. Elsewhere, the tablet uses a dual stereo speaker arrangement versus a quad firing one and is around 45 grams heavier than its premium sibling.
Tab S6 Lite
Tab S6
Tab S5e
Tab S4
Display
10.4″ TFT LCD
10.5″ Super AMOLED
10.5″ Super AMOLED
10.5″ Super AMOLED Display
Camera
Rear: 8 MP, Front: 5 MP
Rear 13MP Wide 5MP Front 8MP
Rear 13 MP Front 8 MP
Rear 13MP Front 8 MP
Processor
Exynos 9611
Snapdragon 855
Snapgragon 670
Snapdragon 835
Memory

Internal Storage

4GB

64GB or 128GB

6GB/8GB

128GB or 256GB

4GB/6GB

64GB or 128GB

4GB/6GB

64GB

Battery (typical⁵)
7,040mAh
7,040mAh
7,040mAh
7,300 mAh
Fast Charging
N/A
Yes
Yes
N/A
Speed and Performance
2.3GHz, 1.7GHz
2.84GHz, 2.4GHz, 1.7GHz
2GHz, 1.7GHz
2.35GHz, 1.9GHz
Audio
Dual speakers
Quad speakers
Quad speakers
Quad speakers
Weight
465 g (Wi-Fi) / 467 g (LTE)
420g
400g
482g
Stylus
S Pen
S Pen
NA
S Pen
Samsung Galaxy Tab S6 Lite: What You Need to Know
Now for a closer look at the tablet.
1. Performance
When the Samsung Tab S6 Lite is priced at only half the price of Samsung Tab S6, something has to give. While it may come at half the price, it does not come with half the CPU performance. Still, to cut cost, the Tab S6 lite has half the memory at 4GB and half the storage at 64GB compared to the premium Tab S6.
The Exynos 9611 chip on the Tab S6 Lite may not be as fast as the Snapdragon 855 on the Tab S6 but the 8 core processor is fast enough, even for light gaming. You will feel some lag when using the S Pen with certain apps but that is just the way apps are developed.
In the not so regulated Android world, developers and hardware manufacturers do not always talk to each other, resulting in apps and hardware that do not necessarily work properly. Use the S Pen with Samsung's home grown apps and you will be fine. Loading heavy apps can take a fraction of a second longer compared to Tab S6 and working with video editing is possible but not recommended as a main tool for video editing.
2. No AMOLED display
At 10.4-inch, it is not a small display. In fact, it is nearly as big as the Tab S6's 10.5-inch. To keep the cost down, Samsung has chosen to use a standard TFT panel instead of the more superior Super AMOLED panel. Unless you set both tablets side by side, you won't be able to tell what you are missing out on with the Tab S6 Lite. The only thing we can say is that the Tab S6 performs better outdoor under direct sunlight. But, using the tablet indoor, the Tab S6 Lite's display works just as well.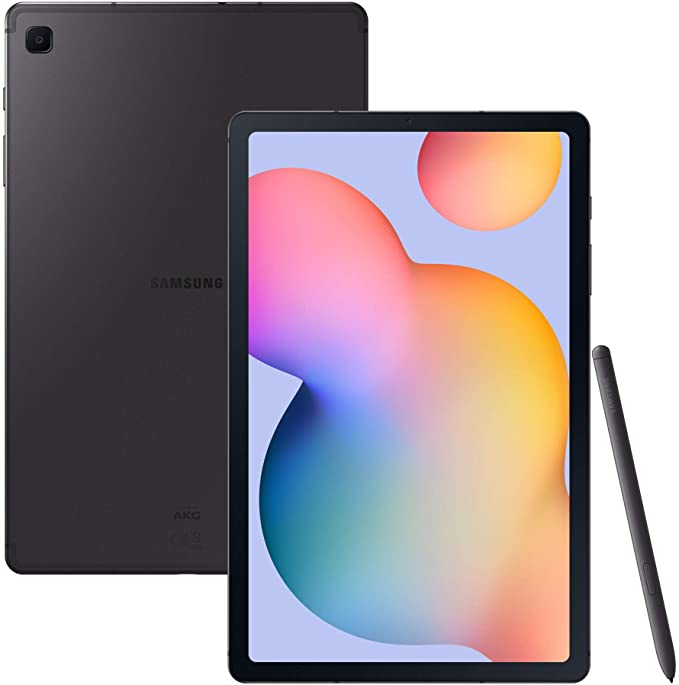 Resolution wise, the 10.4-inch TFT packs 2000 x 1200 pixels with a 5:3 aspect ratio giving it around 224 ppi density. The 10.5-inch Super AMOLED display on the Tab S6 is a sharper panel with 1600 x 2560 pixels resolution with a slightly different 16:10 aspect ratio. With more pixels per inch, the display density is significantly higher at 287ppi. Both displays support capacitive touch.
3. The S Pen
The S Pen stylus is included in the box with the Galaxy Tab S6 Lite. Unlike the entry level iPad that requires you to purchase the optional first generation Apple Pencil in order to use the tablet with a stylus, adding to the cost of ownership, the Galaxy Tab S6 Lite gives it away 'free'. This makes the overall ownership of the device cheaper compared to Apple's iPad.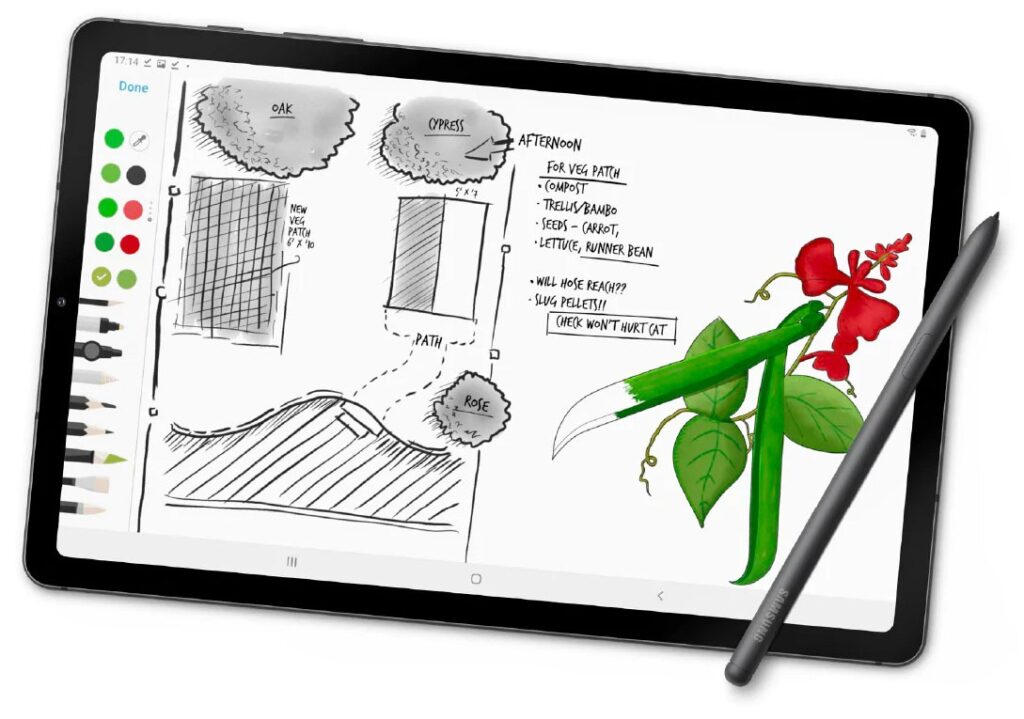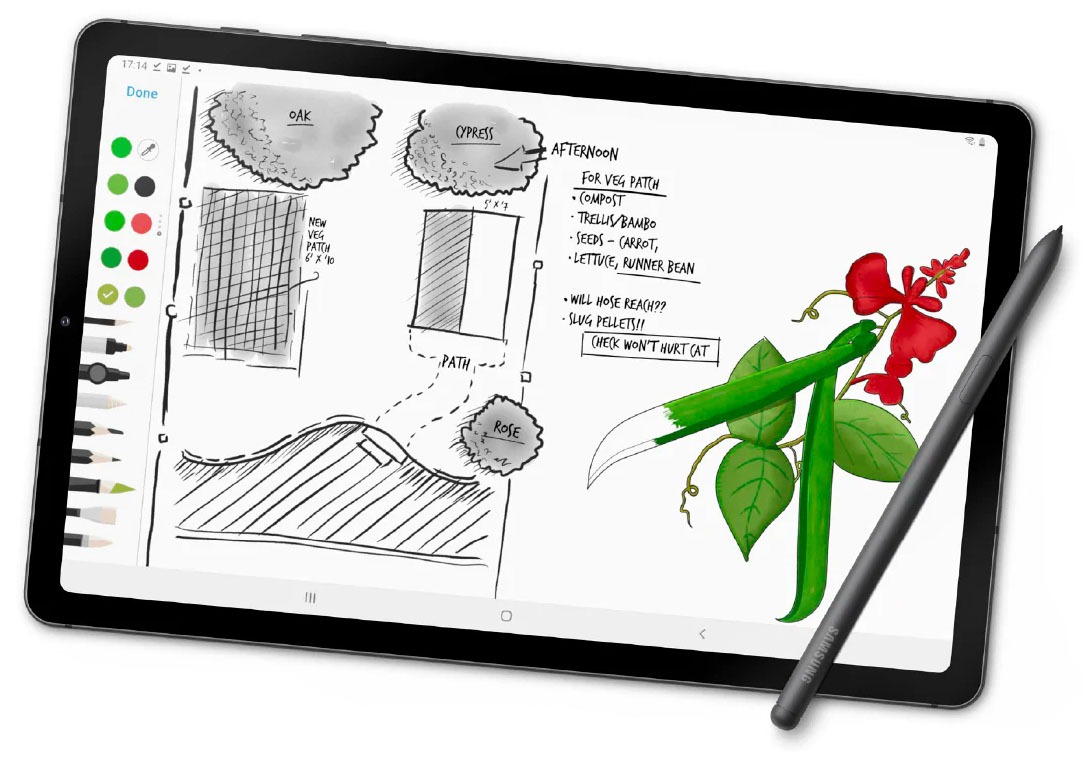 This is not the same S Pen found on the Galaxy Tab S6. For start, it is not a Bluetooth pen and does not support gestures (controlling slides and music or video playback). There is a flat side that magnetically attaches to the tablet like the iPad Pro, on the edge of the device rather than the back.
It attaches off center, no in the middle of the long edge, rather on the lower half of the long edge. It's not a big deal, just not as elegant. The rest of the body is cylindrical. It has one button to switch to eraser or to open the notes app.
In terms of dimensions, the pen is longer compared to the one on Tab S6, it has replaceable nibs like the Tab S6 and is rounder near the tip. Go into the settings to change the way you use the Pen like AirView to automatically open the pop-up information window on the app when hovering the S Pen over say the app icon.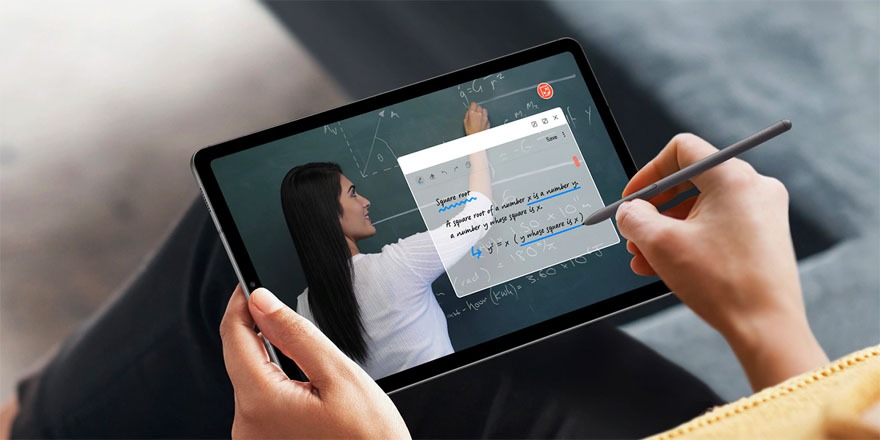 To make the S Pen even more useful, the Samsung Notes app now supports multitasking. You can open this as an overlay with a semi transparent background over other app window including streaming video. You can watch your online lectures and quickly jot down notes at the same time.
4. No On-Screen Fingerprint Sensor
Another feature that you do not get on this cut-down version is the on-screen fingerprint sensor. Again, it's not the end of the world. I prefer to unlock the device with the camera using facial recognition. Other secure ways to unlock the device includes numerical pass code and pattern. Facial recognition works very well on the device, almost seamless.
5. Memory and Storage
We established that the Tab S6 Lite comes with only half the memory and storage when compared to the premium Tab S6. But with 4GB RAM memory and 64GB storage, it is not really that bad. The entry level Apple iPad starts at 32GB storage. Having 64GB is already double that and allows you to cache movies and music, download books and podcast and even install games and apps with no trouble.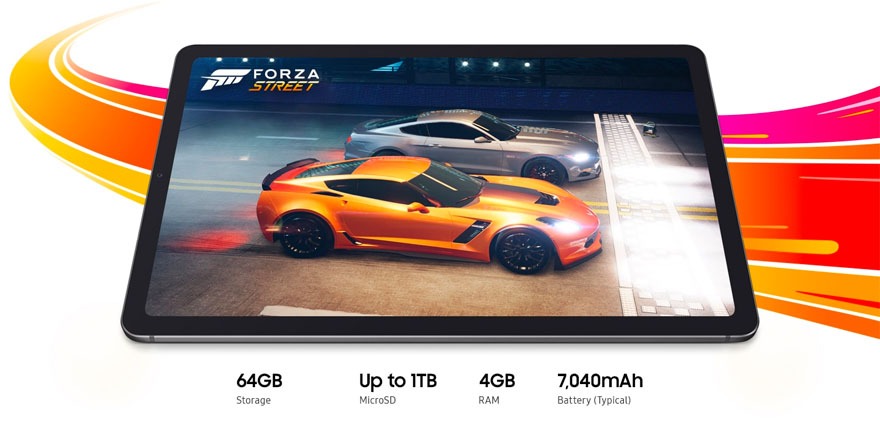 All you need to do is to keep an eye on the storage every now and then and offload apps or content you do not need. Plus that is the microSD card slot that supports up to 1TB of extra storage. A pin is included in the box to remove the microSD card try. On LTE versions, the tablet uses a embedded SIM card, better known as eSIM so the tray remains available for microSD card.
6. AKG Sound with Dual Speakers
Relying on a pair of onboard speakers, the sound system tuned by AKG works well for the occassional viewing without headphones. In practice, no tablet speakers are going to stand up against external Bluetooth speakers or headphones. However, it is good to know that should you need it, the two speakers engineered by AKG with support for Dolby Atmos will let you enjoy your TV show or movie on the 10.4-inch display.
7. Audio 3.5mm Combo Jack
This may be a lifesaver for some who still clings on to their wired headphones. In fact, even expensive Bluetooth headsets come with the option of using the headphones via wire should it run out of battery to connect wirelessly. You will be glad to know that there is a 3.5mm headphone socket.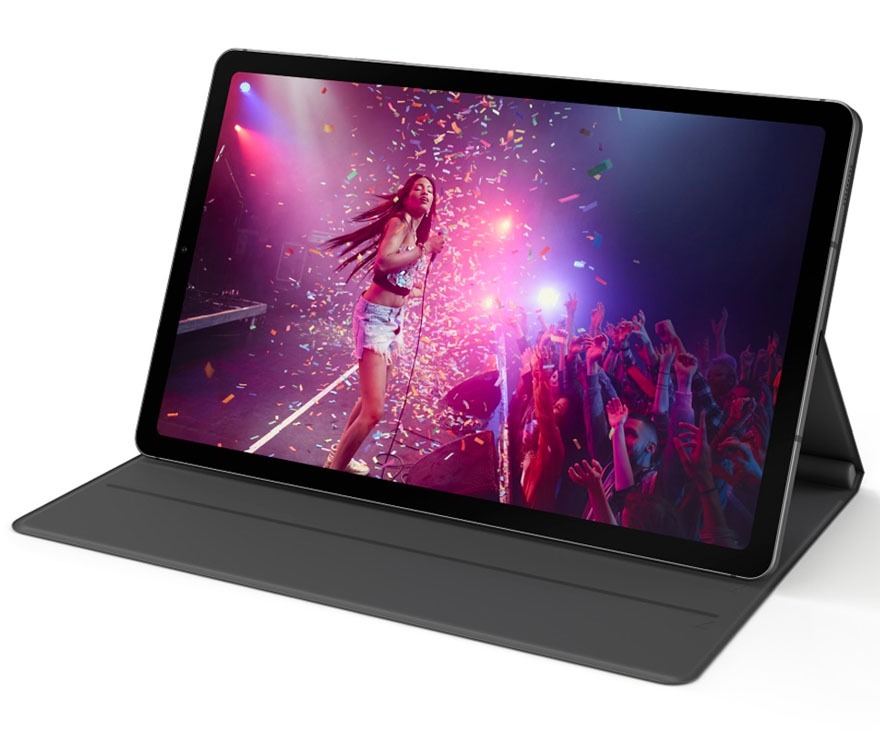 8. Battery Life
We established that the battery capacity is the same across the board. There is no difference between this and the battery on the Tab S6, Tab S5e and Tab S4. The only difference is the battery life. Samsung claims that you can get up to 12 hours Internet browsing time over LTE or WiFi and up to 13 hours of video playback. In mixed use, this is more like 10 hours.
The numbers are quite different on the Tab S6. You get up to 9 hours of Internet usage over WiFi or LTE but up to 15 hours of video playback time. That 2 extra hours could mean a couple more episodes or a single movie picture film if you intend to use the device on your long haul flight.
9. Cameras
The rear facing main camera uses an 8MP sensor capable of capturing Full HD video. The front facing camera is 5MP. There are no dual rear camera arrangement. The single shooter is sufficient for the odd occasion that you wish to capture video or photos using the tablet and can capture documents easily.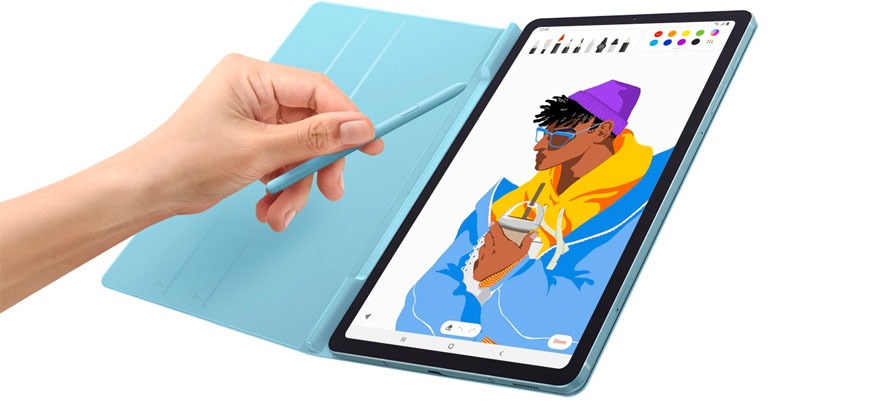 Search Samsung Galaxy Tab S6 Lite on Amazon
10. No Native Keyboard Just Book Cover
Unlike the premium edition with a dedicated keyboard connector on the chassis for the optional Keyboard Cover, there is no native keyboard support for the Tab S6 Lite. You will have to make do with third party bluetooth keyboard. With the Tab S6, Samsung sells the idea of a desktop like interface via Samsung Dex. This is not a feature found on the Tab S6 Lite.