Forget notches and sky high smartphone prices. With the Honor 9X Pro, you get a mid-range smartphone packed with high-end smartphone features and that all important FullView display at a reasonable price. Learn more about the updated version of the Honor 9X and what is in store.
Before we continue, let us address the elephant in the room. Honor, a sub-brand of Huawei no longer have access to Google services. This means no access to Google Store and all Google services such as Google Drive, YouTube, Google Maps, Google Docs, Gmail – Google Mobile Services (GMS) apps. However, as the smartphone still runs a version of Android (Android 9) with EMUI 9, you can still install apps from other stores like the Amazon App Store.
Even at an affordable price, the Honor 9X Pro is not short on specifications and features. For start, it has a huge 6.59-inch FullView Display. We are not talking just any display but one with Full HD resolution at 2340 x 1080 pixels which gives it a high 391 PPI density. The FullView display is possible with a hide away pop-up selfie camera.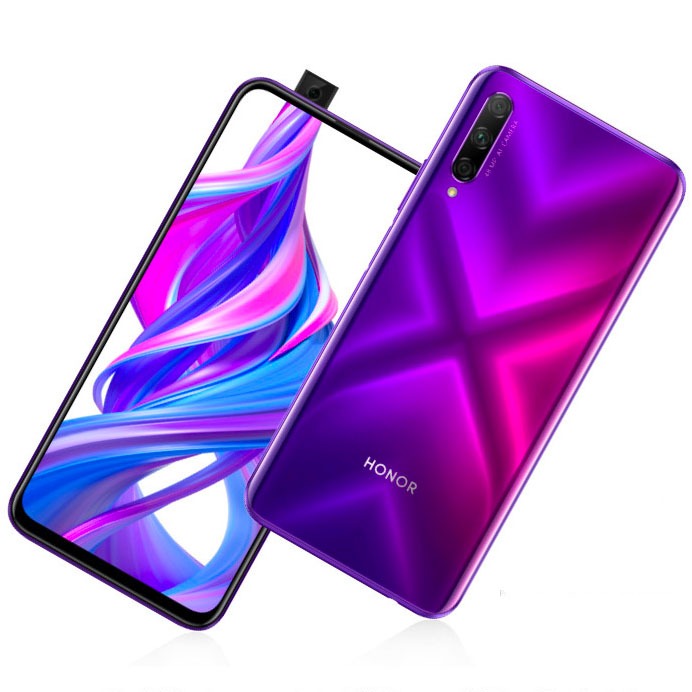 Immerse yourself fully in the wonders of the all-new 6.59″ HONOR FullView Display. Now movies, games, and books fill the screen without any wasted space on a near bezel-less display. The TÜV Rheinland certified display reduce harmful blue light automatically for more comfortable reading experience.
Design
The body of the phone is made of glass. The Phantom Purple model features a backplate that incorporates a design motif centered around an X with light bending qualities. The rear features Dual 3D Curved Glass. Overall, the unit looks sleek with minimal bezels and no notch or pinhole up front and the head-turning backplate design. The phone feels premium and weighted in the hand. Everything about it says high-end even when it is priced as a mid-range phone.
The all glass body makes for a welcome visual and is more so in phantom purple.
Processor
The processor behind the phone is the Kirin 810, an octa-core processor with up to 2.27GHz speed. It is among the faster processors on offer from HiSilicon. There is the higher 900 series and the lower 600 and 700 series. The 810 chip uses a 7nm manufacturing process and ARM Cortex-A76 Core.
HONOR 9X Pro internals are pretty competitive as it is powered by Kirin 810 which tops the chart among mid-range devices in performance. It is truly a compelling phone with everything you need and want in the hardware department.
All that power is used to load and switch between applications quickly. The 7nm chip use less power yet ploughs through all the task quickly. The DaVinci architecture NPU unit offers faster computational processing and accuracy while going easy on the battery.
But that is not all. It also comes with a huge 6GB memory and an equally spacious 256GB ROM. Together the phone is capable of punching above its class as a mid-range device. Use the GPU Turbo 3.0 software to run games at lightning speed and take on some of the most demanding games.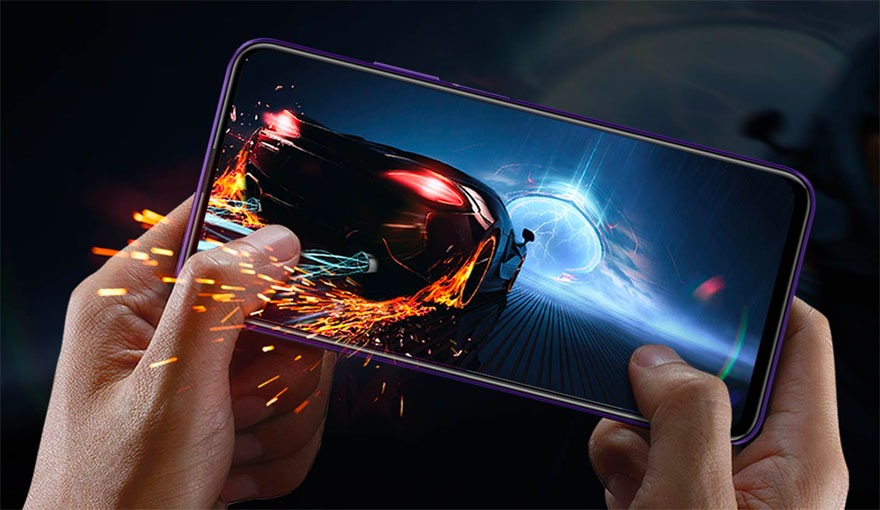 Cooling
With all that power, especially when pushing the processor and memory with GPU Turbo 3.0, you are going to feel some heat. The phone is designed with PC grade liquid cooling system. This helps keep the performance at optimal level. To quickly and efficiently spread the heat throughout the phone, keeping the overall system cool. The design allows the phone to cope with even the most intensive tasks without burning up.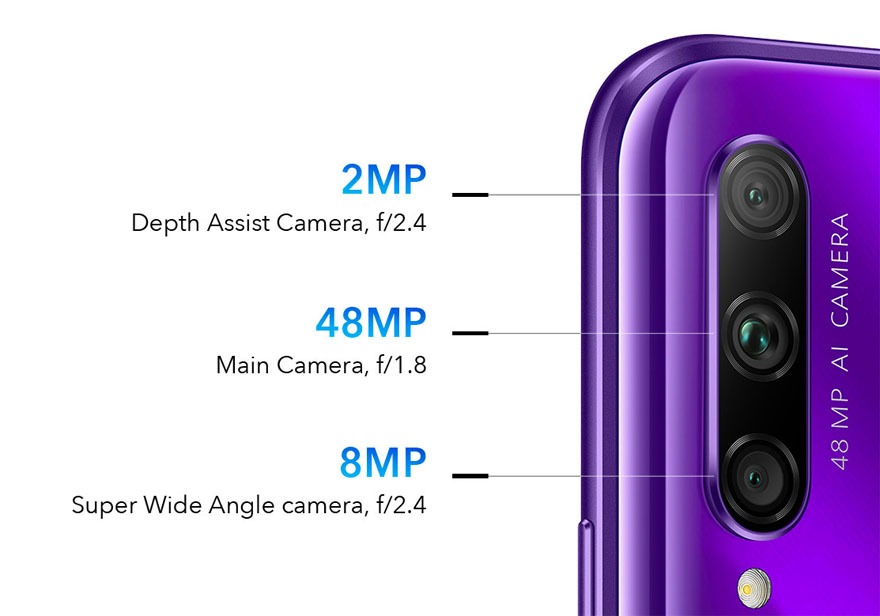 Cameras
In the optics department, the phone has a pretty decent 48MP triple camera setup capable of capturing superb quality photos. For the sensors, you get a 48MP main camera, 8MP Super Wide Angle 120 degree Camera and 2MP Depth Assist Camera.
The three cameras are arranged top down followed by the flash on the left corner of the backplate. This is still our favourite place for cameras as it means if you have to use the phone for gaming, you won't be smudging the lenses like those with camera clusters arranged in the top center.
Together with intelligent software, the smartphone camera can capture the night with AIS Super Night Mode.HONOR 9X Pro's 48MP camera enables you to shoot bright and clear photos, even in dark environments. Thanks to its 1/2" large sensor and flagship-grade ISP, combined with HDR imaging algorithms, you can capture stunning nightscapes like never before.
Enable AIS Super Night mode and watch your evening shots come to life with vivid and dramatic colors and lighting. Thanks to the all-new AI Video Stabilization, HONOR 9X Pro can take smooth and stable video clips on-the-fly even in severe lighting conditions without the extra gear.
When capturing a selfie moment, the 16MP camera pops out within a second and automatically retracting when you're done.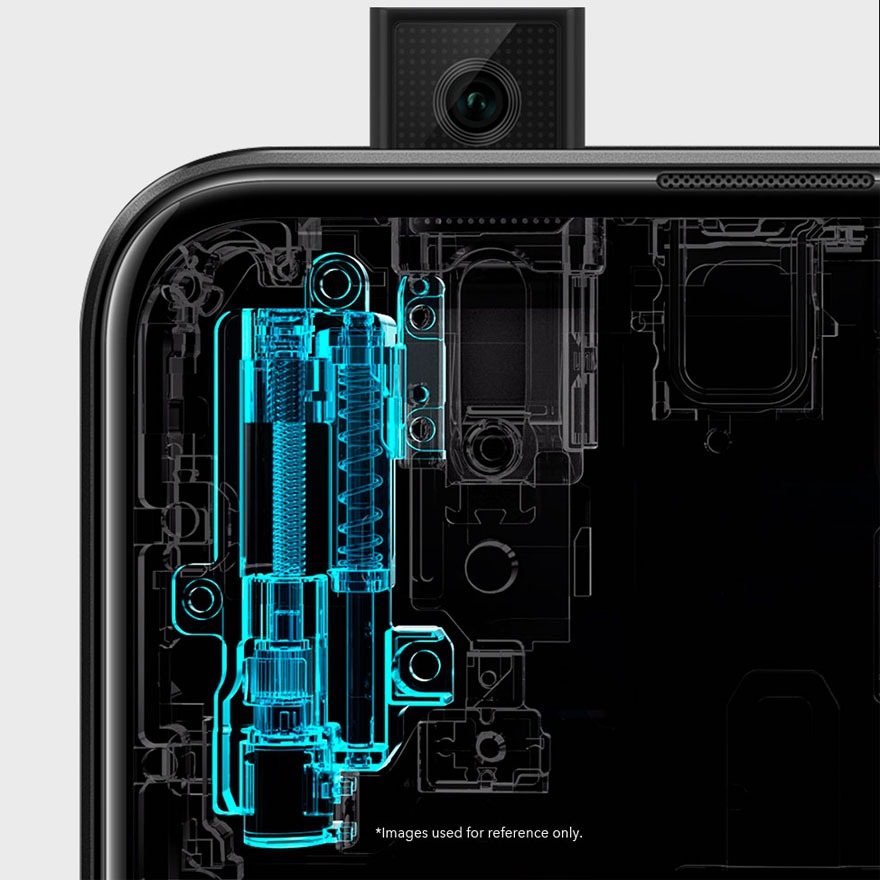 Fingerprint sensor
To keep the cost down, there is no in-screen sensor. Where you would expect a sensor on the rear backplate, this is also surprisingly absent. Honor moved the fingerprint sensor to the side integrated into the power button. This helps keep the backplate clear and focus on that Phantom Purple light bending effect. That and the move to use a slide out camera to allow for FullView display are the many features to keep things on the minimal side.
Battery
To keep you powered through your day, the Honor 9X Pro comes with a big 4000mAh battery. Thanks to the built-in intelligent power saving algorithm, it will ensure that you enjoy long lasting battery performance. How long do you ask? On a full charge, the 4000mAh battery will let you steam up to 10 hours of video, play up to 10 hours of games, use navigation software for up to 12 hours and listen to streaming music for up to 100 hours.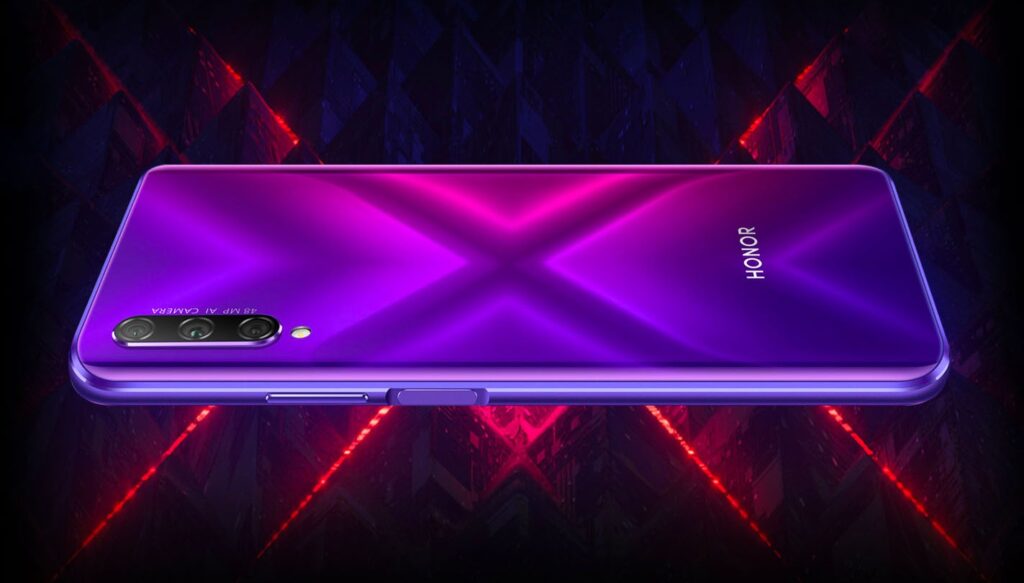 Final Thoughts
As far as mid-range smartphone goes, the Honor 9X Pro is a sweet, sweet handset. The specifications, FullView display, pop-up selfie camera and triple main shooter are all good reasons to get the phone. To make it a no brainer, that super low and affordable price tag just makes you want to reach for your wallet right away. A truly compelling purchase when you consider all the features that you would normally only get on a high-end flagship phone. However, you have to be a certain type of user to get the phone. If you do not rely on Google services or is able to sideload apps and is fairly technical and willing to try new ways of doing things then this is your phone. If you do not want the hassle then move on.
You can learn more about the easy ways to get Google Search, Maps, Facebook, Instagram, WhatsApp, YouTube and Netflix on Huawei / Honor phones on scmp.com. It is also worth noting that Huawei is pumping in a lot of money to build their own App store and is already seeing an increase in developers participating and making their apps available there for Honor and Huawei's future handsets.
Specifications
OS: Android 9 + EMUI 9.1
COLOR: Phantom Purple
DISPLAY: Screen size: 6.59 inches;Screen type: LTPS;Screen colors: 16.7M;Screen resolution: 2340 x 1080;Screen PPI: 391;Touch-sensitive screen. Support multi-touch technology
CHIPSET: Kirin 810;Octa-Core;2*Cortex A76 2.27GHz+6*Cortex A55 1.88GHz
BATTERY: Capability: TBD(Minimum value) 4000 mAh(Typical value)
CAMERA: Front camera: 16M,F/2.2 aperture;Rear camera: 48M+8M+2M, F/1.8 +F/2.4+F/2.4 aperture
STORAGE: ROM: 256 GB;RAM: 6 GB Note: The available internal storage may be smaller as part of the internal storage is occupied by software.
CONNECTIVITY: Wi-Fi:802.11a/b/g/n/ac, 2.4G/5G;Bluetooth:BT5.0+BLESIZE163.1 mm (H) * 77.2 mm (W) * 8.8 mm (D)
SIM SLOT: Card slot 1: nano-SIM card Card slot 2: nano-SIM card or microSD card
FINGERPRINT: YES
SENSOR: Fingerprint sensor;Ambient light sensor;Digital compass;Gravity sensor;gyroscope
Pros
Premium design, 3D curved glass back
FullView display with no notch or hole in sight
Pop-up front camera and Triple main camera setup
Side mounted fingerprint sensor on power button
Great value and performance
Cons
Lack of Google Mobile Services
Huawei mobile services still in infancy stage