Take smartphone photography to new heights. Unless you stuck an add-on lens to the front of your smartphone camera, the only form of zoom you will get is a digital zoom, with compromised quality and pixelated output. ASUS ZenFone Zoom changes that.
The only technology company that designed its own external add-on lens for their smartphone is Sony with DSC-QX30 Lens-style Camera that comes with 30x Optical Zoom. Other third party add-on lens kit that you can buy to slap on the front of your smartphone camera include ones from olloclip, Moment, iPro and Camkix.
ASUS takes this one step further and embed real optical zoom lens in their smartphone, no bulky jutting out lens. The ZenFone Zoom comes with an innovative 10-element HOYA lens arrangement for crisp detail and up to 12x total magnification (optical plus digital).
The only phone with real zoom lens minus the bulk of a traditional compact camera.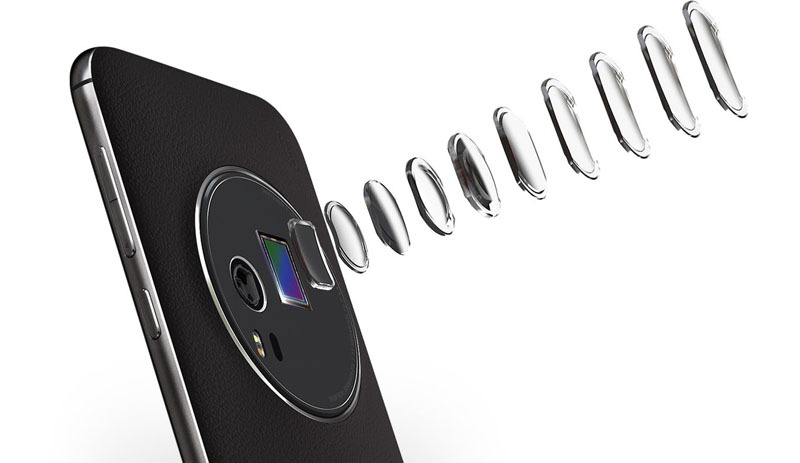 Taking Smartphone Photography to the Next Level
It achieved all that in what it dubs the world's thinnest 3x optical-zoom smartphone measuring only 5mm to 11.95mm thin. Now you no longer need to carry a traditional digital camera to see the world up close: with ZenFone Zoom's 3x optical-zoom and rock-steady optical image stabilization (OIS), dual-LED Real Tone flash for perfect lighting and revolutionary 0.03 seconds laser auto-focus, you'll shoot in total clarity every time.
The approach here is to differentiate from its competitors. With every manufacturers caught in a speed race, bumping up their specs from one generation to the next with their mantra stuck on 'mine is faster than yours' or 'my new one is faster than my old one'; ASUS moves in from a vertical angle, the camera.
We looked at how ZenFone Zoom compares with ASUS's other camera centric smartphone, the ZenFone Selfie.
The ZenFone Zoom was launched soon after ZenFone 2 and ZenFone 2 Laser when ASUS's portfolio of smartphone is still based on polycarbonate plastic. With ZenFone Zoom, metal is applied in its build for rigidity and sturdiness. Fast forward to today, the new ZenFone 3, ZenFone 3 Deluxe and ZenFone 3 Ultra are based on glass front and back or glass and metal unibody construction.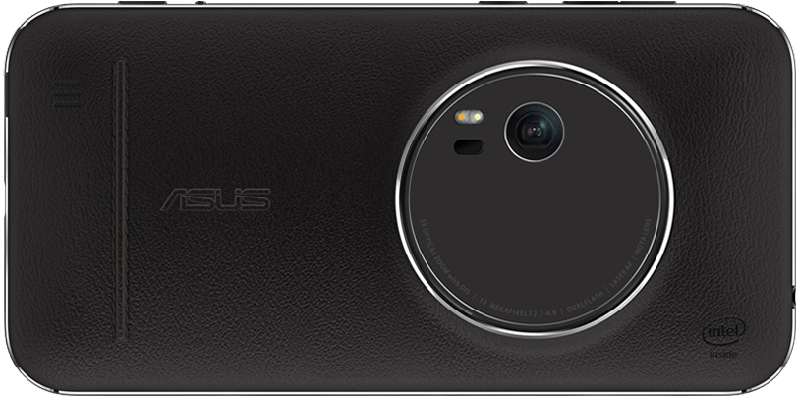 The Premium Look
Apart from the aluminium unibody, the rear cover is made from very stylish real ox leather. These not only give it the premium feel and look, but the leather offers extra grip when handling the phone especially when shooting. The combination also gives it that classically familiar form of a traditional professional camera but squeezed into an ultra-thin 5mm metallic unibody for modern convenience and function. At the bottom corner on the rear cover is a raised bump that offers even better grip and finger placement when holding and shooting in landscape mode. The bump also doubles as a stand to raise the phone when placed back down for better sound and sit evenly on a flat surface.
The warm tactility of ZenFone Zoom's burnished leather rear contrasts beautifully with the precision metal frame — craftsmanship and purpose in perfect harmony. It takes 201 precision procedures to create the perfection lasts a lifetime. Starting with finest aerospace-grade alloy, precision-milled with 0.4mm diamond-cutting technology to provide custom protection for the 3x optical-zoom. Nano-molding technology (NMT) is also applied to seamlessly fuse the antenna to ZenFone Zoom's aluminum frame, for impeccable signal. A 0.125mm hyperfine sanding process is used to abrade the metal bezel, polishing to a beautifully smooth finish. Then the entire surface is anodized to prevent oxidization.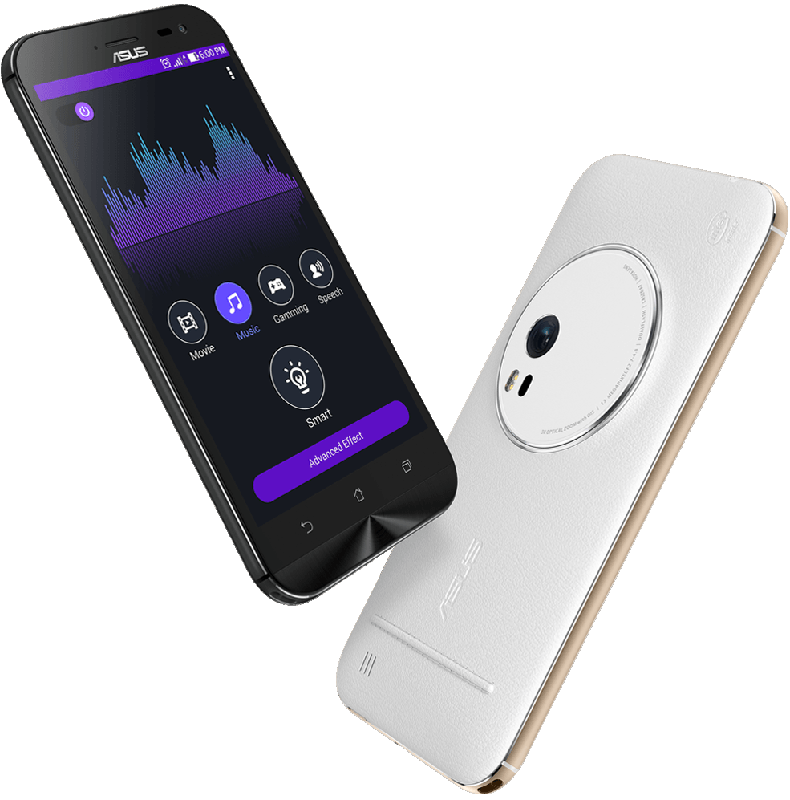 The Camera
ZenFone Zoom comes equipped with an incredible 3 x optical-zoom by 28-84mm focal length. Greatly shorten the visible distance from where you stand to the object you wish to see. Capture clear images like never before and transcend the way you see the world.
ZenFone Zoom's innovative 10-element lens was created by HOYA, the Japanese optics experts. Together, they created an aspheric, molded-glass lens system, finished using a technique we call the "D-cut"— a world first. This is paired with dual high-precision stepper motors and arranged in an innovative periscopic arrangement to maximize incoming light and capture best possible photo quality — and allow 3x optical-zoom for close-up clarity.
Every shot you capture with ZenFone Zoom's 13MP PixelMaster camera is automatically enhanced by DSLR-like optical image stabilization (OIS). It provides a 16 times longer exposure duration to ensure the image to be stabilized, sharp and clear every time even when moving. Its OIS can capture shots equivalent to shutter speeds that is 4 stops slower than none OIS camera — delivering superb clarity, even in low light.
The main shooter performs well in the right lighting and settings. Captured images are full of detail and retained its vibrant and accurate colours. The captured subjects when using the digital zoom is far superior than compared to say a standard smartphone with only digital zoom. There is no loss of quality through digital zoom. The snappy auto and quick laser focus ensures that standard or zoomed-in shots are sharp.
While it is great at taking photographs, the smartphone lacks the ability to record 4K video. However, it does support Full HD or 1080p recording but lacks stabilisation. Even with these shortcomings you can't really fault the phone given its price point. Only high-end flagship phones come with 4K video recording and it would normally cost more to own.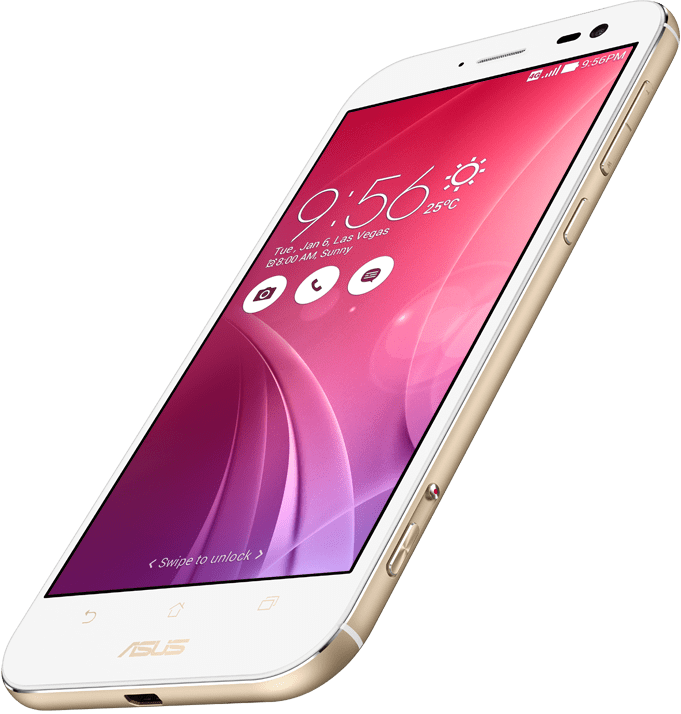 The Performance
There is no denying that the ZenFone Zoom is a front runner where ASUS's line of ZenFone is concerned. Powered by Intel Atom Quad-Core Z3590 processor with up to 2 core running at 2.5GHz, it easily matches its rivals and offering smooth all round performance.
Playing games, multitasking and switching between apps is quick as anything given that it comes with a huge 4GB LPDDR3 RAM memory and plenty of internal storage to boot. The ZenFone 2 Zoom comes with 128GB of ROM storage built-in. You can double that to 256GB with an optional 128GB MicroSD card.
To keep the size and weight down, after squeezing in all those lenses, there is only room for a 3000mAh capacity battery which is a bit of a let down as with average usage we are seeing only a day's worth of battery life out of a full charge. However, the phone does come with quick charging letting you bring it back up to 60% charge in just under an hour.
Final Thoughts
The bottom line is, here is an affordable flagship smartphone that oozes quality and charm with great optical setup to give those budding smartphone photographers out there a bang for their bucks. If nothing else, the solid built quality, classy premium design, super fast performance as well as the huge 128GB on board internal storage with further expansion possible using the microSD slot ought to put a smirky smile on the owners face. That little green monster might just go a way – for a while at least and you will be surrounded by other green monsters itching to try out the ZenFone Zoom camera.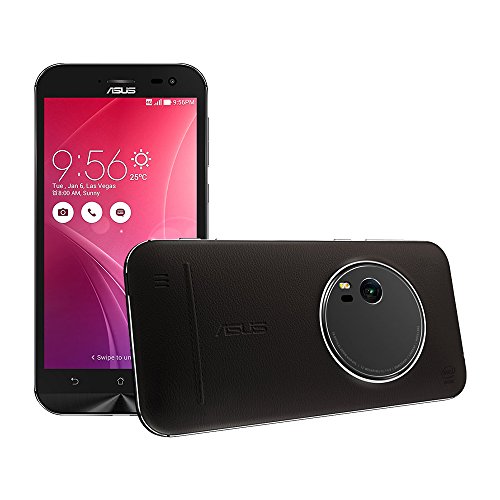 Specifications
ASUS ZenFone Zoom ZX551ML
Display: 5.5-inch Full HD IPS display 1920 x 1080 resolution with Corning Gorilla Glass 4
Processor: Intel® Atom™ Quad Core Z3580 (2.3GHz), PowerVR G6430, with OpenGL 3.0 support
or Intel® Atom™ Quad Core Z3590 (up to 2 core running at 2.5GHz)
Memory: 4GB LPDDR3
Storage: 128GB ROM (internal) with support for MicroSD cads up to 128GB
Cameras: Front 5 Mega-Pixel, Wide View, PixelMaster, Selfie Panorama (up to 140 ˚)
Rear 13 Mega-Pixel, 3X optical zoom / 12X total zoom, 4 Stop OIS (Optical Image Stabilization), 10P HOYA lens, 0.03 second laser auto-focus, 32 second long exposure, Close-up macro photography (5 cm), dual-color Real Tone flash, Back Light (HDR) mode with ASUS PixelEnhancing Technology for up to 400% brighter , and evenly exposed photos. Low Light mode with ASUS PIxelMaseter Technology for up to 400% brighter photos and videos, Manual Mode for DSLR-like camera detail settings, Super resolution mode for up to 52 X resolution photos, Real Time Beautification, Auto Focus, LED Flash, PixelMaster, 10 -element lens
Connectivity: WLAN 802.11 a/b/g/n/ac, USB, Bluetooth V4.0+EDR , NFC, One Micro SIM card, SIM1 Support2G/3G/4G
Network: 2G, 3G, 4G LTE
Battery: 3000mAh Li-polymer non removable
Dimensions & Weight: 158.9 x 78.84 x 5 ~ 11.95 mm (LxWxH), 185 grams
Colour Options: Black or White
Adapted from an article originally posted on Colour My Learning.