The aspect ratio of 16:9 has been the dominant version for quite a few decades now. Sure, there are models out there using specific aspect ratios, and 4:3 hasn't exactly died completely just yet. But for gamers, an UltraWide or 21:9 aspect ratio monitor is one to go for. Here, we look at a buying guide to help you choose the right display for gaming.
Aside from the slightly taller 16:10 alternatives, the UltraWide screen category of 21:9 has continued its market-level stride of progress within the same period that 16:9 started replacing 4:3. More and more models sporting this configuration have become more prevalent, and this is no mere coincidence. Indeed, there are things that 21:9 screens are capable of offering that your ordinary 16:9 monitor arrays just could not.
And if you need to buy one, you might want to consider checking up on this short guide beforehand.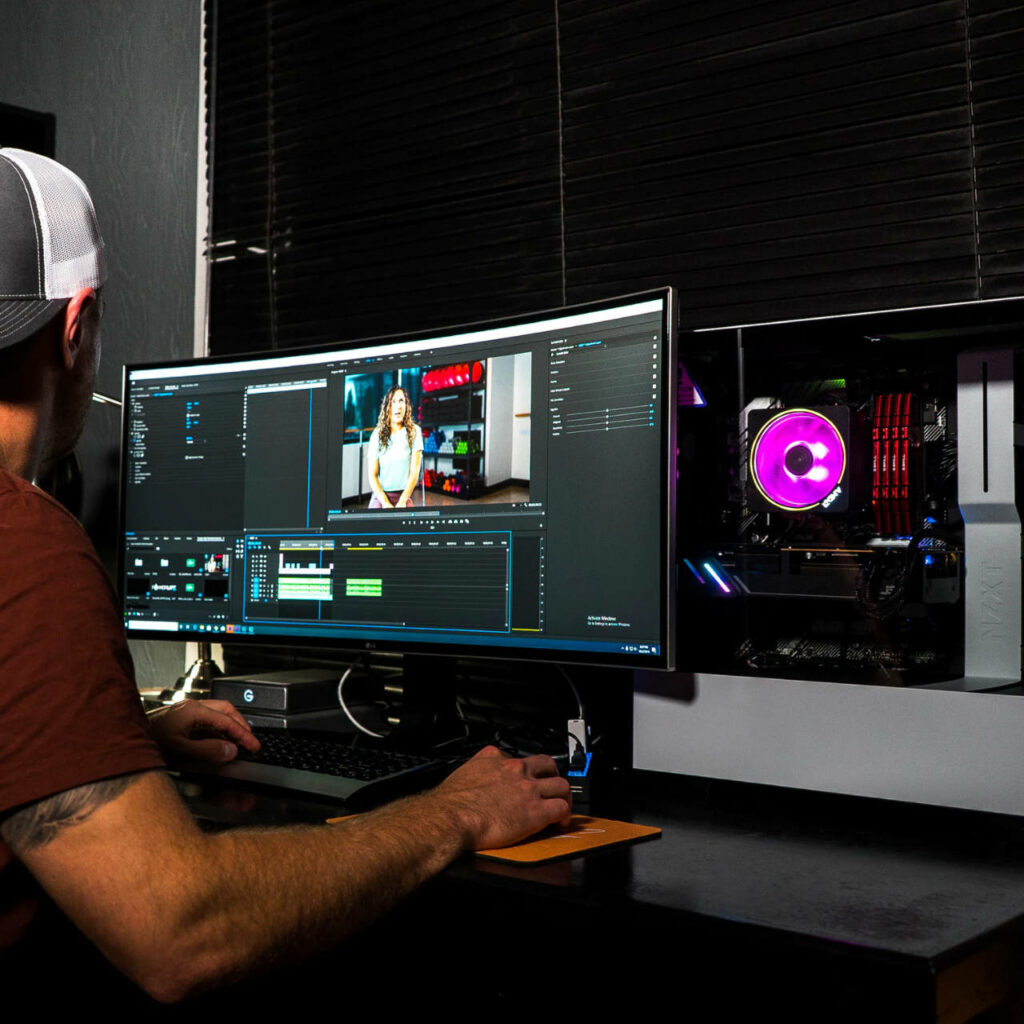 Reasons to Buy an UltraWide Monitor
Long story short, it's all about the visual estate. Go UltraWide, and you will get an uninterrupted wide angle view from just a single screen. What was once only available by putting two wide monitors side by side. Well, measurement-wise, it's more like one and a half, but you get the idea.
Technically though, here are some of the actual reasons to choose an UltraWide monitor:
Productivity boost – more visual estate means you have lots more desktop space to open and keep track multiple windows and apps at the same time. Windows 11 will support Snap Layouts and Snap Groups, an easy way to quickly manipulate and display your applications. But, it goes beyond that multitasking for different programs. We're are critically referring here to the submenus, floating windows and window panes of advanced software. Creative applications like video editors, photo editors, graphic design and even coding software have multiple panes within the app that could use more screen real-estate (bigger desktop space) to make working with them easier.
True-cinematic quality – you may not have a projector that spans the entire wall of a living room, but with an ultrawide 21:9 monitor, you can get very close to the experience. While 16:9 (1.777) letterbox format is currently the most common among monitors, most films for cinemas follow the 1.85:1 or 2.39:1 format, closer to 21:9 (2.333). When viewing cinematic content on the ultrawide monitor, you can minimise or eliminate the black bars on the top and bottom of the video altogether. Not having to crop and zoom to full screen means, you get a true-cinematic experience.
Much wider FOV in gaming – there is always an inherent advantage of being able to see more of the virtual space in a game, especially when you intend to take your gaming to a professional level. Well, depending on the model, slight angular warping may be experienced but there are alway curved monitors. The wider field of view means you get the front and both sides of the area all-in-one (hint: the best genre for this has to do with driving).
One plug fits all – most GPUs today have three or sometimes four video output ports. Getting multiple monitors and wiring them up requires multiple video signal and power cables. With an ultrawide monitor, you only need one, maybe two cables for the entire display setup.
Looks cool? – ultrawide monitors are just simply awesome to

look

marvel at. There is nothing like it. One sweeping view to create an all-wrapping and immersive experience like no display you can find in the market.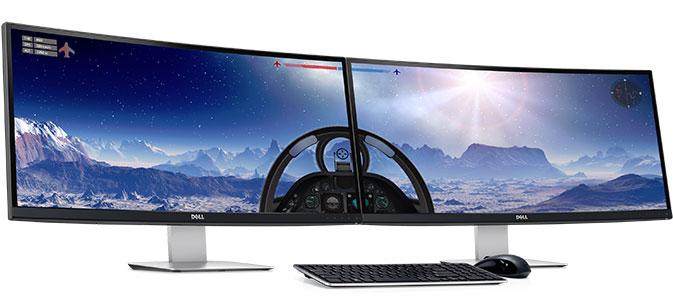 Buyers' Guide: Things to Consider in an Ultrawide Monitor
Basic modern LCD technology requirements aside, there are a few things that you need to specifically consider when buying ultrawide monitor. These are as listed below:
Refresh Rate/Response Time – important for cinematic experiences, but perhaps a bit more of a serious consideration when it comes to gaming. 21:9 screens crunch far more pixels than you can imagine, and combo-ing it with a high refresh rate means that your GPU investment must be equally extravagant. Typical monitor clocks in at 60Hz or 75Hz. For gaming, you will want to look from closer to 100Hz or higher. The same goes for response times, but on a much lesser priority. Look for response time at 4ms or lower.
Resolution – speaking of pixels, the are two currently mainstream resolutions for 21:9 monitors. First is the 2560×1080 FHD, or the "ultrawide 1080p", the next is 3440×1440 QHD, the "ultrawide 1440p"

(nope, 5040×2160 monitors are not mainstream)

. While not as crazy as 32:9 monitors, both resolutions have a staggeringly higher number of pixels compared to their 16:9 counterparts, and as such, another reason to upgrade your GPU to match.
Panel Type – at the moment, there are no (longer) TN-type ultrawide models. As such, the remaining choice falls in either IPS or VA. The default choice is usually IPS, due to its screen vibrance being suitable for more professional workloads. But VA isn't bad either, especially if cost is something you are very careful to consider for.
Color Gamut – somewhat related to the screen quality provided by different panel types. It represents the range of colors a screen can reproduce. In most cases, just be sure that sRGB levels are good enough, and you'll be fine. For professionals, additional Adobe RGB and DCI-P3 compatibility may be required.
Adaptive Sync – not really related to ultrawide monitors per se, but it's important to include it in the package whenever possible. After all, even the most casual of users game on a graphically capable PC setup. And remember, Freesync works on everything, include Nvidia cards.
HDR (High Dynamic Range) – the ability of a software or multimedia file to represent lights and shadows with as much discernible detail as possible. As a rule of thumb, go with a unit that supports HDR with the highest brightness and the deepest blacks possible. In another word, big contrast ratio. This usually come with a higher price tag so keep your choices within a balanced budget.
Ergonomics – if not mounting the hardware, make sure that it has all the standard adjustment features available (swivel, tilting, height adjustments). For ultrawide monitors, it could mean the difference between an eye strain and eye exercise.
VESA mounting – but if you plan to mount the screen, just be sure that the monitor supports VESA Mount and that you are able to find compatible stand for it. You also need to consider how or where the stand it going. These will come with adjustable arm and sits on the desk with a weighted base. Or for minimal foot print, pick one with a clamp fixture or wall mount.
Blue Light Filtering – why for extended viewing, of course. Prolonged use of the monitor will cause eye fatigue usually associated with the blue light that the monitor emits. A good monitor will support blue light reduction with blue light filter built-in to reduce eye fatigue and strains. This will allow you to work or play more comfortability for extended period of time.
Flat versus Curved – there are many benefits from choosing a curved panels, especially for 32:9 models. For 21:9, not so much. This could be due to the fact that there are still overwhelmingly more flat 21:9 displays on sale than curved ones today. Things might change. In my opinion, if it is mainly for gaming, it would make sense to go curved than flat when the right model comes along.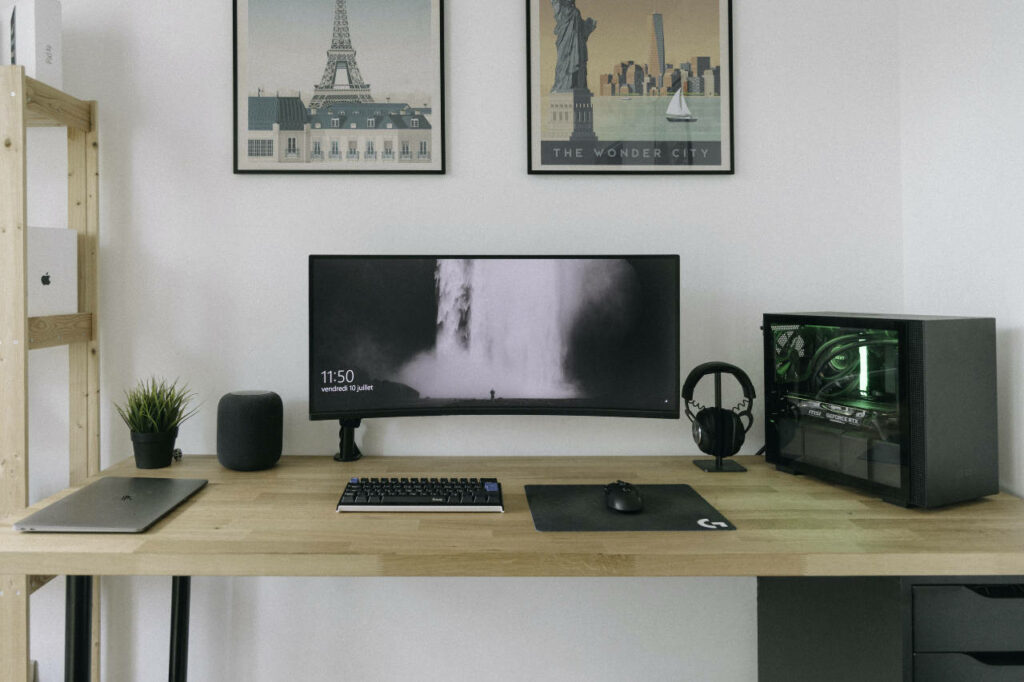 Standard Ultrawide Recommendations (Per Popular Size Category)
Lastly, here are a few direct, actual recommendations for your future ultrawide monitor purchase: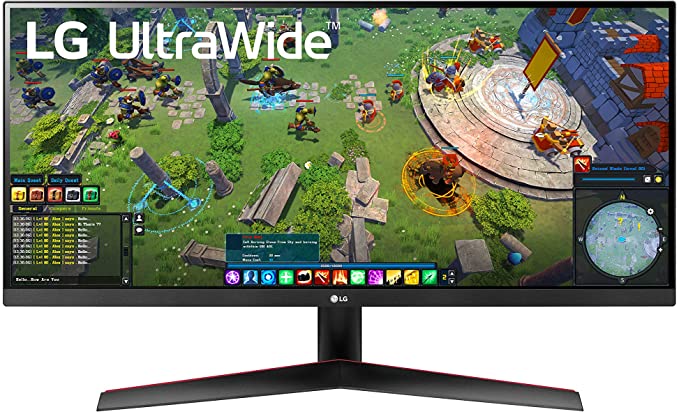 Search 29-inch UltraWide Gaming Monitor on Amazon
29-inch Ultrawide
LG 29WP60G (2560×1080, 75Hz, IPS) – is a very basic visual workhorse, and a good sample model to see how the 21:9 would truly work for you as an everyday user. While lacking in high-end features, it has a complete suite of all the basic and necessary features like universal port availability, IPS panel with 99% sRGB color gamut, and AMD Freesync.
Acer CB292CU (2560×1080, 75Hz, IPS) – here's a slightly beefier model that has a few more "eye safety" features to keep the user supposedly up for a long time. Now, whether that's worth the additional cost of the monitor, will depend on how many of these features you can actively use on a regular basis.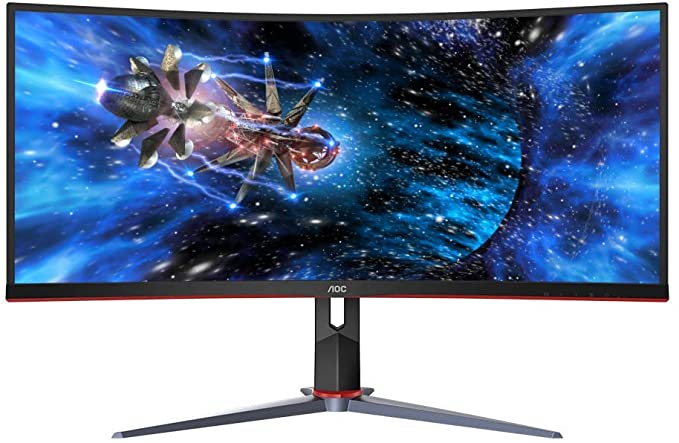 Search 34-inch UltraWide Gaming Monitor on Amazon
34-inch Ultrawide
AOC CU34G2X (3440×1440, 144Hz, VA) – 34-inch is where most advertisements for mainstream gaming ultrawide monitors start popping up. AOC as usual, introduces a very solid lineup of monitors within this specific category. Sure it might be VA, and the 27-inch and 24-inch variants might be cheaper, but the overall quality is still enough to make this a good value monitor. Especially for what it can do. Oh yes, and this is also available in 165Hz flavors.
MSI Optix MAG341CQ (3440×1440, 100Hz, VA) – MSI is probably the last company that you'll ever consider "low-cost" when it comes to gaming monitors, but here we are. Odd refresh rates aside, perusing through its specs will allow you to notice a few equally weird things here and there that would explain its very aggressive pricing (VA, 8ms response time, odd G-sync configuration, etc.). Still, at less than a third of the price of even the budget competition, you'd be hard-pressed not to take it up if you're planning for a more conservative setup.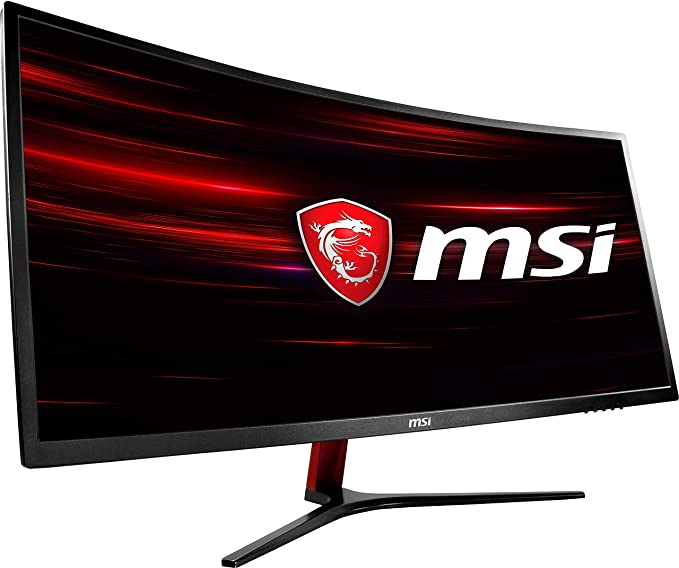 Acer Predator X34 (3440×1440, 180Hz, IPS) – for those who can shell out the money though, this monitor practically eliminate all competition. The Predator X34 soundly represents what a gaming ultrawide monitor should be. It has a 1900R curved (1900mm max distance side-to-side viewing) IPS display, 98% DCI-P3 color gamut, 180Hz effective maximum refresh rate, DisplayHDR 400, and a litany of connectivity options that would even make an Intel NUC green with envy. At double the price tag, however, this is hardly a recommendation for any budget-conscious user.
LG 34WN750-B (3440×1440, 75Hz, IPS) – lastly, for those who are a bit more productive conscious that want to enjoy the significantly larger workspace of ultrawide 1440p (without having to break the bank), we have this rather humble offering from LG. There's nothing really spectacular here, but like its lower 1080p counterparts, the productivity suite itself is a complete package. Plus, 75Hz with AMD Freesync doesn't really sound so bad if you're simply into single-player titles, so it also checks out as a casual gaming monitor.