In the current chaos of silicon choices, various storage options, increase component costs, and GPU demand fiasco, the DIY route for getting your computer has become less and less appealing. More often than not, you are faced with no other economical option, but to either buy a pre-built desktop or choose the ever-so-fiery laptop. There is a third choice, an All-in-One PC.
The All-in-One desktop PC is a system integrated into the monitor, removing the need for a separate desktop unit completely. All the gubbins you would find in the tower or desktop unit is right behind the monitor. This means zero footprint, leaving ample space on the desk or floor. If a prebuilt system is what you need, then we have prepared a list of models in the mid-range segment that would certainly fit all of your productivity and entertainment requirements.
Why Get an All-in-One (AIO) PC?
Here are some reasons why you ought to consider an All-in-One PC:
Typical stylish design
Guaranteed component compatibility
No assembly required
Very small (if any) desk footprint
If the system calls for it (such as for an HTPC build)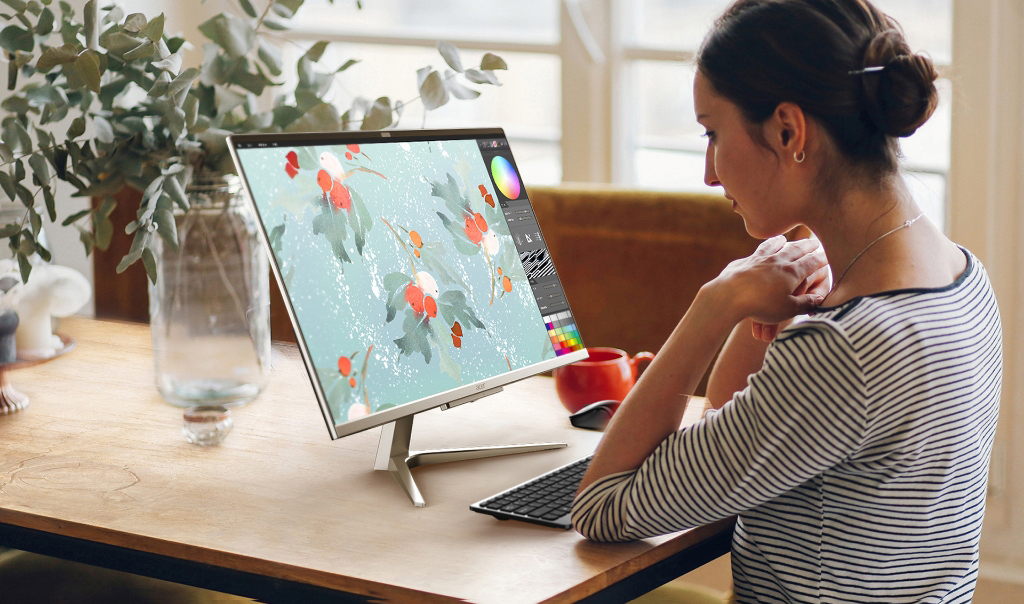 Tips in Purchasing an AIO PC
Now for some basic tips on what to look for when buying your first AIO PC:
These are still basically office machines. Don't expect Cyberpunk 2077 to run on these.
Don't go overboard with specs
Heftier innards are good, but prepare your wallet
Snappier SSD is always far, far superior to more spacious HDD
You can always add more data storage later (internal or external)
8GB is good, but 16GB is the multi-tasking sweet spot
While not included in our line-up of mid-range AIOs, there is Surface Studios from Microsoft and 27-inch iMacs from Apple for that premium performance and high-end design.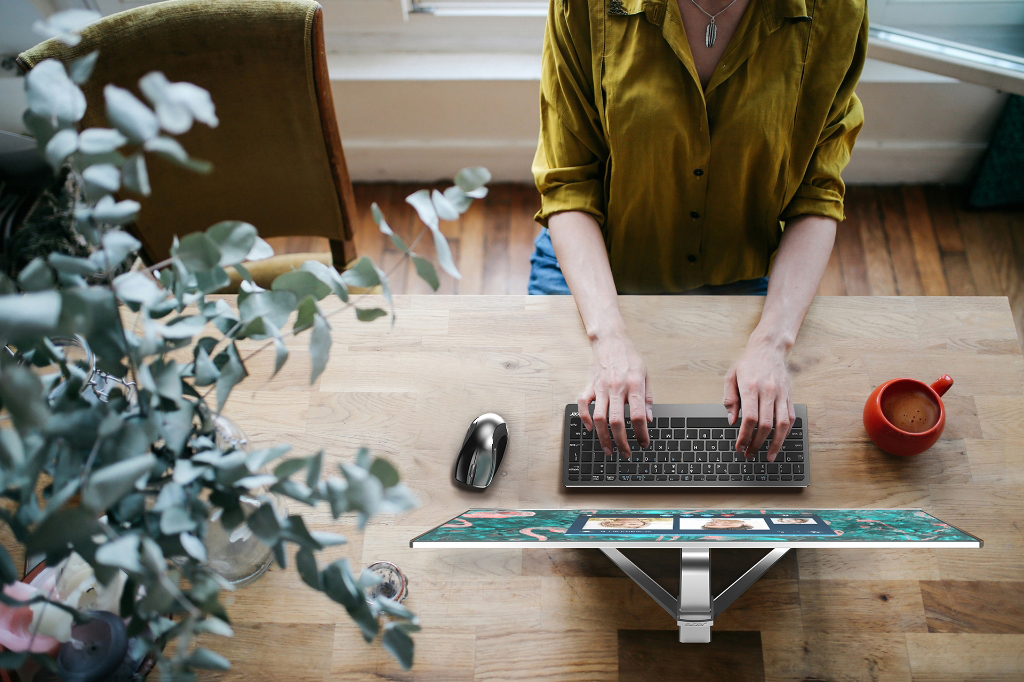 Overview of Our Mid-range AIO PC Selection
Now for a closer look:
1. Lenovo IdeaCentre AIO 3
| | |
| --- | --- |
| CPU | AMD Ryzen 5 4500U |
| GPU | Radeon RX Vega 6 Graphics (integrated) |
| Memory | 16GB DDR4 RAM |
| Storage | 512GB SSD |
| Screen | 23.8-inch 1920×1080 60fps |
Pros: Mid-range specs but Entry-level price making it super affordable
Cons: No additional upgrade options, uneven top and side bezels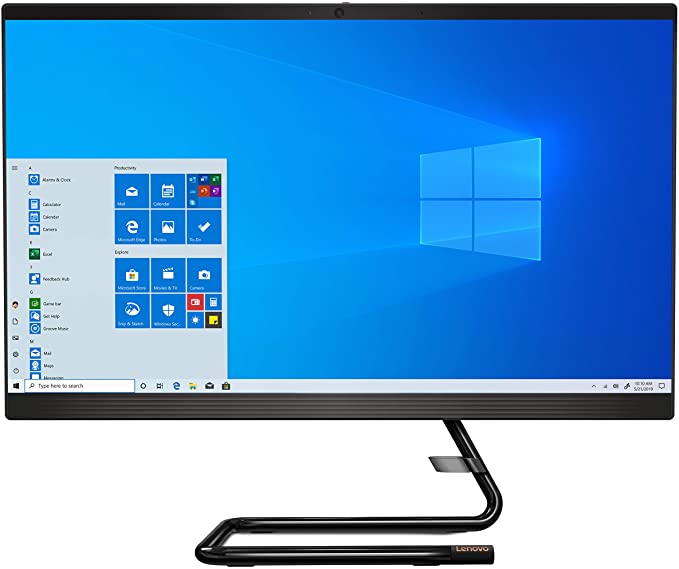 This is a no muss, no fuss, ready-to-use AIO desktop that is decently updated for today's office needs. Its updated Ryzen APU ensures that not only is it a very capable desk work master, it can also handle graphics work and comes with a superb video output quality, a decent 24-inch display at Full HD resolution. The integrated Radeon RX Vega 6 will satisfy most occasional gamer.
Due to its entry-level design though, we are left with no extra archive HDD for bigger storage needs. Users will have to rely on an external storage device for backup. We're also left with a pretty much "barebones" webcam, capable of completing your daily chatroom meetings, though pretty much nothing else after that. Its 512GB base SSD is more than adequate at least, for all software installations and OS updates that you would ever need.
2. Acer Aspire AIO C24 Desktop
| | |
| --- | --- |
| CPU | Intel Core i3-1005G1 |
| GPU | Intel UHD Graphics G1 (integrated) |
| Memory | 8GB DDR4 RAM |
| Storage | 512GB SSD |
| Screen | 23.8-inch 1920×1080 60fps |
Pros: Mid-range specs but entry-level price (yup, not a typo)
Cons: NOT Mid-range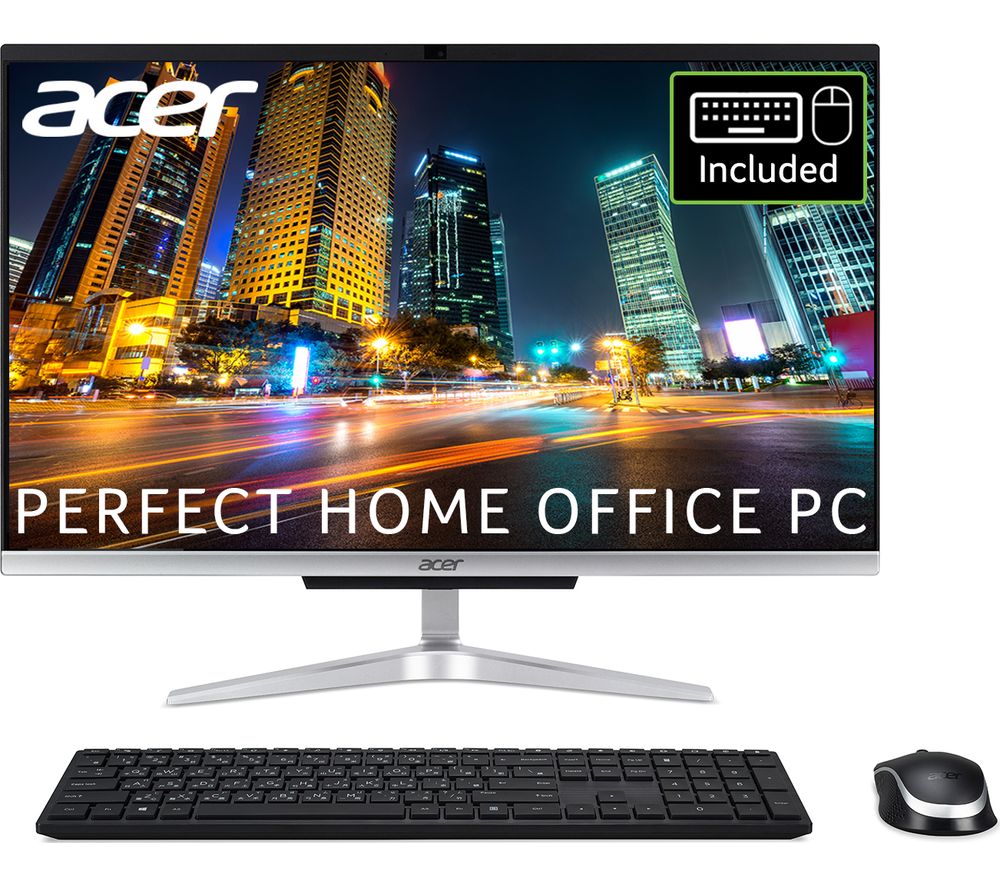 Within the sea of AIO desktops having four-digit prices, it's very hard to see which ones would really provide their money's worth (SPOILER: almost none). That is why we continue to see hardware packages such as the Acer Aspire AIO 24 take up the mid-range spots (in terms of performance), despite being relatively entry-level when costs are considered.
What exactly do we get though? The same story as the Lenovo IdeaCentre: a straightforward, easy-to-use, reliable machine that is snappy, has enough graphics crunching power for entertainment, and reliable enough to plow through your daily office needs. 8GB RAM might be a little tight, though, but nothing that can't be solved by being a bit more conservative in opening browser tabs.
If you like the looks and prefer a bit more grunt in your system, pick the Aspire C24 with Intel Core i5-1035G1 processor. Unfortunately, it still comes with only 8GB RAM system memory but the saving grace is it comes with double the amount of SSD storage at 1TB.
3. Acer Aspire AIO C27 Desktop
| | |
| --- | --- |
| CPU | Intel Core i5-1035G1 |
| GPU | Nvidia Geforce MX130 (discrete) 2GB |
| Memory | 12GB DDR4 |
| Storage | 512GB SSD |
| Screen | 27-inch 1920×1080 60fps |
Pros: Actually pushes through apps like Illustrator and Premiere pretty decently
Cons: Doesn't include additional archive HDD (despite the costFor our first actual mid-range price, mid-range specs entry, the Acer Aspire AIO 27 knocks down every single task as a modern desktop computer would. 12GB RAM looks very odd compared to the typical 4/8/16, but we assume that it uses a 4GB + 8GB configuration. Which means, you are almost guaranteed that this AIO is actually configured in dual-channel. Don't think that 4GB+8GB can run in dual-channel? Well you better believe it.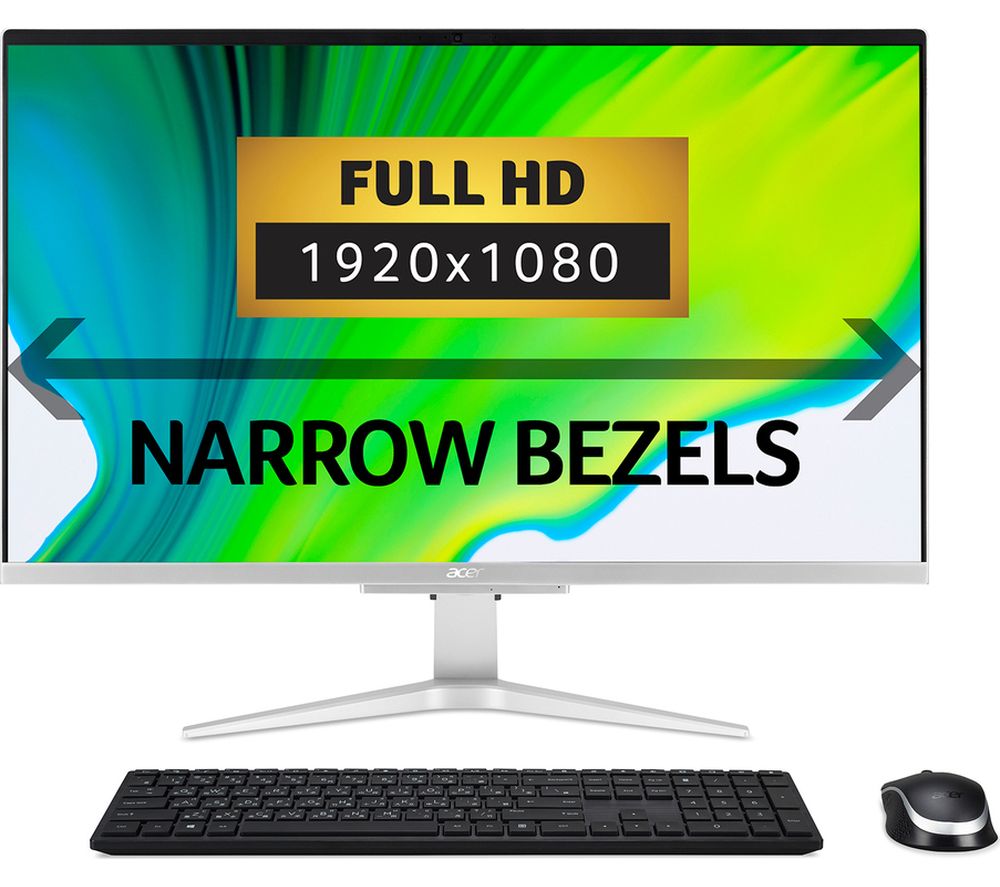 We are also given the basic, but adequately reliable i5-1035G1, coupled with good capacity NVMe SSD. As a bonus, you even have a dedicated GPU to boot! More powerful than any Ryzen APU, it can go handle less demanding graphics applications without significant stutters, although don't expect anything near 16 series levels.
If you look around, you might find different storage configuration for the same system. Some of the storage configurations we have seen for the Acer Aspire C27 include 1TB SSD on its own and a combination of 128GB SSD and 1TB HDD. Both systems are powered by the same Core i5-1035G1 processor and 8GB RAM memory.
4. Dell Inspiron 27 AIO 7700 –

Best Performance
| | |
| --- | --- |
| CPU | Intel Core i7-1165G7 |
| GPU | Intel iRIS Xe Graphics |
| Memory | 16GB DDR4 |
| Storage | 512GB SSD, 1TB HDD |
| Screen | 27-inch 1920×1080 60fps |
Pros: Very snappy performance, considerable bang-for-the-buck, pop-up web-cam is neat
Cons: No touchscreen at this price
A combination of modern architectures for processors and advanced data transfer features for storage media has always been the recipe for success with productivity machines. Such is what this AIO represents. It features a very snappy, adequately spacious SSD for all your software launching needs. This is supported by a hefty 1TB HDD for archiving. Its 16GB memory provides a superb sweet spot for multi-tasking. And finally, a combination of an office-level GPU and hyperthreaded CPU (current-gen) to carry all kinds of workloads especially graphics design and photo-editing.
The big Dell Inspiron 27 also has a couple of neat tricks under its sleeve, these include the pop-up HP webcam for assured privacy and InfinityEdge display. The latter first appeared on the Dell XPS 13 laptop for near bezel-less display. This complements the CinemaColour Full HD 27-inch display and Waves Maxx Audio Pro sound, a perfect bundle for entertainment. If you are considering the Dell Inspiron 27, you might save some money going with the Intel Core i5-1135G7 and in true Dell fashion, various memory and storage configuration to suit.
5. HP 24 AIO (2020) –

Best All-rounder
| | |
| --- | --- |
| CPU | Ryzen 5 4500U |
| GPU | Radeon RX Vega 6 Graphics (integrated) |
| Memory | 16GB DDR4 |
| Storage | 1TB HDD |
| Screen | 23.8-inch 1920×1080 60fps |
Pros: Top-level performance at mid-range, pop-up webcam, touchscreen option available
Cons: Love hate relationship with those stainless steel cloth hook style stand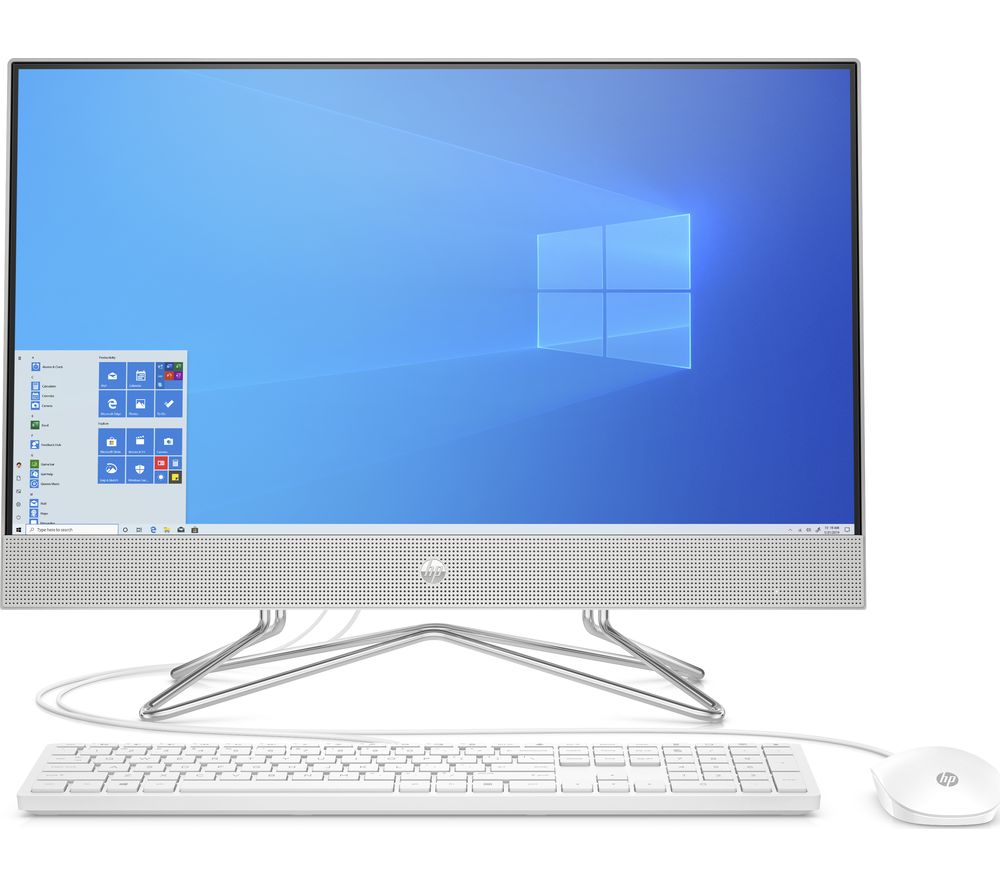 Finally, it all comes back full circle with the most reliable and cost-effective APU for any mobile or all-in-one setup currently available today (that's not Ryzen 5000 series), the Ryzen 5 4500U. Unlike the Lenovo IdeaCenter, though, this time the Ryzen 5 4500U will be supported by a full set of hardware that will allow it to unleash its full productivity potential.
First, the hefty 16GB of RAM will alleviate any limitations due to the APU borrowing VRAM from the main system memory. Second, 16GB RAM by itself, as we repeatedly mentioned already, is the sweet spot. So just open away at your browser tabs! Third, it has a very generous 1TB space for an SSD. Not a HDD, but an SSD. This means booting your OS, launching applications, accessing active files, and even visiting your finished archives will always be a conveniently snappy experience.
You can also pick up a HP 24 powered by Intel's processor, specifically the Intel Core i5-10400T for a bit more. It comes with 8GB RAM memory combined with 16GB Intel Optane memory and 256GB SSD. In order to achieve those tiny top and side bezels, HP employs a pop-up web cam like those we have seen on the Dell Inspiron 27. This gives it a sleek and clean look when the camera is not deployed and absolute privacy. The only difference is this is a smaller 23.8-inch display.
All of that, for the absolutely reasonable price of… something far less than an iMac!
Edited by Samuel J Tan