These tablet stands offer ways to use your tablet for presentation, as a prompter, an information kiosk, a control console, a kitchen or bedside companion, screen extension and as a creative tool for music, singing and design.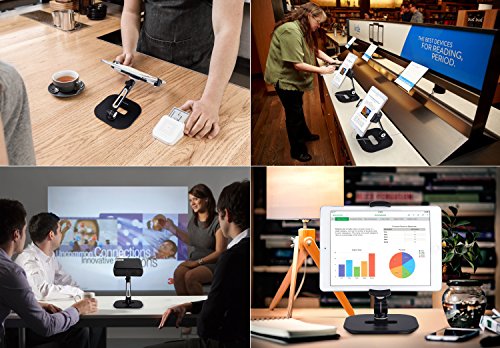 With the right stand or mount for your tablet, there are many ways that you can use your tablet hands-free and ergonomically to meet all your different scenario. Check out some of the applications in below: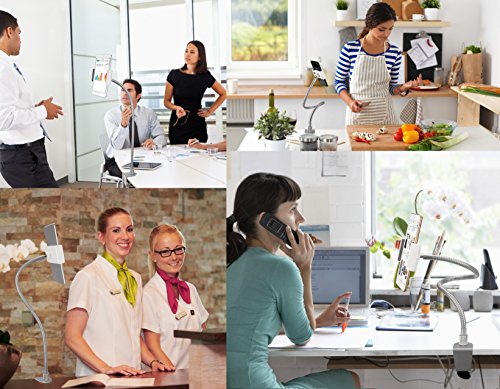 Top 10 Best Tablet Mounts with Adjustable Arm for Office Desks and Cabinets
To make it easy for selection, we mark the list by the different fittings; for cabinet, desk stand, desk clamp or screw mounted:
UPDATE: iBOLT TabDock Bizmount Drill Base [SCREW MOUNT] and QZTElectronic Foldable Tablet Mount [DESK CLAMP]
ONE MORE: Koala Damage-free Tablet Wall Mount Dock
Let's take a closer look at each of these excellent tablet stands with adjustable arms.
The iBOLT TabDock Bizmount is the first of two new drill base mount, the other being the Arkon Heavy Duty Tablet Wall Mount. If you have a need for permanently mounted desk, car dash, wall or cabinet here is one for you. However, the iBOLT is not as flexible in that it is only connected to the tablet holder via a short single segment joint, albeit using two ball joints at either ends. The Arkon on the other hand, uses two-segment telescopic arm. The iBOLT will hold 7 to 10-inch devices using four point contact for a strong mount.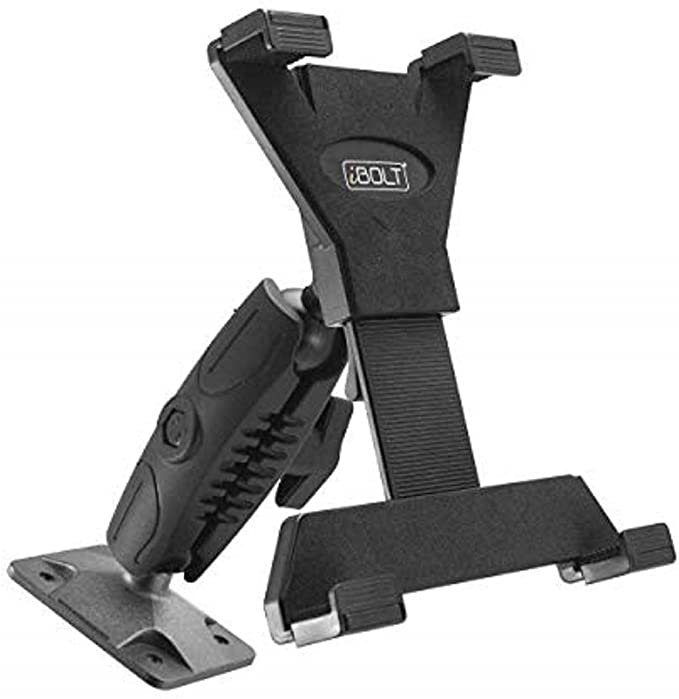 Want a long flexible arm for your device, this foldable tablet mount from QZTElectronic is based on three segments with four joints for maximum flexibility. It is also long enough to go over the bed's headboard to hang your device in front of you while you sit or lie in bed. Made from aluminium, it is both lightweight and strong with a bracket big enough to hold a tablet up to 13-inch with 4 contact points. You will however, need a board or desk to clamp it. This can be up to 8.3 cm thick.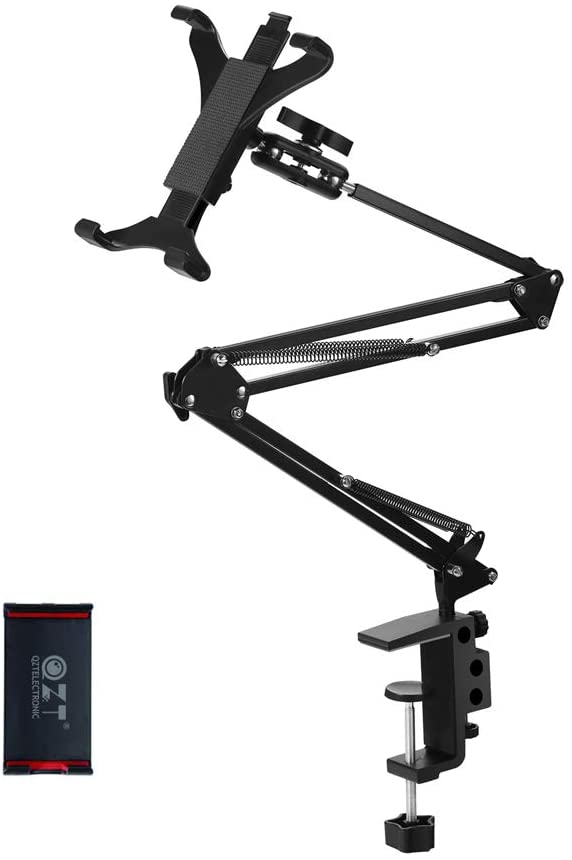 What is it: A solid desktop tablet stand with 360° swivel base mount and 360° rotating clamp so you can use your tablet in landscape or portrait in all directions. Perfect for tablet or smartphones with display sizes between 4 to 11-inch. The arm is adjustable is also foldable with 150° folding range letting you raise or lower the tablet. It also comes with a ¼" DSLR Camera Adapter that converts the clamp into a camera or projector stand.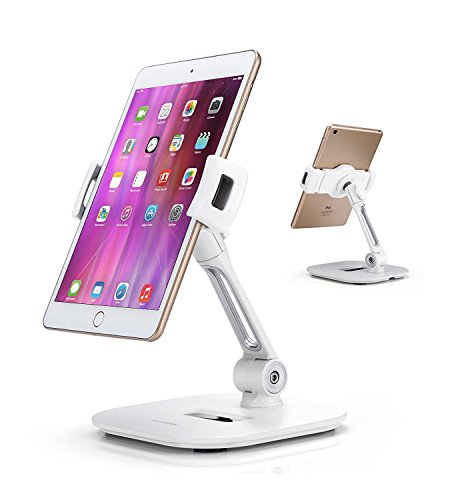 What is it: Double joint adjustable arm and 2-in-1 design that lets you mount it to the wall or cabinet or use it on the counter top or desktop, the iKross Tablet Mount is a versatile table holder. It supports tablets with  7 to 13 Inch display and will fit even the 2017 iPad Pro 12.9. The bracket itself or clamp is 6 to 8.7 inches. The mount has a sleek and modern design sat on the desk with its heavy brushed aluminium base or mounted. For mounting on the wall or cabinet, the iKross comes with two under cabinet or wall mounting plates. The fully adjustable arm with 360 degree mount lets you set your best viewing angle and height while the simple release button lets you quickly mount and dismount the tablet.
What is it: The CTA is very much the same as the iKross above. The CTA is a two-in-one stand; as a stand or cabinet mount. It supports devices with 7 to 13 Inch display. The mount also includes two mounting bases and option to buy more if required to have mounts around the house, one for the bedroom, the bathroom, the kitchen, the workroom, the workshop, the studio and more. The stylish and lightweight aluminium frame folds compact for easy storage.
What is it: The tablet holder is made from aluminium alloy and can be used on the desk on on a pole including microphone stand. The holder fits a 7 to 12-inch tablet. There are 4 articulate joints and a 360 degree rotating head to better position the tablet. Made from durable aluminium, it is both strong and lightweight.  Supported tablets include iPad Pro 10.5-inch, Samsung and Microsoft Surface.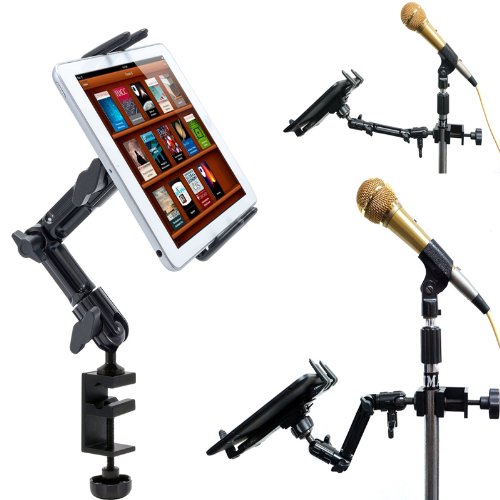 What is it: If you want a permanent tablet or dash mount then the Arkon with screw drill base is the one to go for. The 8-inch adjustable arm and AMPS Drill Base can be mounted on a flat surface or under a wall hanging cabinet. It will hold an 8 to 12-inch tablet. Screws are included.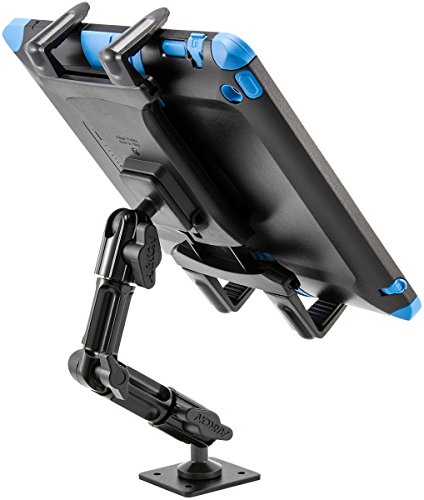 Also available from Tackform from their Enduro Series
What is it: Also with a C-Clamp fitting for countertop up to 3-inches thick, the Tryone Gooseneck Tablet Mount is available in white or black with a 24.5-inch bendable arm (overall length 30-inch) or gooseneck. Bending the gooseneck into an "S" shape or looping it does offer better stability. It is suitable for tablets between 4 to 10-inches. The tablet holder has a maximum clearance of 7.9-inch with spring grip. A longer 28.35-inch bendable arm (overall 38-inch) is also available for smaller tablet or smartphones.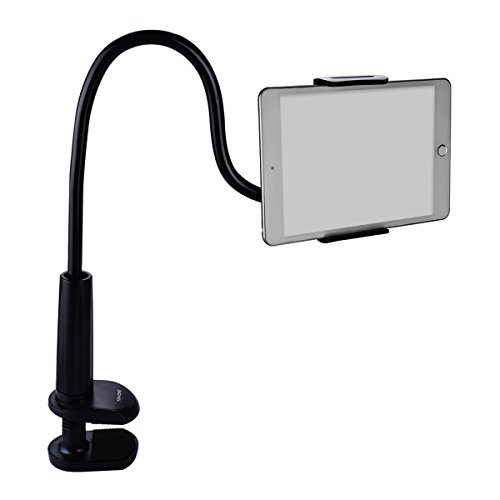 What is it: AboveTEK Heavy Duty Aluminium Gooseneck Tablet holder has a C-clamp (1.8-inch maximum clearance) and a ball joint at the tablet end for ease of rotating. It can hold a 3.5 to 10-inch device. The sleek silver aluminium arm is 24-inch long but as with all gooseneck holders, bending the arm is a loop or curve does give it more stability than outright stretching. Supported devices include the iPad (Pro, Air, Mini) & iPhone (X, 8, 7, 6, 5).
What is it: One for the kitchen or office, the Fleximounts can be secured permanently to the wall or under a wall hanging cabinet. The tablet holder will take a 7-11 inch Tablet. With the bendable arm made from two connecting sections, the tablet can be extended or draw back depending on your preferred reach with multiple pivoting and rotating joints. The tablet holder also rotates freely allowing you to change from portrait to landscape view. A desktop metal base is also included should you wish to use it as a stand.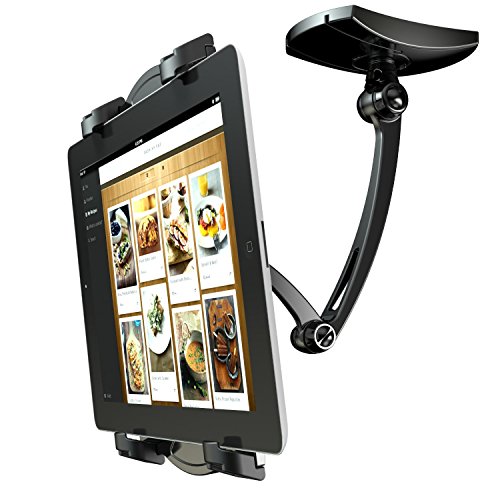 What is it: The GEEPIN is a C-clamp holder with a 3-inch clearance and can hold devices from 4 to 12-inch. When straighten it is 3.3 feet (1 meter) tall. The jaws have a minimum width of 12cm to a maximum of 20cm. A ball joint near the tablet end offers 360° plane rotation and 270° adjustment for best viewing angle. The durable and flexible gooseneck is made of the Aluminium-Magnesium Alloy while the stable bolt clamp and the firm bracket are made of the Engineering-Plastics.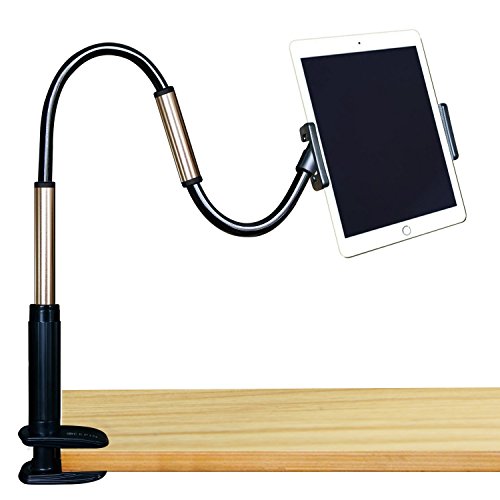 What is it: Borrowing the idea of a spring loaded arm for desk lighting or recording studio equipment, the TaoTronics Tablet Stand has a C-clamp with 2-inch clearance to secure it to the desk. The strong two stage arm offers a maximum loading capacity of 1.5kg. Being spring loaded, it offers more precise positioning and together with the 360° swivel base and rotating padded tablet holder, it can be set to virtually any angle and position. Suitable for devices 7 to 10.5-inch.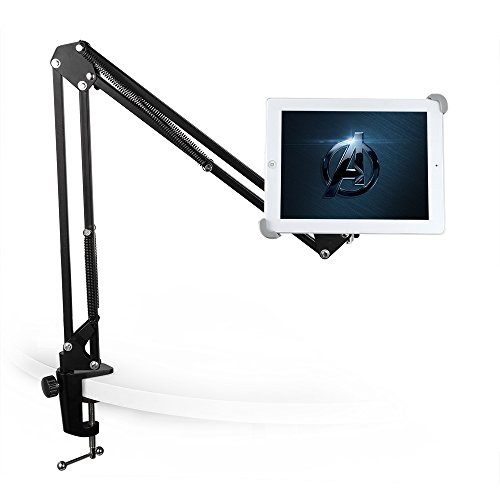 Not so much a tablet stand or one with extendable arm, the Koala from Dockem is basically a wall mount dock for iPads, tablets, smartphones, and eReaders made. If you find you have a meet for a flat mounted tablet, here is one for you.